A Dog-Friendly Visit to Telluride, Colorado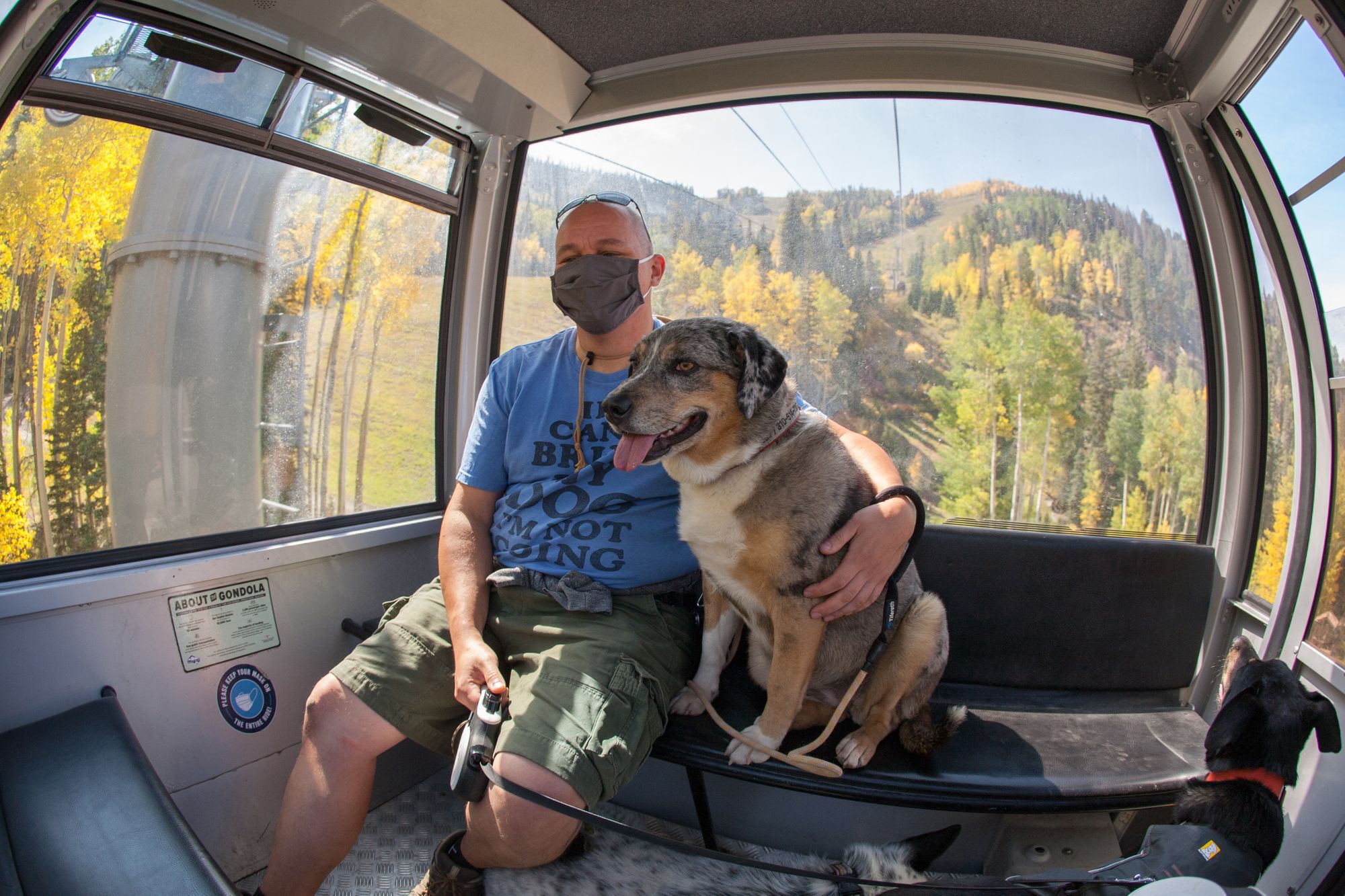 We were able to squeeze in one more trip for this year, before needing to winterize our van.  We had been planning to go to the ski town of Telluride, CO over the summer, but kept postponing the trip to follow our state's COVID travel restrictions. We finally went in late September, and that ended up being perfect because we got to see the leaves changing.
So, why did I want to go to Telluride so badly?  Really just one reason: DOG-FRIENDLY GONDOLA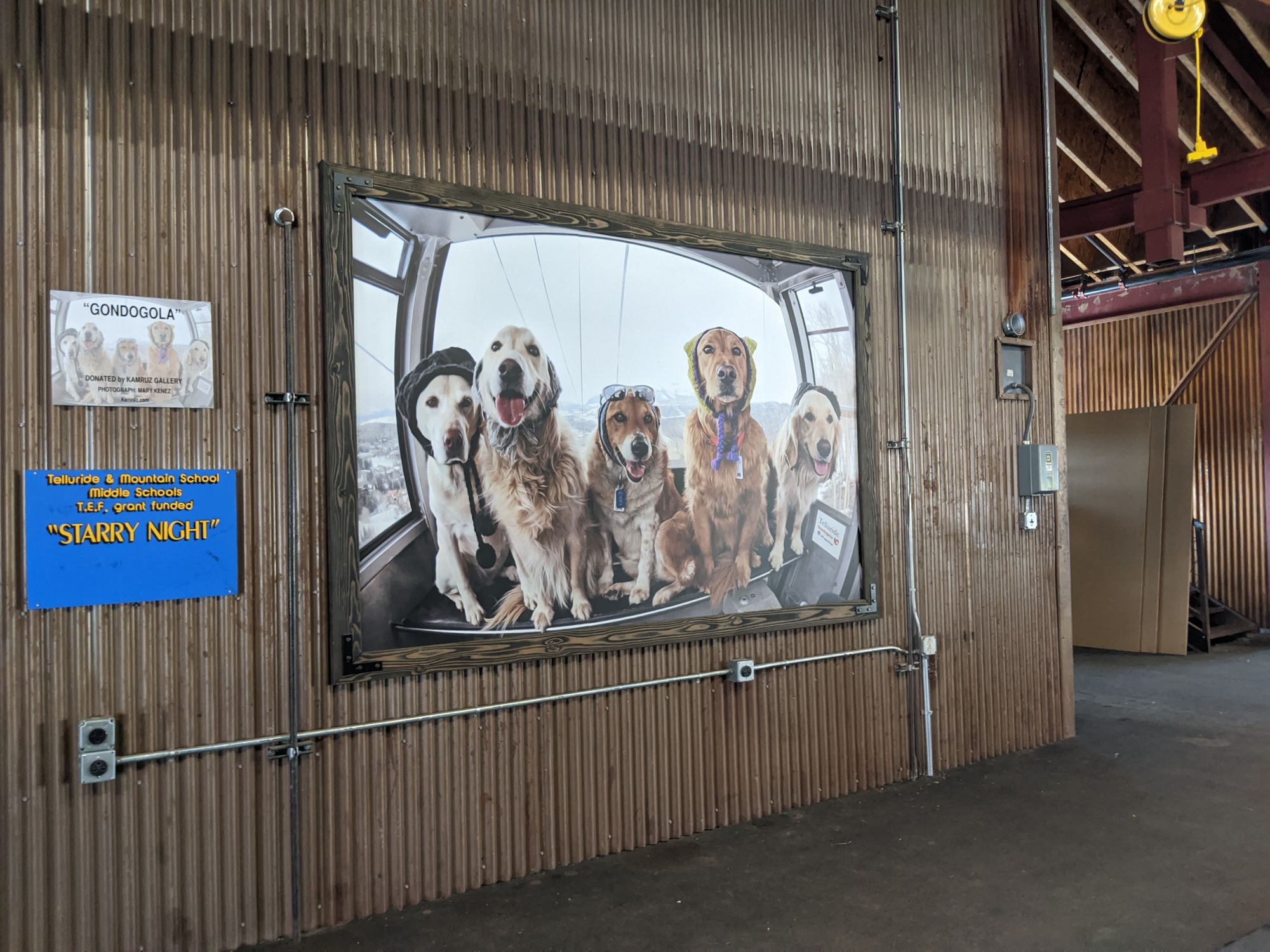 More on the gondola in a bit, but first let's talk about where to stay.  The town of Telluride has limited options for RVs: there are no private campgrounds in town, and the Town Park Campground is reservation only and had no availability for our dates.  You can find boondocking sites 30-60 minutes out of town, either relatively close but on a slow road or further away but along a highway, but finding camping (free or paid) with usable cellular data signal near Telluride is a real challenge. In future years, we'd like to come back with a reservation and explore town more over the course of a few days, walking from the Town Park.
I needed to work on Friday so we chose to boondock at the "main area" of the eastern end of Million Dollar Road because it had known reliable cell signal.  What it also had was lots of other campers!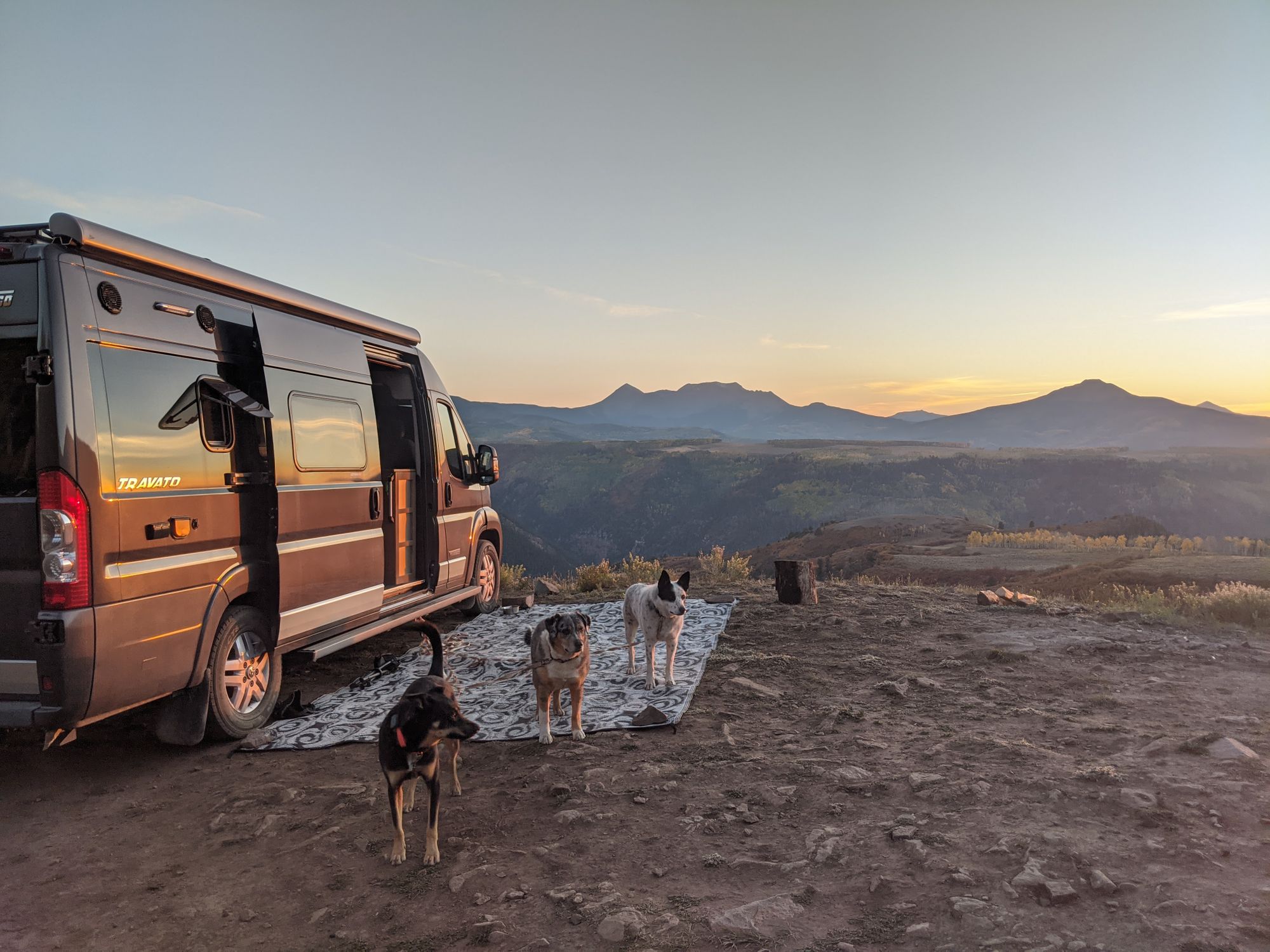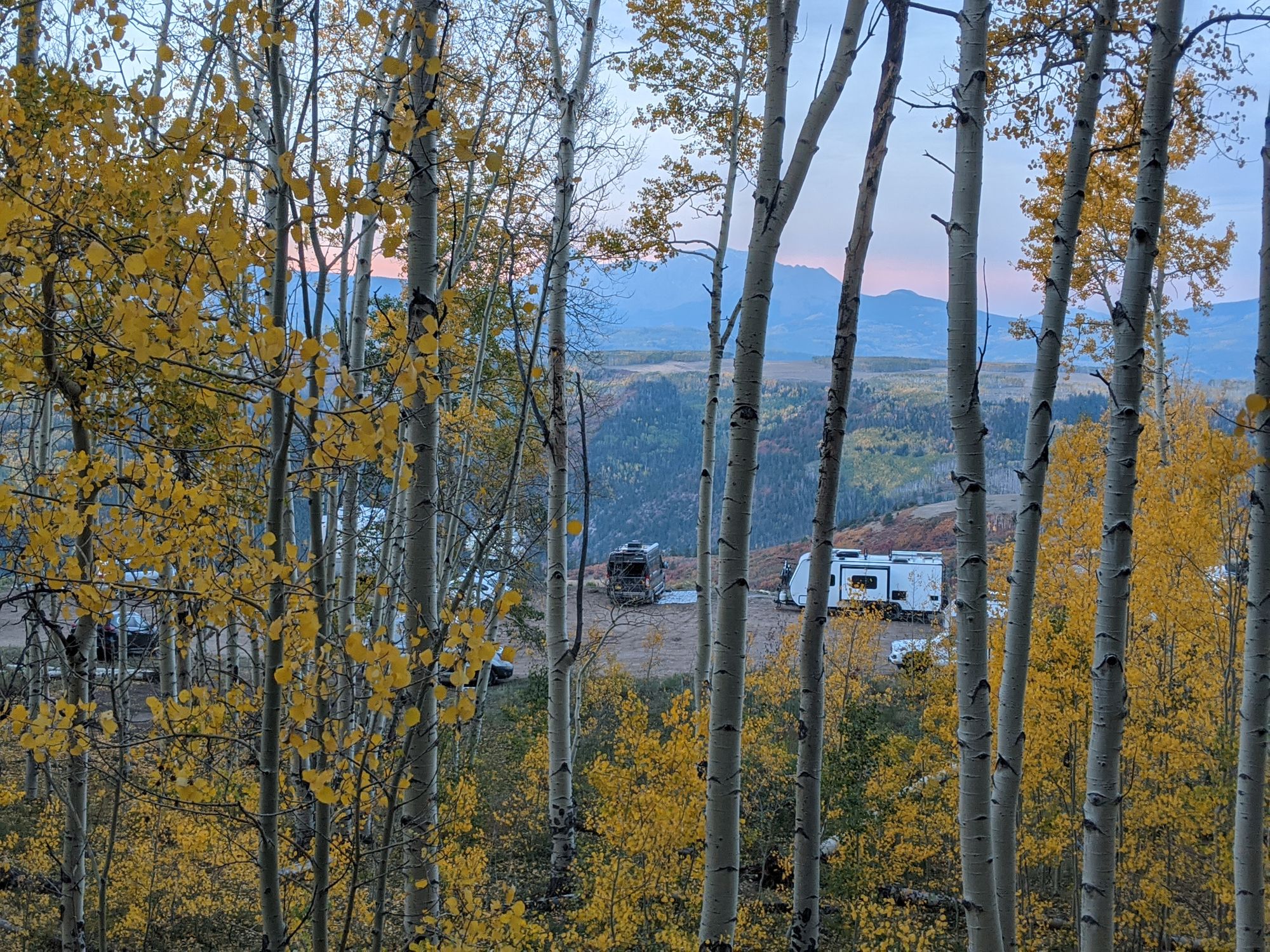 Even though the main camping area was a bit crowded, this was a great spot for two nights.  We took lots of hikes right from the van and got to experience the leaves starting to turn.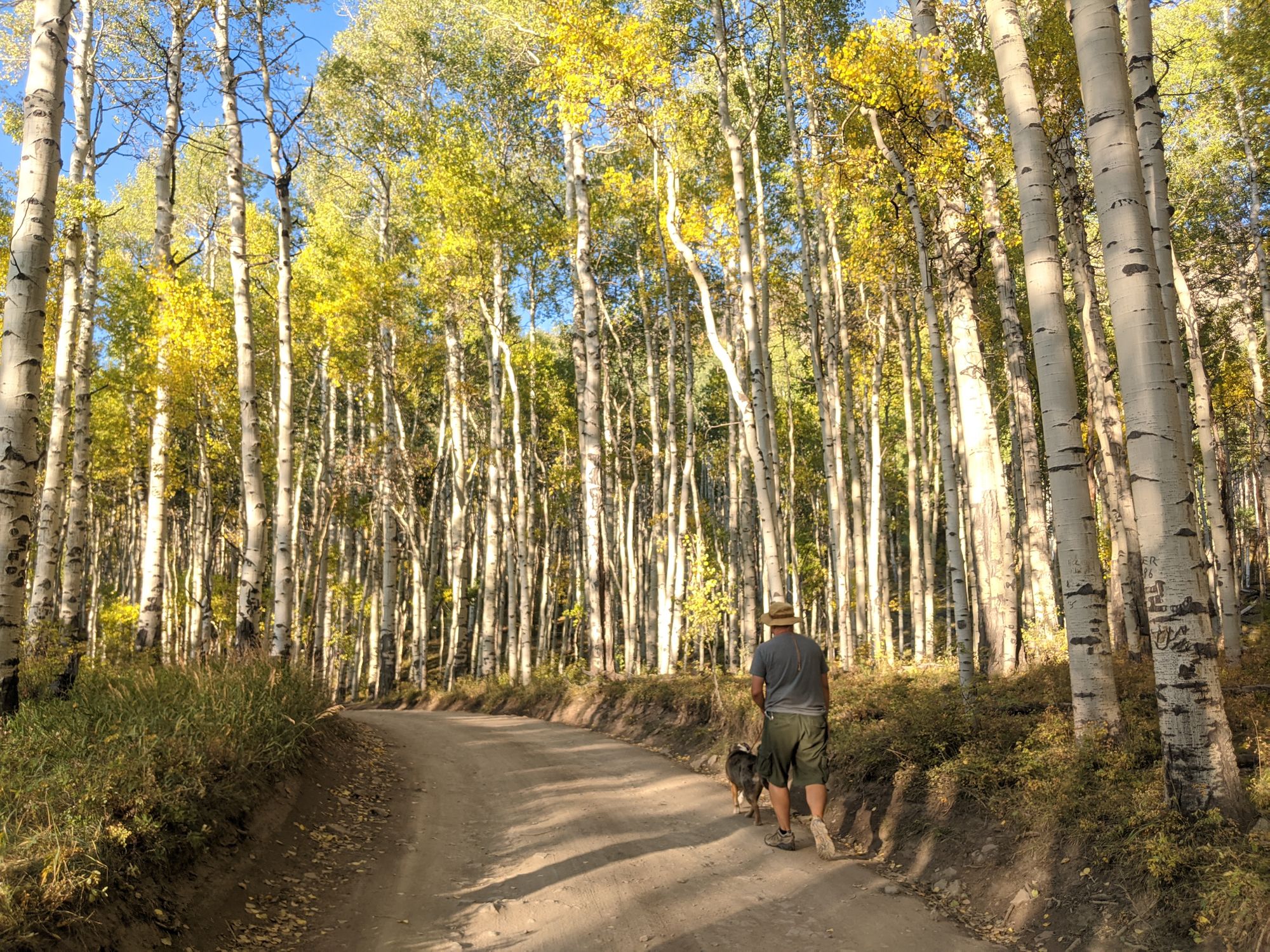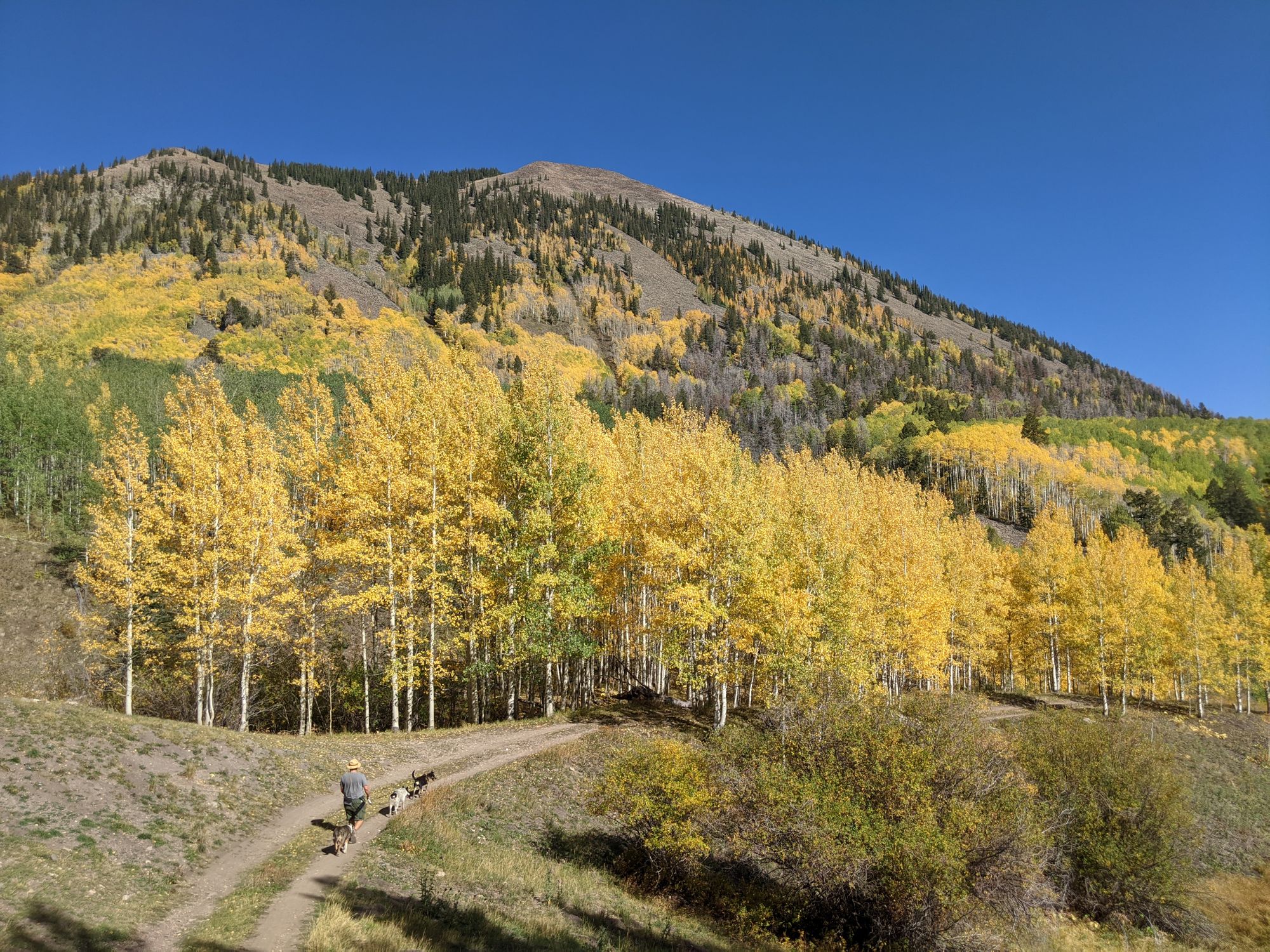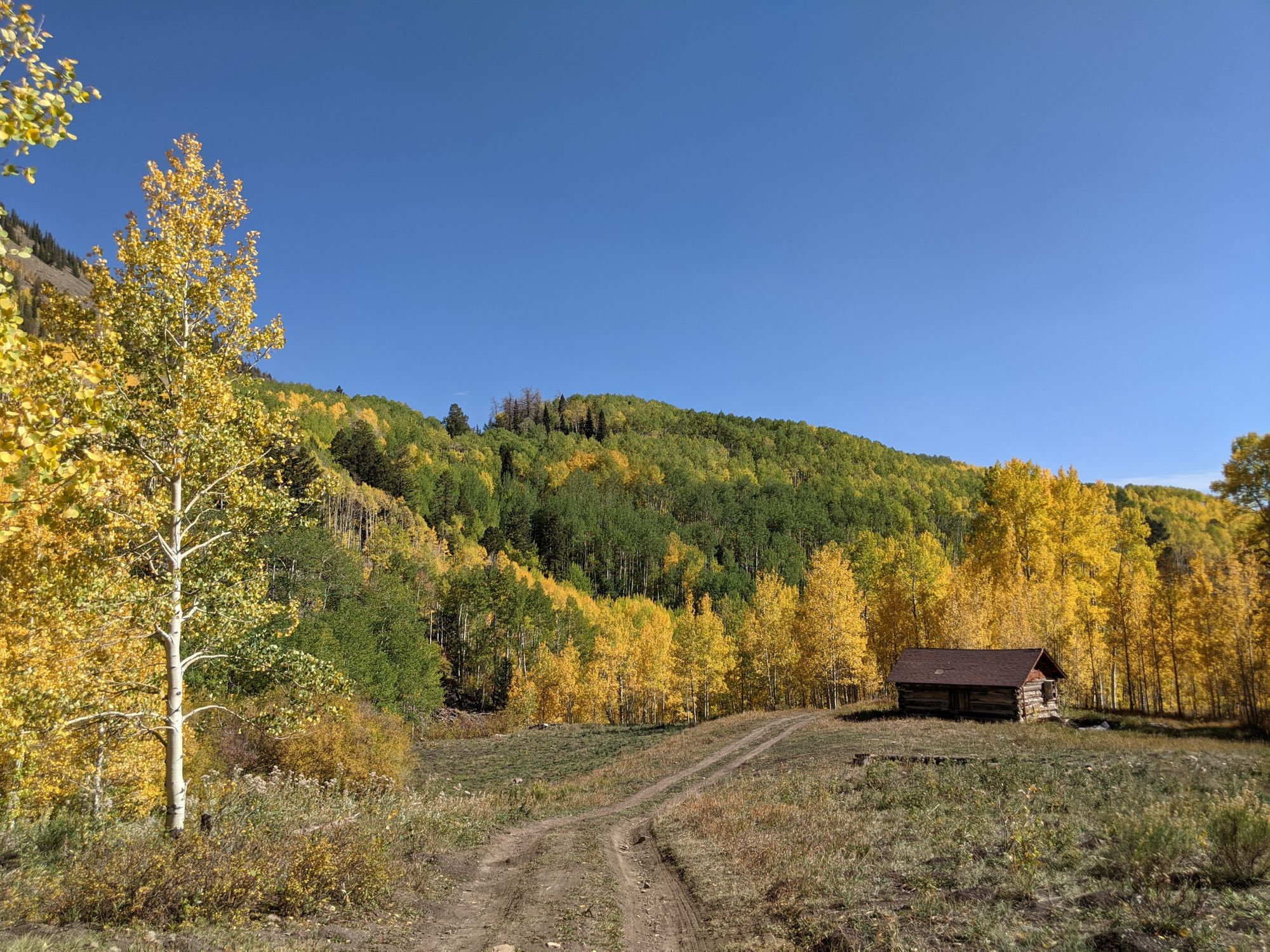 With work wrapped up on Friday, we were ready to explore Telluride on Saturday. We got an early start and enjoyed a beautiful dawn at Million Dollar Road before driving the 30 minutes into town.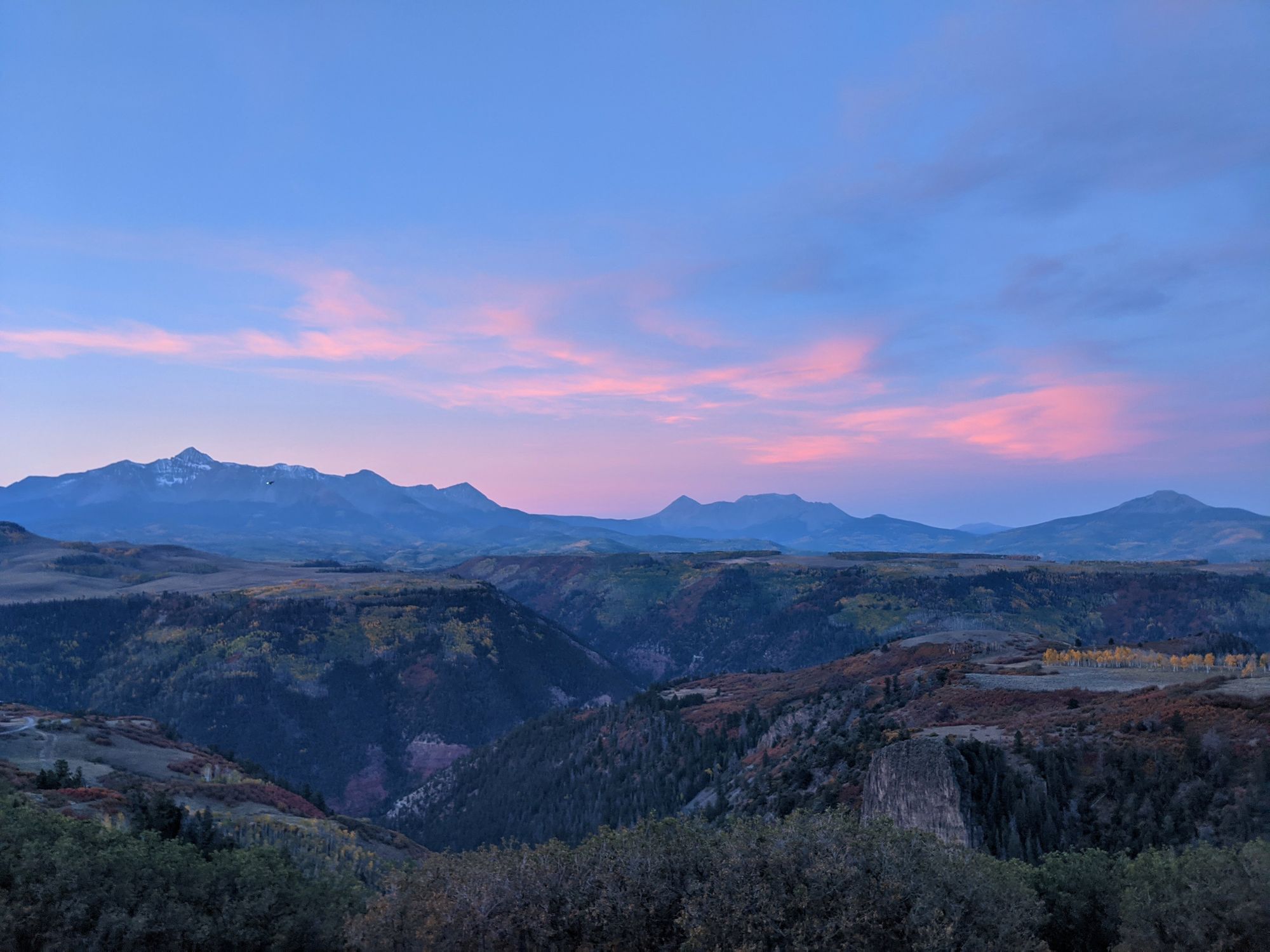 You'll want to do your research on where to park in Telluride before arriving. The signage isn't great, it's better if you know where you're going.  The town does not allow overnight RV parking, street parking is in general metered, and parking is rather limited for large vehicles.  Tommi says don't try taking a trailer into town; it's doable but not fun.  Here's what we did:
Park at Carhenge in the southwest corner of town.  It's free, the most spacious parking you'll find in town, and everything is walkable from there.
From the parking lot, we took the beautiful River Trail which is a dirt path that runs along the river.  There are many spots for dogs to access the river.  It's about 0.7 miles to the trailhead for Bear Creek Falls.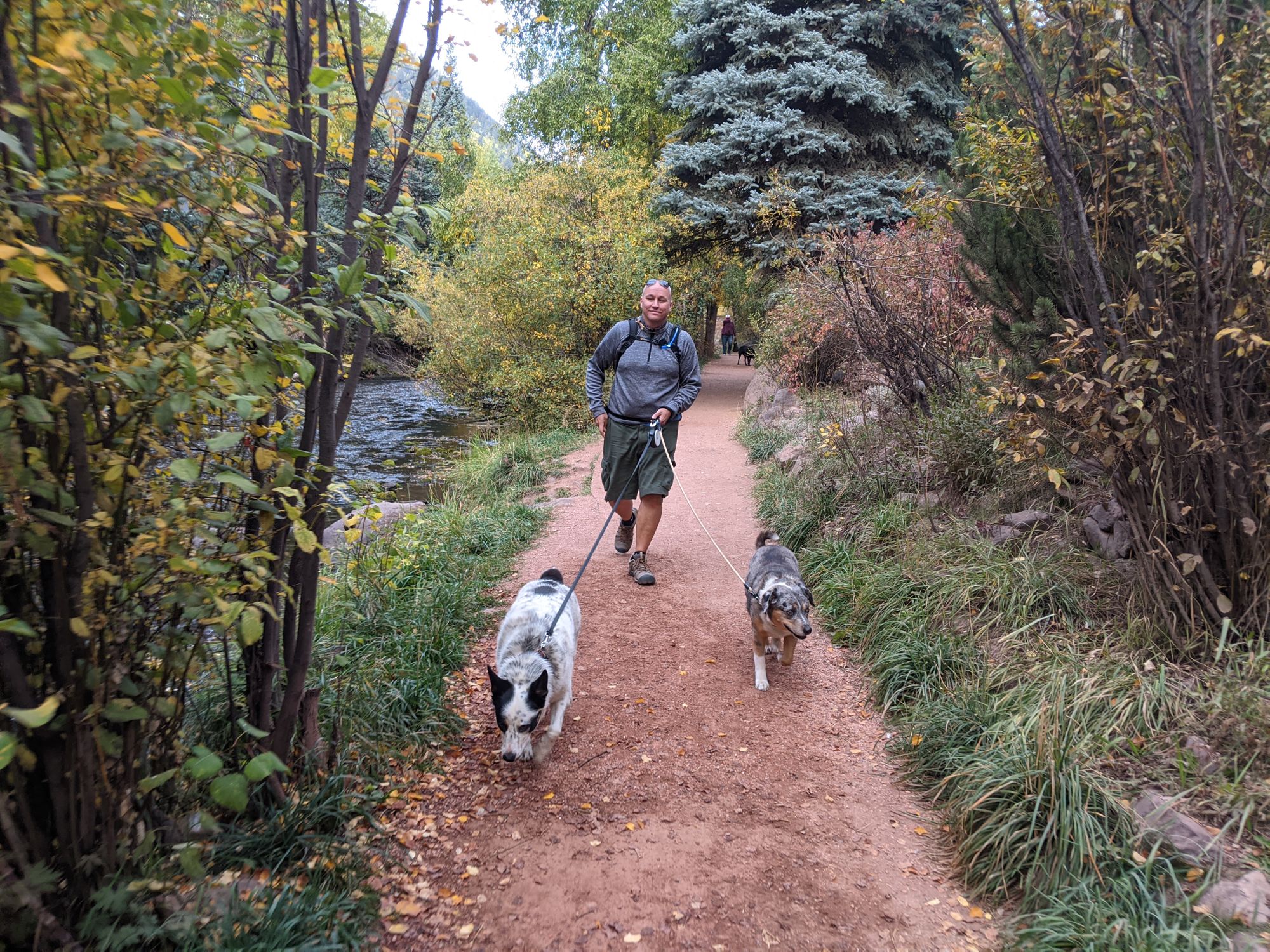 Bear Creek Falls is one of the most popular hikes in town and is 5 miles out and back.  Be prepared for a gradual uphill all the way to the waterfall.  Just a few minutes into the hike we were treated to views like this!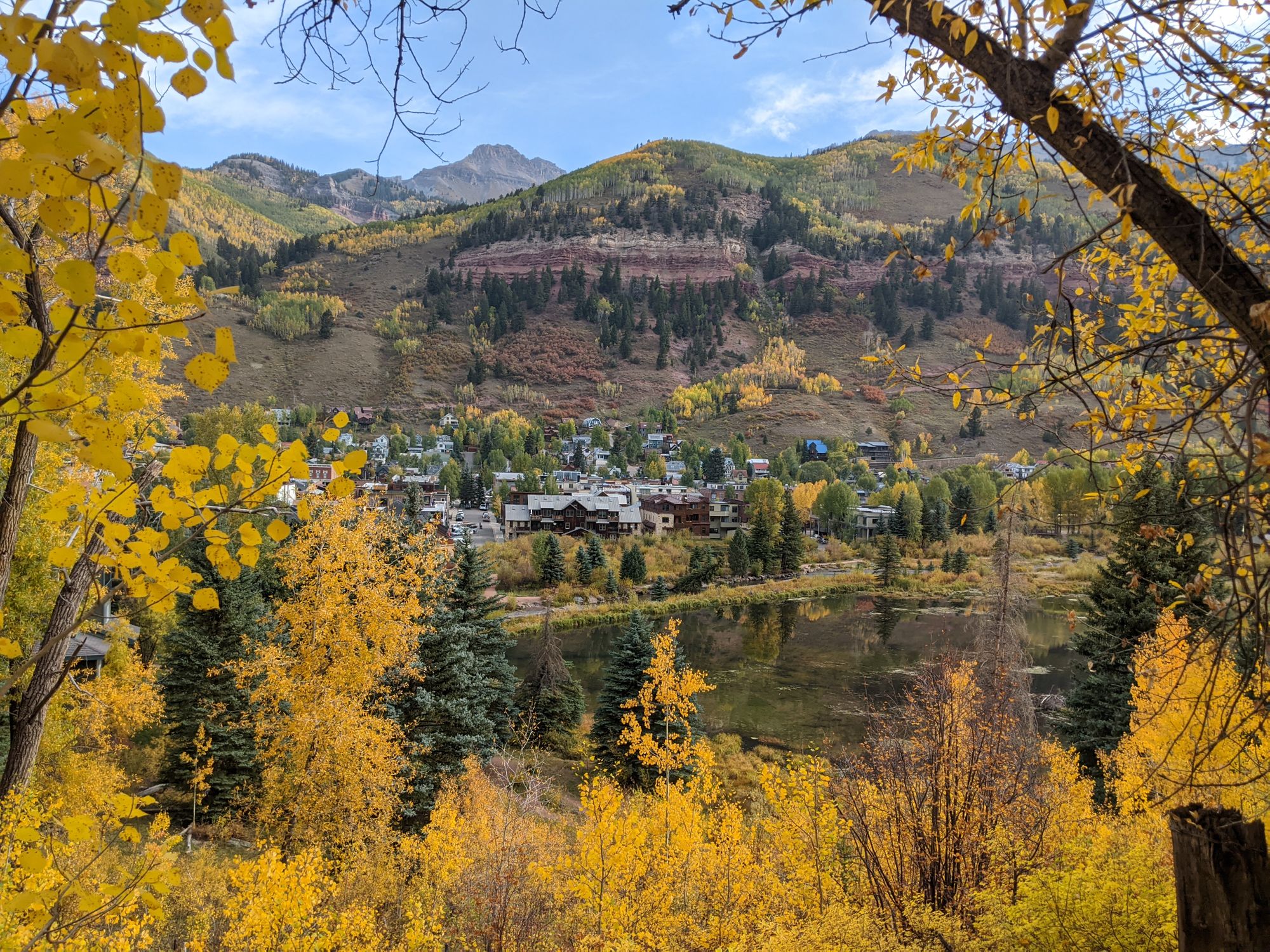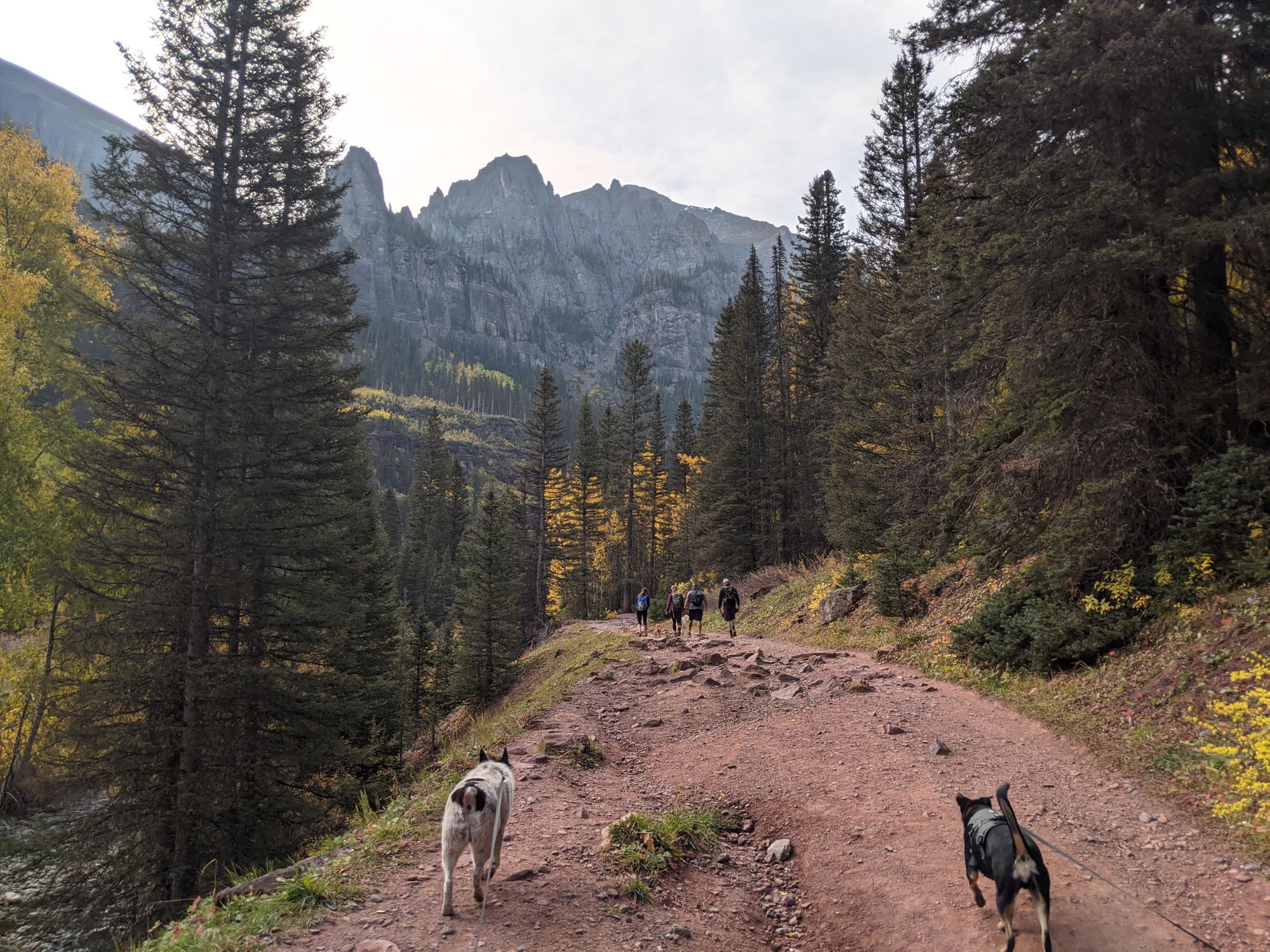 Since we got an early start, we didn't see too many other hikers on the way up.  Roughly 50% of the people we passed were wearing masks and in some spots the trail is very narrow.  We made sure to always have our masks on when passing other people.
You don't see the waterfall until the very end.  This was our first peek at it!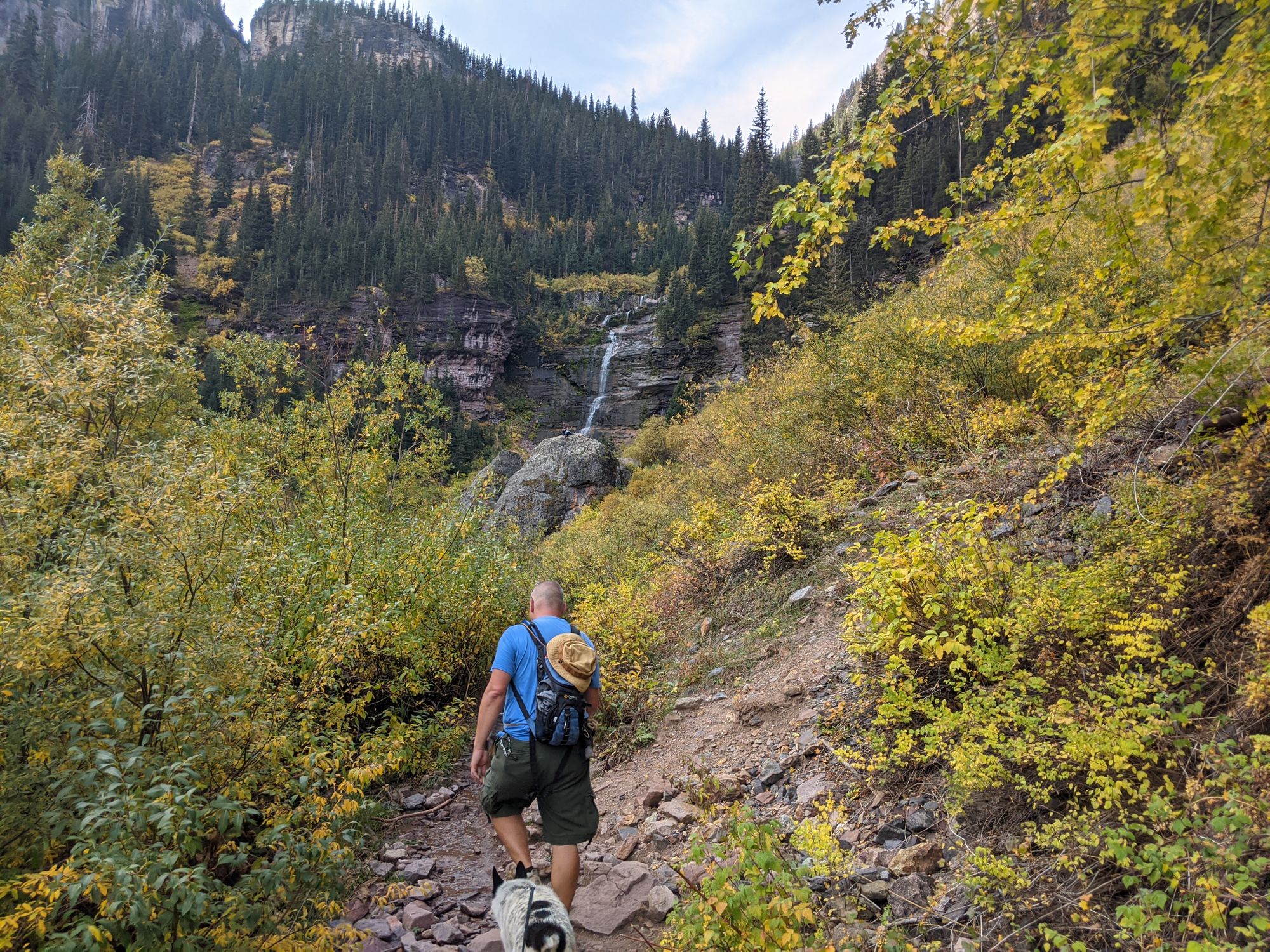 Keep in mind we visited in September, which meant the falls weren't as grand as other times of year.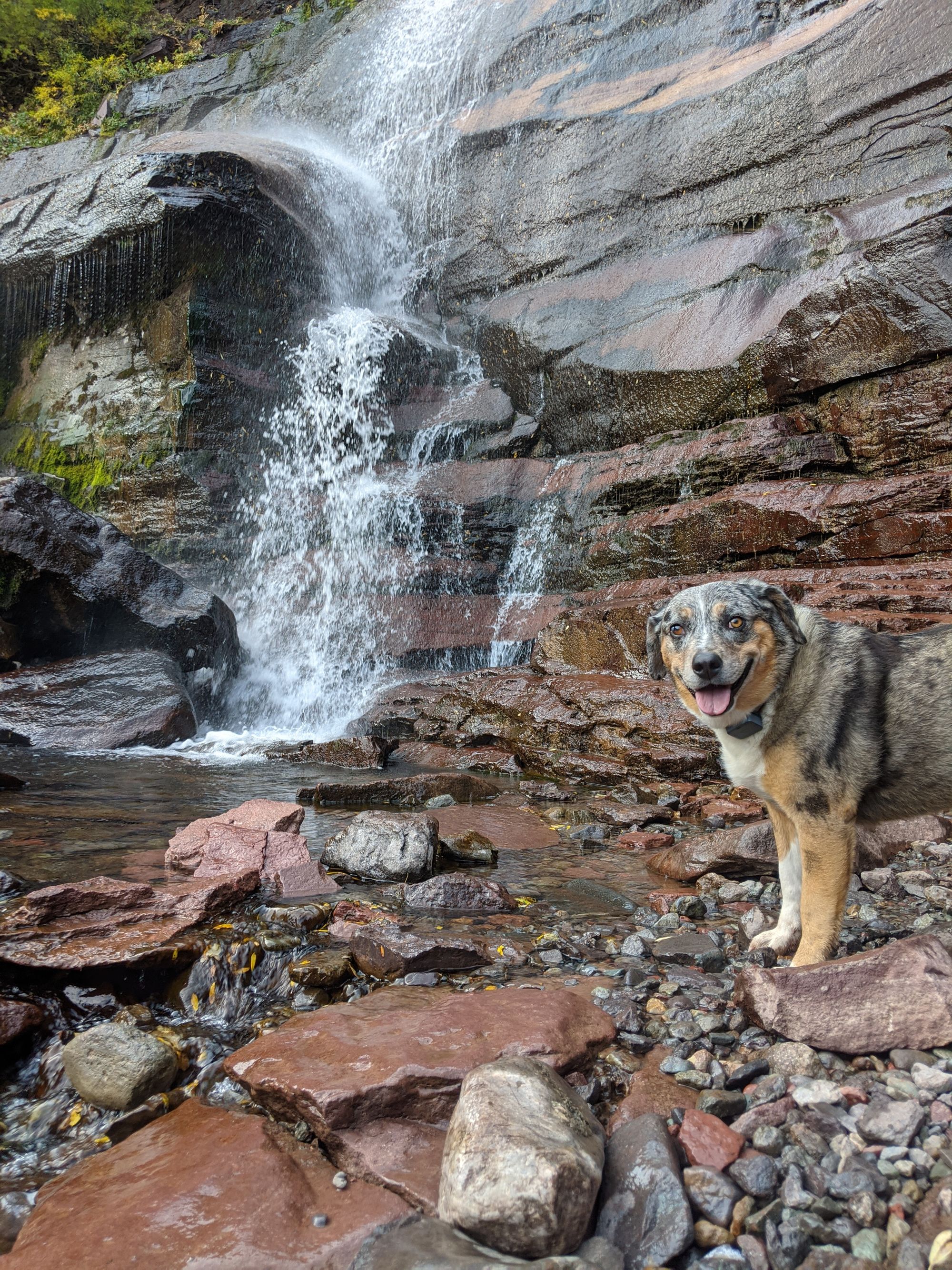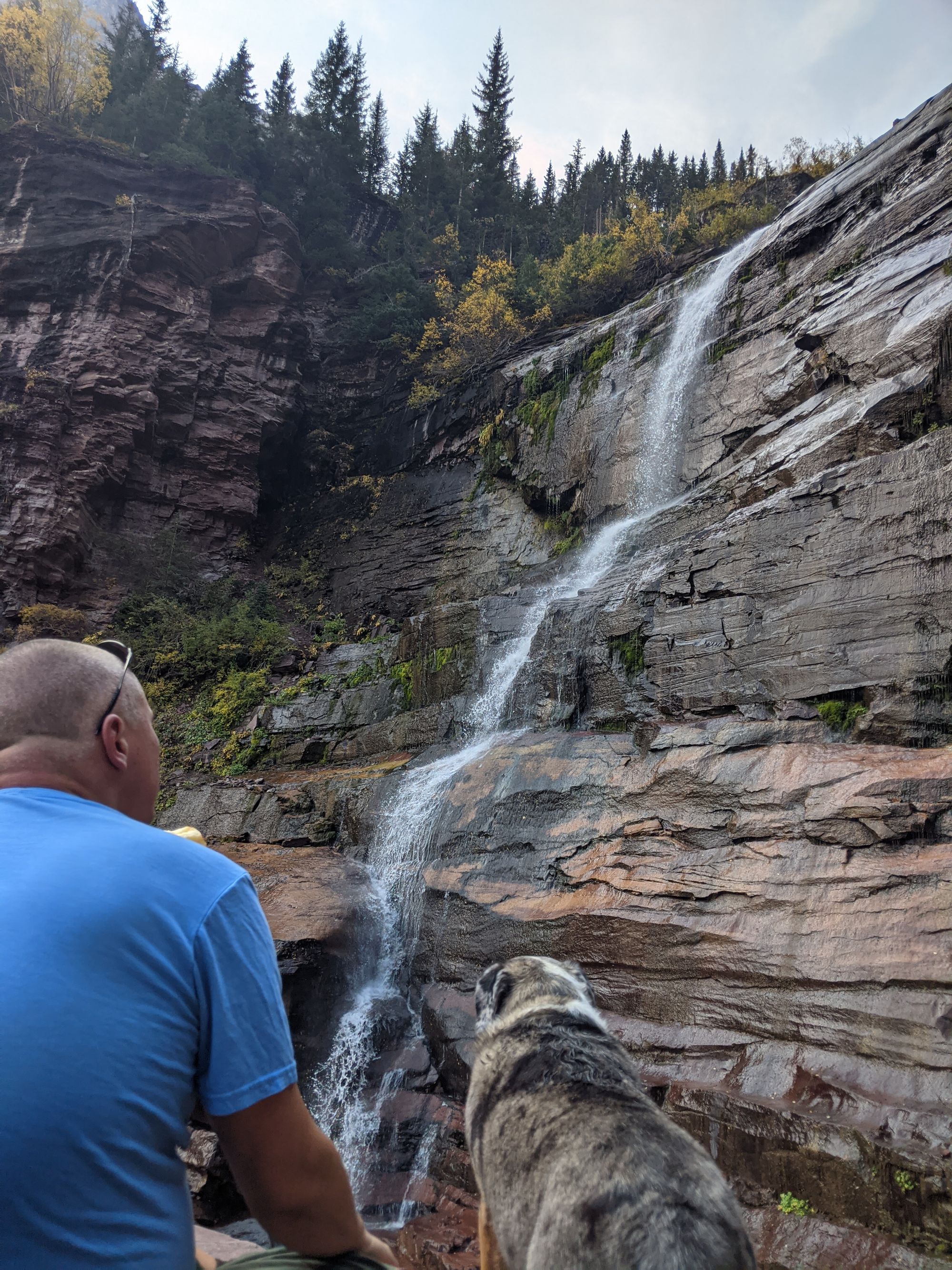 We sat and admired the waterfall for about 30 minutes while we ate our packed lunch. All 3 dogs cooled off in the pool below the falls and enjoyed the little break.
On the way back to town the views of the valley are spectacular!  Plus, being all downhill is a nice treat after the climb up.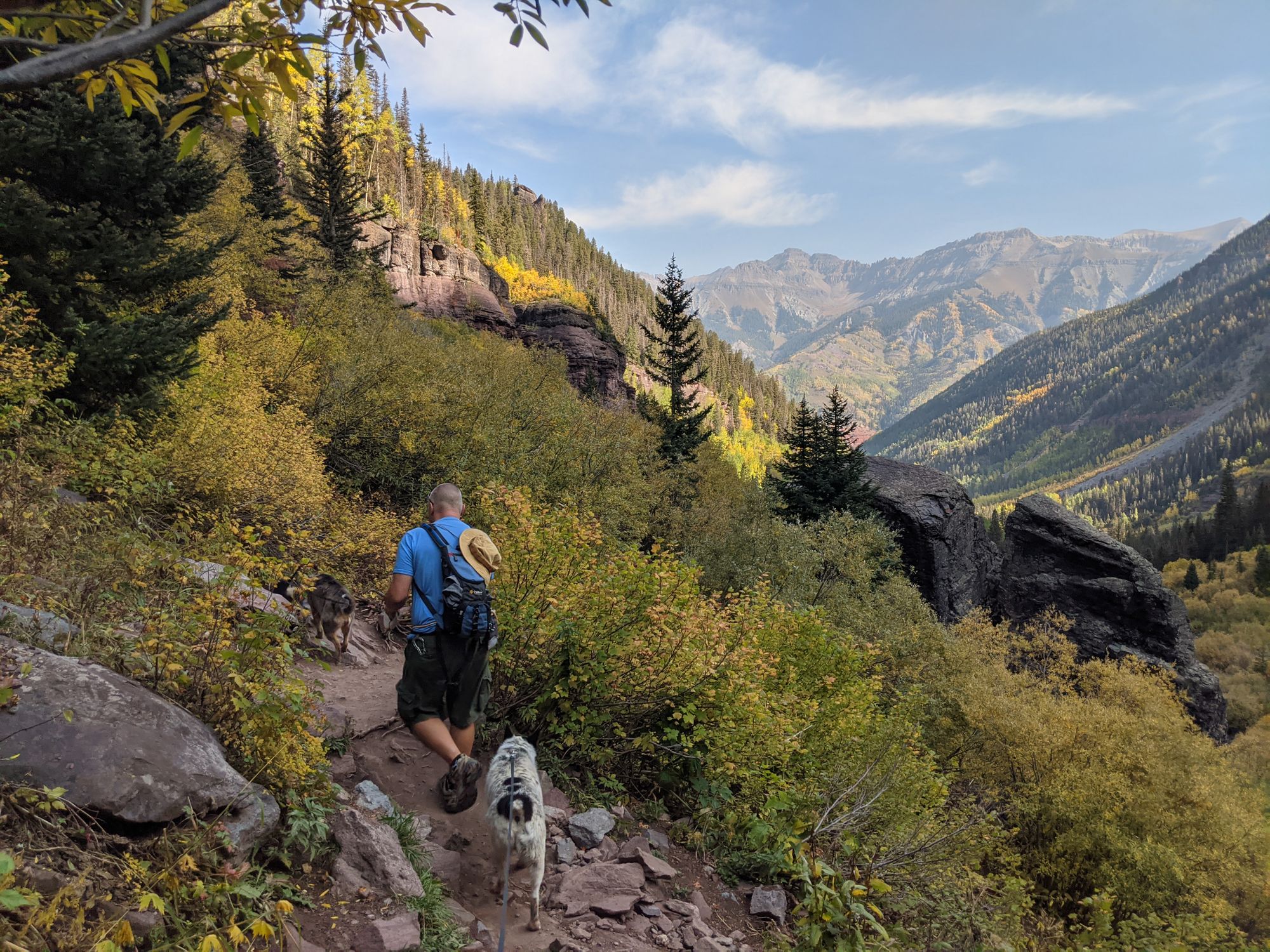 After our hike we let the dogs cool off in the river and then walked around town a bit to grab lunch.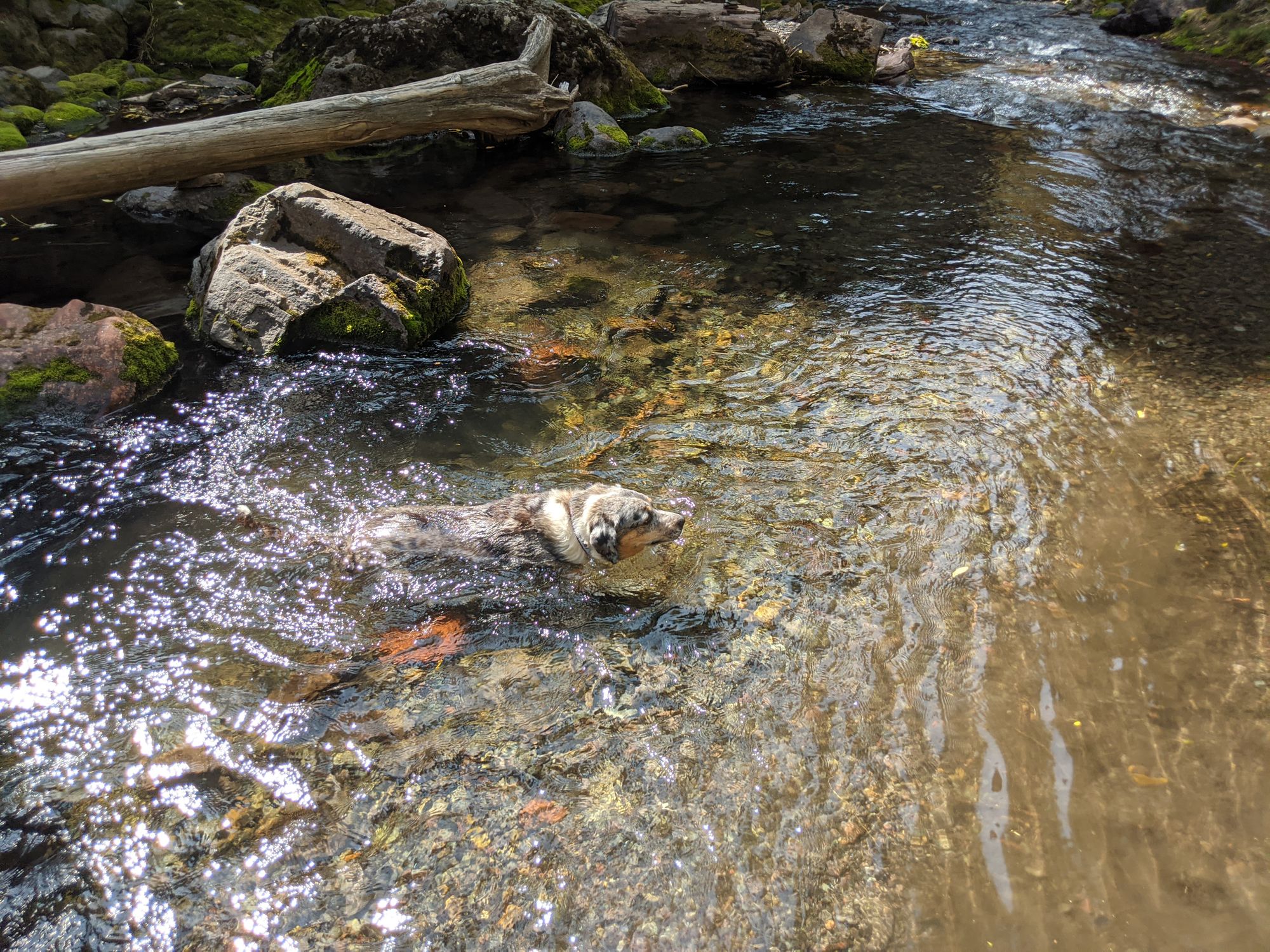 We ordered a pizza from Brown Dog Pizza (I mean, how could we not!?) and while we waited for our order to be ready, walked to PET Telluride for some dog treats.  We felt very safe (in regards to COVID) at both places. Brown Dog had an employee outside to take and hand-off orders so you never had to go inside, while PET Telluride only allowed a hand full of customers inside the store at a time (masks required).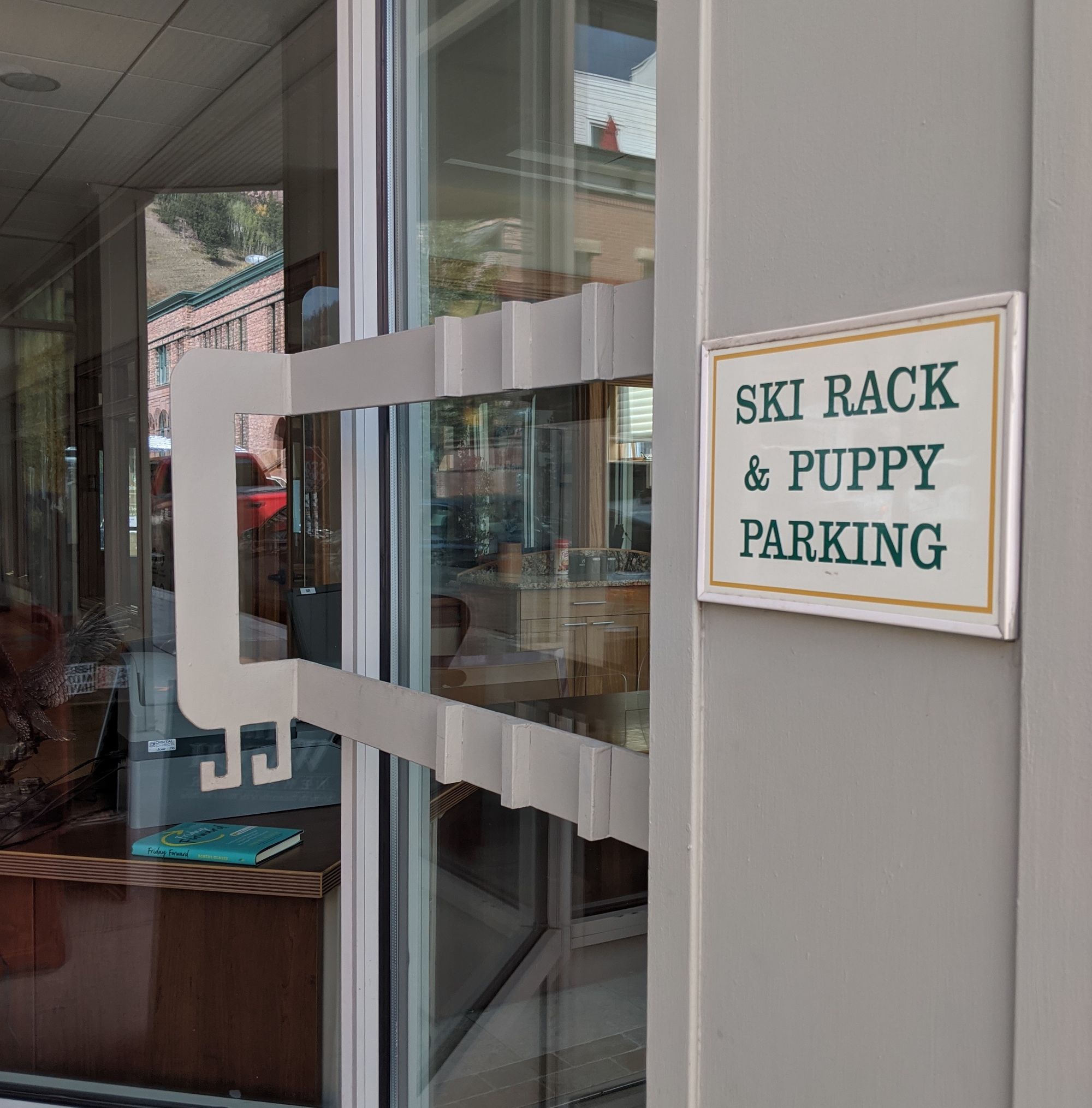 We would have explored town more but it was getting busy and more congested, plus the dogs were already pretty tired.  It was... GONDOLA TIME.
This gondola connects the towns of Telluride and Mountain Village with 1 stop at San Sophia Station.  It is completely free and dog friendly!  Due to COVID-19, they've limited each car to 1 group (which is actually kind of nice in that you have your own private gondola!)  You are required to keep your mask on the entire ride.
When we first passed the gondola around 8 a.m. on our way to Bear Creek Falls there was no line.  By lunchtime the line spanned about a block.  At 8,750 feet elevation, the sun was strong so I went and stood in line by myself while Tommi hung out with the dogs in the shady grass area adjacent to the gondola, and Lily took a much-needed nap.  It took about 25 minutes or so for me to reach the entrance, at which point Tommi and the dogs joined me.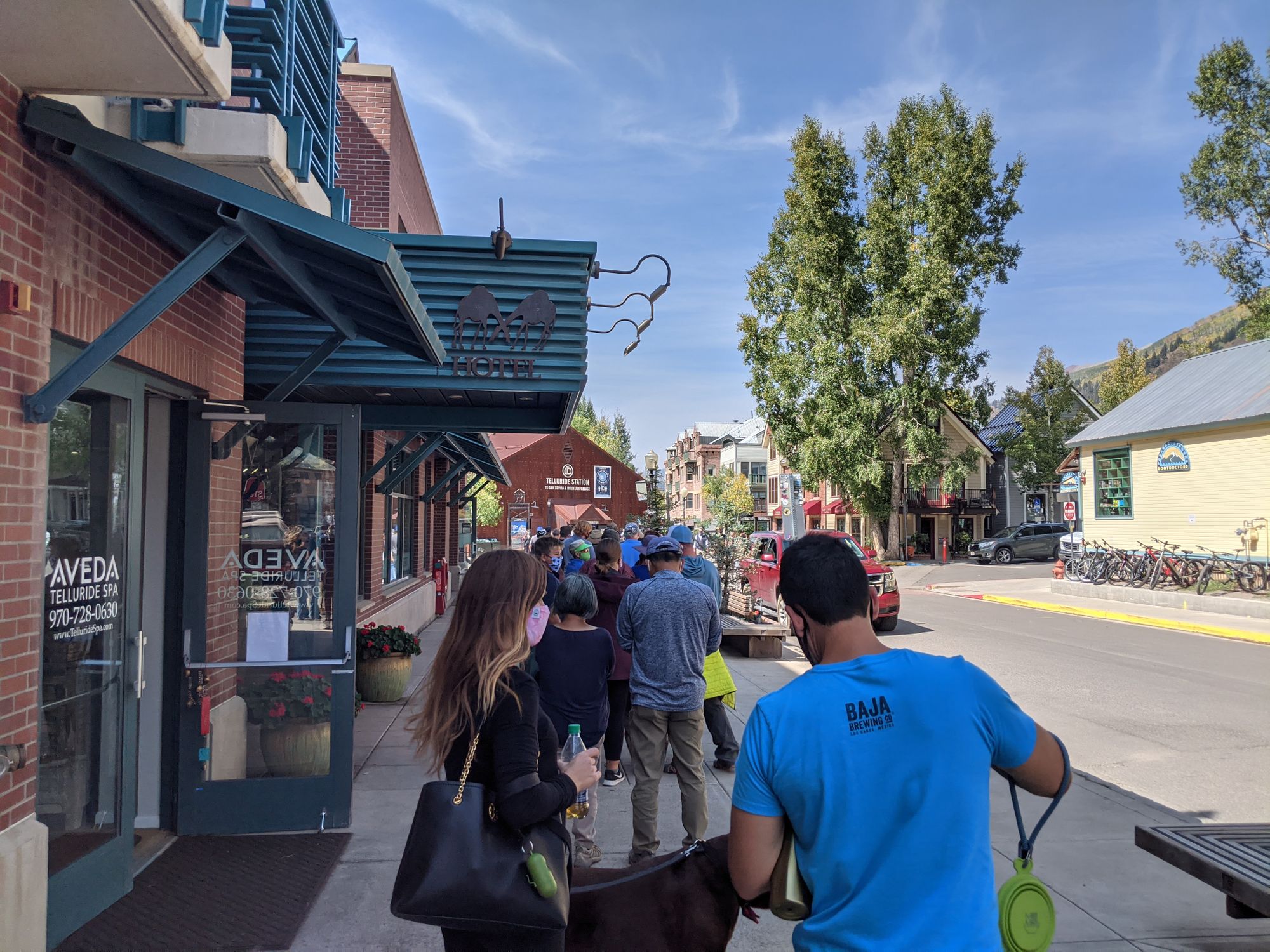 This was our dogs' first time on a gondola.  Lily, our wise mama dog, did great.  Our other two were not thrilled with the experience.  This is a hard thing to practice for though!  You're asking your dog to step into a moving box in a loud building.  The gondola does not stop (except for emergencies), the cars just slow down in the boarding zone.  There is no time to get the dogs comfortable, as you have just a few seconds to board.  We had Lily and Tommi go first — Lily boarded without hesitation — and then Mushy and Delta reluctantly followed.  If you have a small to medium size dog, it's probably best to pick them up when boarding.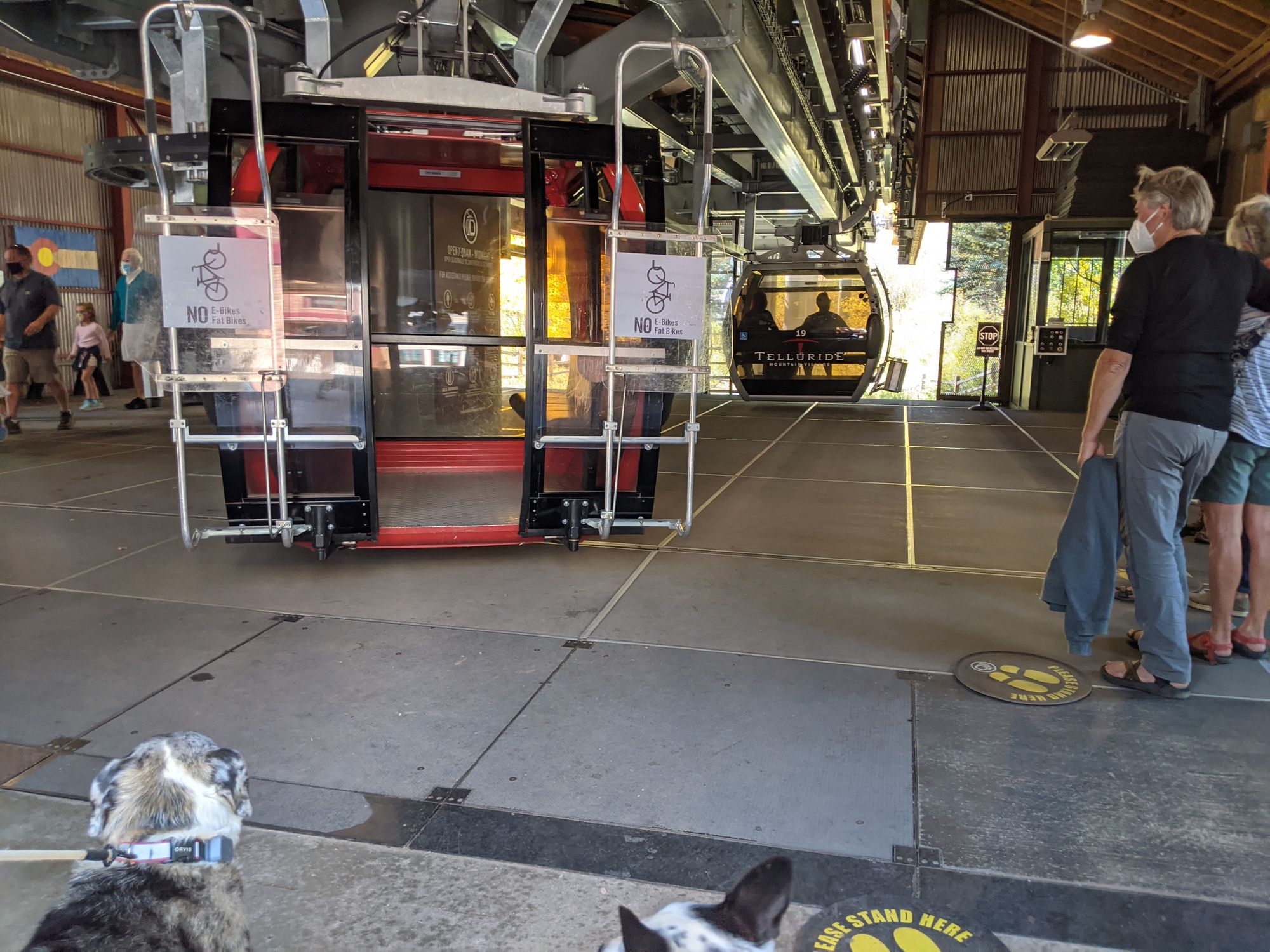 Once you're on board, the doors automatically close, and as the gondola car departs the building it swings a bit.  None of the dogs really loved that part but once out of the building, it gets quiet which was really nice.  Lily was happy to join Tommi on the bench seat and take in the view.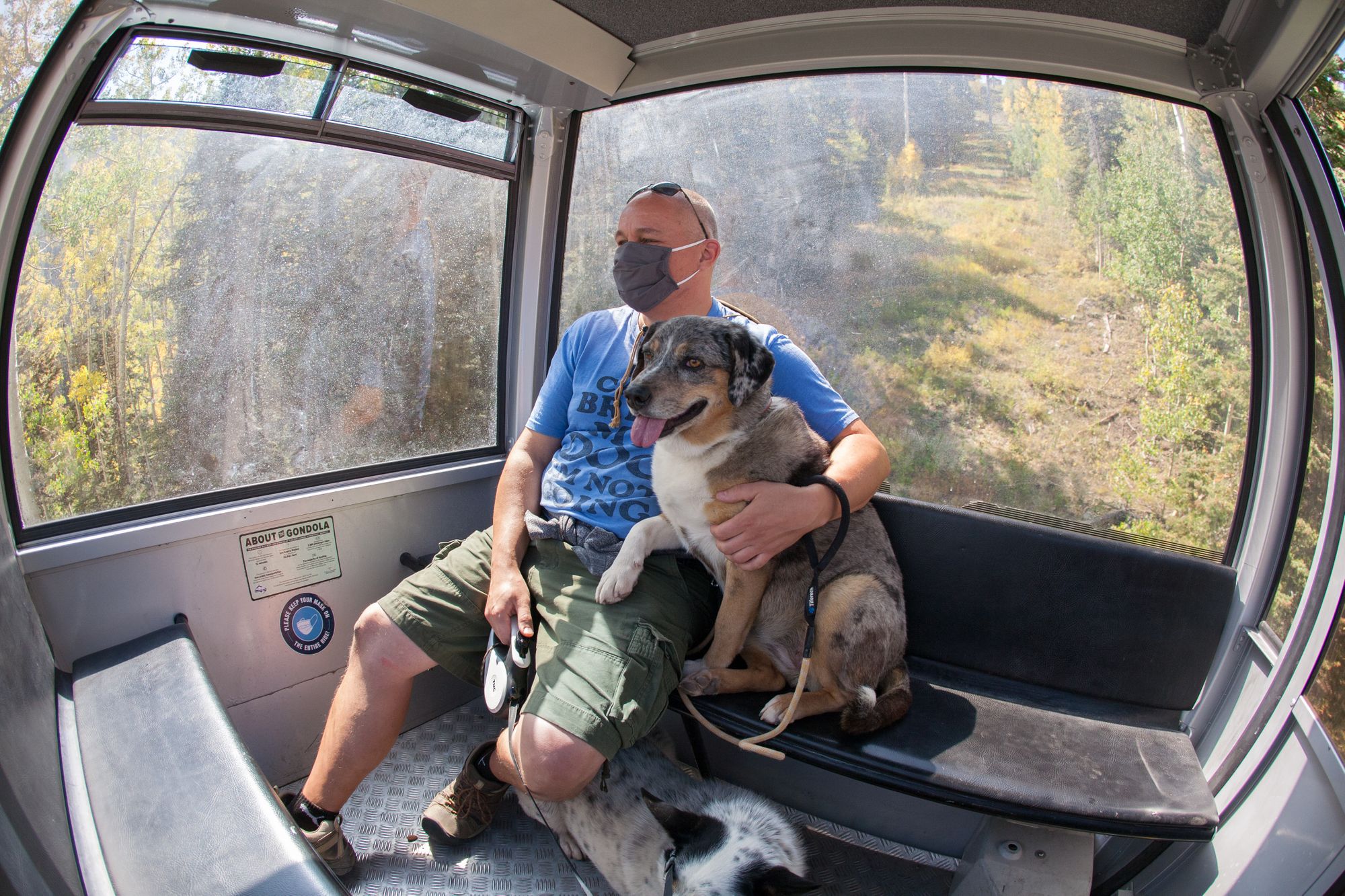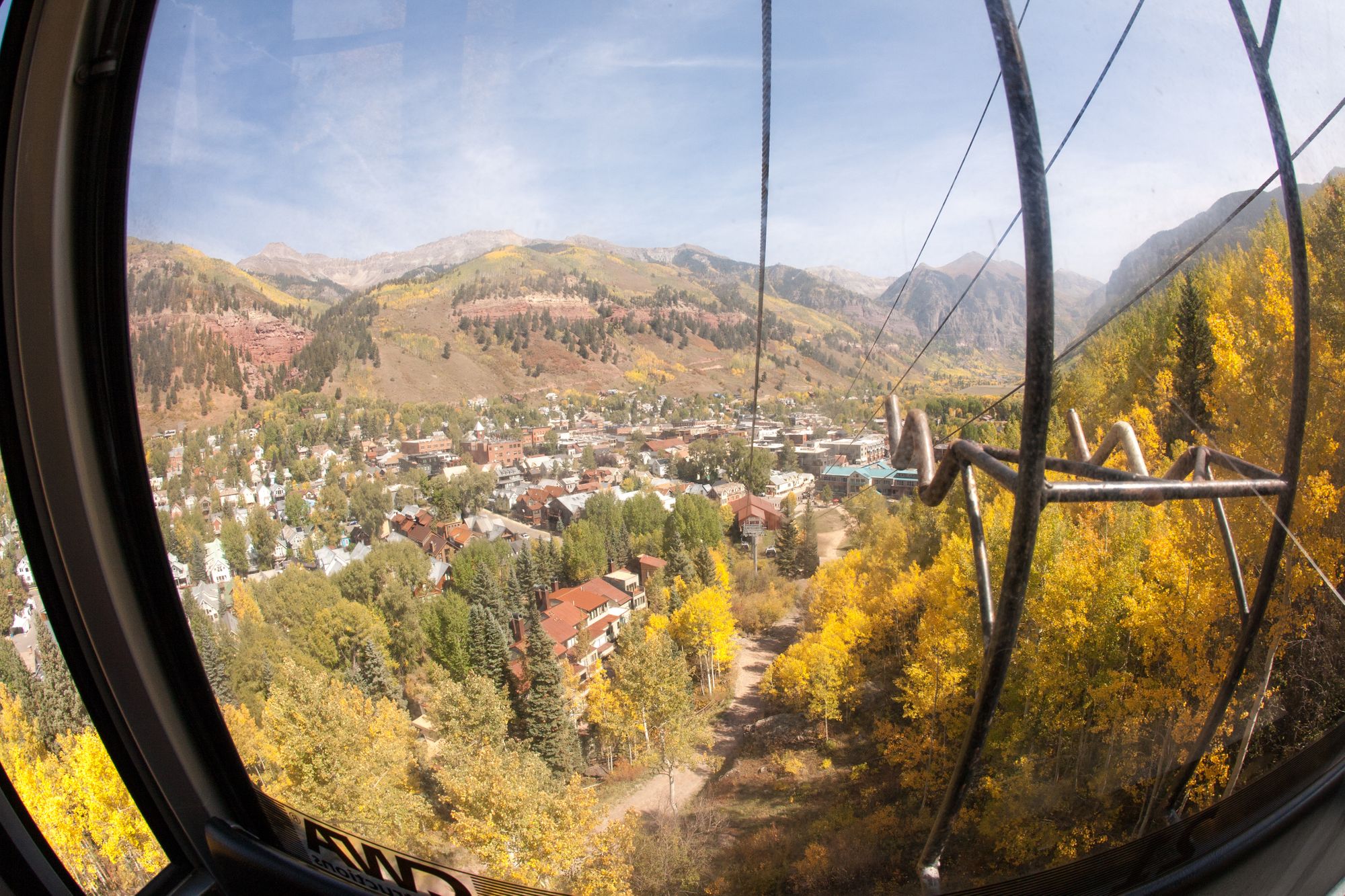 Once on the gondola, you have two options for destination.  Since we had already had a long day, we chose to get off at the first stop which is San Sophia, and an 8-minute ride from when you got on.   You can walk along the ridge and get some great views of town below.  We decided to ride the gondola back down to Telluride but your other option is to hike down!  The wide trail switchbacks down the mountain and it's roughly 1 mile long.  We saw several people with their dogs on this trail, and Lily really enjoyed watching them from the gondola.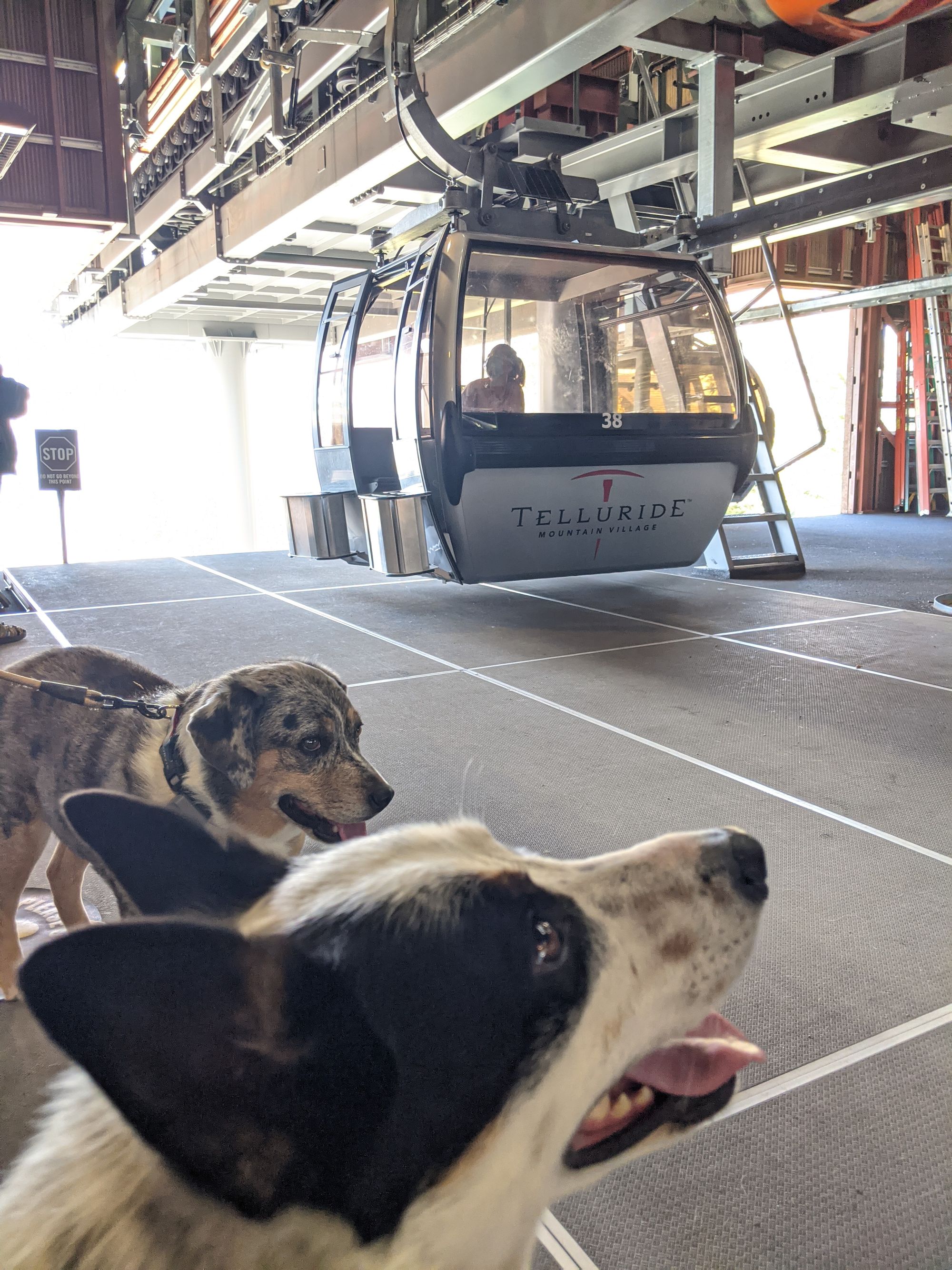 After our long day of adventures, we packed our 3 tired dogs into the van and started heading home. We chose to spend an extra night along the road at one of several little boondocking pullouts squeezed between the highway and the river.  These spots can be annoyingly noisy during the day, but as the highway quiets down for the night they're great for an overnight stop. No cell signal as is typical around this area, but good river access for the dogs.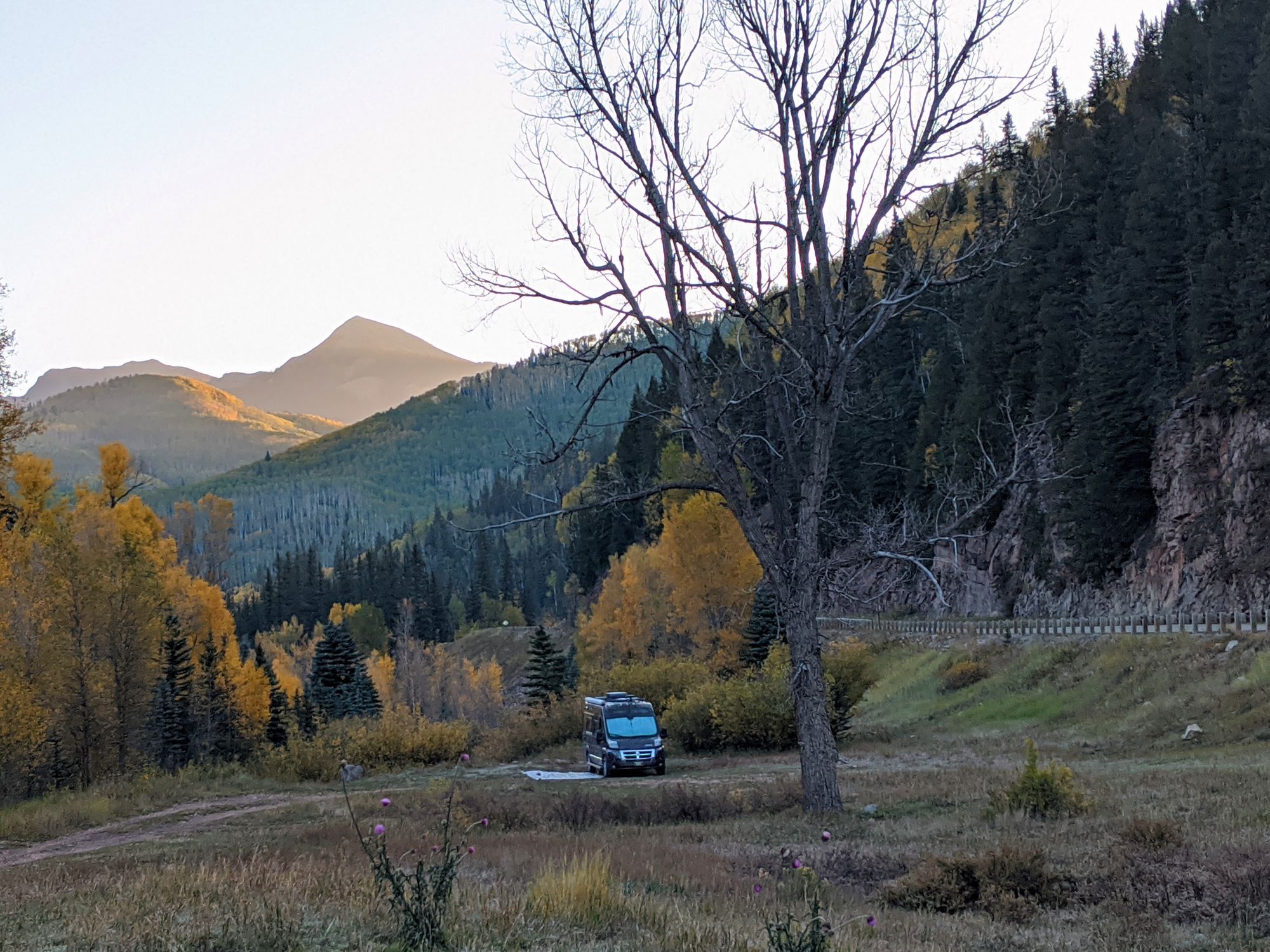 Telluride is a ski town, and probably a very different experience in the winter tourist season.  If you visit November–April, do your homework, as they might for example have more dog rules during the busy times.  The gondola also closes for maintenance in Spring and Fall (we visited a few weeks before the Fall closure), so pick your travel dates accordingly.
This post originally appeared on https://fmcadventure.com/2020/11/30/a-dog-friendly-visit-to-telluride-colorado/