Fulltime RV Repairs with Dogs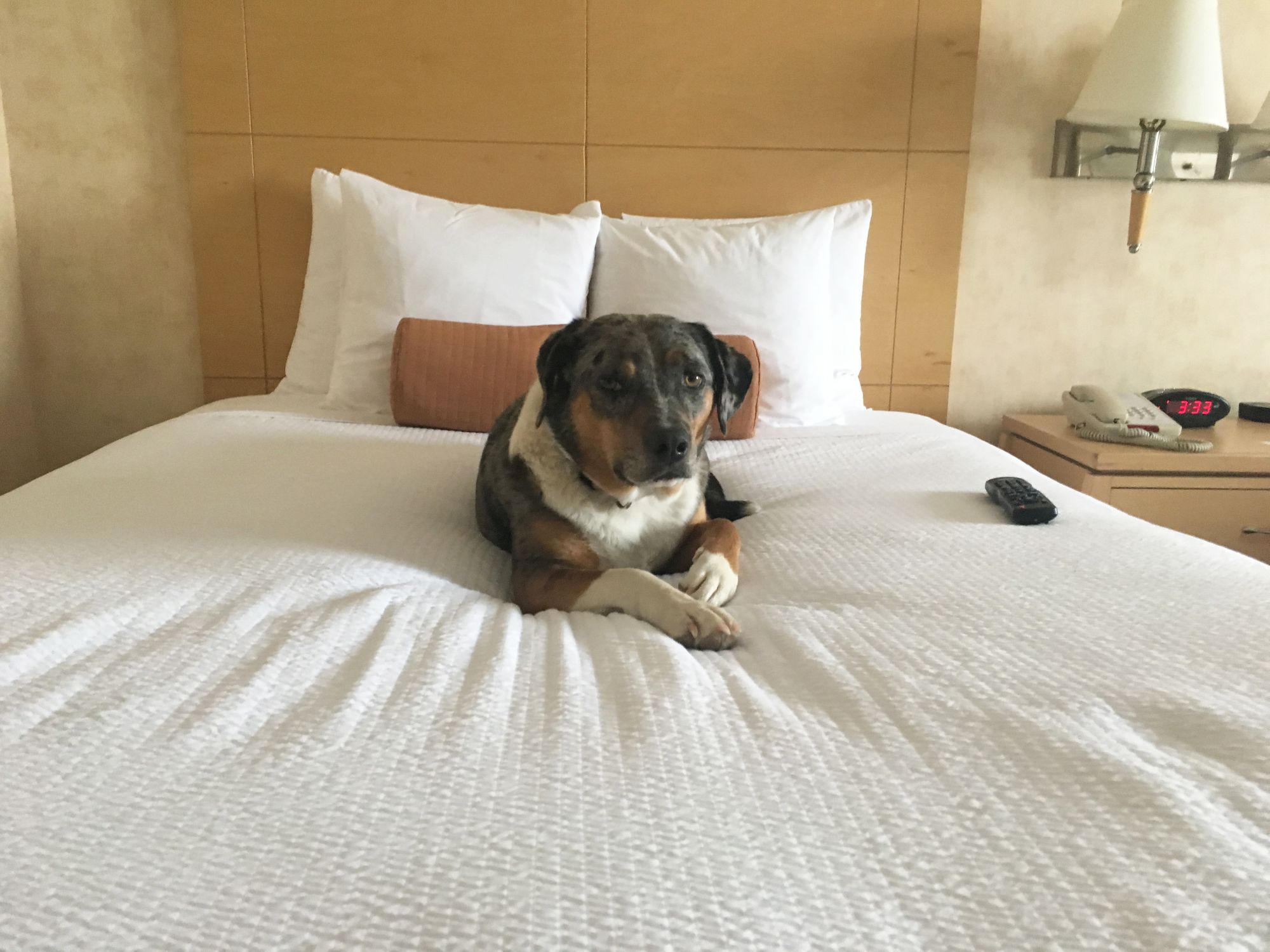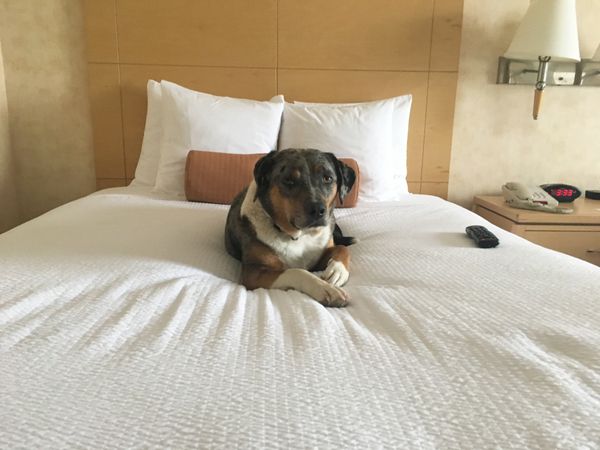 Since becoming fulltime RVers in 2016, we've had several instances where we've needed to leave our motorhome at a service shop for either a few hours, or a few days. Some of these were for planned maintenance, while others were unexpected repairs. Having dogs doesn't make this scenario any easier, but with a little planning and a "go with the flow" attitude, it can be painless!
Finding accommodations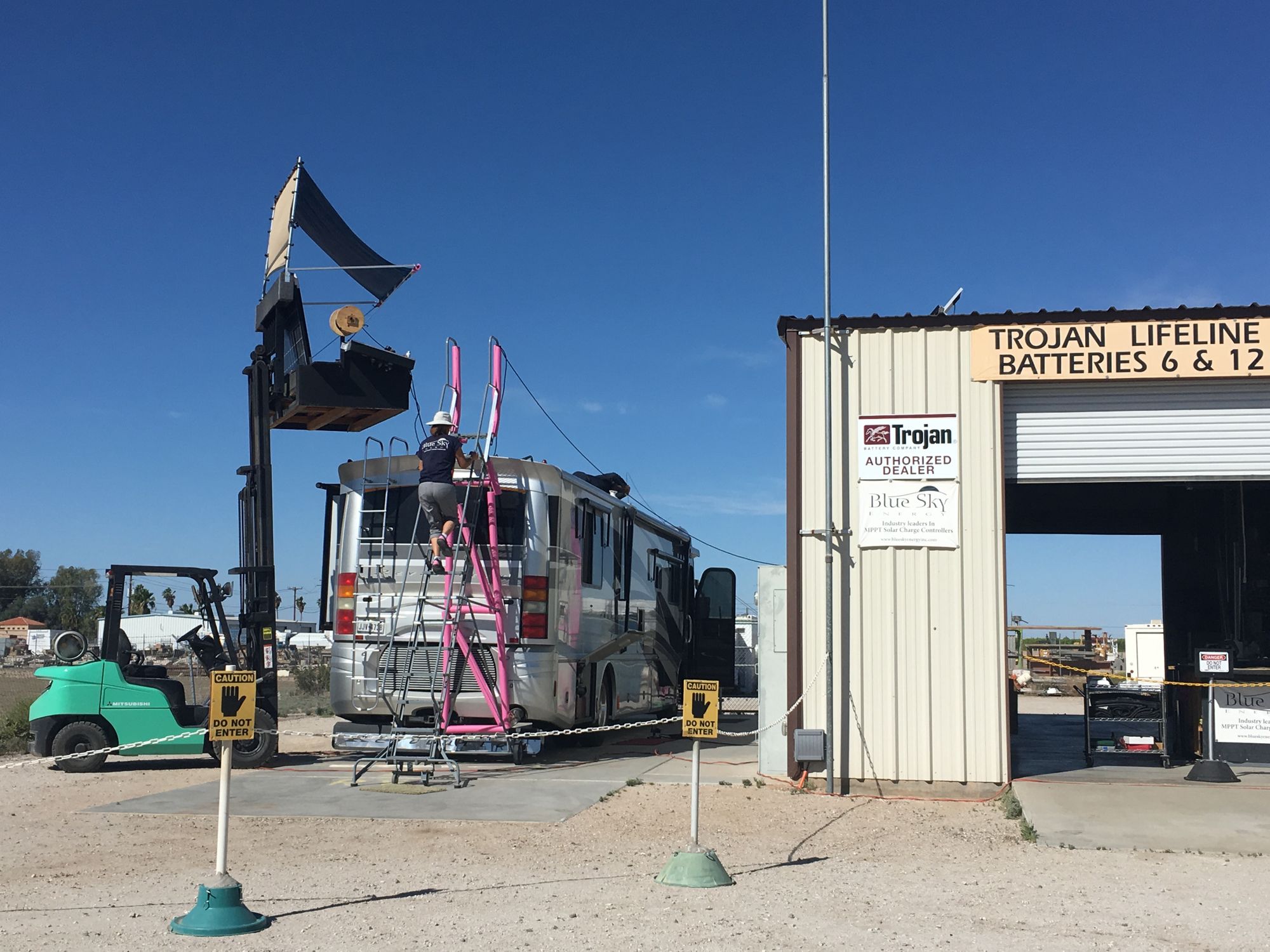 So, you've just dropped off your RV at a service shop, but it's more than your RV, it's your home! You're now homeless. You need to find a place to stay overnight that will allow pets. What are your options? Depending where you are, your top choices may be a hotel, an Airbnb, a tent-camp site, or a friend's home. In our experience, we've found that for many repair places, if they are keeping your rig overnight, they don't want you to stay in it. Some will allow you stay on their lot the night prior, but once you hand over the keys to them, they want you out of the vehicle until the repair is complete. Makes sense! But doesn't hurt to ask if you can stay in the rig at night.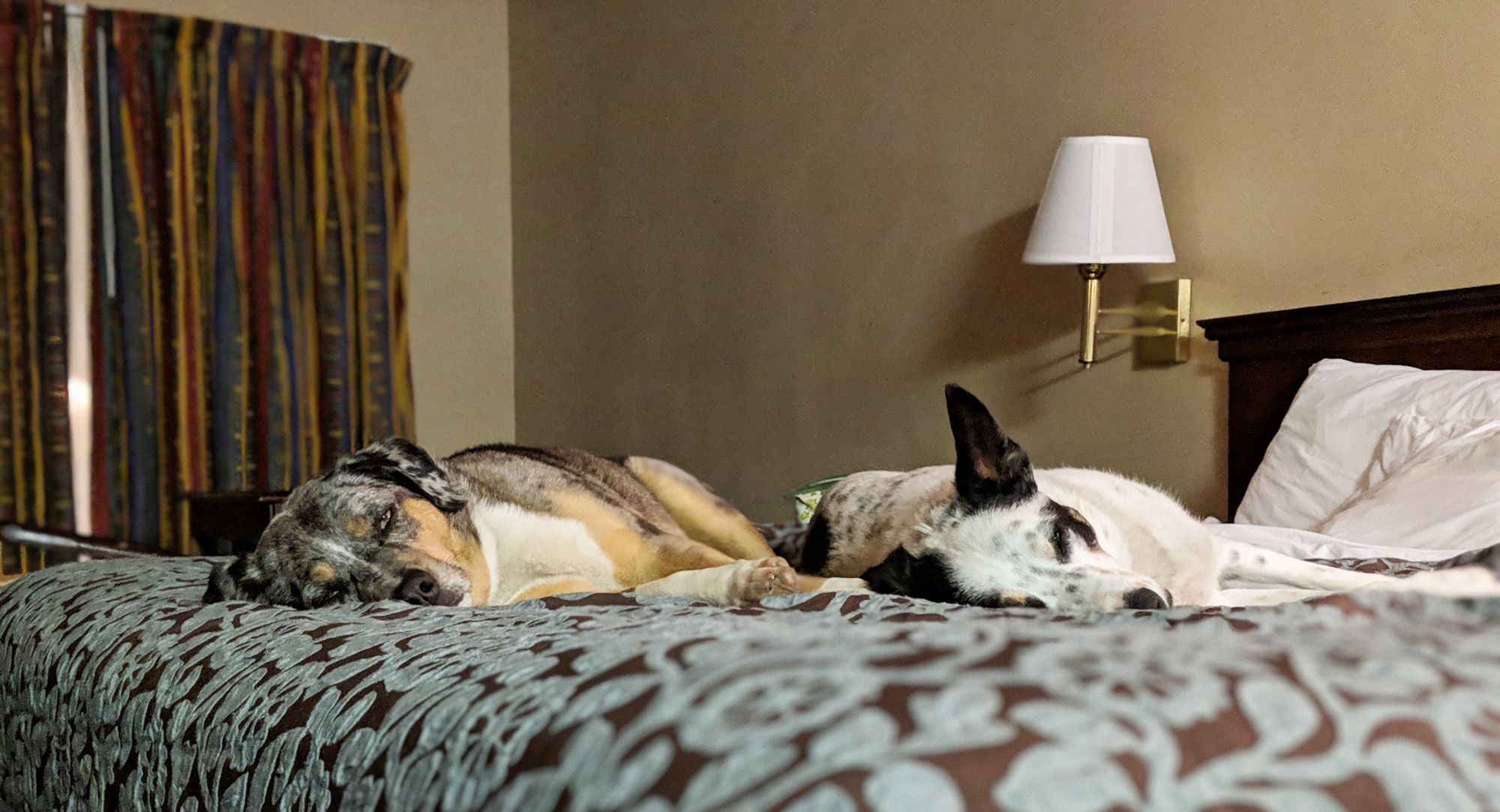 If you don't have a car other than your RV, your best bet is probably to ask the service shop if they have a recommendation for a local hotel that's pet-friendly. Preferably one you can walk to, or that has a shuttle service, or that the service shop might drive you and your pet to. Taxi or Uber drivers might not want to give a ride to your larger pets.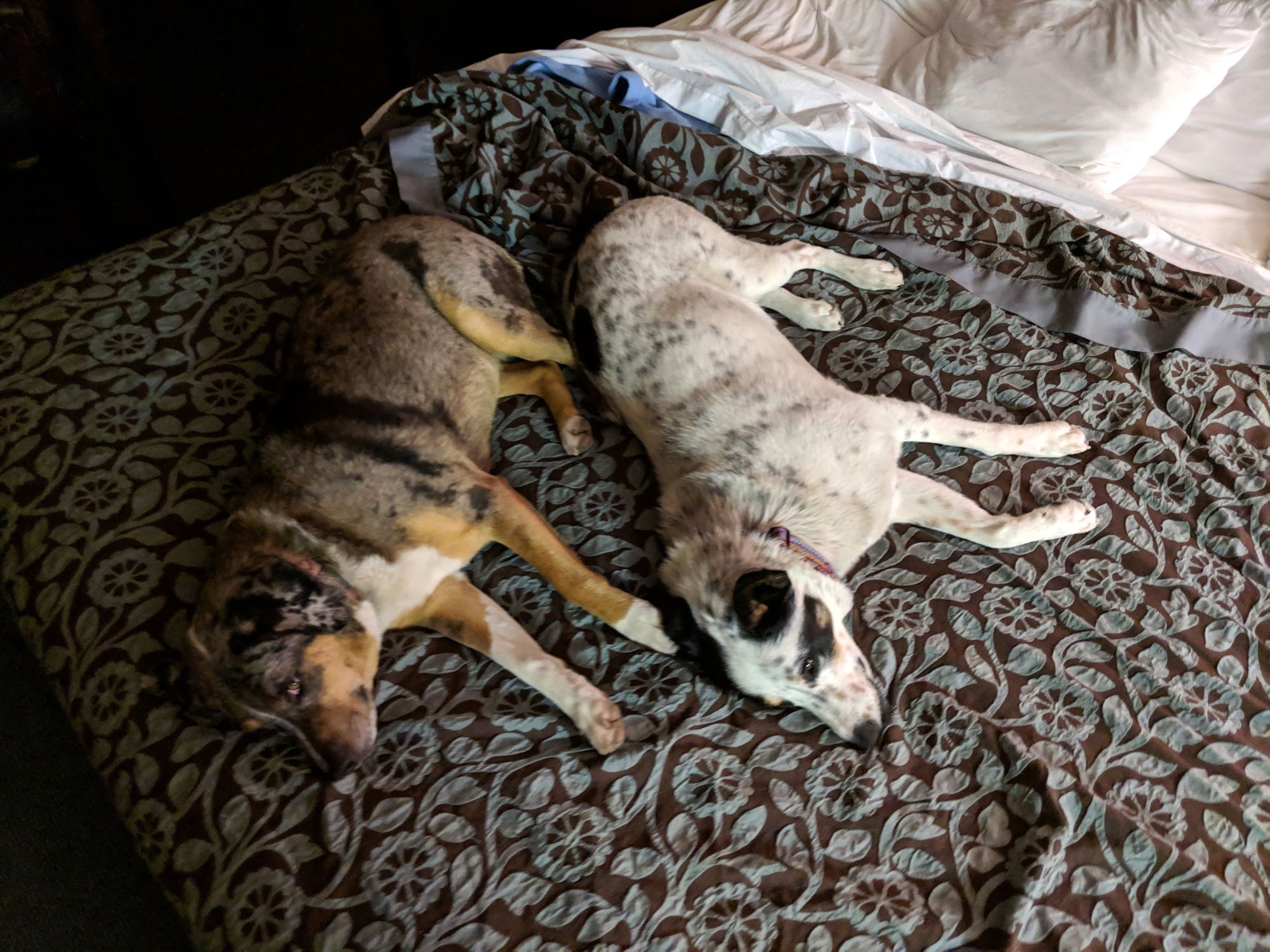 Most hotels charge some kind of a pet fee. Our most recent stay had a non-refundable $20 charge per dog per night, and a refundable cleaning deposit.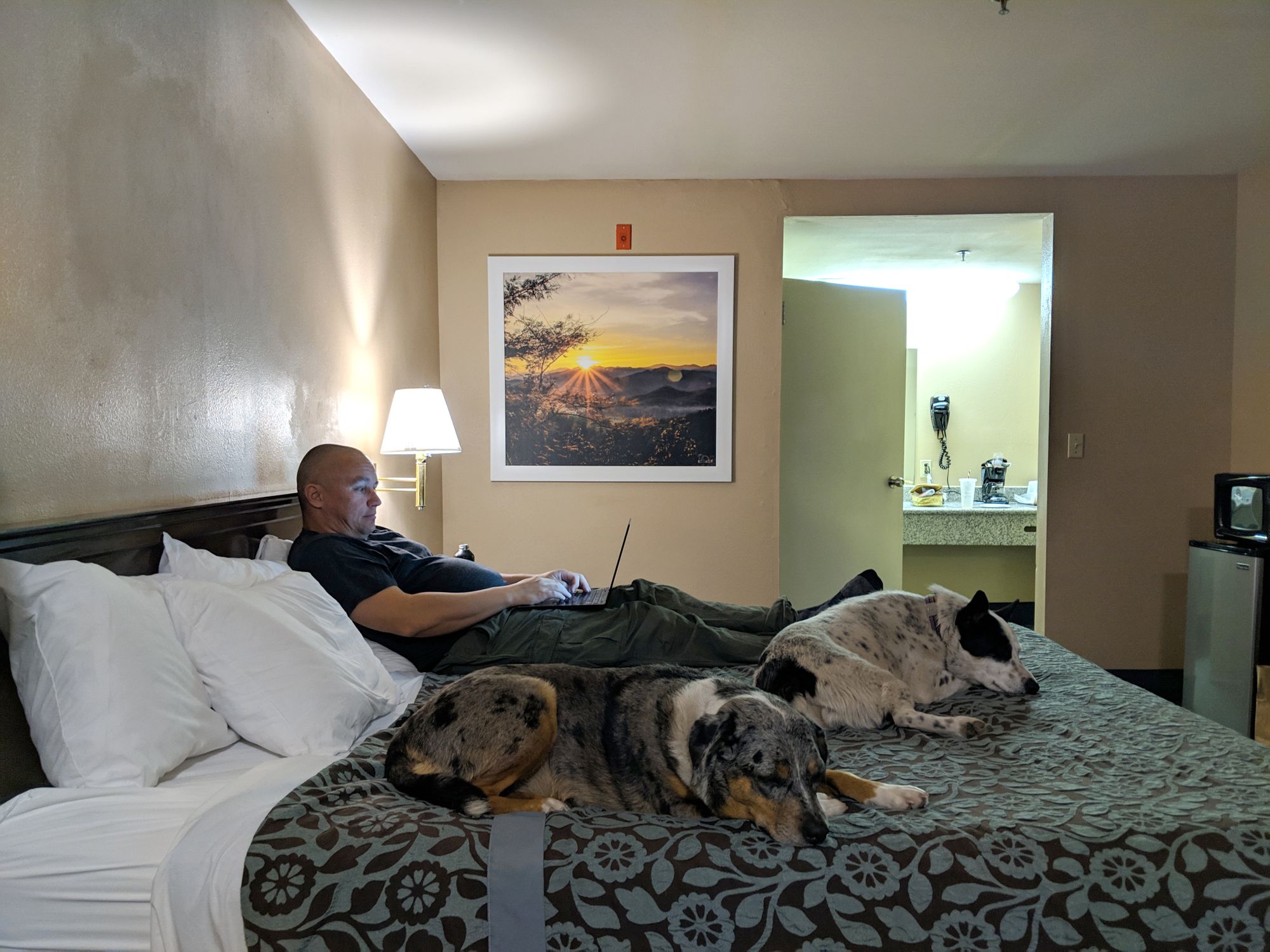 If you have time, comparison shop for prices and reviews. Had we done that for our recent motel stay, we might have noticed it had 1.5 stars on Yelp… but hey, who needs a hot shower? (Seriously, what's worse to an RVer than the possibility of an endless hot shower, than checking in to your room and having a lukewarm/cold shower?! But I digress…)
Your dog's packing list:
Even if you're planning to leave your rig for one day, pack for at least three!
Collar with name tag and current contact info
Leash
Poop bags
Food & water bowls
At our last motel stay, we forgot food bowls so we had to use some paper plates from our hotel's continental breakfast.
Food
Bring more than you think you need.
Can opener
If needed for canned wet food.
Cutlery
Those plastic cutlery sets that come with delivery food are great to throw in your travel bag. We use them to dole out wet dog food.
Pet bed/blanket
Something with a familiar smell will help your dog acclimate to a strange hotel room.
Toys
This might seem silly, but having Lily's favorite toys along for her first stay in a hotel room really seemed to comfort her!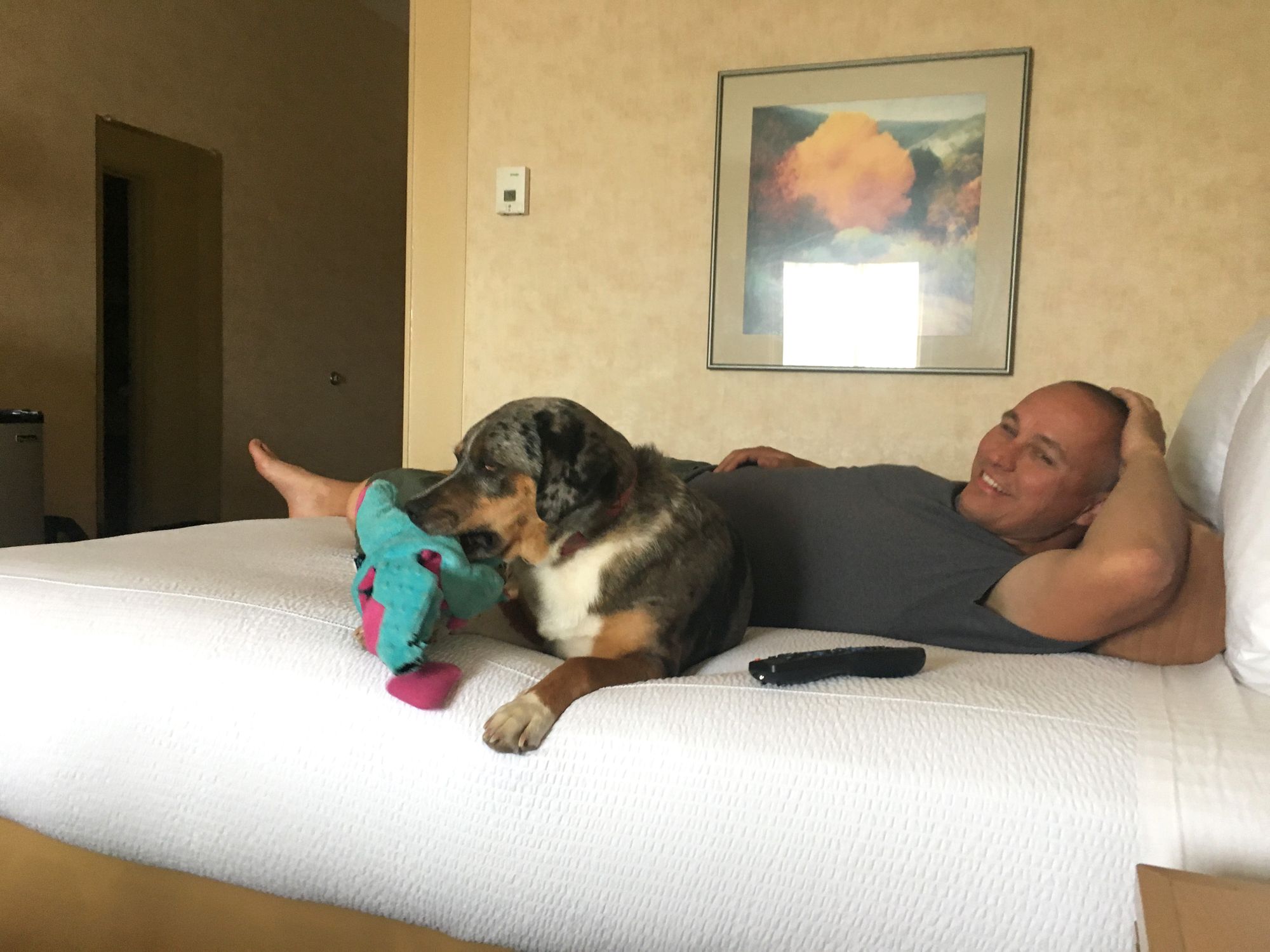 Medications
Does your dog take daily medicines? Make sure you pack them, along with any snacks you may hide them in like cheese, deli meats, etc. Hopefully your accommodations will have a fridge or a mini-fridge. If not, a cooler with some ice should do the trick.
Treats
Long-lasting bones or stuffed Kongs are great for otherwise boring hotel rooms.
Crate/carrier
Depending on how much a crate or a bag plays a routine in your pet's life, you may consider bringing it with you.
Medical records
Always a good idea to have these on you, on a USB stick or in the cloud, in case an unexpected vet visit is needed and you can't access your rig.
Water
A filled water bottle for you, and one for your dog. We like to keep a gallon jug of bottled water in our Jeep at all times, and on days like this it comes in handy.
Dog-friendly ways to spend the day
Maybe your repair will only take a few hours, or maybe you don't want to sit in a motel room all day long. Either way, here are some suggestions on things we like to do with the dogs while the motorhome is in the shop!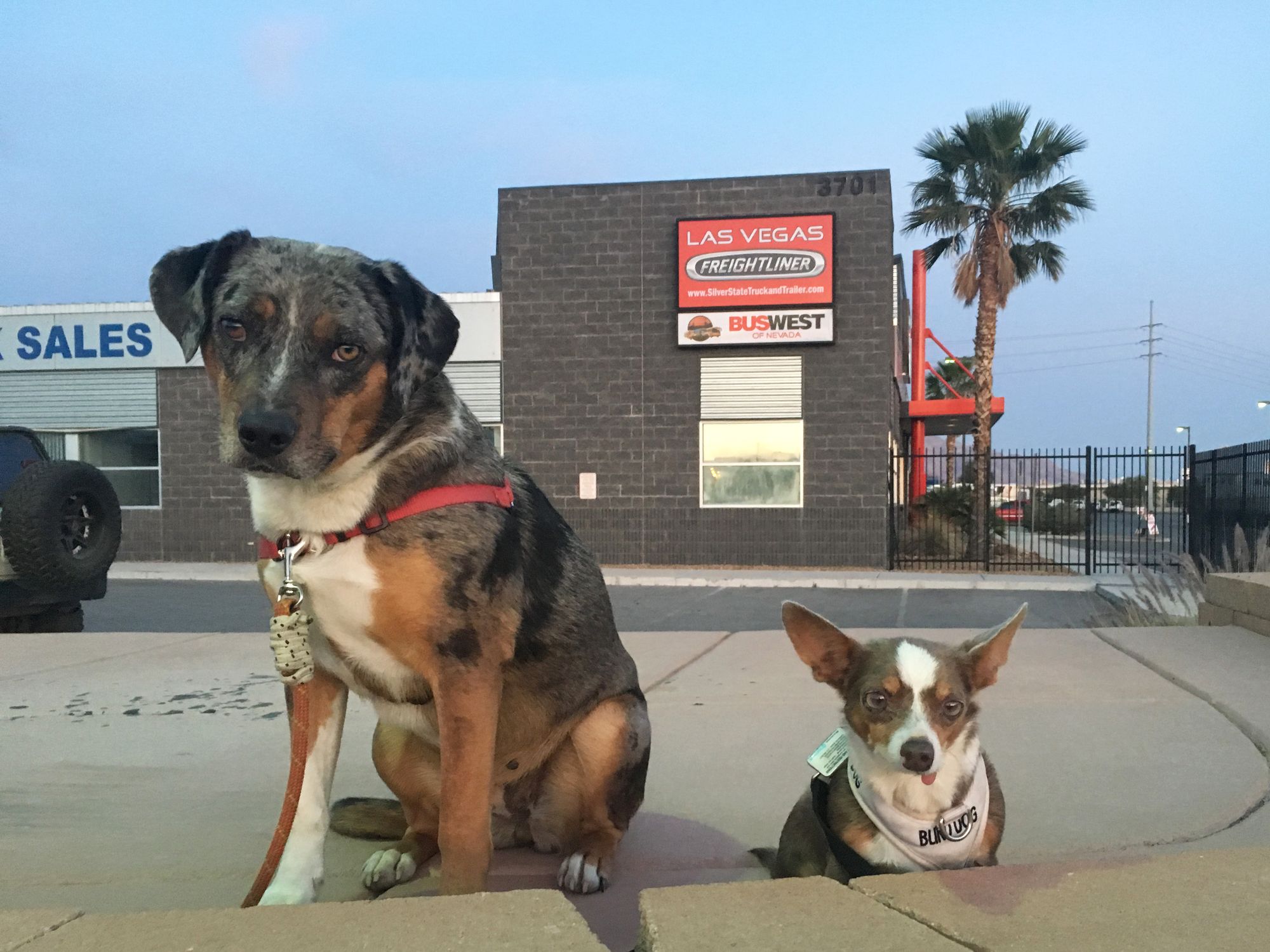 Breakfast at Starbucks
Most Starbucks have outdoor seating and free wifi. This is a great place to have breakfast, get some work done, and have your dogs by your side. If you ask nicely, you may be able to score a "puppachino" for your pet!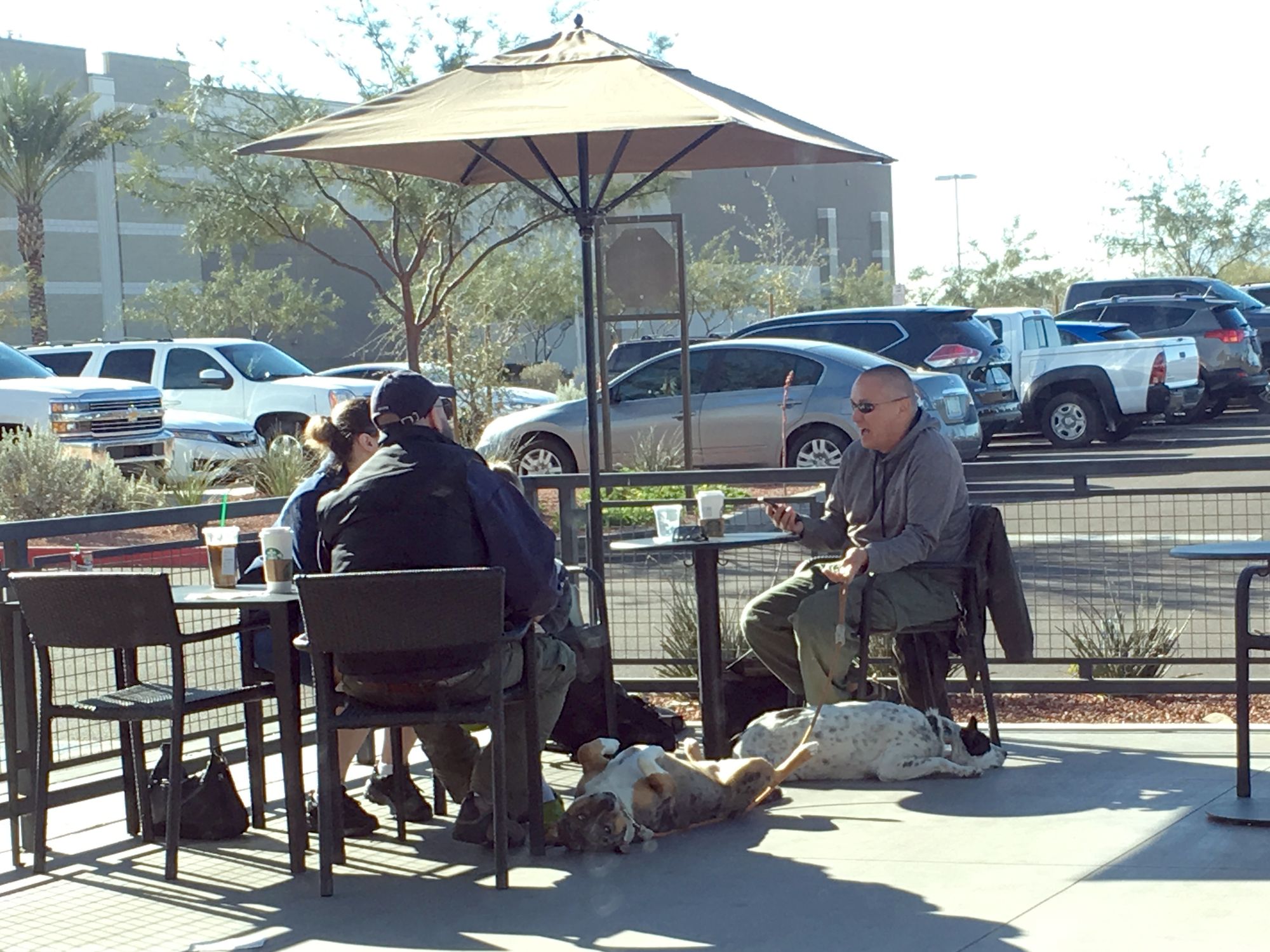 Check out a dog park
We've visited some amazing dog parks in our travels! Our dogs love new smells and meeting new dogs, and dog parks are great places to spend an hour or two. It helps fill the day, and it tires out your pup. Win/win! We like the ones with seating, so we can work if we need to. If the town doesn't have a fenced dog park, we will sit in a city park.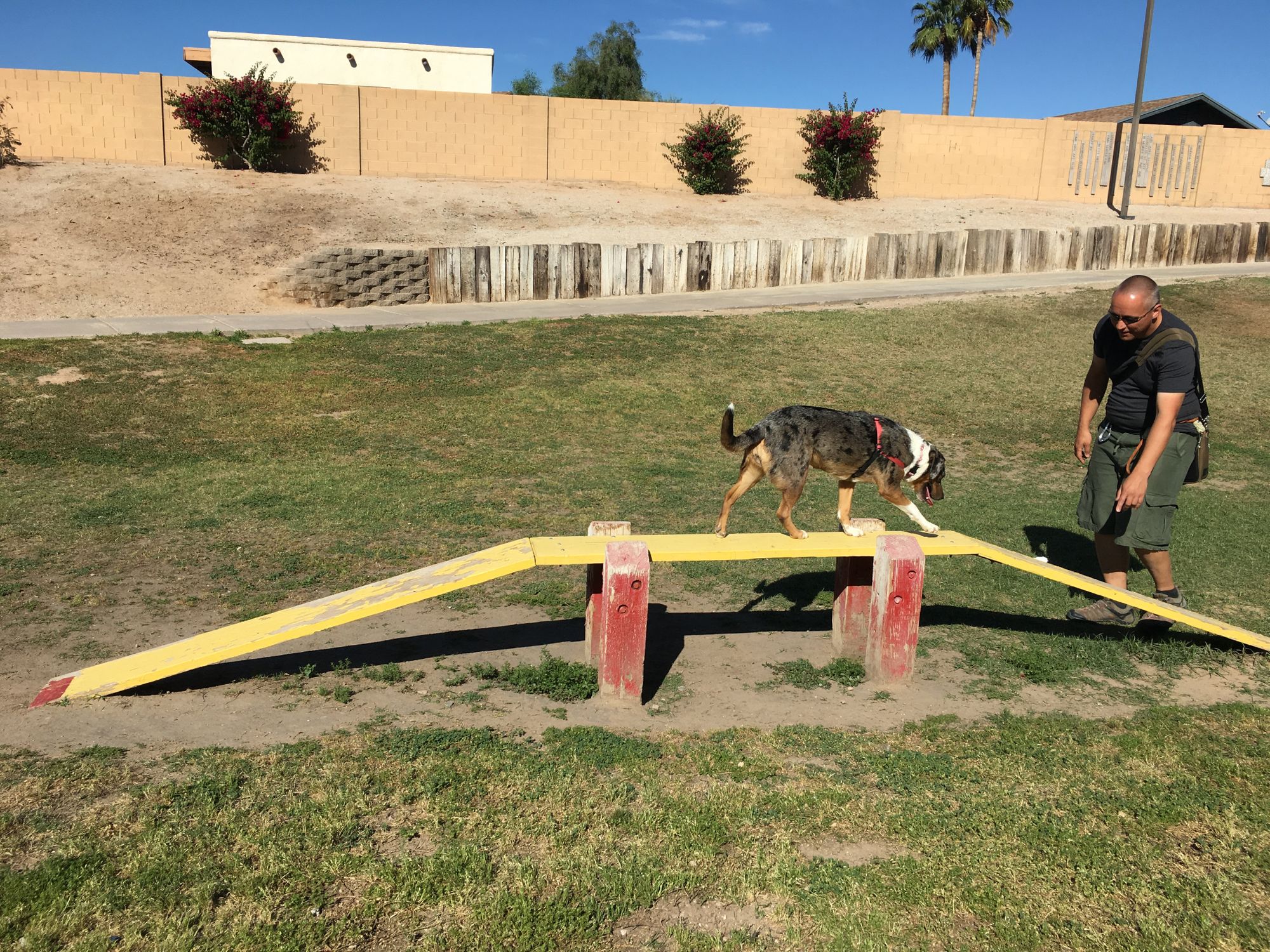 Ane & Tommi protip: As annoying as it may be, take your valuables with you and have them on your person the whole day! For us, that means we each have a backpack or shoulder bag with our laptops, wallets, etc. Do we look a bit odd walking around the dog park with a laptop bag? Maybe. But better safe than sorry! We were once at a fancy, busy dog park and someone had their car window smashed and wallet stolen, even with a ton of people around. Even if it seems like a safe place, if it's valuable to you, don't leave it unattended!
Shop at a pet supply store
Do some shopping at PetSmart or Petco! This is a great opportunity to pick up any of the items you left behind in the RV that you realize you need while out for the day or staying in a hotel! This could also be a great time to get your dog groomed. Some chains even have self-serve dog washes. We love those. Use that endless water while you got it!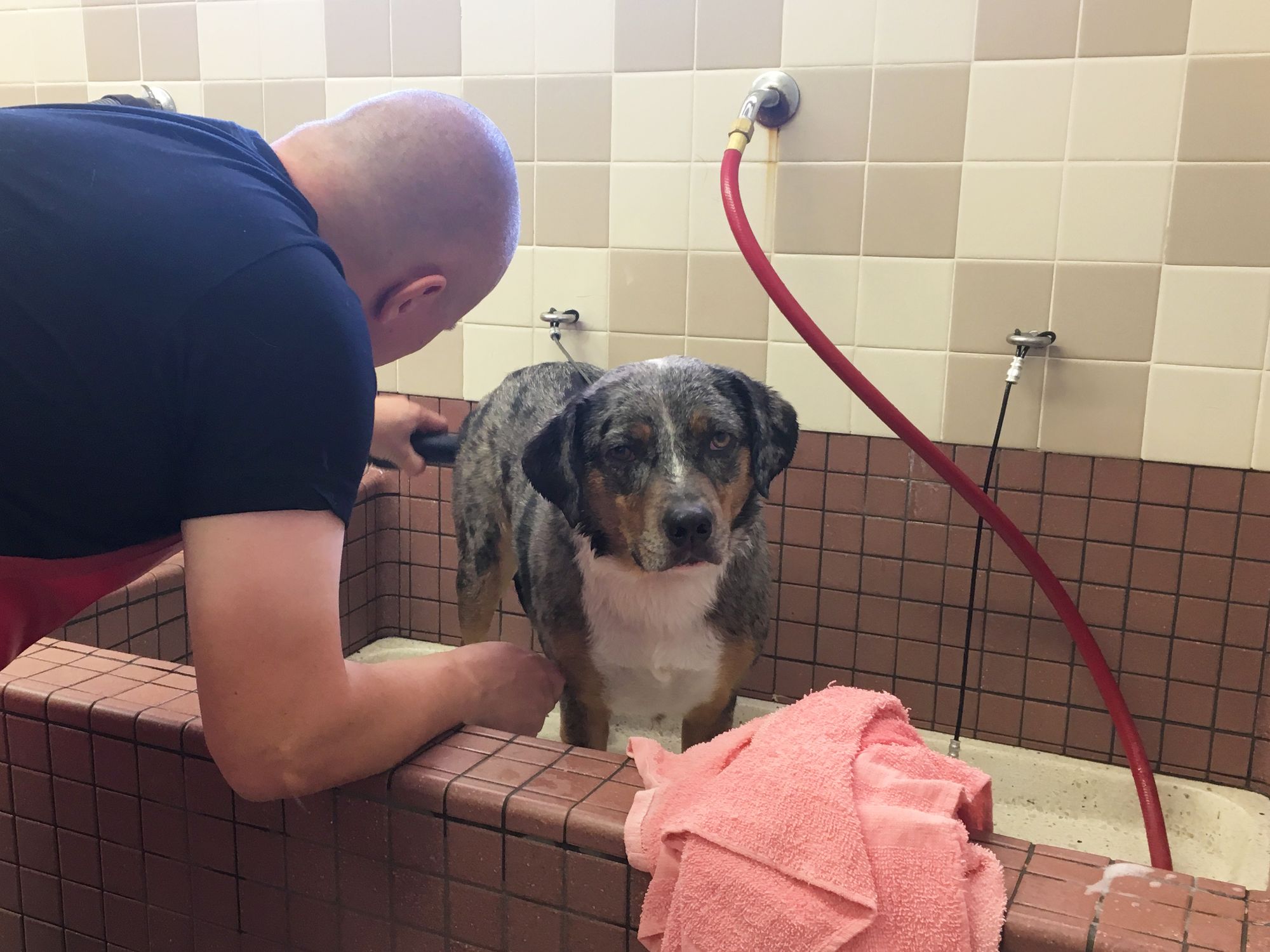 Go get lunch
In-N-Out Burger is our go-to for lunch! If you find yourself in the West (they are only in 6 states) make sure you order your dog a "meat patty no salt" aka, a "puppy patty". What a treat!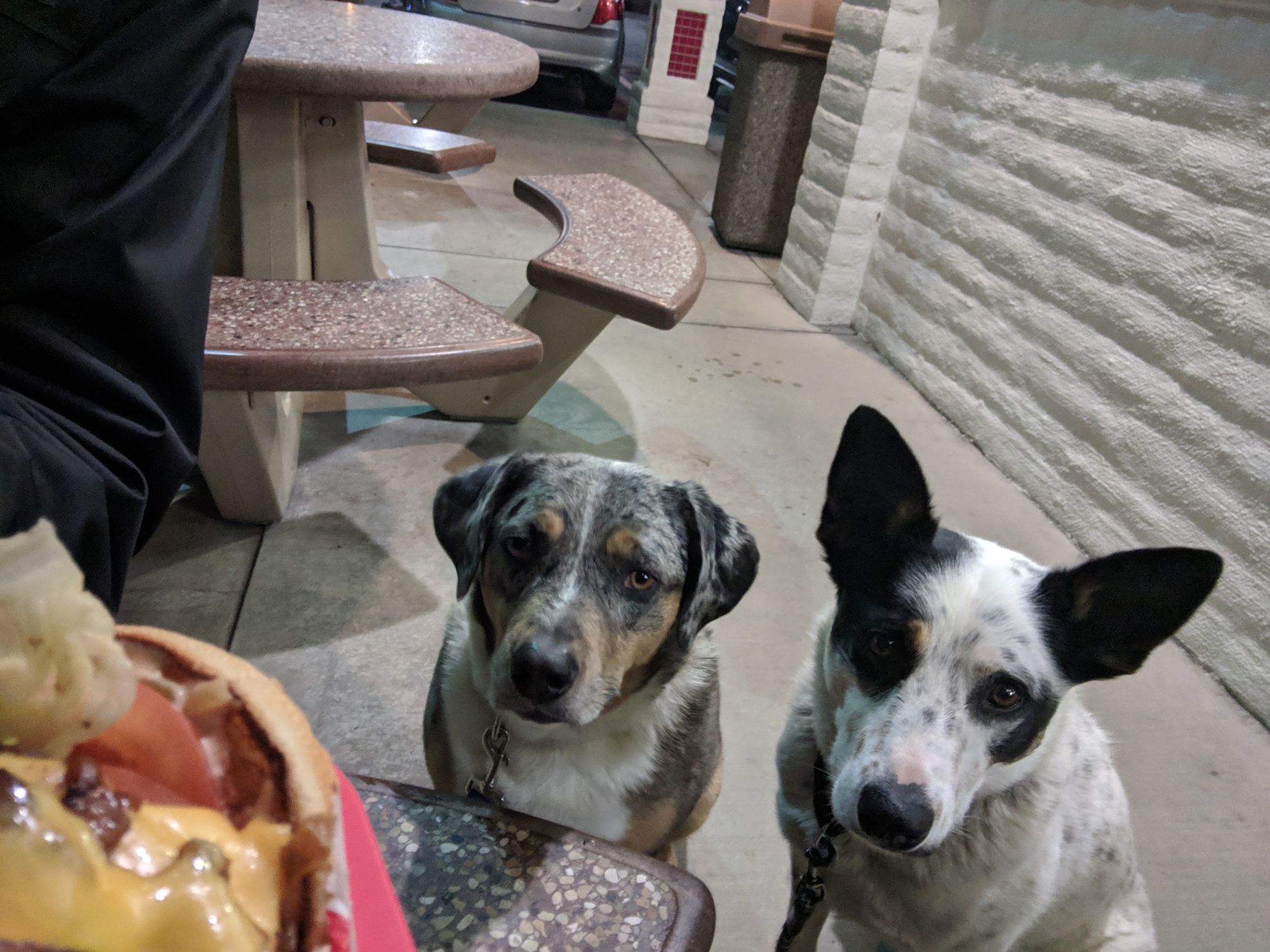 If you want something else, or aren't near an In-N-Out, use Yelp to search for nearby restaurants. Add a search filter for outdoor seating, and then call ahead to confirm they allow dogs.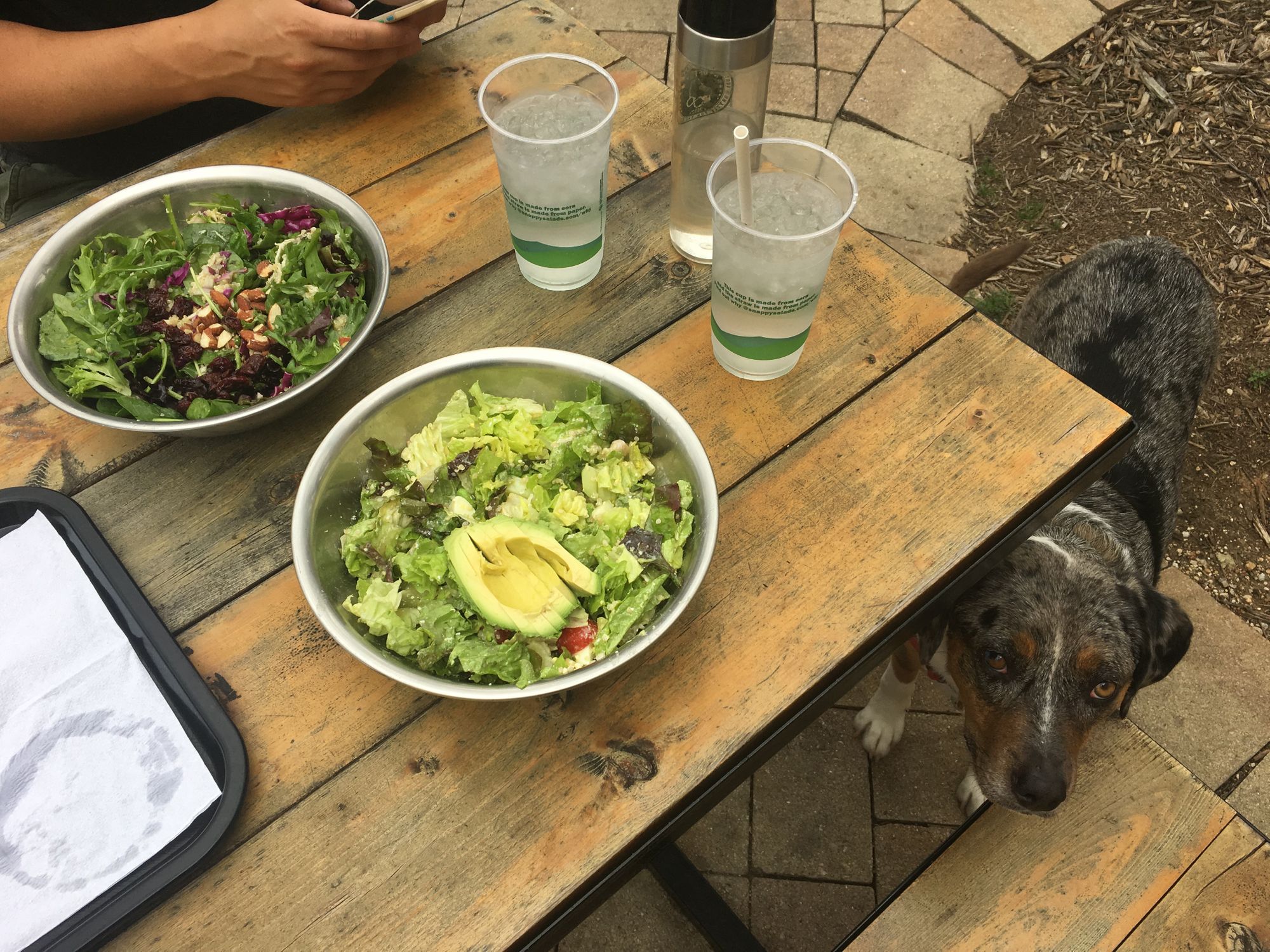 Lounge in the lobby
Some service shops allow pets in their waiting area, some don't. We've encountered both. What's nice is the one that didn't, actually had a fenced dog park on their property!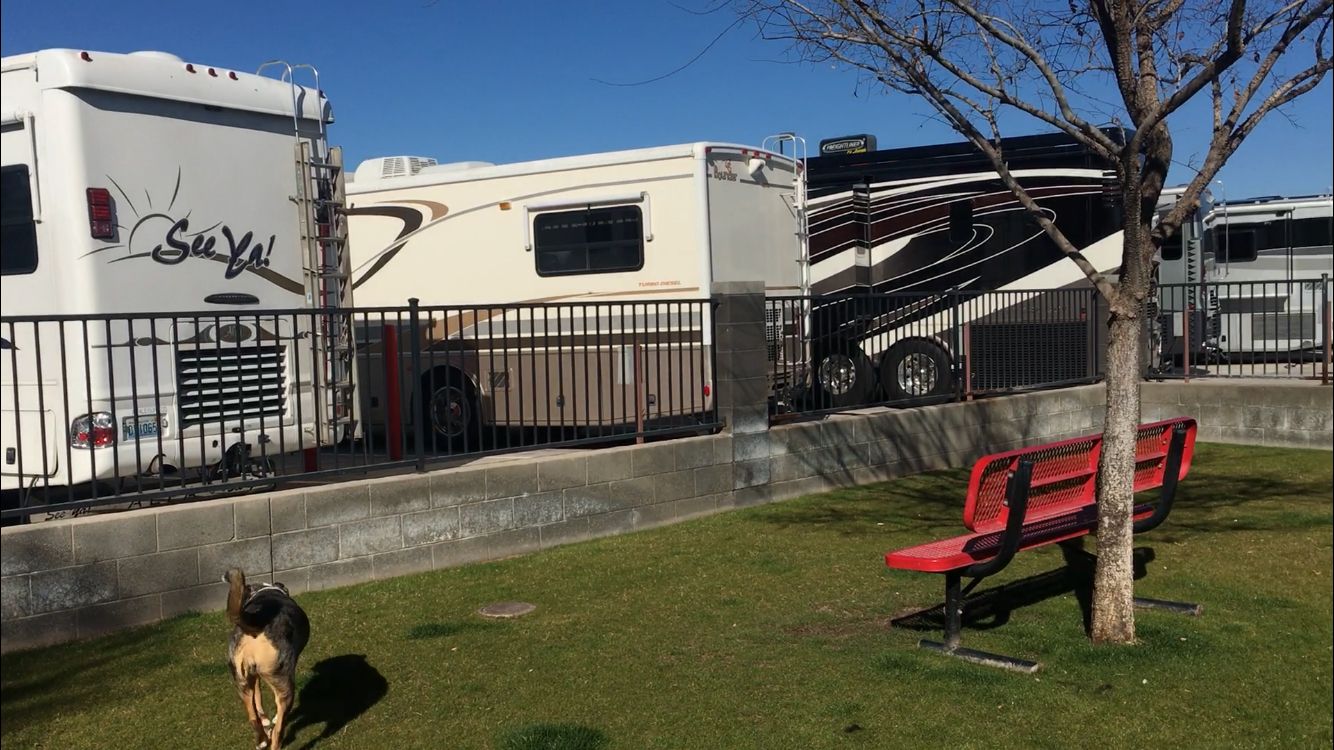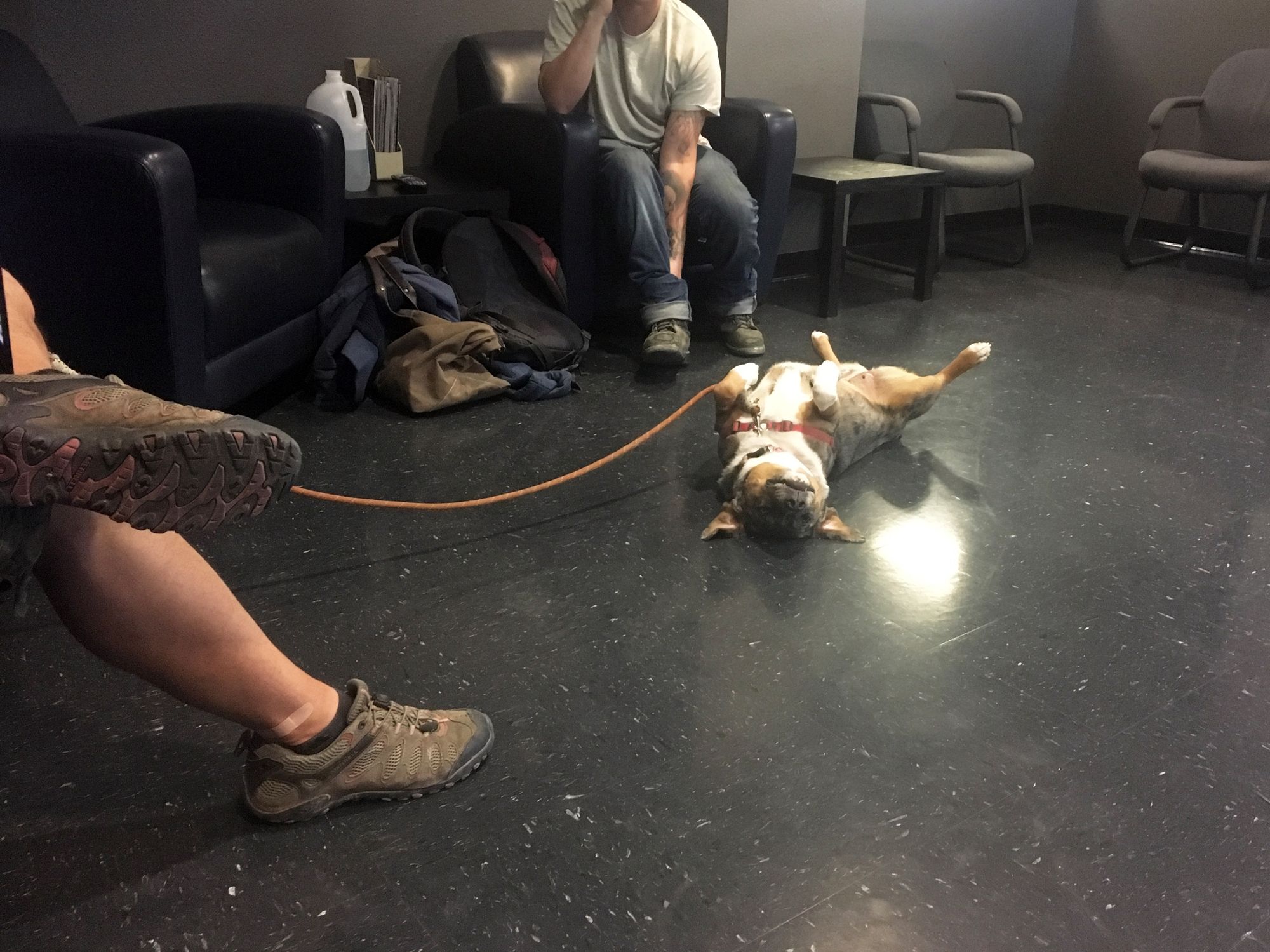 Lily protip: Some service shops have CATS! Lily loves cats. This one's name was "Meow" and he was the local mouse hunter at the shop that installed our tow brake system.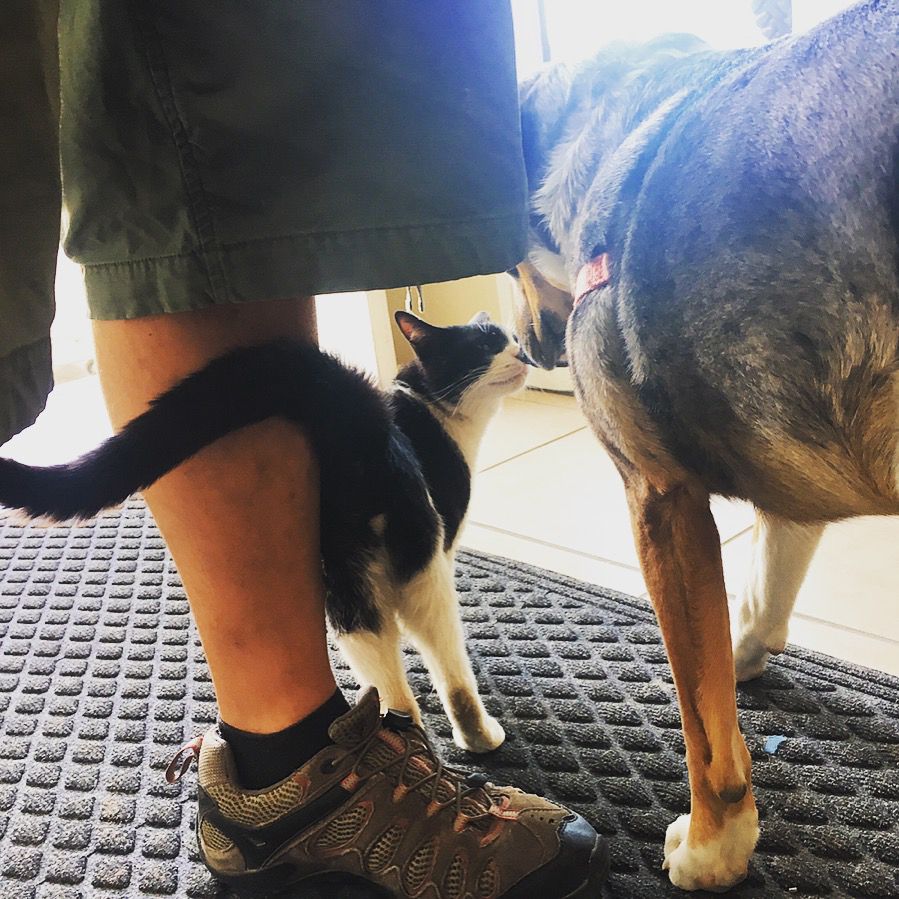 Go for a walk!
Make it a walk around the neighborhood of the shop, or get in your toad and find a nearby hike!
Okay, for this next suggestion, cover your dog's ears...
Schedule vet appointments
Your dog may hate you for this, but if you know the date of your RV service in advance, AND your pet needs an extended vet visit, you can schedule both on the same day so you essentially have "free boarding" while they get their treatment. Have we done this? Yes. Kind of. We had a day in Phoenix where we had a ton of errands to do and couldn't bring the dogs along so we scheduled their yearly dental cleanings for the same day. We dropped them off in the morning and picked them up in the late afternoon. Would your dog rather do all the fun stuff I mentioned above, like going toy shopping and eating burger patties? YES. But still, something to consider if you can make the timing work out!
Order delivery for dinner
Unless you're doing drive-thru, dinner can be a more complicated endeavor if you have your pets with you. It's generally dark, maybe cold, and you don't want to sit outside. Order in! If you're in a bigger city, remember services like GrubHub, DoorDash and Postmates! We used one of those services to get some delicious ramen from a trendy spot that didn't have their own delivery (or outdoor seating).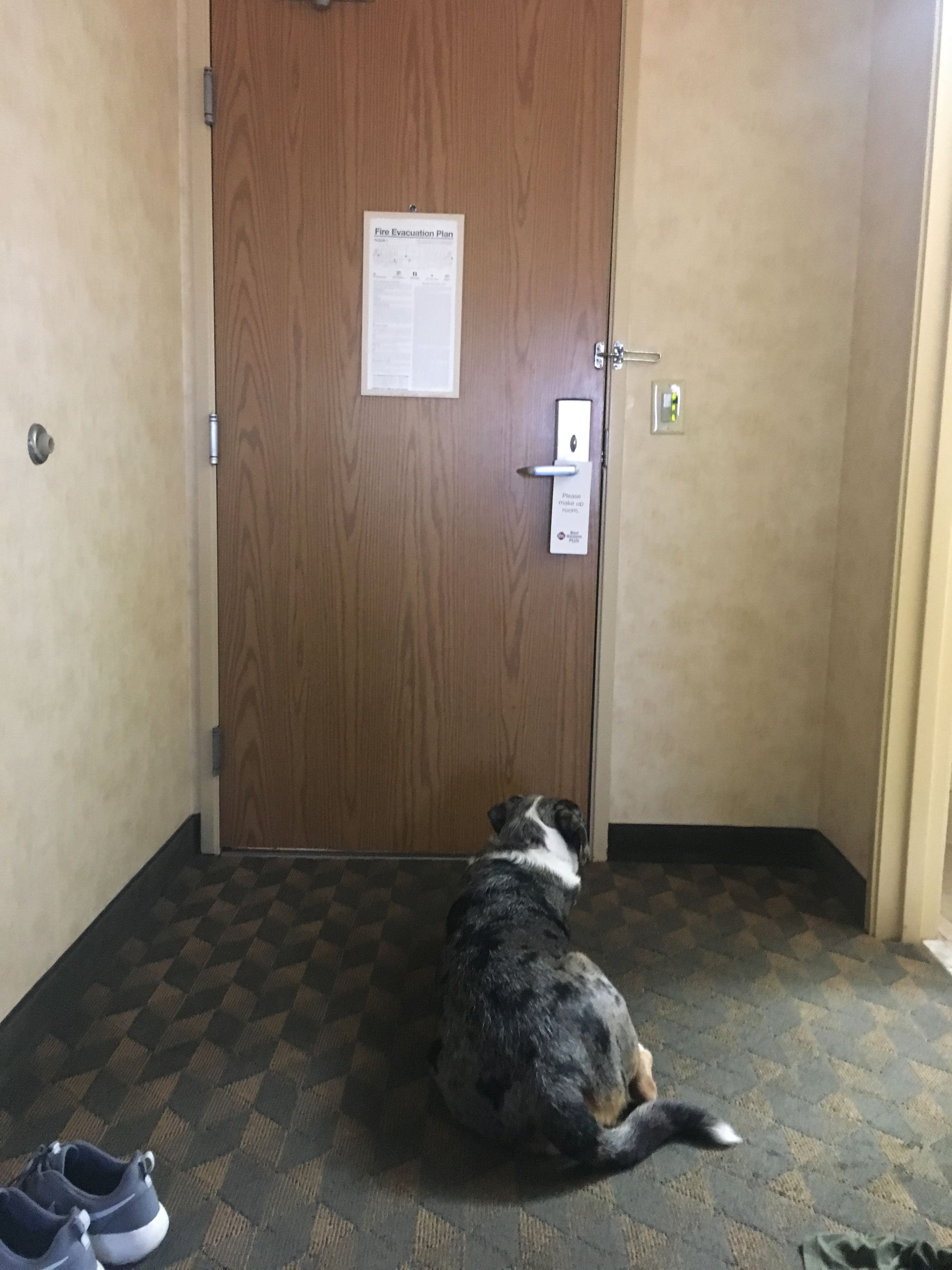 You can make repair days work
Breaking away from routine can be upsetting for some dogs, but if you play it right, an unexpected RV repair day (or two, or three) can be a fun change of pace for you and your dog!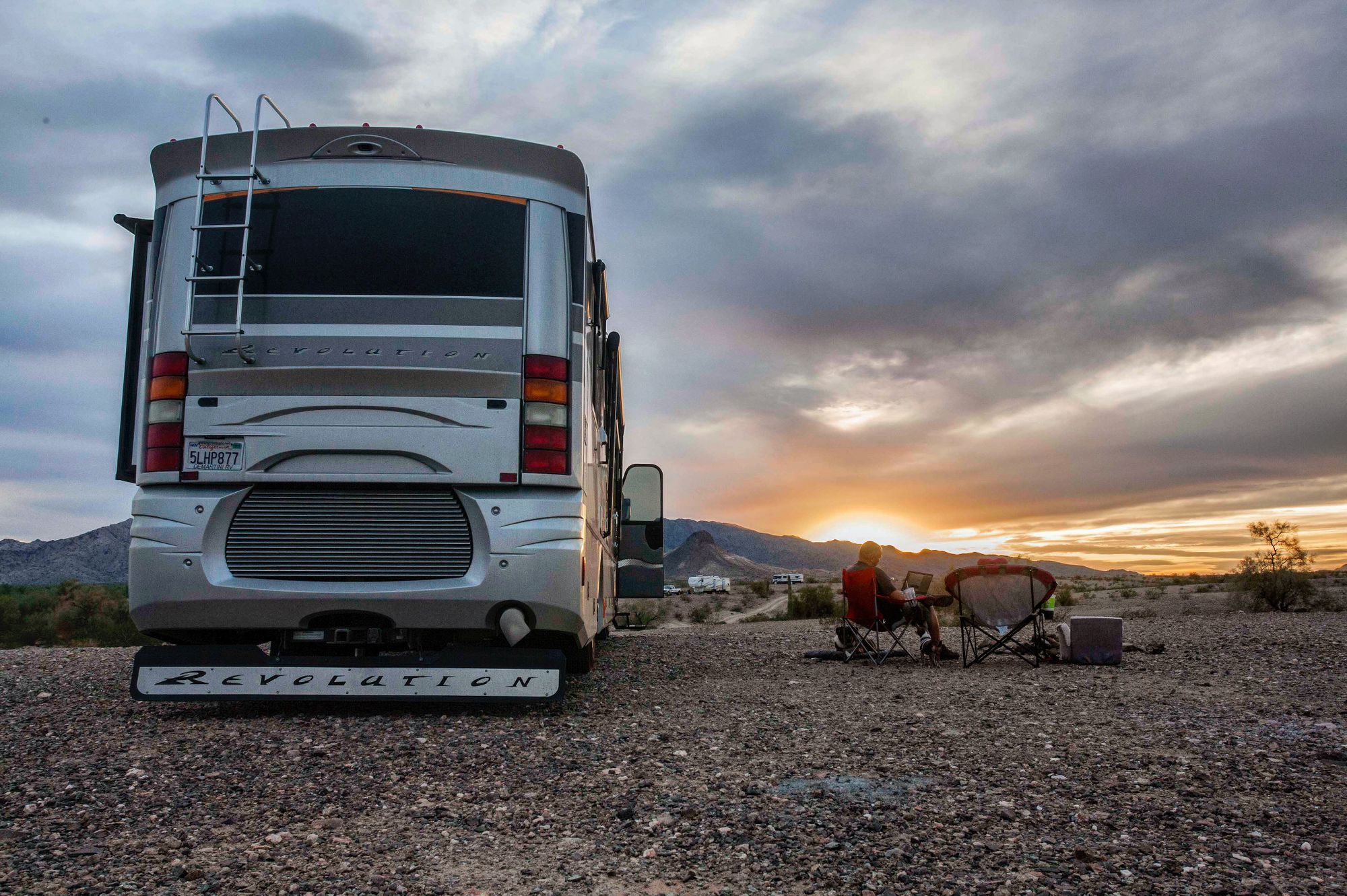 This post originally appeared on https://fmcadventure.com/2019/02/25/fulltime-rv-repairs-with-pets/