Pet Loss on the Road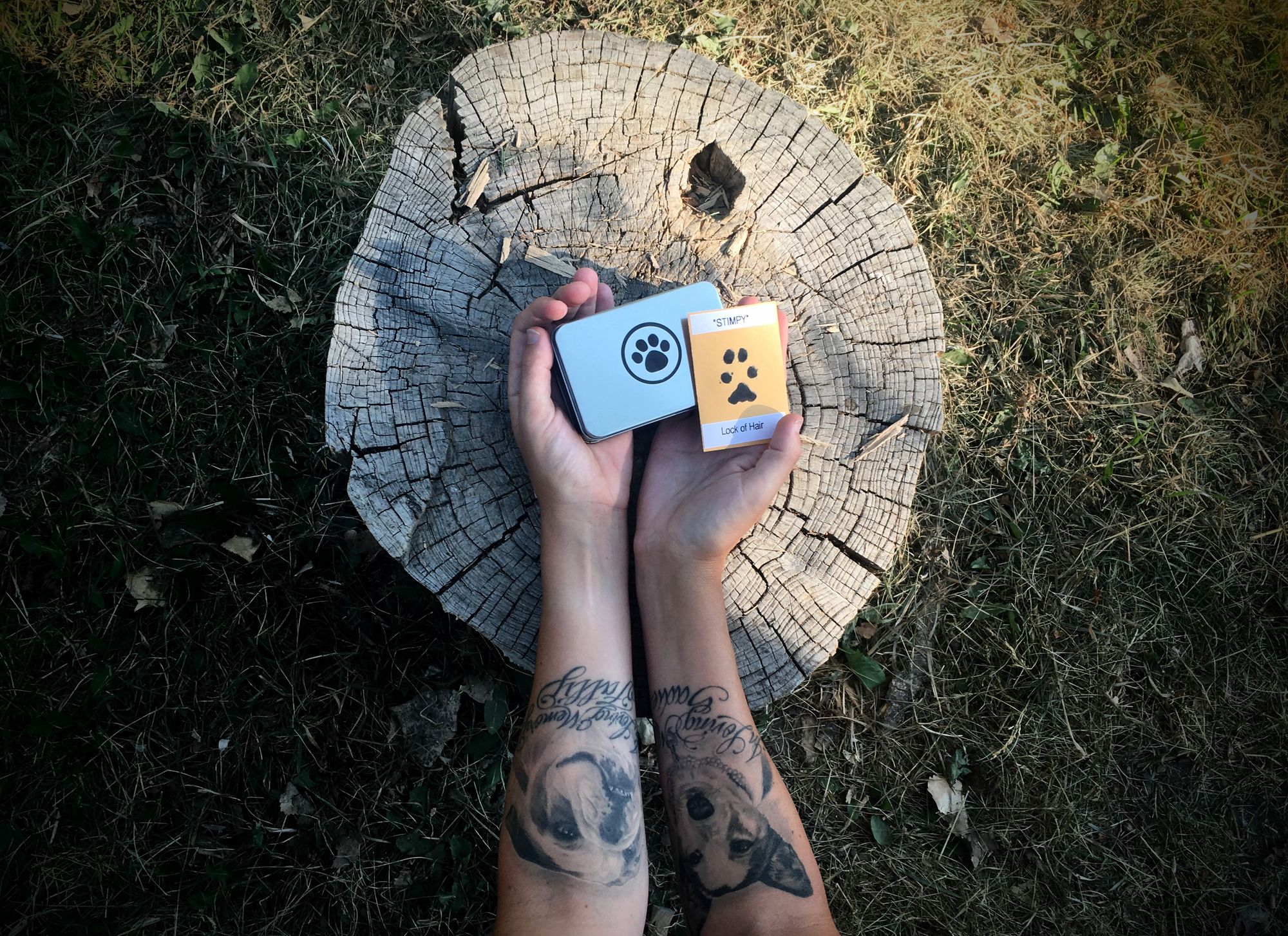 If you're reading this, you are likely an animal lover and have either experienced pet loss before or know that it's an unavoidable consequence of sharing our lives with these wonderful beings.  Before full-time RV life, Tommi and I both had experienced the death of a pet, so this unfortunately wasn't new to us, but going through it on the road was new and something we hadn't thought much about until all of a sudden it was happening.  This is our story of losing our full-time RV dog, Stimpy, and the lessons we've learned from that.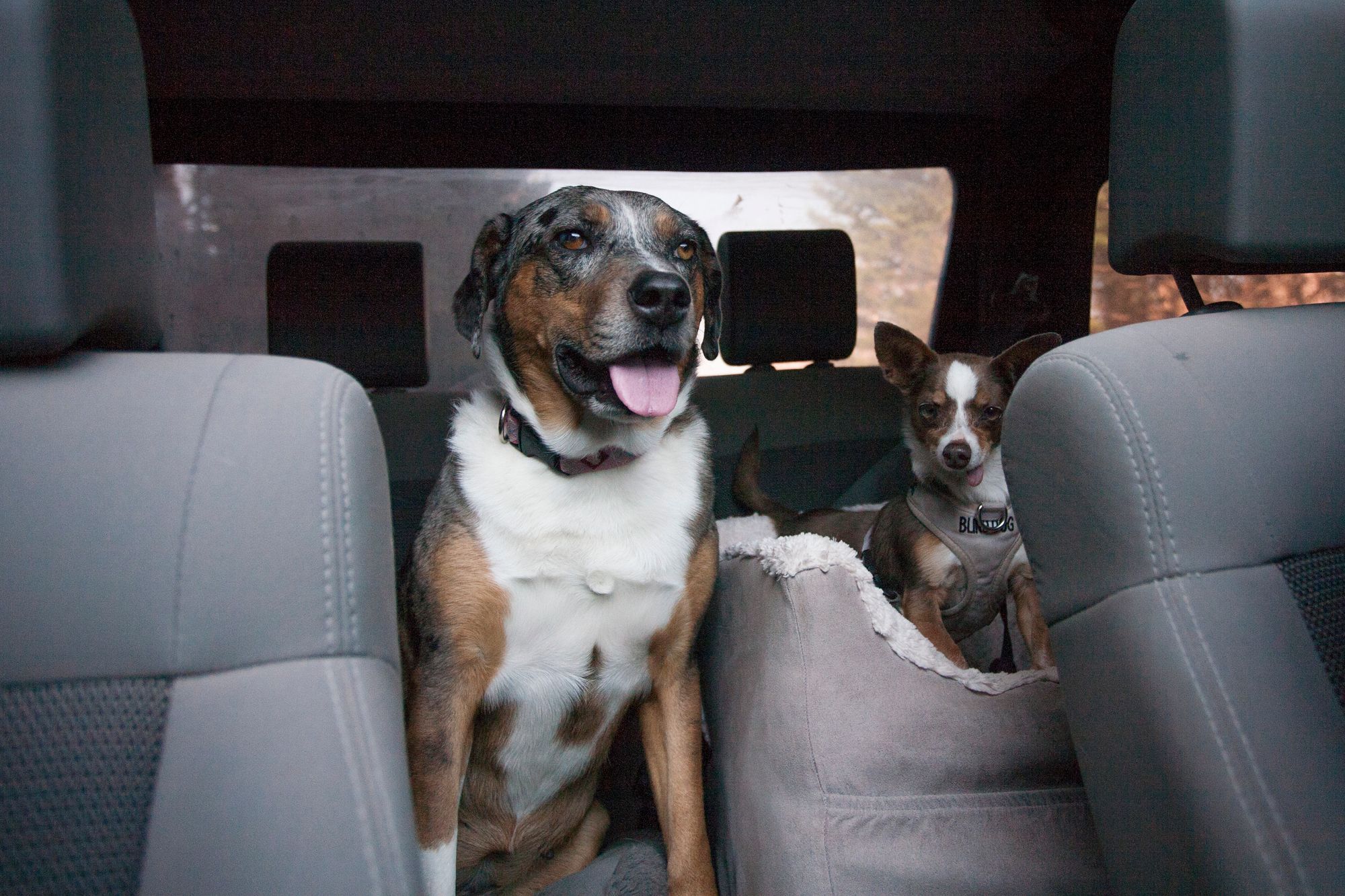 The story of Stimpy
Stimpy was our old man, a blind chihuahua who had been my loyal companion since his adoption in 2008.  When I was working in San Francisco, Stimpy would join me at least one day a week in the office, at times taking both a ferry and a BART train as part of our commute, and spending the day on a pet bed on my desk.  The one thing he loved more than anything was being by my side.
When we decided to full-time travel and work from the RV, we dubbed our journey "Stimpy's retirement," as he didn't have to go to work anymore and would hit the road to travel the US in a motorhome as many retirees do.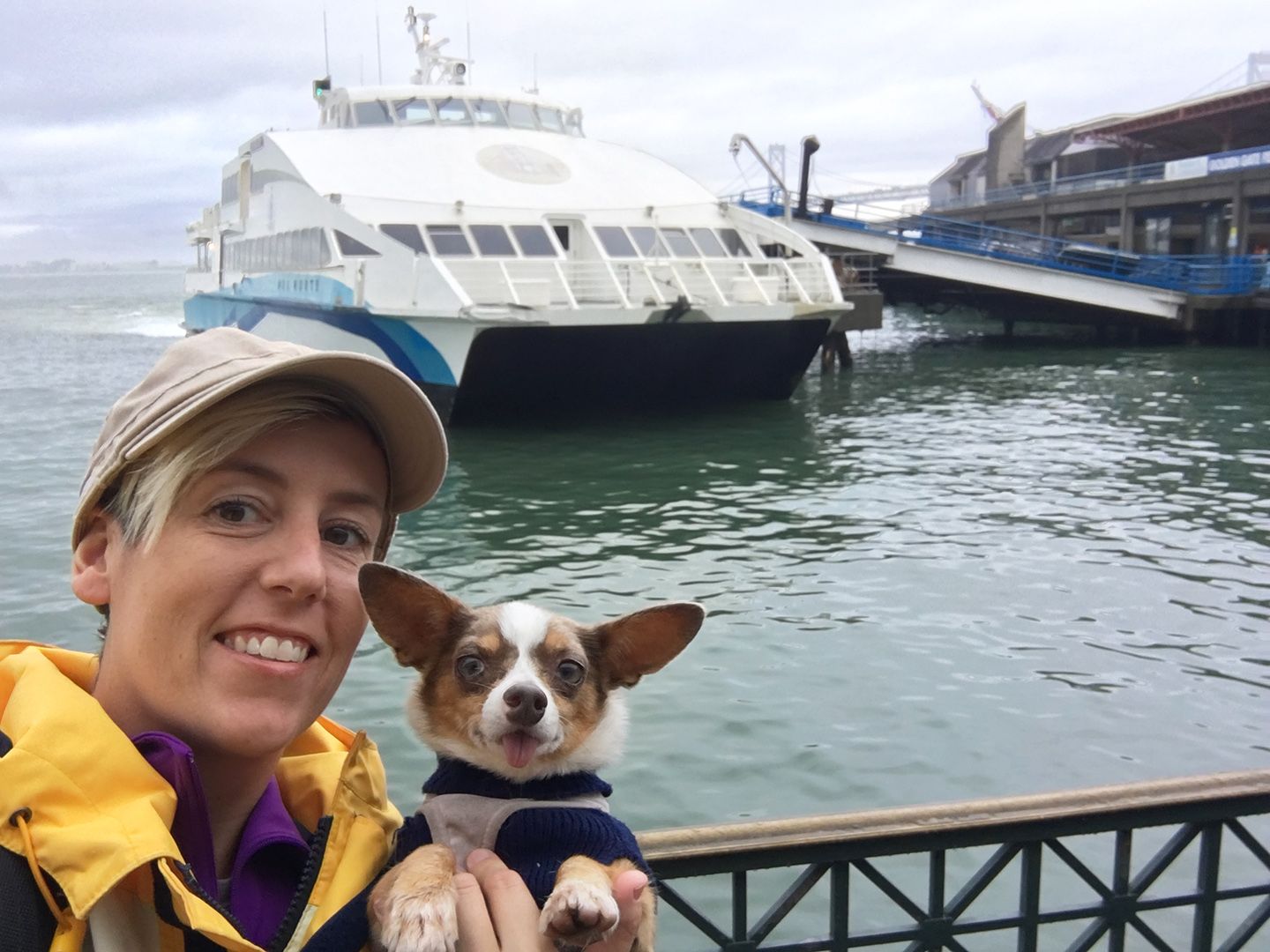 The first 5 months of Stimpy's retirement were wonderful.  Despite his blindness, he loved new smells and exploring new surroundings.  Plus, his humans were with him essentially 24/7 which put him at ease.  
Seemingly overnight, while at Grand Teton National Park, we noticed Stimpy's abdomen swell.  Frantic, we started calling vets in the closest town, Jackson, Wyoming.  That was the longest 60-minute drive of my life, as I wasn't sure if he was moments away from death.  Upon arriving at the vet, we got the news that Stimpy's liver was enlarged (likely from a bleeding tumor).  They wanted to do an aspiration of cells to see if it was cancer, but his blood was too thin to do the procedure safely.  What happened next was a few weeks of pills to ease any pain and thicken his blood so a vet could do the aspiration and figure out what our options were.  
Stimpy was roughly 11 years old, so we knew we wouldn't have many more years with him, but now all of a sudden it seemed we were looking at weeks and not years.  Three weeks from that first visit in Jackson, WY, we went to a follow-up appointment at a different vet in Bozeman, MT.  The treatment to thicken his blood had not worked so we were not able to determine the cause of the swelling.  He had slowed down in those 3 weeks and his quality of life was not what we wanted for him, so the vet suggested we let him go.  We could have done it that day in the vet's office but we wanted one more day with our little man to enjoy the sunshine and to spoil him rotten.  We took Stimpy back to the motorhome and did just that. He had a wonderful last day.  Instead of taking him back to Bozeman, the vet there helped us find a vet in Helena, MT that would come put Stimpy down at home.  
Stimpy was old and blind, but in a good shape otherwise when we hit the road.  He had bloodwork done 7 months before he passed and there had been nothing concerning.  So whatever ailment he had, it had progressed quickly.
Here are a few tips we learned from this experience.
Know the nearby vet locations
When you arrive at a new camping spot, look up the location and hours of the nearest vet.  If they don't have 24-hour services, also note the closest one that does.  That's not something you want to be googling in an emergency.  In our Class A, we had a decorative piece of black glass that we felt was a bit ridiculous as decoration, so we used it as a dry erase board with a set of neon markers.  That board was where we put vet info, along with other important info:  turn-by-turn directions to us for emergency services (because we were often boondocking in a forest or desert, with no address), my mom's phone number (emergency contact), nearby vet info, and mundane things too, like our grocery list.  
Explain your unique situation
Most pet owners don't live full-time in an RV.  At the start of each vet visit, we took a few moments to explain our living and traveling situation.  The vets we dealt with made it easy for us to continue care for Stimpy as we traveled and ultimately assisted in end of life decisions which involved euthanasia in our RV.
Set up a memorial
Full-time RV life means you can't bury your beloved pet in the backyard and go visit whenever you want.  Below are some options for remembrance that are RV friendly.
Consider cremation
We opted to cremate Stimpy's remains and receive his ashes. We've seen some RVers travel with beautiful urns, securely set upon a shelf as a small memorial. We didn't have a great space for that so it ended up meaning that for the first few months after his death, Stimpy's ashes were in a cabinet.  That didn't sit right with me. I knew I wanted to honor Stimpy in some way but didn't know how — until we visited Best Friends Animal Sanctuary in Kanab, Utah and toured Angels Rest.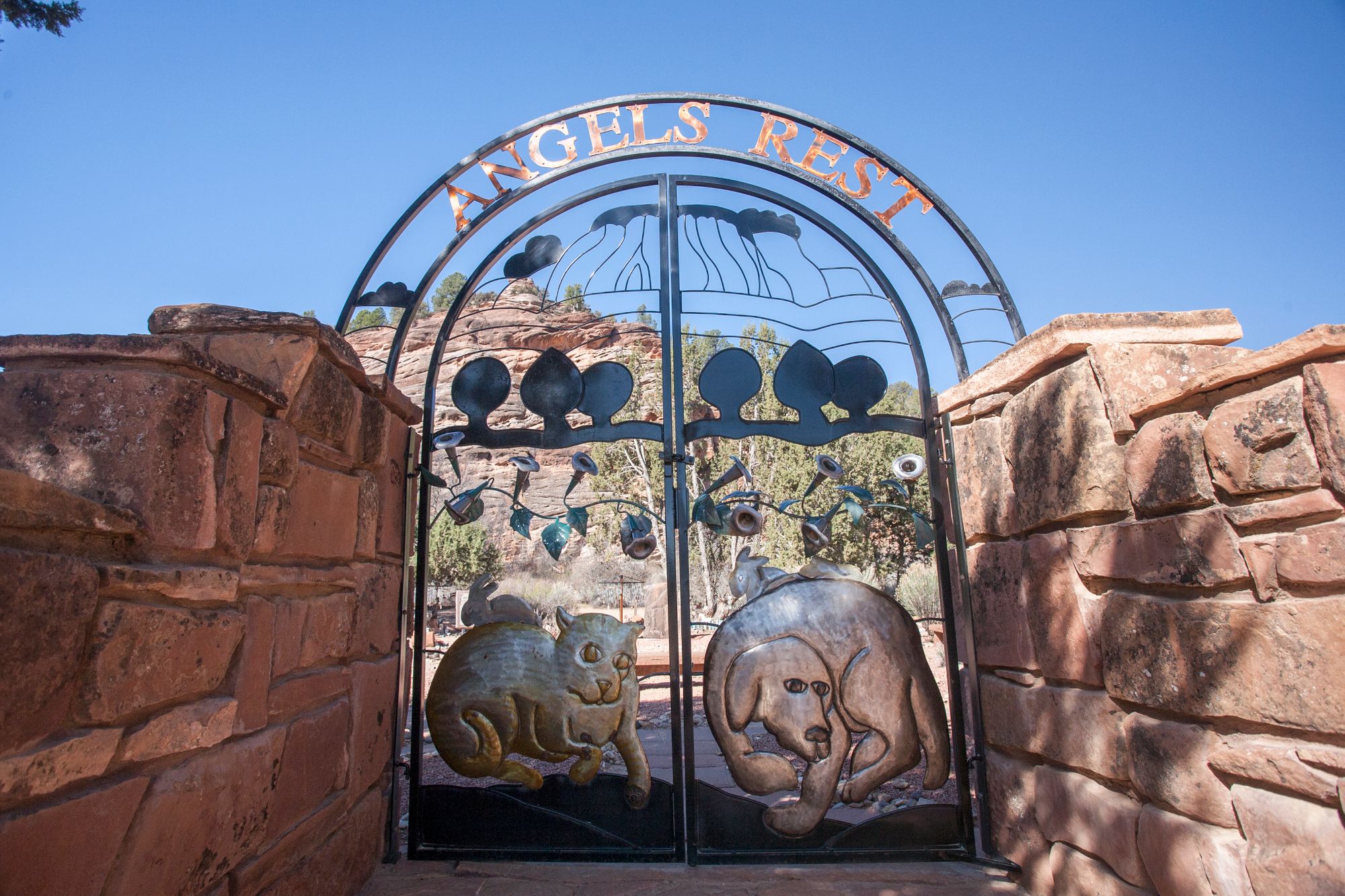 Bury ashes
We buried Stimpy's ashes at Angels Rest, a final resting place for companion animals at Best Friends Animal Sanctuary.  As soon I arrived, I knew this was where I wanted Stimpy to be – in a beautiful, peaceful Utah canyon, among so many other loved pets.  They have several ways for how to memorialize your pet at Angels Rest, so even if you don't want to bury their ashes, you have options.  What makes something like this ideal for full-time RVers is that it's a location I can go back to and visit whenever I want, and they even have 6 RV spots within the sanctuary that you can reserve!  If you want to go visit, make sure to check out our Kanab, UT blog post!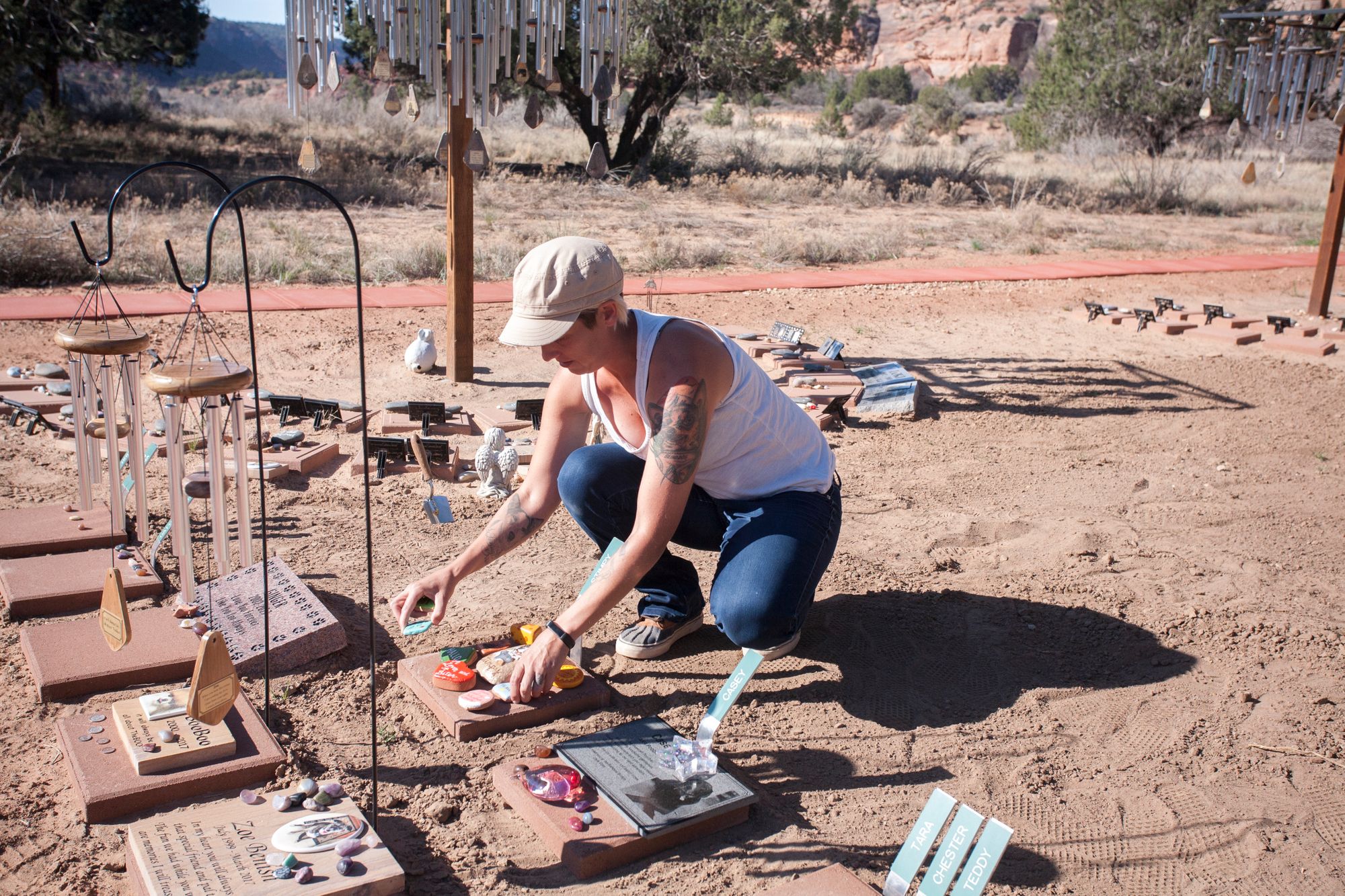 Scatter ashes
You'll need to look up local laws, but you may be able to scatter your pet's ashes in a location that was meaningful in their life.  I may or may not have scattered ashes from a previous dog at the beach (I was young and didn't think to look up the laws about it) and kind of had a Big Lebowski moment.  So, if you go this route, do it legally and make sure the wind is in your favor.
Write down your memories
Normally, I'm not a journal type of person, but in the days after Stimpy's death, I started thinking about his life and all the quirky things about him.  Tommi and I collaborated on a Google Doc and wrote down all of the things about Stimpy we didn't want to forget.  On the anniversary of his death, we go back and read them.  

I also felt inspired to put together a photo blog about Stimpy's 6 months as a full-time RV dog.  I shared it on Facebook page for people who enjoy camping with their pets and I was floored at how many sincere, thoughtful responses I received.  It was very helpful during those first few days to see those comments roll in.
Compile photos & videos
After your pet's passing, I'd suggest taking the time to gather all the photos and videos you have of them into one place.  This may be an arduous task because if you're like me, your photos exist on several different social media sites, iPhoto, some external hard drive from a phone backup from who-knows-how-many years ago, not to mention physical prints.  The good news is that although it will take you a lot of time, you'll probably smile and cry happy tears as you relive all the memories of their life.  Make sure that wherever you decide to store these photos, that you also have at least one backup file.
Memorial jewelry
There are so many options now for ways to memorialize your pets through jewelry!  Etsy is a great site to check out for hand-made pieces, you're sure to find something you love. When I received Stimpy's ashes back, they also gave me a lock of his hair.  I'm thinking of having it made into a necklace.  
Make a shadowbox
This wasn't something I did after Stimpy's death but did do previously after my bulldog's death.  I bought a shadowbox (a frame that's a few inches deep) and placed a photo of my dog, his collar and his favorite treat inside.  A memorial like this can sit on a shelf or be hung on the wall of your RV.  
Memorial tattoo
I know this isn't for everyone but hear me out... I have portraits of 3 of my pets tattooed on me and it brings a smile to my face knowing they'll always be with me.  Plus, people tend to ask about them when they see the tattoos, so it gives me a chance to share a bit about what great dogs they were.
Volunteer
If the pet that passed was your only pet, you may find yourself in a strange in-between situation.  It may feel too early to get another pet, but you miss the day-to-day interaction with an animal.  This is a great moment to volunteer your time.  Think of helping out at a local animal shelter by cleaning up, walking dogs or socializing with cats.  Consider fostering a pet who is up for adoption.  
Donate items
It's a strange sight...  Seeing an empty pet bed where your pet used to be curled up.  Toys on the floor, but no one playing with them.  It can be hard to look at those things after your pet passes.  This is a decision only you can make, but what felt right for me after each of my dogs' passing was to keep the items that meant the most to me (their collars, favorite toys, favorite sweaters) and donate the rest of the items to a local animal shelter.  You'll want to call ahead and make sure they accept the items first and wash everything before donating.  Shelters or rescues may also take leftover medicine.
Take care of yourself
If your pet just passed, you're likely an emotional wreck!  Make sure you're taking care of yourself.  If you work, take a day off.  Take a nap.  Go get a massage.  Go to a yoga class. Go see a fun movie.  Go shopping!
Attend a "Blessing of the Pets"
On or around October 4th of each year you may notice a "Blessing of the Pets" event in your area.  October 4th is the feast day of St. Francis of Assisi, patron saint of animals.  These events are often held at churches or public spaces and allow you to bring your pet to be blessed.  A prayer is often recited and your pet may be sprinkled with holy water.  Although these events are mostly attended by living animals, you can bring a photo of your deceased pet and ask for it to be blessed.  I have attended the Interfaith Blessing of the Animals event in Long Beach, California twice.  Once with a photo of my bulldog who had passed (bonus points if you can spot me crying in this video), and once with Stimpy when he was alive.  In typical Stimpy fashion, he attacked the olive branch that the minister used to bless him with (I told her not to get too close!).

Make a donation in your pet's name
Honor your pet's life by helping to save another.  Did you adopt your pet from a shelter or rescue?  Consider making a donation to them in your pet's name, allowing them to help save another animal.  Did your pet pass from a certain ailment or disease?  There may be a group that is funding research or awareness about it that you could donate to.
Adopt
It's my feeling that one of the best thing you can do to honor your previous dog is to adopt a new dog.  If you're wondering if it's possible to adopt a dog as a full-time RVer... it is!  Check out our post about on-the-road dog adoption.
Onward, to new adventures
Taking care of an old or sick dog on the road can be challenging, and losing a pet is a pain deep enough to carry with you for a long time. Perhaps the biggest lesson we can learn from dogs is how they are free to live in the moment and enjoy every single day as they happen to meet it. Life on the road is by necessity lived a little differently, but has the same highs and lows as stationary life, and sharing your life with pets makes everything better.
This post originally appeared on https://fmcadventure.com/2020/02/10/pet-loss-on-the-road/