Arizona Dog Adventures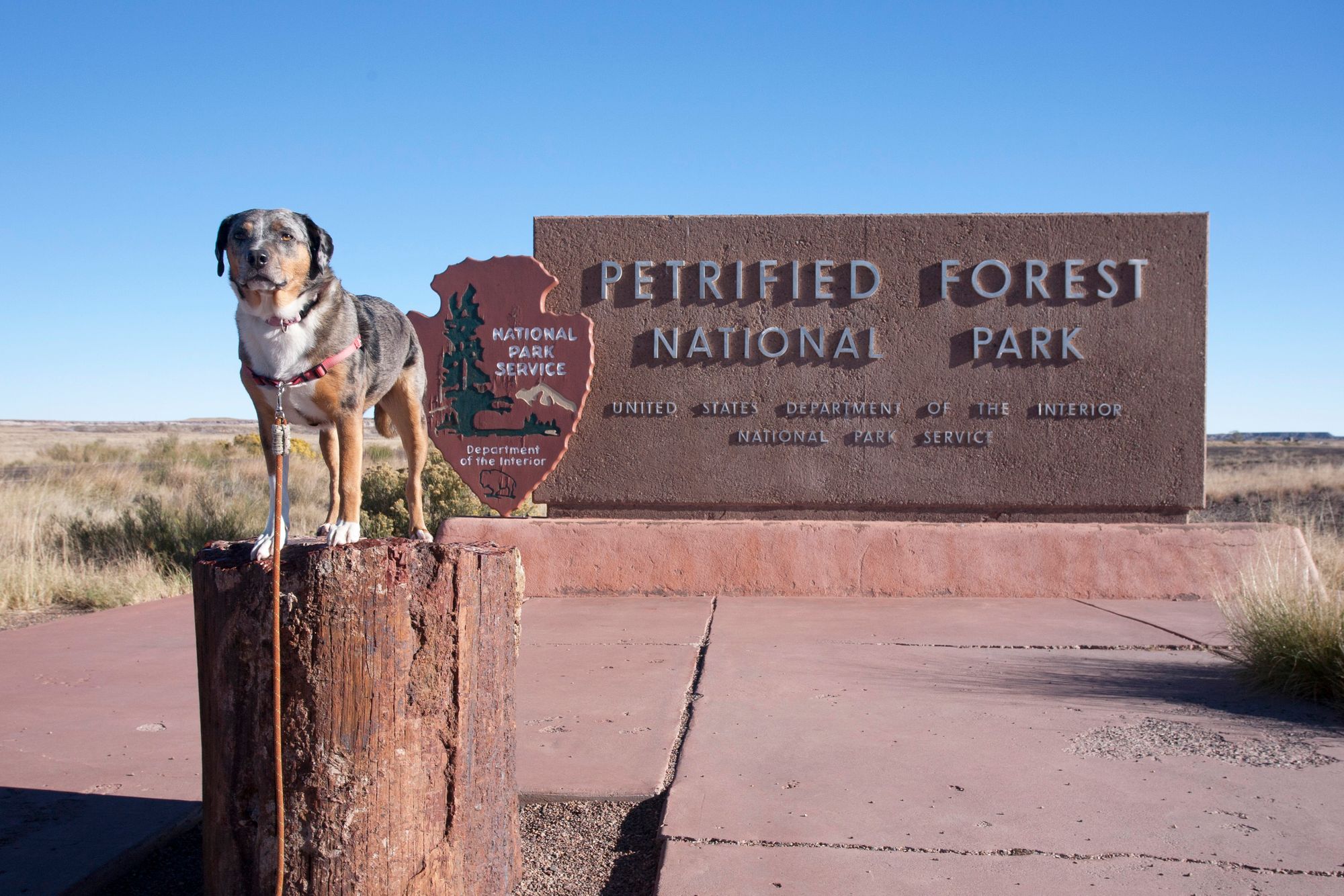 If you know us or have been reading our posts — you should know by now that this is kind of our mantra:
We love traveling with our dogs and plan our adventures around them!  Recently, we highlighted our favorite dog adventures in Utah.  This month, we're taking you to Arizona!  Read on to see what stops you and your dogs can enjoy in the Grand Canyon state!
Winslow
[Cue the Eagles!] "Well, I'm a standing on a corner in Winslow, Arizona and such a fine sight to see..." A must stop if you're in the area.  Lily preferred "sitting on the corner", but do what feels best when you get there!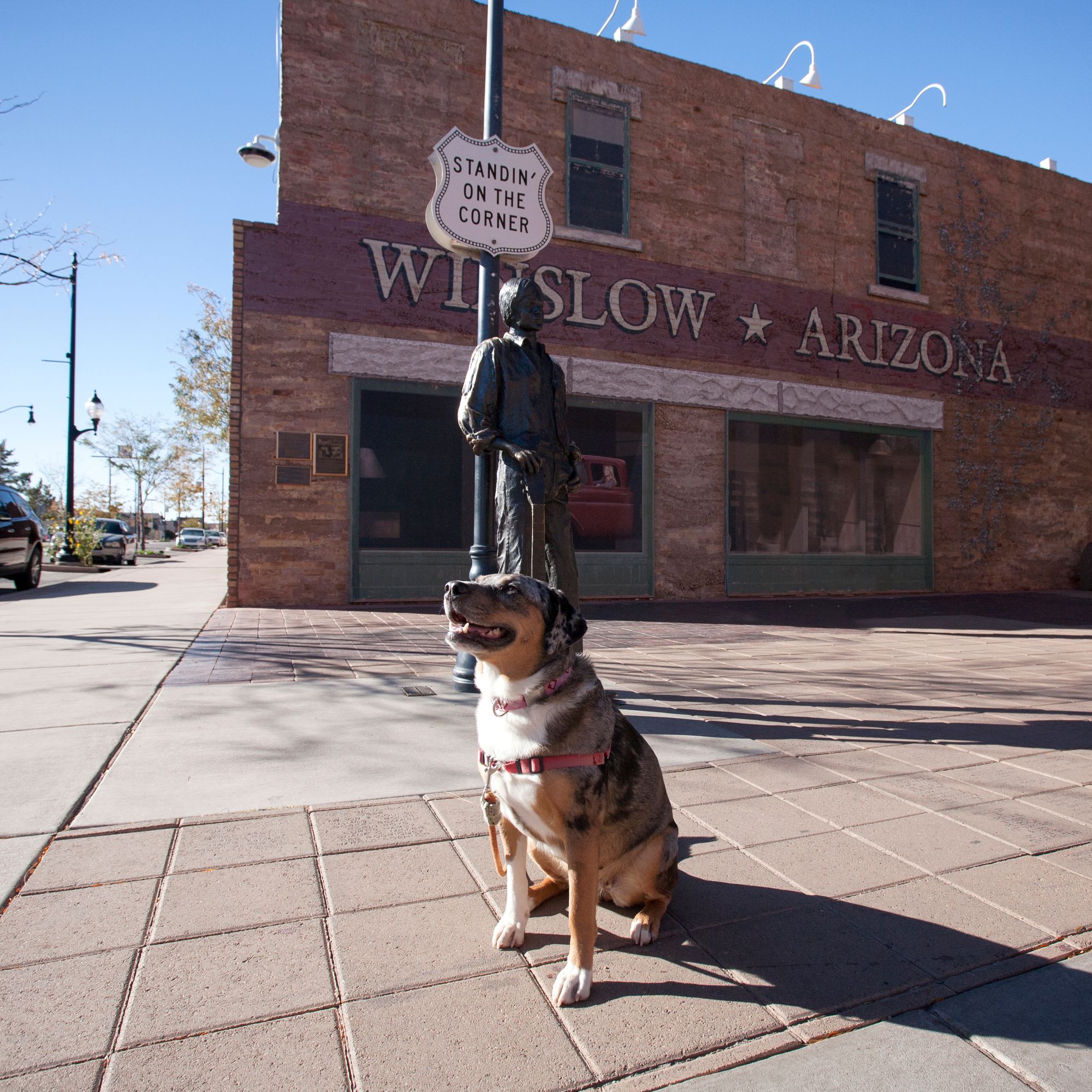 The famous song plays loudly throughout the park, making this a really fun quick stop.
Petrified Forest National Park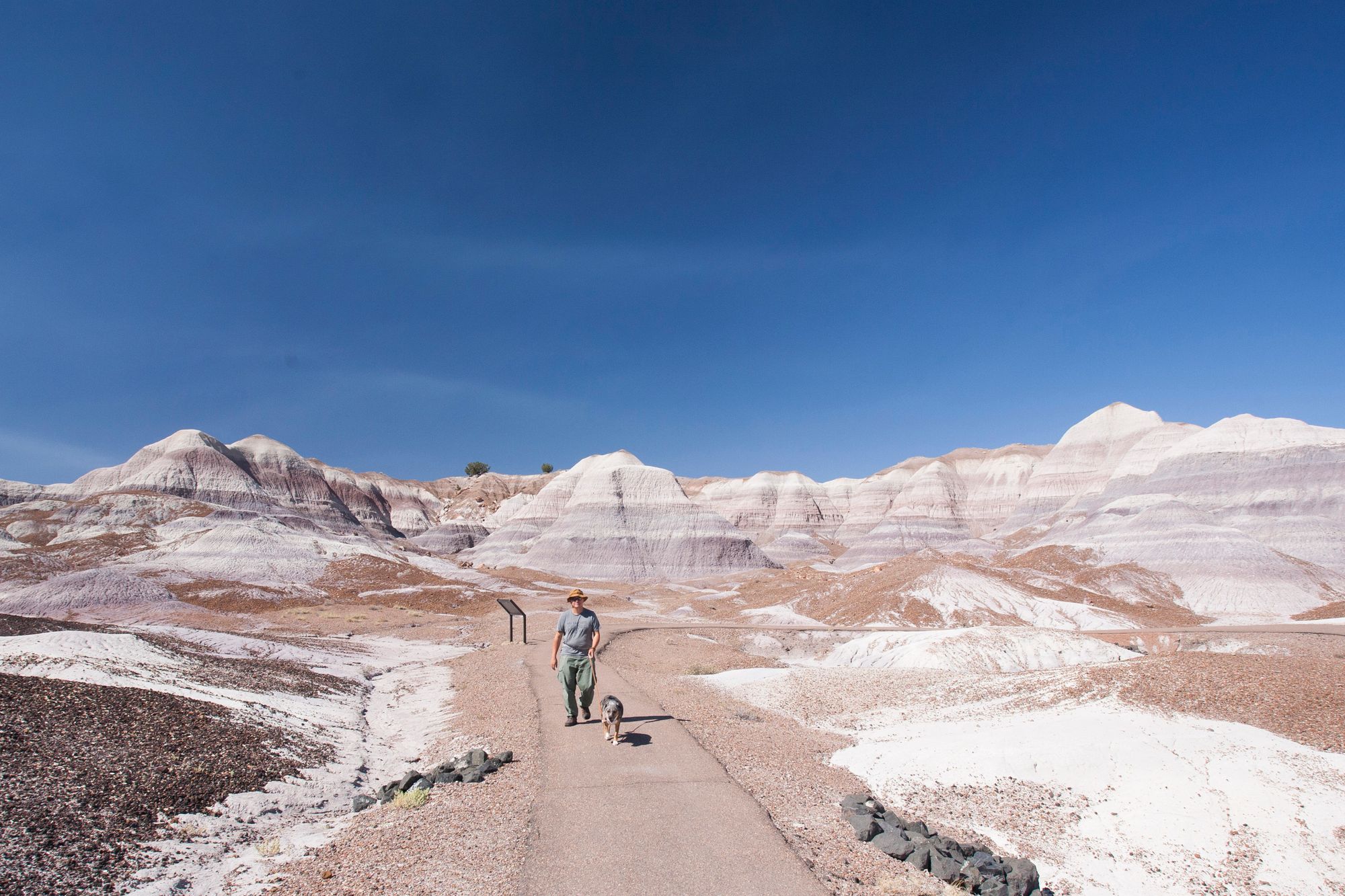 With the word PET literally in its name, the Petrified Forest is one of our favorite, truly pet friendly destinations.  Pets can go anywhere you can go (except in buildings). This park also participates in the BARK Ranger program.  Make sure you ask about it when you visit!  Lily & Mushy were very proud of becoming BARK Rangers in Washington and highly recommend it.
The Desert Bar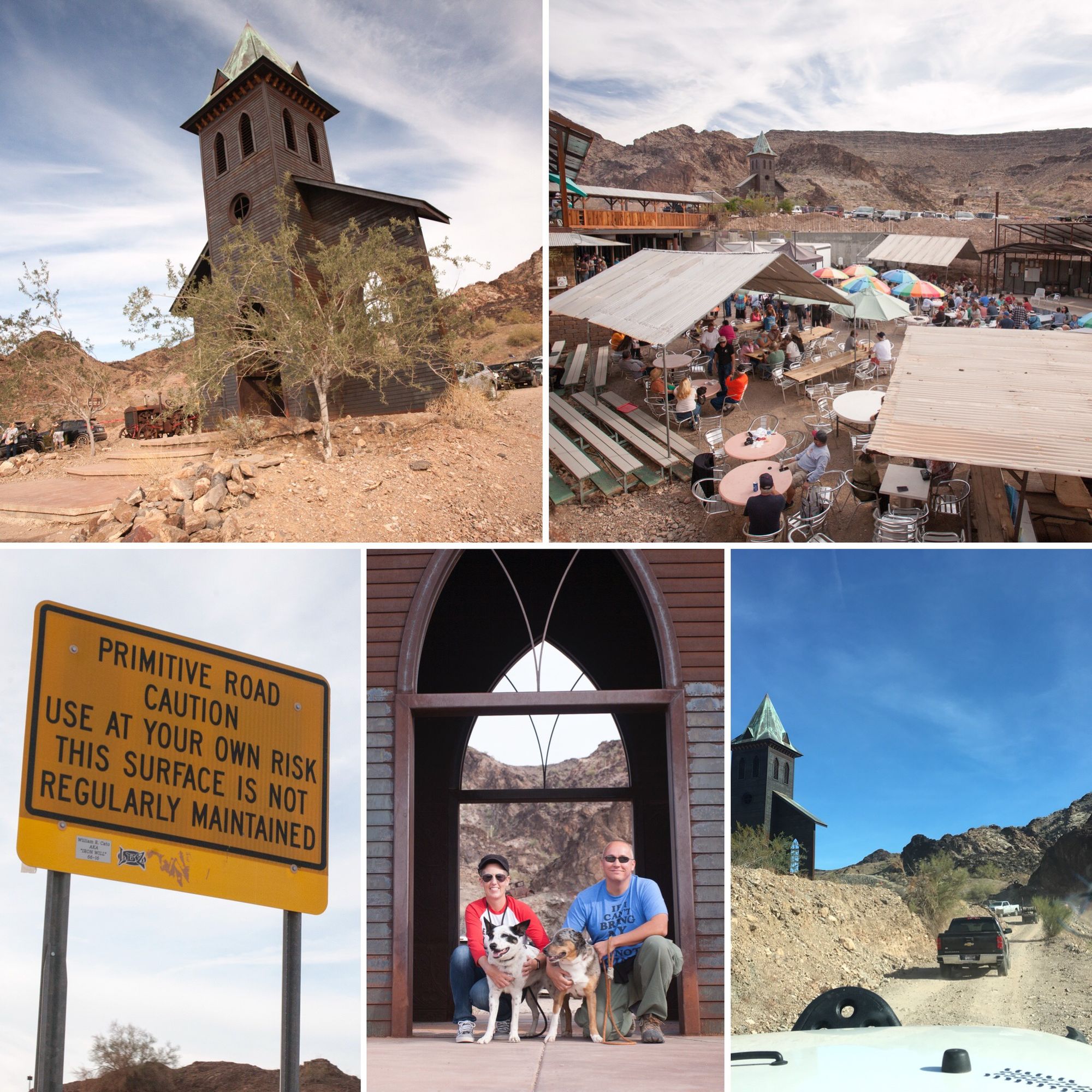 A solar-powered off-grid bar in the Arizona desert?  You heard that right!  Welcome to The Desert Bar in Parker, Arizona.  This impressive establishment is open on weekends only, from October to April.  They have live music and DJs — and several food options — oh, and alcohol!  It's popular and can get crowded.  Families, children, and dogs are welcome!  Cash only — so come prepared!
Getting out there is an adventure in itself.  You'll be more comfortable in a high clearance 4wd vehicle, but we did see a few sedans make it all the way!  The road in is otherwise good enough but has random rocks from the size of a fist to a football, and you can't drive around all of them.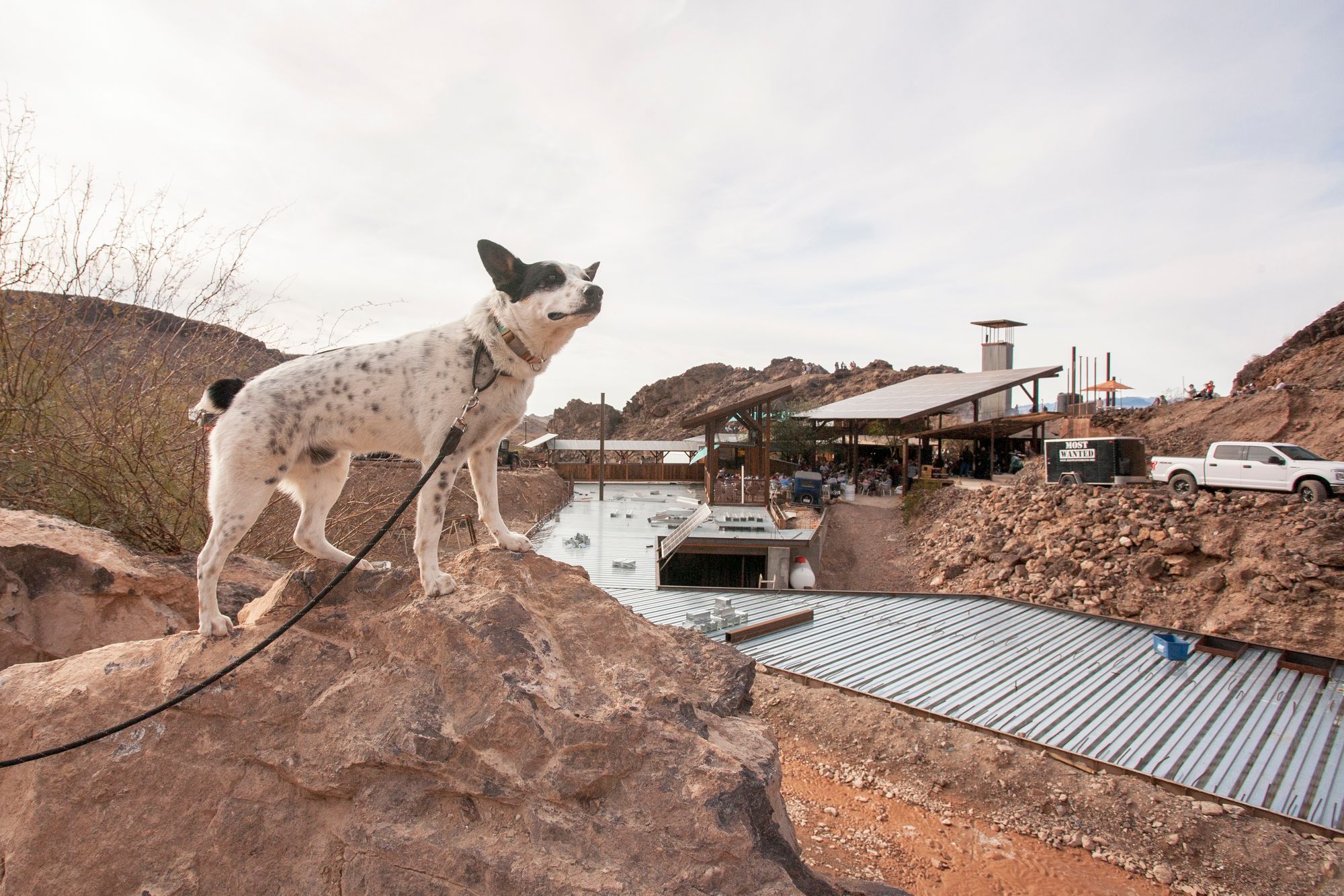 Canyon de Chelly National Monument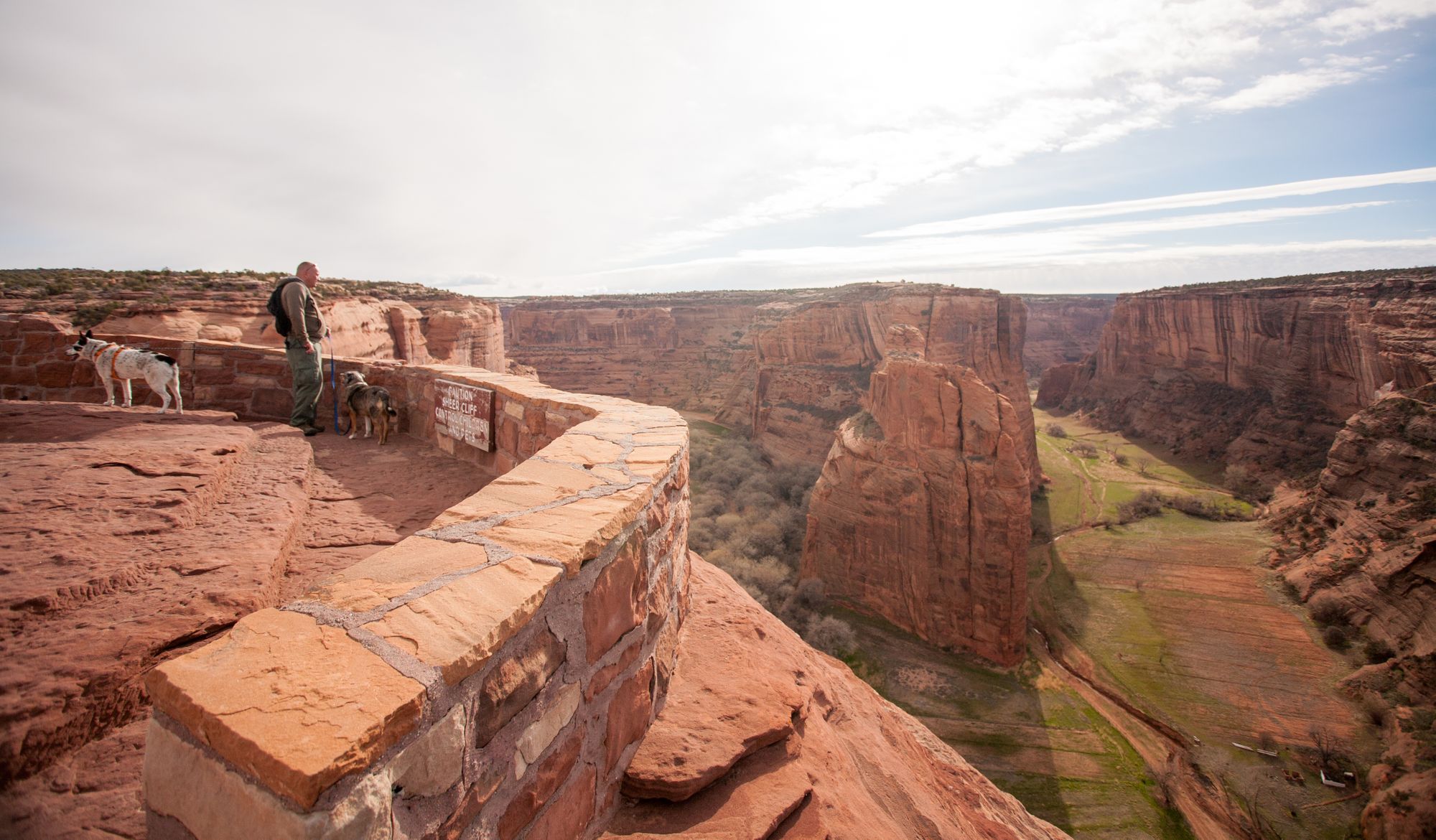 If this looks familiar to you, it's because we recently did an in-depth post about our visit here!  This stunning canyon in northeastern Arizona is way less crowded than the Grand Canyon, and dogs are allowed at many overlooks.
Organ Pipe Cactus National Monument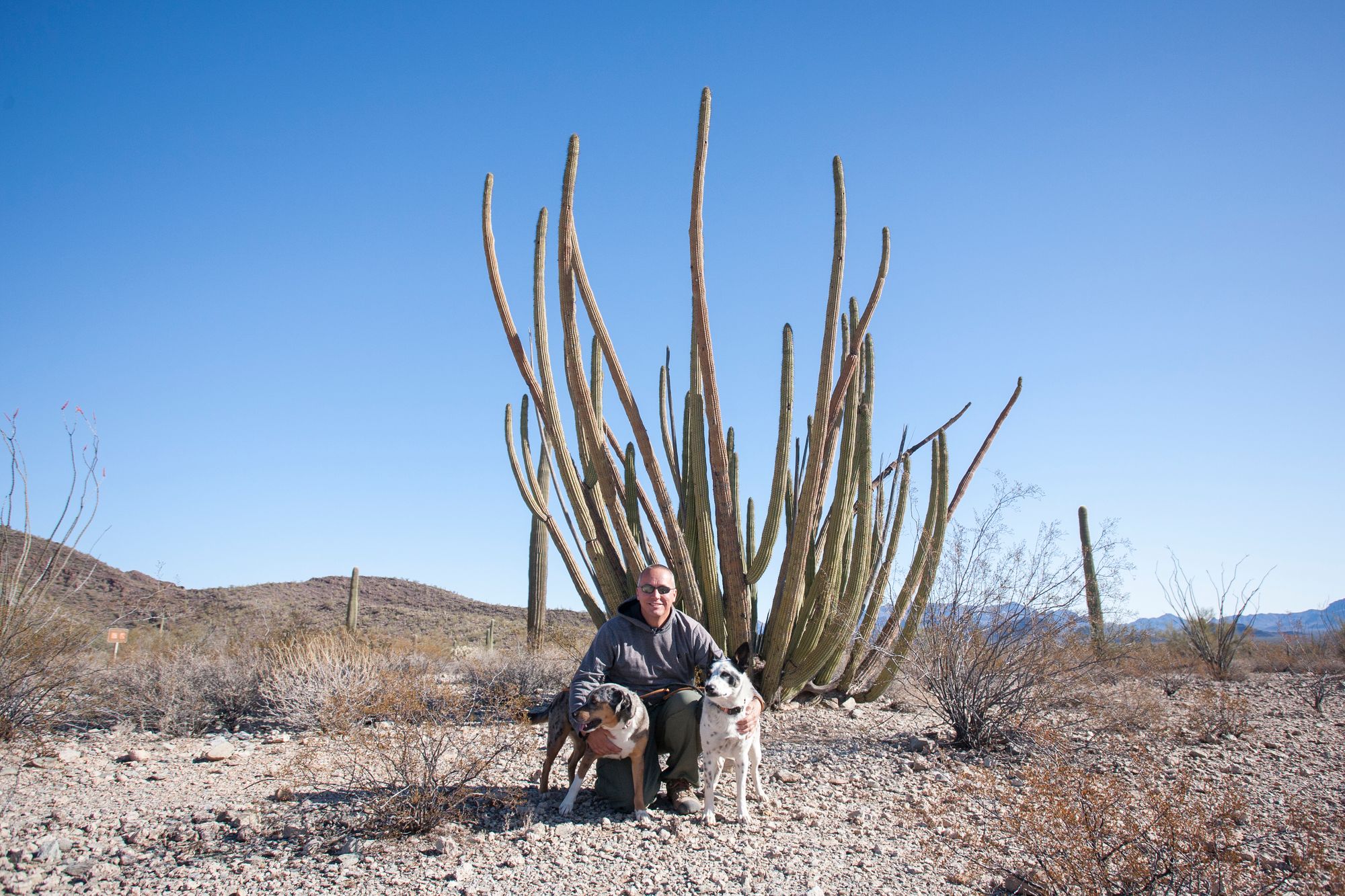 A bit off the beaten path, but worth the trip!  We visited Organ Pipe in 2018 and were able to combine their 3 dog-friendly trails which totaled 3.5 miles.  We suggest wearing the pups out with that first and then driving the Ajo Mountain Drive loop. Keep in mind pets can't get out of the car on that loop, which takes roughly 2 hours to complete. Ask about current conditions at the visitor center before you begin.  We felt that combining the hike with the drive was a great day trip, and we loved that the dogs got to join.  Plan your trip accordingly though.  We went in February when the temperatures allowed the dogs to be comfortable.  
Kofa National Wildlife Refuge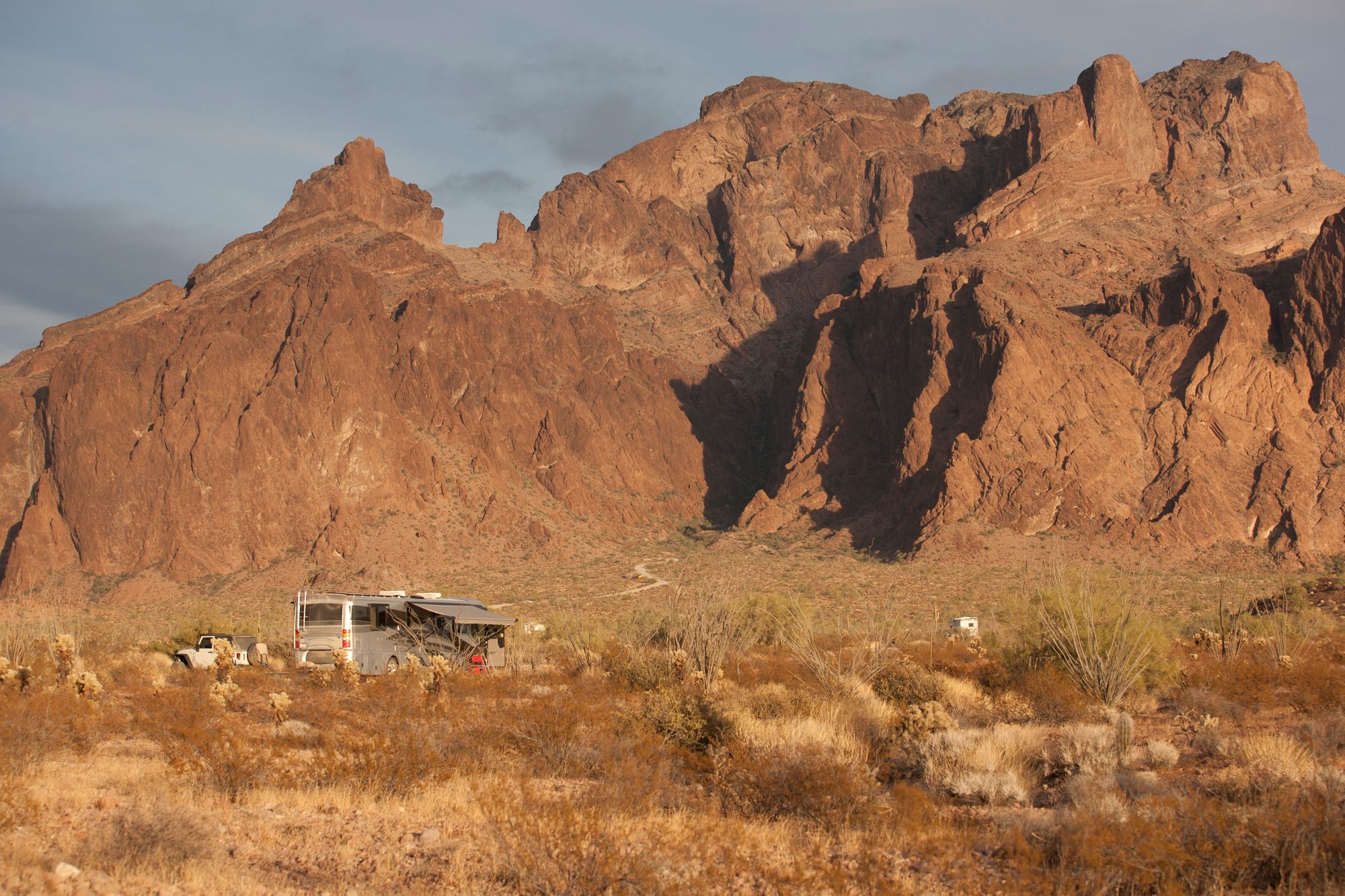 Do you like boondocking?  If so, you'll love visiting the Kofa National Wildlife Refuge off State Highway 95 between Yuma and Quartzsite.  This epic boondocking spot has killer views and a short little hike to a desert oasis:  Palm Canyon.  We visited in 2018 and the dogs loved it.  See that road going up into the canyon?  That's the Palm Canyon hike trailhead.  I won't post a photo here — so you can be surprised when you go! (Yes, there are palm trees up there believe it or not!)
Protip:  The cholla cactus here can be brutal for pups!  Stay on the road and trails, or pick up a pair of booties to protect their paws.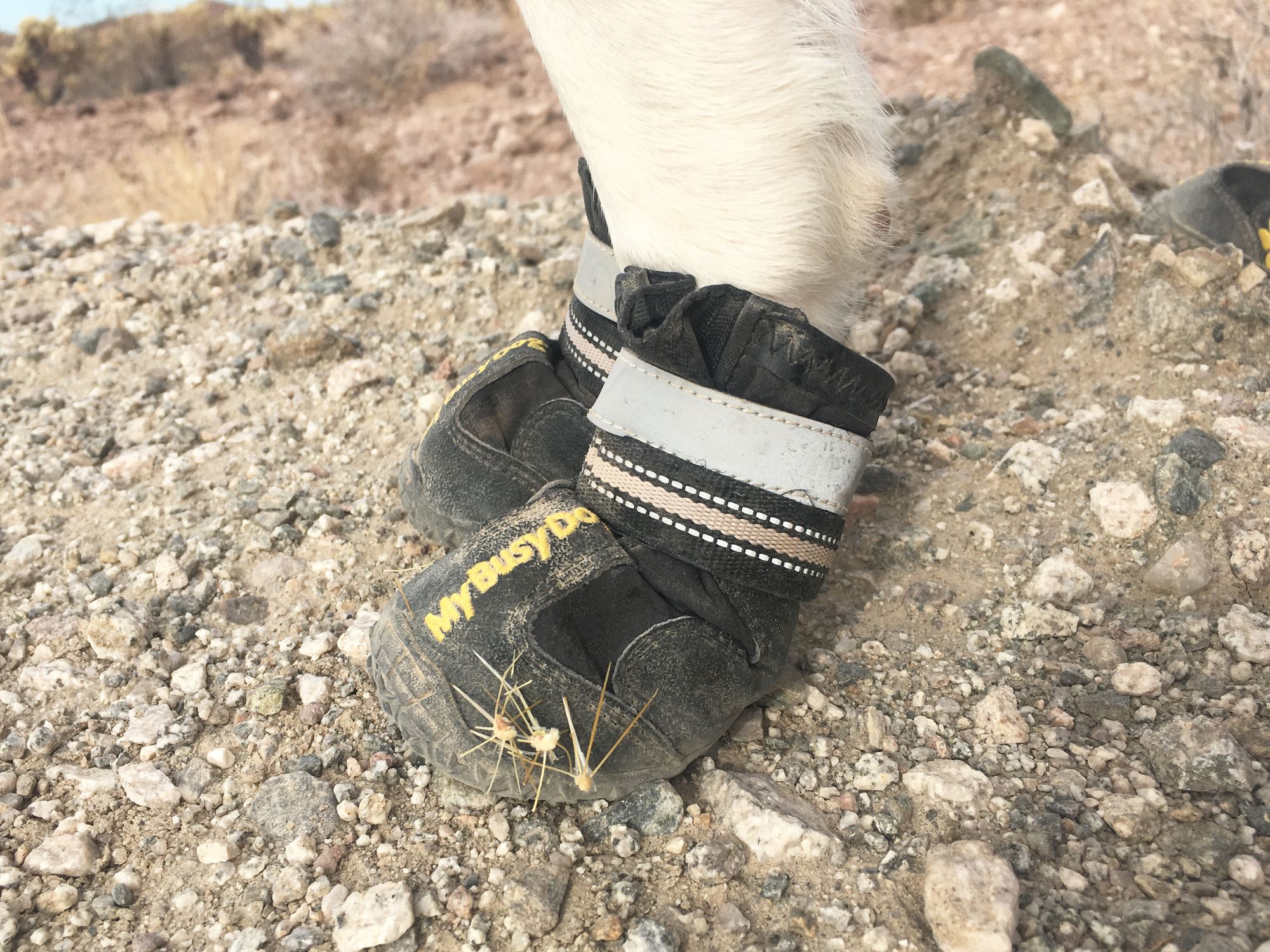 Devil's Bridge, Sedona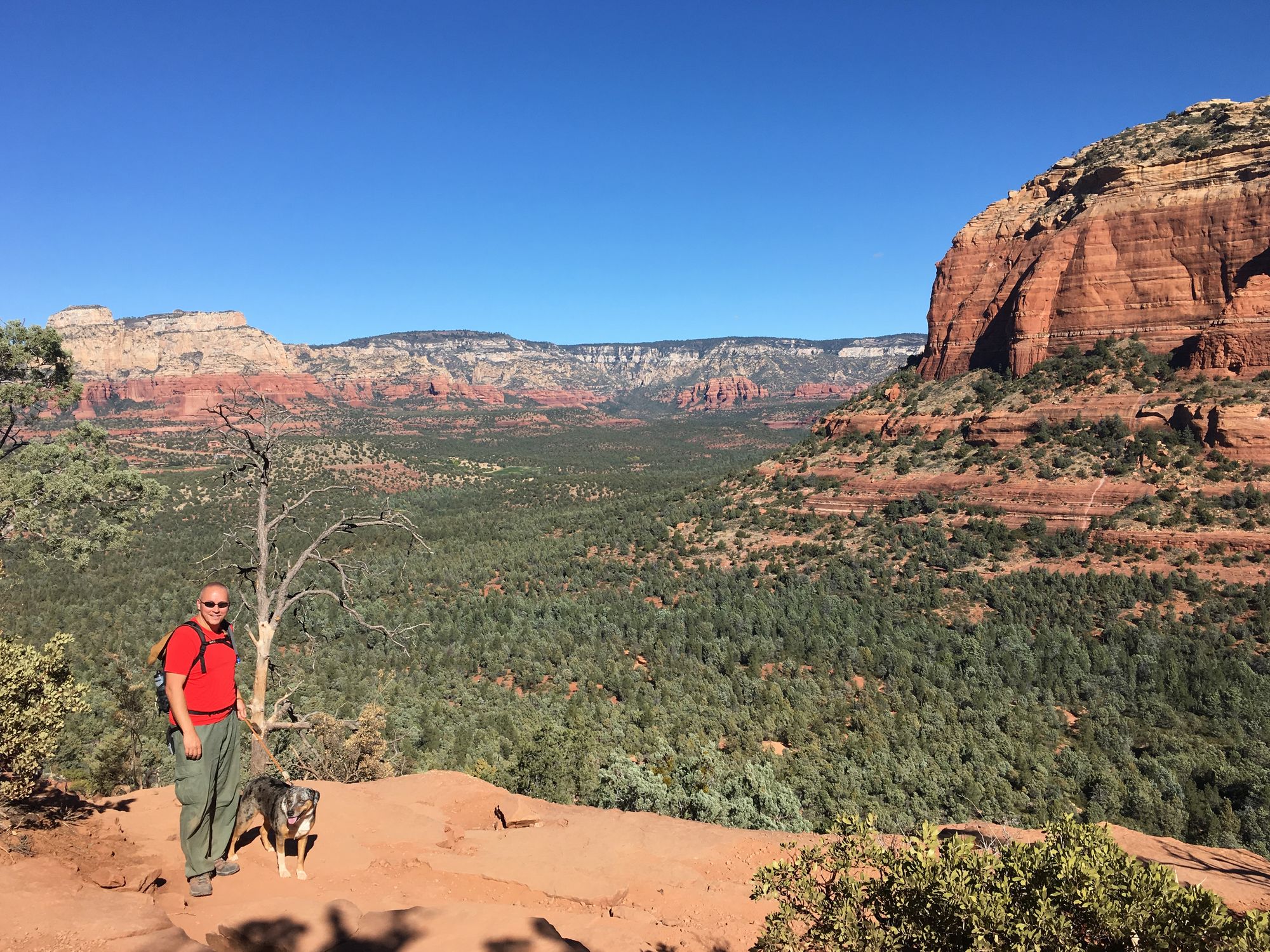 We only had one day to visit Sedona, which I'll tell you now — is not enough!  We chose to do the very popular hike to Devil's Bridge.  An early start got us there before it got too hot, or too busy.  The hike isn't very strenuous until the very end.  If you want to stand on top of the bridge, you have a little bit of rock scrambling to do.  This was nothing we, or the dogs, couldn't do — but it's good to know that you can still see the bridge from below if you don't want to do the scramble, or don't like heights!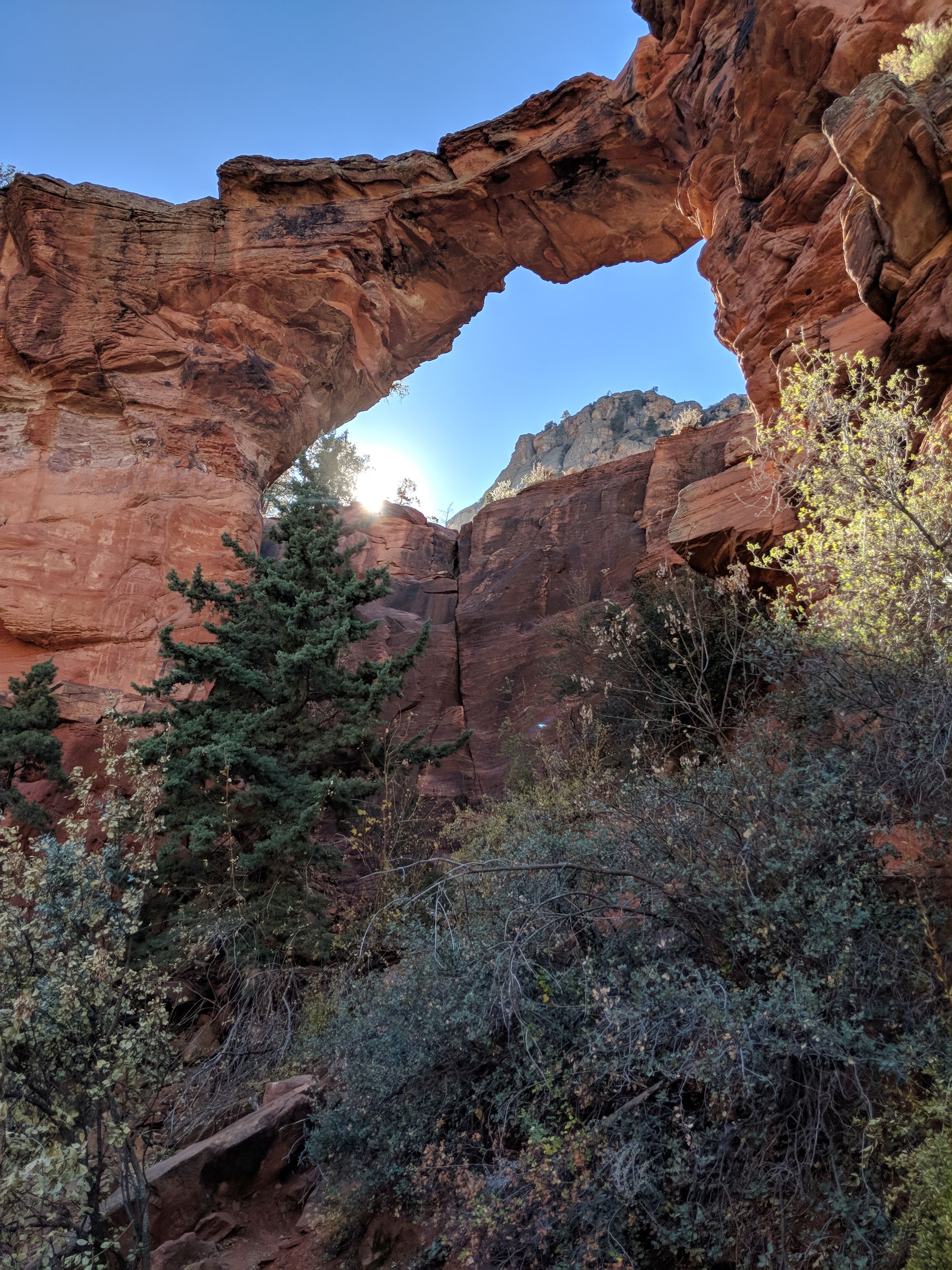 Jerome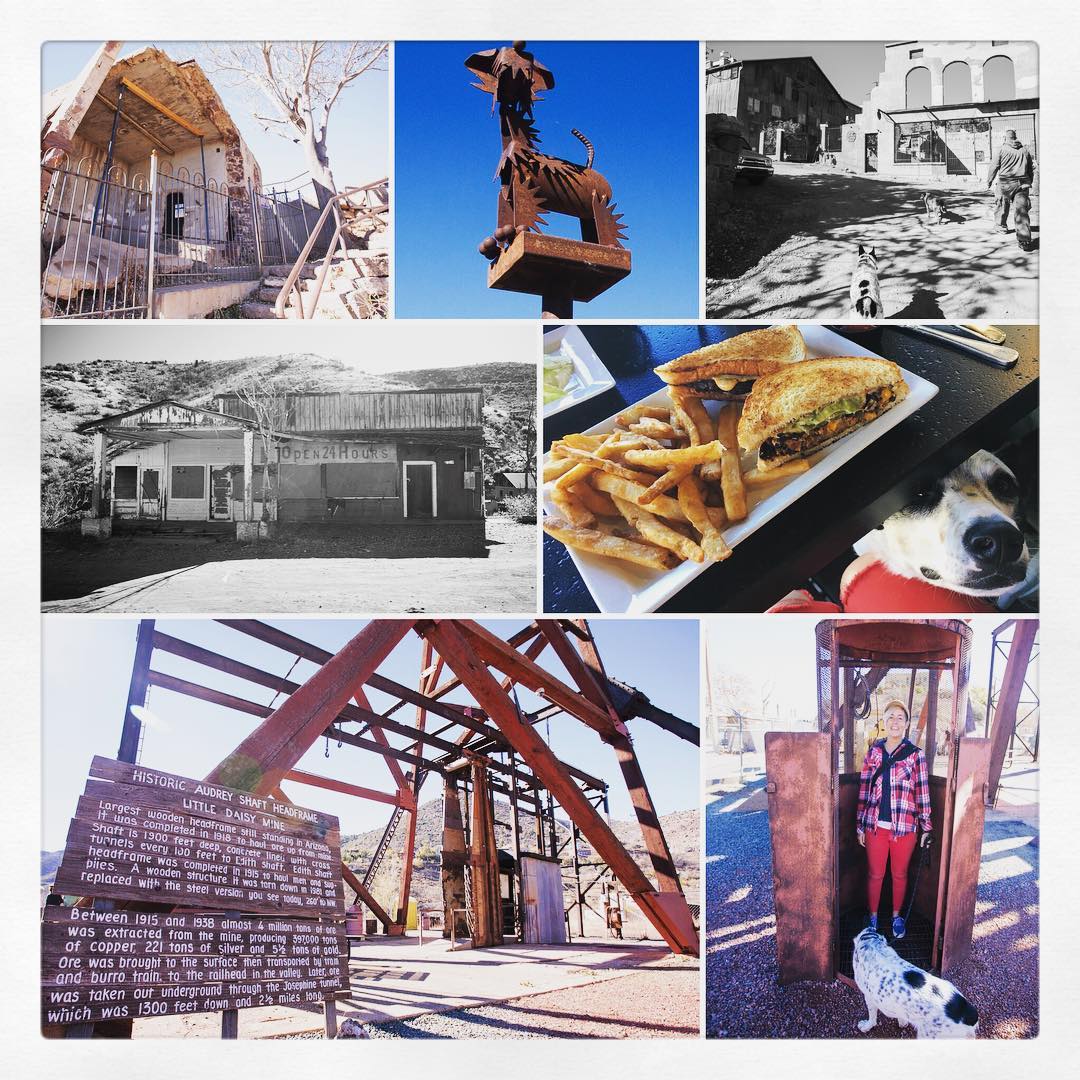 Once an old mining town known as the "wickedest town in the West", Jerome is now a fun little mountain town which has a great artist community and is perfect for a dog-friendly day trip!  Stand on a glass viewing platform over a 1918 mine shaft in Audrey Headframe Park, walk the town, then grab a bite to eat on the dog-friendly patio of the Haunted Hamburger!
Page

Ready for this?  Dog-friendly, waterfront camping, ON THE BEACH. Okay, okay.  Technically it's in Utah, but it's right on the border of Arizona, and it's a great place to stay if you're visiting Page, AZ.

Does parking on a beach sound risky?  Well, it kind of is!  During our stay, we saw several rigs get pulled out of the sand by tow trucks.  And the tow truck company's phone number is posted at the entry kiosk.  So keep that in mind! We chose to unhook our toad (a very capable 4WD Jeep Wrangler) and go scouting before we dared to bring our 31,000-pound class A onto the beach.  Look for the hard-packed sand — that should keep you safe!  It worked well for us.  Alternately, there is a paved parking area on the bluff above the beach which will get you the same views without the risk.
While you're in Page, you may want to visit the very instagrammable Horseshoe Bend ...if you and your dog can find a place in the parking lot!  From what I'm hearing, it is often full. There is also a fee to park.  At the time of this writing Passenger vehicles (car, truck, SUV, RV, motorhome) are charged $10. There is a shuttle from Page, but I'm not sure if they allow dogs.  We were lucky enough to visit before these changes were implemented.
Another dog-friendly stop is the Glen Canyon Dam Overlook.  Make sure to check out our Instagram post about a little-known sweet but heartbreaking tribute to dogs named Chico and Sadie.
Saguaro National Park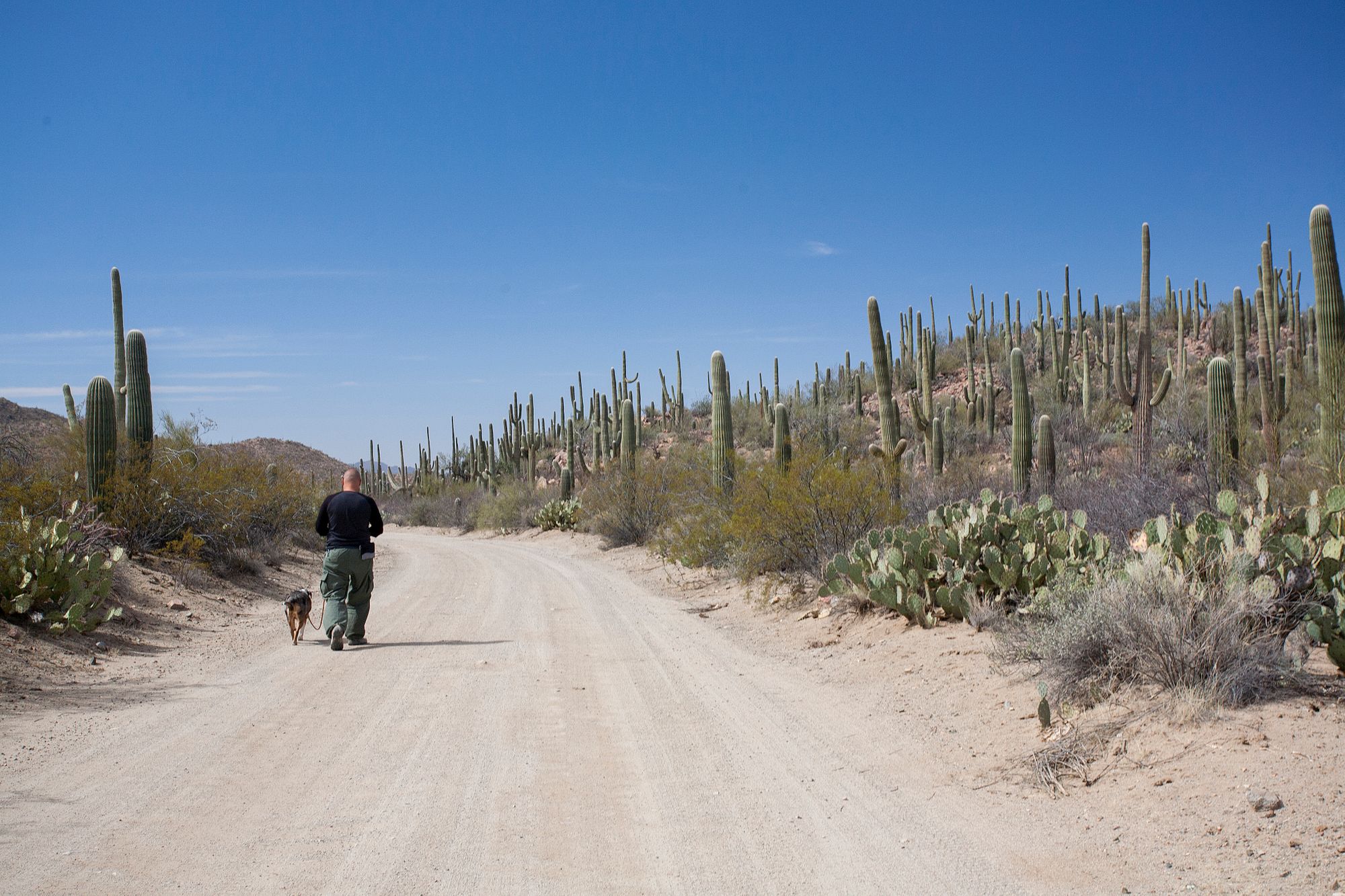 Saguaro National Park isn't especially dog friendly, but since we were so close, we went anyway.  The good news?  The usual NPS rules apply: dogs are allowed on paved trails and where cars are allowed. There are many very quiet dirt roads that made for a pleasant enough walk, and we were always surrounded by the saguaros. If you're traveling with pets, this may not be worth it's own trip — but it's definitely worth a quick detour.
Grand Canyon National Park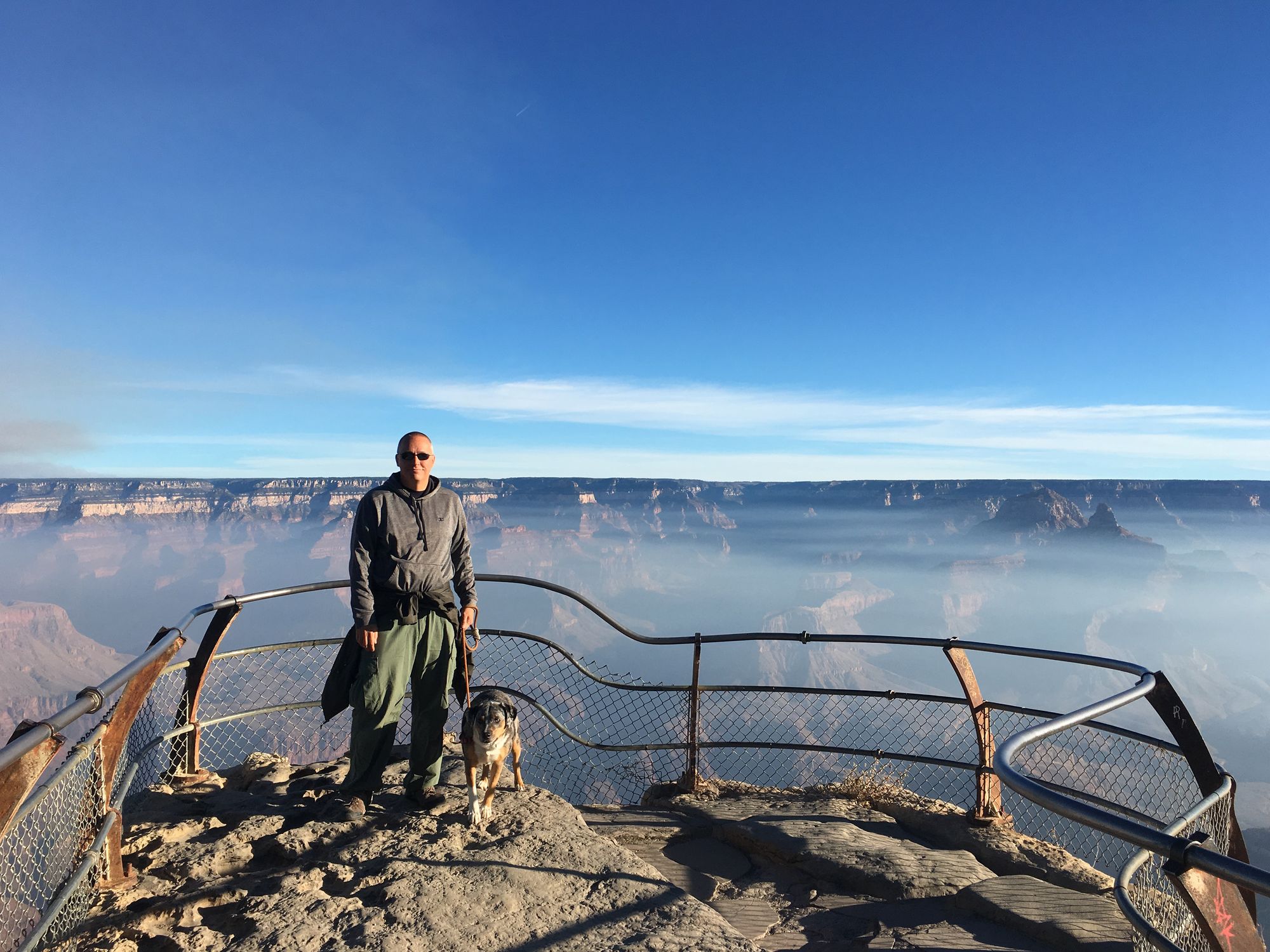 Dogs can't go into the canyon, but don't let that dissuade you from visiting!  We spent two weeks at the South Rim in 2017 and Lily & Mushy had plenty to do.  You can walk for miles along the rim and the greenway which goes all the way to the town of Tusayan.
Where to stay:  There's plenty of boondocking outside of the park, but because we had family visiting we chose to stay at the Grand Canyon Trailer Village.  Walking distance to the rim and Mule Deer visiting every evening.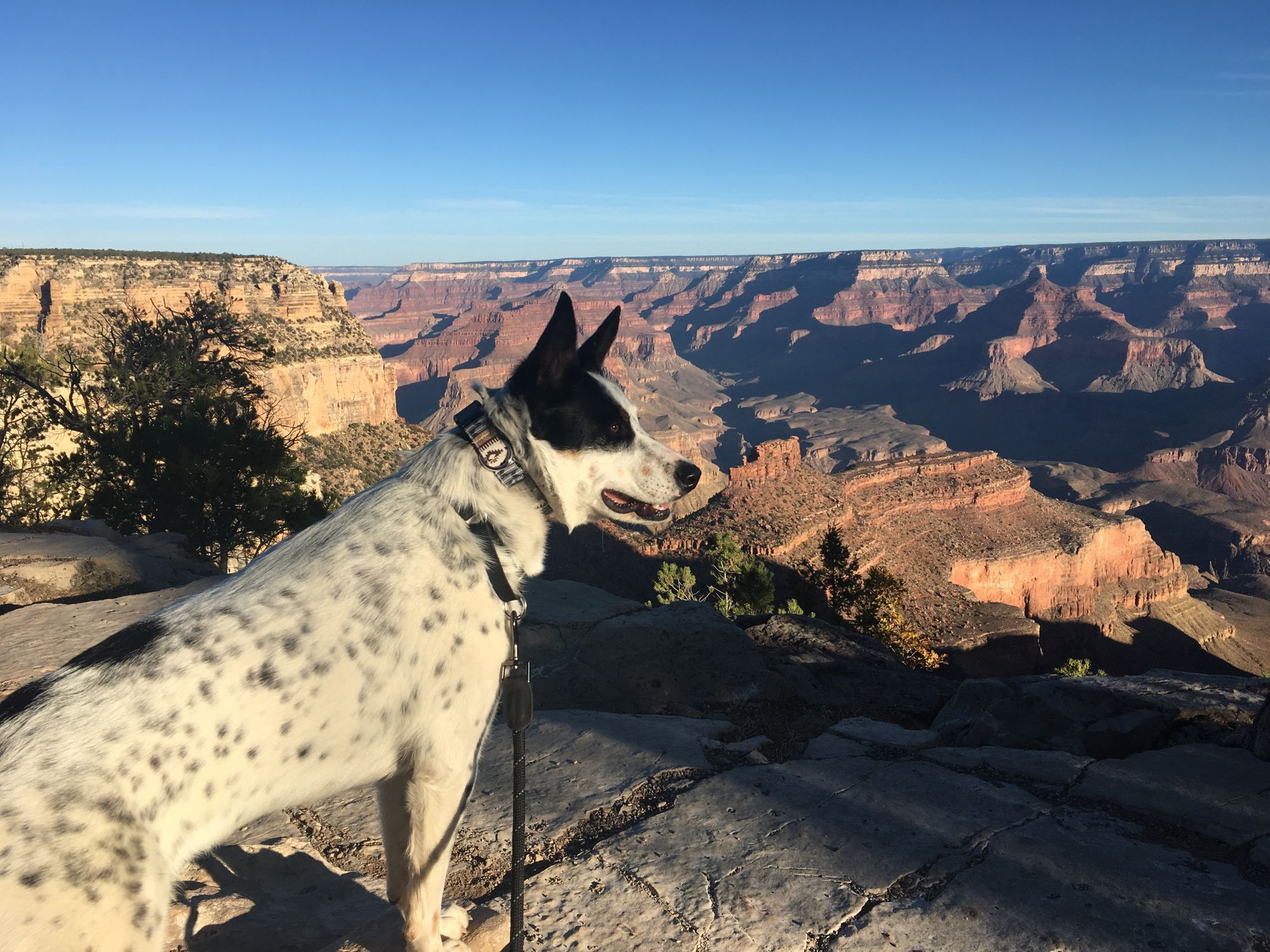 Honorable Mention: Oatman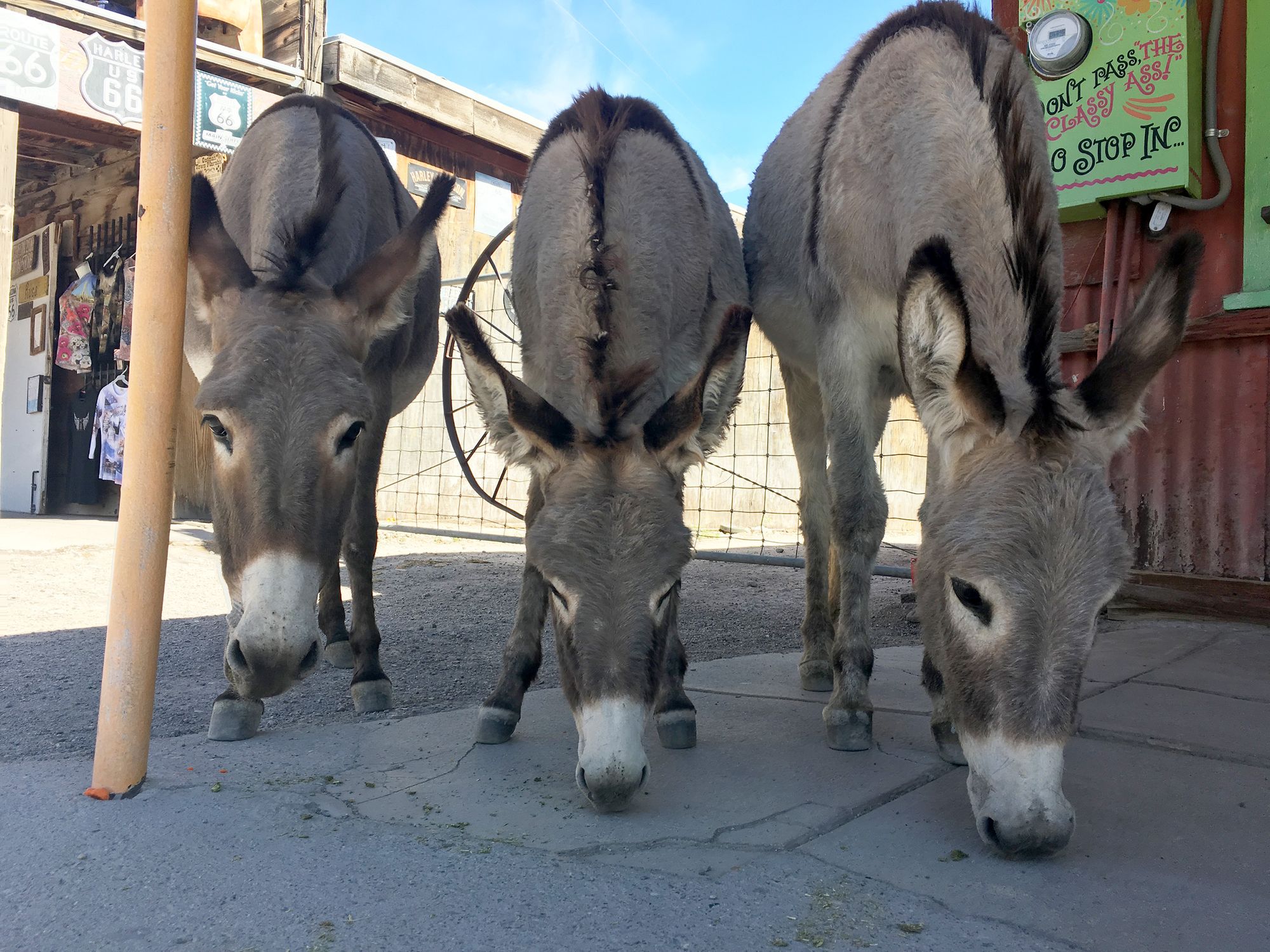 A tiny desert town tucked away in the hills with wild burros roaming the streets?  Sounds adorable, right?! (It is!) However, we're classifying it as honorable mention because while it is dog-friendly, it's kind of a two person operation.  You don't want to let your dog get too close to the burros (they can kick and injure dogs), so one of us held the dogs a safe distance away while the other person interacted with the burros.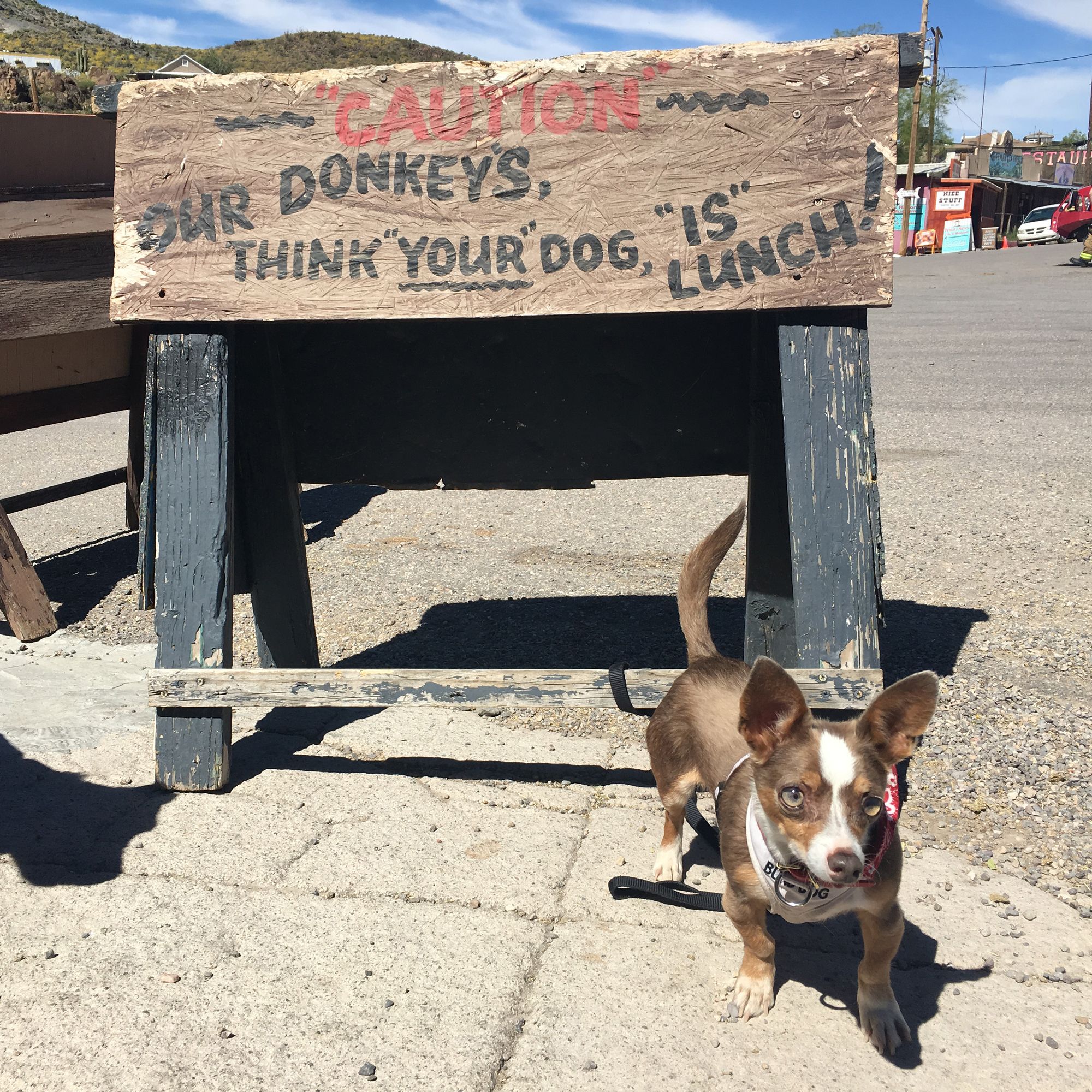 Happy Travels!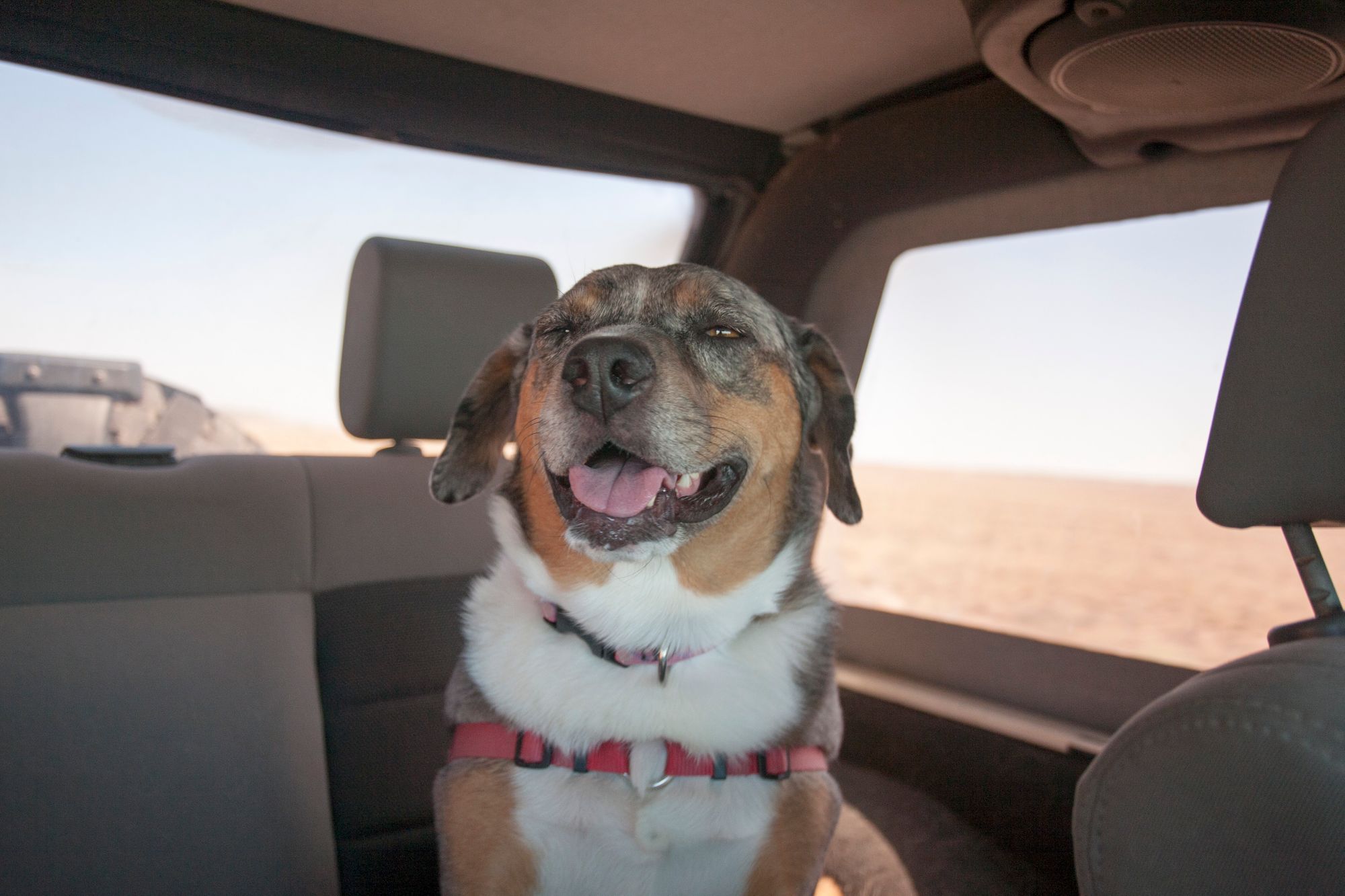 This post originally appeared on https://fmcadventure.com/2019/08/26/arizona-rv-adventures-with-dogs/