Organ Pipe Cactus National Monument: Day Trip with Dogs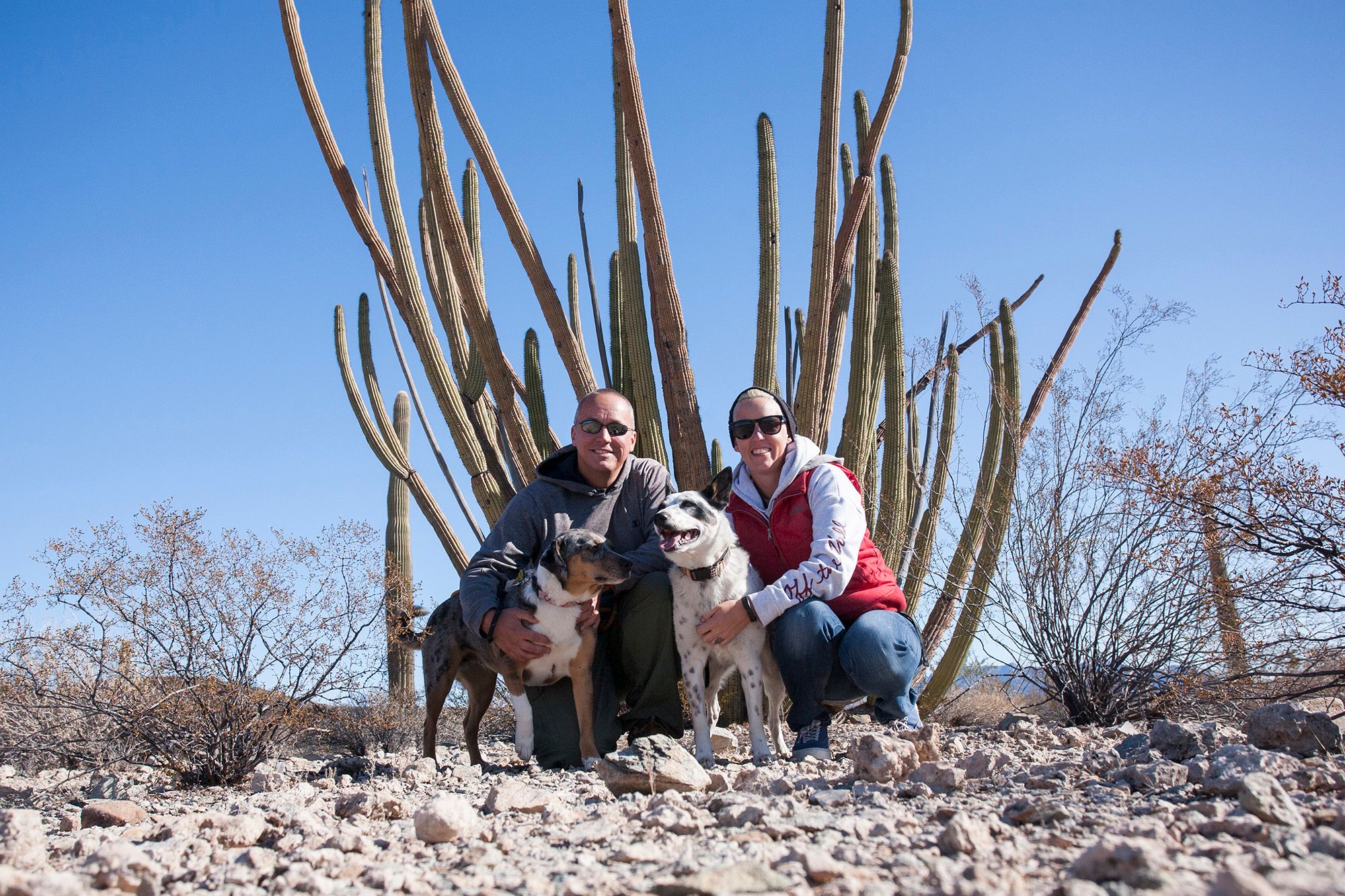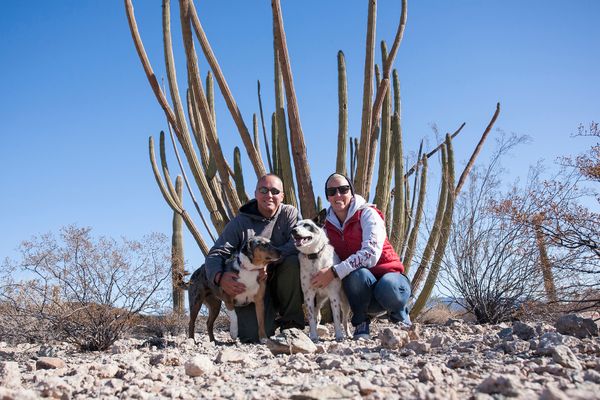 Up until a few months ago, I had never heard of Organ Pipe Cactus National Monument. It is perhaps an overlooked member of the National Park system, sitting against the Mexican border between Yuma and Tucson. Since we're nearby, we decided to do a little detour and check it out. With our America the Beautiful pass, national park visits cost us nothing extra, so we like to see every park we drive past.
We stayed on BLM land just south of Why, AZ, three miles from the boundary of the National Monument. A great, nearby, free option if you are self contained!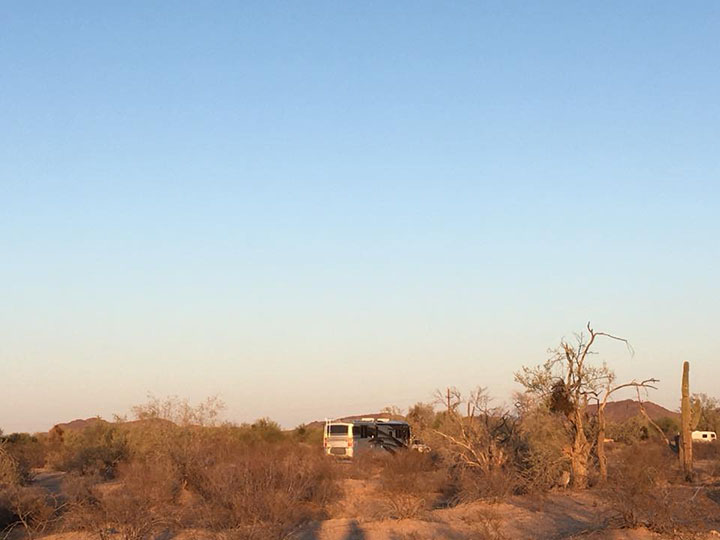 Our Day Trip to the National Monument
There are not many dog friendly trails or places at Organ Pipe. In fact, there's really just three. We did them all so I'll recap our day if you'd like to do the same!
Drive to the Twin Peaks Campground and find a parking spot for your car.
Head out on the Campground Perimeter Trail. 1st of 3 dog friendly trails.
Connect to the Palo Verde Trail that takes you to the visitor center. 2nd dog friendly trail.
Walk the short Visitor Center Trail. 3rd dog friendly trail.
Return via the Palo Verde Trail, Campground Permitier Trail, to your car.
In total about 3.5 miles! A great dog walk! Remember that pets must be on-leash at all times.
DeTAILS
We arrived to the campground at 9am on a Sunday in late February and it was pretty empty. Maybe half of the RV spots were empty and almost all of the passenger car parking spaces were available. The (aptly named) Campground Perimeter Trail is right on the perimeter of the campground, in this case, right in front of our Jeep.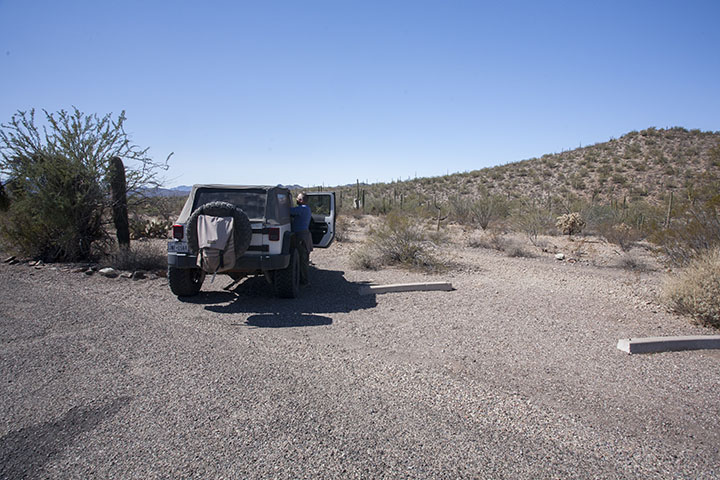 Off we went! Mushy led the way, nose to the trail.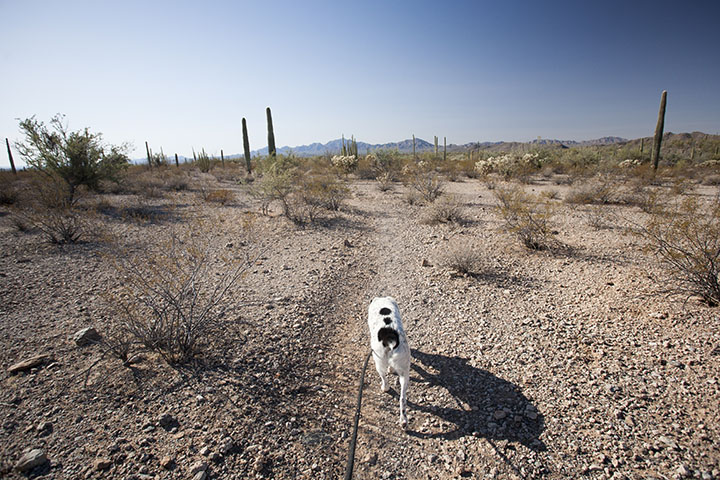 Lily Protip: If you need water, fill up at the spigot outside the campground restrooms. There won't be water again until you reach the visitor center.
No matter which way you started on the Campground Loop Trail, at some point you'll see a sign for the Palo Verde Trail which goes to the visitor center. This trail is 1.3 miles one-way. There is no shade, so if it's going to be a hot day, go early. There are a few benches along the way to stop and take in the scenery.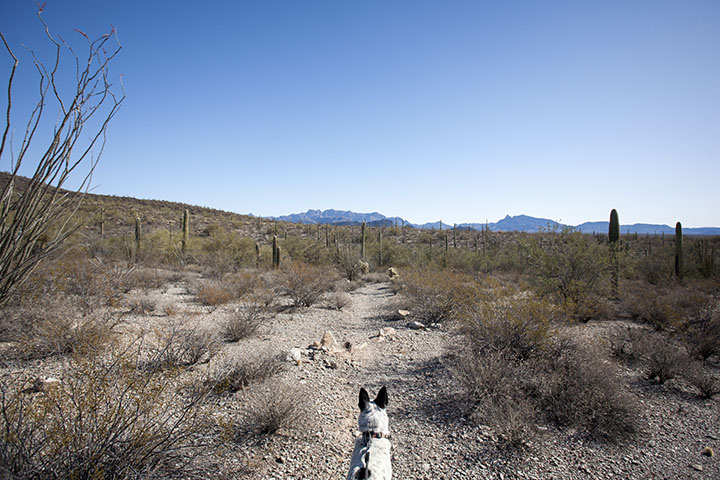 There's a really nice Organ Pipe Cactus along the trail which is great for a photo opp with your pups!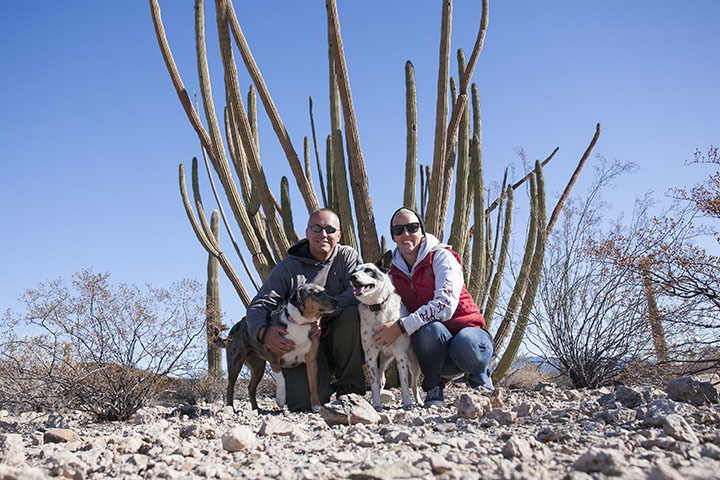 When you arrive to the Kris Eggle Visitor Center, you'll find water and restrooms. We took turns holding the dogs so we could go inside the main building. We picked up some postcards, a patch for Mushy (more on that later) and the "not so Junior" Junior ranger handout. What we didn't ask for, but should have, was the Ajo Mountain Drive guide.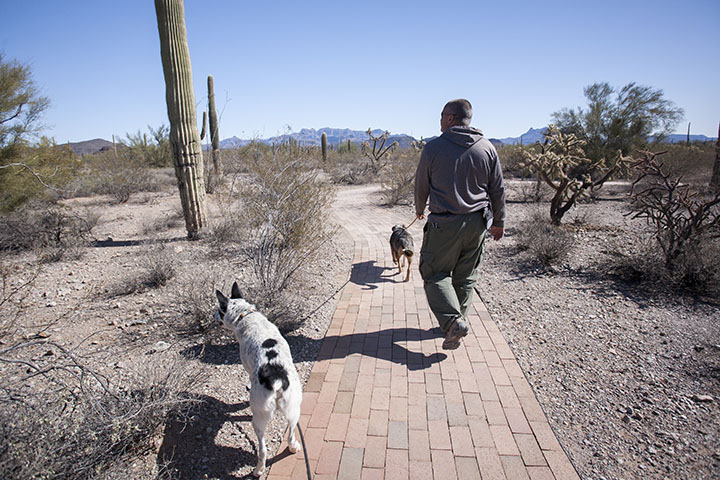 Back behind the Visitor Center you'll find the short 0.15 mile brick walkway that has some informational signs, cactus, and more cactus. Lily was especially impressed with this one: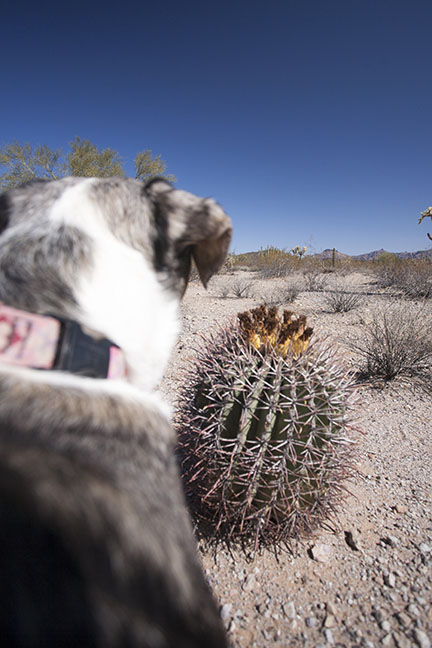 You have now experienced all 3 dog friendly trails! You'll need to backtrack the way you came in, to get back to the parking lot and take the Palo Verde Trail, back to your car.
At this point, your dogs should be TIRED. We took advantage of this time and did some driving while the dogs were passed out.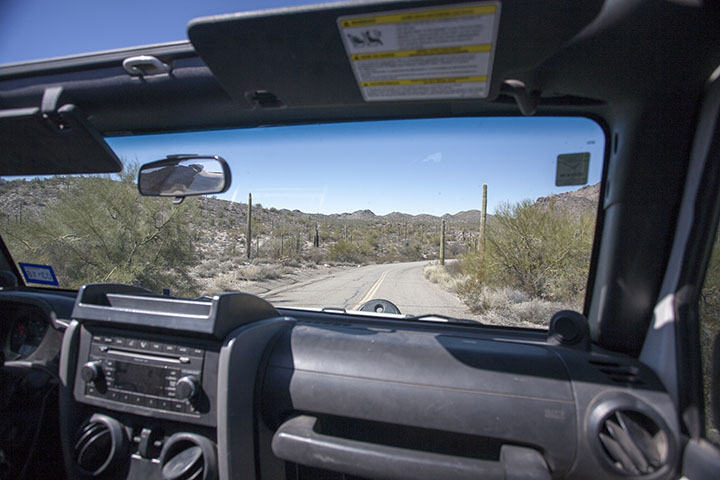 We brought a picnic lunch and Lily used the opportunity to continue her nap while we ate.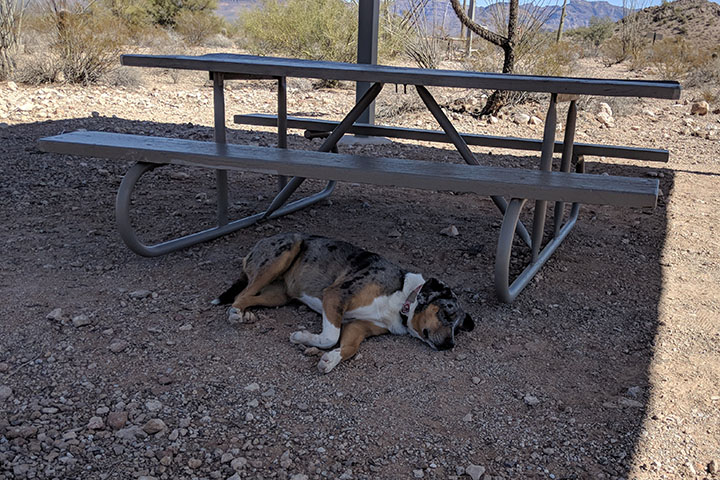 Back in the car and across State Route 85 you'll find the Ajo Mountain Drive. This is a 21 mile, mostly dirt road that is "normally passable by regular passenger cars", but make no mistake, it is an unpaved desert road with varying amounts of washboard, dips and rocks. We saw smart cars and regular sedans driving it without issue. It's been dry though, I'm sure some rain could change a lot so proceed with caution! Vehicles over 25 feet are not allowed.
On this road, the dogs cannot get out of the car. Not an issue for us since ours were still sleeping. It takes about 2 hours though, so make sure everyone gets a pee break before you begin!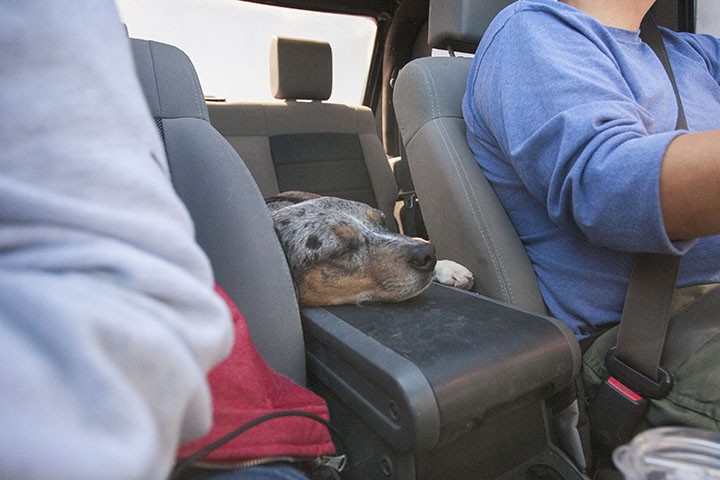 If you requested the Ajo Mountain Drive Guide at the Visitor Center, now is the time to take it out. There are numbered signs throughout the drive and the guide will give you info about each one. Unfortunately we didn't grab the guide, but did have the Jr. Ranger pamphlet which mentioned some of the stops. Our favorite was probably stop #9, with (likely) the largest Organ Pipe Cactus within the park.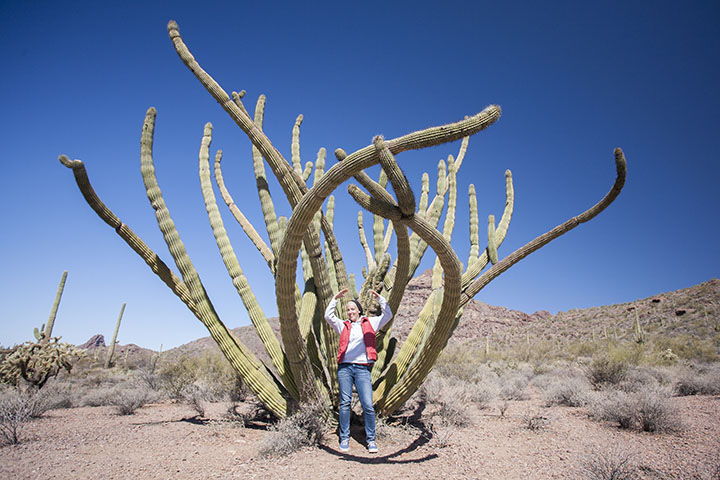 Protip: If you think you want a photo at the entrance sign, take it on the way IN to the park. It will be on your right just after you pass through the border patrol checkpoint as you enter the National Monument boundary. We thought about doing it on the way out, but there was a line to get through the checkpoint and we didn't want to loose our spot by crossing to the other side of the street.

On the way back to the RV, we discussed if we would recommend this park as a destination for those with dogs. If you can stay in your RV at the Twin Peaks Campground, and the weather is cool, you could leave your dogs behind for a few hours while you experience some of the hikes they aren't allowed on. Otherwise, there's just not much to see and do with them here. It was a nice detour but not really a destination.
All in all, we had fun. And Mushy earned another adventuredog patch for his backpack!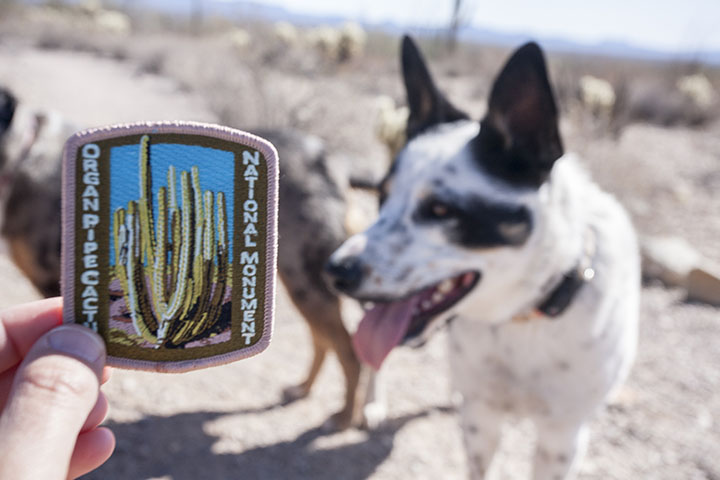 Bonus: On your way into, or out of Organ Pipe, make sure you stop in Ajo, AZ!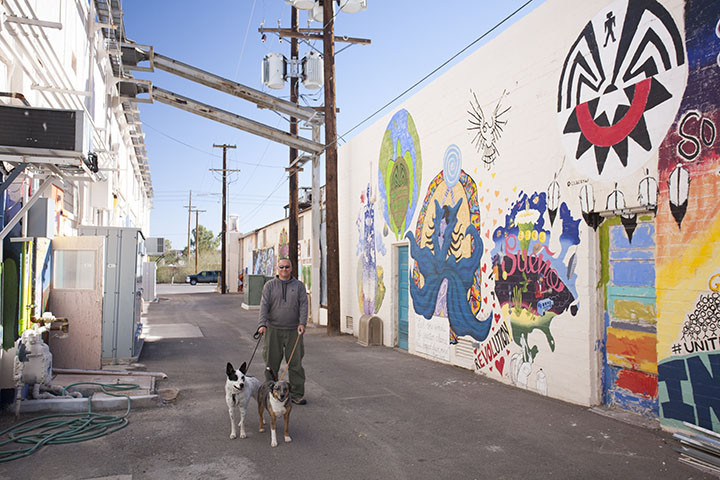 It's a small town that has a farmers market on Saturday from 9am-noon (we liked the jalapeno bread), an Artist Alley to peruse, and several dog friendly restaurants with outdoor seating. We chose Marcela's Bakery & Cafe (fyi not a bakery) and enjoyed delicious Mexican food at a good price. We also checked out the Ajo scenic loop and the lookout point at the New Cornelia Mine. Make sure you go in the visitor center, there's lots of interesting photos and information about the mine over the years.