Angel Peak Campground, NM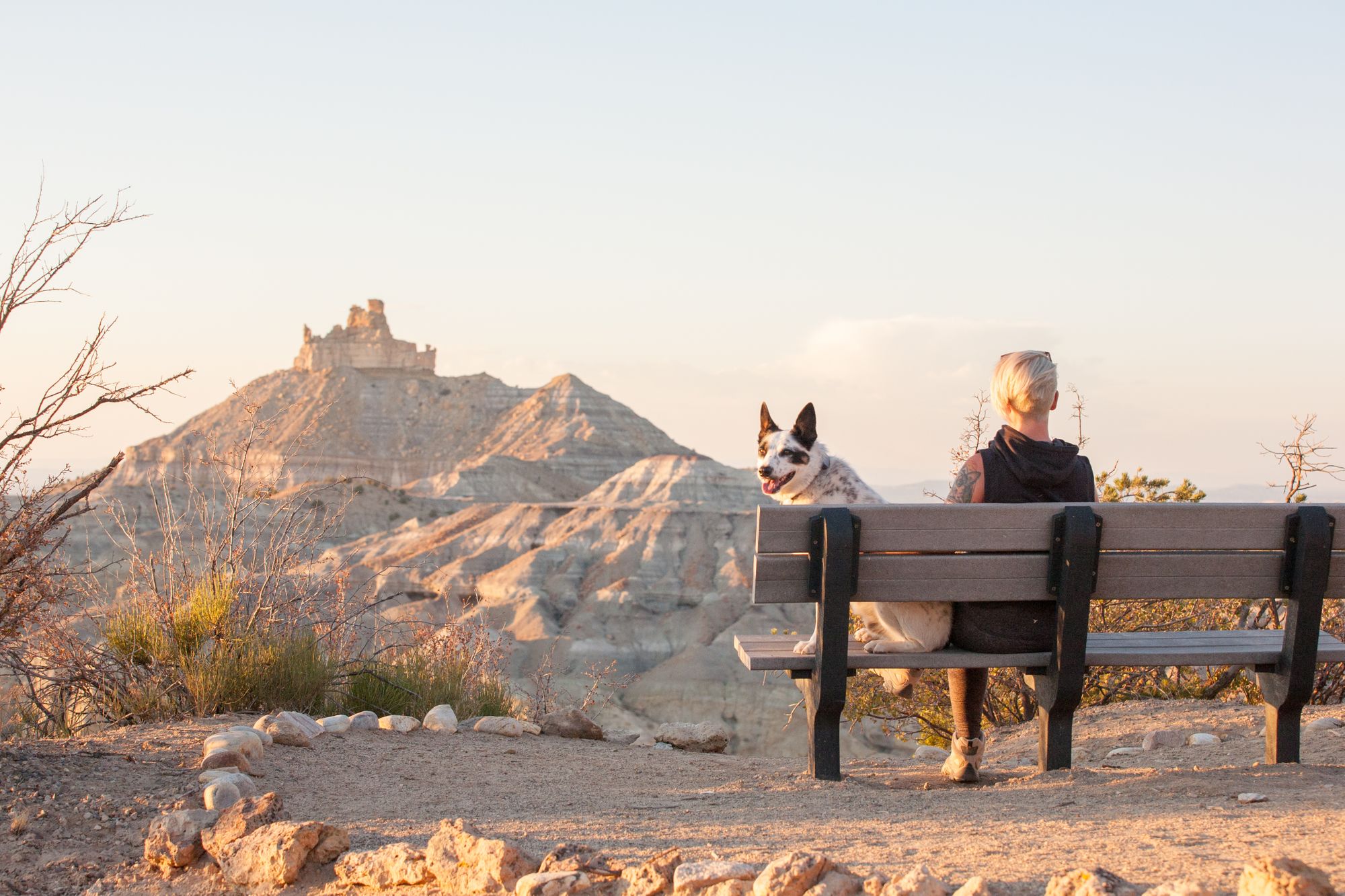 We recently camped at the Angel Peak Scenic Area in northern New Mexico, and wanted to share some beautiful pictures and local tips with you.
We've lived in northern New Mexico for just over a year now, and Angel Peak has been on our to-see list since we moved here. We purchased our Winnebago Travato 59K Class B van at the start of the pandemic and because of the circumstances, didn't get to do as many summer adventures as we had planned. To remain safe, we decided to stay close to home for a recent trip, and finally visited Angel Peak!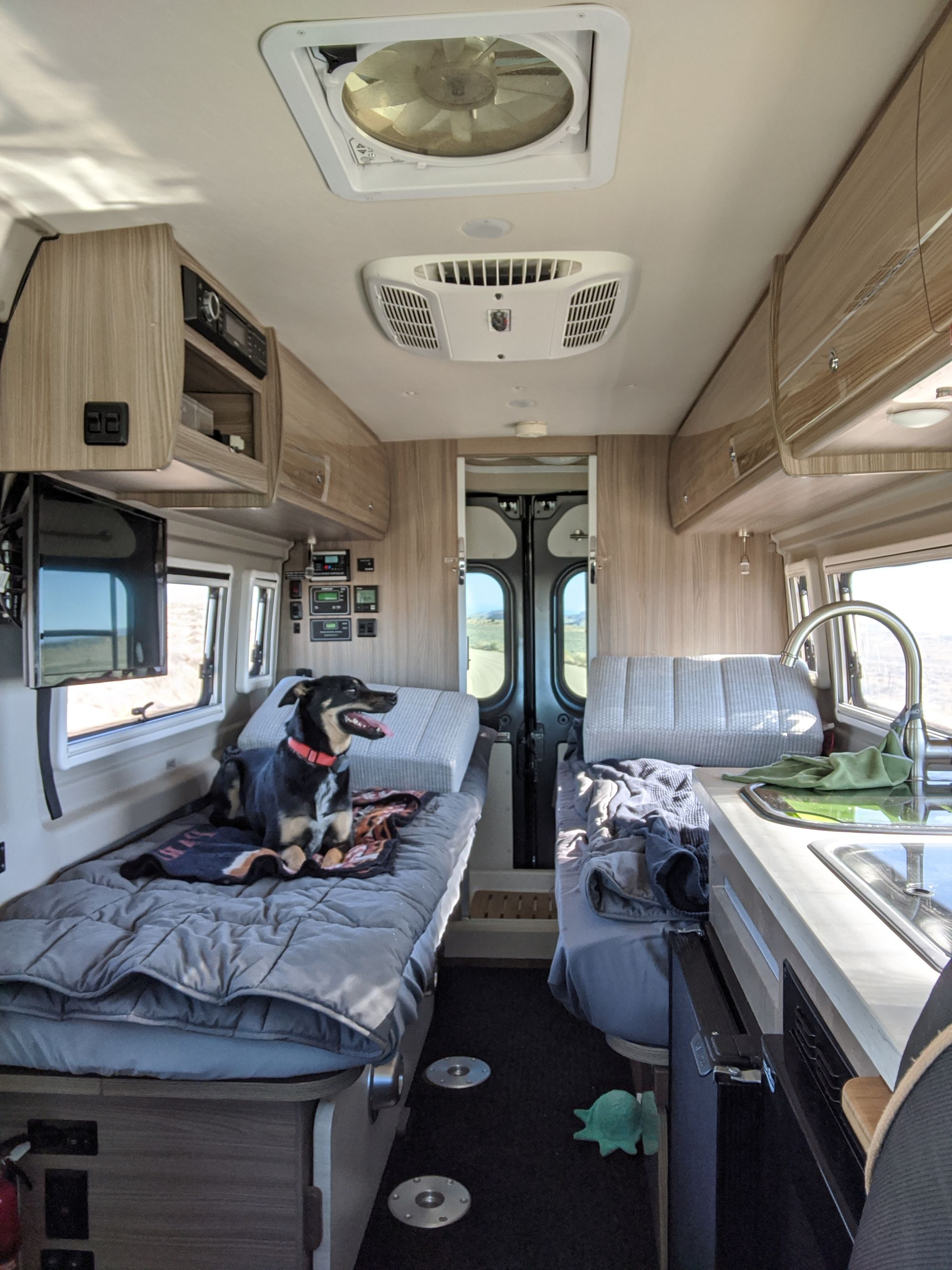 Angel Peak is a BLM scenic area located southeast of Farmington, NM, with a free first-come-first-serve campground. The campground has no water or trash services, but it does have pit toilets, fire rings, shade structures, and a nicely maintained short campground walking loop. Camping is allowed in the 9 built sites only, and off-road driving is not allowed anywhere within the scenic area boundaries. The vegetation here is all delicate desert plants, and gathering firewood is not allowed.
The scenic area has views of towering rock formations surrounded by badlands with maze-like ridges everywhere.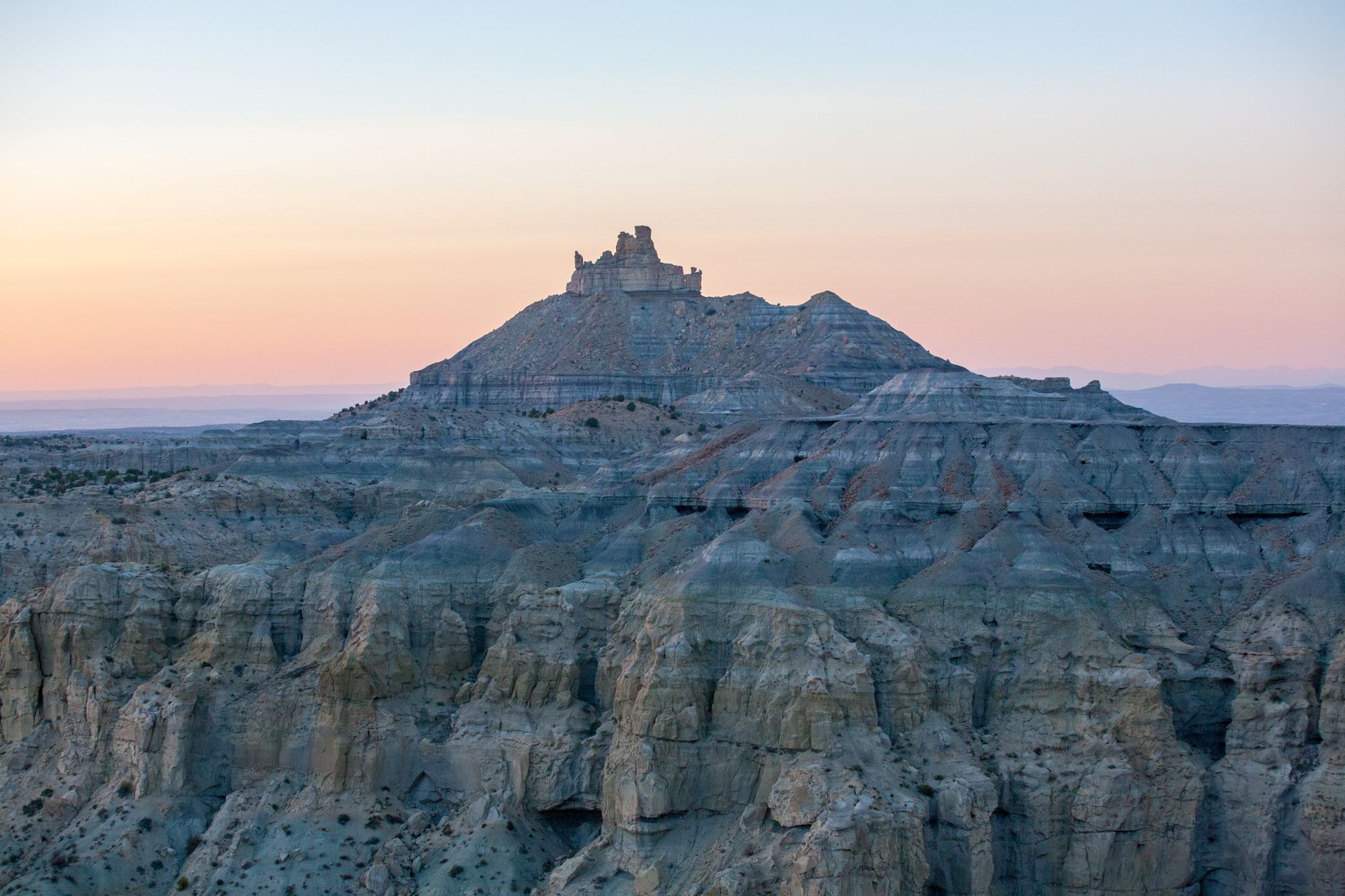 The dirt road in is about 6 miles long. The first mile or so is washboarded from heavy truck traffic, but it gets better after that.
On the way in, you'll pass 3 picnic areas that are definitely worth the stop as you get a great view of the badlands. Overnight camping is not permitted at these picnic areas but unfortunately we did see people breaking that rule.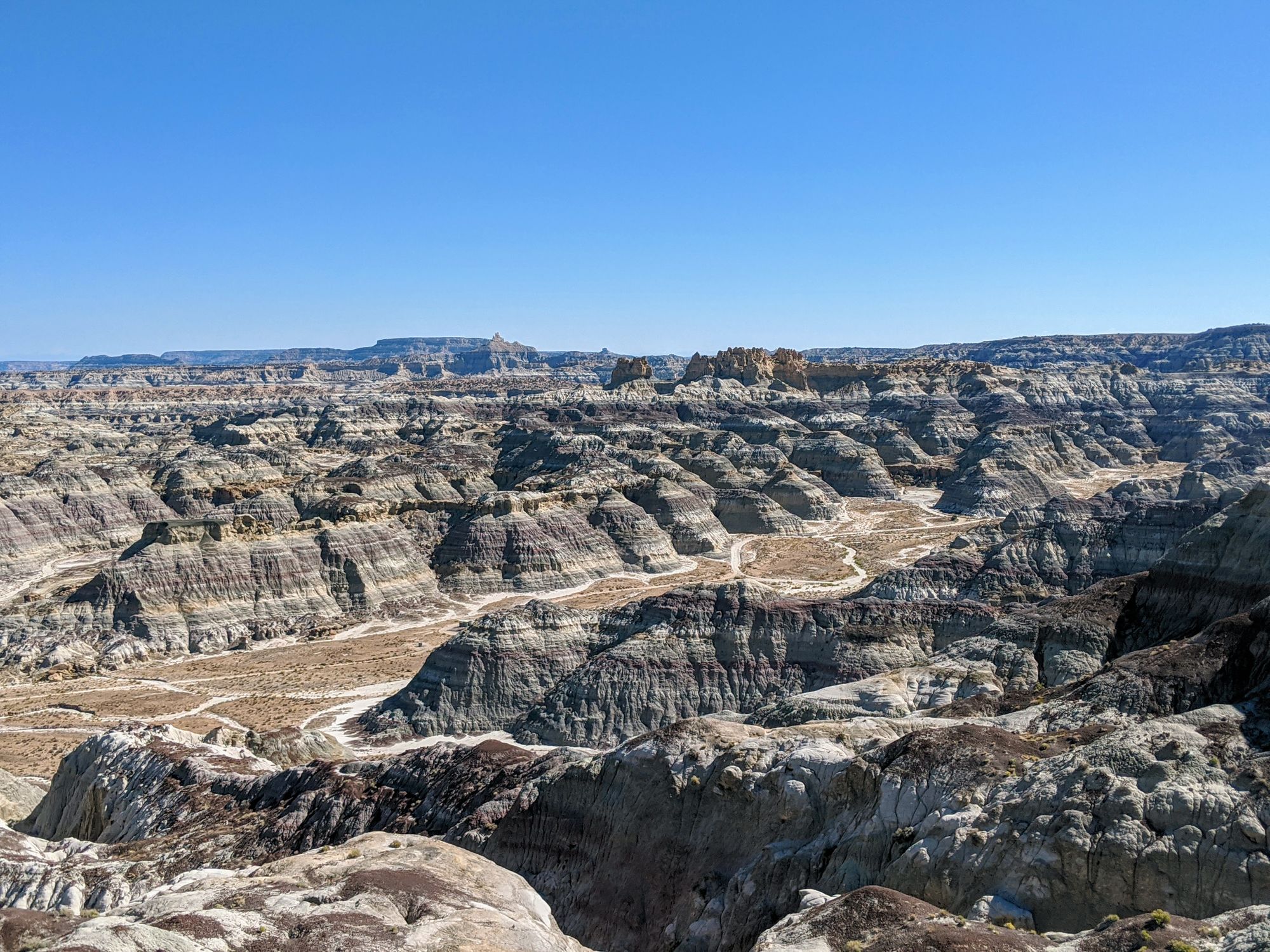 We arrived to the campground just before 3 pm on a Friday in September. We drove the loop once through to see what sites were available. There are only 9 and the sites on the rim side are better, both for the views and the overall size of the site. Only a few of the sites will accommodate RVs at all, and some weren't even suitable for vans, just tent camping.
On our second loop around, we chose a site on the rim side that didn't have a view of Angel Peak (those spots were all taken) but that was nice and roomy for the dogs. It did have a pavilion, fire ring and also a nearby pit toilet that was very clean.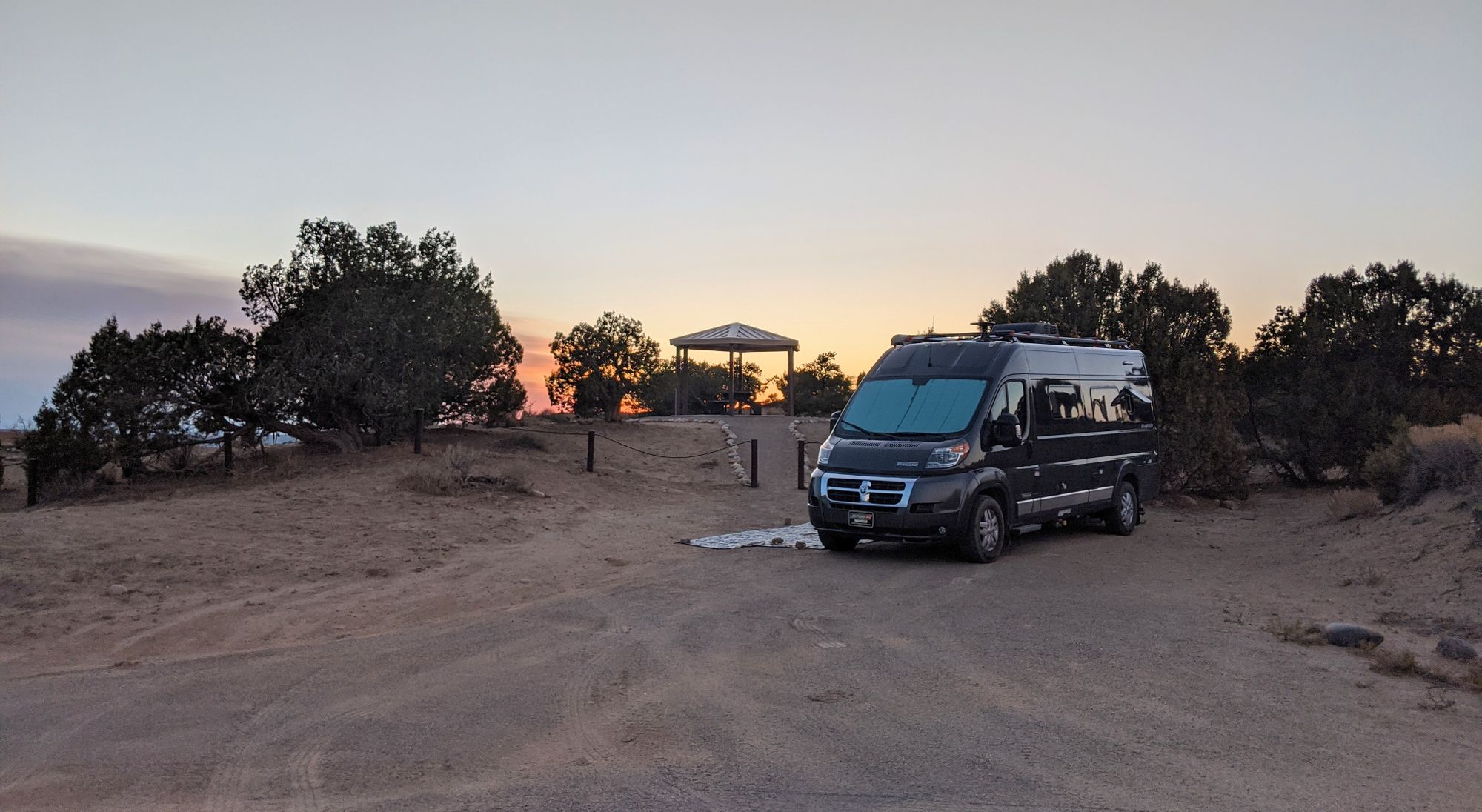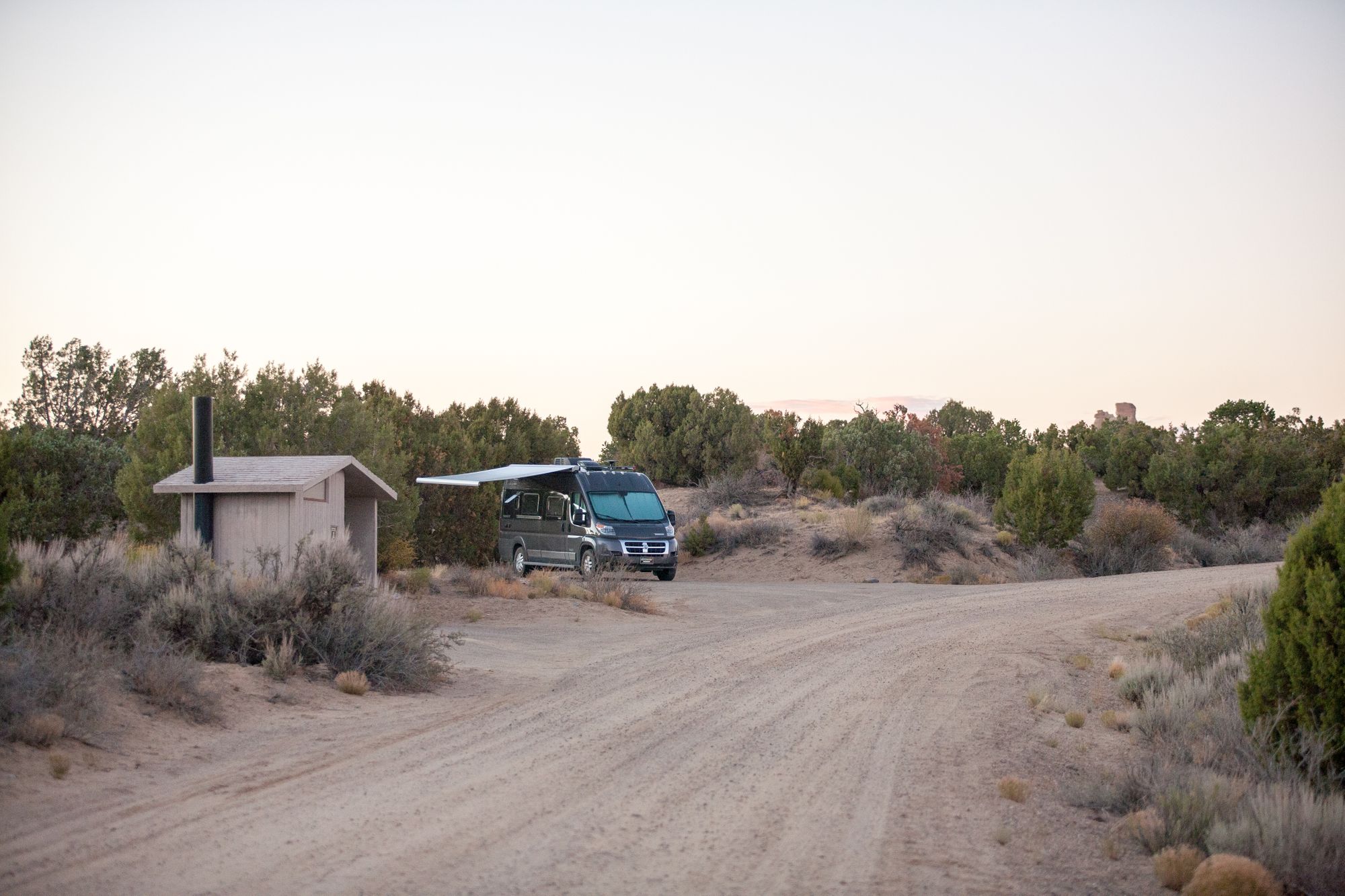 One of the things we're loving about van life (as opposed to Class A life) is how quickly we can be set up and out exploring! No jacks to level, no slides to put out, just open the side door and enjoy!
Hikes and walks
We headed out from our site and followed the short rim trail that's lined by rocks. This trail takes you to some viewpoints of Angel Peak and the surrounding badlands, two of which have benches.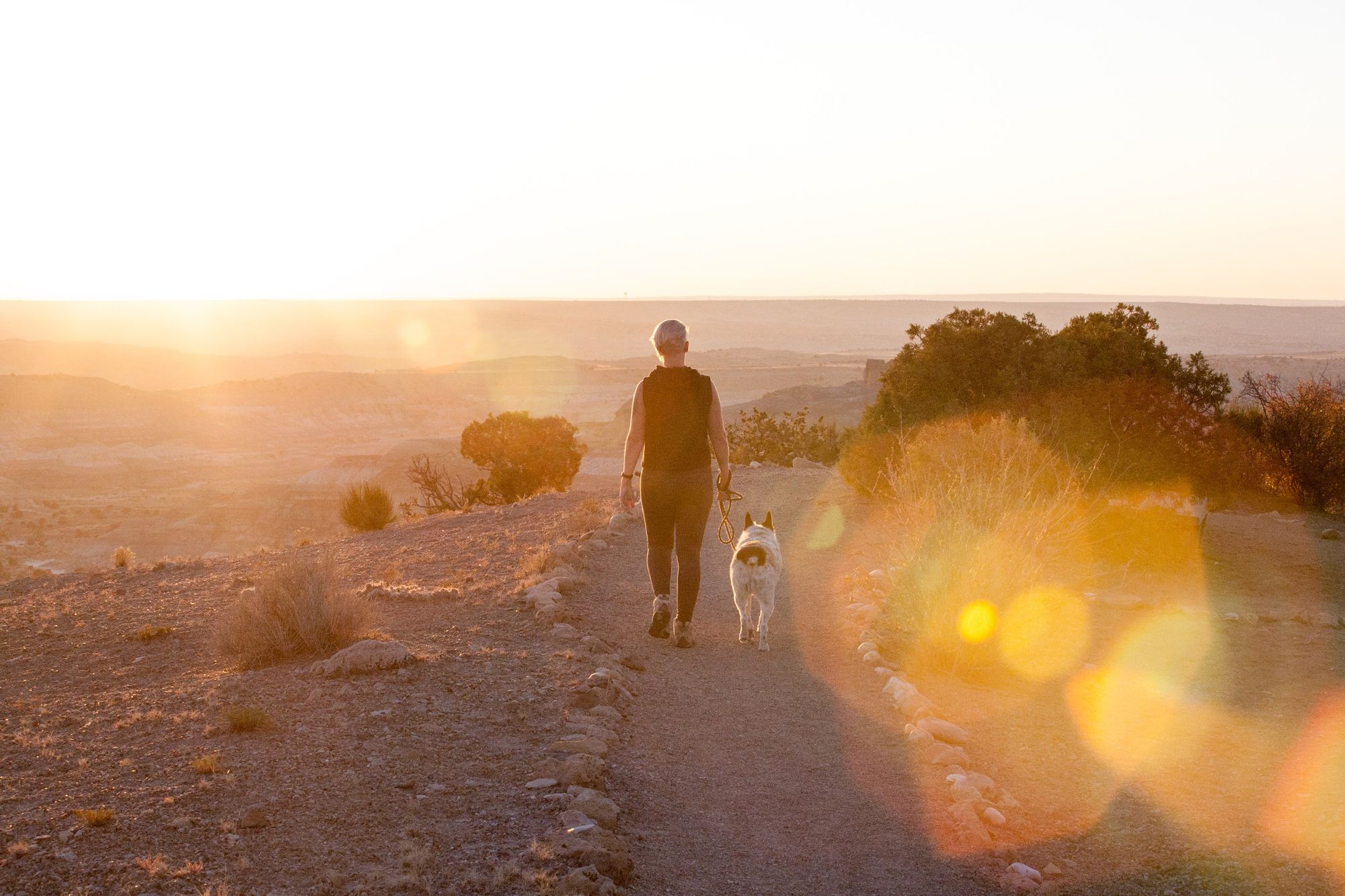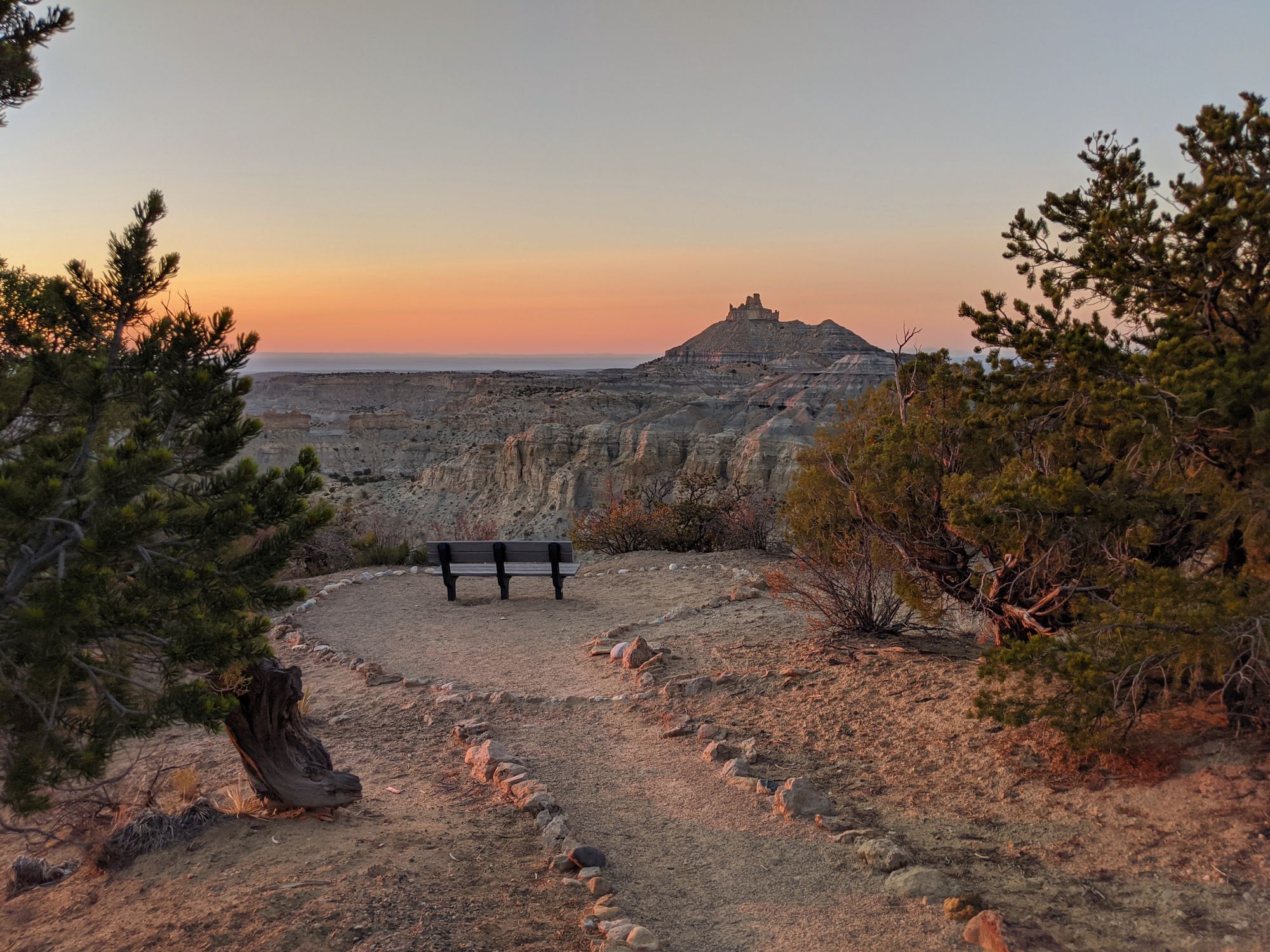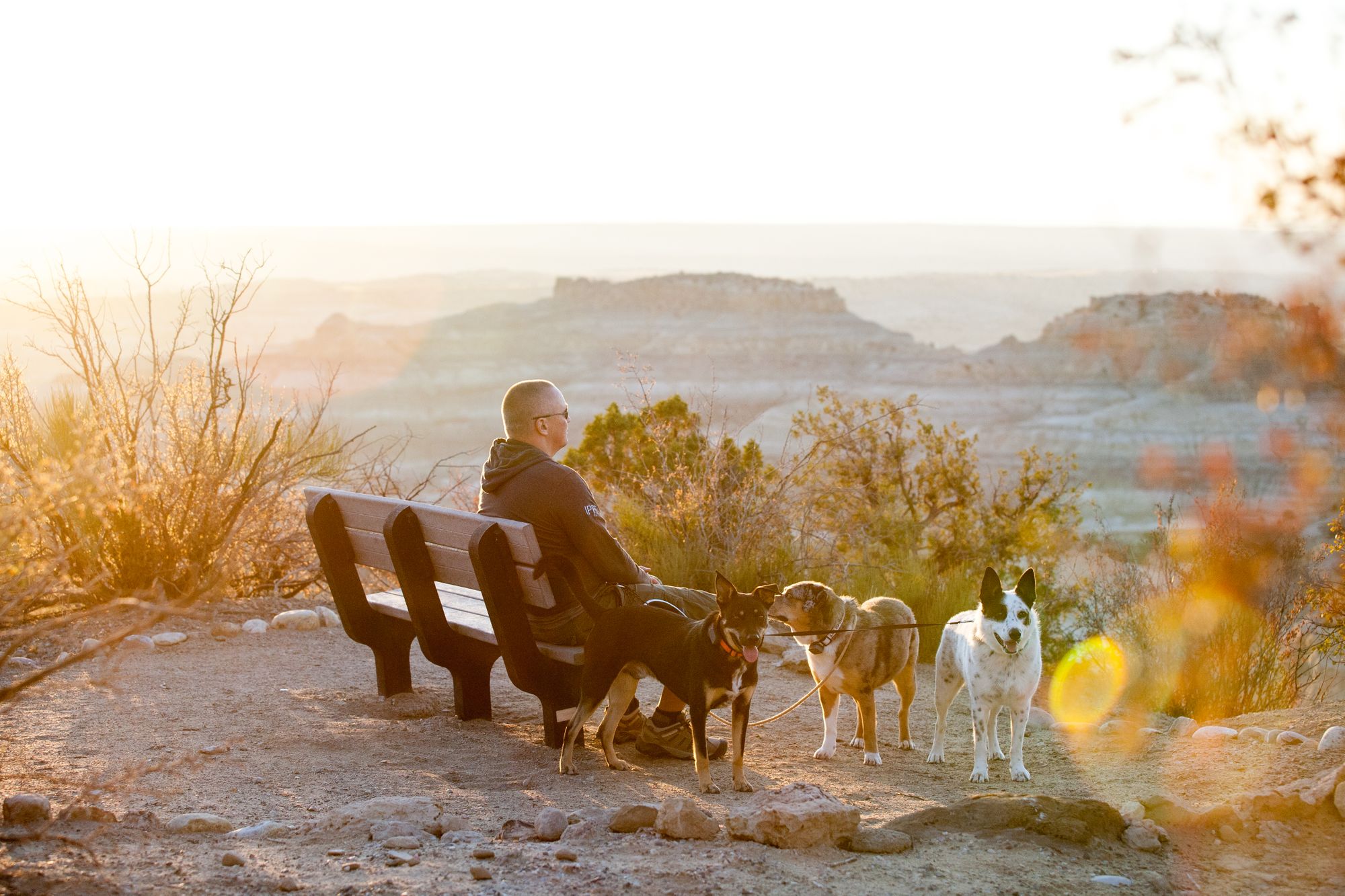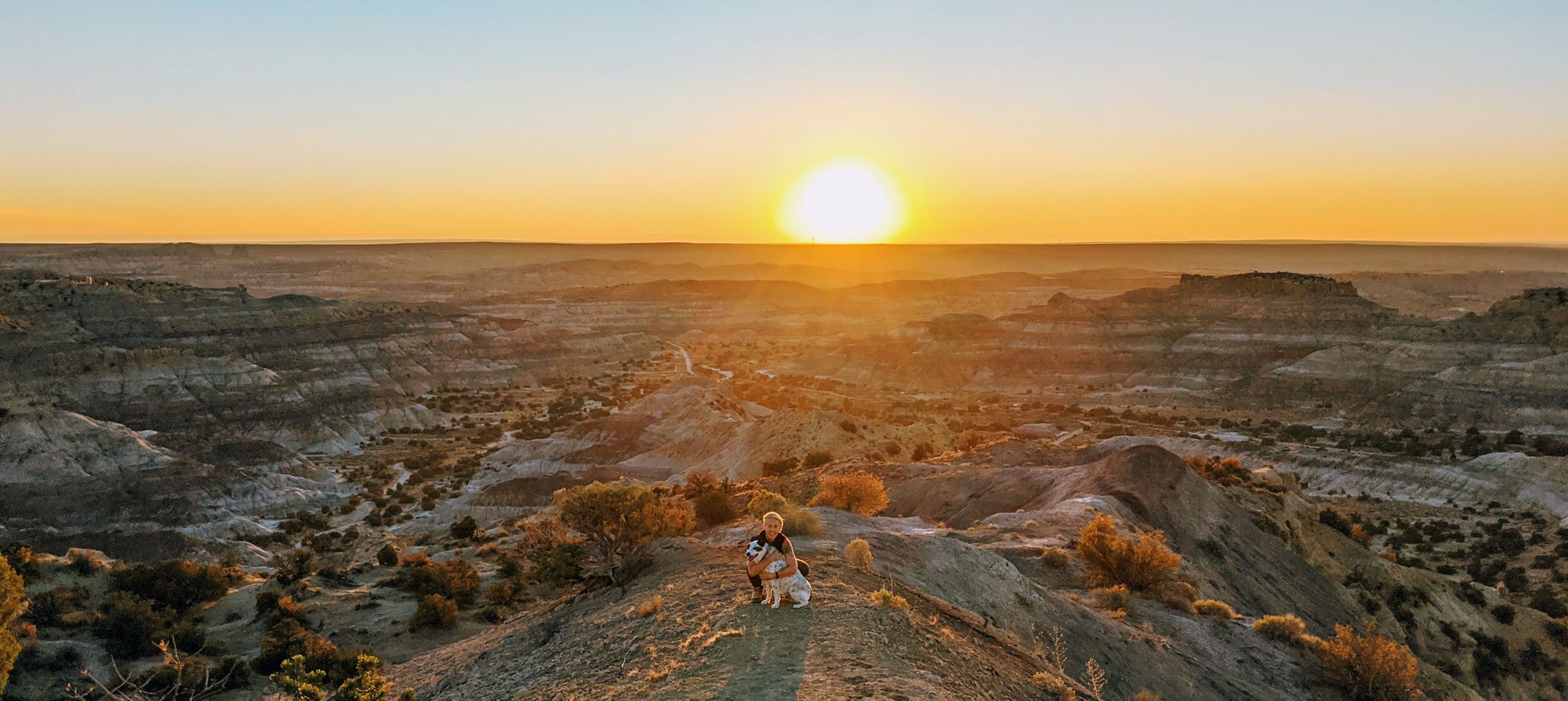 The campground is at the edge of a ridge, and there's not a great way to get into the valley from the rim. The valley floor has a network of oil field roads, but to access those one needs to backtrack along the entrance road more than we were willing to walk. One day, we will come back with our 4x4 Jeep and explore the valley, but here are some dog-friendly hiking options in the area:
Angel Peak Trail
If you exit the campground at the northeastern end, along the road closed to vehicles, and follow the edge of the rim, you'll find a well-defined path that leads to the balancing rock in the distance. When on the ridge, pay attention to where the trail goes, as the easiest route is not the most straight one.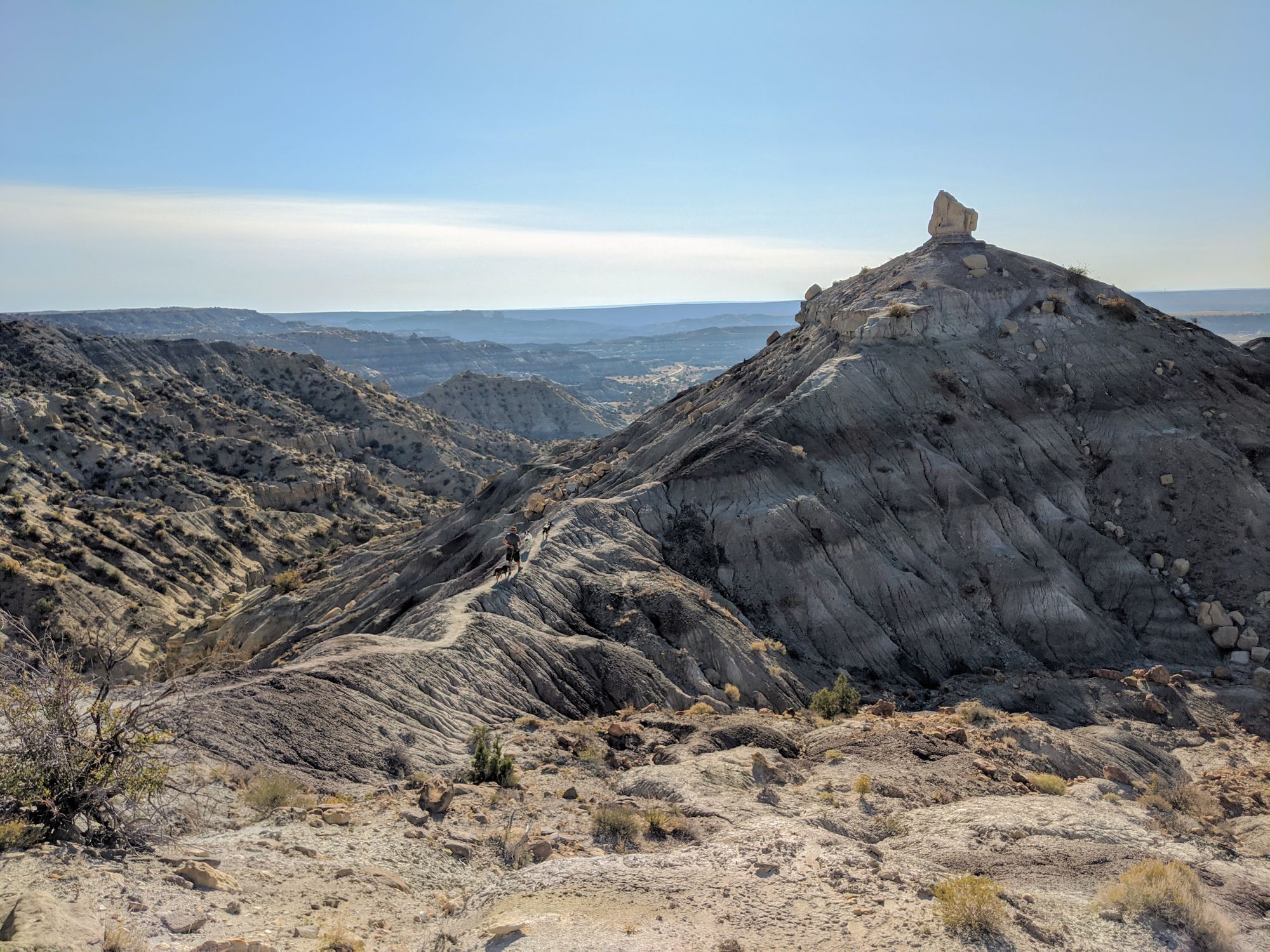 It's not a long hike, about 1 mile in total, and it's fun and really narrow in spots! We stopped at the balancing rock as another hiker told us it got a little sketchy if you went further.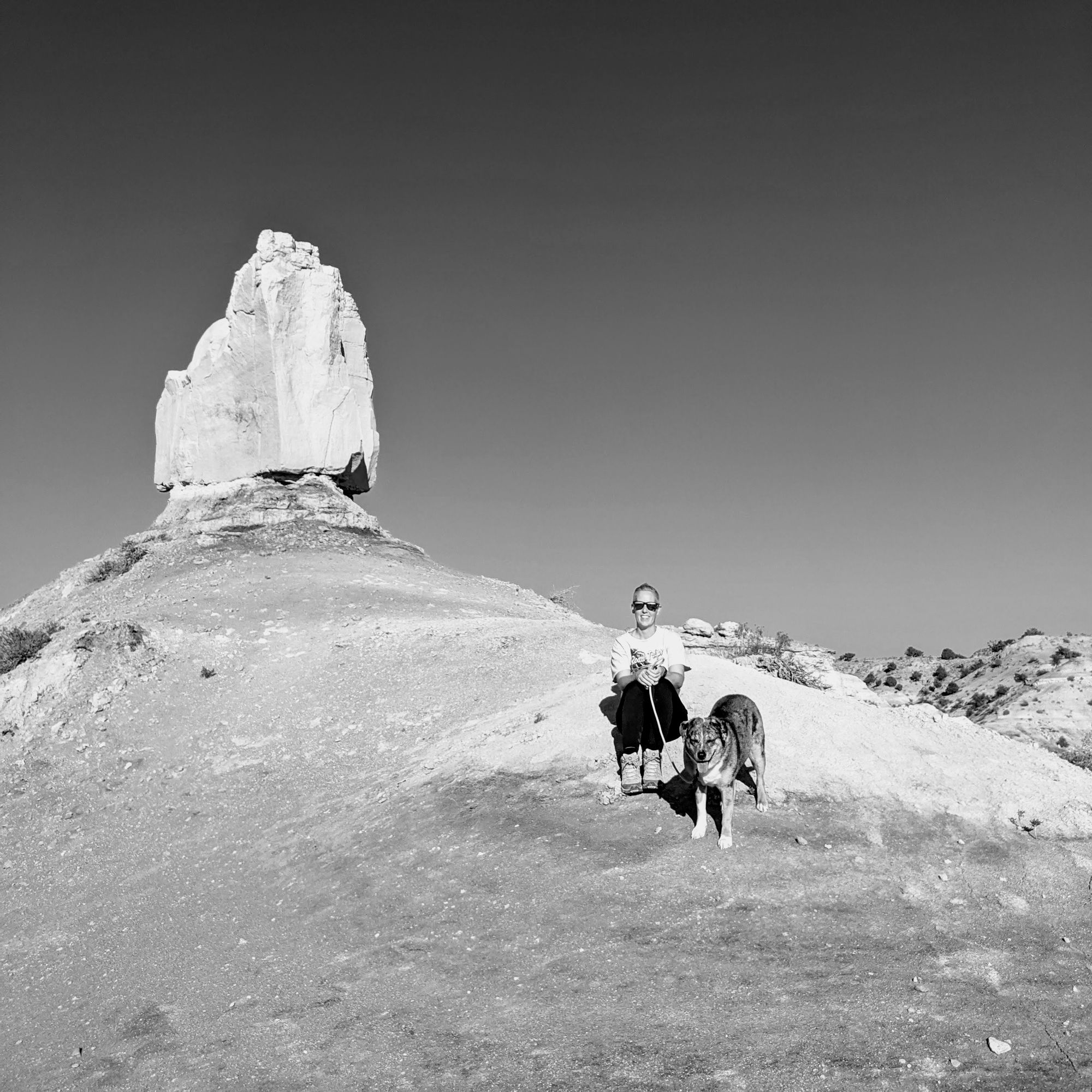 Oil field roads northeast of the campground
Since the balancing rock hike wasn't very long, and the dogs had already walked the campground loop a few times, we decided to walk some of the oil field access roads on the land outside of the campground.
These roads go for miles and miles, and there's really no shade so prepare accordingly. We had a good time trying to identify the different animal prints in the sand. There are definitely deer frequenting this area, although we didn't see any. We also encountered two cattle guards during our 3.5-mile walk — something to keep in mind if your dogs don't like crossing them.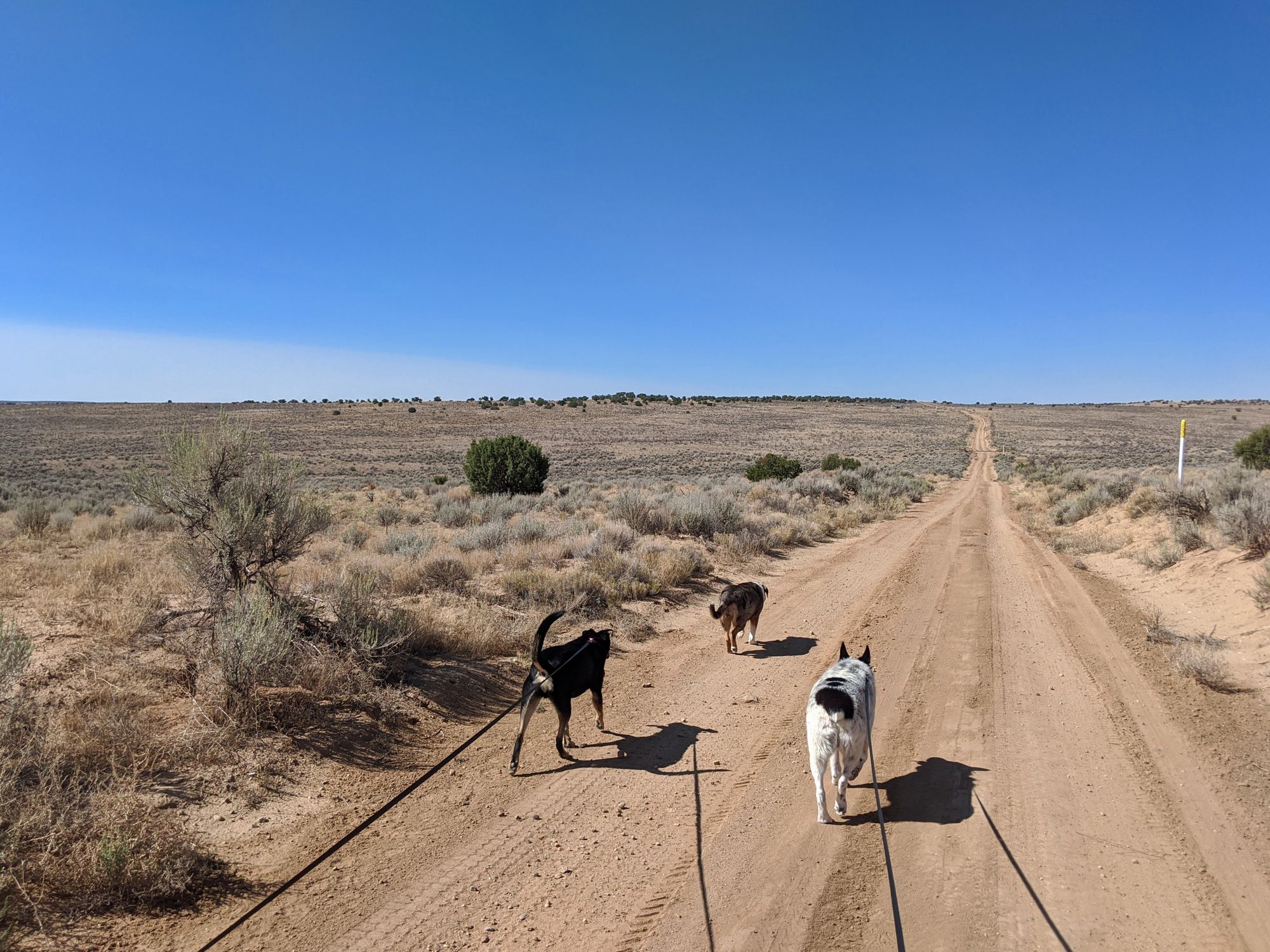 Castle Rock trail
There is also a 1.2 mile roundtrip hike called Castle Rock trail, that begins near the picnic areas. We didn't do this hike on this trip, but definitely will the next time we go back.
Cell signal
In general the area does not have great cell coverage. Be prepared with offline maps, and don't plan on remote working here. We did manage to get a barely-usable signal with a booster, but that may depend on the individual campsite.
Links and resources
Please pack out whatever you brought in, leave your campsite better than you found it, and don't crush the fragile desert ecosystem.
While you're in this area, don't miss the nearby dog-friendly Bisti Badlands!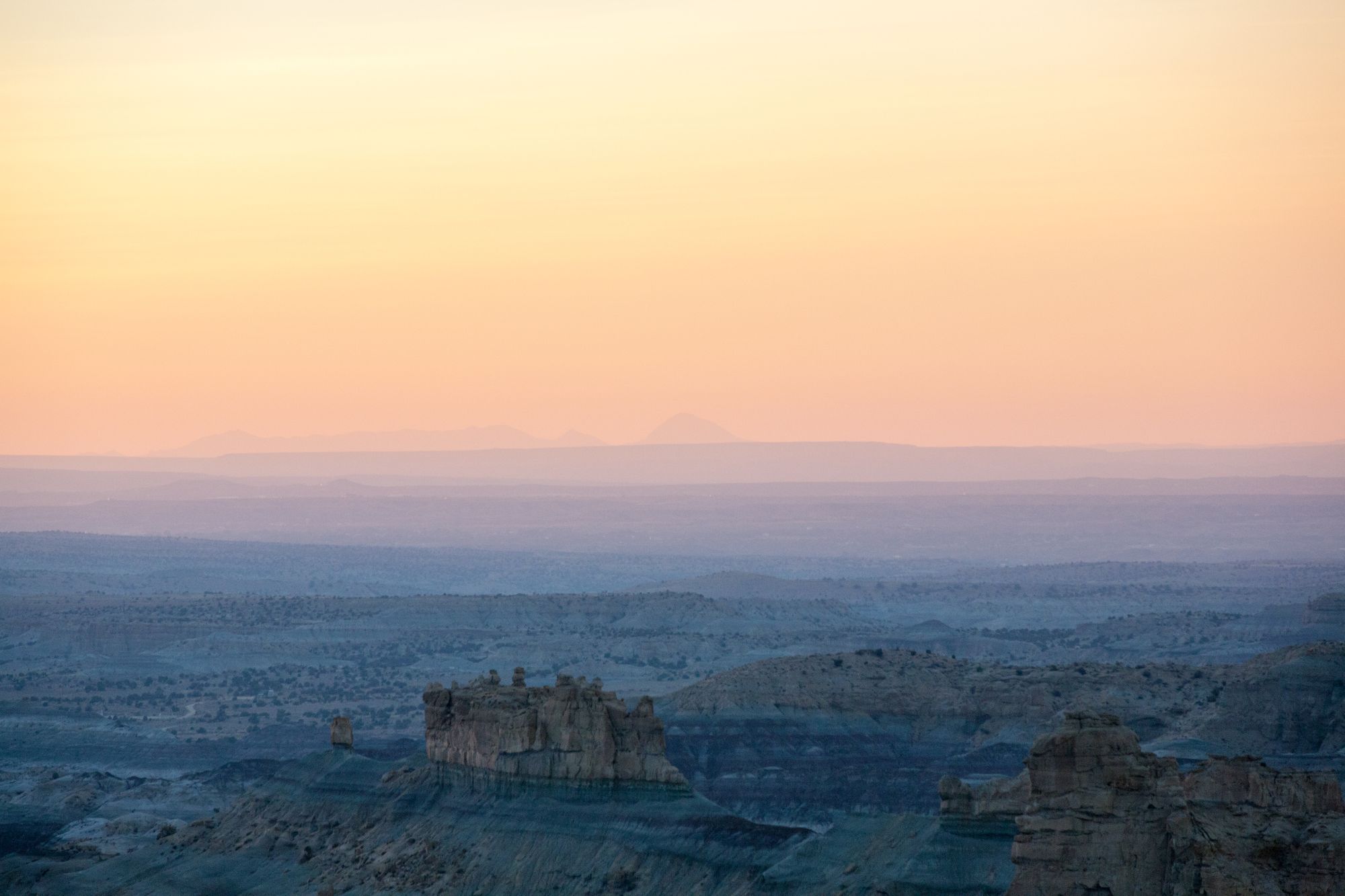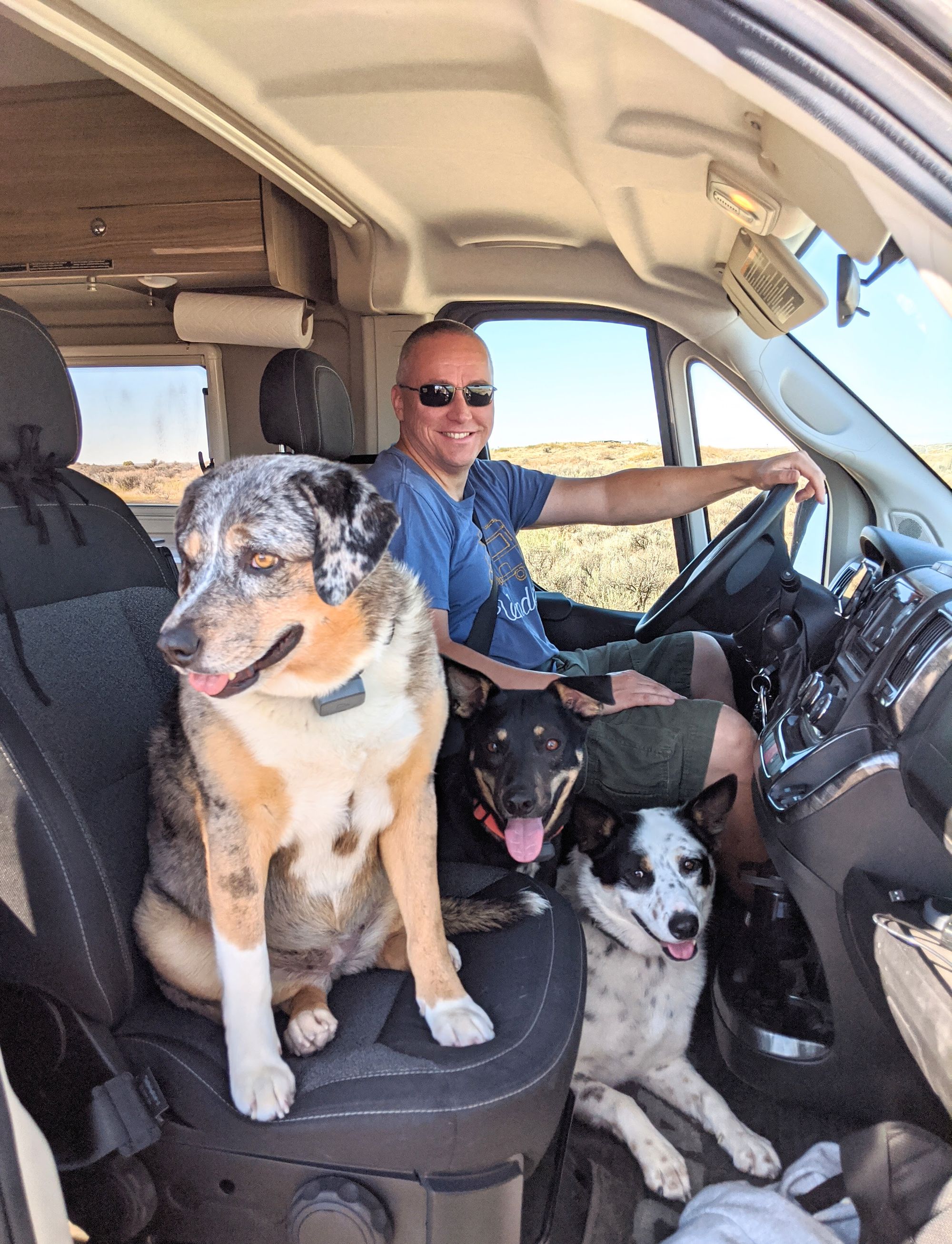 This post originally appeared on https://fmcadventure.com/2020/10/19/angel-peak-campground-nm/