Dog-Friendly Day Trip to New Mexico's Bisti Badlands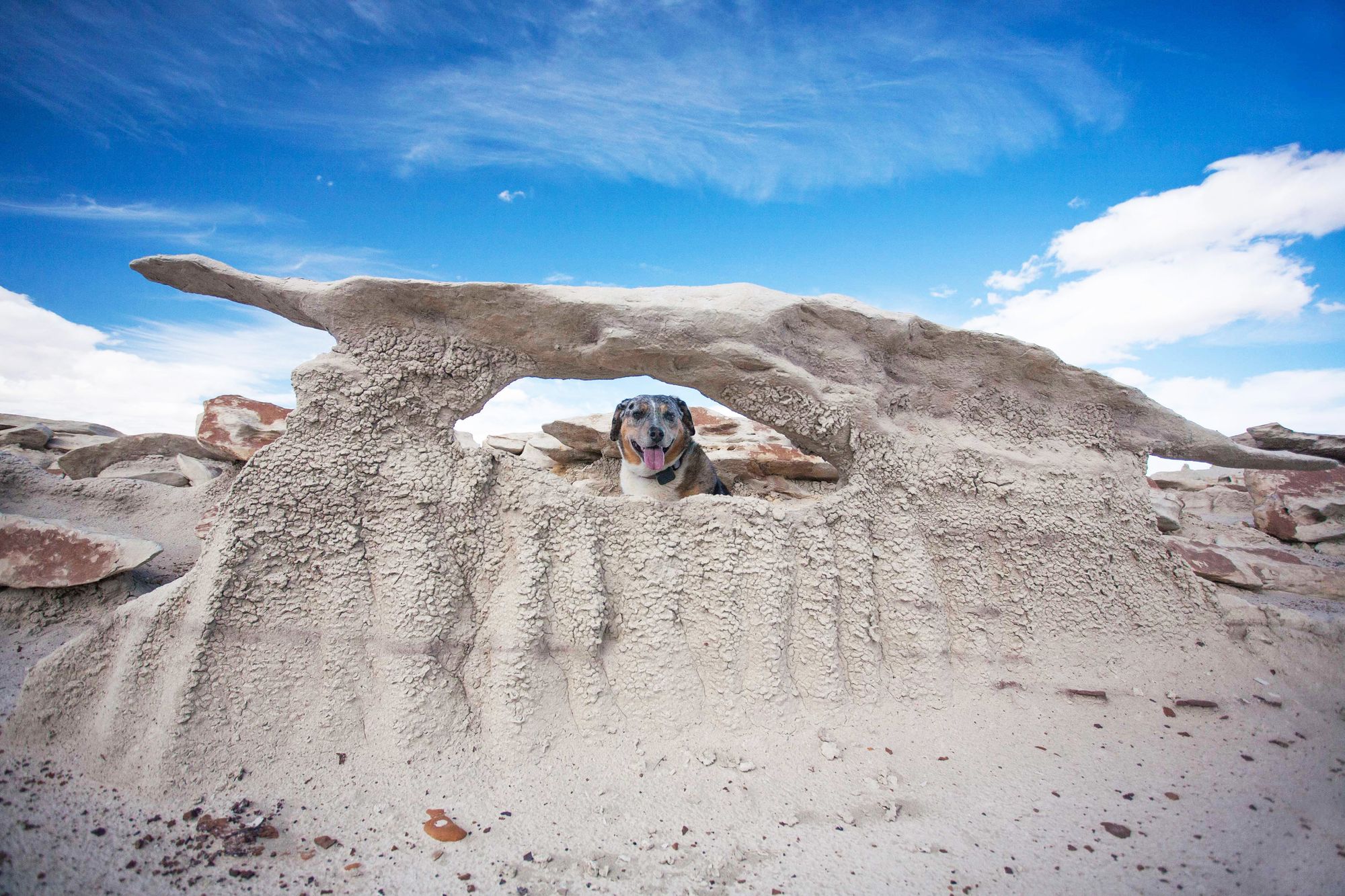 Ever since we bought our house in New Mexico, we've been wanting to visit the nearby Bisti/De-Na-Zin Wilderness (aka the Bisti Badlands). Winter can be a tricky time to visit since it can get very muddy. In early February, after a few weeks of dry weather, we loaded up our Jeep and drove the hour and a half south for a dog adventure day.  
Protip:  Let me tell you now how to pronounce it so you're not like me and pronounce it wrong for months:  Bis-tie (not Bis-tee).
Since we hadn't been there before, and the area is known for having poor-to-no cell reception, we chose to visit mid-day. Most photographers visit Bisti at sunrise or sunset for the best lighting, but since it was our first time there we didn't want to be driving either direction in the dark, or finding our way back to the car in the dark! Since our visit, we've purchased a class B campervan and can't wait to go back for an overnight visit and have better lighting for photos! (After stay-at-home restrictions are lifted, of course!)
This is one adventure where you'll really benefit from doing your research ahead of time.  There are no marked trails so you'll need to know where you're going and pay attention. Download offline maps to your phone, bring your GPS device (if you have one), make a plan for what you want to see, etc.  It would be impossible to see everything in one day so you'll need to prioritize. Here are some of the sites we found helpful: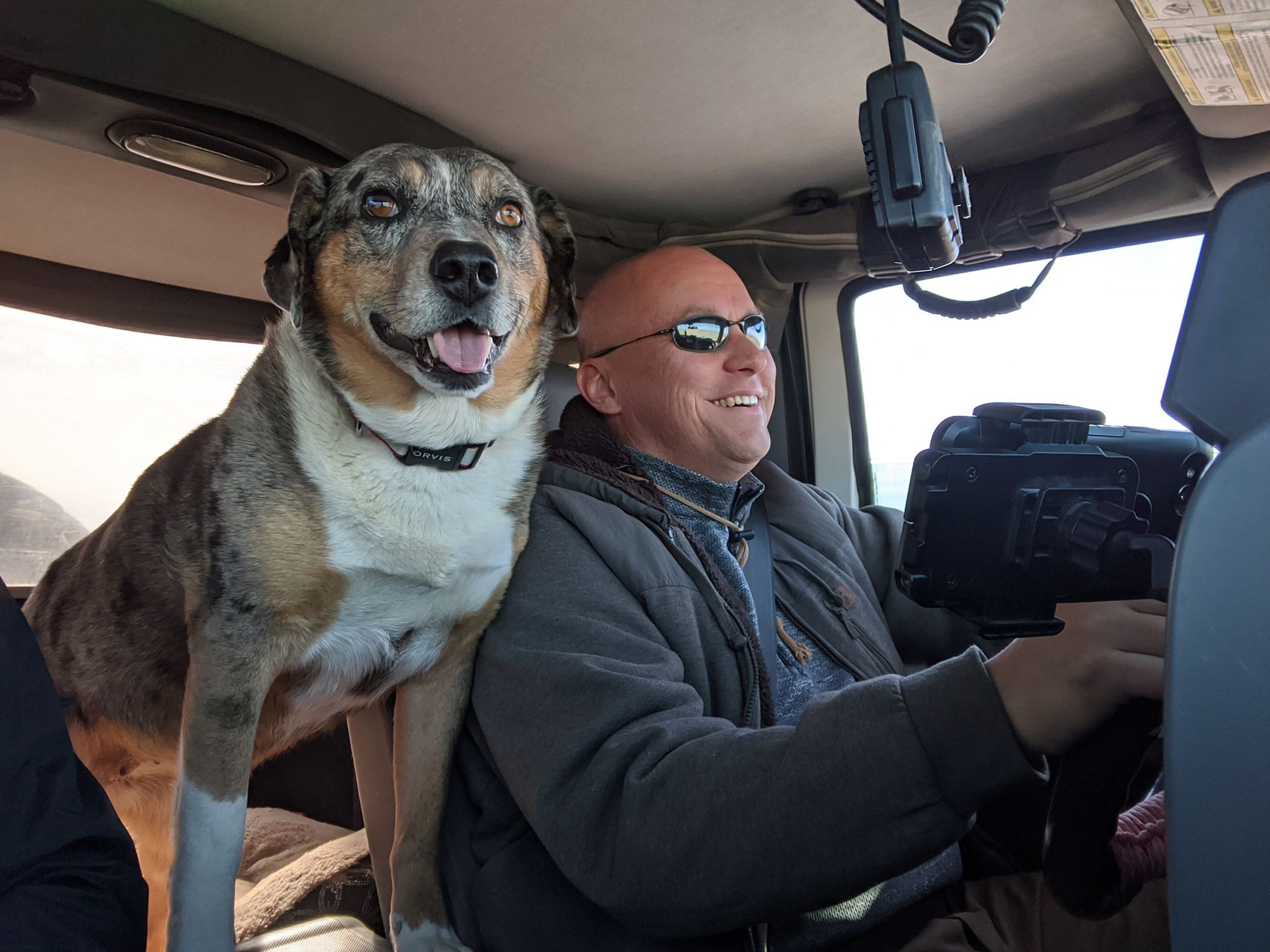 You can enter the wilderness either from the west (Bisti) or east (De-Na-Zin) entrance.  The west is the more popular choice because it's closer to the highway and the cool stuff to see is more condensed into one walkable area; the east is less crowded and has more large land shapes like hills.  The western end actually has two parking lots, but the northern one is not as well known and is harder to find.
The southwest parking lot is the most popular and easiest to find, and it's prominently marked, even on Google Maps. To get there, take the paved state road 371, it's about a 3-mile drive on dirt/gravel road to the southwest main parking area.  If you see other routes to that parking lot on your map, they are either blocked or non-existent.  The roads are in general in good enough condition and any passenger car will be fine.  Watch for rocks on the road and slow down a lot before turns.  If you're visiting the east end, make sure you know where the turn is, as it's hard to spot.
Bisti is primarily managed by BLM, with the exception of a few parcels of Navajo land within the boundaries, and as of our writing, there is no entrance fee or booth. There is no water and no trash service, but there is a newly-built pit toilet. We saw websites warning to not let dogs go in the water near the parking lot, as it's run-off from a nearby uncapped oil well.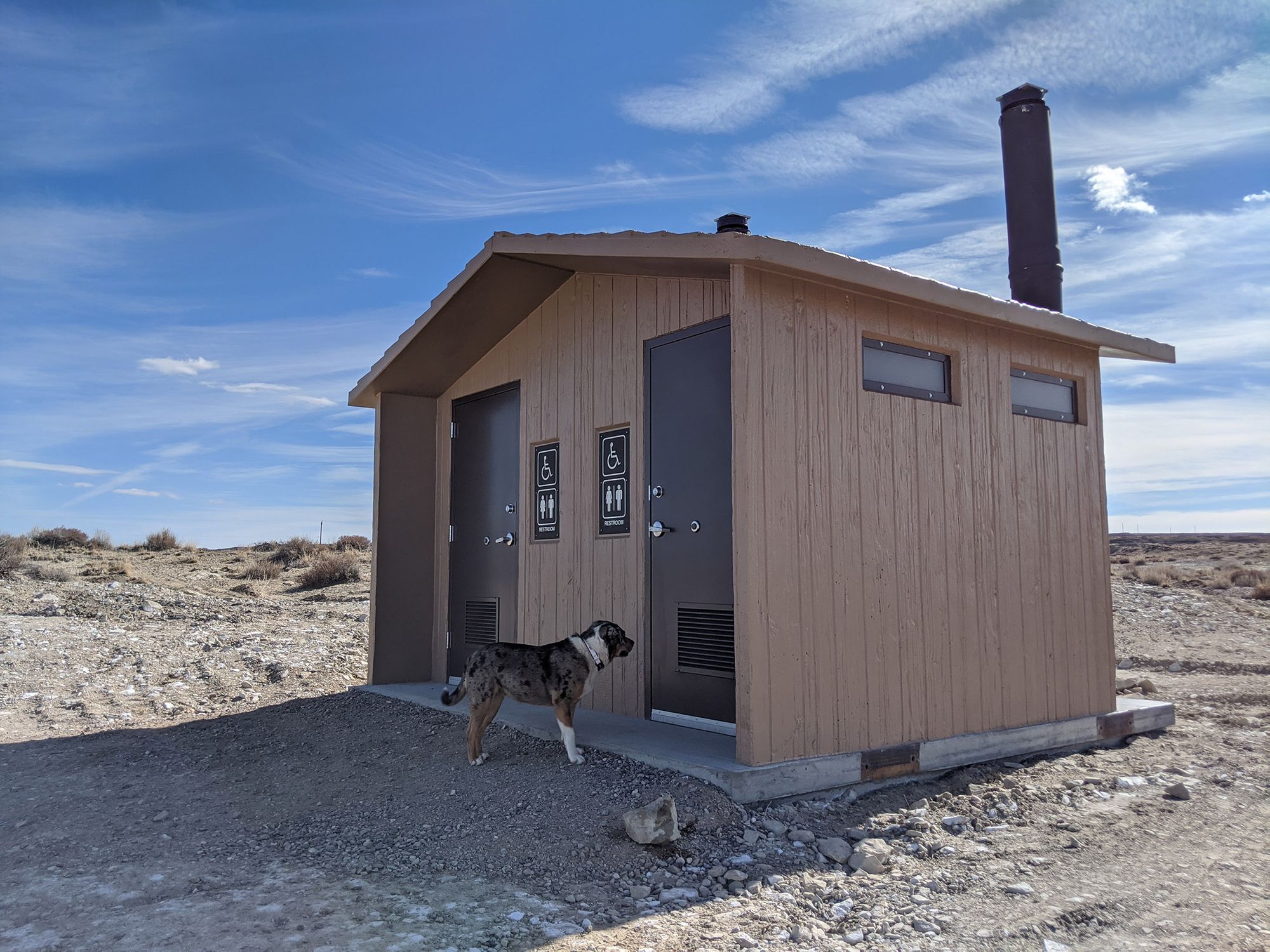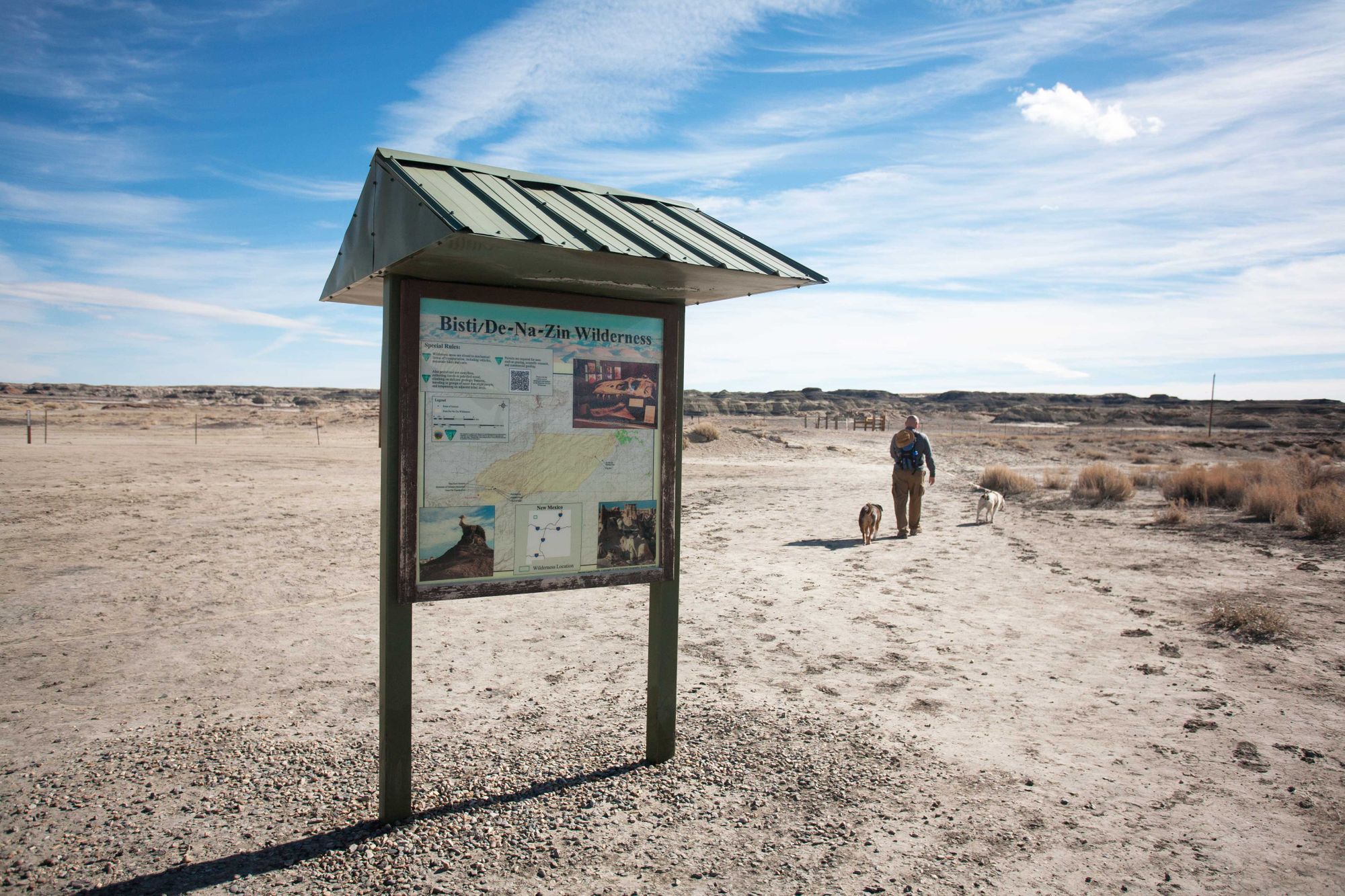 Before you get to see things like this: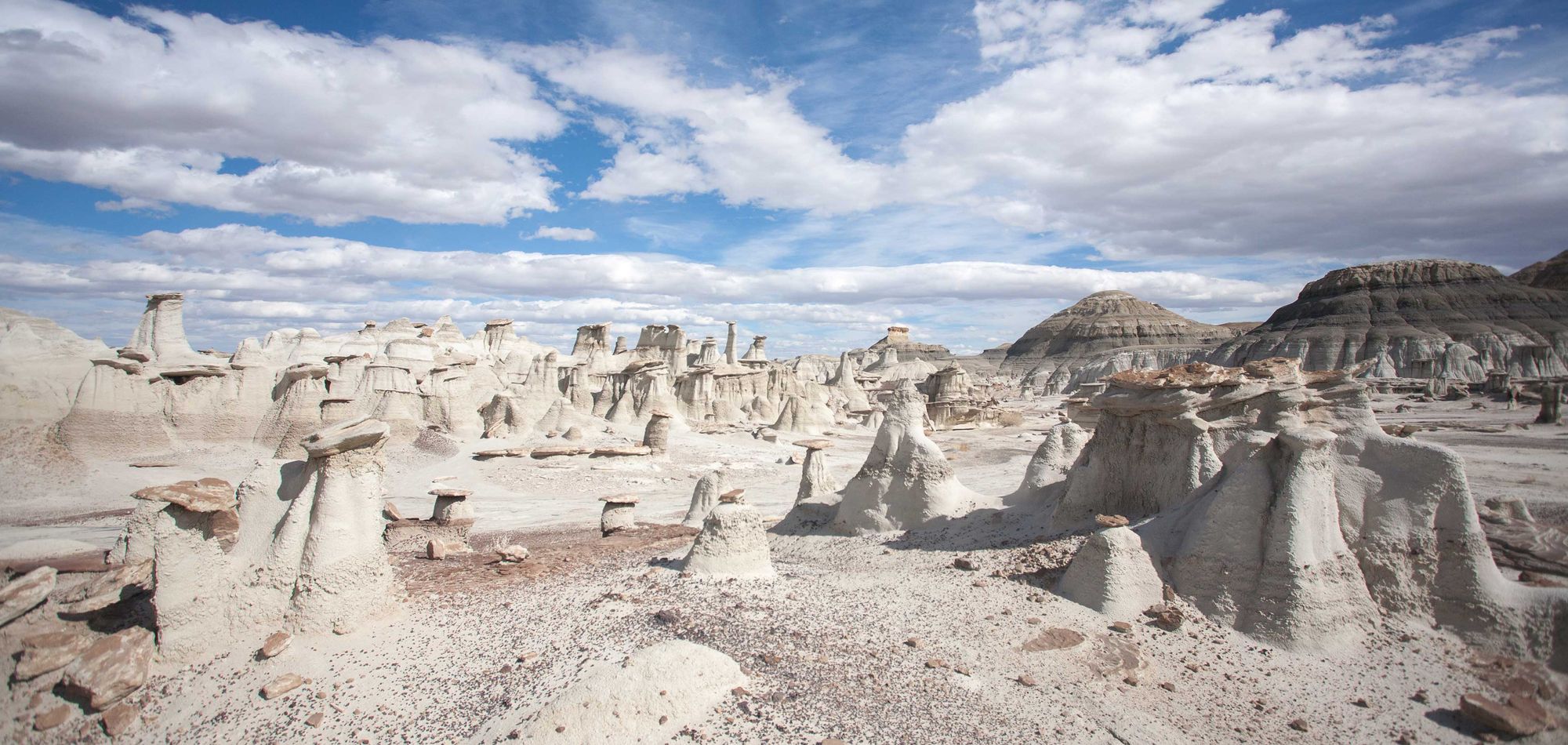 You'll walk through an area like this: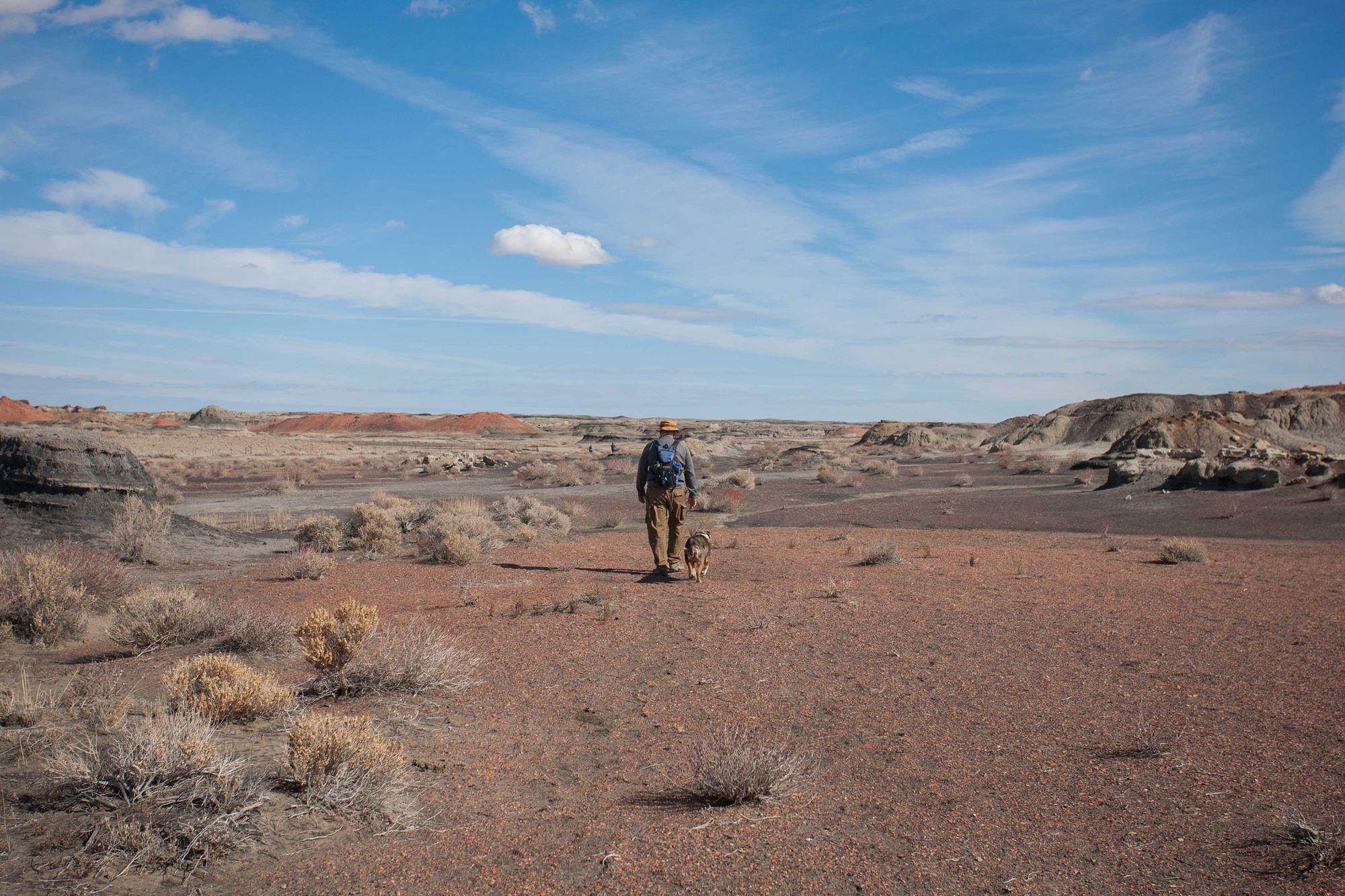 Be patient.  It's about a mile walk from the parking area to the first photo-op, some of it in soft desert sand.  Keep the creek on your left and aim just to the left of the two red hills in the distance, that's where the hoodoos start to show up.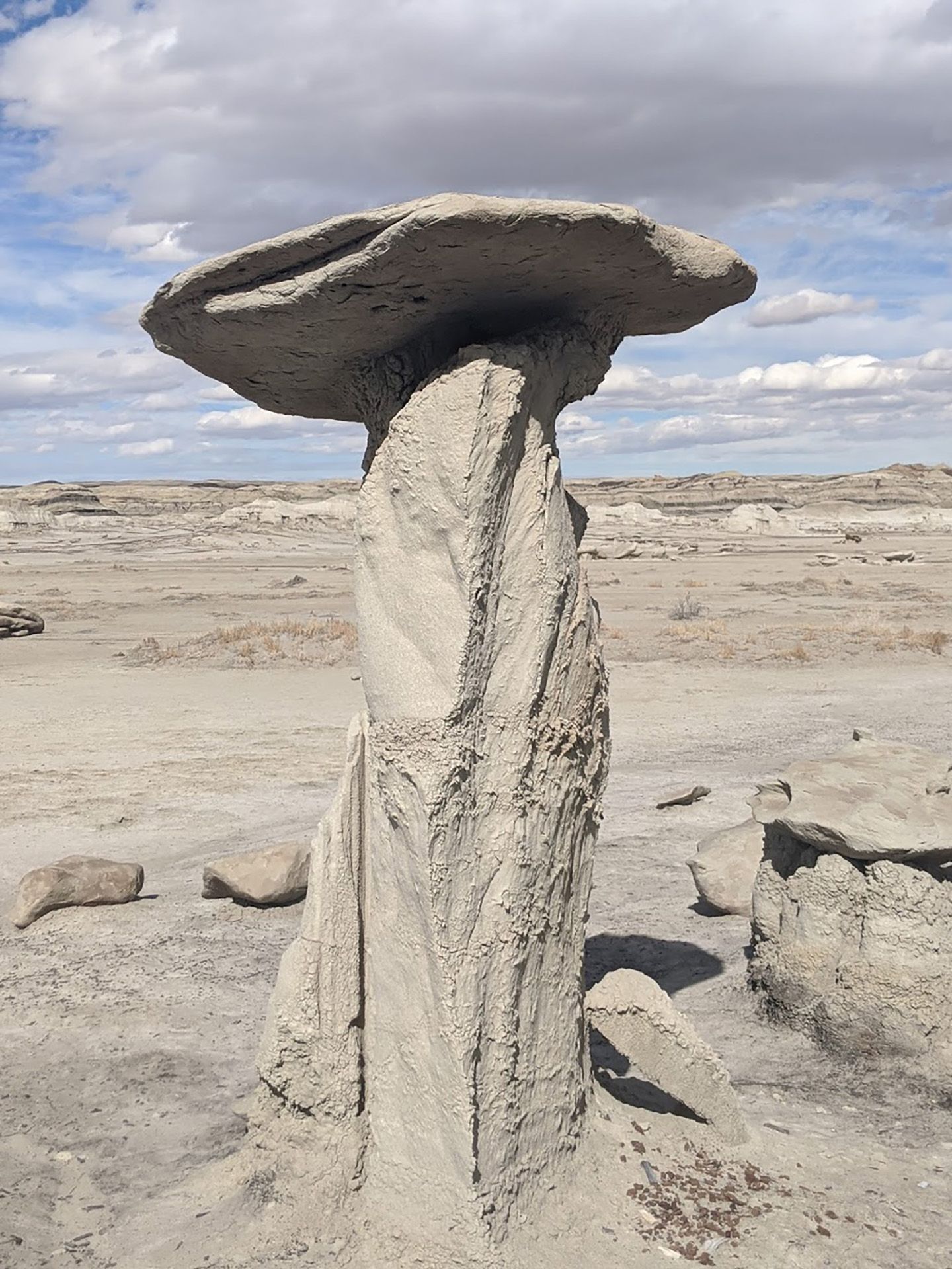 We kept Lily and Mushy on leash until we got far enough in that we didn't see another person around.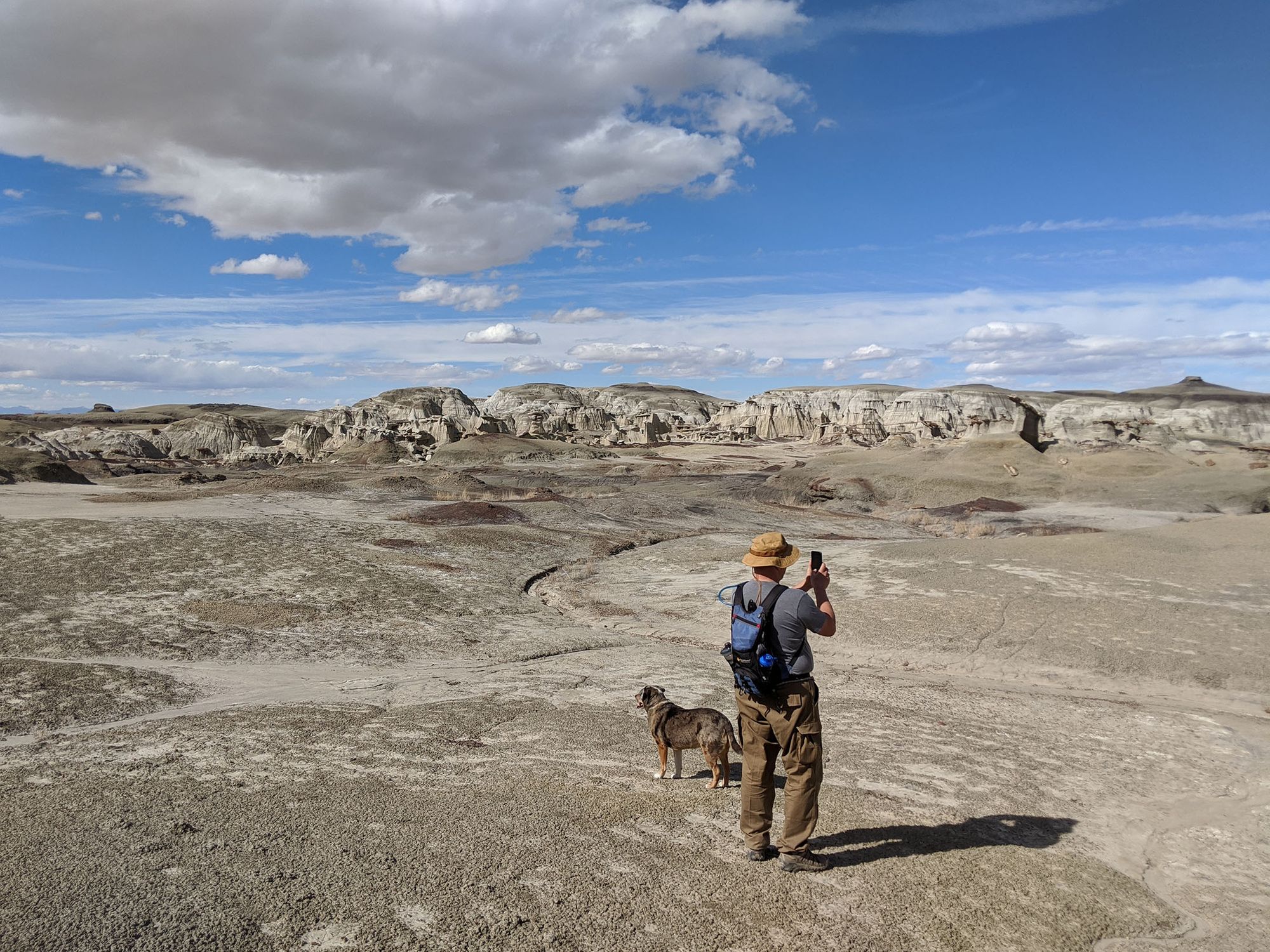 The dogs had a great time exploring!
Lily didn't know why we wanted her to sit here, but she was happy to oblige.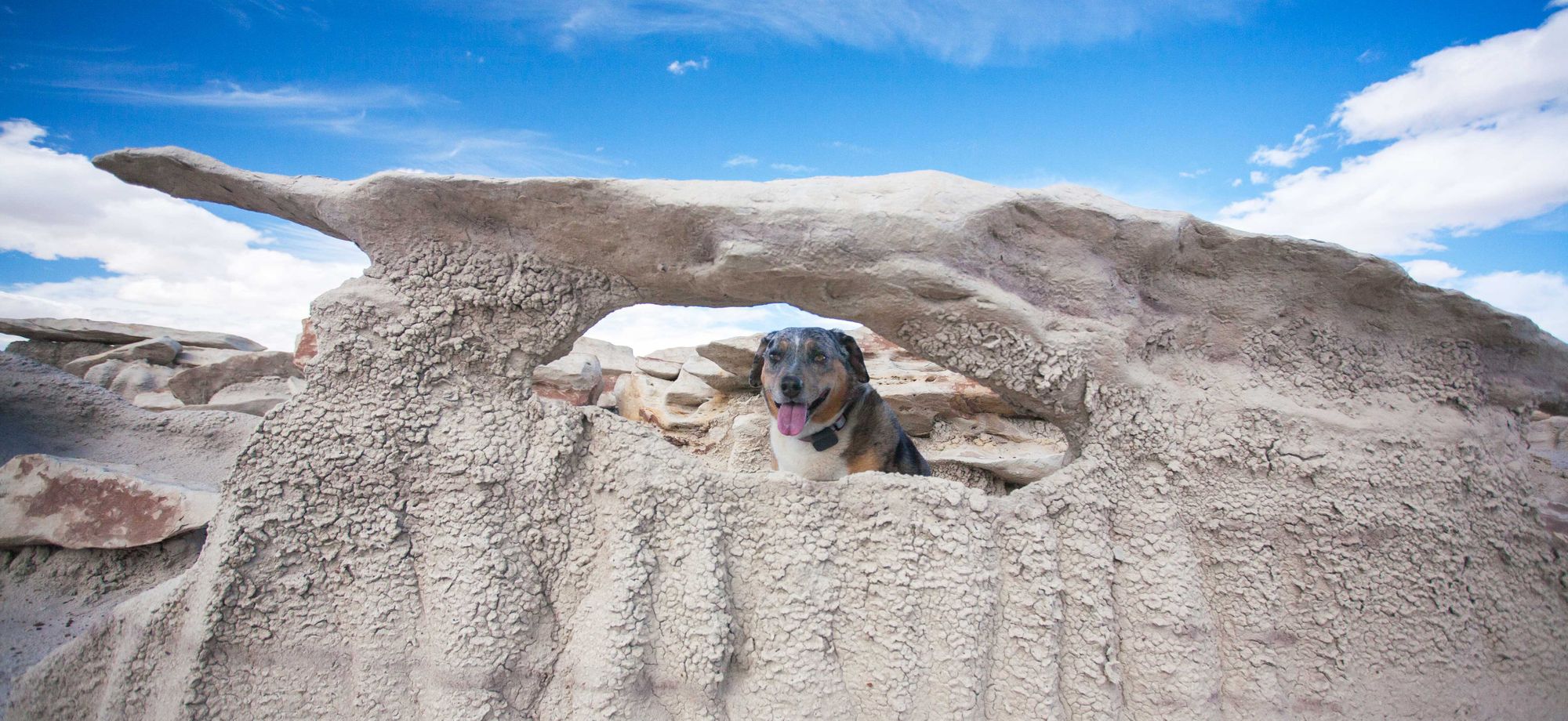 So interesting to see how water has sculpted this landscape.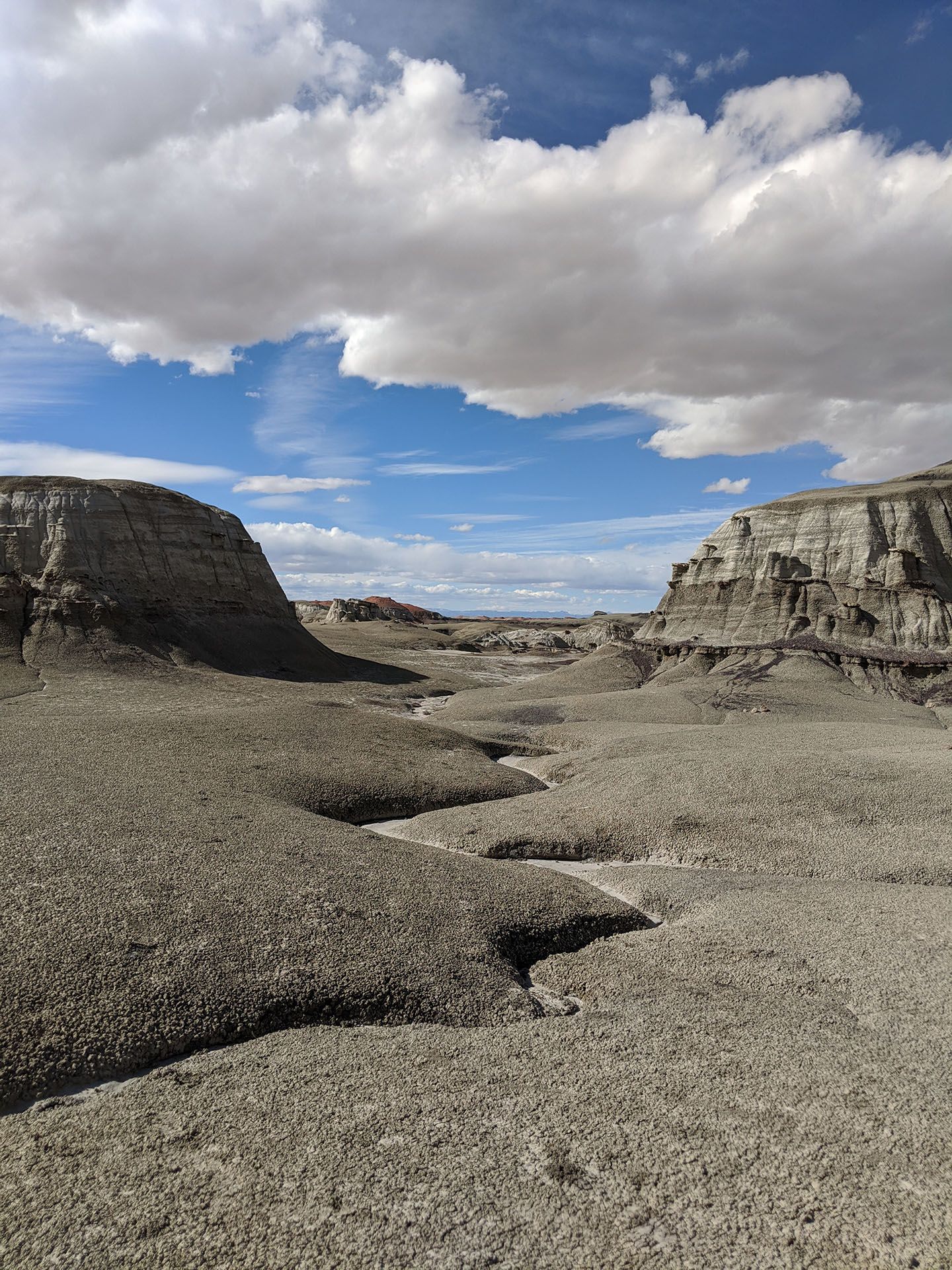 And the colors in some areas are stunning!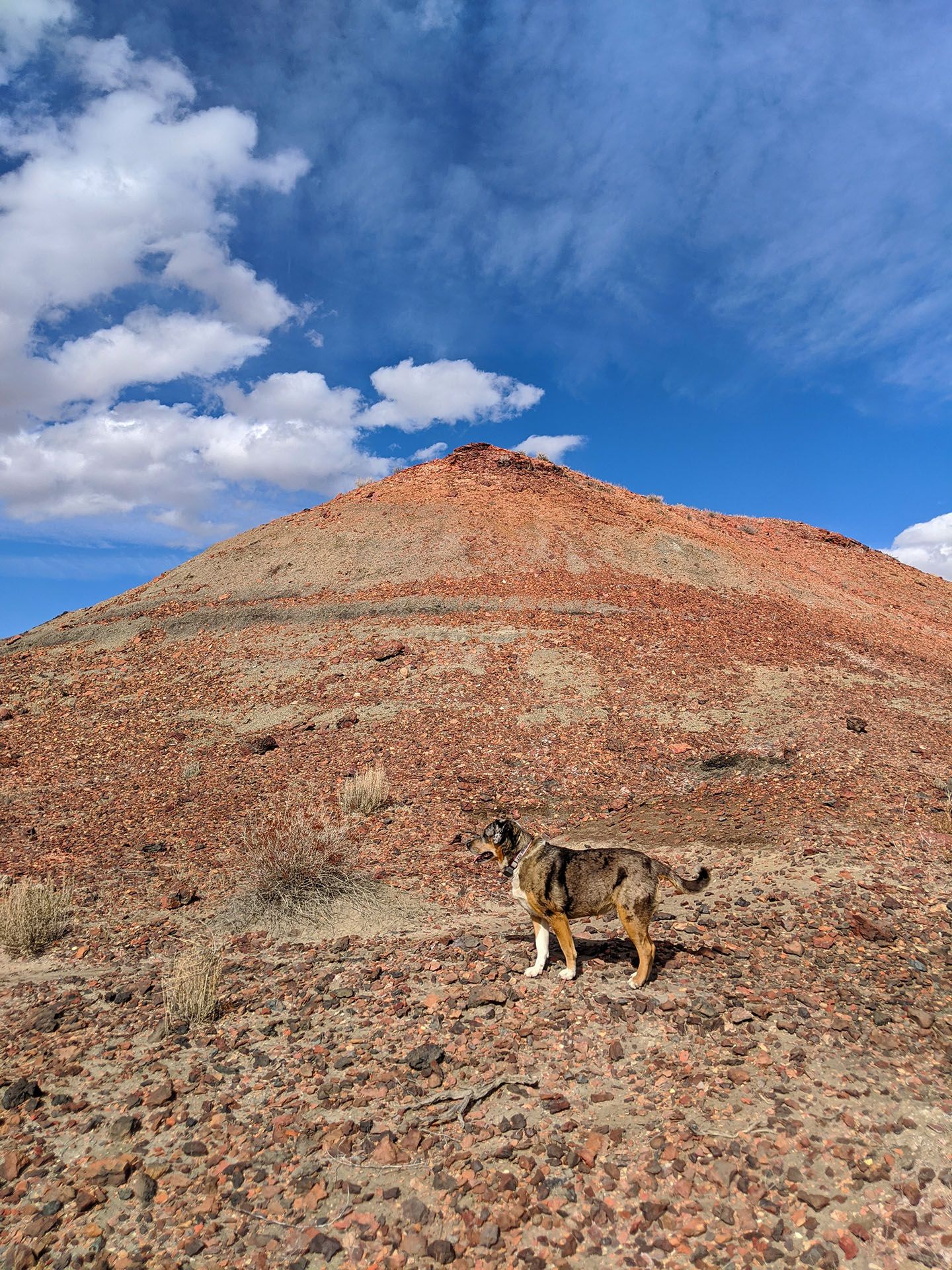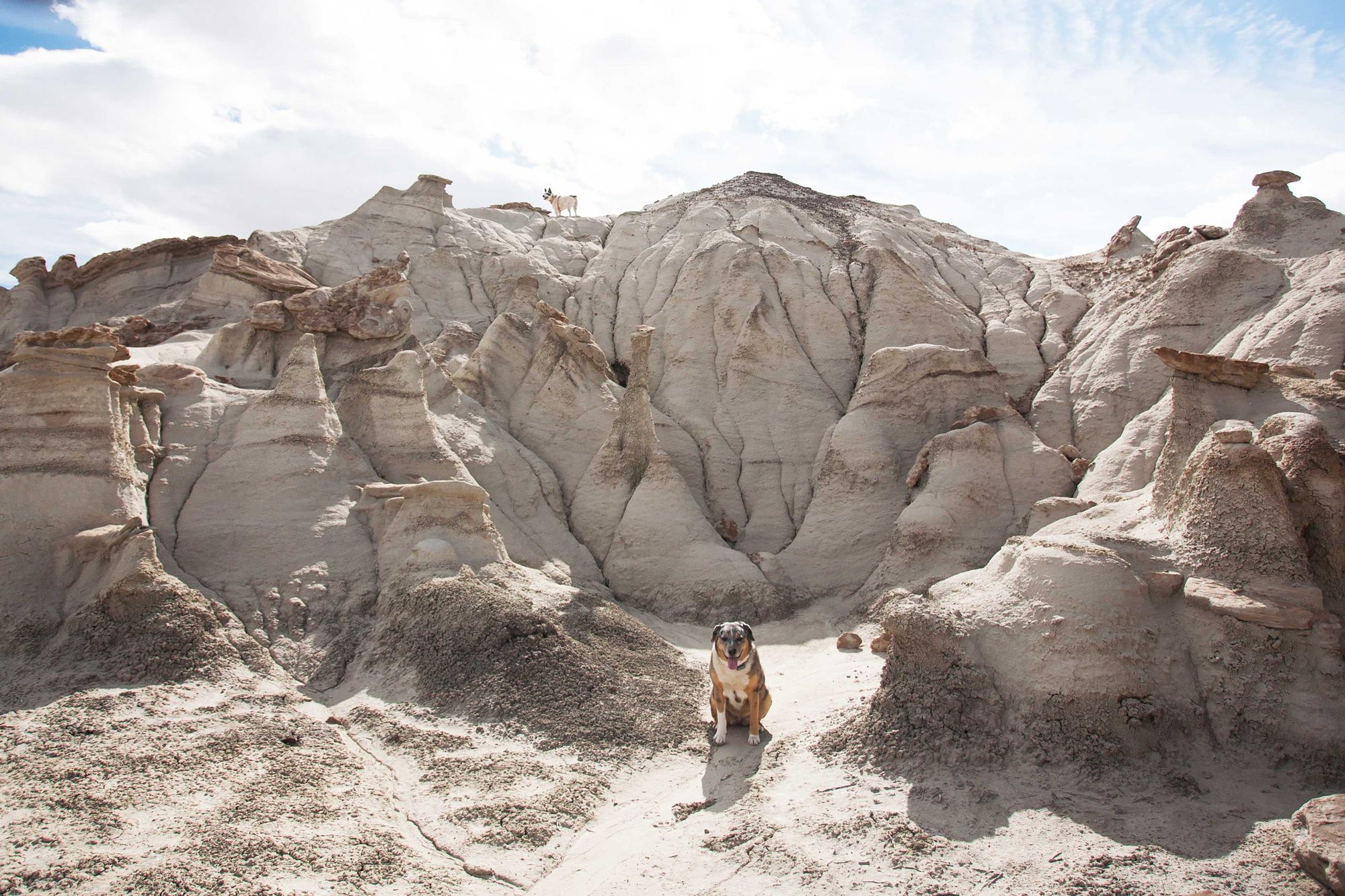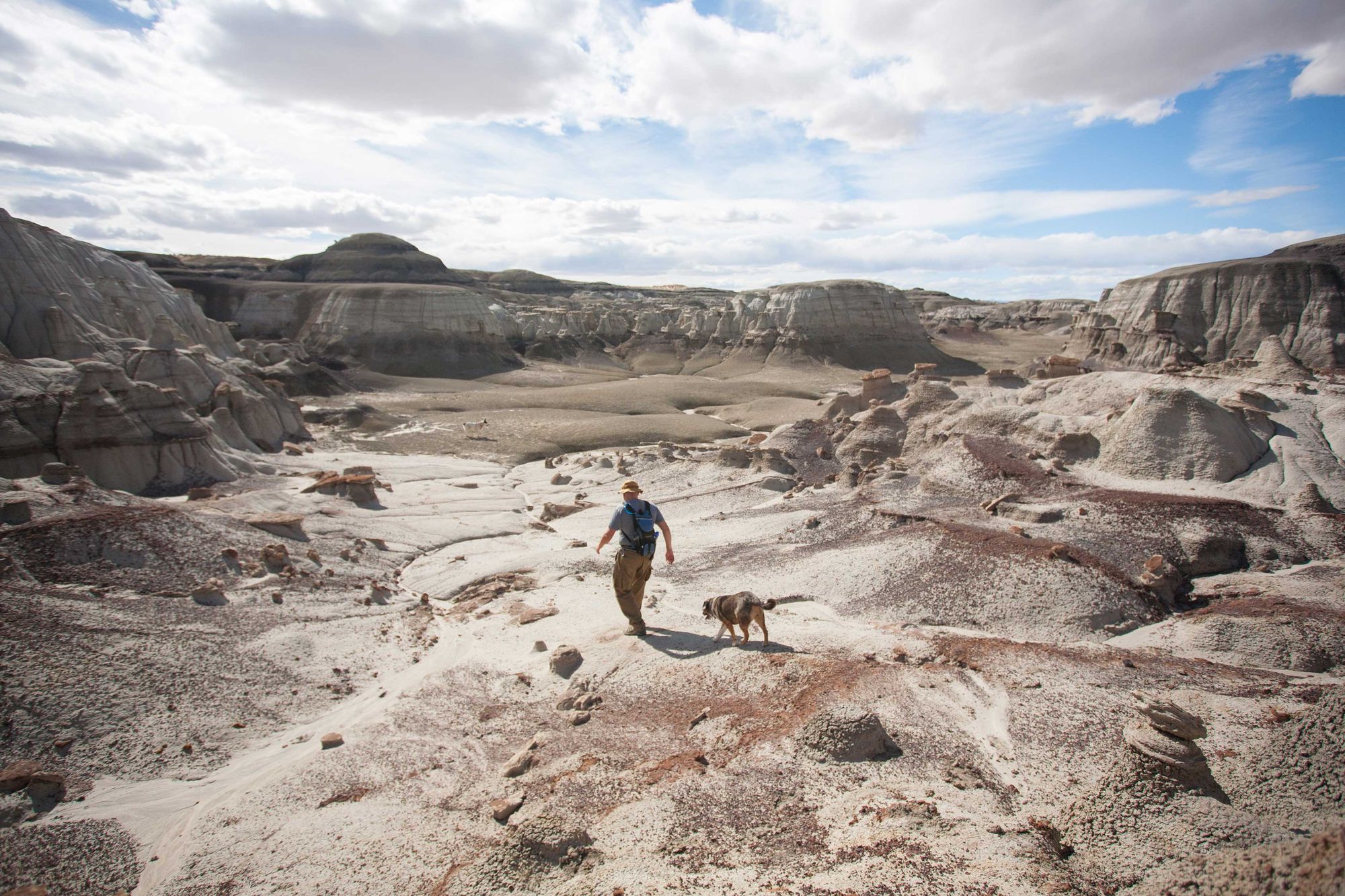 The Nursery
This is one of the most well-known spots within Bisti,  the "cracked eggs" in an area called "the nursery" or "alien hatchery."  For the full photographer experience, plan to arrive before sunrise.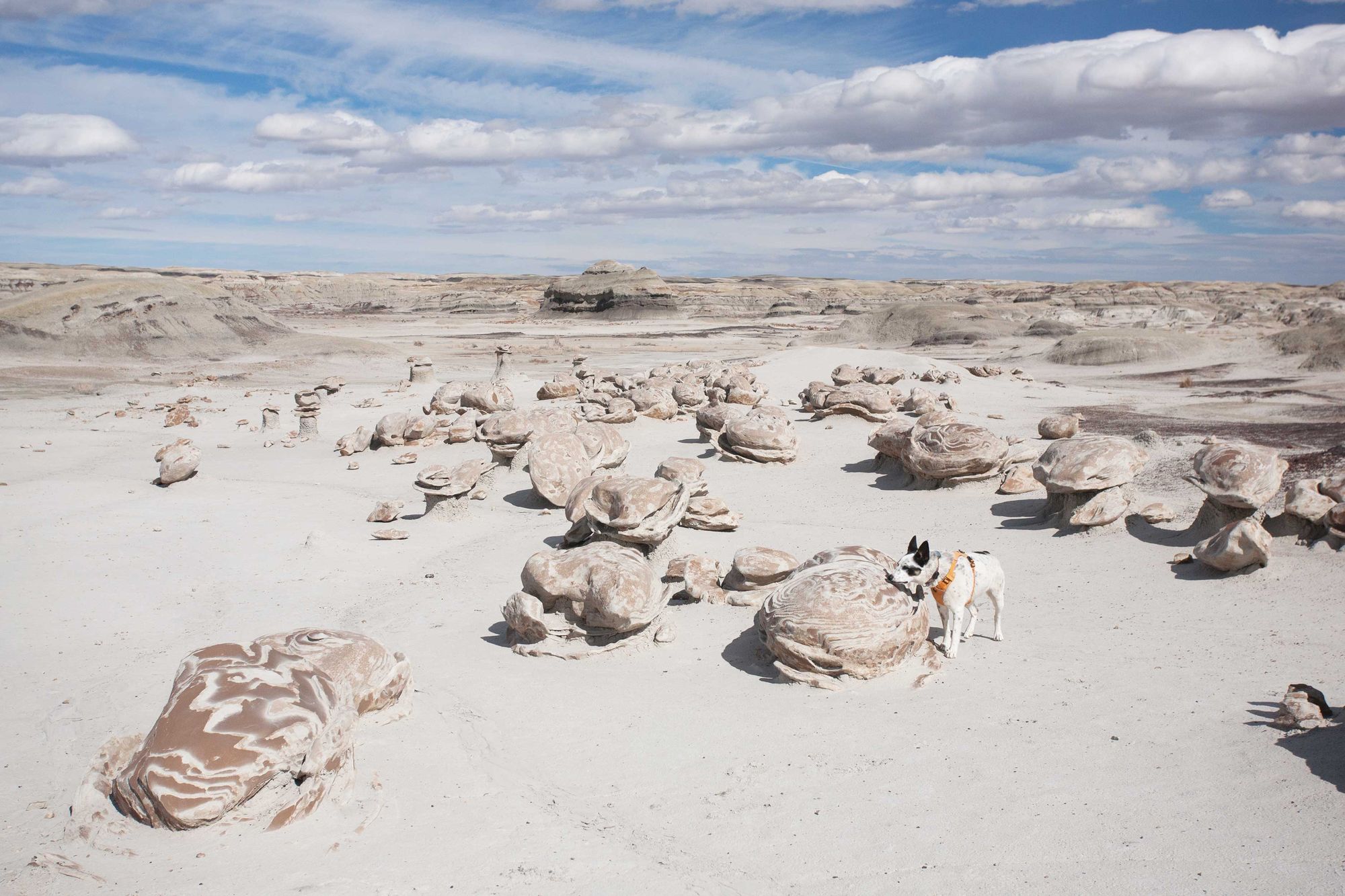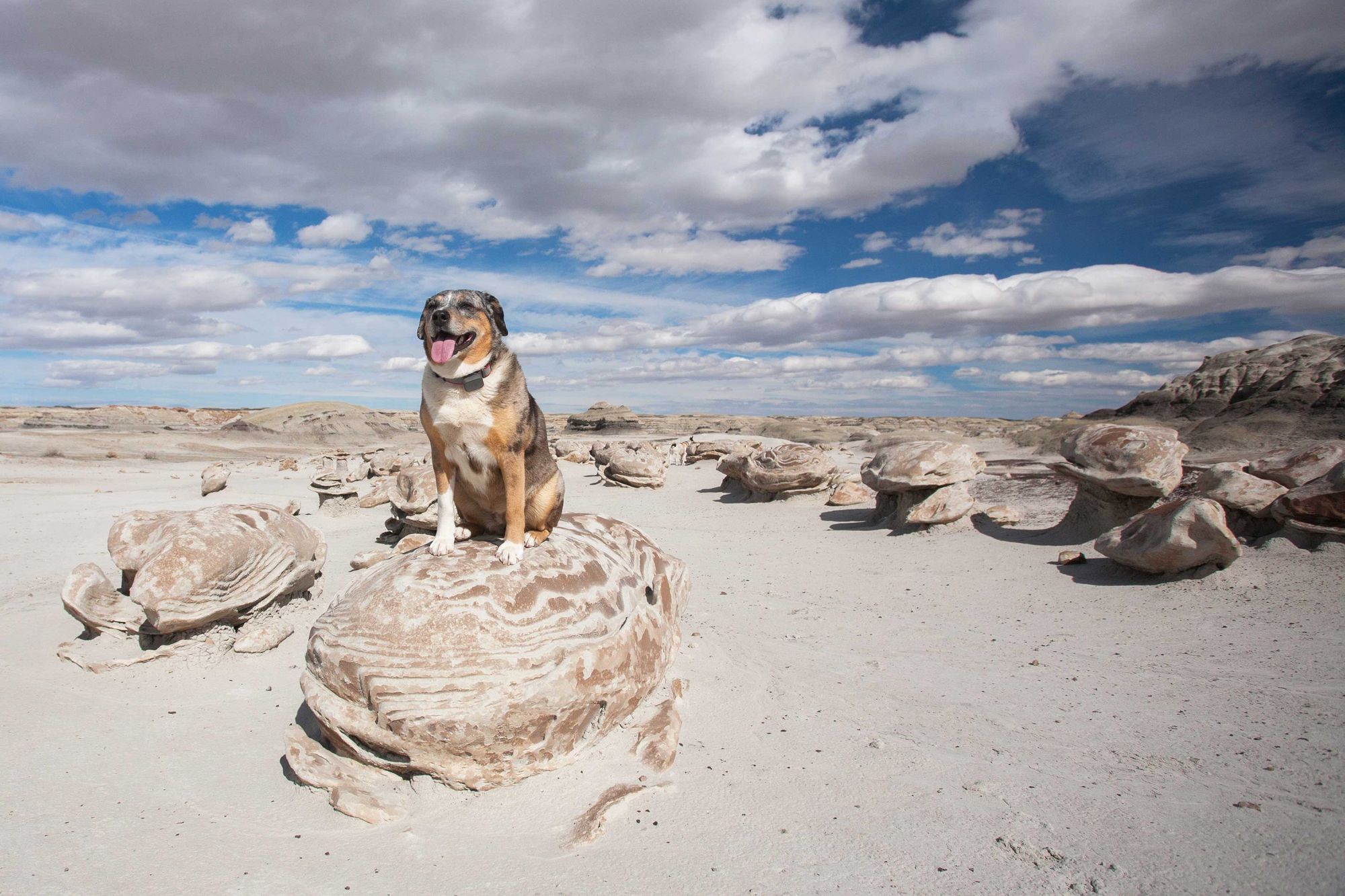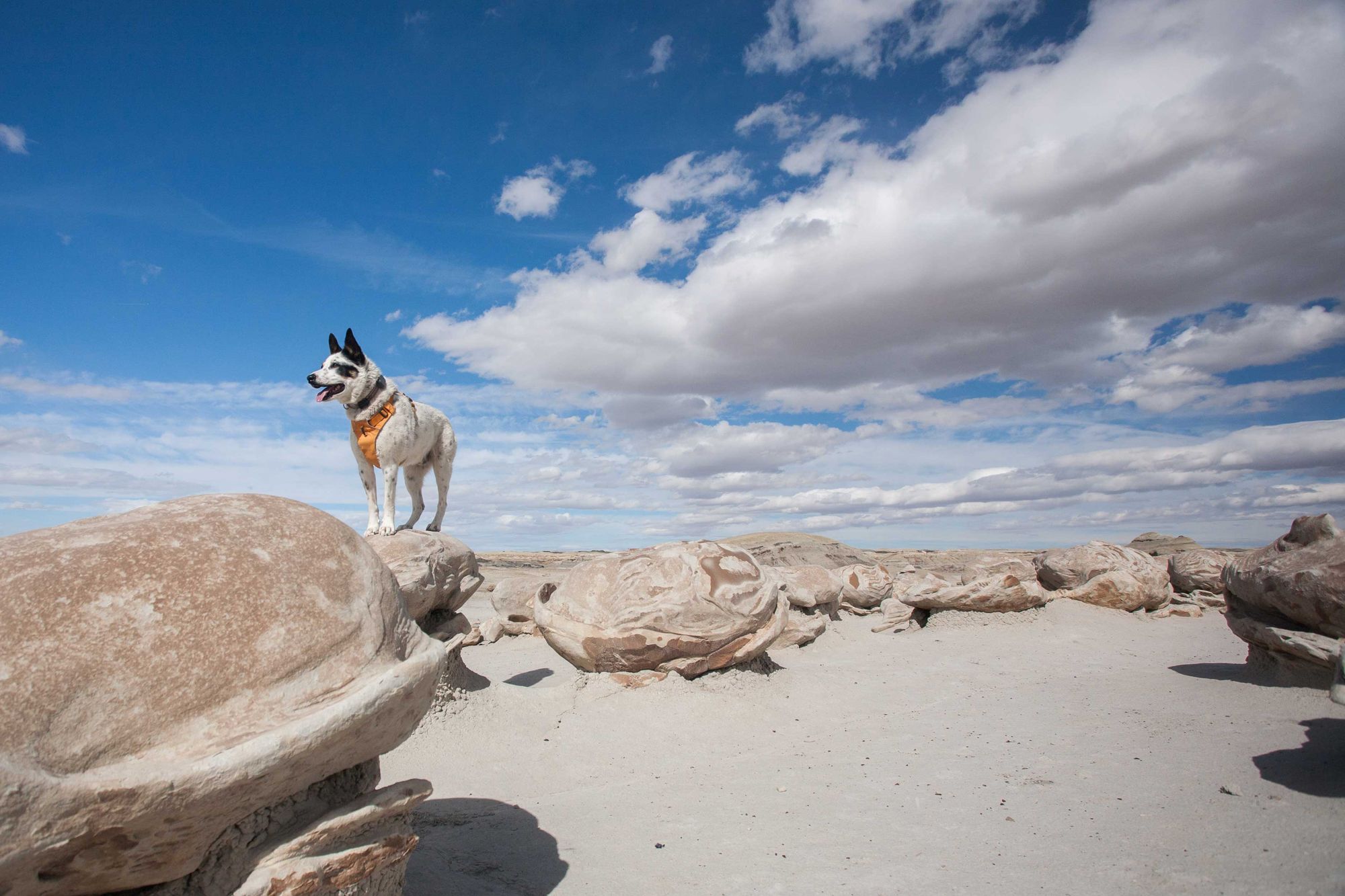 We took a break in the hills behind the nursery and gave the dogs some water and snacks.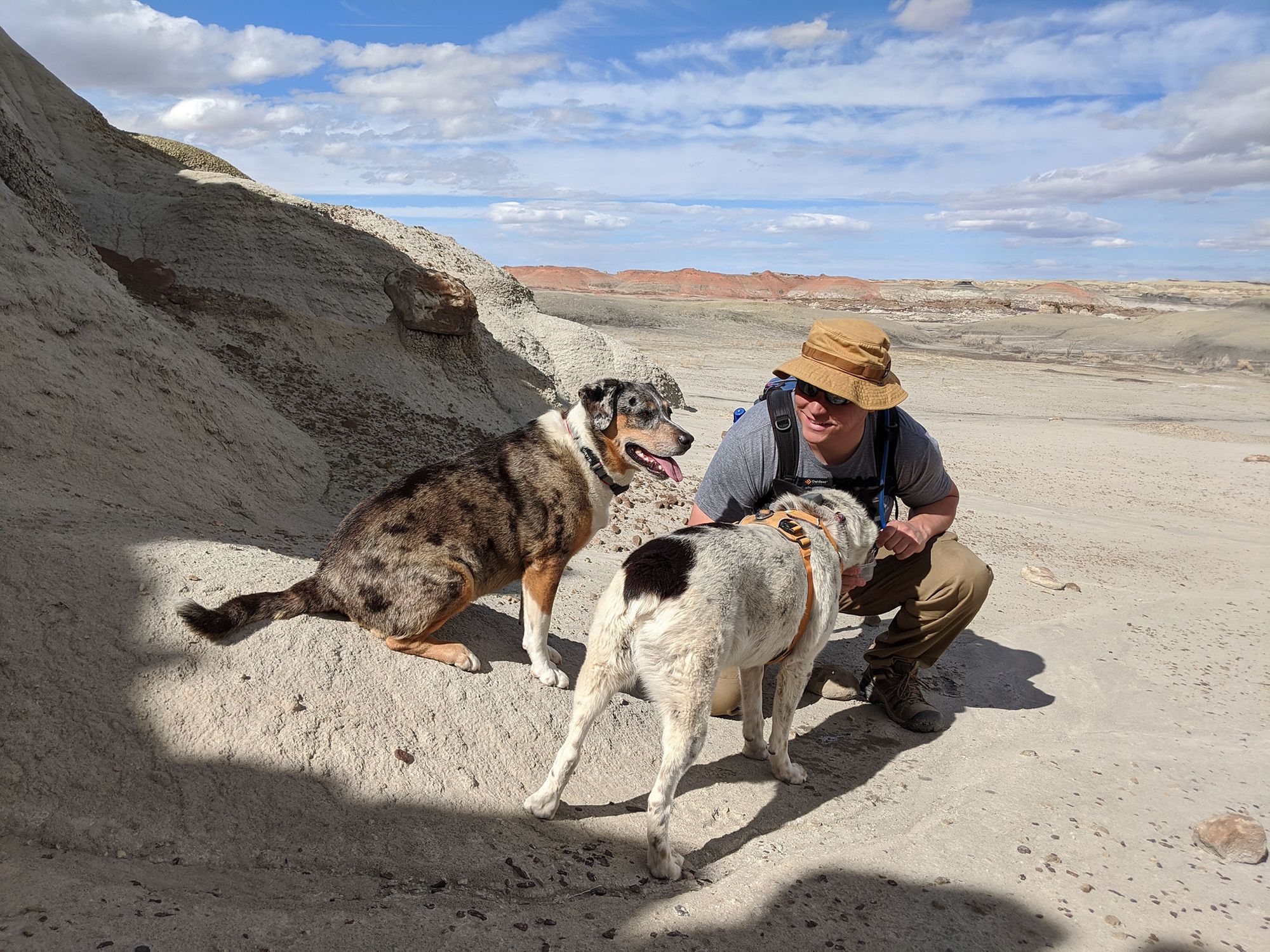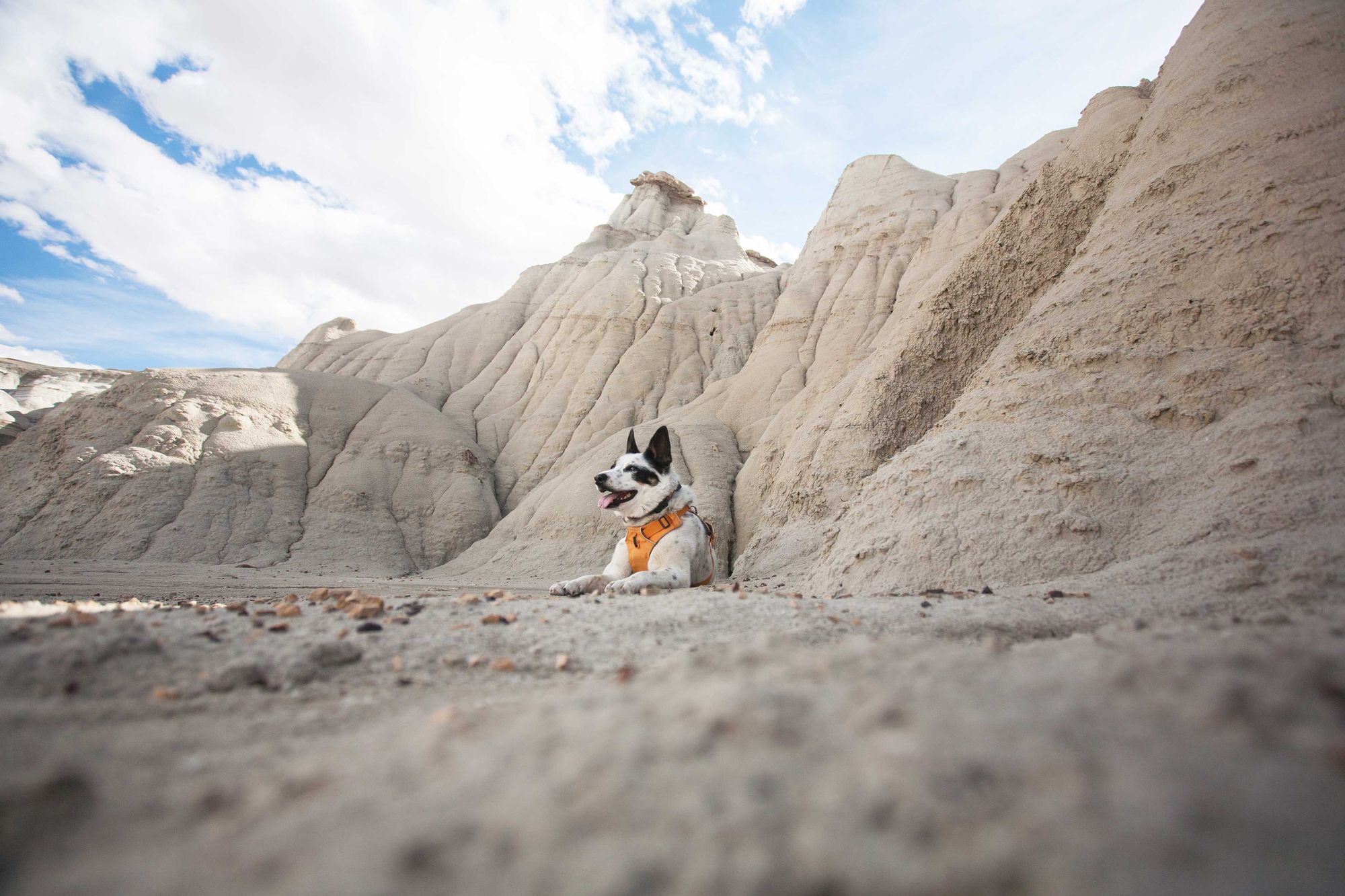 Petrified Wood
About 70 million years ago, this area now known as Bisti was a coastal rain forest where dinosaurs ruled.  Some of the trees can still be found almost intact.  And in 1998 the "bisti beast" was discovered; a tyrannosaur that would have been about 30 feet long and weighed roughly 3 tons.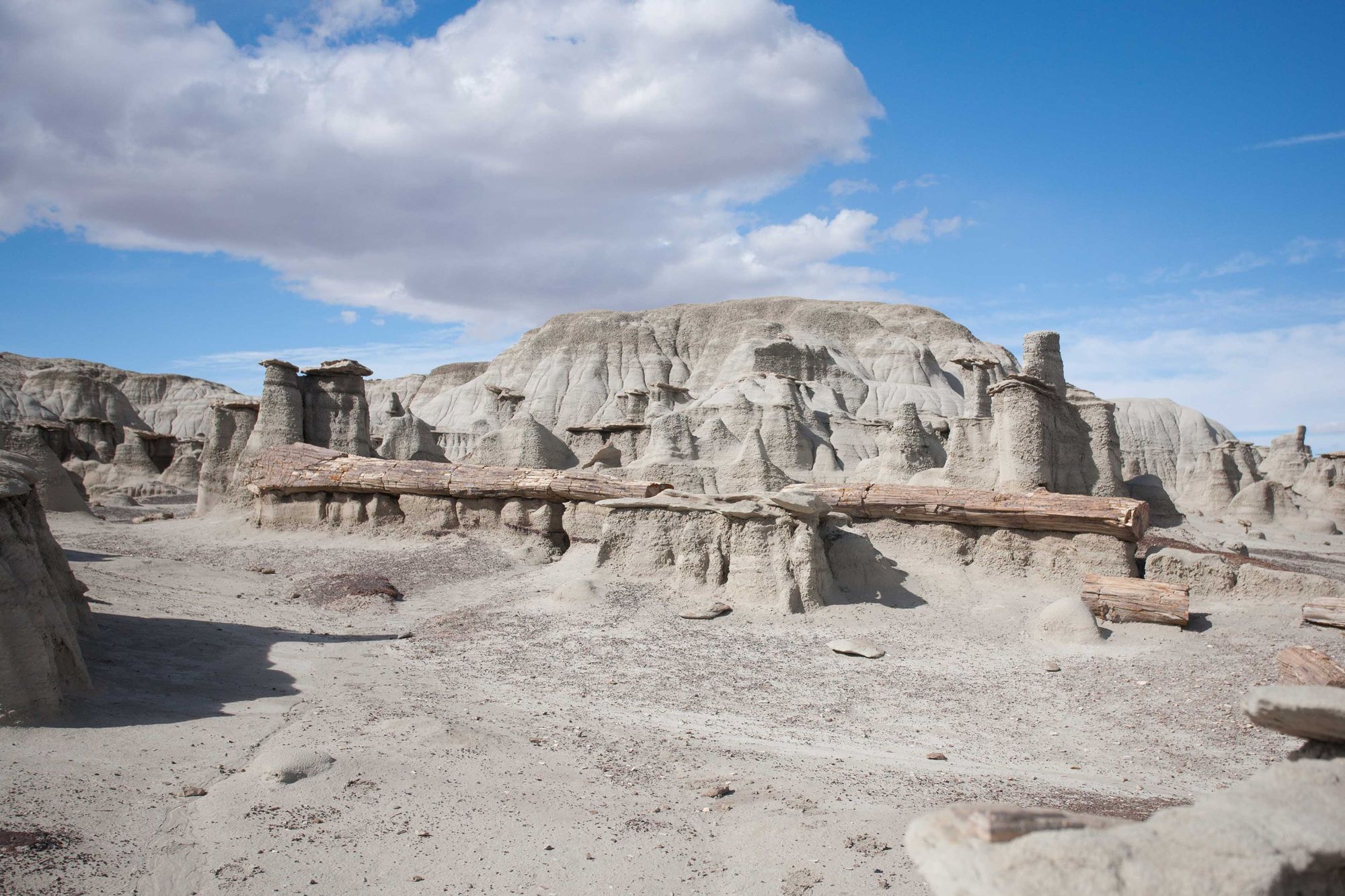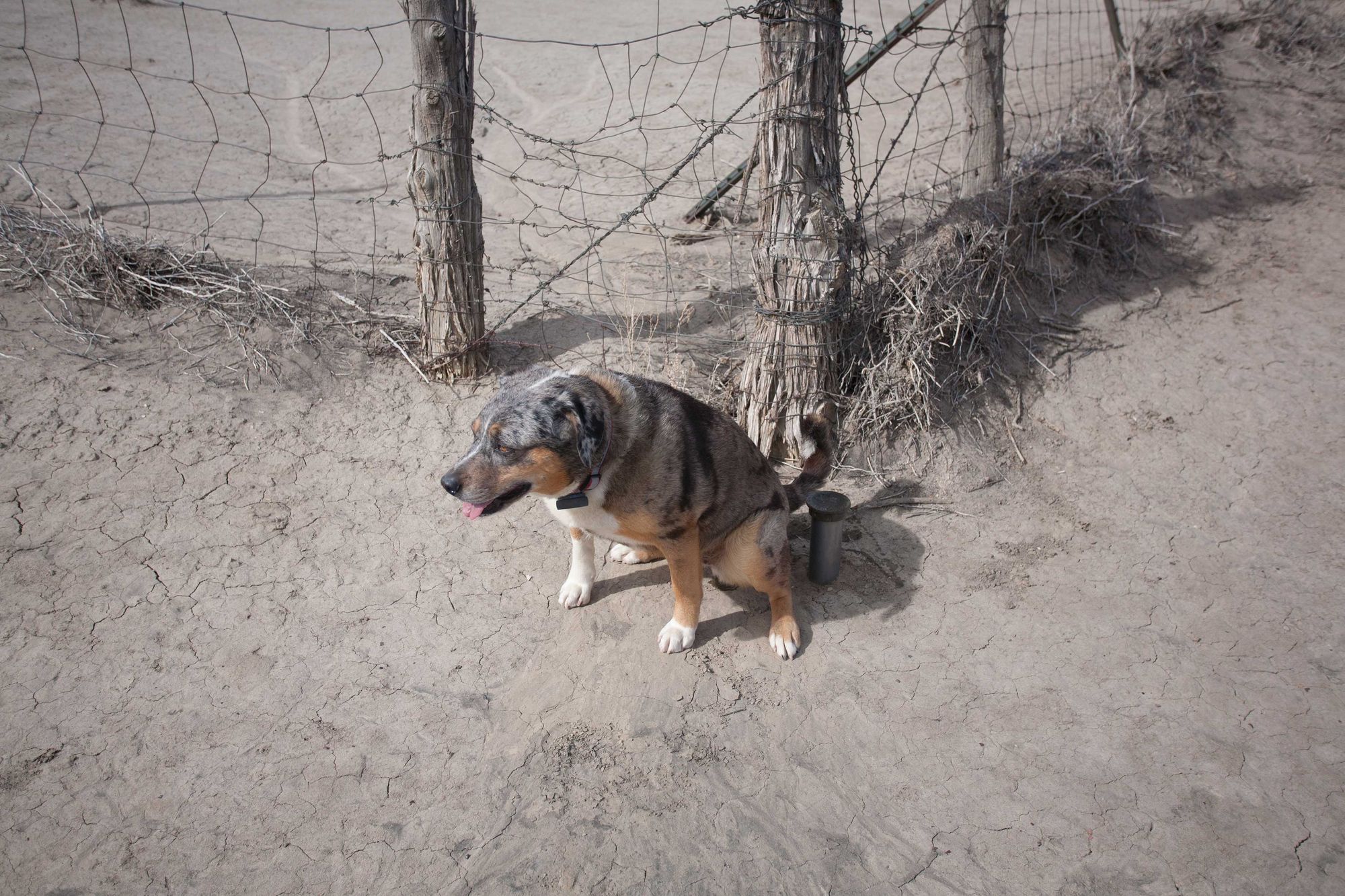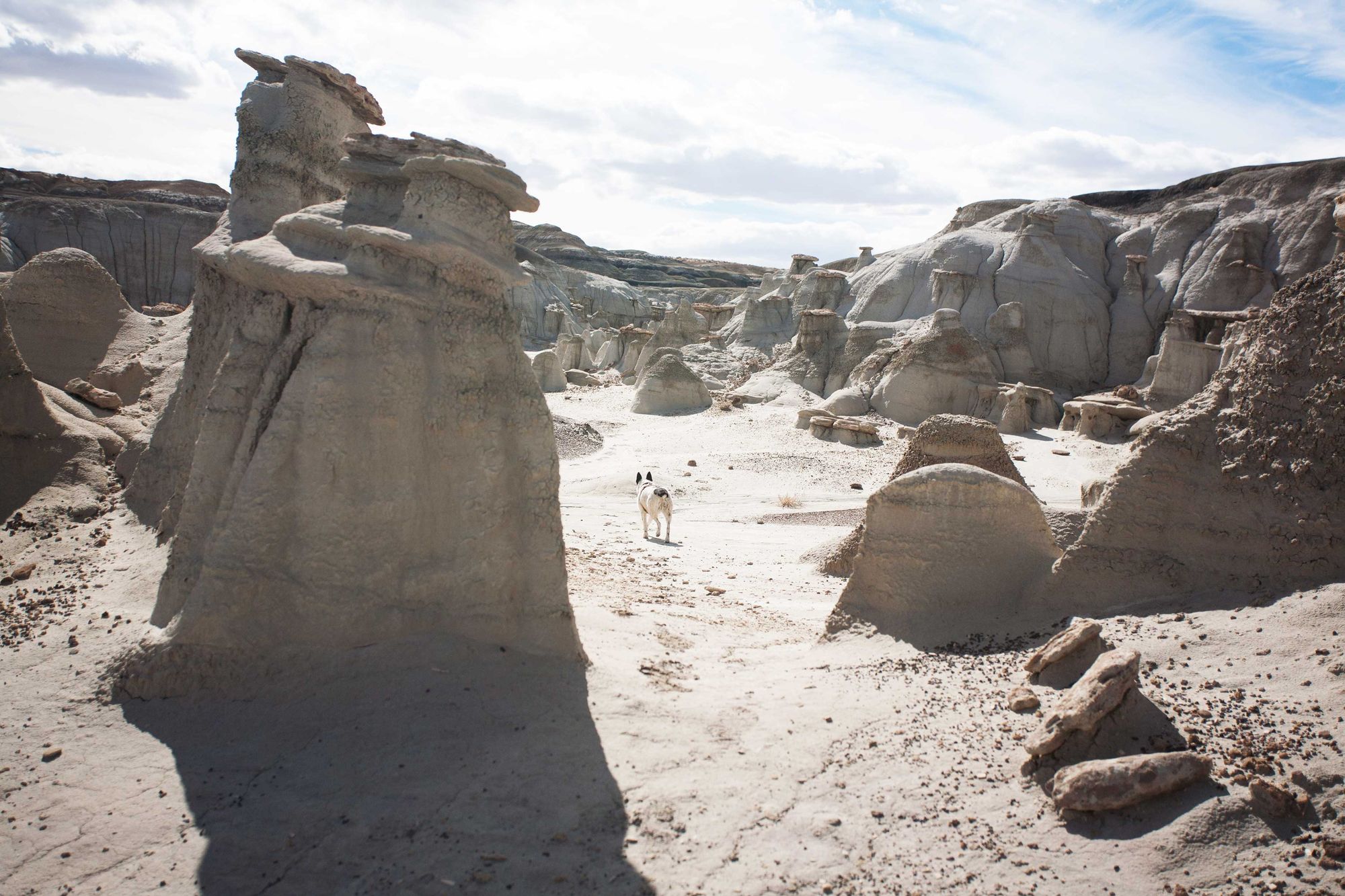 Bisti and De-Na-Zin are beautiful, in their very unique way.  The shapes you see here often consist of soft sandstone on top of nothing but dirt, and almost everything pretty here is precariously balanced and about to fall down already, so please limit climbing, keep your kids & dogs under control, and watch your step.  A few acres of the wilderness is Navajo land surrounding their sacred places, and you really can't tell where the borders are when hiking there, so please treat the whole area as important to someone. Leave it like you found it, for the next visitor to enjoy!