Visiting White Sands National Park with Dogs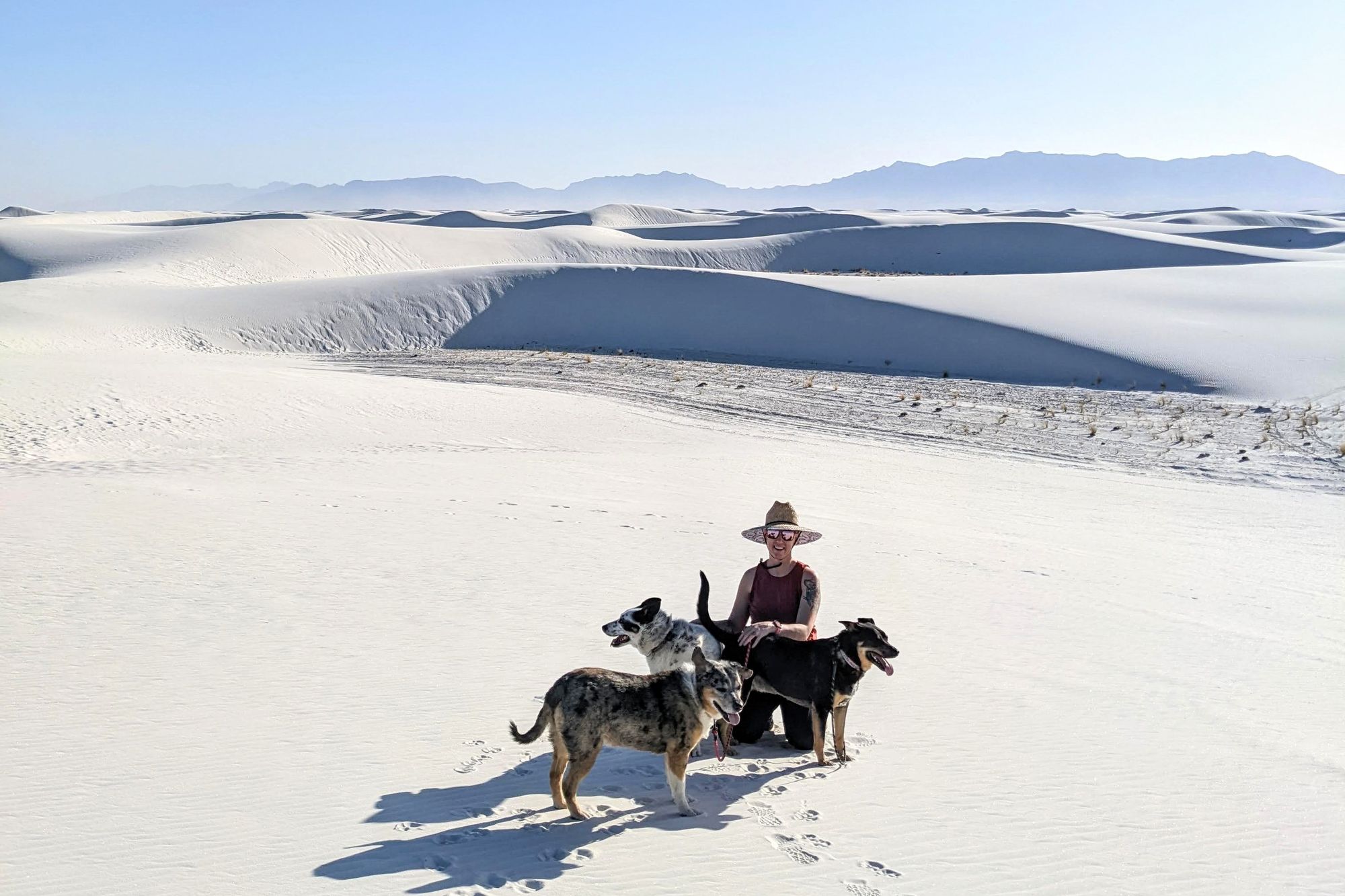 White Sands had been on our must-see list since the start of our RV travels in 2017. And ever since we became New Mexico residents in 2019, it's been nagging at us that we hadn't been there. So for our first van trip of 2022, we packed up and headed to Southern New Mexico to see the world's largest gypsum dunefield. Since it's quite a long drive, we tried to make the most of it and our trip looked like this: World's Largest Pistachio > White Sands National Park > Cloudcroft > Carlsbad Caverns > Roswell > Home. I suppose we could write a recap of that whole trip but it would be a much longer post so we'll focus on White Sands right now, but let us know in the comments if you'd like to know more about the other stops!
We broke our visit to White Sands across two days, but what we did could definitely be done in one.
Know When to Go
We had two things in mind when planning our visit to White Sands. Weather and missile testing. Yes, missile testing! White Sands NP borders the White Sands Missile Range, which occasionally conducts missile tests. They close the park when this happens (as a precautionary measure). The park usually receives notice of tests 2 weeks in advance, but the minimum is 24 hours, so you'll need to monitor this page to make sure the park will be open when you plan to visit. Have a backup plan for where you can detour to, or delay at, in case of closure.
And for weather, as you'd probably expect of Southern NM, it can get HOT. Since we travel with our 3 dogs, we chose to go in the spring, as soon as our van was de-winterized. We visited in early April, and in retrospect, it would have been better to go even a bit earlier. It was a bit warm but the dogs did fine. And since the sand is so white it stays cooler to the touch than you'd expect. The biggest issue we had during our visit was wind.  
Visitor Center
The visitor center is the last place for water, so make sure you have all you need before going further.  While you're there take a photo at the sign.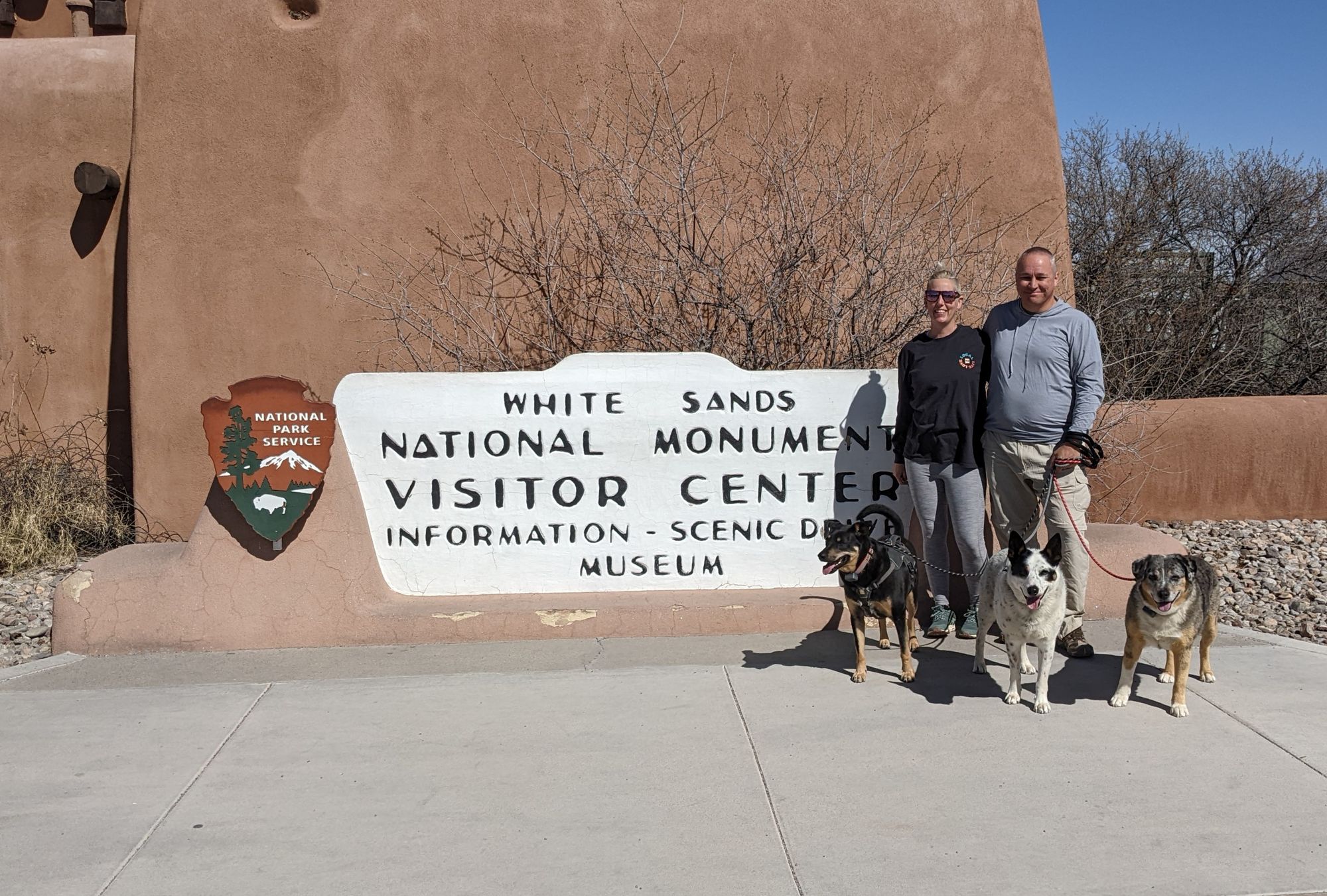 There is one road into the park; Dunes Drive. The first few miles past the visitor center are paved. Just past the Interdune Boardwalk, the road turns to sand. We both grew up around snow, so our brains had a hard time understanding that we were actually driving on sand!
We drove the full 8 miles to the end and parked.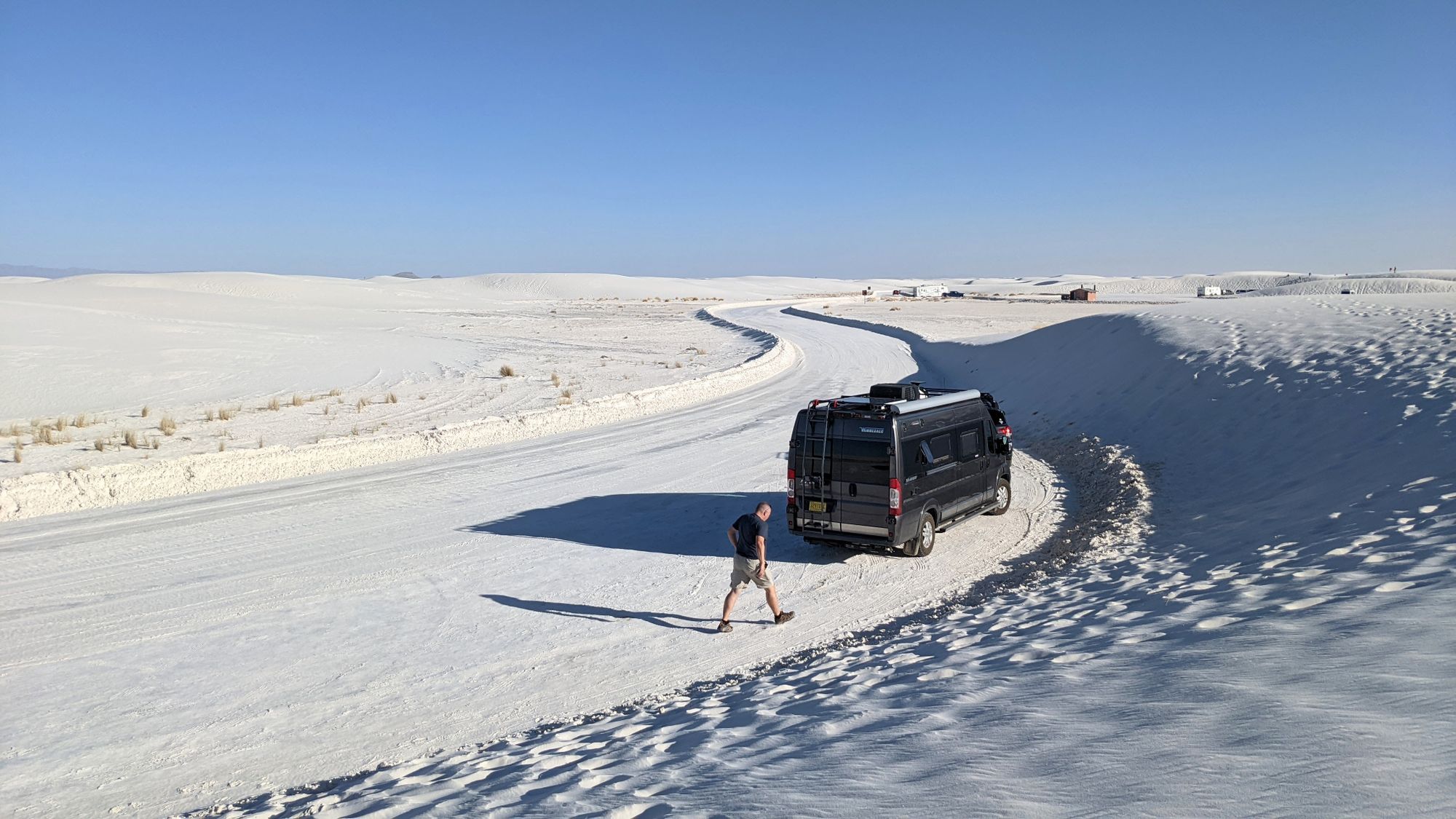 You have the option of walking a designated trail or just climbing up on the dunes and exploring.  We chose the latter.
We probably only walked 1/4-1/2 miles on the dunes and had epic views of sunset.
While in the park, dogs must stay on leash. Our dogs all got a case of instant zoomies as soon as their paws hit the sand, which made walking them a bit chaotic but eventually they settled down.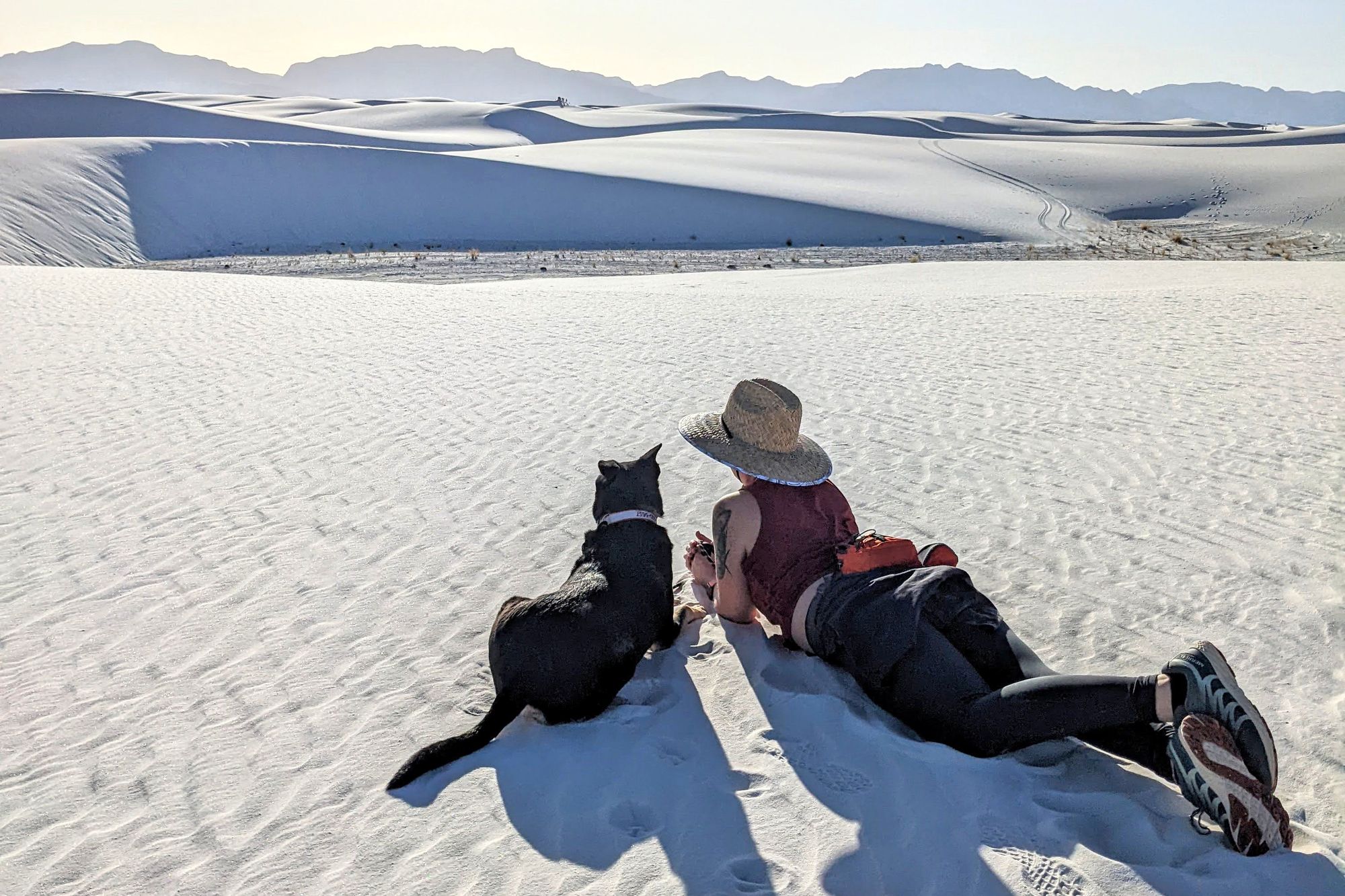 Like, really settled down.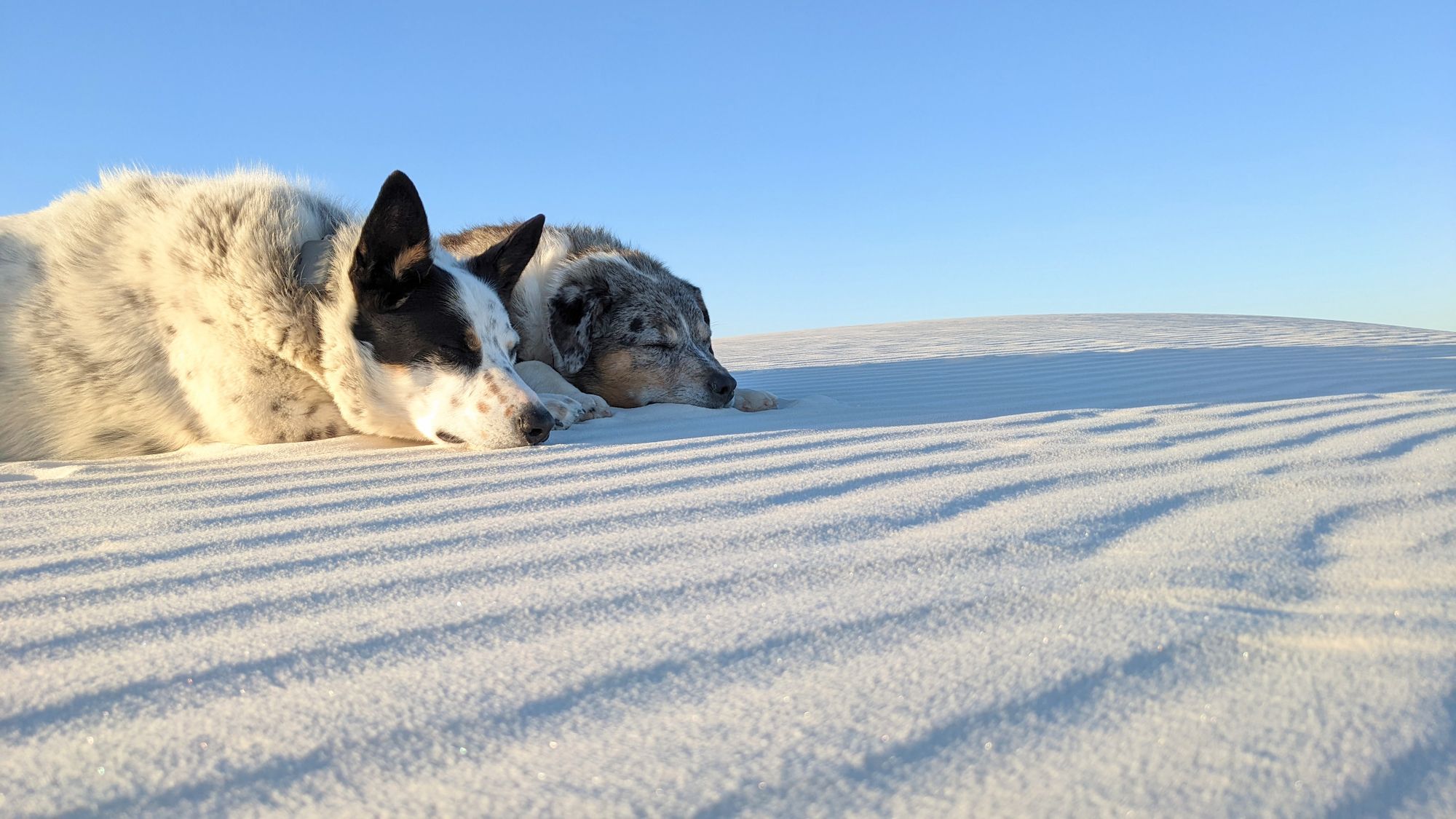 They alternated between napping and watching people off on distant dunes. Because the sand is so fine and white, Delta's black fur resembled a powdered donut by the end of the day.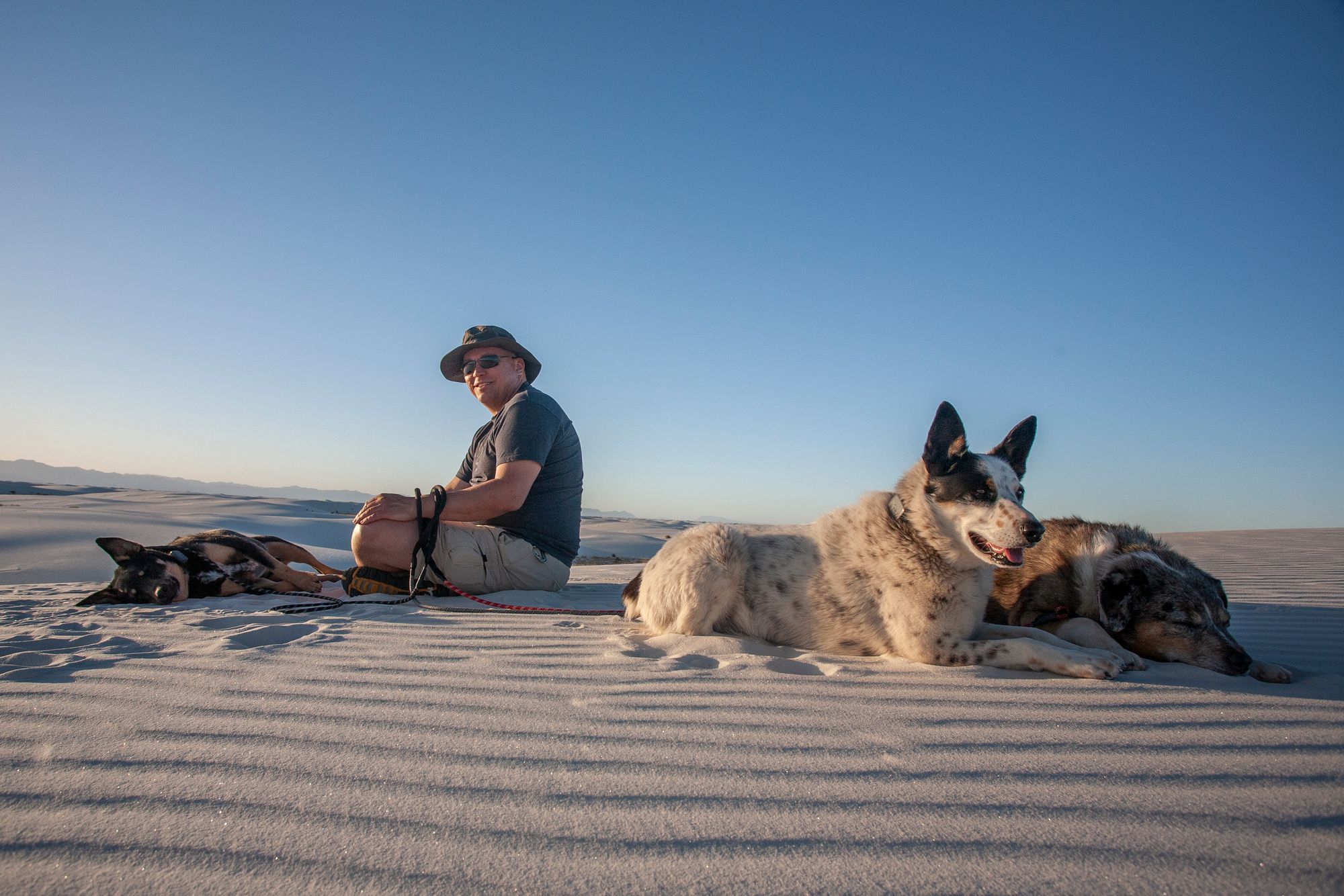 We thought about getting an early start the next day and hiking the Alkali Flat Trail. It's 5 miles with no shade, so we decided against it because our dogs seemed happy with their short walk and nap. But if your dog is rearing to go — it could be fun! There are trail markers every so often to guide you.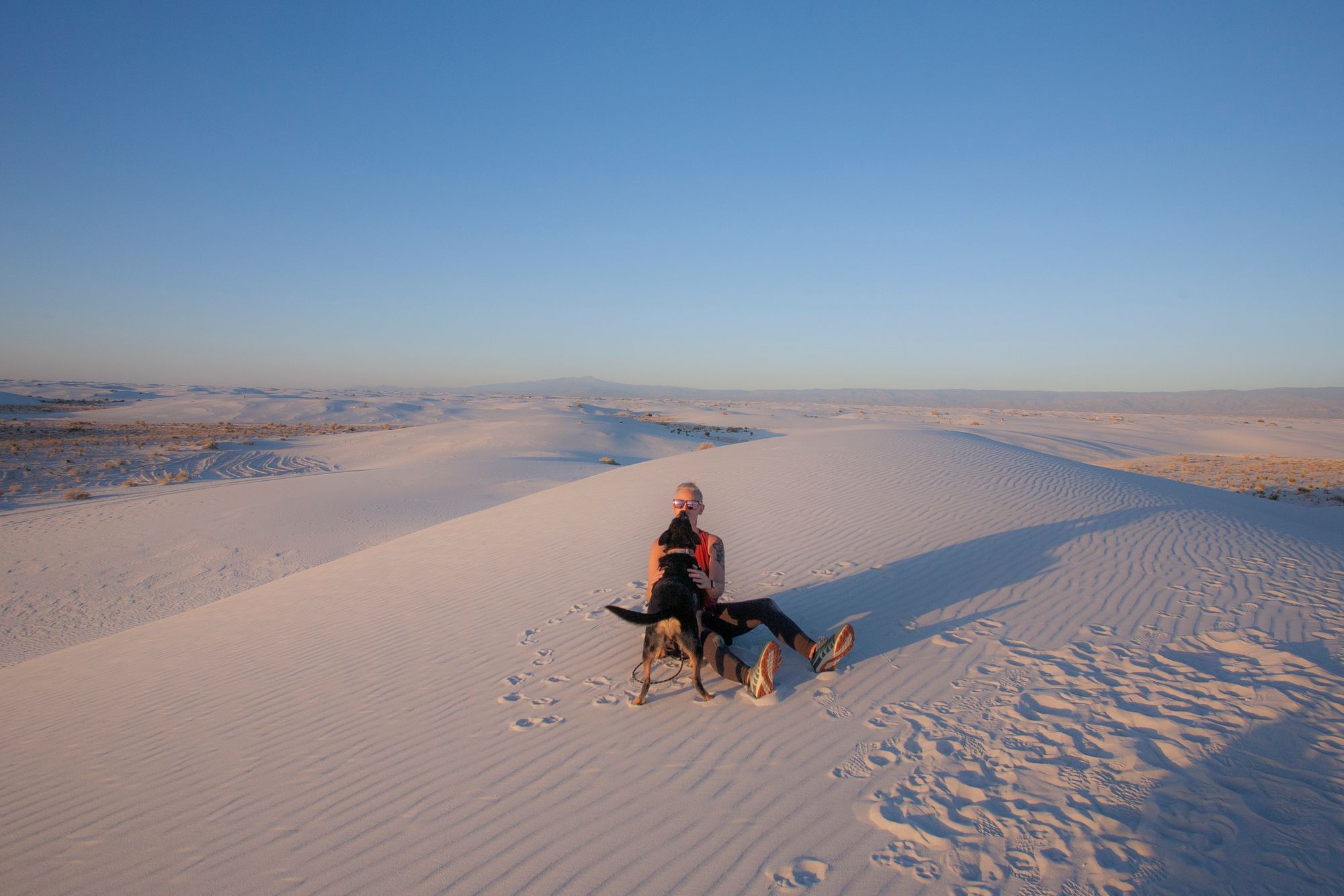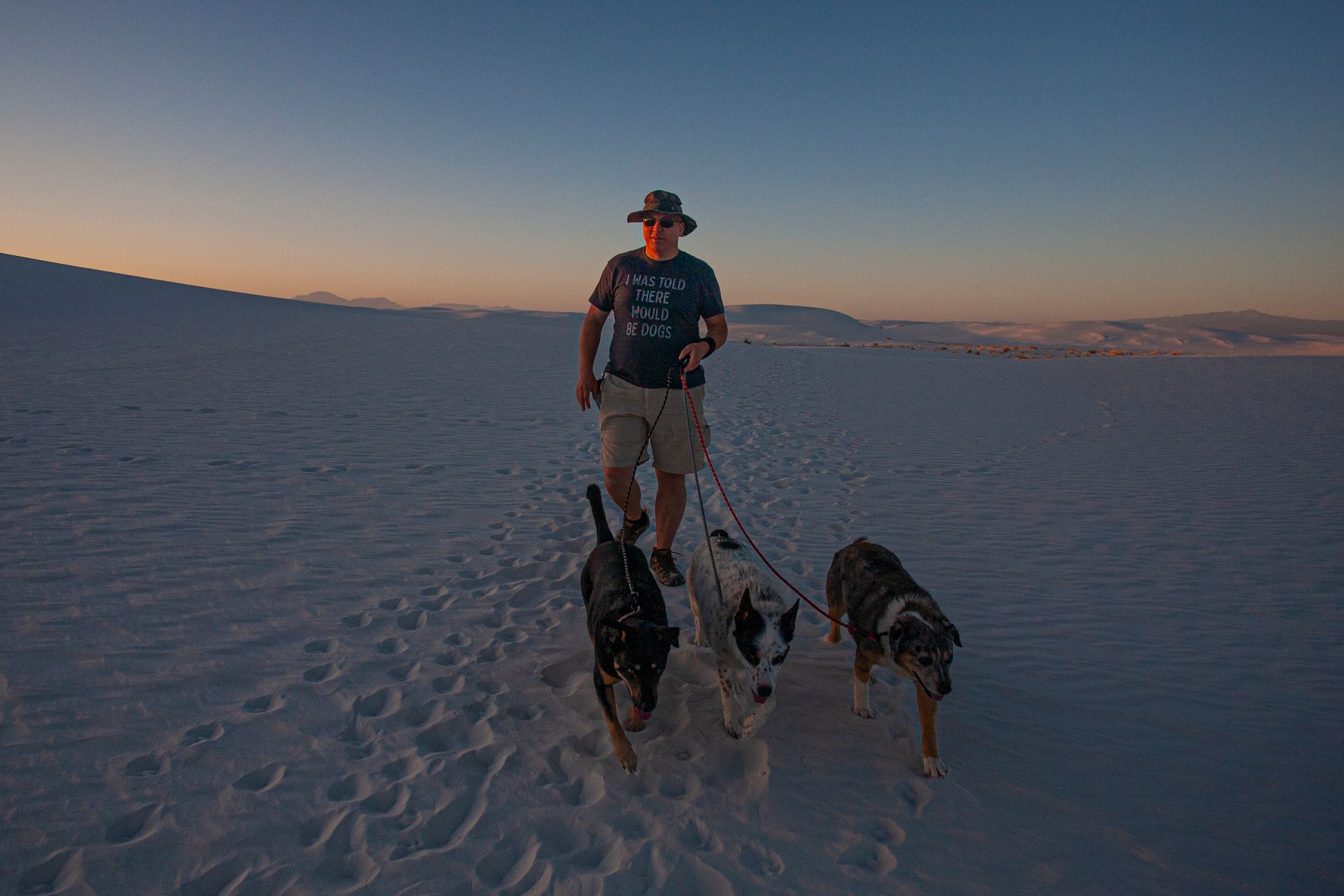 Dune Life Nature Trail
This 1-mile hike was our first stop the next morning. There are informational signs throughout the trail where you learn about all the animals that call the dunes home. We didn't see any critters, but it was fun looking for their prints in the sand and admiring the trees and plants that can survive in this environment.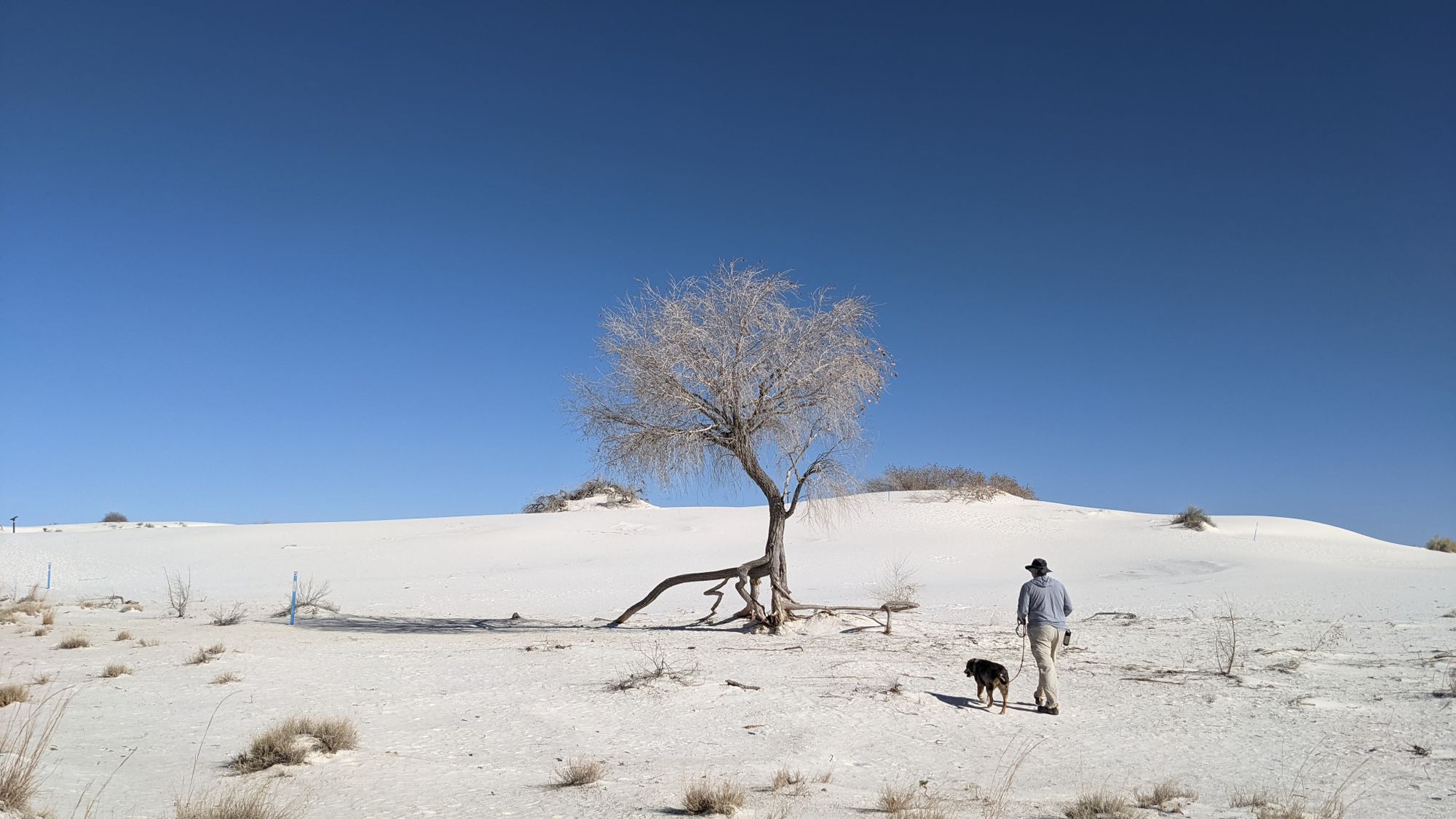 Interdune Boardwalk
After finishing the Dune Life Nature Trail, we headed over to the Interdune Boardwalk. This short 0.4-mile walk is an elevated path, a long narrow platform, between two dunes. It's wheelchair accessible and a great option for those with mobility issues, or those looking for some shade structures and seating along their walk. It took us under 20 minutes to complete. The planks are a slatted composite-type material. Our newest dog Delta wasn't used to walking on something like this and actually jumped ship off the boardwalk after a few steps into the dunes because he was nervous. So we'd suggest having some treats with you and praising your dog as you take the first few steps.
Since the day was heating up we decided to skip the Playa Trail, as it looked the most plain out of all the options. We also didn't get to do the daily Sunset Stroll, led by a ranger, which sounded cool! We usually try to leave a few things undone at the places we visit, so we have something new to experience if we come back.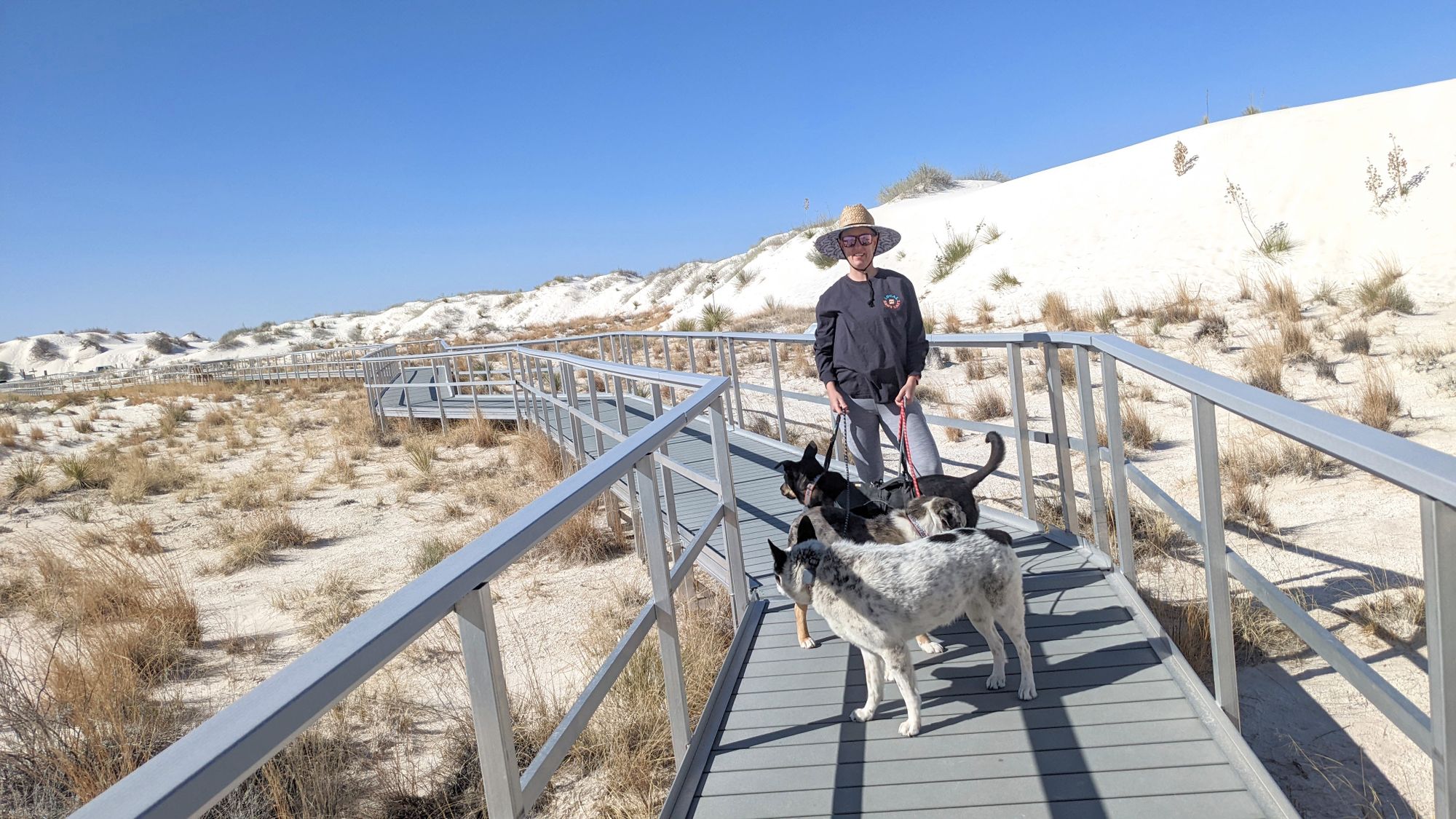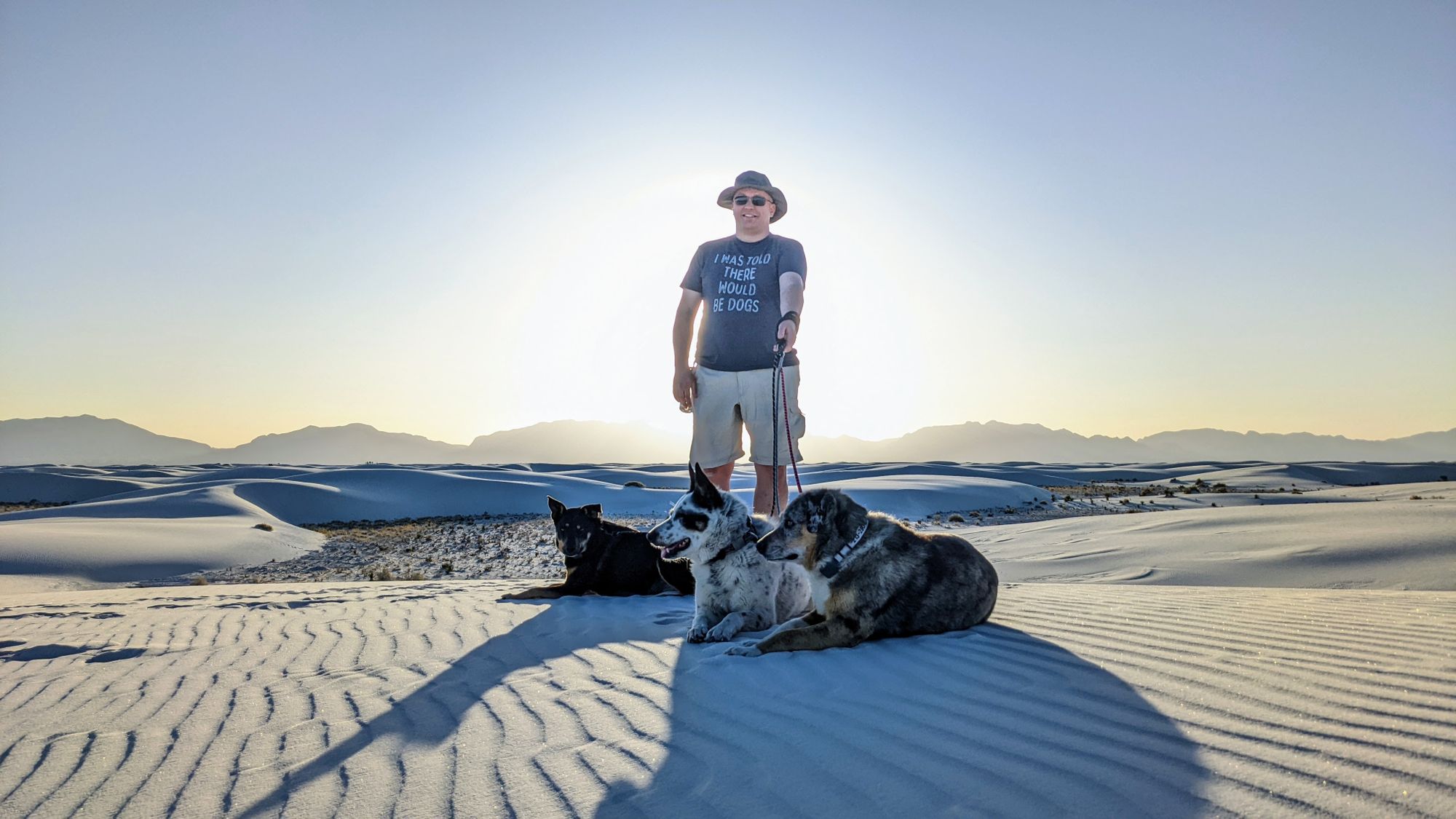 Where to Stay
We prefer boondocking so while visiting White Sands we stayed at Lake Holloman. The gate at the entrance is very narrow, but plenty of big rigs had made it through, just tale care. Lake Holloman is a 5 minute drive to the national park entrance and so it gets a lot of RVers visiting the park. Despite this popularity, we had no problem finding a spot. Make sure you read the signs upon entering — the body of water may look nice but it's a wastewater evaporation pond for the military base. Don't let your dogs swim! Mushy loves water so we made sure to park far enough away from it that he wasn't tempted by it.
There's a free dump station in Alamogordo, but potable water is harder to find in this desert area. $10 dump+fill at Edgington RV Park, or $5 at Artesia RV Park if you're heading east. And Carlsbad Caverns are an out-of-this-world experience, only 3.5 hours east!
Looking for more dog-friendly sand dune adventures? Check out Great Sand Dunes National Park in Colorado!
This post originally appeared on https://fmcadventure.com/2022/06/24/visiting-white-sands-national-park-with-dogs/