What we look for in a campground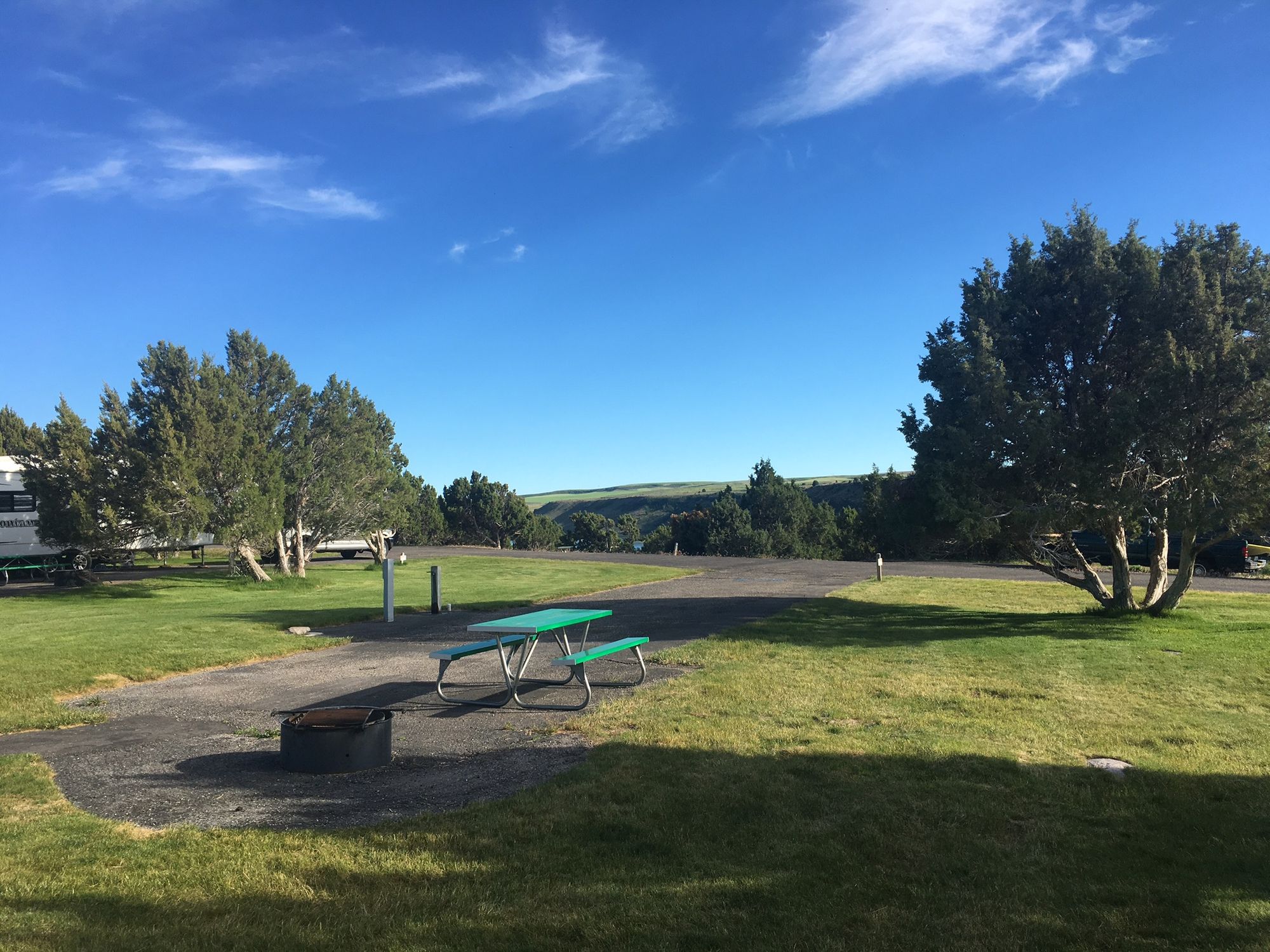 We've been traveling fulltime in our motorhome for about half a year now. In that time, we've seen many different kinds of RV parks, and I figured we'd write down what we like and don't like.
First of all, we like to boondock. That means staying on public lands, in the middle of nature, for free. We boondock as often and as long as we can, but finding good boondocking locations takes scouting, and when we're on a tighter schedule or driving longer distances, that's just not realistic. Every now and then, we also need more water for laundry and such. Sometimes, we want a non-solar electricity source for running air conditioners. This post is about the times we're looking to pay someone for the conveniences needed to enable our next boondocking spot.
The pay-to-stay places you park an RV are called campgrounds, RV parks, and RV resorts, in order of increasing amenities and typically decreasing closeness to nature. The boundaries are blurred, but basically resorts are more expensive and aim for more of a luxury cruise feel, where as in campgrounds you're surrounded by tents and nature. Here's how I'd summarize them:
campground: tents and smaller RV spots, often no hookups with shared water spigots not for RV use, or partial hookups; we're often the biggest RV around, and might only fit in a limited set of spaces
RV park: mostly RVs with a random tent every now and then, at least water and 30 amp electric hookups at every site, most sites can fit a 40' motorhome; all too often just a parking lot of RVs
RV resort: pool, jacuzzi, retirees taking their pickleball tournaments all too seriously, manicured lawns and cable television
Of the three, we tend to like the nature feel of campgrounds most, but often have to stay in RV parks because we can't fit in smaller & older campgrounds.
I try to avoid paying for dry camping, except for overnight or when the location is not easy to reach any other way -- such as at a National Park -- as boondocking is free and usually more pleasant than any campground.
In summary, we pay to empty tanks, fill tanks, do laundry, run AC, and sometimes we pay for the right location and convenience. Going to a new area, we might pay for a few nights at an RV park, scout boondocking sites, fill fresh water, and then boondock for up to 9 days. Dump, fill, repeat.
Things we look for
listed on Campendium, Passport America,
rvparkreviews.com or RV Parky, with good reviews and genuine honest organic photos
nightly rate, existence of club discounts, and a picture of showing a row of RVs on the front page of the website
Google Maps knows campsite address and gets the route right
online reservations done well (but if done poorly, this will be a minus)
easy phone reservations: voicemails returned quickly, staff knows the sites and what fits in them (don't oversell the fit)
no one does this but it would be nice: have website state current availability, always up-to-date
nightly price closer to $15 than $30 (we won't stay at a $30+ place for more than we have to)
dog friendly in general
nearby nature-filled hikes, ideally wooded & slight uphill, especially if well-behaved dogs can be off-leash
alternatively, a fenced-in dog area
dirt cheap dry camping ($2-8 or so) might convince us to stay at a park overnight instead of boondocking/Walmarting. I don't need slides out for that either, so even just a dirt parking lot is fine. Ease of driving in is primary concern there.
hookups that look clean & maintained; just recently, I saw underground water hookups (in a dug & lined hole) where the flooding river almost reached the taps -- we filled the tank and disconnected before the flood got worse
Things we try to avoid
unclear or unlisted pricing
voicemail greeting that doesn't mention the name of the park
access road rutted, muddy or made of soft sand
narrow roads inside the campground, including tree branches and bushes
tree branches over campsites or roads below 18' (don't make me worry, allow me to climb on the RV roof when parked)
sites that are too short or uneven for a 40' motorhome
sites that can't handle the weight of a 31,000 lbs motorhome
being too close to neighboring sites
screaming kids
drunk neighbors
sketchy neighborhood, feeling RV could get broken into
overpriced laundry ($1.50 per wash is the highest reasonable price, $1 preferred)
getting nickel-and-dimed with fees that the park was not upfront about
no sewer hookups and no dump station (public free one within 15 minute drive is fine if we're staying for <9 days and it's not laundry week)
sewer smell (if you have sewer connections at the sites, do whatever it takes to keep them closed -- when not in use, sealing when in use, and try to find the people who leave their gray open and vent the sewer gases off the top of their RV)
black pavement that gets too hot for the dogs to walk on
Things we look for every week or two
Mentioning these on your website helps us pick you.
good grocery store within 20 minute drive, including fresh produce
coin-op laundry (public laundromat within 10 minute drive is fine)
ability to receive mail/ups/fedex. I prefer "Firstname Lastname, c/o Campground LLC, address" delivered to the office and held there; dealing with UPS to the site is always more pain. Extra bonus points if you're willing to receive things for us a day or two before we get there, often we just don't stay long enough in one place to wait for mail or packages to arrive.
alternatively, non-stupid General Delivery at town post office (e.g. Idaho seems to require you do a Change of Address before they'll do General Delivery; other states we've seen so far have been better)
Things we just don't care about
campground wifi (we're using our own LTE; if that won't reach you, we won't stay long)
driving directions on the website in this age of ubiquitous GPS
kids playground is a reason to avoid the place; if you provide one, try having it at one end of the area (one RV park we were at devoted one end of the park to families with kids and the other end to dogs)
manicured grass (don't want wild weeds but trees & natural plants is fine)
concrete "patio"
picnic tables out in the blazing sun (we only really use them if they're under a tree, or if we can lift them under the awning)
restroom/shower: I will only use yours if mine is broken or sometimes at places that have no sewer/dump site; not having one is fine by me most of the time
50amp (we're built for it, but can run two ACs off of 30amp all day long)
organized activities
street lights in the campground area
cable TV, phone lines, etc (Ane might disagree on the cable)
golf cart escort to our site and assistance in backing up
DVD or book lending libraries, free or not
We're fulltiming without kids, and we're pretty self-sufficient on solar, internet, and such, so I fully acknowledge some of these would be the opposite of what the weekend crowd wants.
(You may also like: all of our RV park reviews)