Hike: Thunder Mountain Trail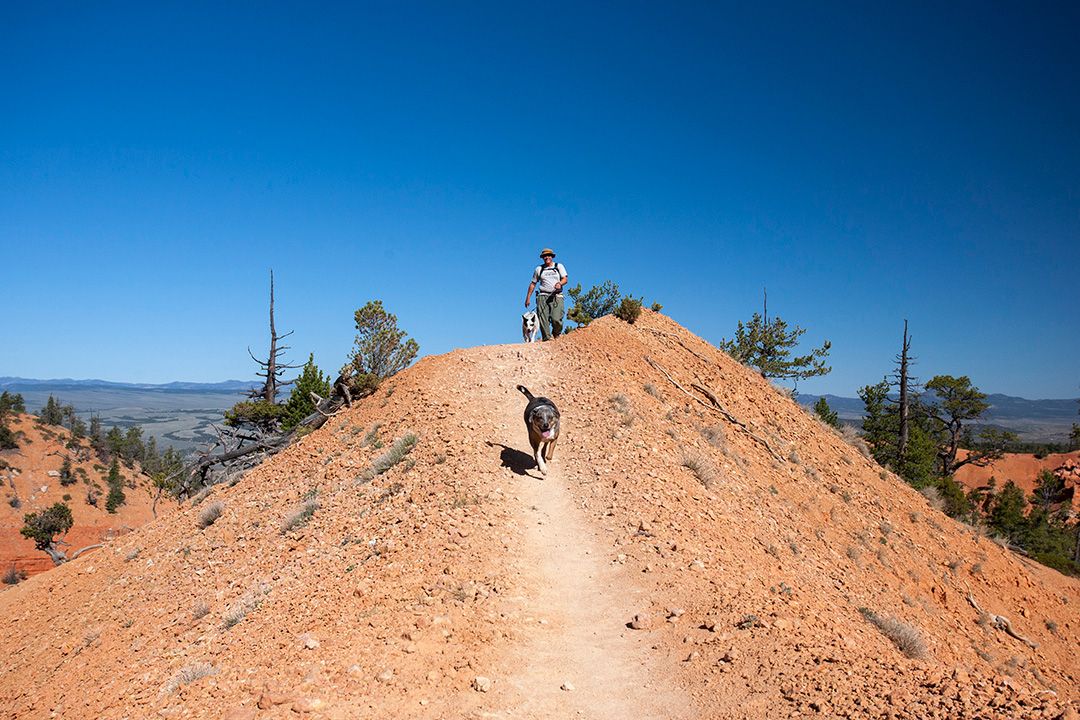 We love Red Canyon, Utah, because of it's dog friendliness. We've done a decent amount of hiking in this area but had originally ruled out Thunder Mountain Trail because it is a multi-use trail for hiking, biking and equestrian use. But after stopping at the Red Canyon Visitor Center, the volunteer we spoke to said it was not to be missed. So although we worried it would be busy, we hiked it and liked it!
We chose to hike on a Friday morning, and made sure to be on the trail before 9am, which is the time we were told the horseback rides begin. Sure enough, at about 8:40am, a horse trailer from nearby Ruby's Inn arrived and unloaded horses. Since the trail is single track, I can only assume it was recommended to arrive before 9 so that we didn't get stuck hiking behind a trail ride until the first branch in the trail, which comes 1.4 miles in.
If you don't enjoy walking uphill (pretty much the whole way) this trail isn't for you. There's not much variation in that first 1.4 miles. It is a bit underwhelming, just single track among trees.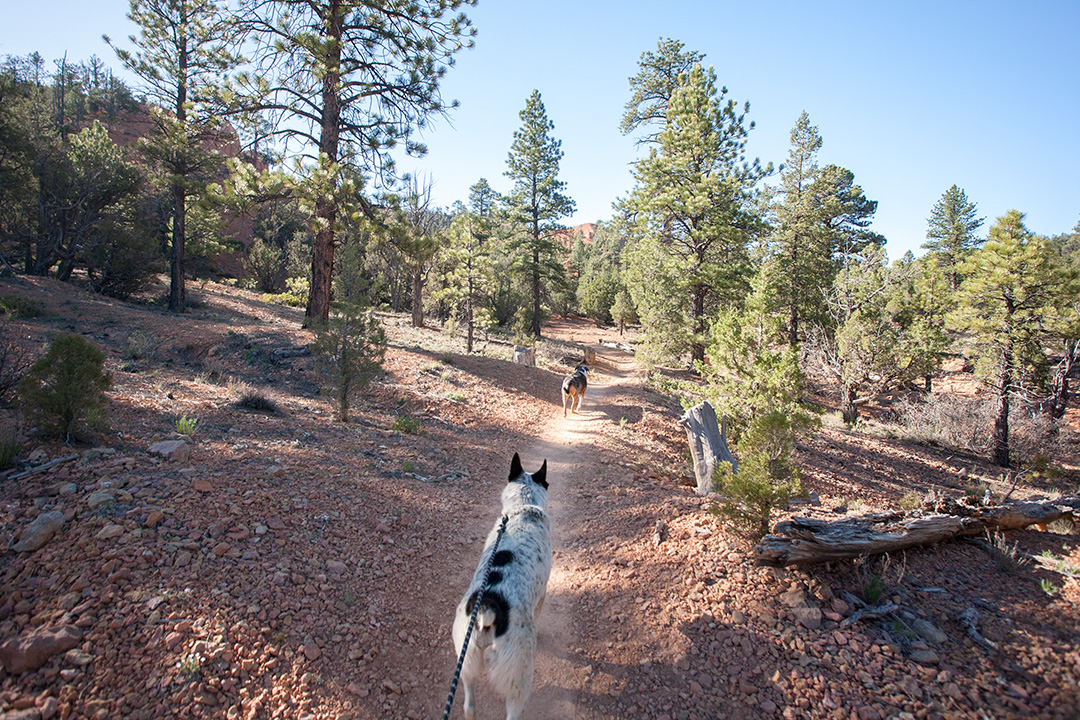 The dogs would disagree with my statement. They thought the entire trail was amazing! So many smells, so many lizards.
We were happy that the trail was shaded at this time of day, due to the nearby hills and mountains.
At 1.4 miles in, we came to the branching point. We stayed on Thunder Mountain Trail, and rounded the corner.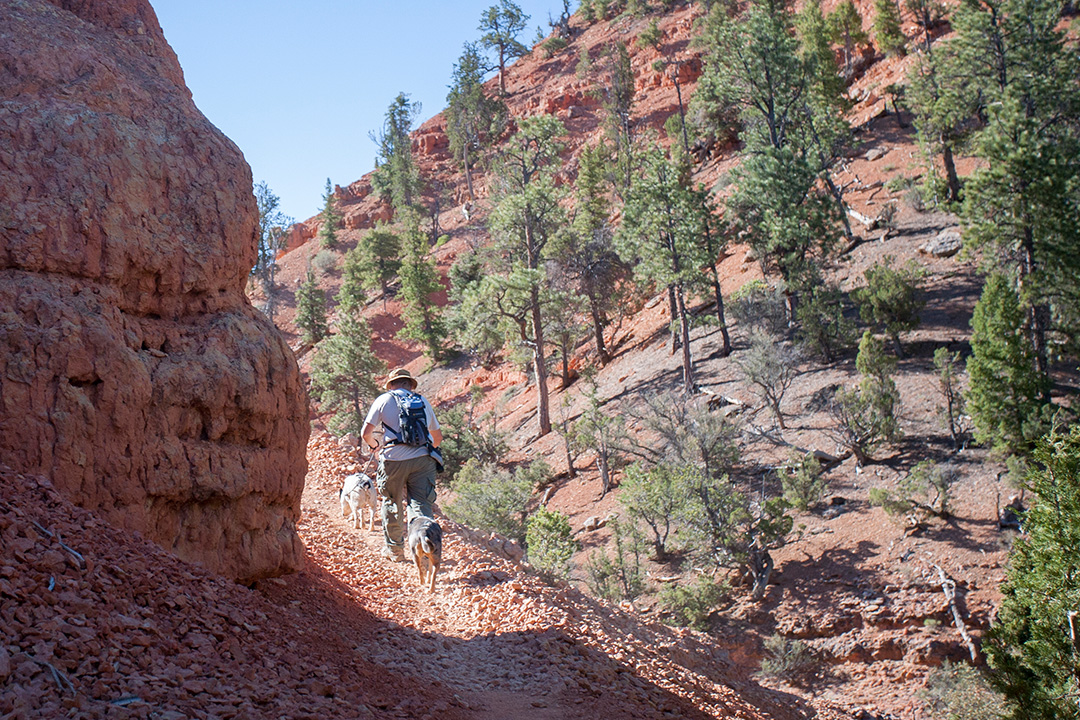 We were entering the aptly named, Red Rock Canyon.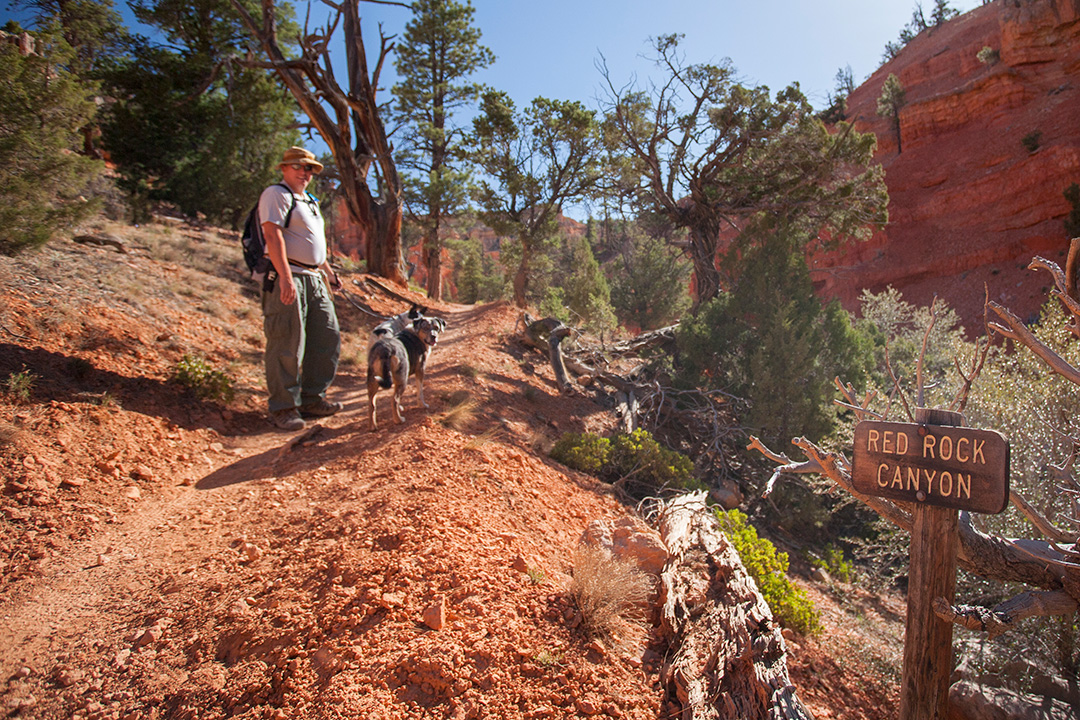 Boy, did it live up to it's name! So red, and so many hoodoos!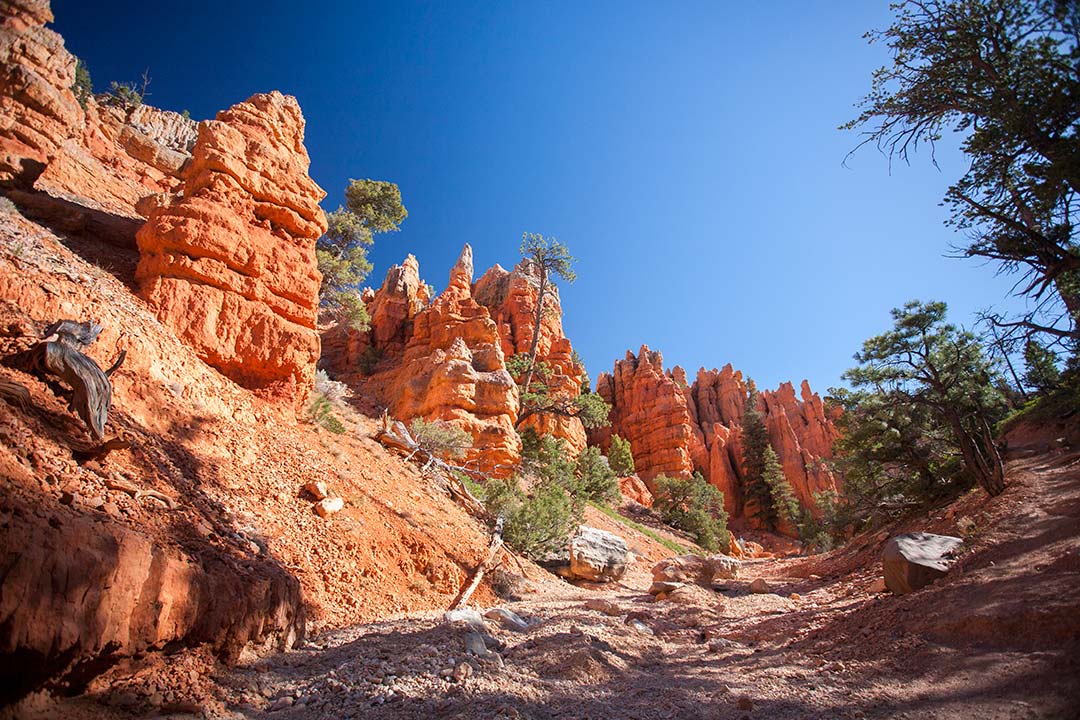 After a relatively flat section in the canyon, we arrived to the base of a hill, covered in switchbacks. Those tired us out but I think someone was excited to make it to the ridge!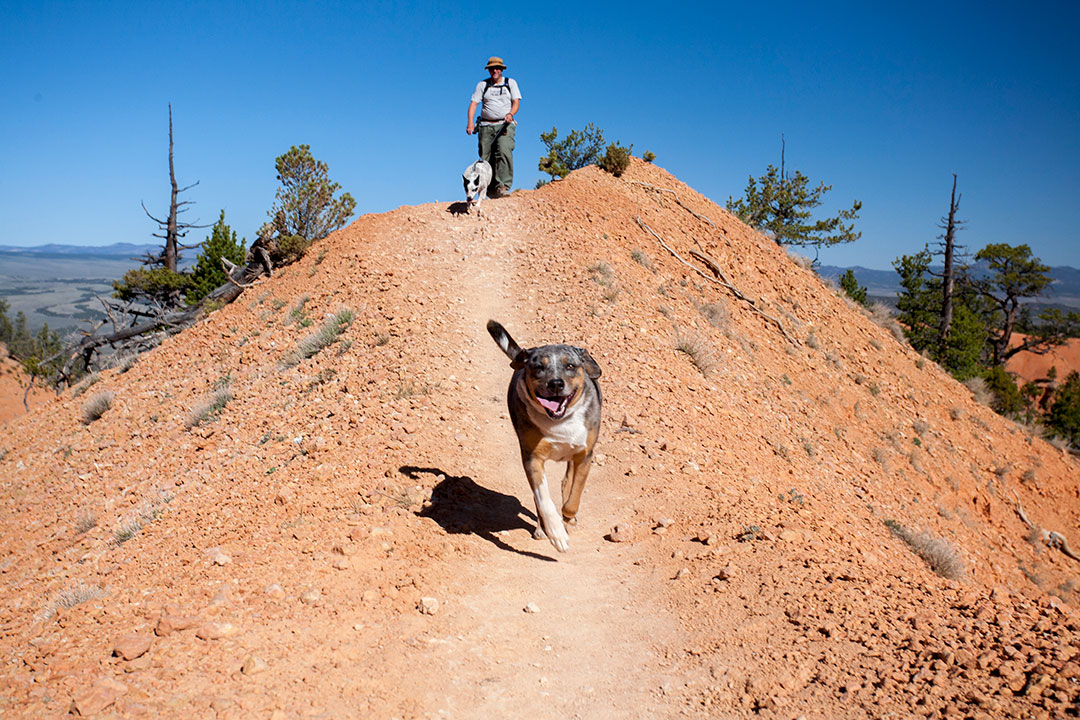 We were lucky in that it was a breezy day in the low seventies. I think it would be brutal to be up on this ridge on a hot day.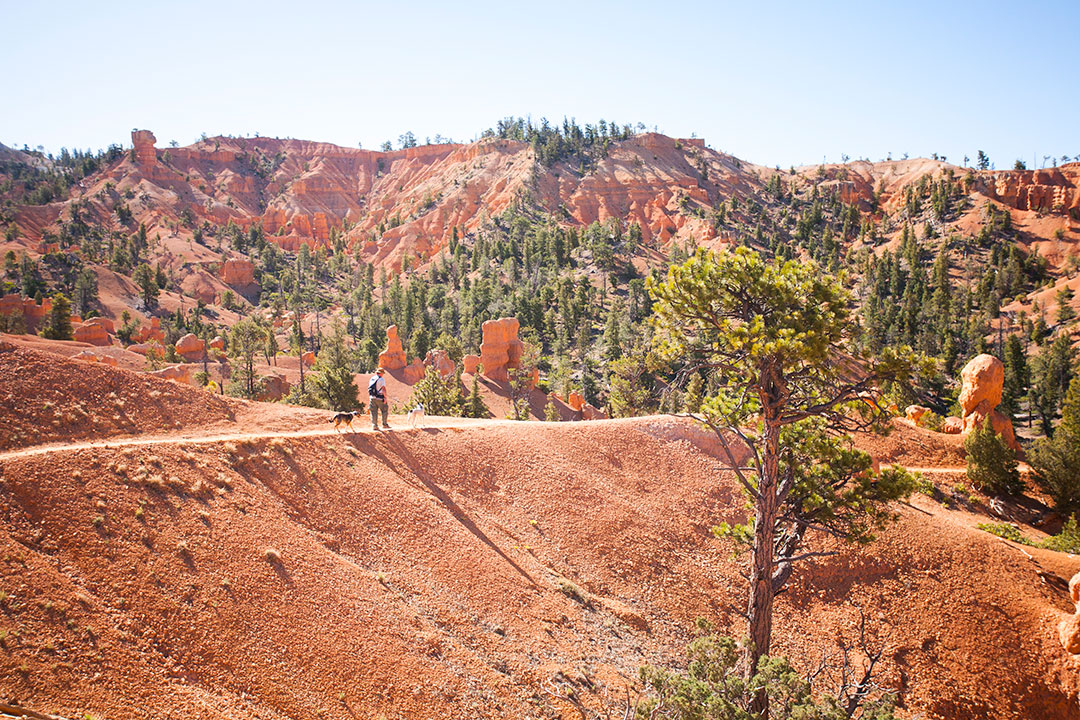 We were all pretty tired at this point, due to the consistent uphill grade we of this trail, but we wanted to make it to Inspiration Point, which is destination reached by taking a short spur trail off Thunder Mountain Trail.
We took a break among some hoodoos which provided shade, then kept going. Tommi mentioned that he had seen some people ahead of us on the trail. Until this point, we hadn't seen anyone except for the horses in the parking lot.
Eventually we ran into the group, as we were hiking up, and they were hiking back down. Interestingly enough, they happened to be the volunteers from the Visitor Center who had recommended this trail to us! They said we didn't have much further to go, and sure enough, with one steep climb left, we made it to Inspiration Point.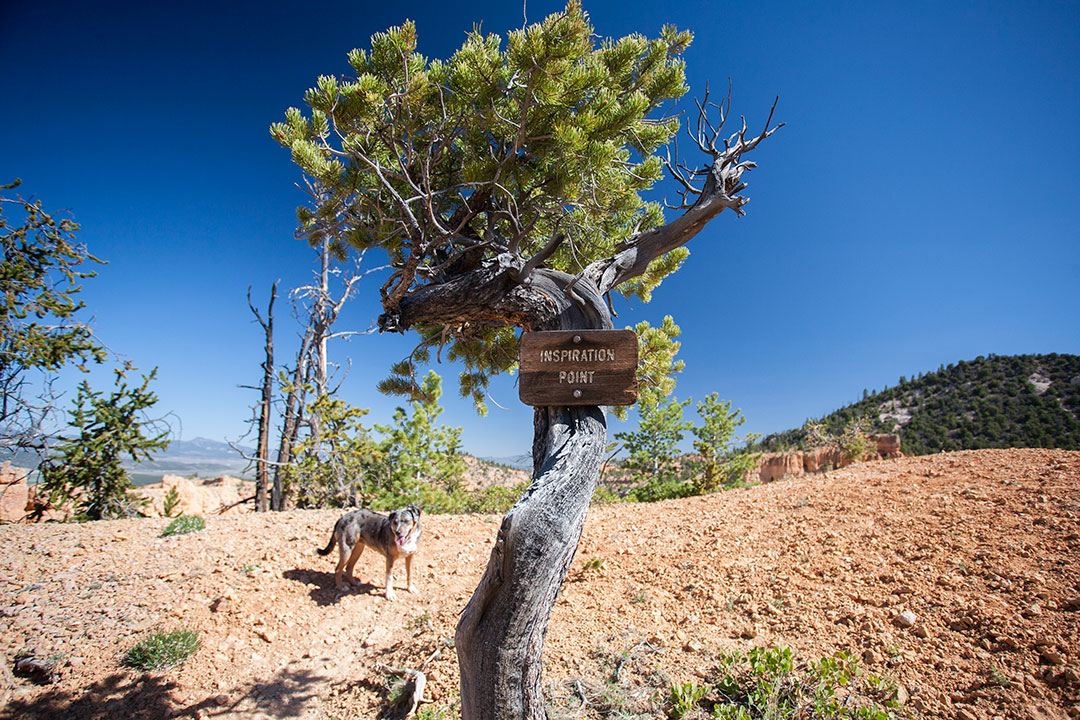 We were treated to a beautiful birds-eye view of the hoodoos below!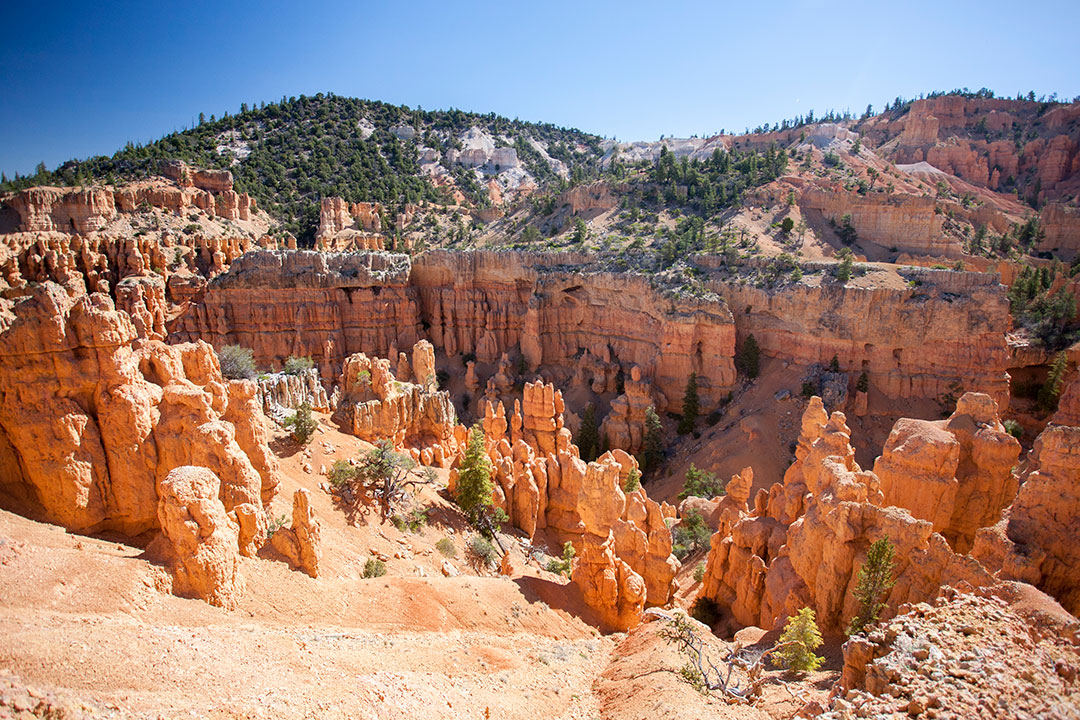 Lily was a brave potato and joined me near the edge for a photo.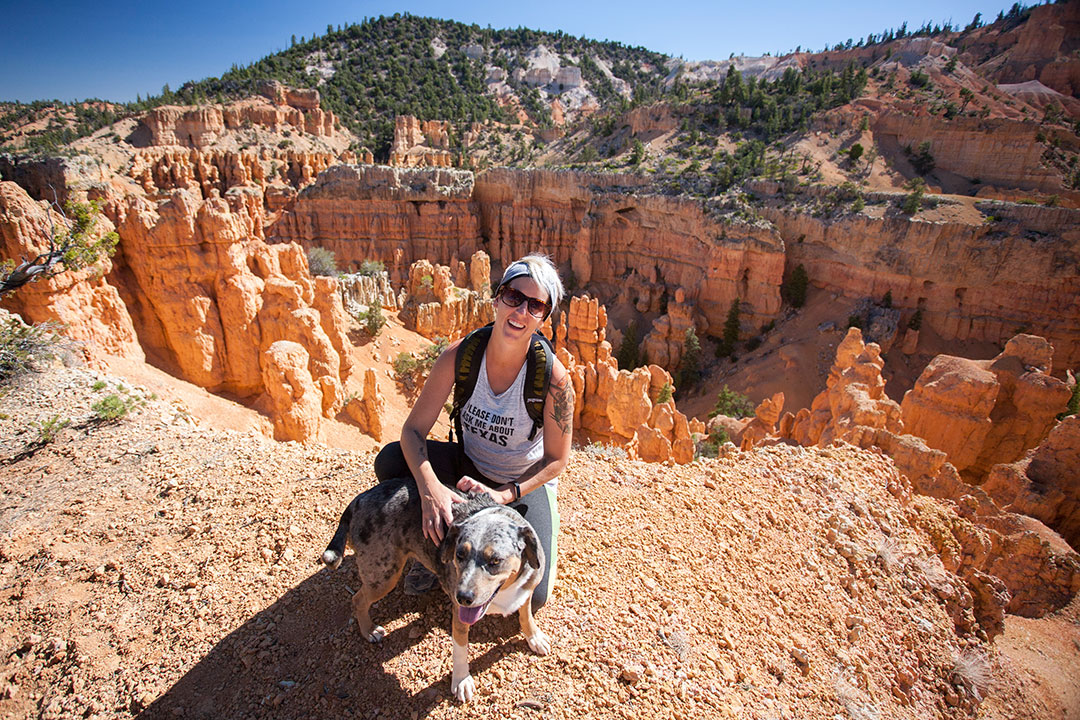 We lovingly refer to our big girl as a couch potato, but since we don't have a couch in our RV, she becomes other versions of potatoes, like bed potato, sand potato, adventure potato, and so on.
Mushy stayed further back to and rest under a tree and fast pant.
At this point, we noticed some mountain bikers in the distance, which was the part of Thunder Mountain Trail we hadn't made it to. (In total, the trail is 7.5 miles one-way. We only did a small portion of it today.)
After admiring Inspiration Point, we began our descent. It definitely felt good to walk downhill for a change!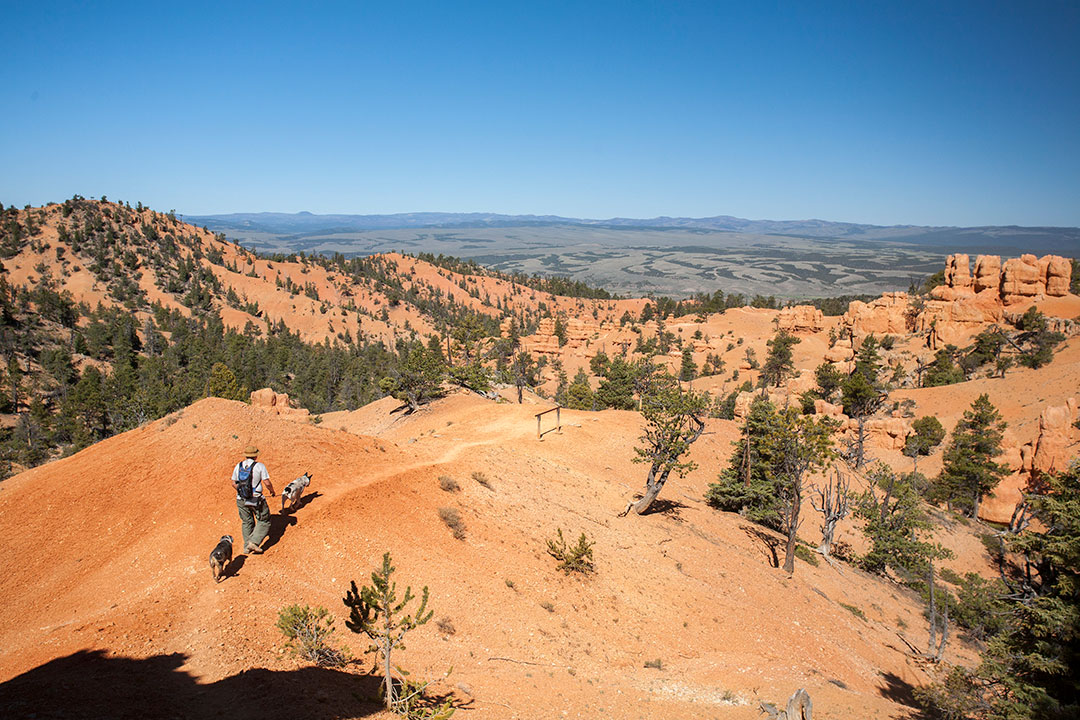 You can see a hitching post for horses in this photo. They do come all the way up here, so be aware that you may encounter them on your hike.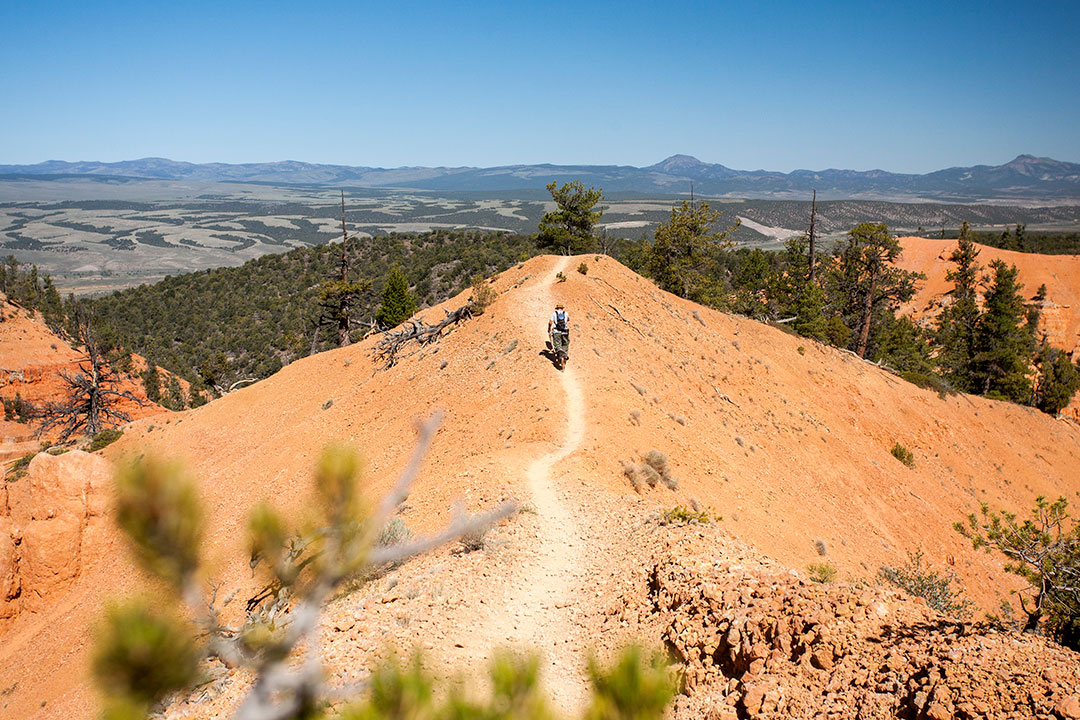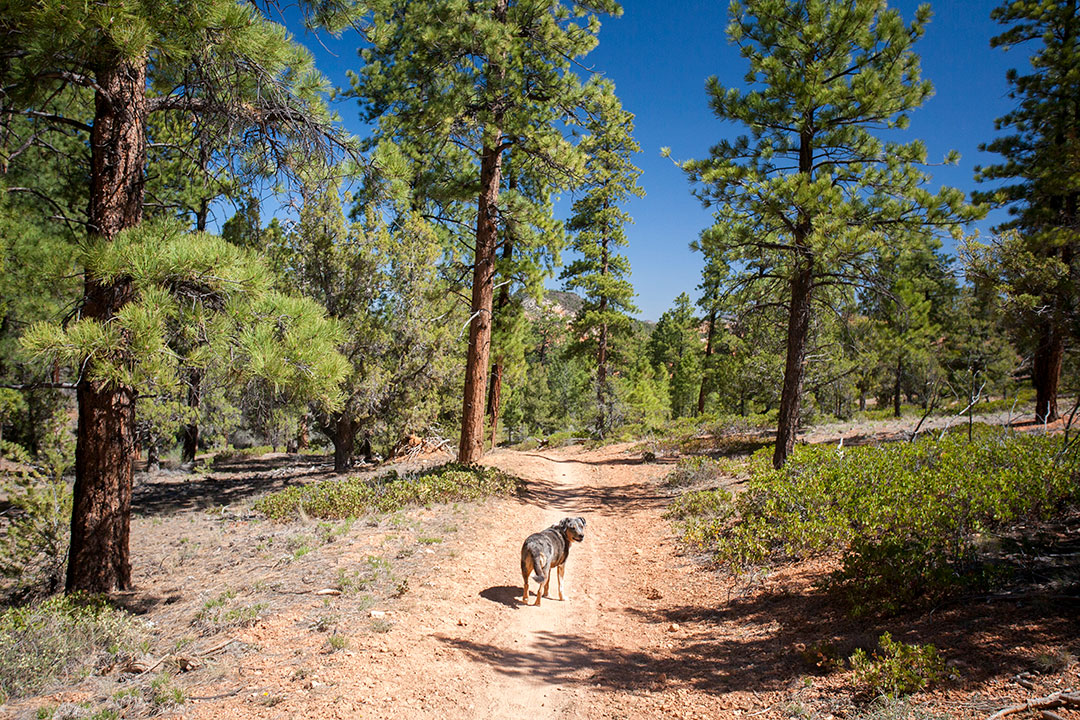 Lily was excited to lead us back to the car.
All in all, our morning hike took about two and a half hours and was 5.6 miles long, climbing over 1,200 feet to an altitude of over 7,800 feet. I'm typing this blog in silence, since we now have two very happy, very exhausted, sleeping dogs.
I'm glad we did this hike, but we didn't think it was the best offering in this area. We'll be sharing our absolute favorite Red Canyon hike with you on the blog soon.