RV park review: RV Ranch of Keene, TX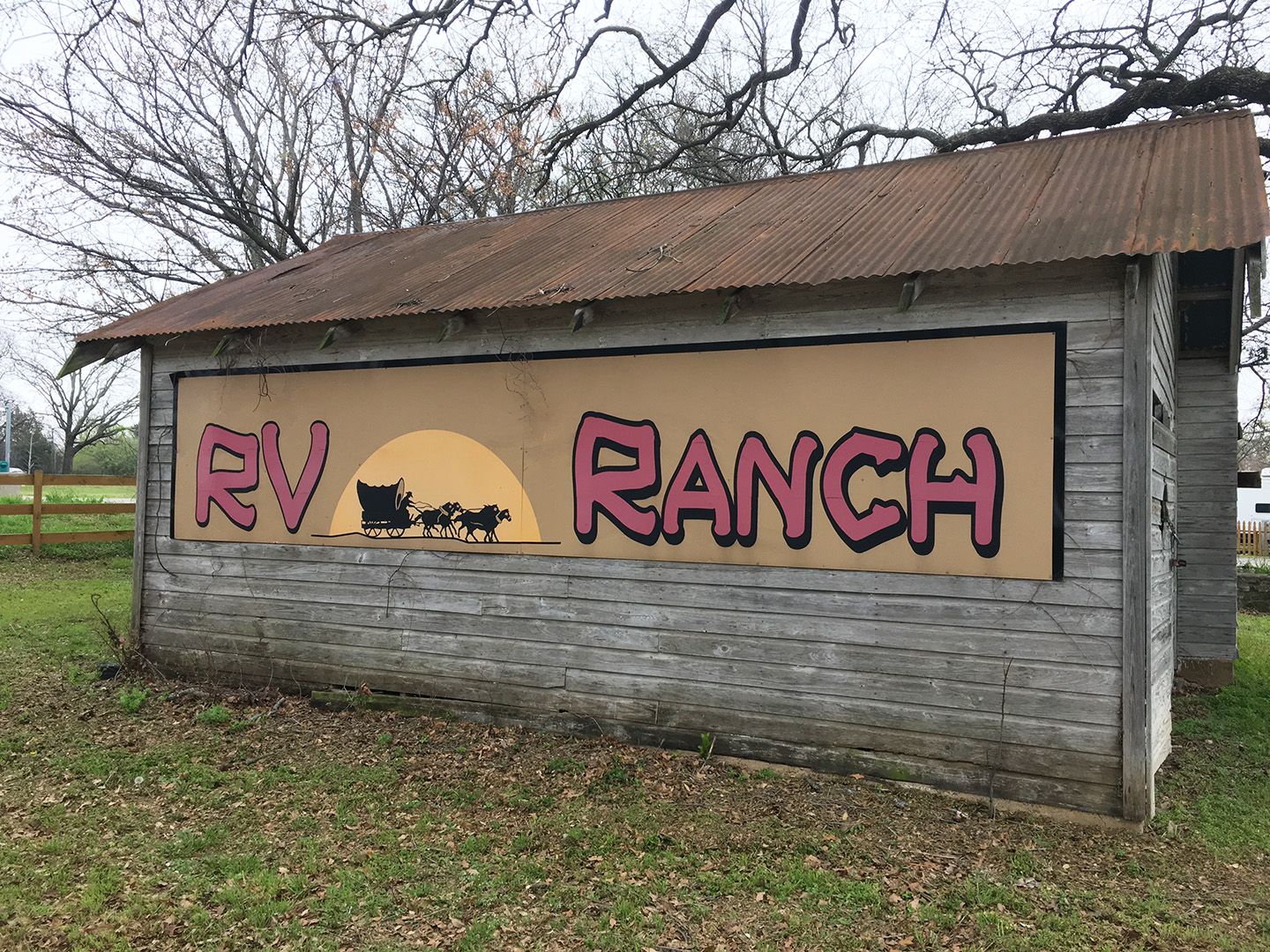 After wrapping up all our to-do's in Livingston, we decided to head closer to a major city so that we could find a used Jeep Wrangler to buy and use as our tow vehicle. We also had an appointment to make in mid-March at the Fleetwood service center in Alvarado, Texas to get our main slide fixed (spoiler alert: they couldn't fix it).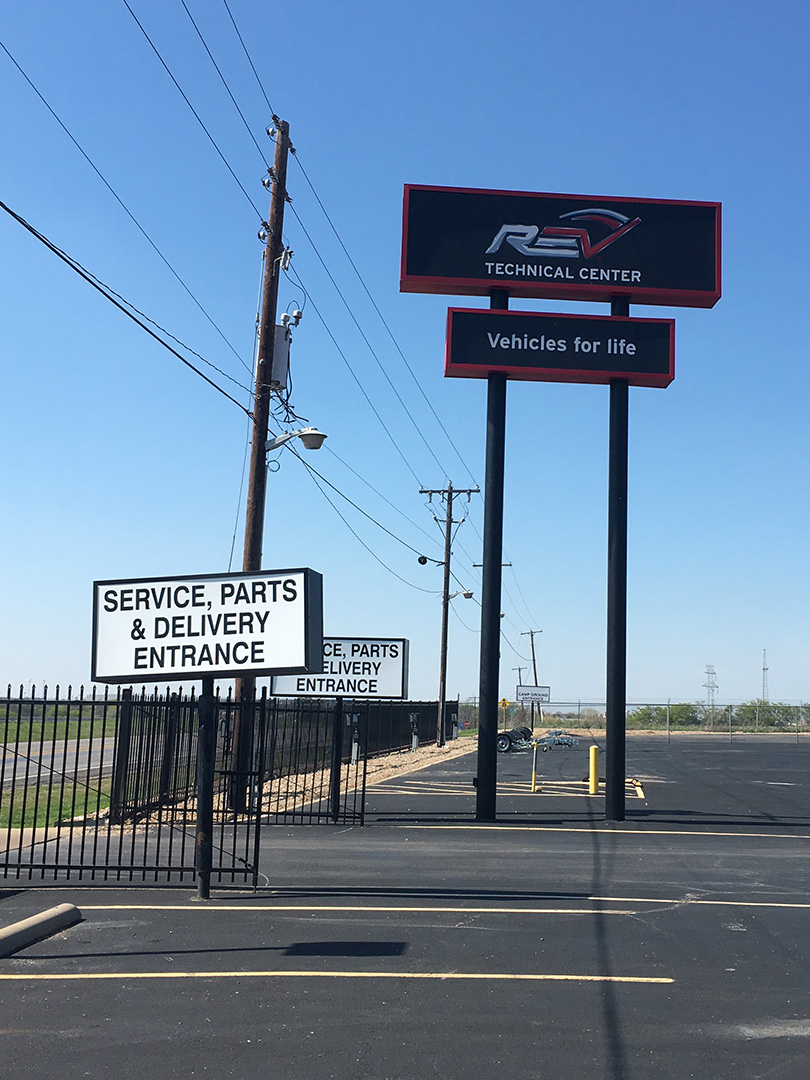 The Dallas/Fort Worth area had a lot of promising used Wranglers, so we started looking for an RV park that would fit our needs while we searched. Being so close to a major city, we found many of the parks to be too expensive for us, especially since we weren't there to sightsee. The RV Ranch of Keene was about a 35 minute drive south of Fort Worth, near an Enterprise Rent A Car and about a 10 minute drive from the Fleetwood service center.
The Unique
There's two areas of this park, the adult only section (lots numbered 180 through 254) and the kid section. They'll ask you which one you want to be in when you make the reservation. Not having kids, we chose the adult side but honestly after walking the property I didn't see many kids so maybe there is more of a divide in the summer? The adult-only (21+) pool looked very nice but it wasn't pool weather when we visited so we didn't use it.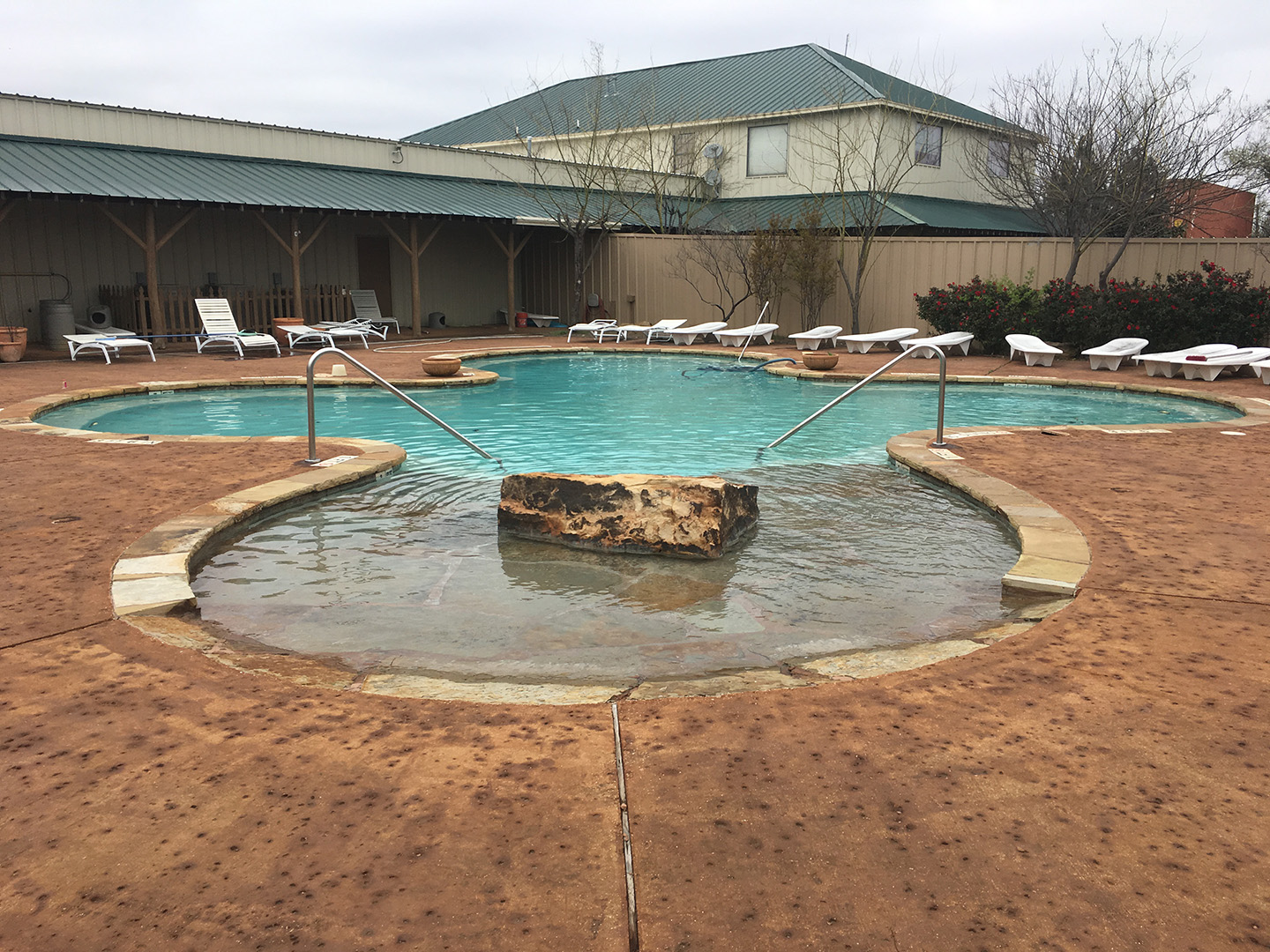 The Good
The town of Cleburne is about a 10 minute drive away and has a HEB grocery store and lots of fast food and services.
If you need a rental car, the Enterprise in Cleburne will pick you up from the park.
The wifi is free and worked steady but sometimes slow.
They have a "catch and release" lake with two docks that is nice to walk around.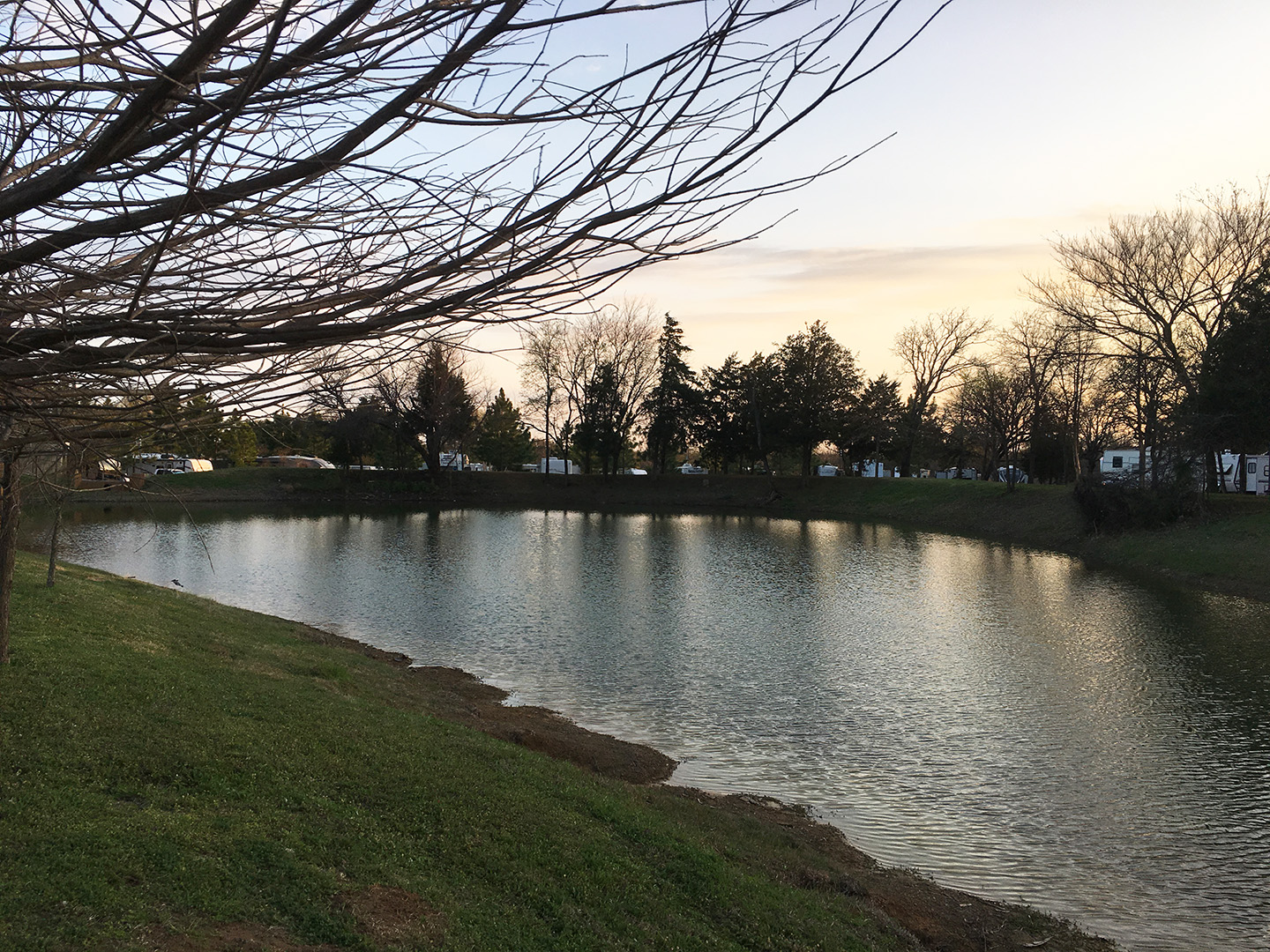 Stimpy and I used it as our workout background a few times.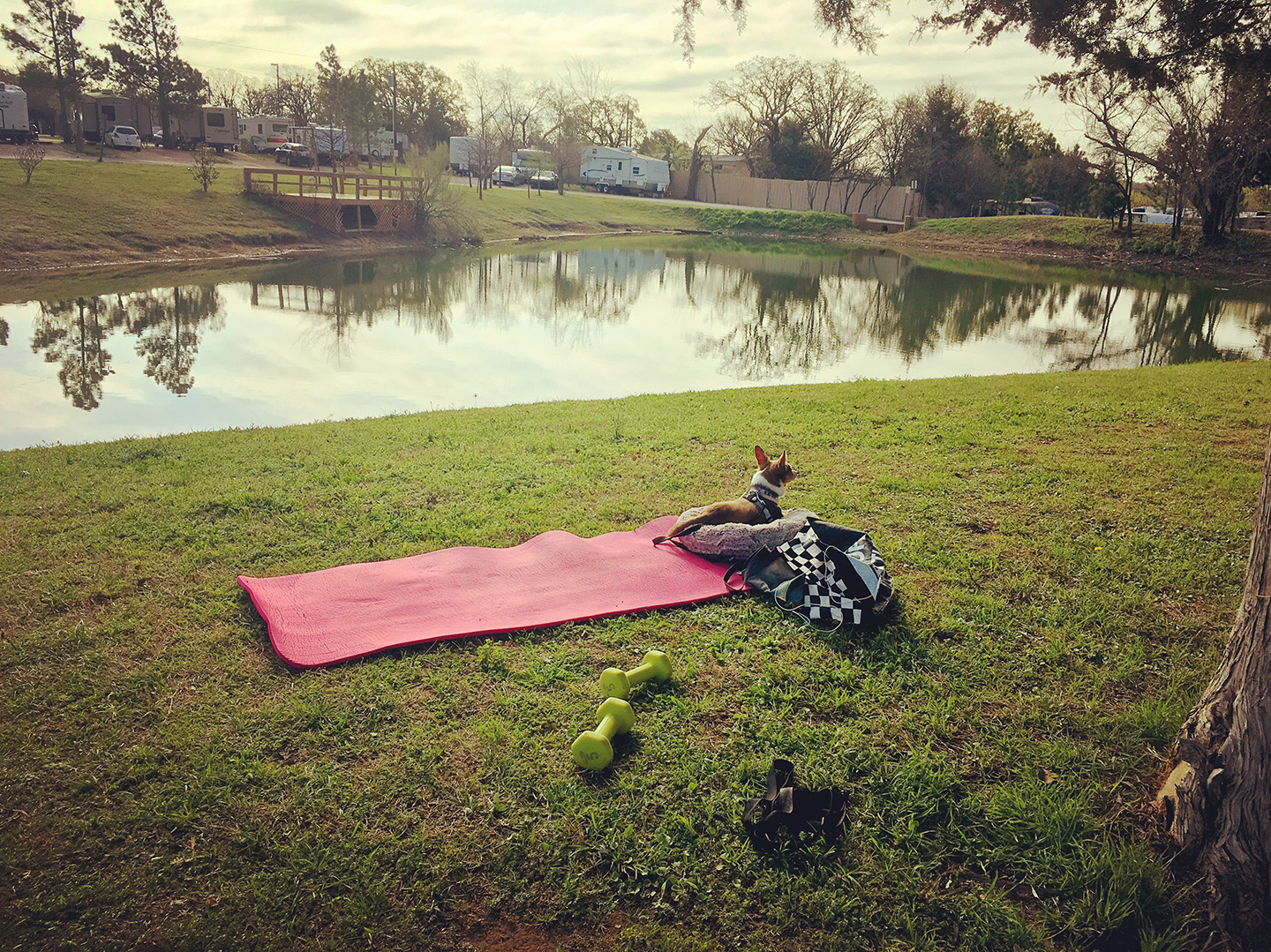 The Meh
This was one of the more crowded and densely packed RV parks we've stayed in so far.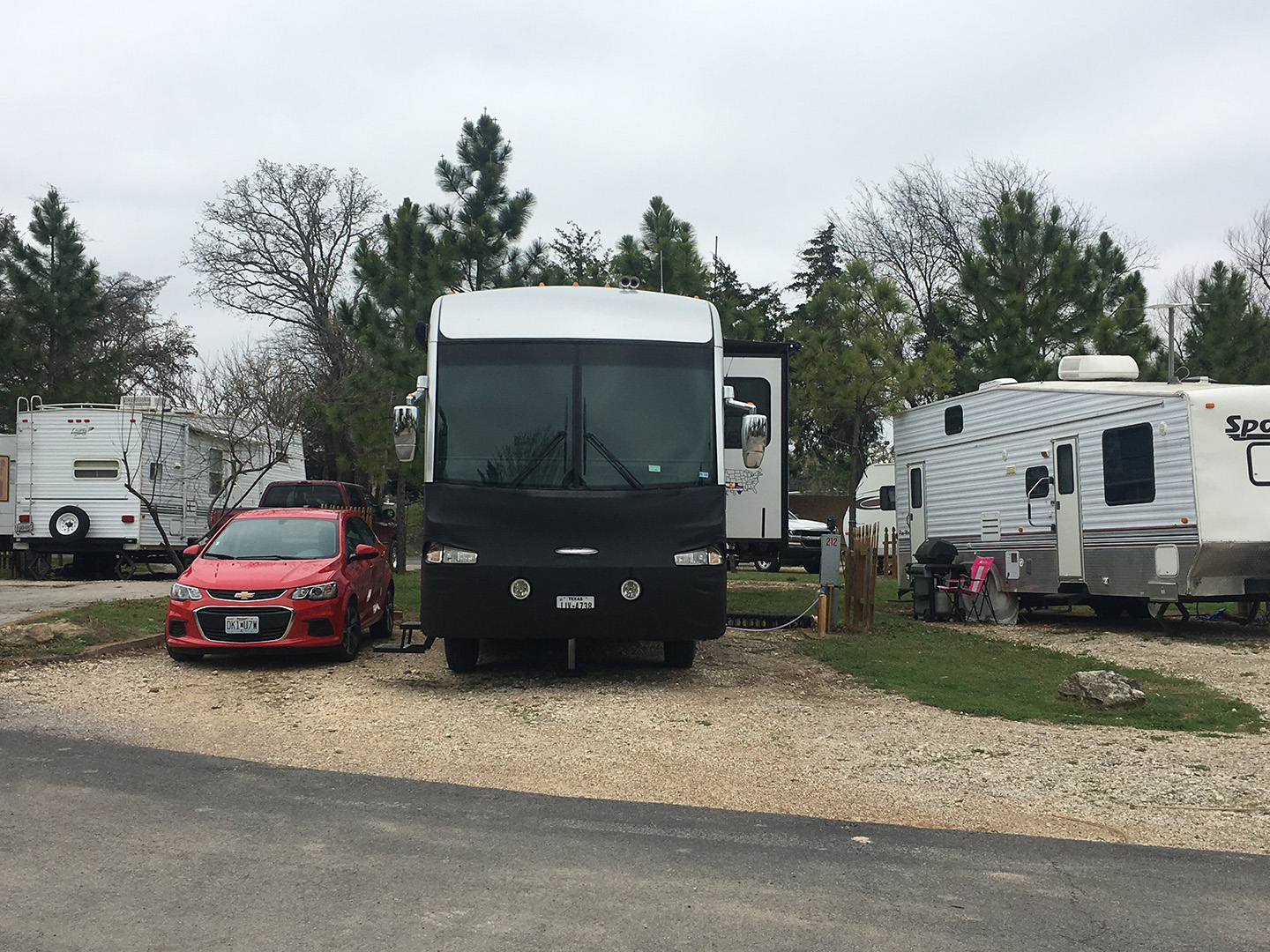 The roads are paved but some are a little narrow for larger rigs.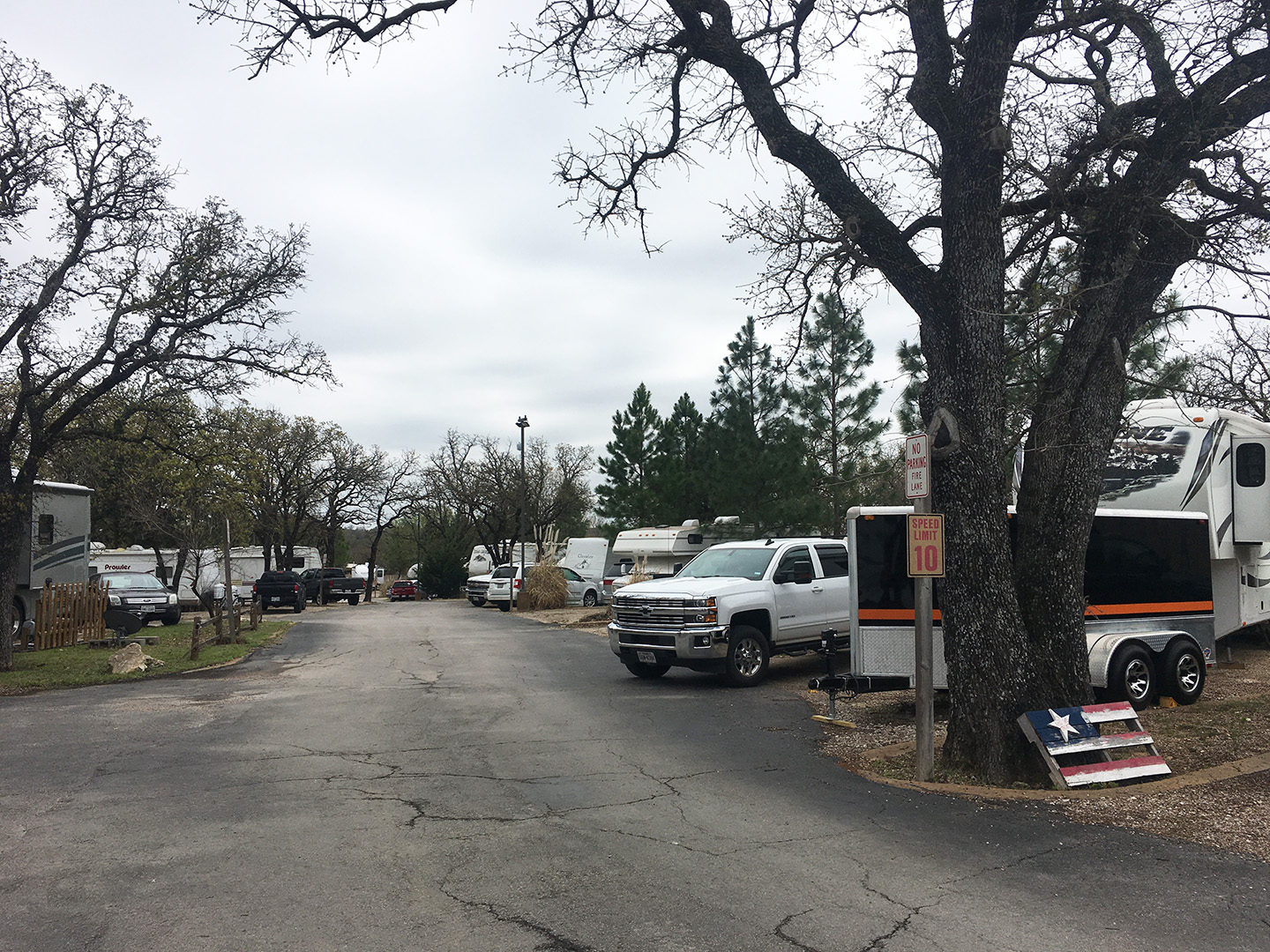 There is no fenced dog park, however they are dog friendly and have a designated "dog walk" area near the lake for important dog business.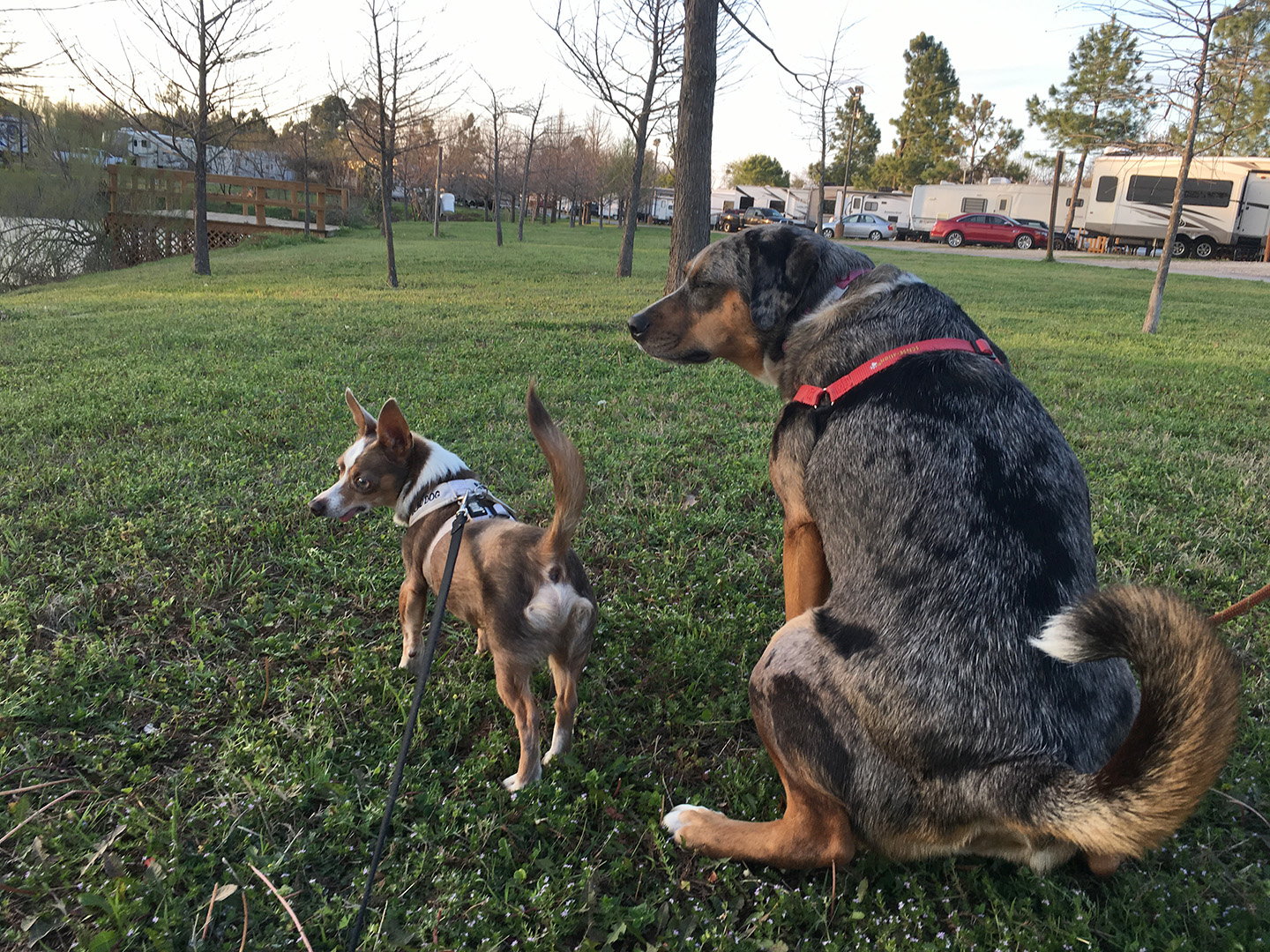 The neighboring streets outside the RV park aren't very pedestrian friendly so we took Lily on some 2 mile runs throughout the RV park and the neighboring mobile home park. You have to get creative, there's a lot of dead ends and roads that don't connect.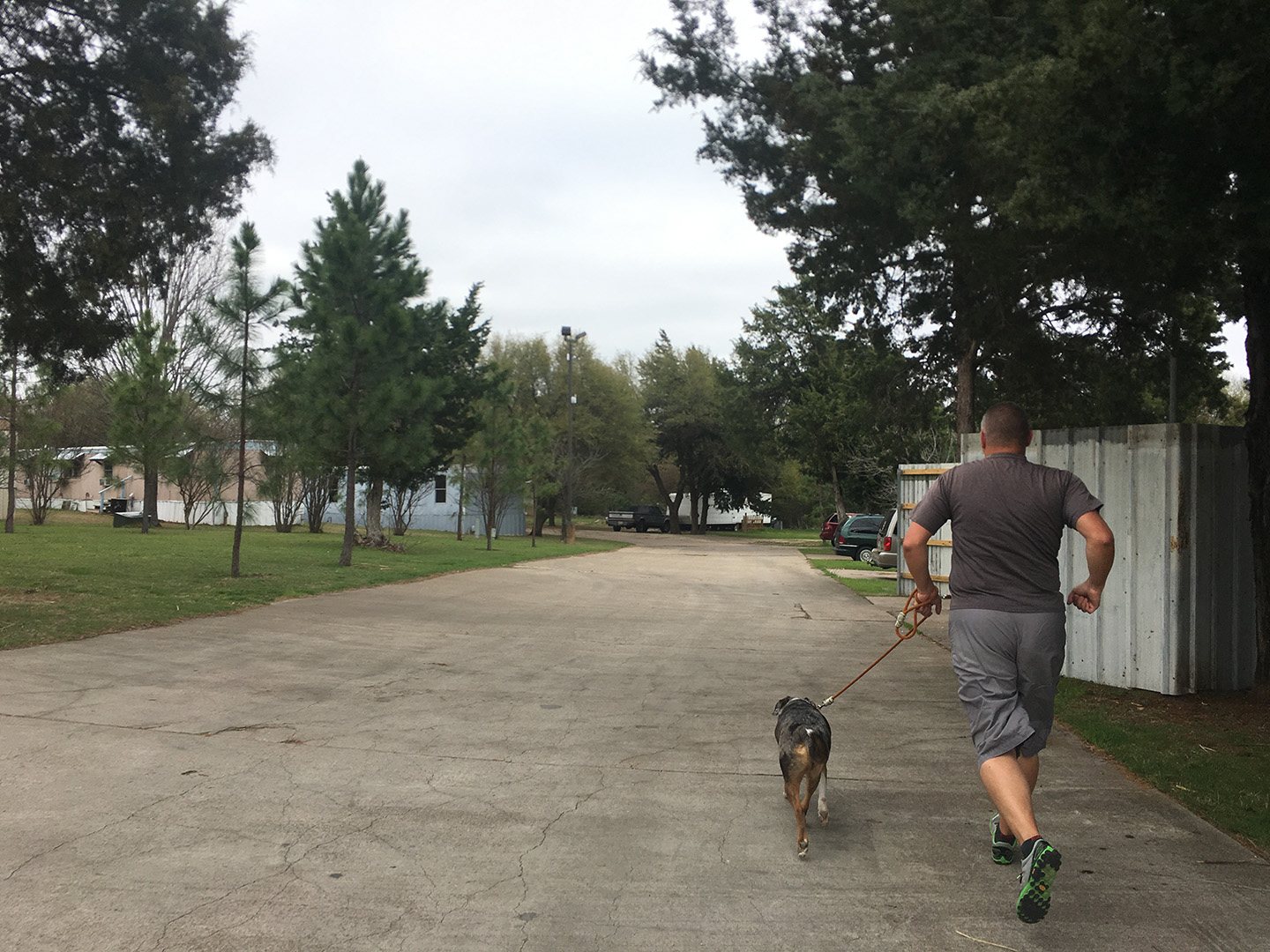 Lily's Protip: They have an unofficial Stump-park on the side of the laundry/shower building! So many stumps to climb on!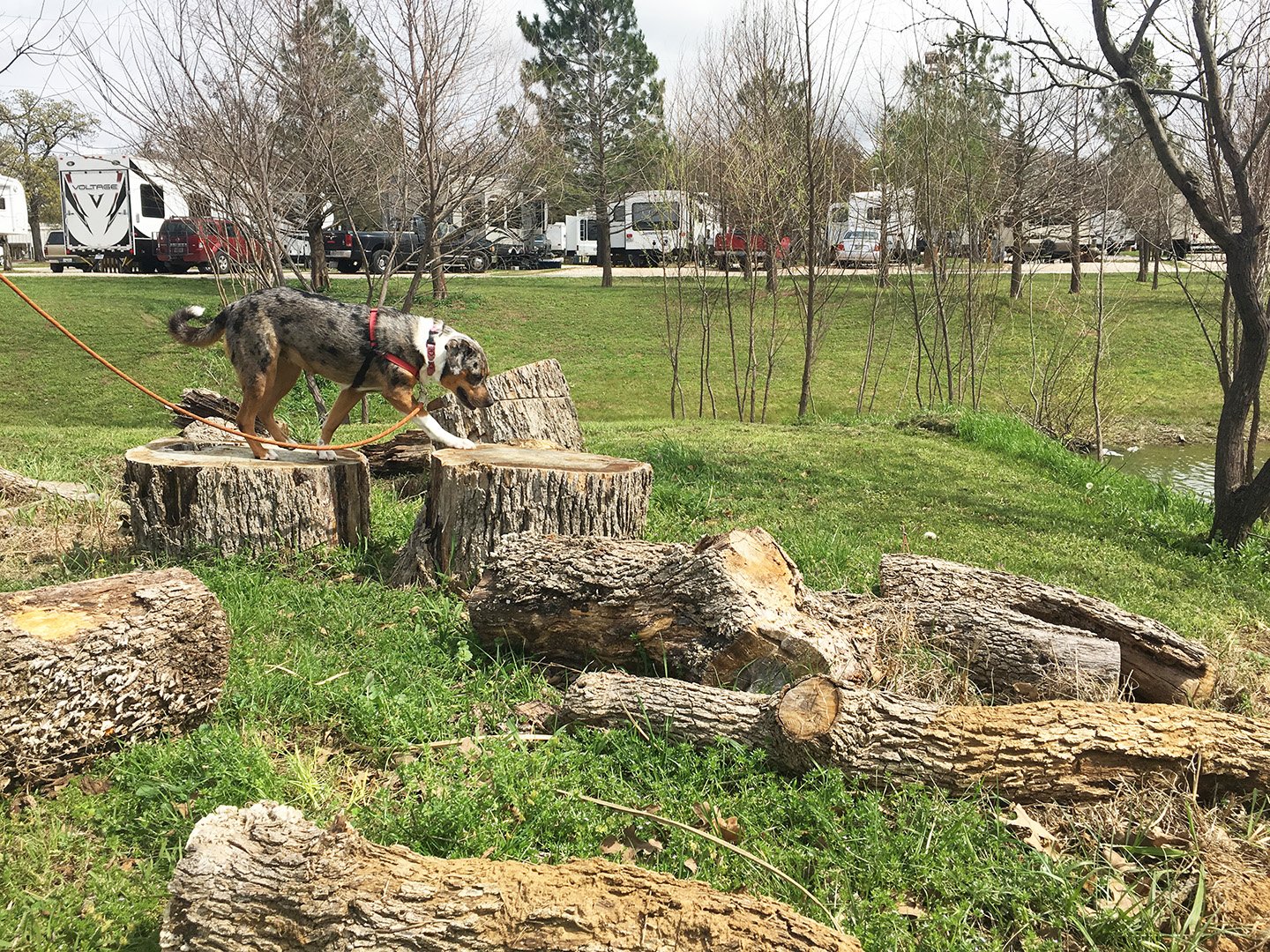 Most folks staying here keep to themselves. We didn't encounter too many people out and about. We visited in March and didn't many rv's coming and going. I'd guess a large portion of the guests are long-term stays.
The Bad
Our gravel/dirt site (#212) was sloped towards the street and it took us well over 30 minutes of setting the jacks, retracting the jacks, pulling forward, backing up, trying again until we finally got to a somewhat acceptable amount of level, but our front tires were still almost lifted off the ground. We stuck it out because when we made the reservation they told us there were only two spots available - ours and the one next to us (#213), which was equally sloped. You can see how much our site slopes by looking at the angle of the car: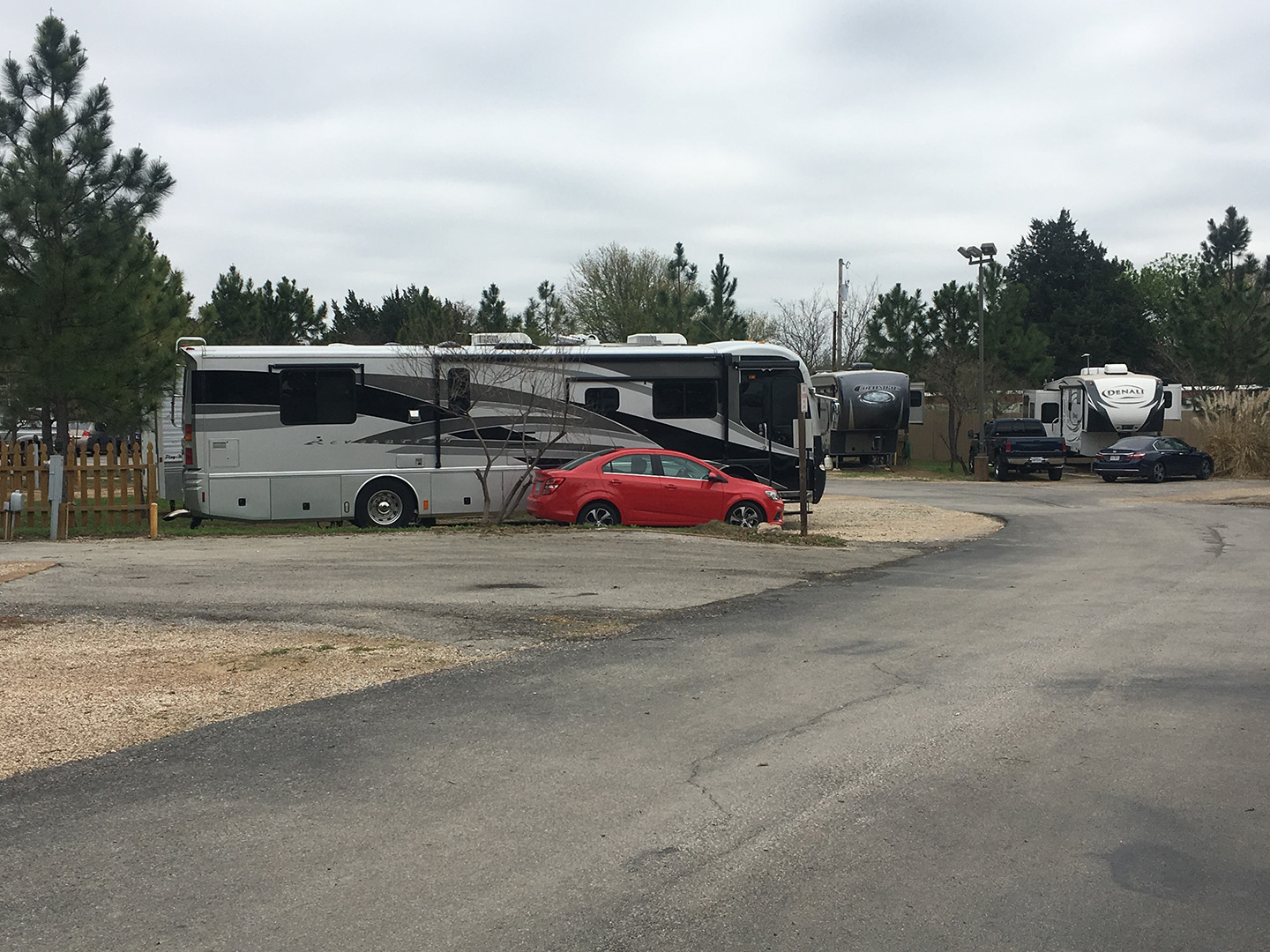 The trains! I mentally wrote this part of my review while lying in bed at 4am after being woken up by all the train horns that seem to blast all night long. I went back and looked at reviews of this park and was shocked that no one else mentioned this. The only way I could sleep was to close all of the windows and blast the AC or Fan all night. I usually am a heavy sleeper so that should say something. You've been warned! CHOO-CHOO!
The drinking water here has a very strange taste and it has a "silky" feeling to it which really weirded us out. We drank bottled drinking water during our stay and did not fill up our water tank.
The park offers free cable. Ours didn't work. We let the office know on a Thursday and they said they didn't have anyone who could look at it until Monday. No one ever stopped by and I didn't go back to the office, so no cable for us.
Our Advice
If you're like us and staying in a larger Class A motorhome (38'), or just don't want to deal with sloping sites, reserve a pull-thru spot. They're still not level, but they're the same grade all the way through and fixable with jacks: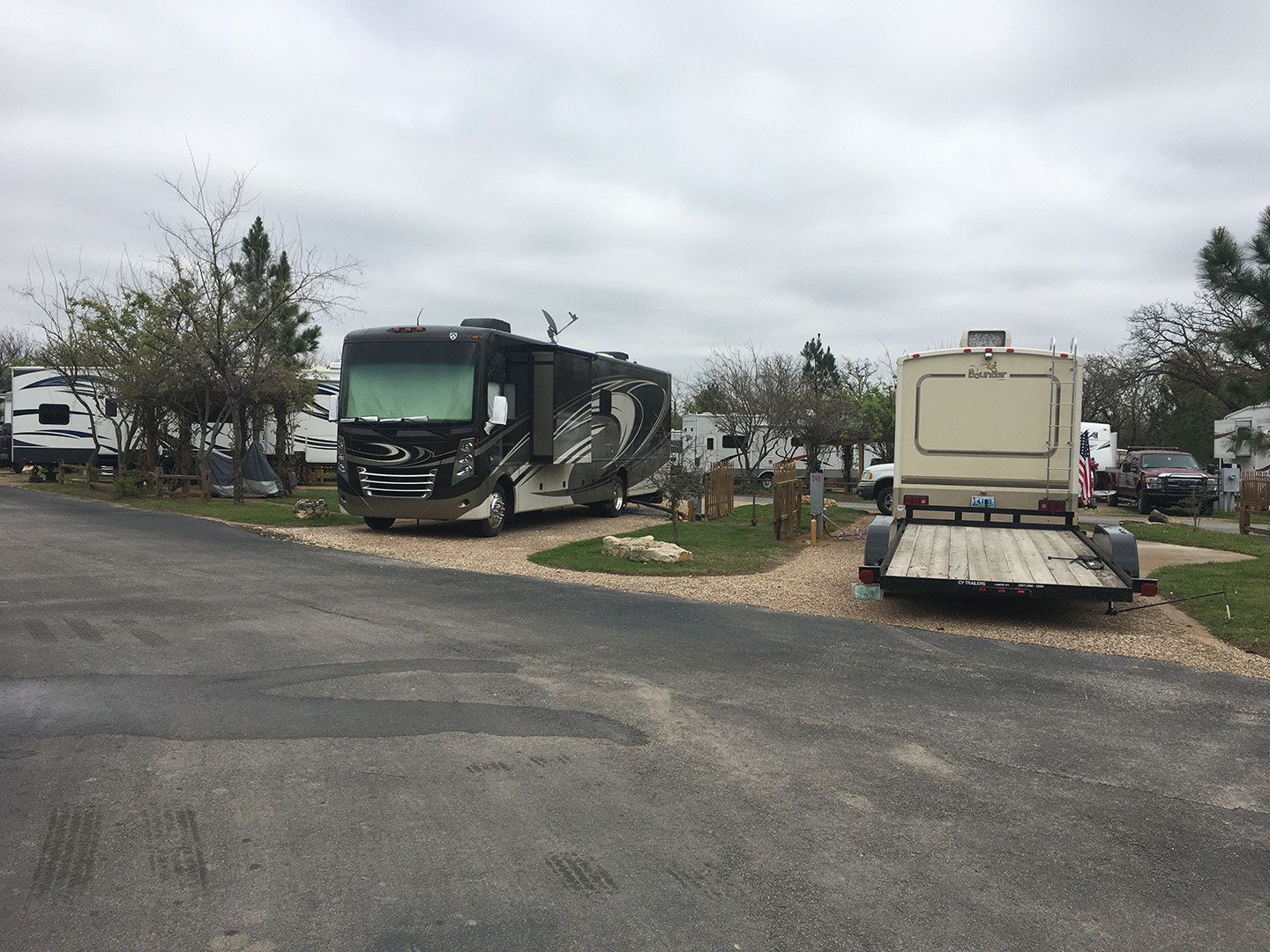 This park was moderately priced, but it still felt like a lot for what it was. Our Escapees and Good Sam discounts only worked for 1 night so our average nightly price for 8 days was $33.64.
The RV Ranch of Keene was relatively convenient and would have been fine for a few nights but after 8 nights we were eager to move on.
RV Ranch of Keene
http://www.rvranchkeene.com/
325 US-67 BUS, Keene, TX 76059
(817) 517-5037