RV park review: Red Ledge RV Park & Campground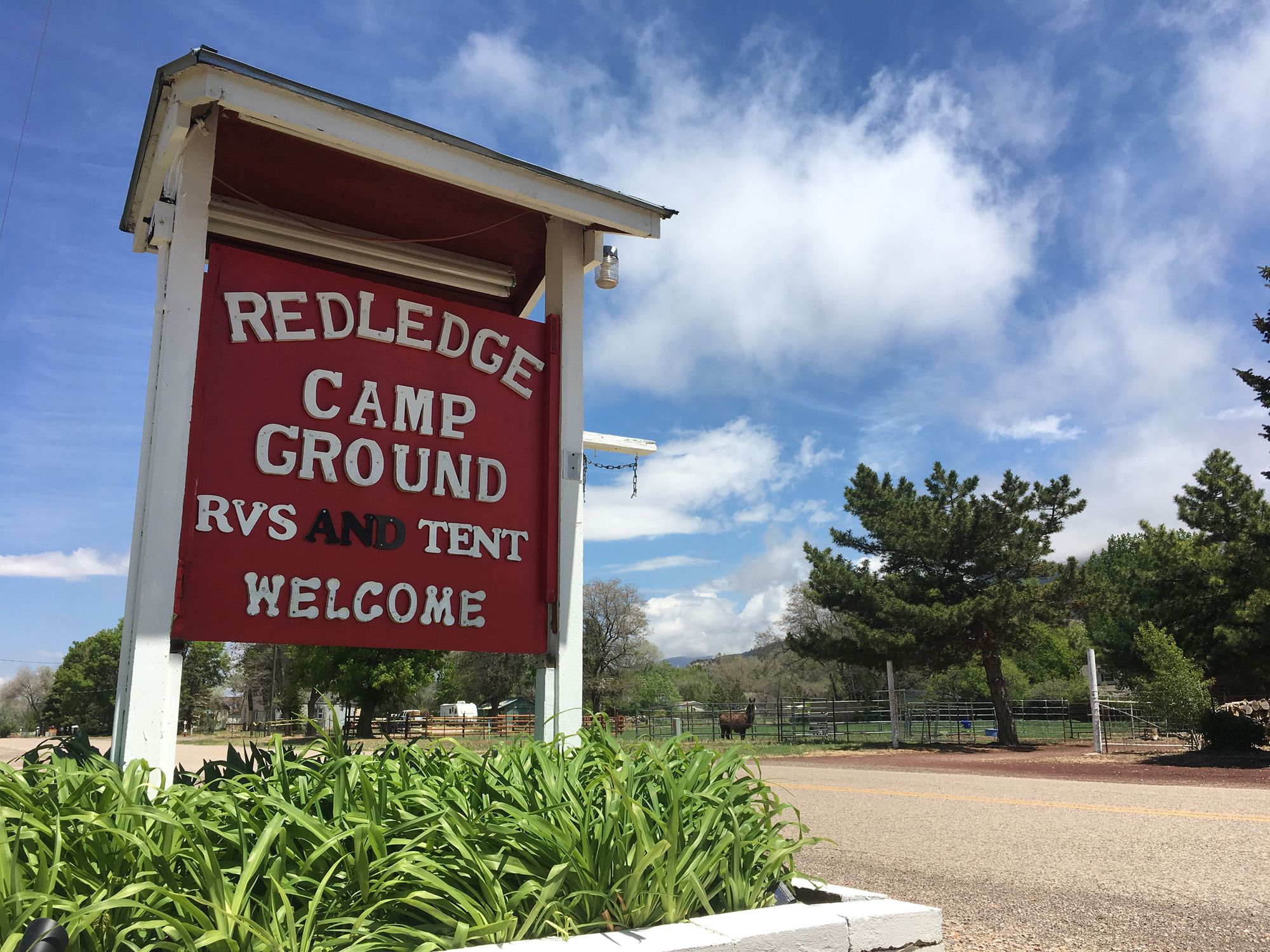 How much did we like staying here? We extended our stay twice! For a grand total of 15 nights.
Let Me Tell You Why...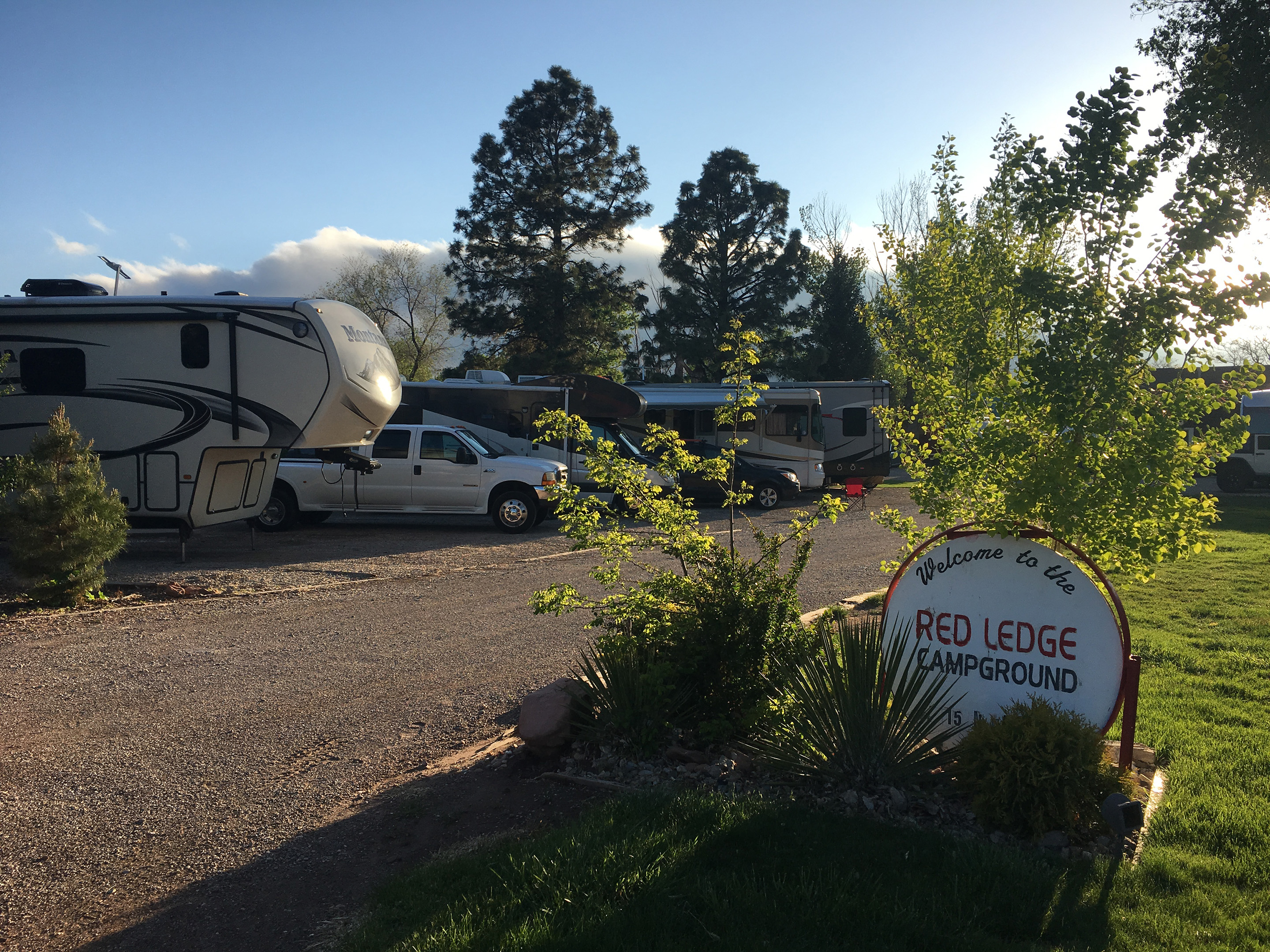 With our Passport America discount, we paid the full price of $30+tax for the first night, then half price at $15 for the next 6 nights. We were allowed to continue this pricing structure without leaving. That's a GREAT deal for being relatively close to Zion and Bryce.
This park doesn't have a web site, but Gail is awesome on the phone and made the reservation process a piece of cake. Upon arrival, she already had our paperwork filled out. She also gave us maps to the local area and suggested hikes.
If you want to avoid a credit card processing fee, have cash on you. You can also pay with a check.
So what do you get for that price? We happened to luck out and get the pull-thru spot right next to the hammock!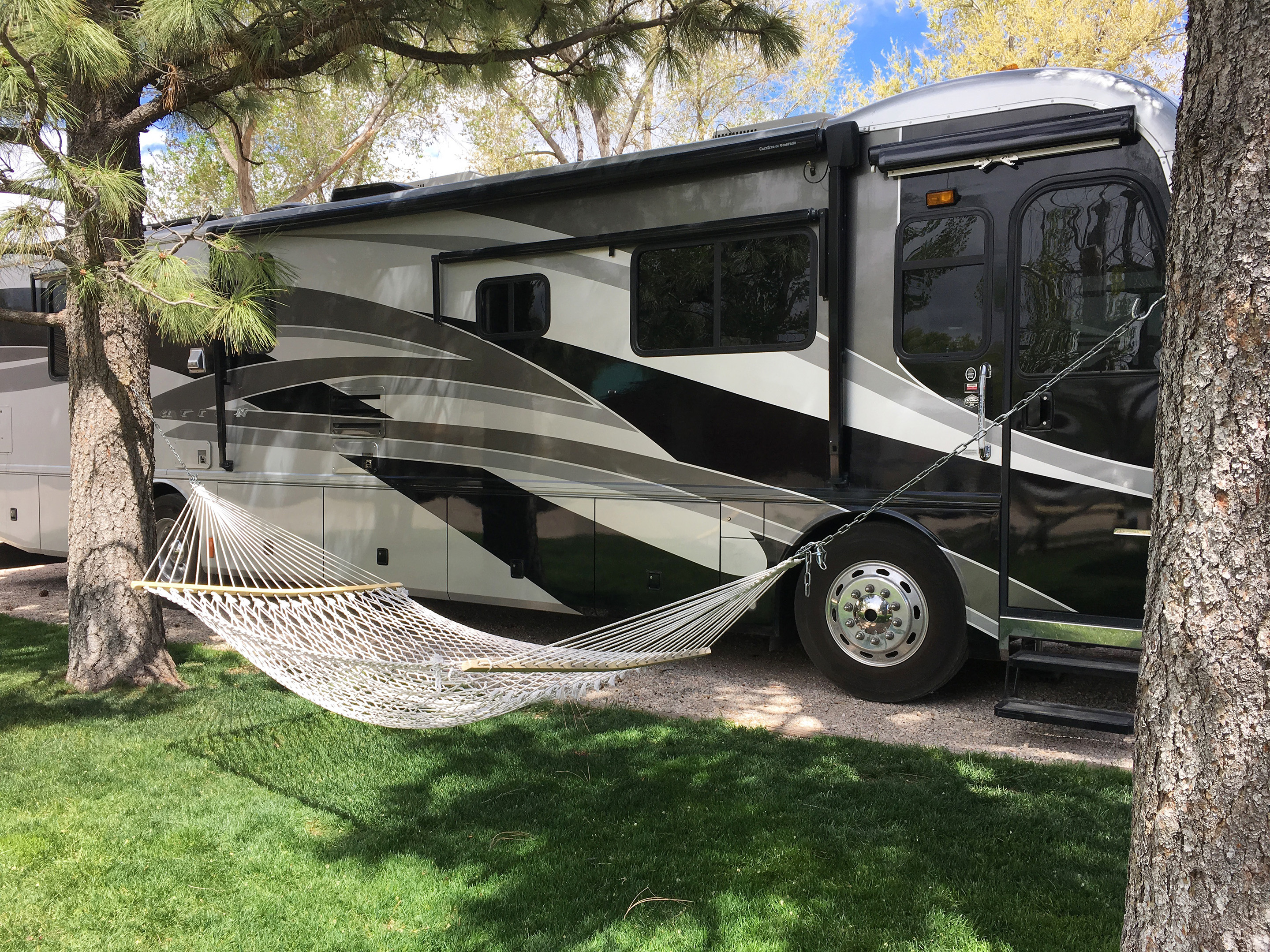 I would say that's definitely the best spot in the park. When we extended our stay for the second time (sorry Gail!) we had to move to a different spot because someone arriving that day had requested the hammock spot.
Here's a view of the hammock spot, from our new spot across the way: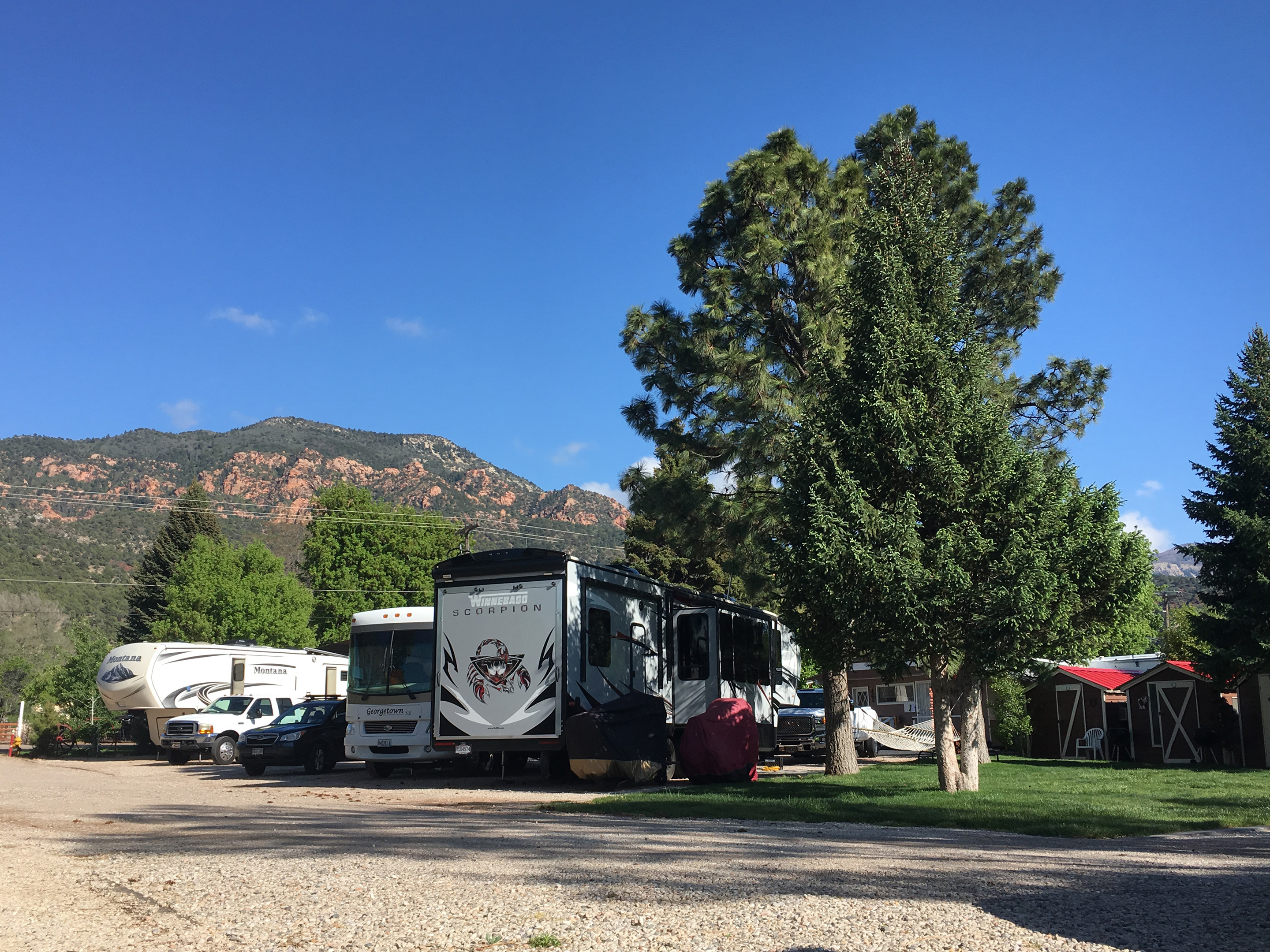 As far as amenities go, there's a hot tub, grills, outdoor sitting areas, a DVD library ($1 rentals), clean restrooms with showers, and a laundry room ($1 to wash, $0.50 to dry for 20 minutes). The office has $10 quarter rolls you can buy. There is also a small grass area for tent camping, and 3 cute "barns" you can rent, that have beds in them. Some RV'ers had family visiting and the barns were a great accommodation option!
Lily's Pro-tip
Make time to lay on the grass, belly up and enjoy the sun!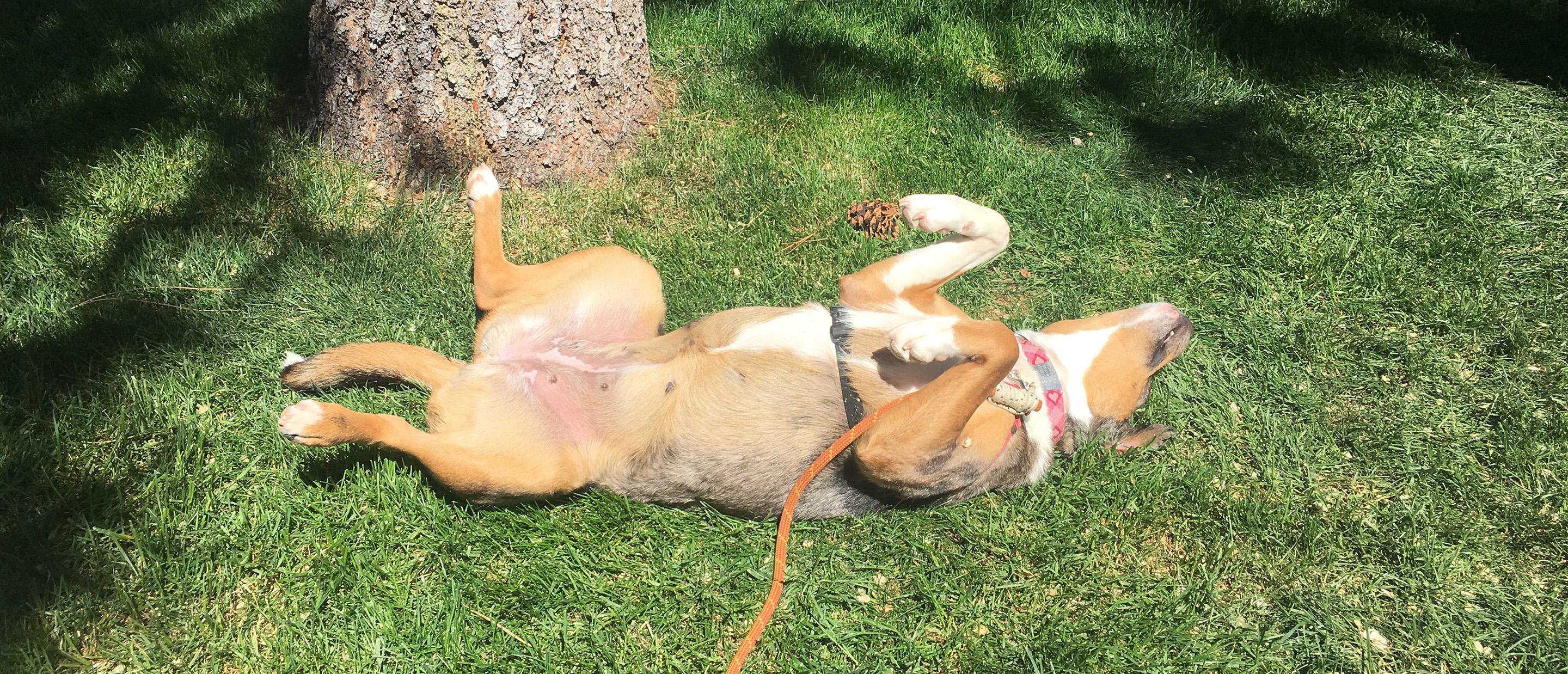 The Town Of No Services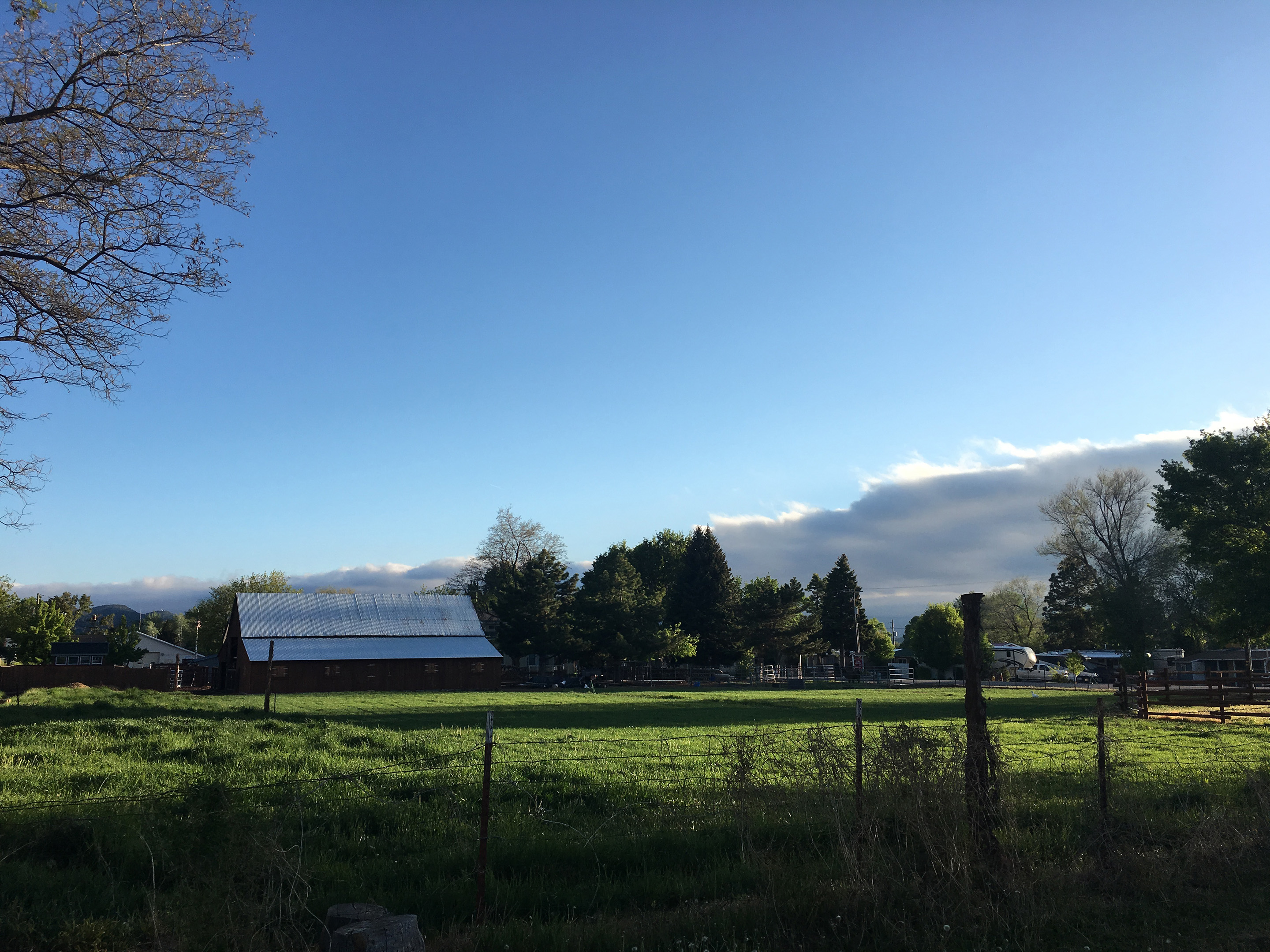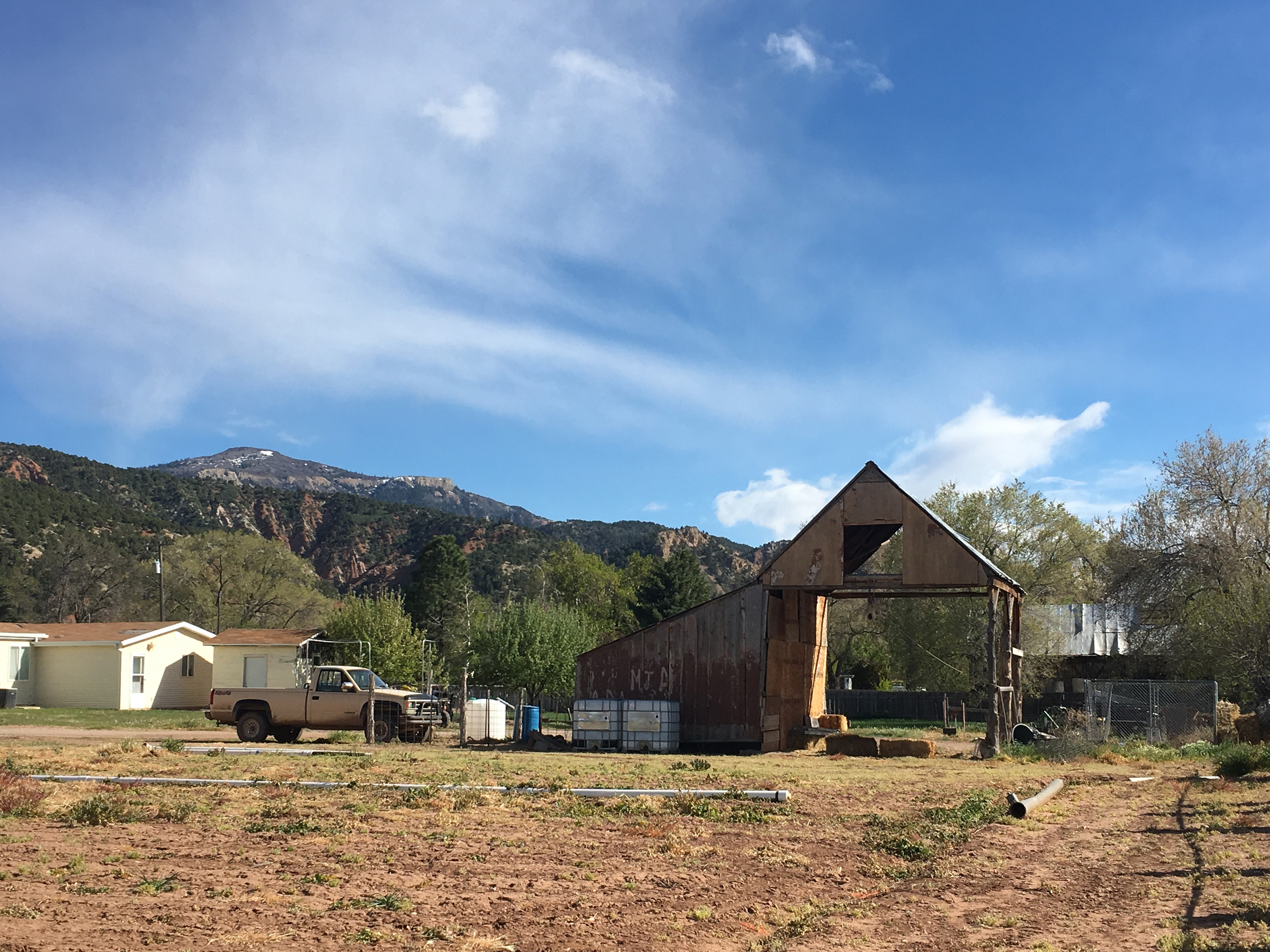 Now, let's talk about the town of Kanarraville... which has essentially, no services. No gas station, no corner store, no bank, etc. Cedar City is about a 10-15 minute drive and your best bet for things like that, so we found ourselves doing it every few days to stock up on groceries. Kanarraville does have a post office, but it doesn't have a service counter.
View of Old US 91, which is the main road that runs through Kanarraville: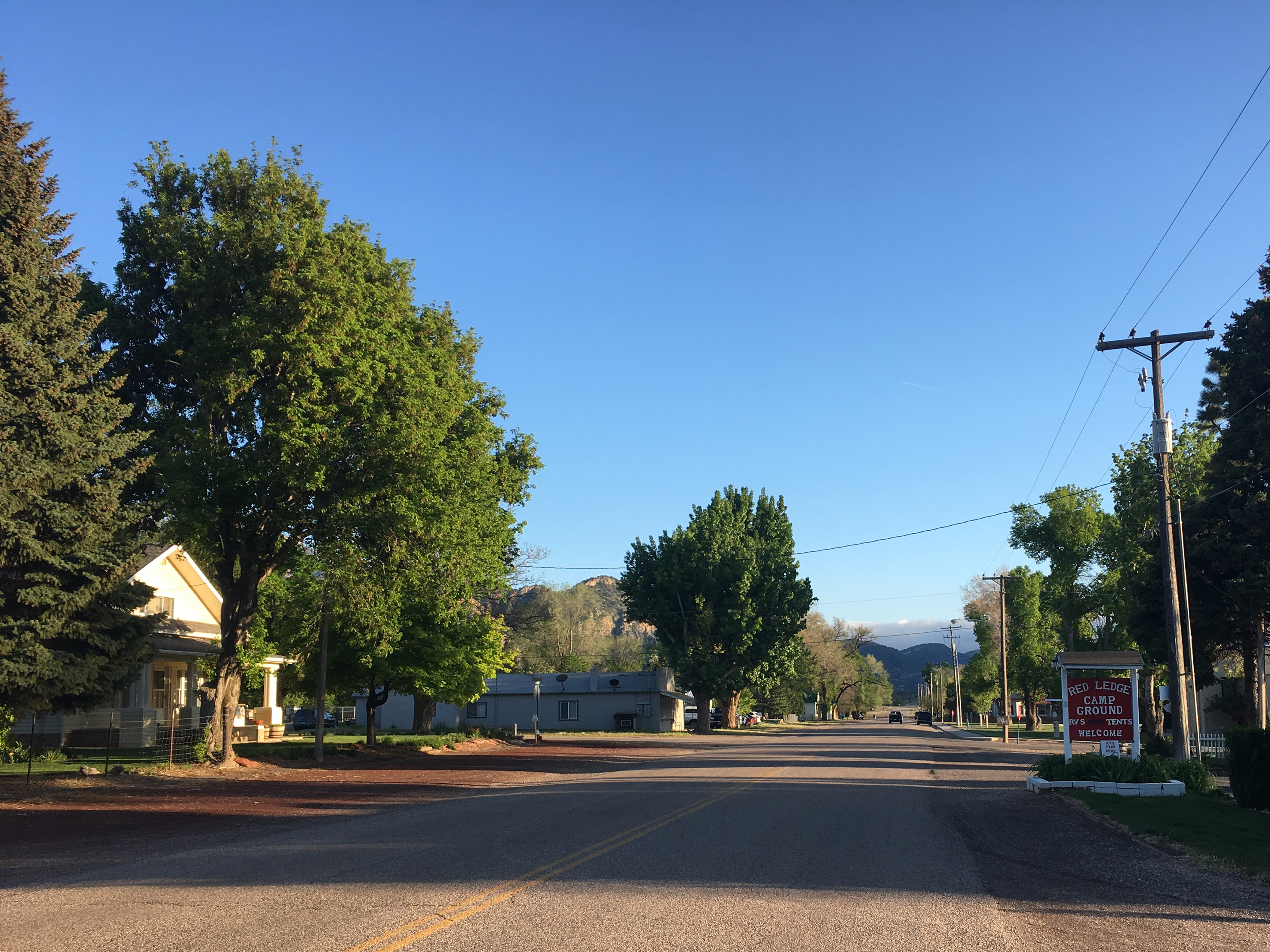 Since we were here for so long, I'm pretty sure we walked (or jogged) every inch of this town.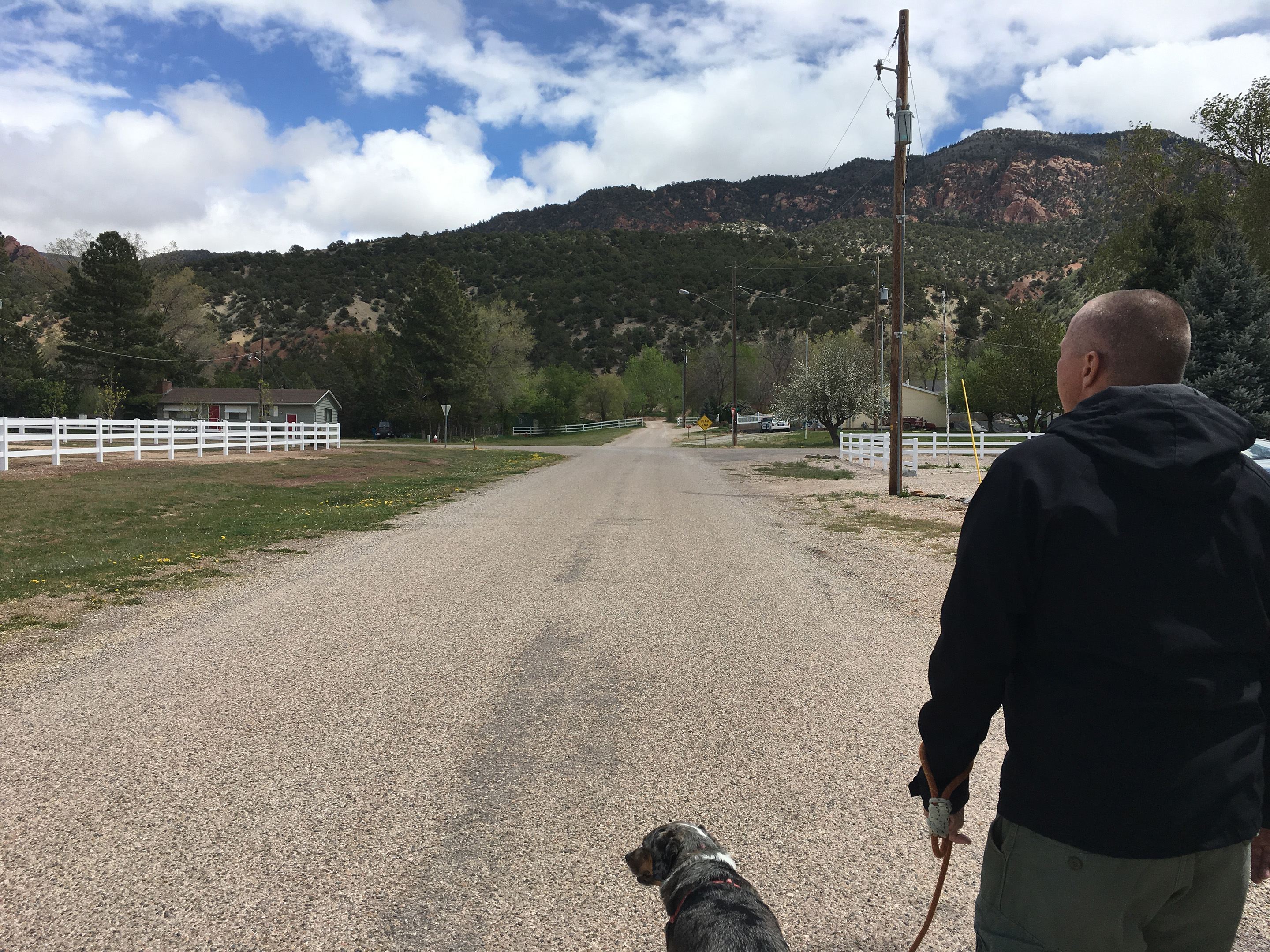 This is the kind of place where people wave and smile as they pass you in their car. The preferred mode of transport for local driving seems to be ATV. We saw many kids driving ATV's and many smiling dogs with them!
I would also argue that there's more animals than people in this town.
We saw cows, donkeys, horses, sheep, alpacas, chickens, dogs, cats, and at least one llama (his name is Red and lives across the street).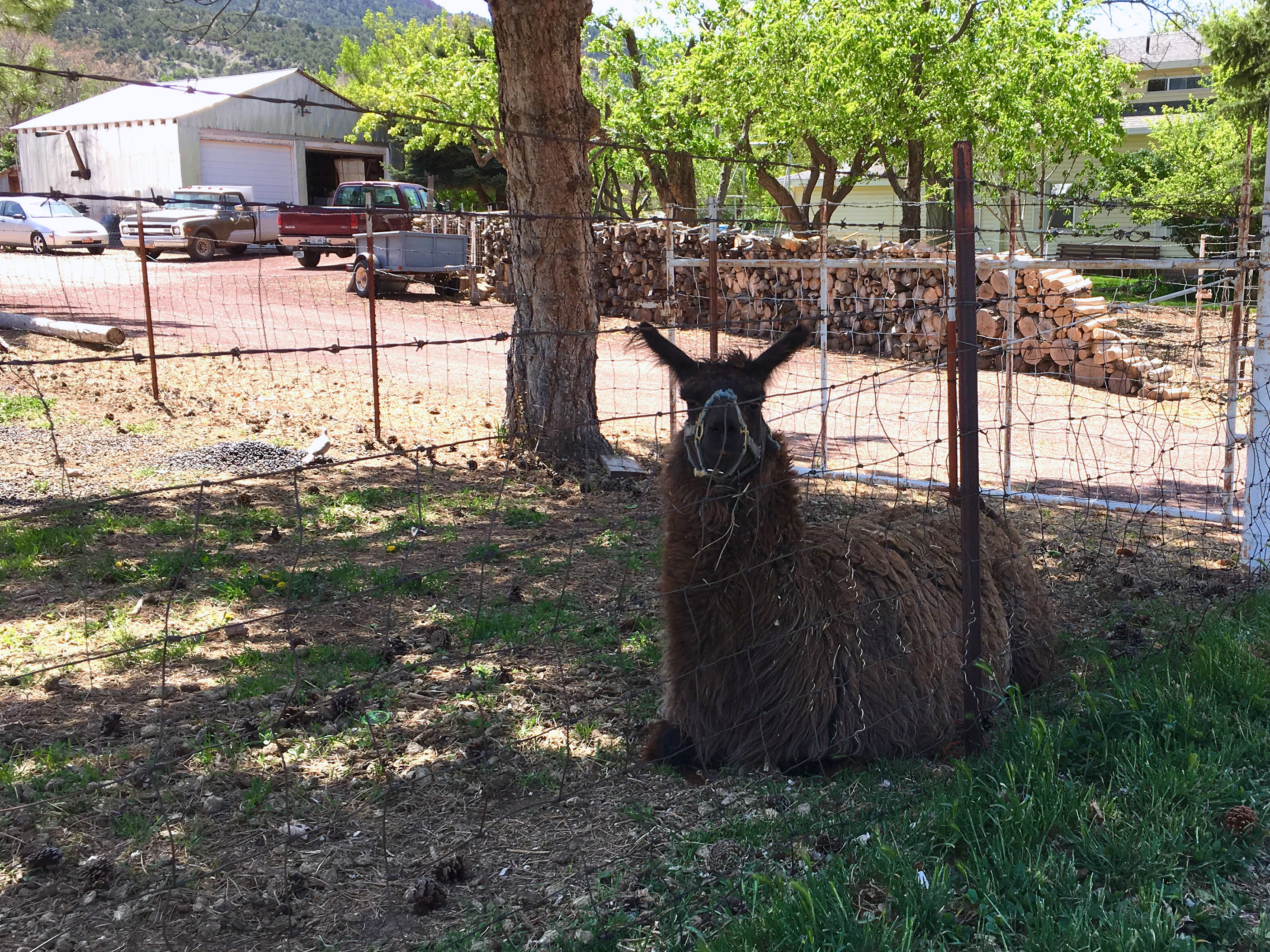 Hikes in Kanarraville
There are two really great hikes that are walkable from the RV park.
Spring Creek Canyon
This hike is on BLM land. There is no charge to park and dogs are allowed. The first time we drove and parked at the trailhead, the second time we just walked from the RV park (that will add about 1.1 miles each way onto your walk).
Walking to the trailhead from the RV park: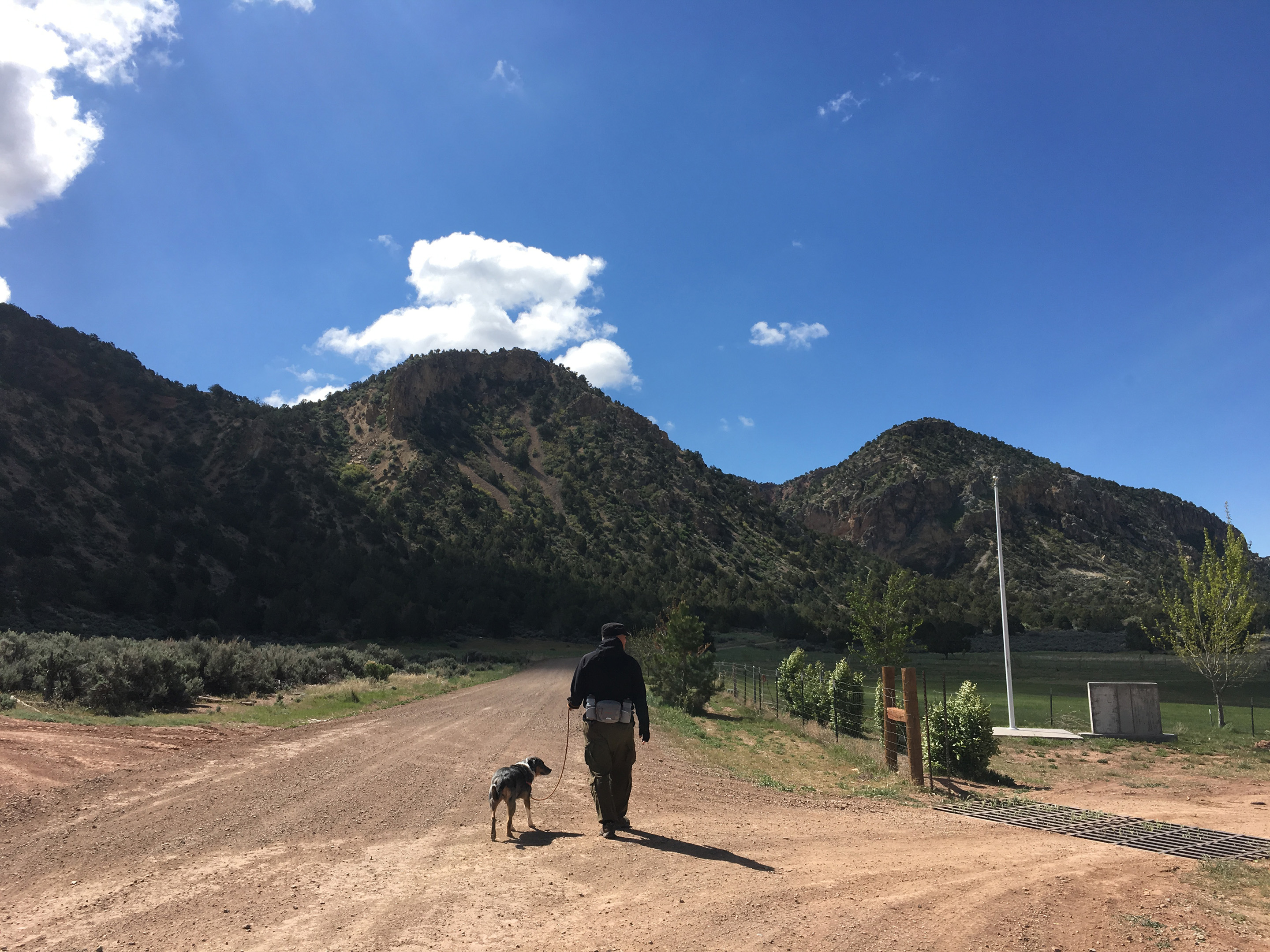 Most of this trail is easy hiking.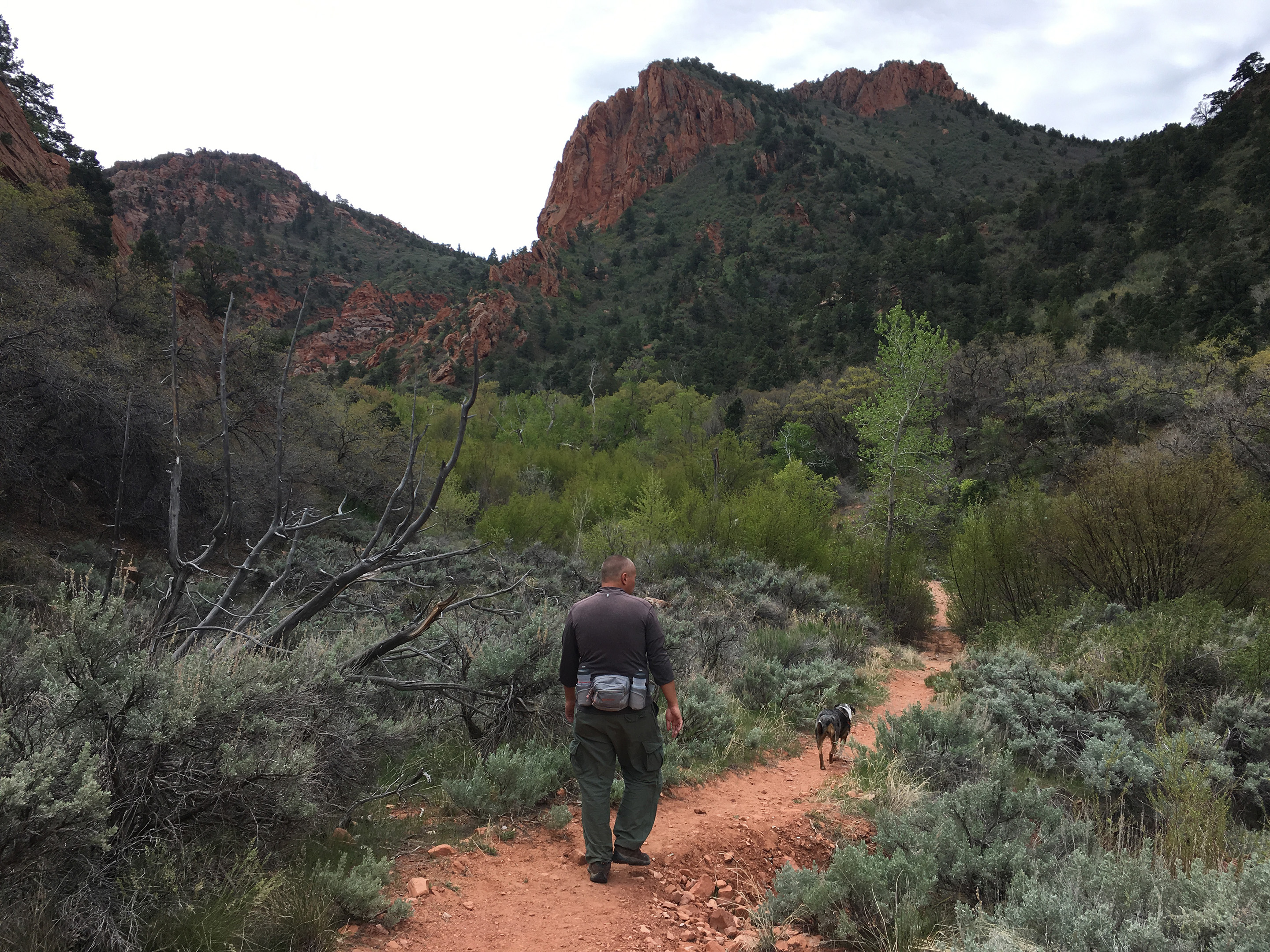 There are several creek crossings which Lily LOVED.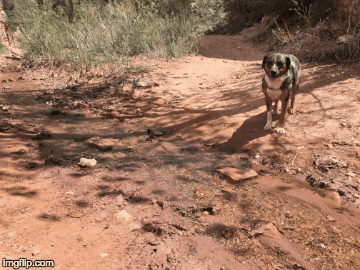 As you near the mountains, you'll enter a slot canyon which at times has you walking in a dry creek.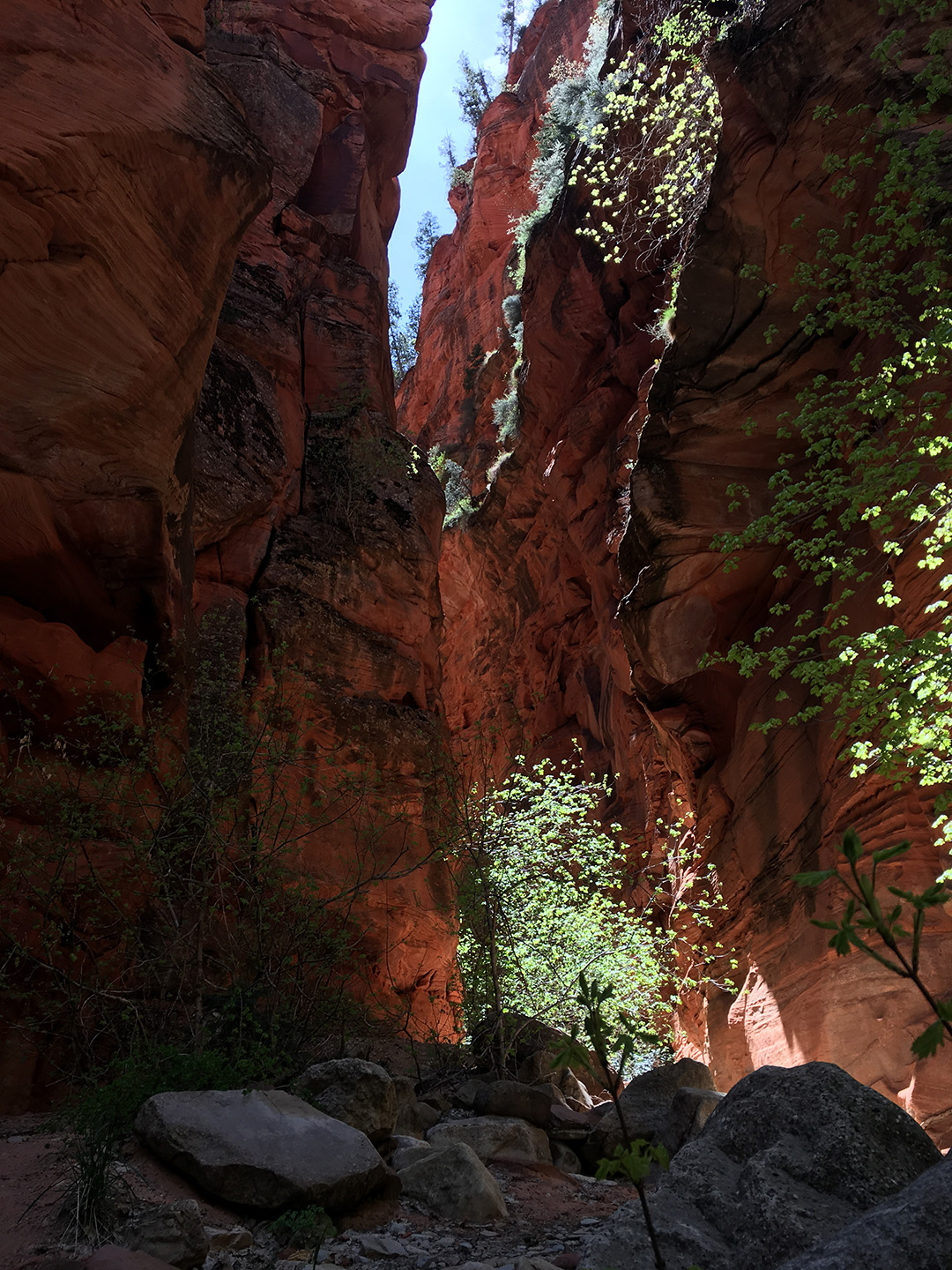 The boulders and small rocks were tougher for Lily so after a few times of Tommi having to pick her up, we decided to turn back: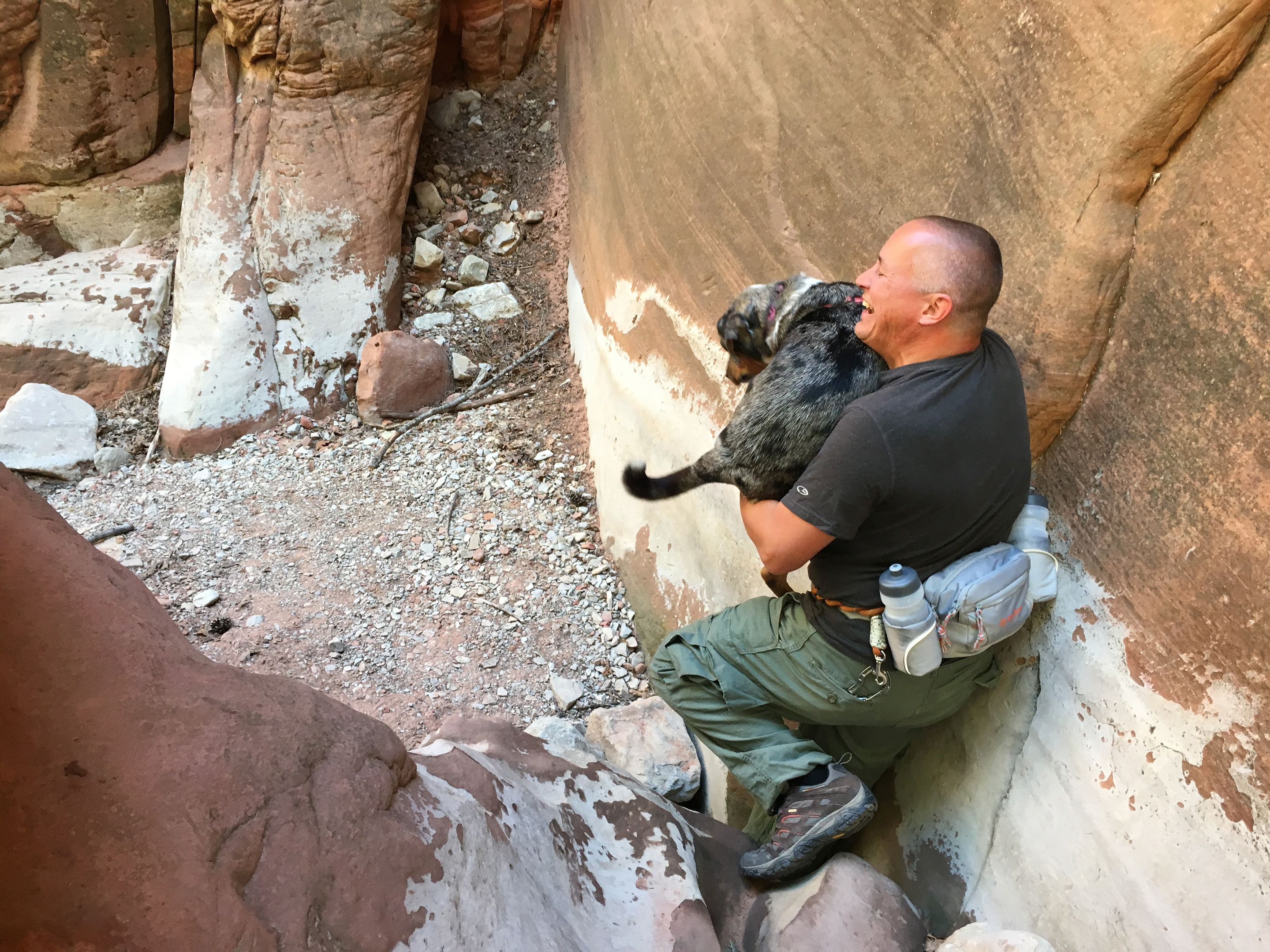 Gail had warned us to watch out for rattlesnakes on this hike, but we didn't see any here (late April).
Round trip, and parking at the trailhead, our hike was about 6 miles. If you're without a dog, or your dog is used to bouldering, you could go further.
Kanarra Falls
UPDATE! As of May 1st, 2018 Kanarra Falls is now under the management of Iron County. They have installed a manned fee both and are charging $8 permit fee per person to do this hike. They state ABSOLUTELY no pets. Find out all the new info here: http://kanarrafalls.com/
Original post:
This is the hike that most people come to Kanarraville for. If you only have time for one hike in Kanarraville, do this one. Apparently it gets very busy and has created somewhat of a nuisance for the town over the years, so pack out your trash and make sure you park legally. Your options are the designated parking lot near the trail head, which has a $10 fee: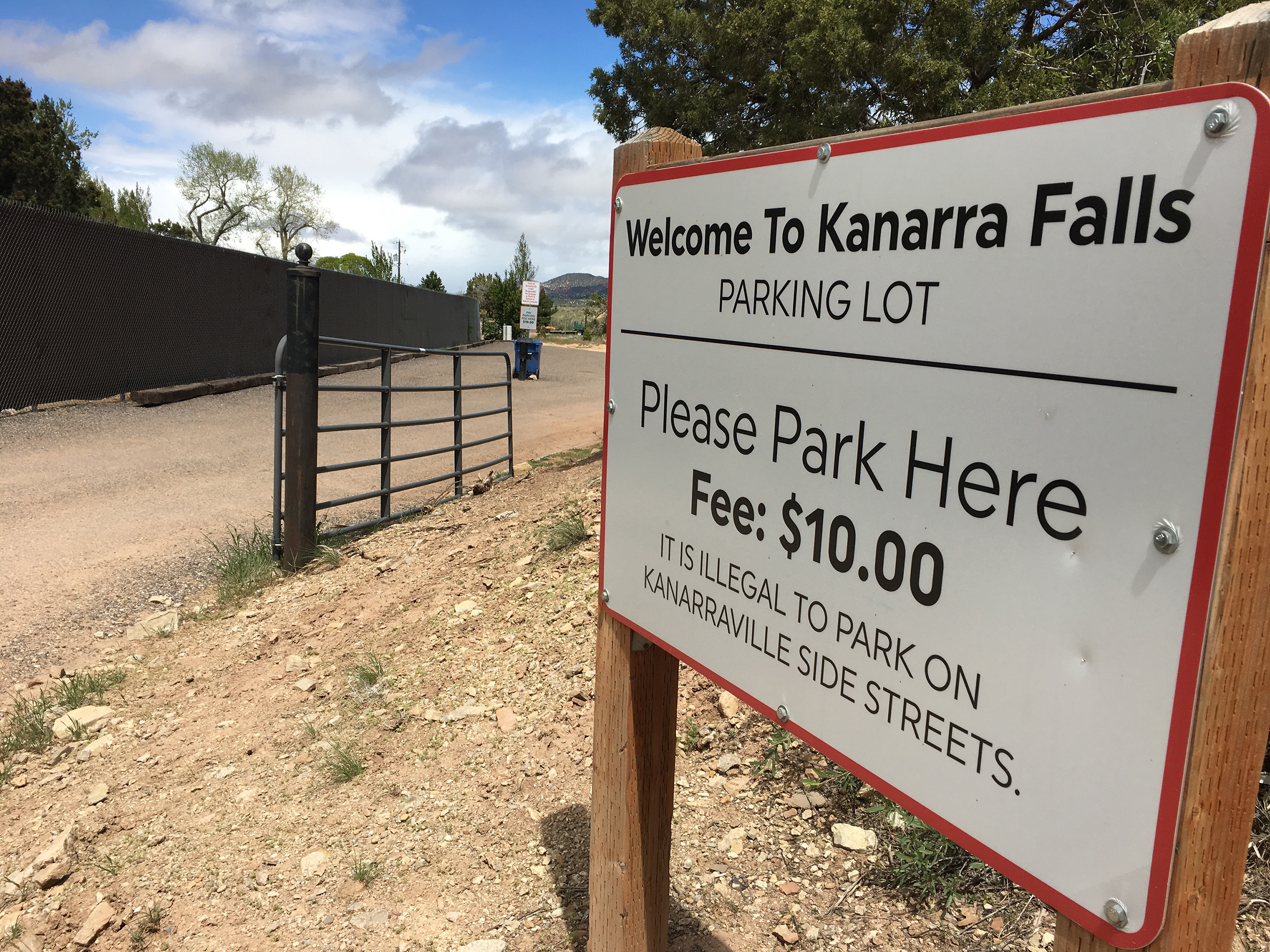 ...or the Town Hall lot (no charge) and walk about half a mile to the trail head.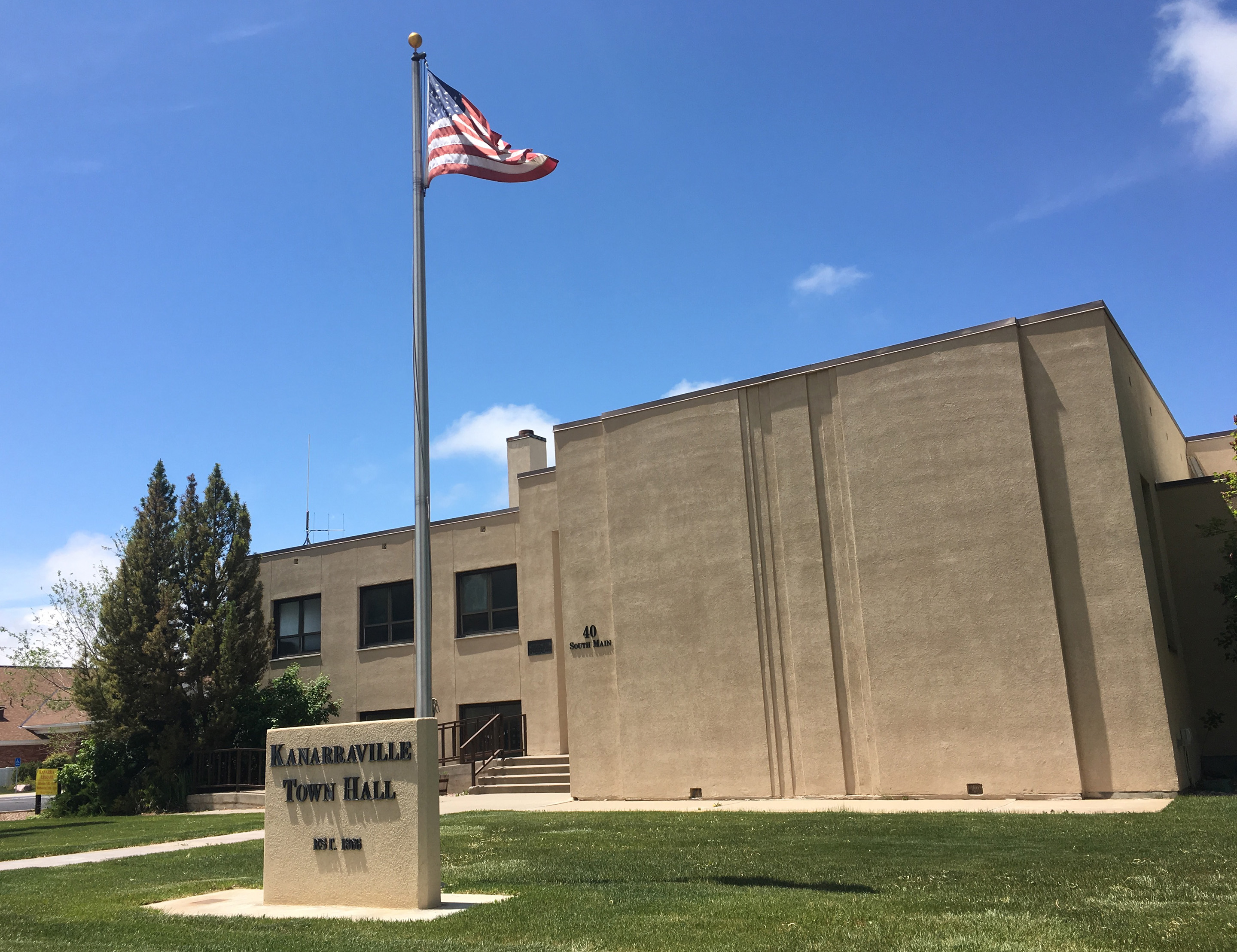 If you're looking for a bathroom break before you start, there are port-a-potties in the Kanarra Falls parking lot.
This is a beautiful hike that starts out easy and gets more difficult as you go. Pay attention to what trail you're on. There is a main trail and then some offshoots; they lead to the same overall destination, but differ in difficulty and feel. Some trails lead you more toward the stream crossings, while others lead you steeply uphill or downhill to avoid the water. If you don't like an obstacle you've encountered, backtrack a bit and take a different route. As long as you're following the creek, you're all good.
Speaking of the creek, you're going to be in it! A lot! So don't bother jumping over the first crossing. Just walk right in.
You will be walking through this: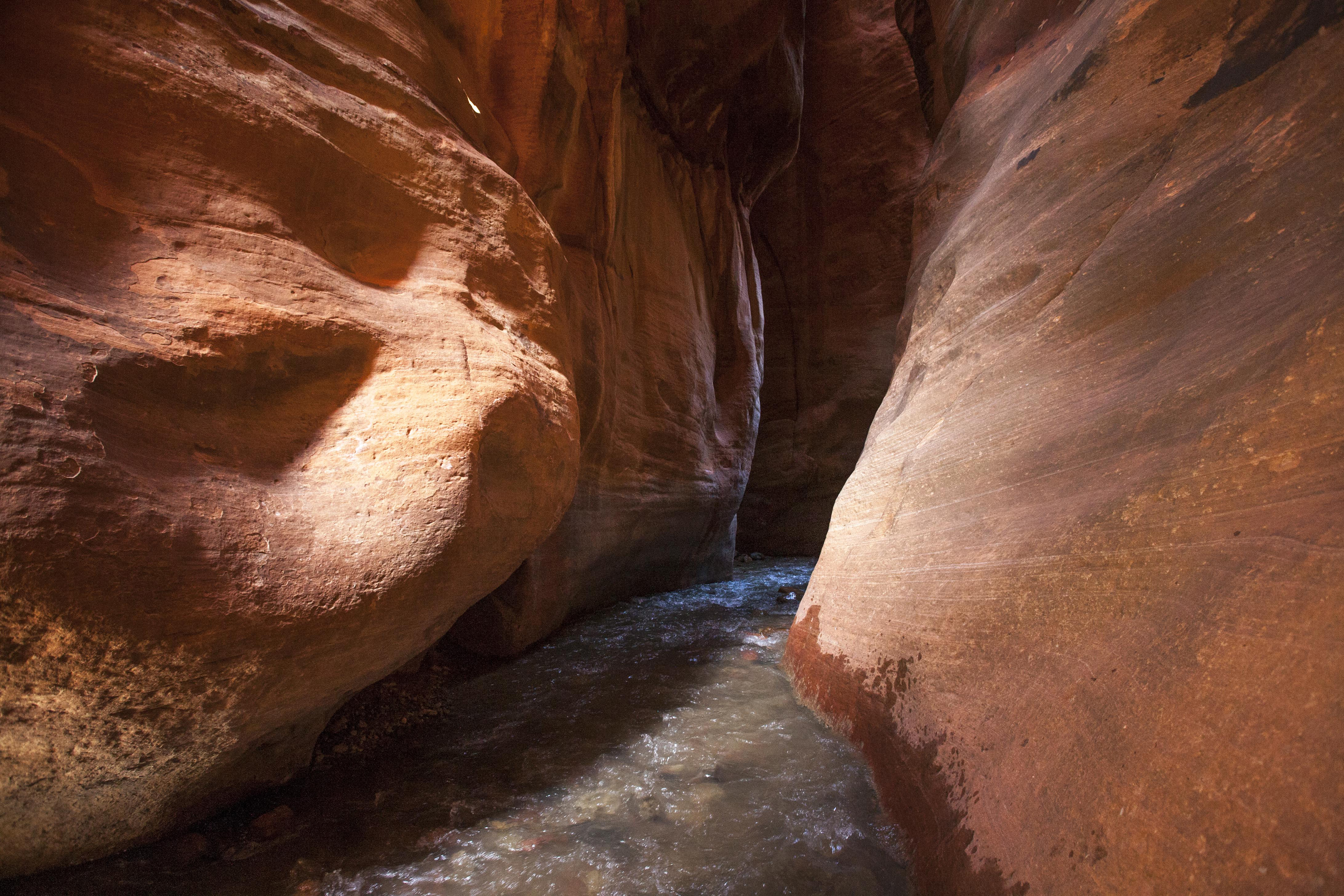 But it will all be worth it when you get to the end!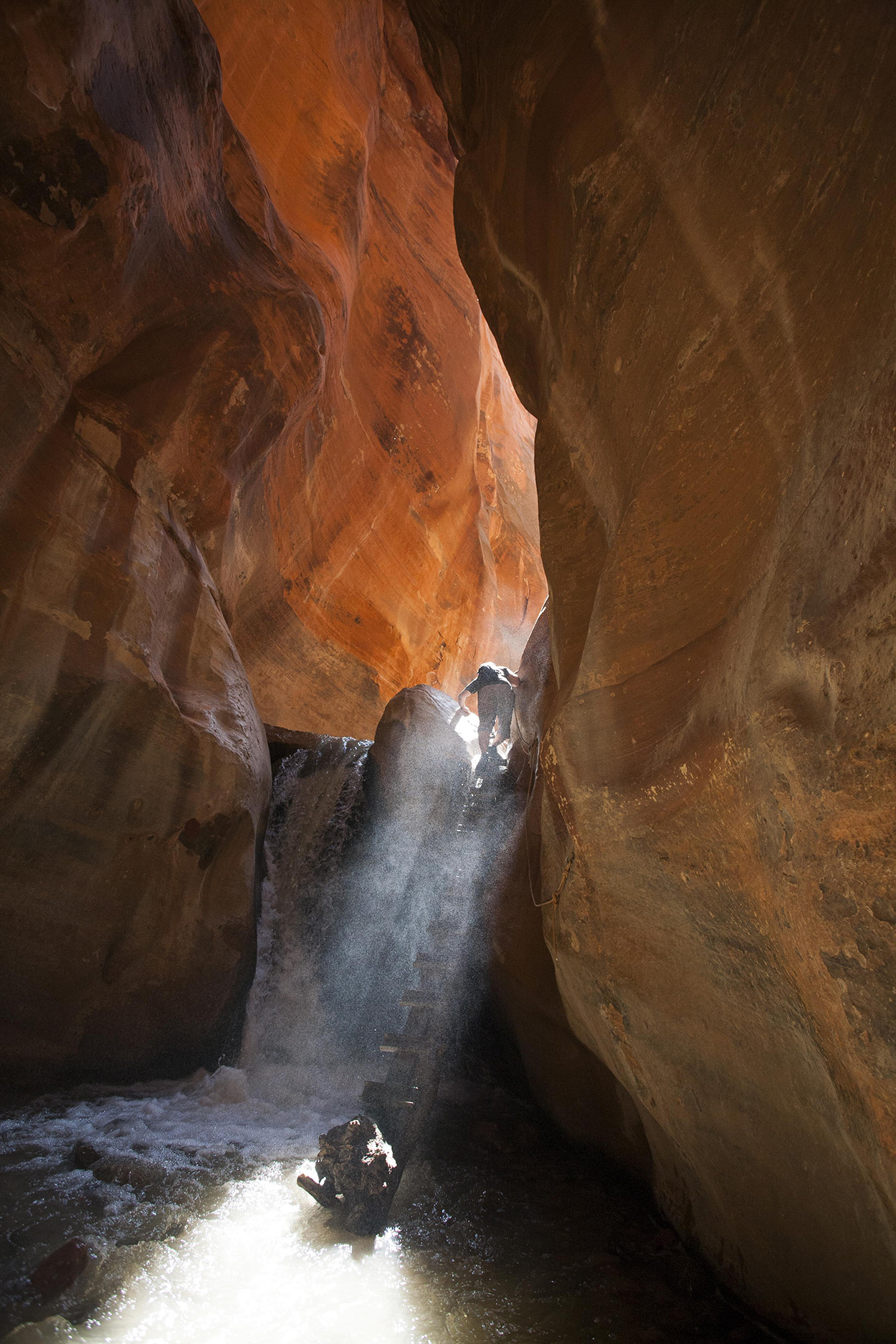 Wear good shoes/socks and bring plenty of water. Beware of snakes. On two different days, near the first creek crossing we saw this snake crossing the path: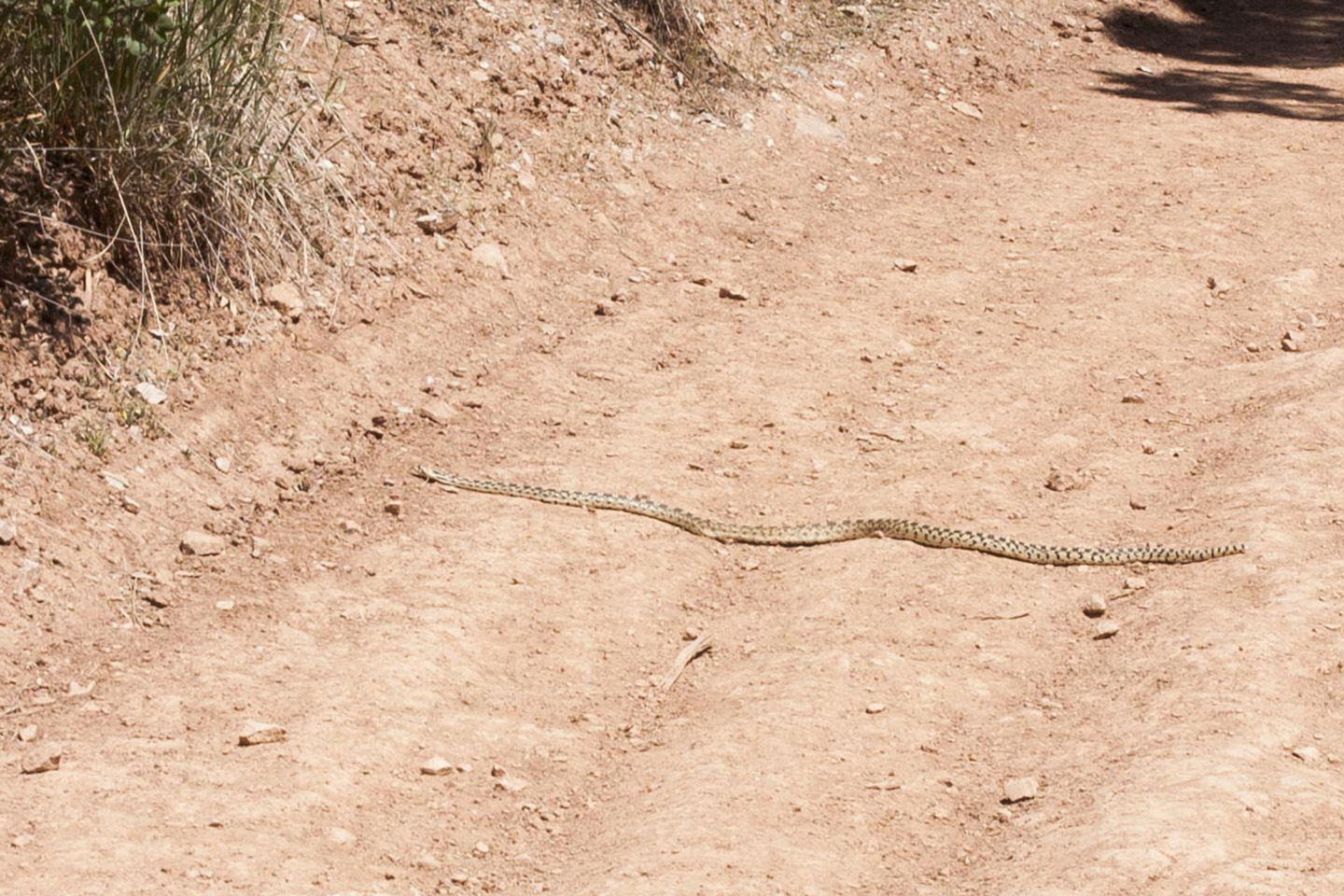 We found mixed information about bringing dogs on this trail. Some web sites say it is dog friendly, others say it's not. There is a sign on a gate near the start of this trail that says NO DOGS but if the gate is open, you wouldn't see the sign. All that being said, there were a lot of dogs on this trail.
Day Trips
Because of it's location, many people staying here used this park as a home base while visiting Zion and Bryce. We had just come from Zion, but hadn't seen Bryce yet. The drive is about an hour and a half, so we loaded up the Jeep and took the dogs with us so they wouldn't be alone all day. We also used the drive to scout out a boondocking location to bring the RV for the following week.
Family photo from Bryce, on the dog friendly Sunset Point to Sunrise Point (paved) walkway: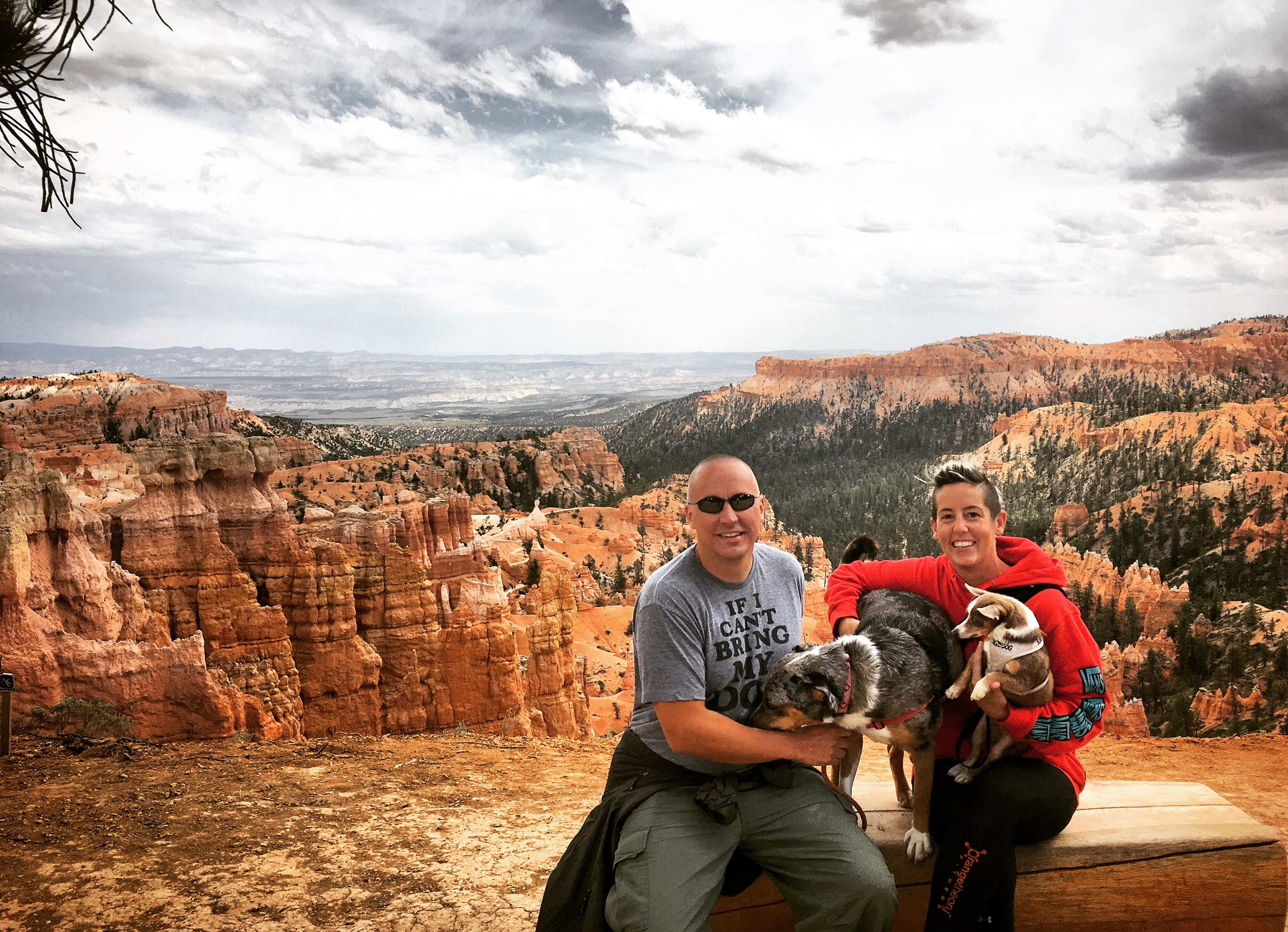 We also took a day trip to the Dixie National Forest, east of Cedar City. We knew there would be snow up there, because of it's elevation, but we didn't realize so many of the trail roads would still be closed (in early May). We had planned to do the Cascade Falls hike but the road to it was closed, so instead just walked around the nearby Duck Creek Campground: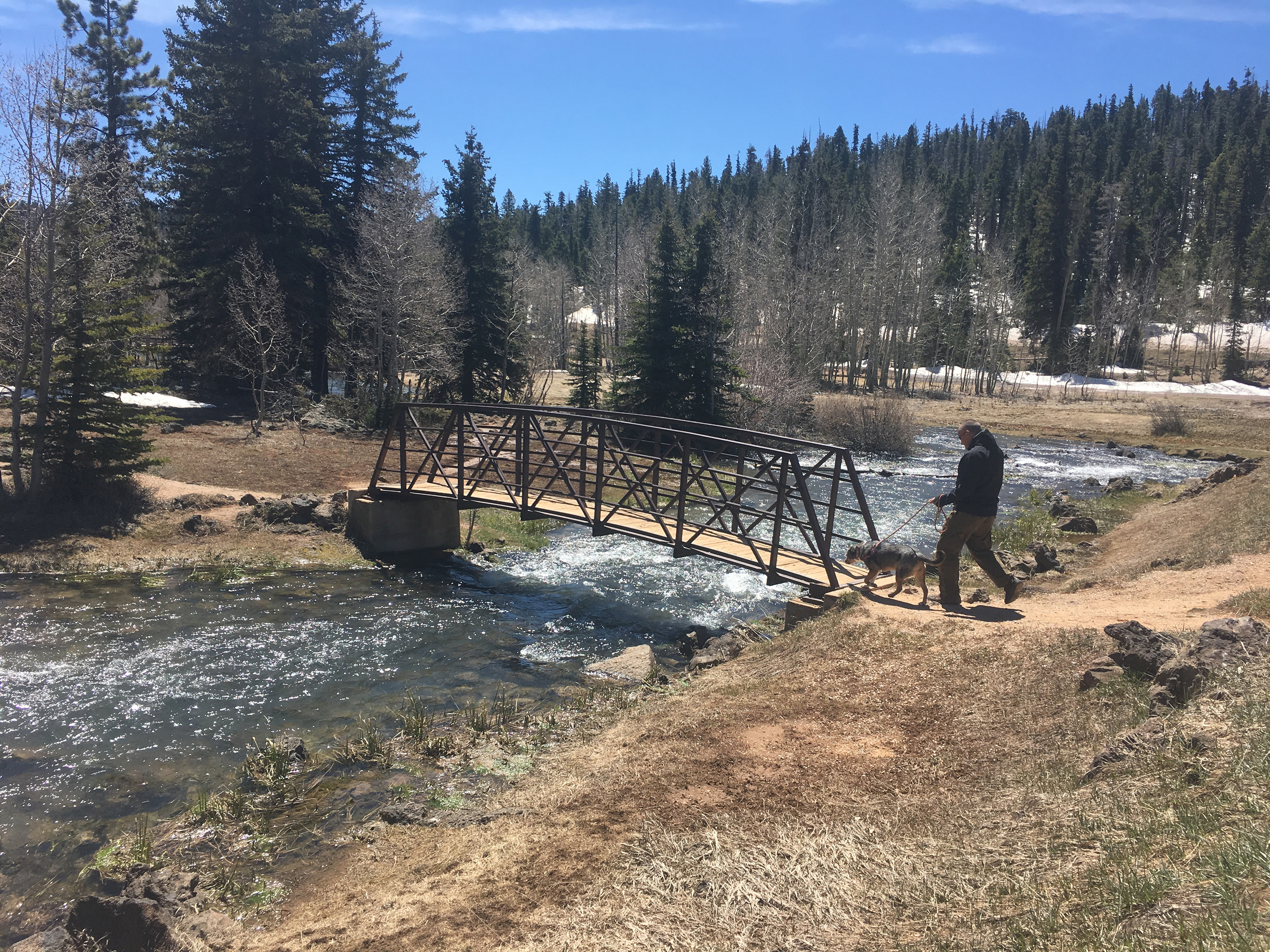 Moving On
We have been traveling at a hectic pace, all the way from starting our adventure until now, so it was really nice to take the time to slow down, and Kanarraville was a great place to do that in!
Red Ledge RV Park & Campground
15 N Main St
Kanarraville, UT 84742
http://passportamerica.com/campgrounds/ut/redledgervparkandcampground207
So... where to next?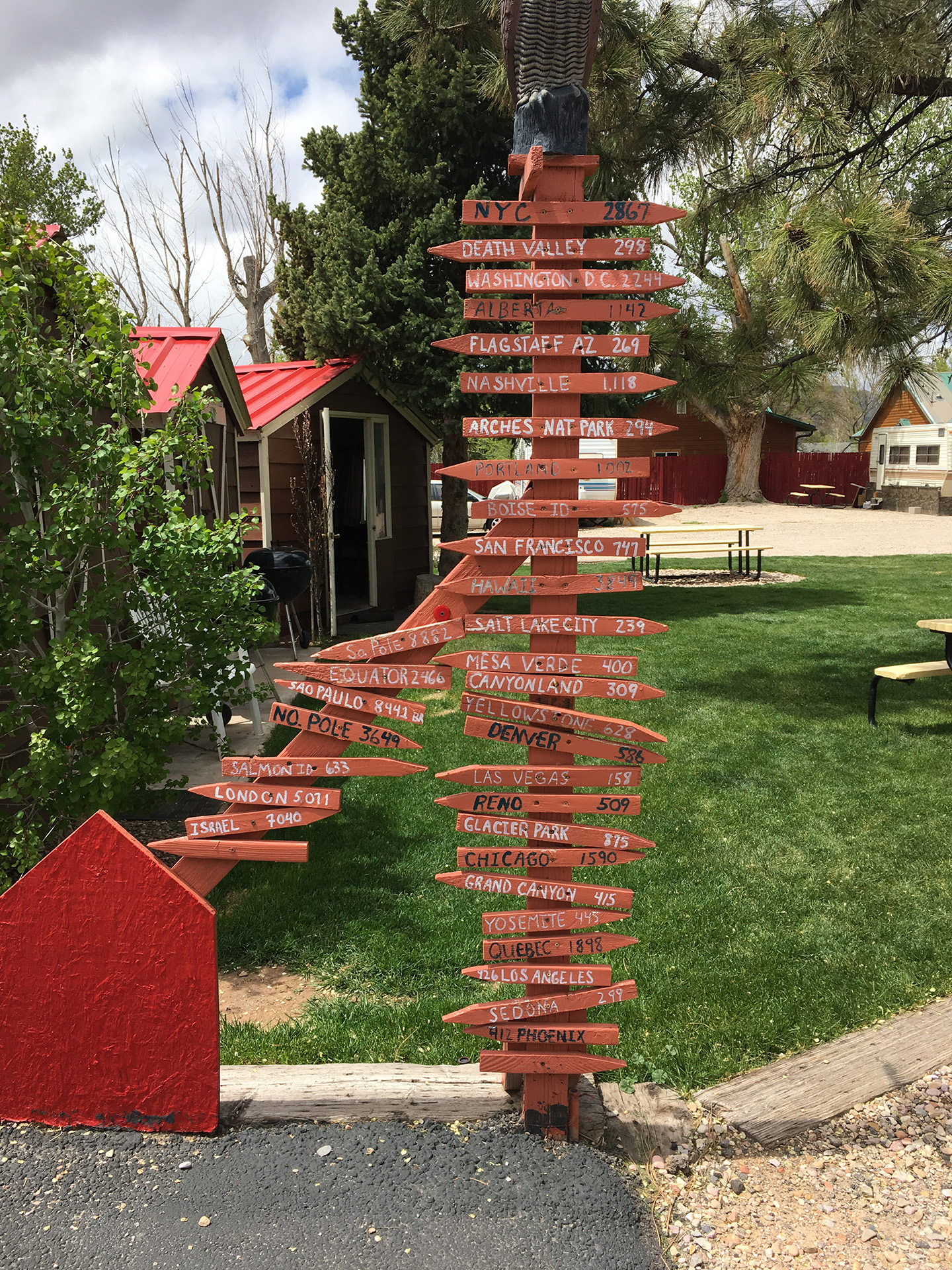 ... Boondocking near Bryce Canyon National Park!