RV park review: Marin RV Park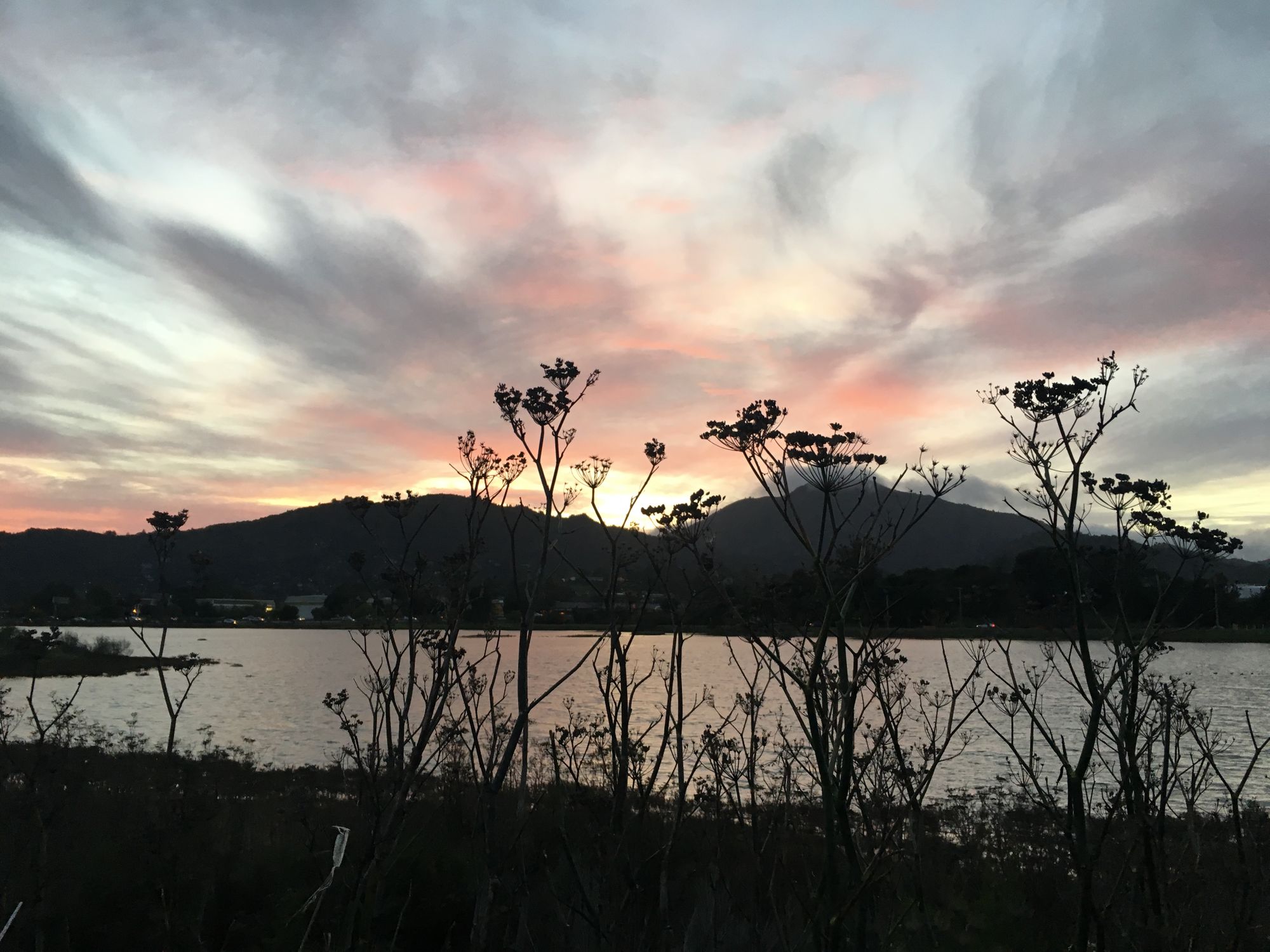 We stayed at the Marin Park from late October through January. The layout of this park is a one-way U-shaped driveway. They tend to put the larger class A's (like us) on the first straightaway, while those with smaller rigs tended to turn the corner and park on the second straightaway. This seems to be due to the driveway being a bit wider on the Class A side. No pull through spots but parking was very easy.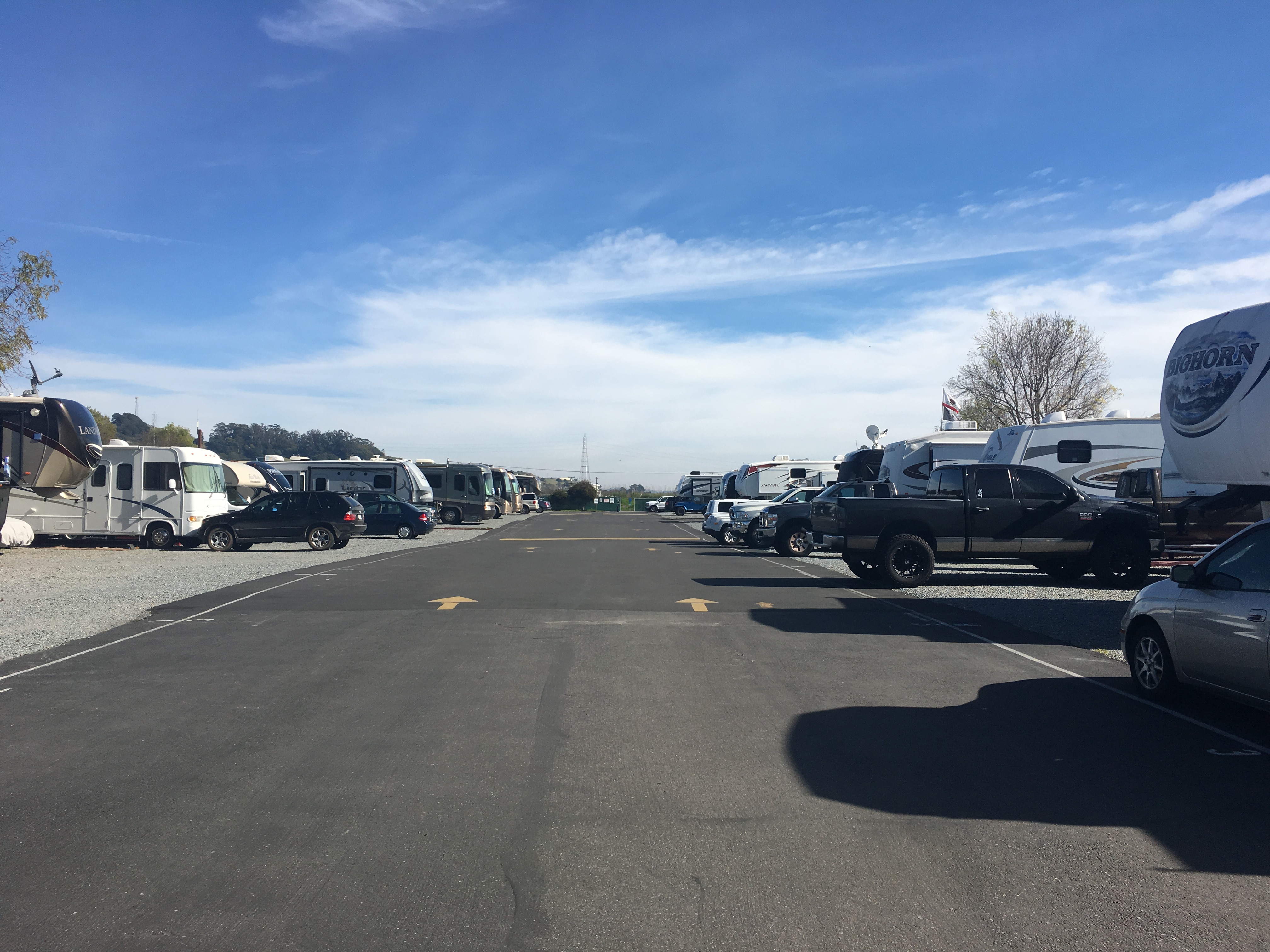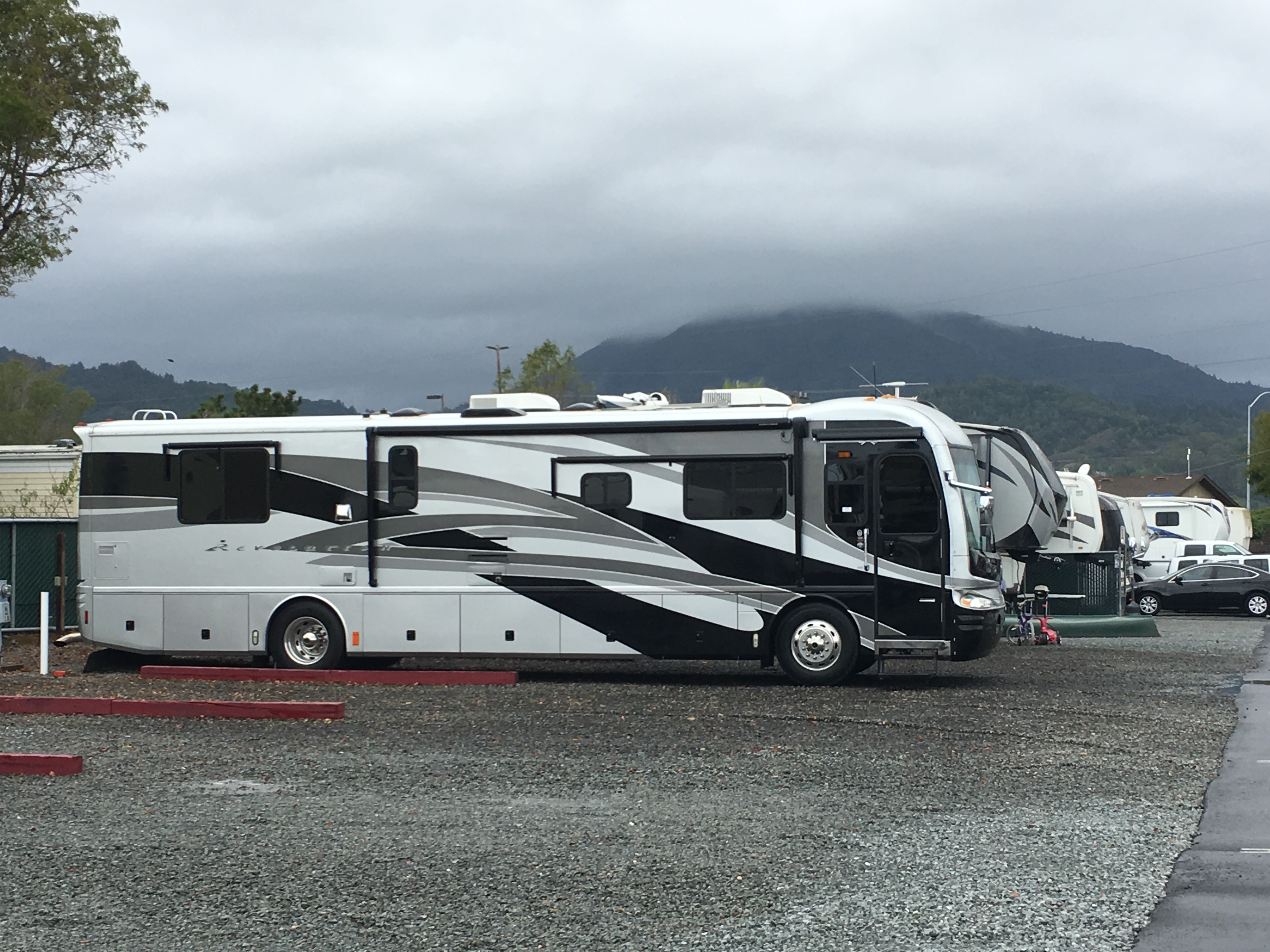 Here are some things we think would be good to know if you're planning a visit to this park:
Transportation
From the park, you have several options to get to San Francisco. When I worked in SF, the one I used the most was the Larkspur Ferry, which is a 12 minute walk from the park. The pedestrian walking path on the bridge is narrow and not very pleasant due to the car traffic being so close, but after that it's a nice walk on a bike path. The ferry is about $11 each direction, but if you get a Clipper card it drops to about $7.25 per direction, so if you're planning on commuting you should consider getting one. The ferry runs often, takes about 30 minutes and drops you at the Ferry Building in San Francisco. The second option I used a handful of times was Uber. This is pricey and runs about $30-$35 one-way. Lastly, there is a bus option which I believe is the cheapest mode of transport but I never used it because the Ferry was so nice (and allows dogs if they're in a bag).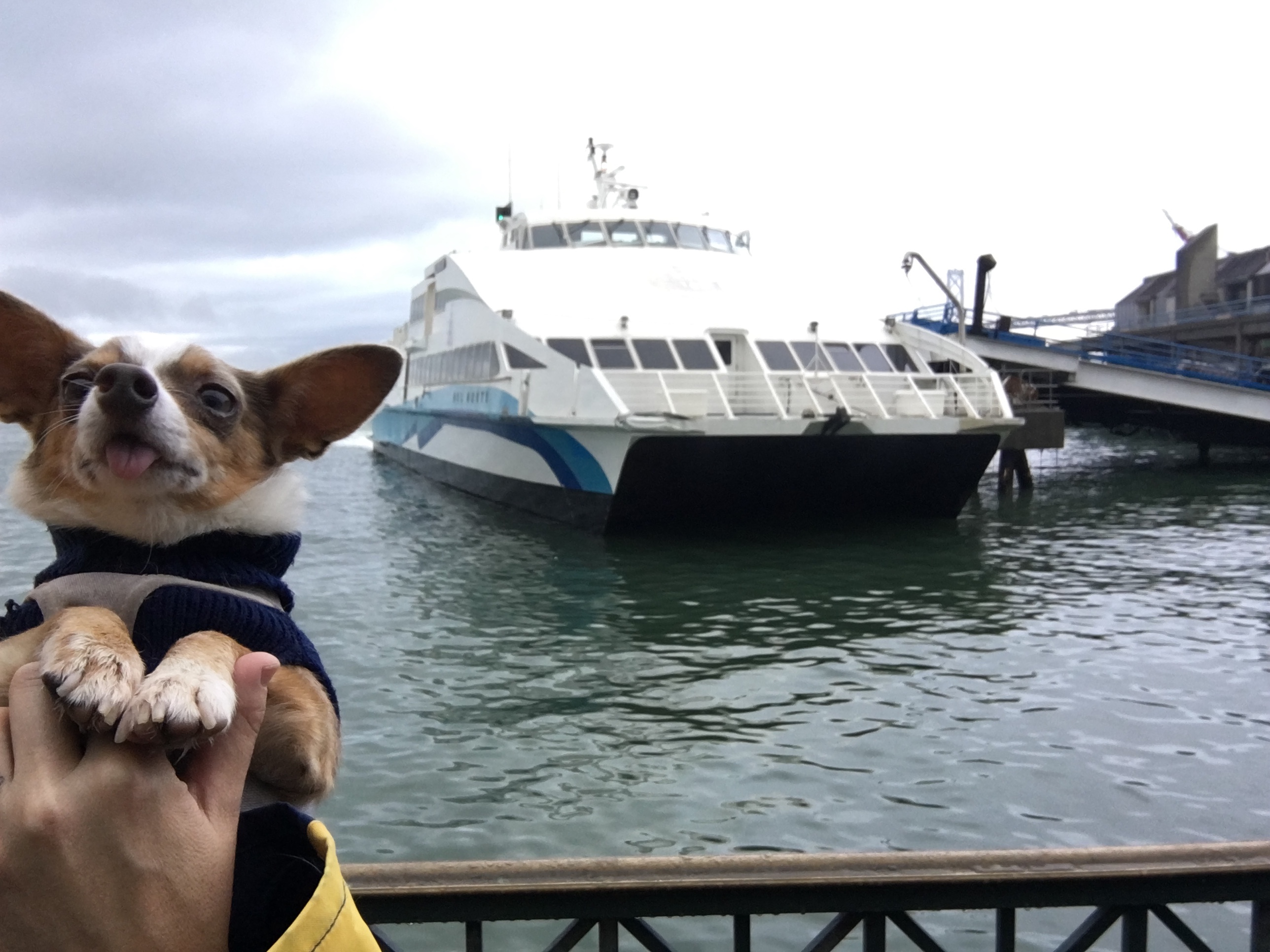 Walkability
In addition to being close to the Ferry, you can walk to most services you may need. Trader Joes is an under 10 minute walk. Safeway is about a 20 minute walk which is part of a larger outdoor mall with more shopping. There seem to be endless bike/walking paths in this area, so if you have dogs or like to exercise you'll have lots of options!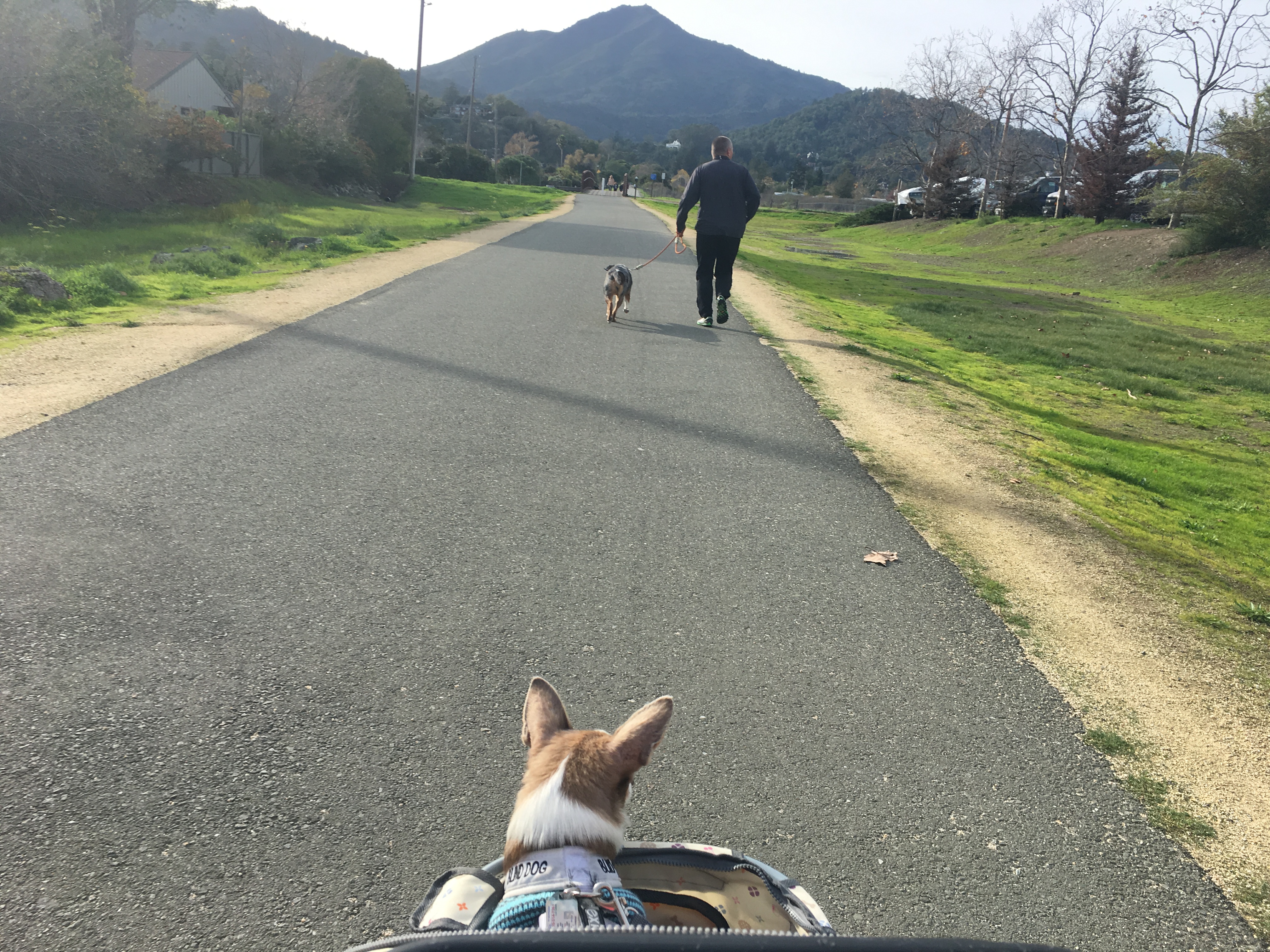 Park Facilities
They have men's and women's shower and restroom facilities. These were always clean and the water pressure and hot water was good. The laundry room is open 8am-8pm and has a coin machine (which always worked), the normal things like detergent, drinks and snacks, and most recently they installed a vending machine for necessities you have have forgotten like toothpaste, deodorant, etc. The park office sells basic RV gear like sewer hoses.
The washing machines broke from time to time but were fixed quickly. The cheapest washing machine cost about $1.75 where the front loaders were $4-$5. Drying was 25 cents per 5 minutes. There is a small pool, but it's closed during the winter. Wifi is free (limited to about 1GB per day), but not quite reliable enough to use for work.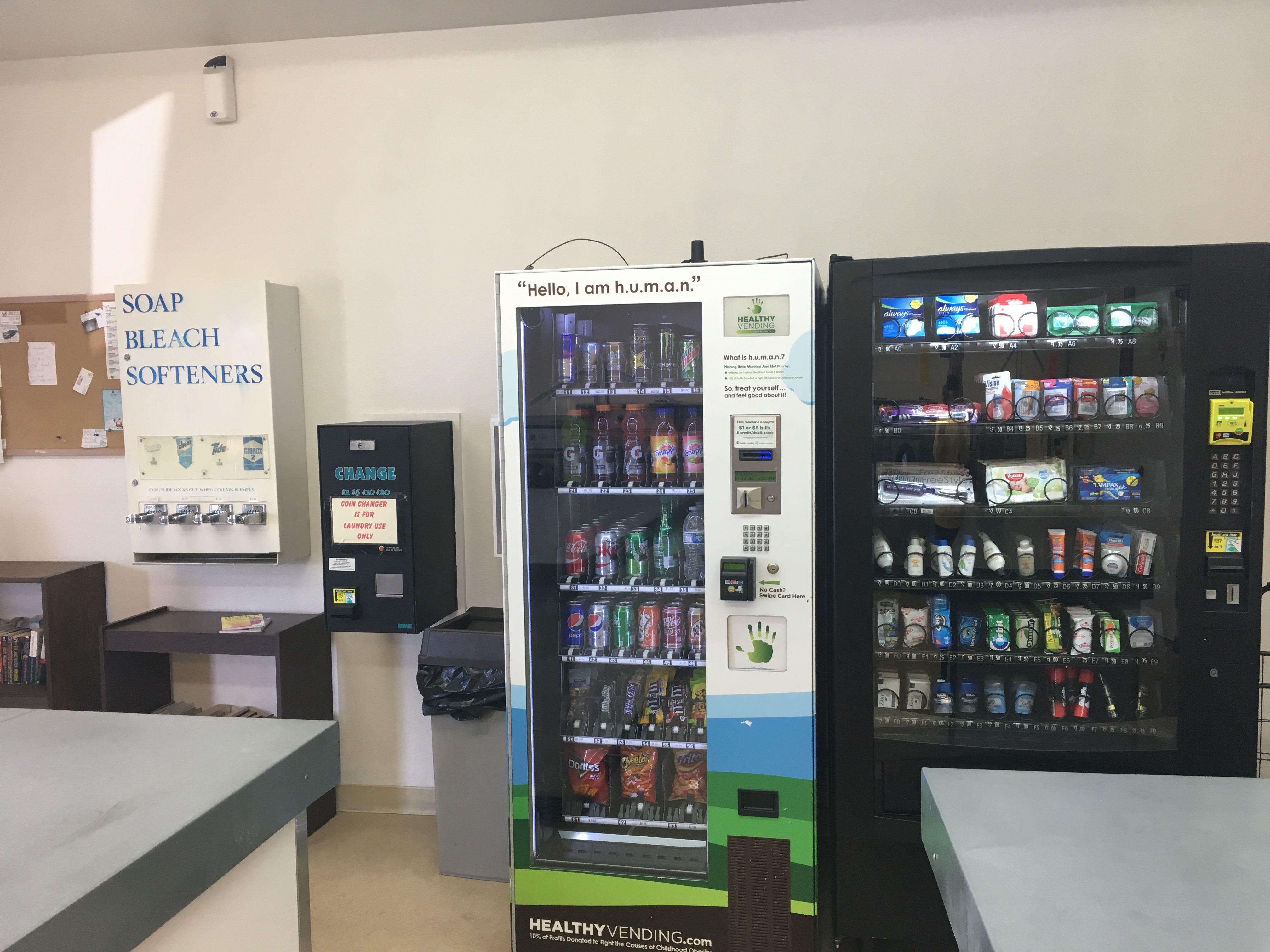 Mail & Deliveries
You can get mail and UPS/FedEx here and the front office is great about handling it. They post a list each afternoon on their window of what last name has mail waiting. For some delivery services like FedEx, if you put your space number they'll often deliver to your door (but beware that they may just leave it there if you're not home). If you don't note your space and just put c/o Marin Park Inc it will be delivered to the office.
Dog Friendliness
This park really wins in this category. The people who work in the front office love dogs and give visiting dogs a cookie from their dog cookie jar. It became our dog Lily's "thing" to go pick up the mail, because that meant she'd get a treat and lots of pets. The far end of the parking lot has a poop bag dispenser and a grassy area that follows some old train tracks.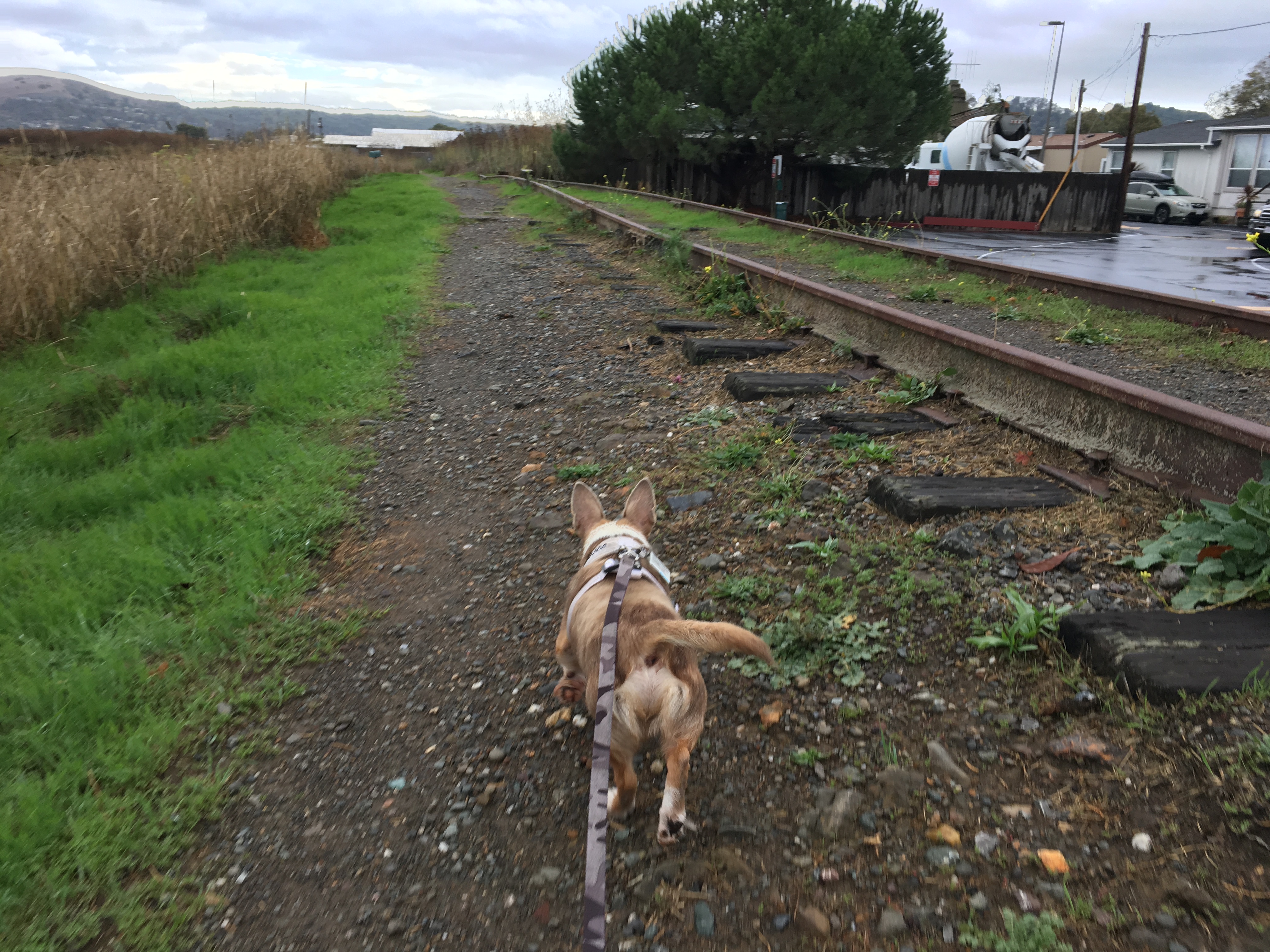 If you follow the tracks to the right you'll end up on a trail that goes through the estuary.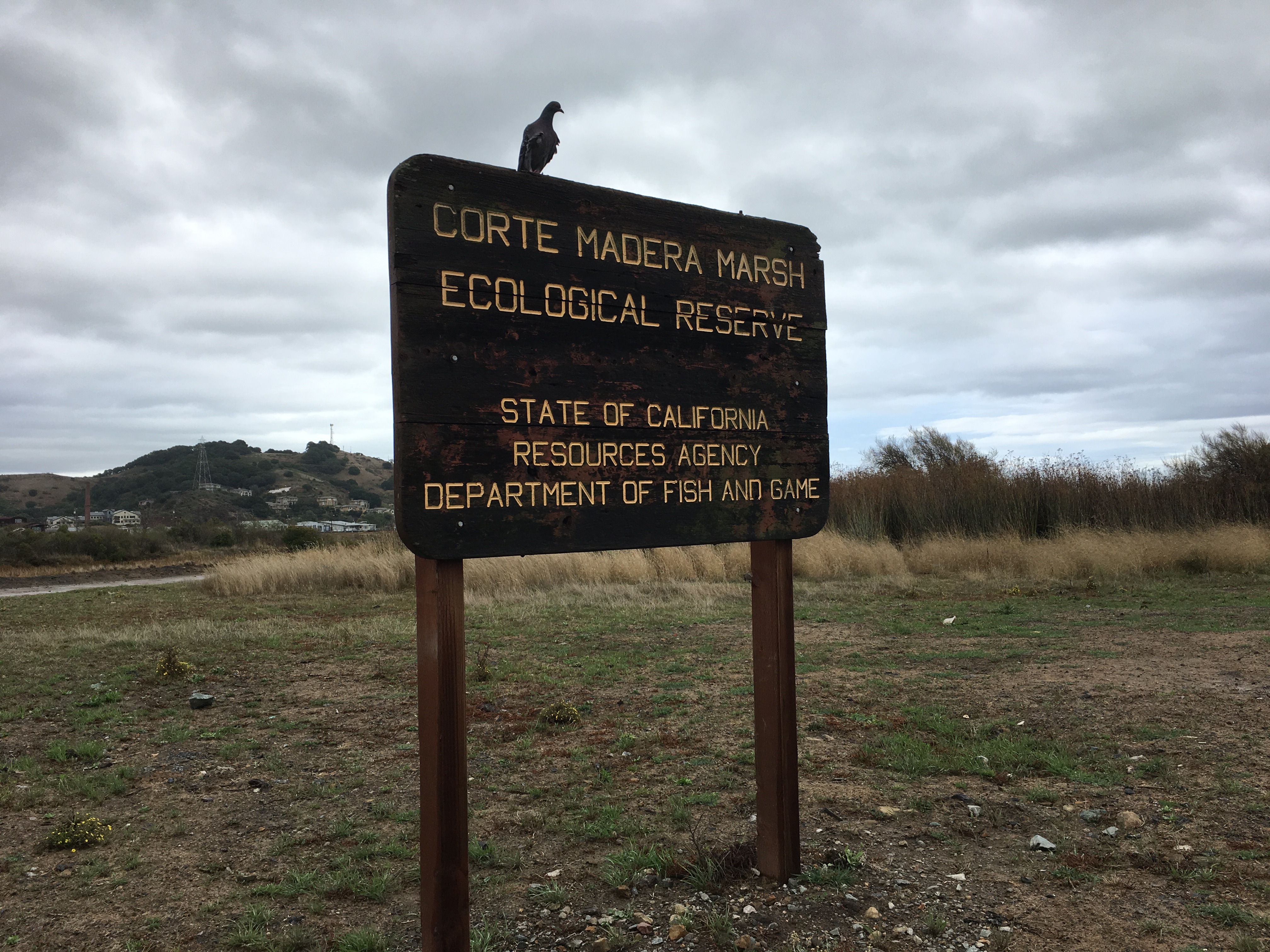 Dogs must be on leash (although some people didn't adhere to that) and it goes on forever. There are wild hare that live back here and can be very tempting for dogs to chase!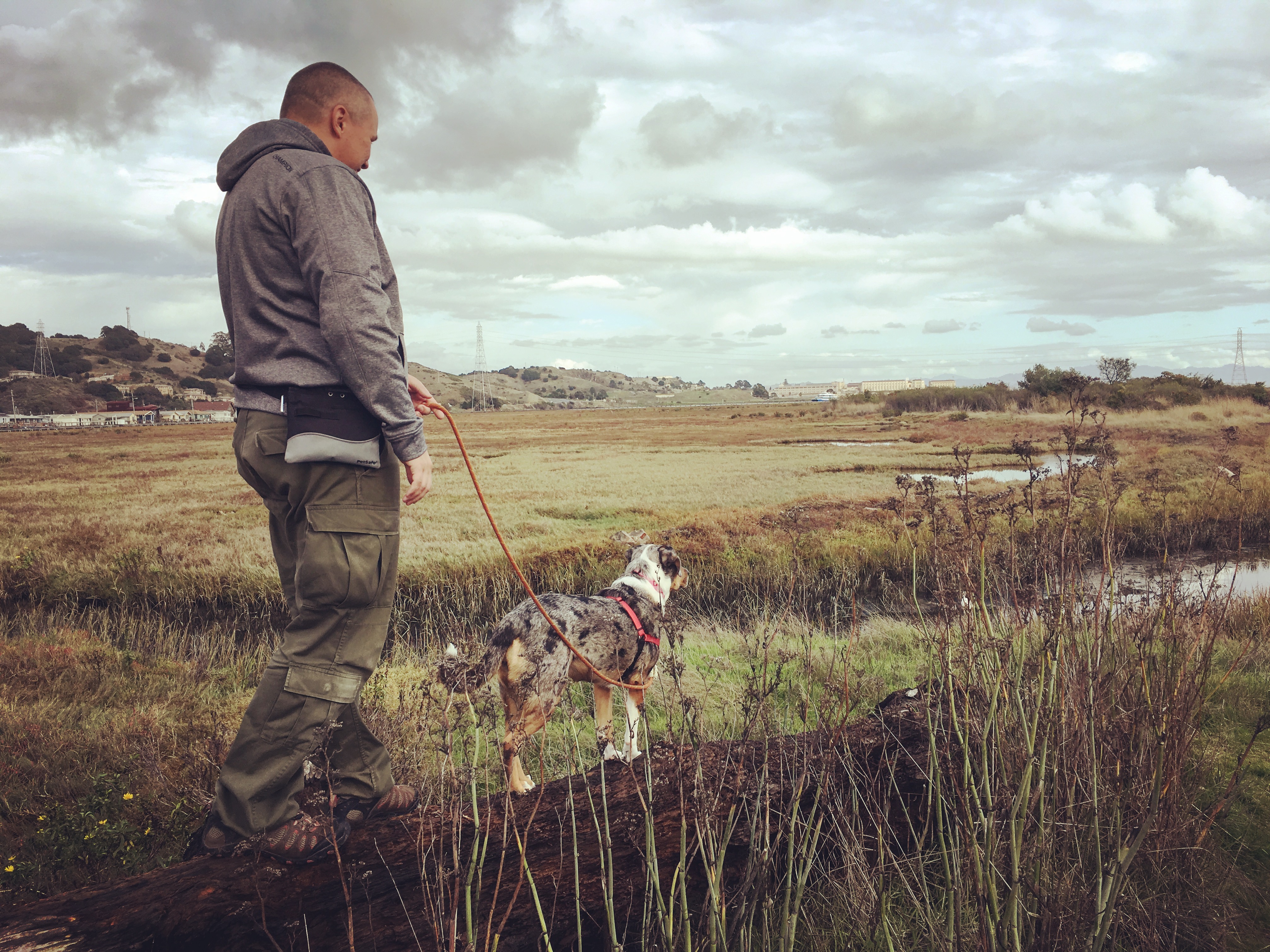 You can walk to the mall from this path, you can also use it as a way to get to the Trader Joes. Use google maps satellite view to get an idea of where you can go before setting off. When walking deeper in, towards the water, we saw homeless person tents, so be aware of your surroundings and it's probably best not to walk there after sunset.
Here's Lily's protip: The best dog walk is over the bridge (towards the ferry), down the stairs on your right and under the freeway. From there your dog can be off leash on the walking path! If you see the "Marin Rowing Club" you're headed in the right direction. On weekends it's particularly busy with dogs on and off leash. Please make sure your dog behaves well and is under voice control, it'd be sad to see such a nice area ruined by stricter rules. There's a fair amount of bicycles using this path, so make sure your dog doesn't get in their way.
From the RV park to the end of this walking path and back is about 2.5 miles. A great dog walk distance and if you need a coffee there's a Starbucks and a Peet's in the shopping center just inland of the path. There's also a 24 hr CVS which we used to refill Stimpy's prescriptions while we were here.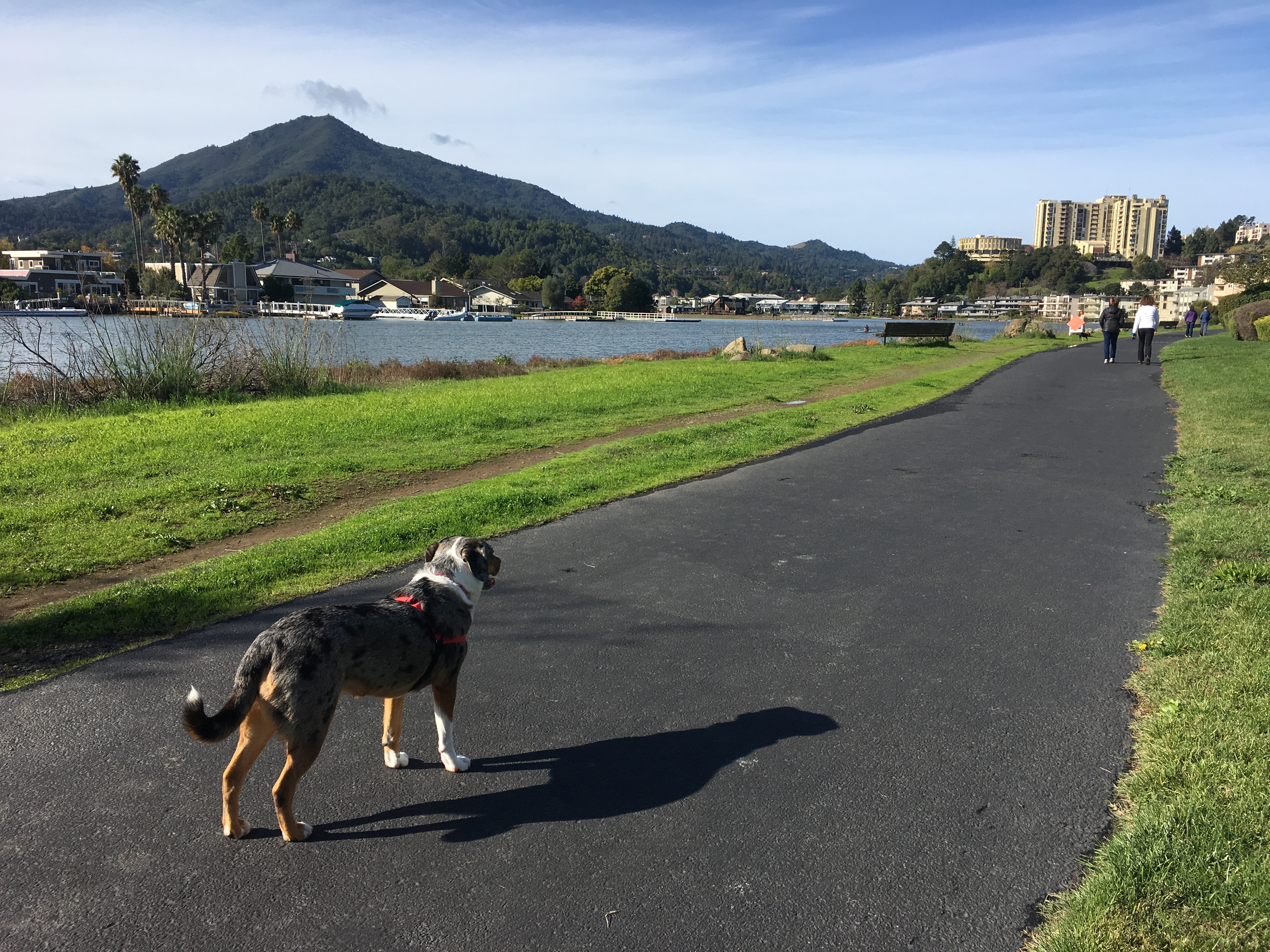 Price
It's San Francisco, so yes it's on the expensive side. Overnight rates start from $75, and an off-season month was $1200 + electricity.