RV park review: Catalina Spa & RV Resort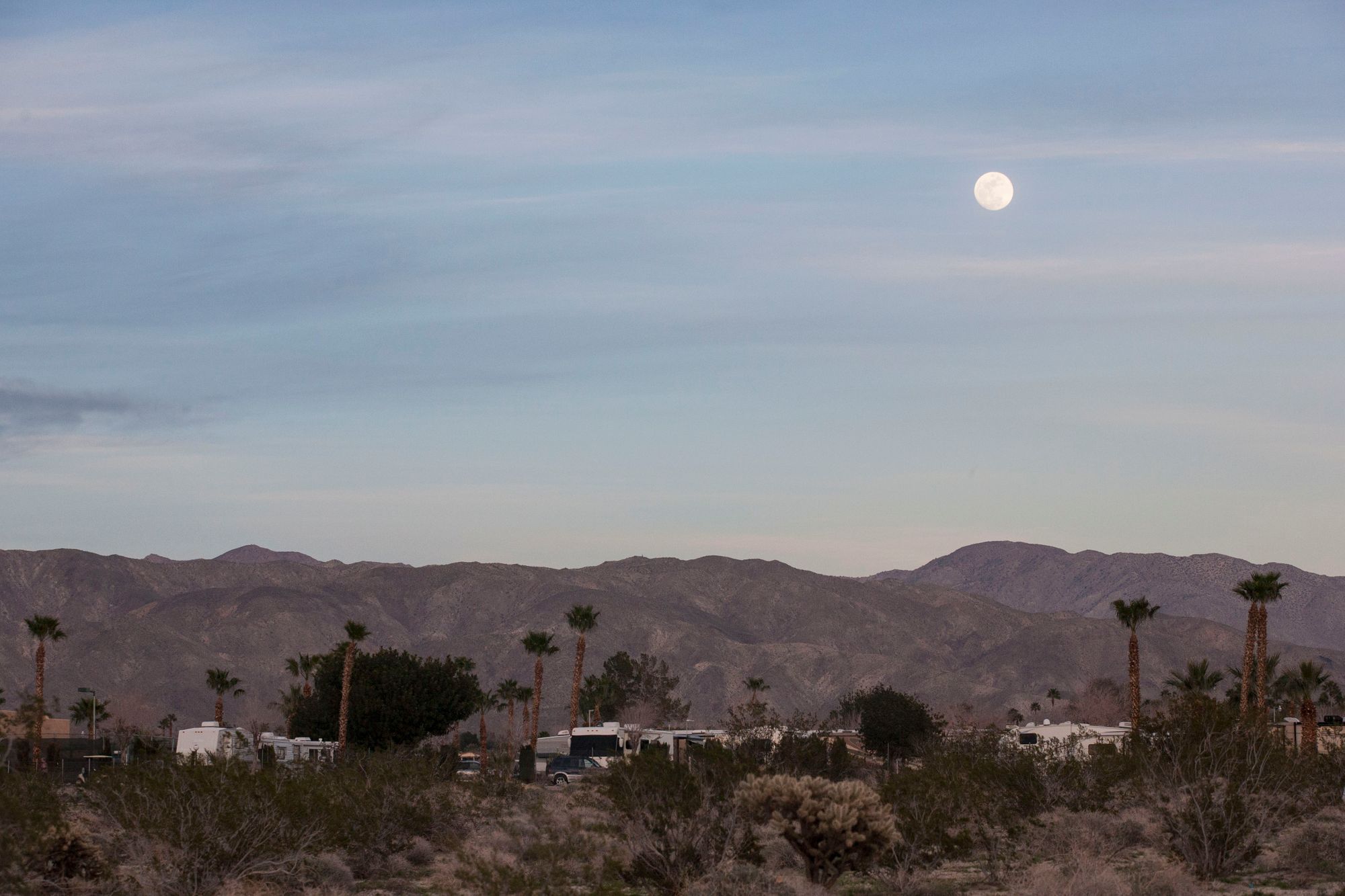 We stayed at the Catalina Spa & RV Resort for 4 nights in February. The property is under new management and newly open to the public. Previously, it was a members-only resort, and pretty much everyone we met were older snowbirds who had been coming here for several years. It's also under renovation, which meant some of the normal amenities weren't available, such as the convenience store, workout room and one of the pools. There are no good grocery stores nearby, and we don't have a toad yet, so we stocked up before arriving.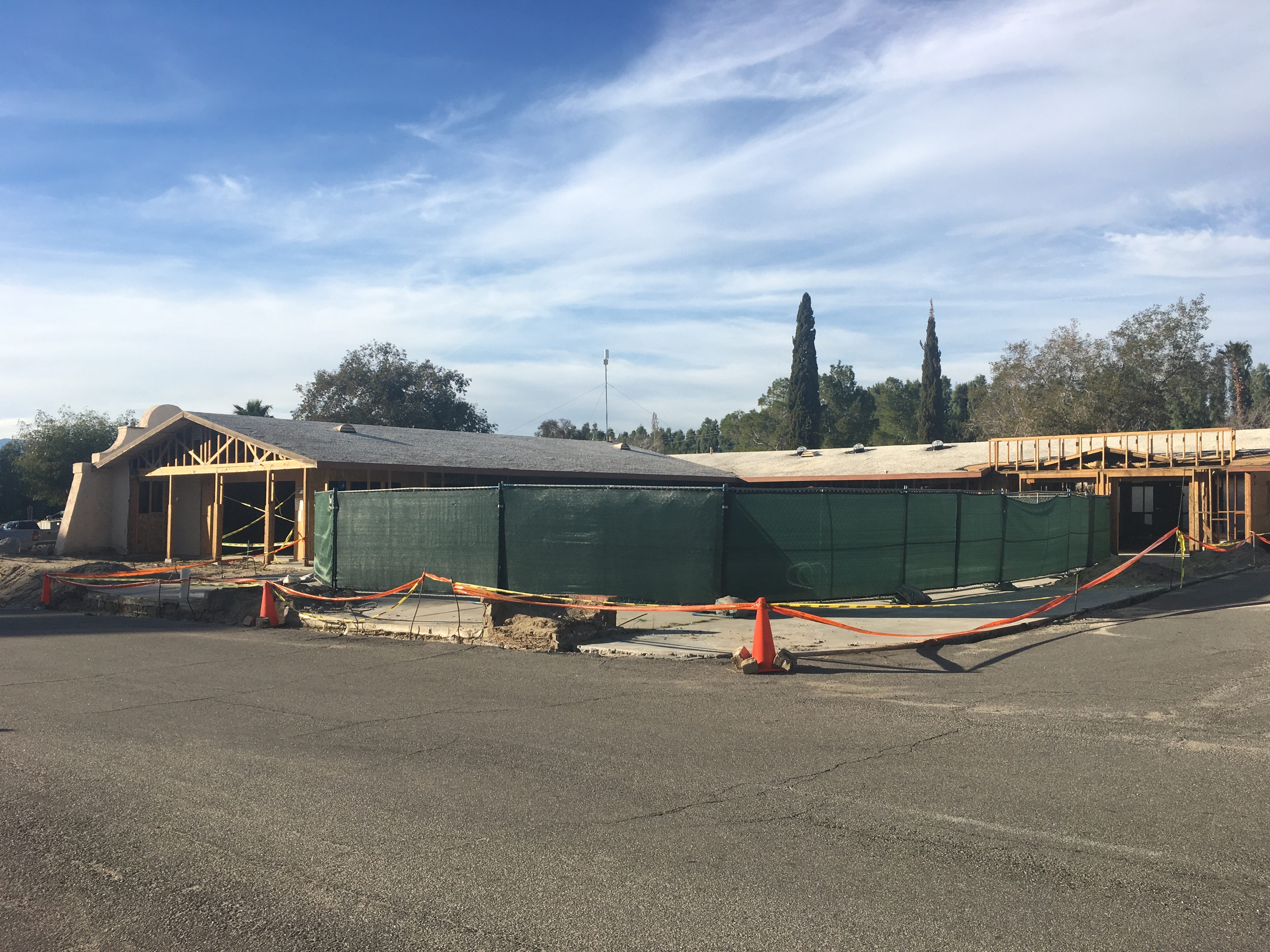 What the park temporarily lacked, it made up for in other areas and we really enjoyed our stay and would definitely come back.
Price
With our Passport America discount, we paid $27.50 per night. This was a great deal for what you got and has been the cheapest daily price we've paid so far. SF and LA are pricey.
Parking
Upon arrival, we found out that we were not assigned a parking space, but got to choose our own (in the area that larger motorhomes can park). This was kinda cool! We drove around for a bit and then found a spot that was neighborless on both sides, giving us a bit more privacy. The park was a bit on the empty side, but even if it was full the spaces are a nice size so it shouldn't feel cramped.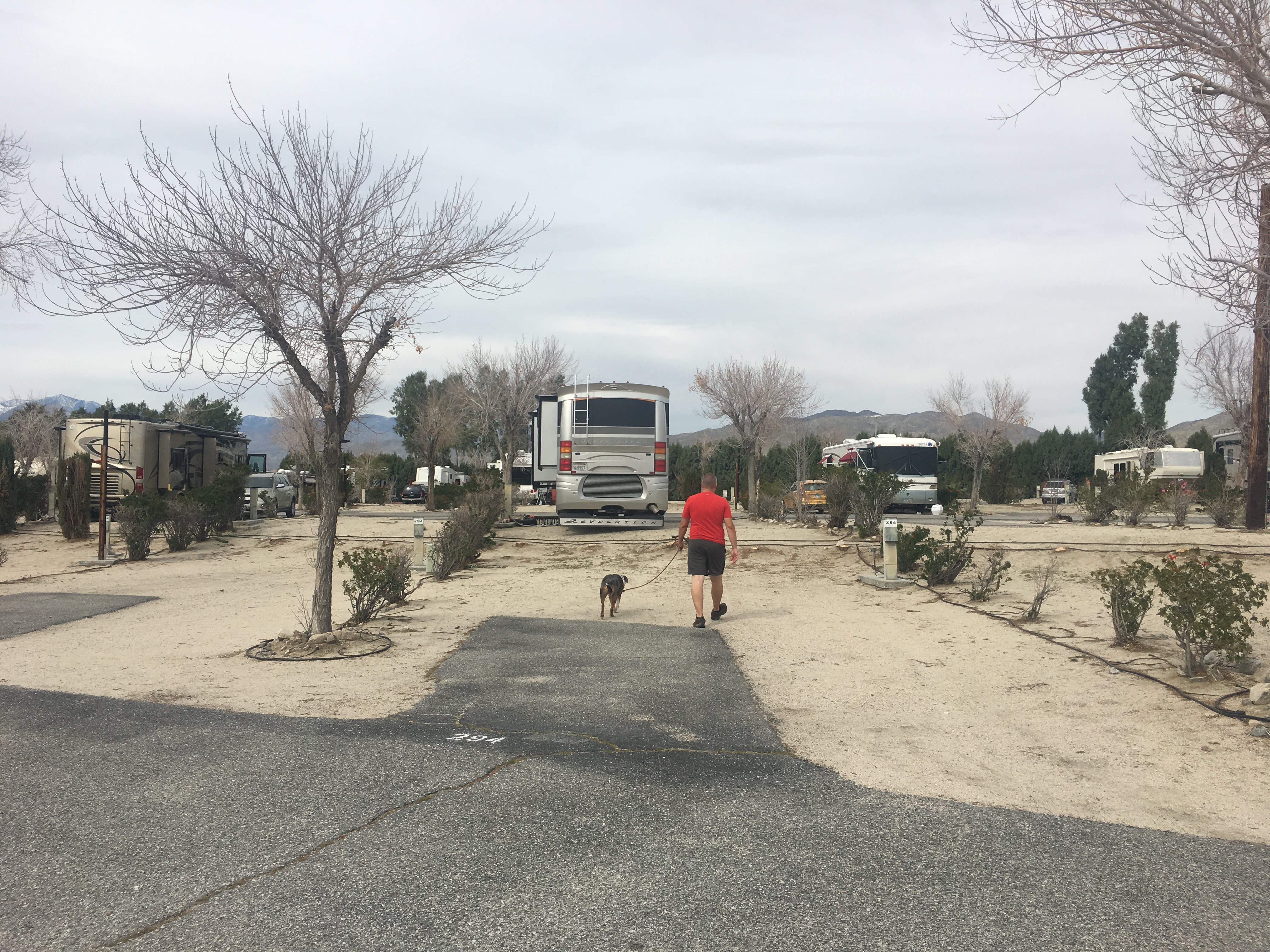 Dog Friendliness
The office hands out dog cookies (Lily considers this amenity a "must-have" even though we've told her not to get used to it!) There's also a great fenced dog park which has two areas if you want to keep big and small dogs separate. We found out that Lily LOVES playing with deflated basketballs! Who knew?!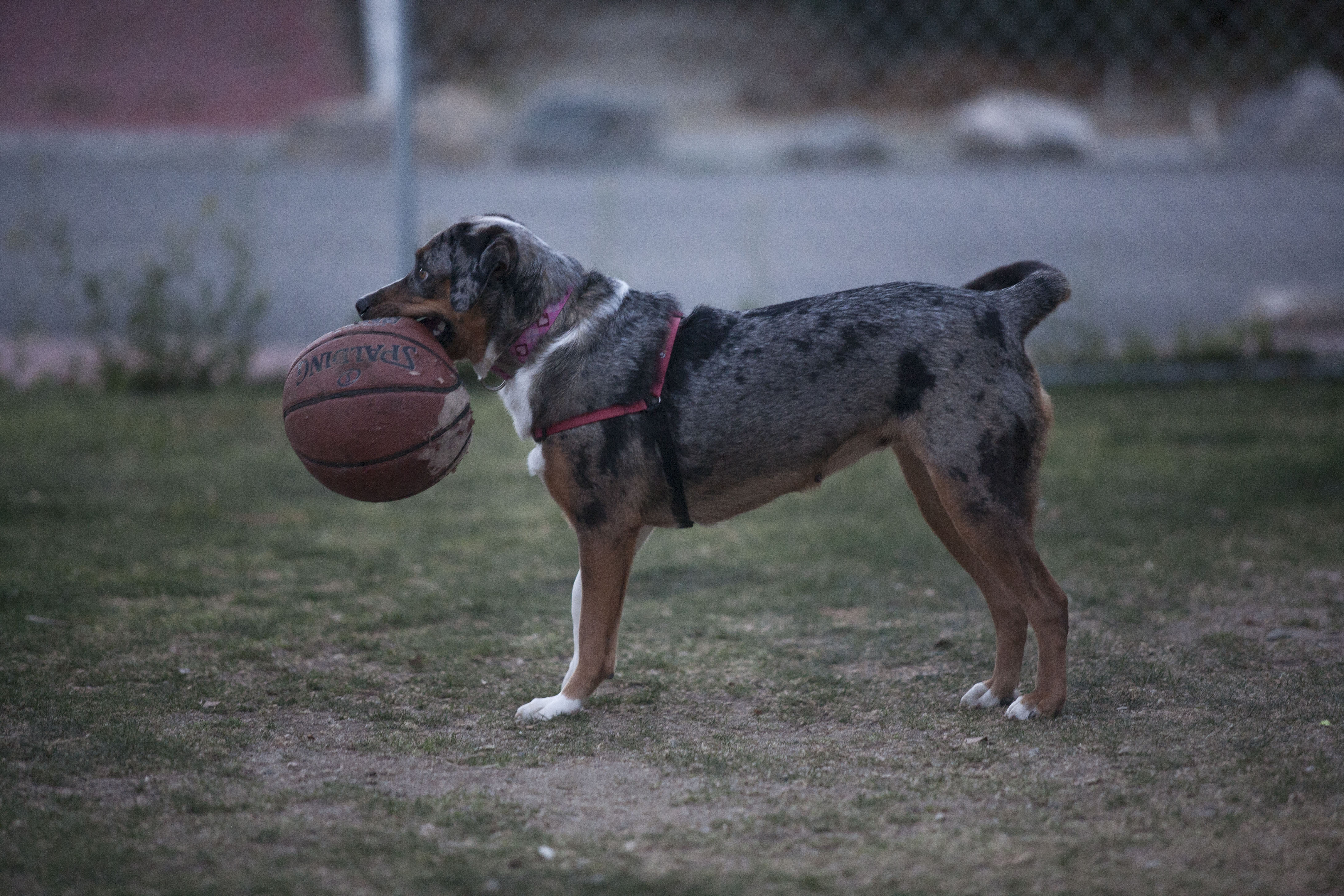 While we were here it seemed to be most popular in the morning hours (probably because it got very windy and hot in the afternoon).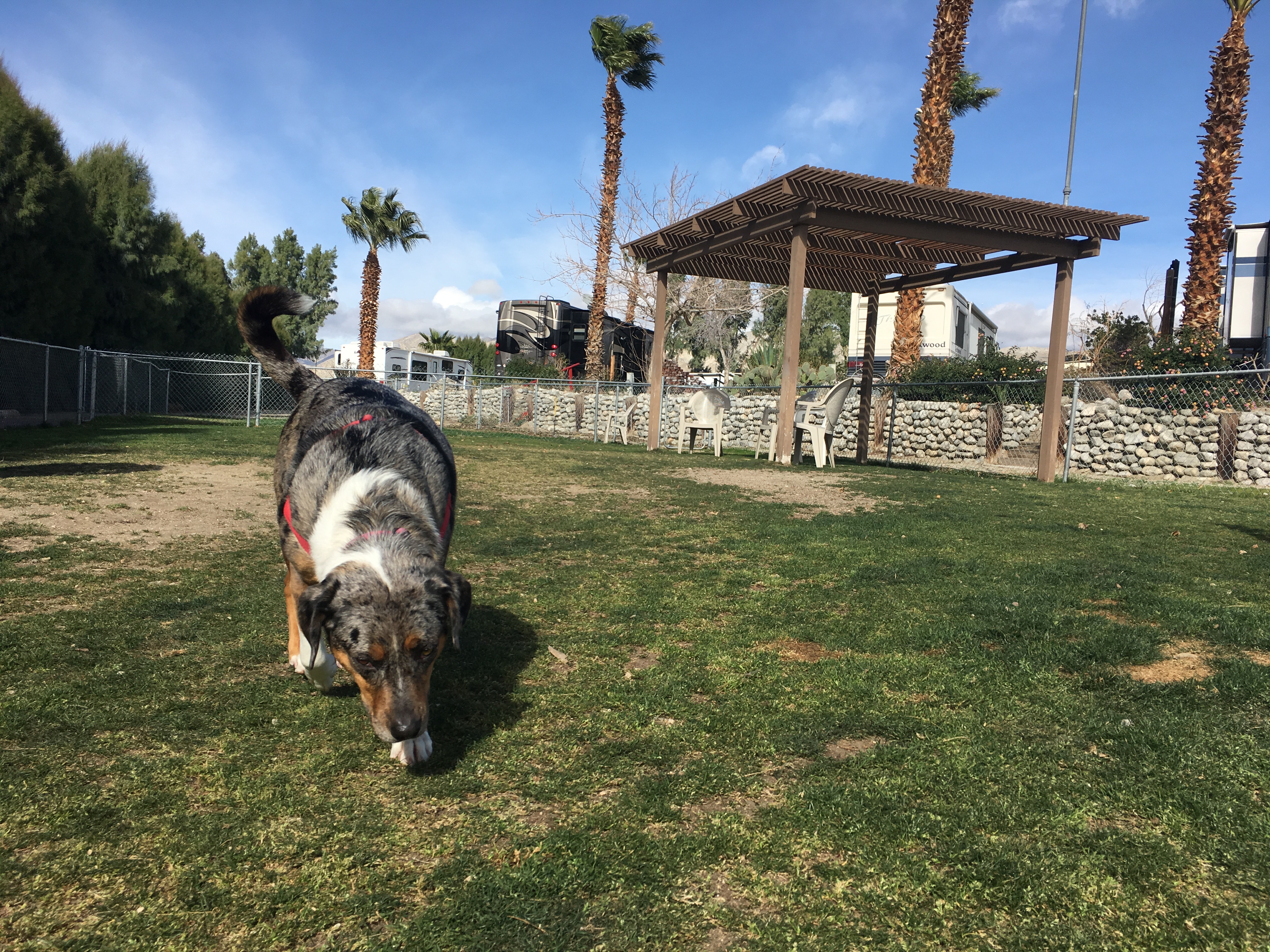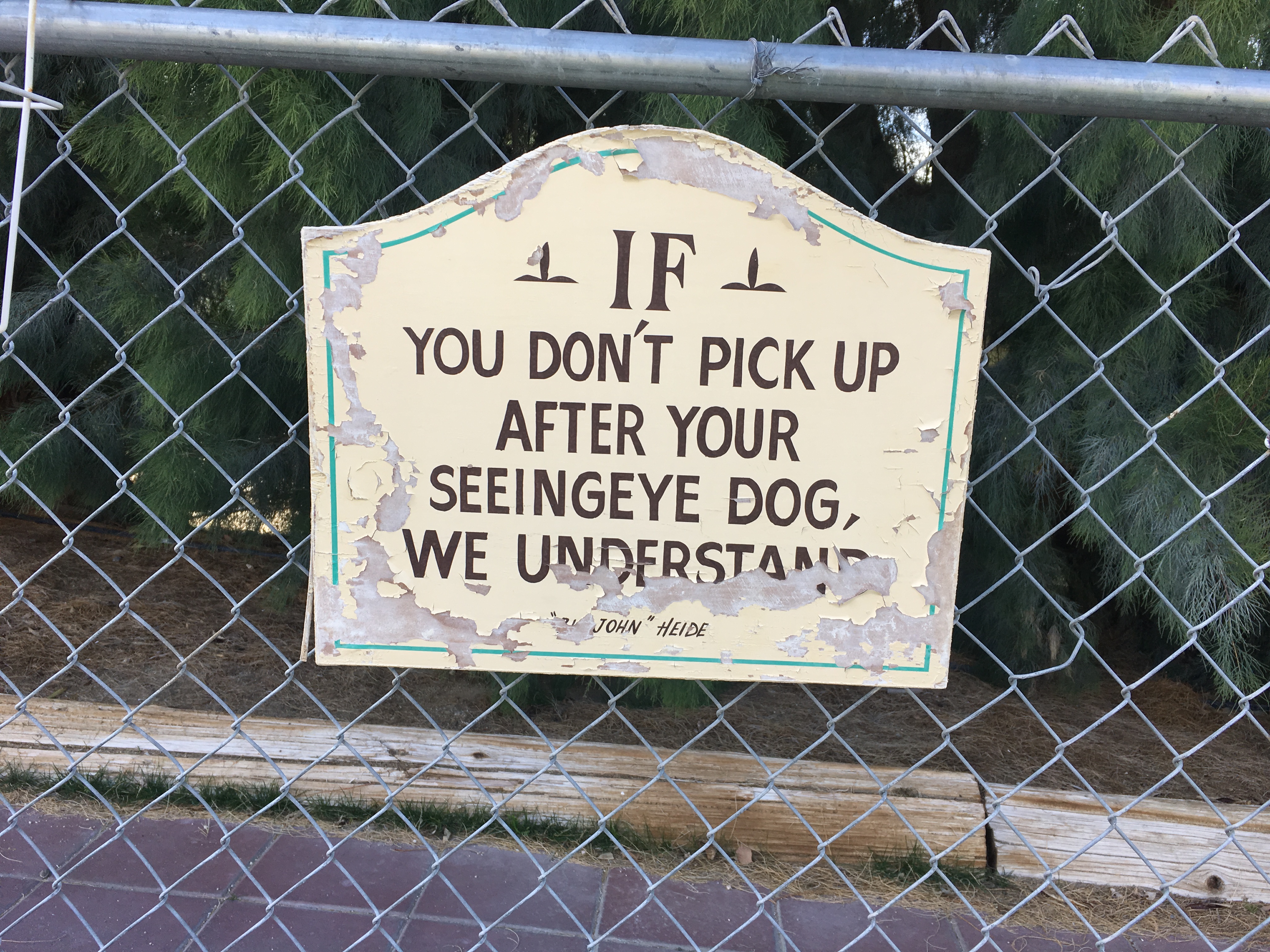 Amenities & Daily Activities
This park offers a lot! It skews older, but that's definitely their main clientele. If you want to stay busy, they have lots of things for you to do.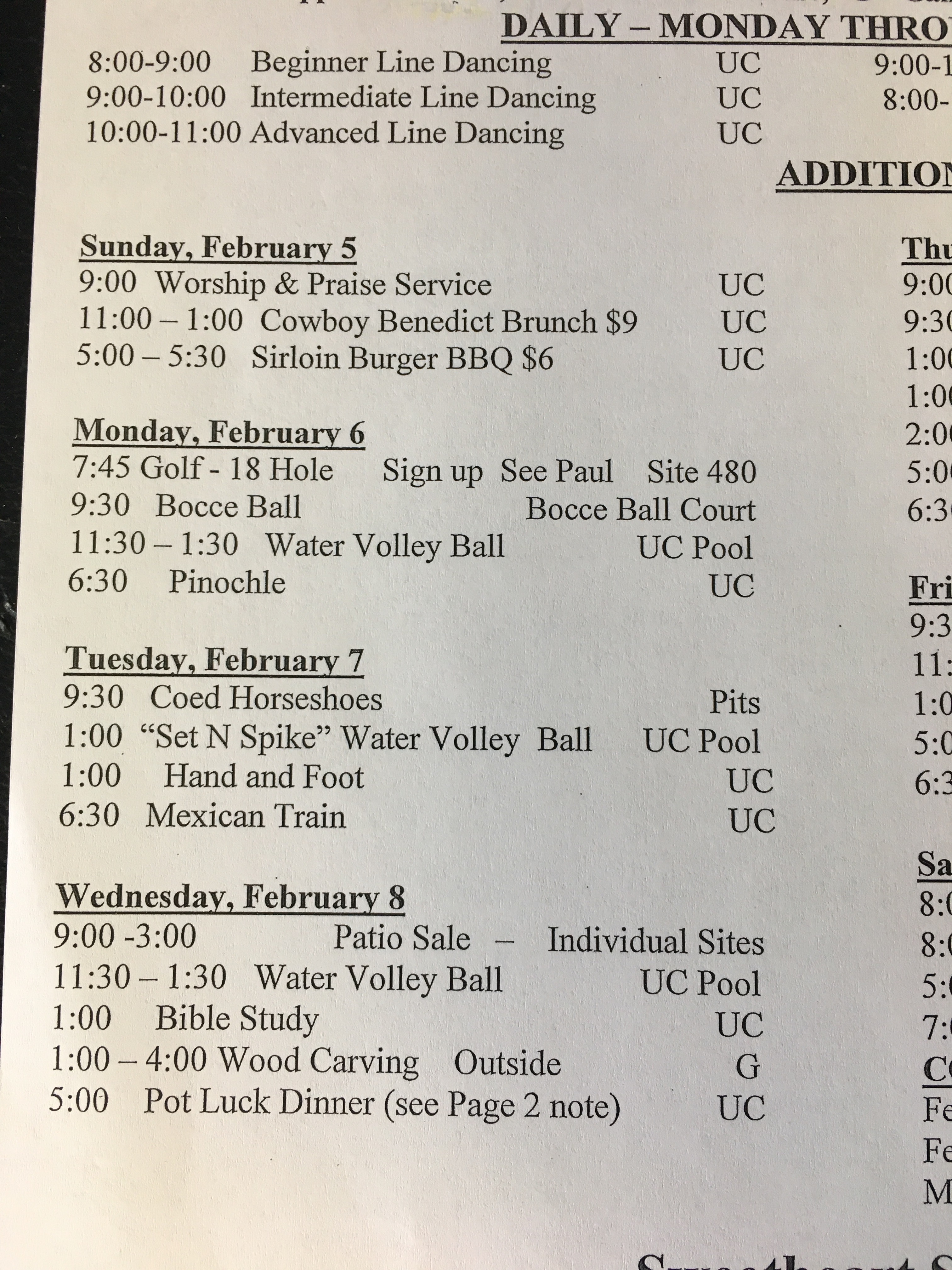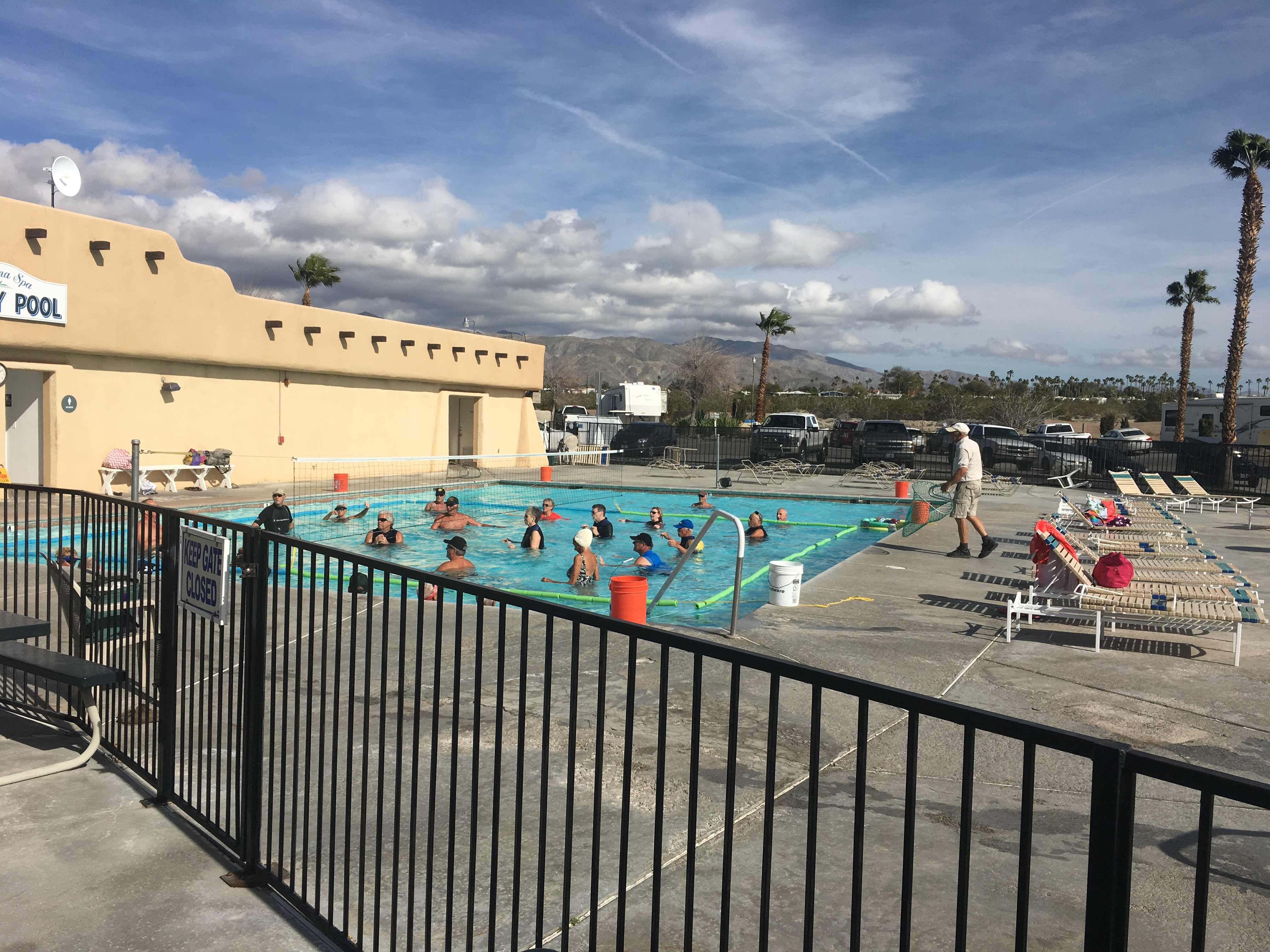 We didn't get a chance to join any of the activities, but we did go on a nice run by going left out of the driveway and heading down the dirt road.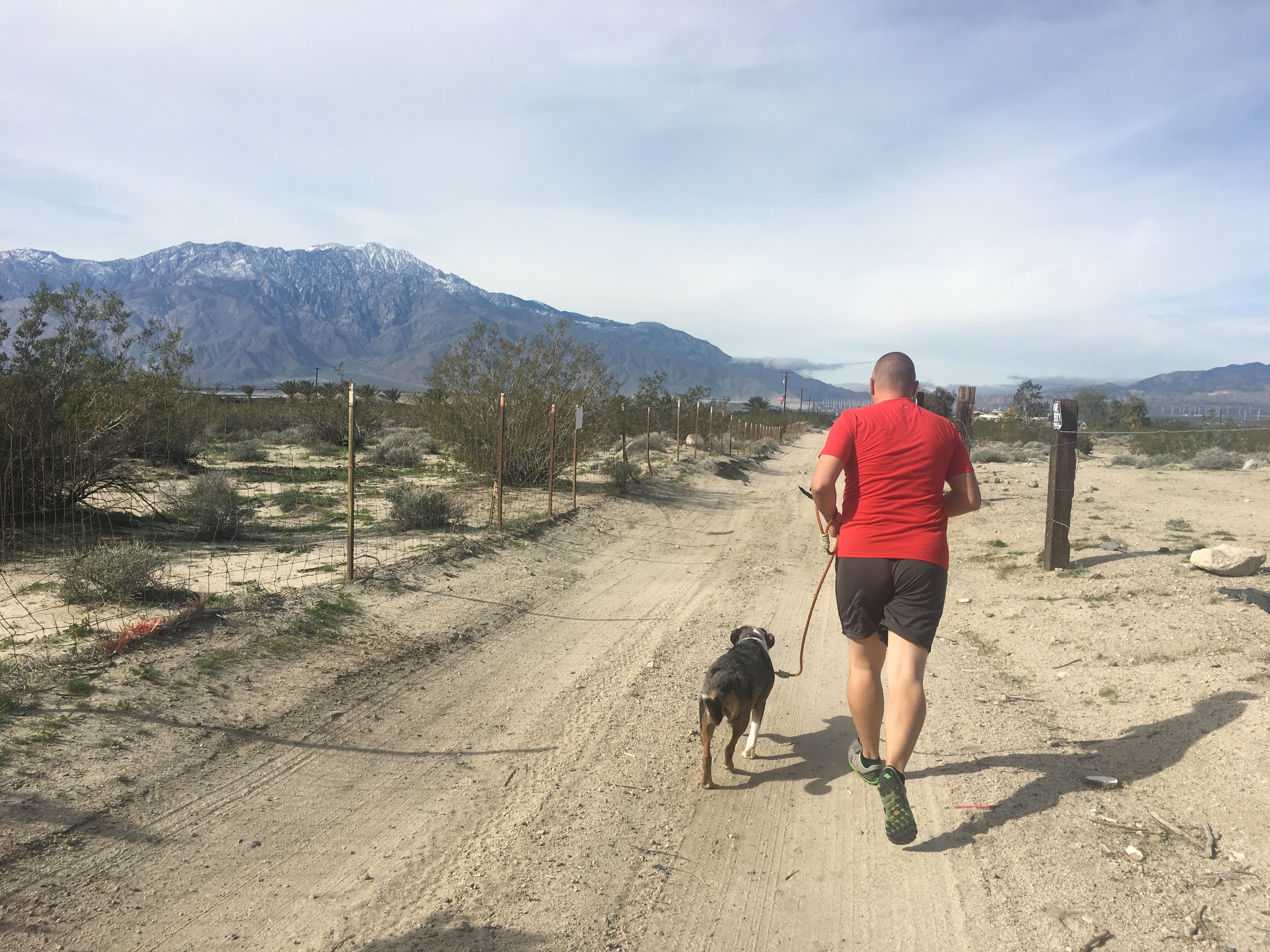 Personally I'm pretty bummed we left before Friday's all you can eat spaghetti night!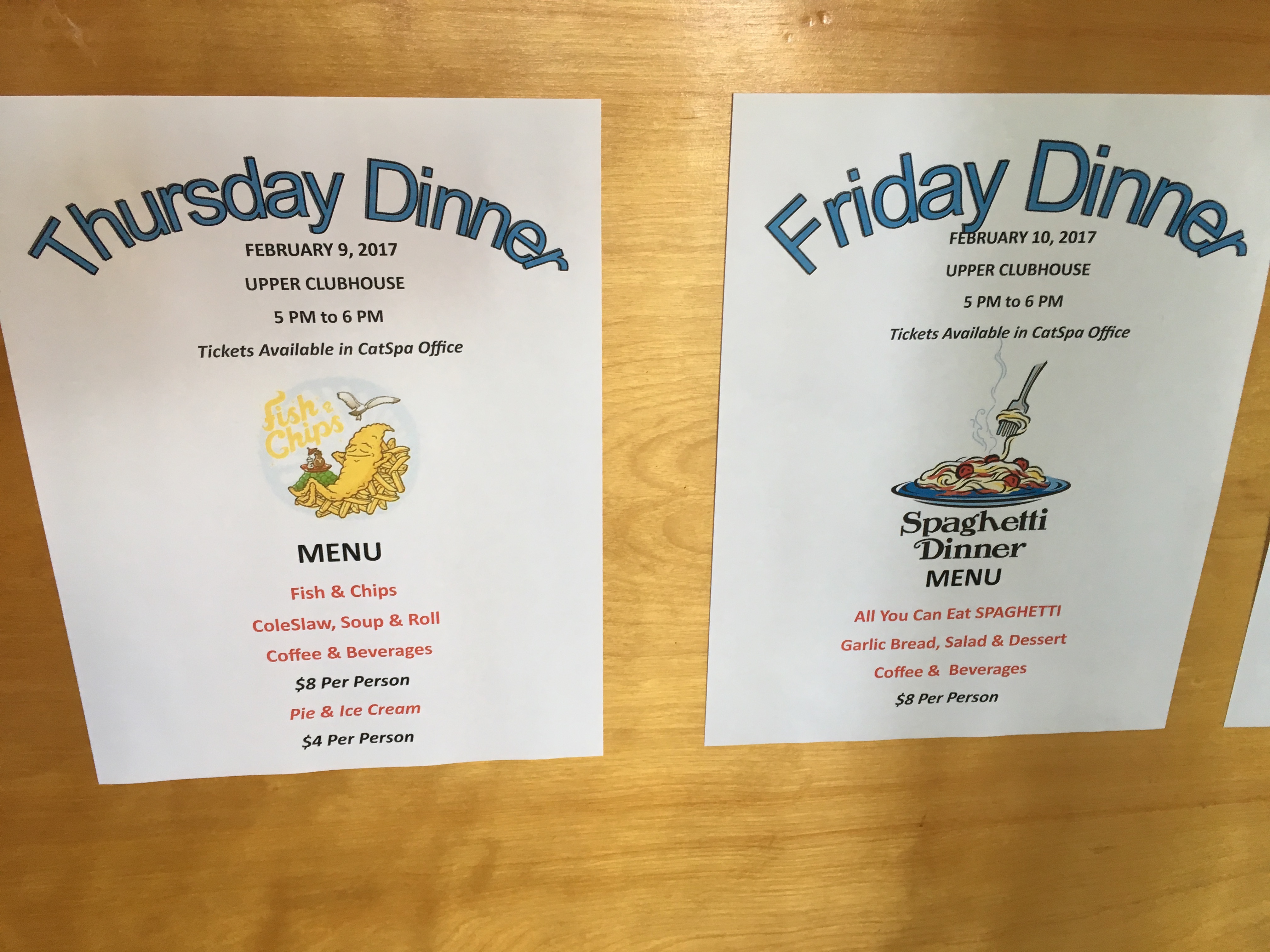 The park had free wifi, but it didn't work much. We were 100% on our own LTE.
Friendliness
We found everyone we chatted with here to be really friendly and helpful. This went for the visitors and the staff. The women at the front desk were eager to help us out with a delayed mail delivery and offered us a late checkout so we could get the package. At one point during DIY windshield wiper replacement, we dropped a nut and were crawling around looking for it (unsuccessfully). One of the maintenance guys saw us searching, came over and offered to take the bolt back to the maintenance shed to see if he had a match. Our nearby neighbors knew we didn't have a toad, and offered us a seat in their car to head to a local street fair. Seriously, we couldn't have asked for nicer people to be around!
We're hitting the road today, going to Arizona to try boondocking for the first time. We're looking forward to it but I'm going to miss the poolside sunbathing I did here! Until next time Catalina Spa & RV Resort!