Red Canyon, Utah: Your Dog-Friendly Alternative to Bryce Canyon National Park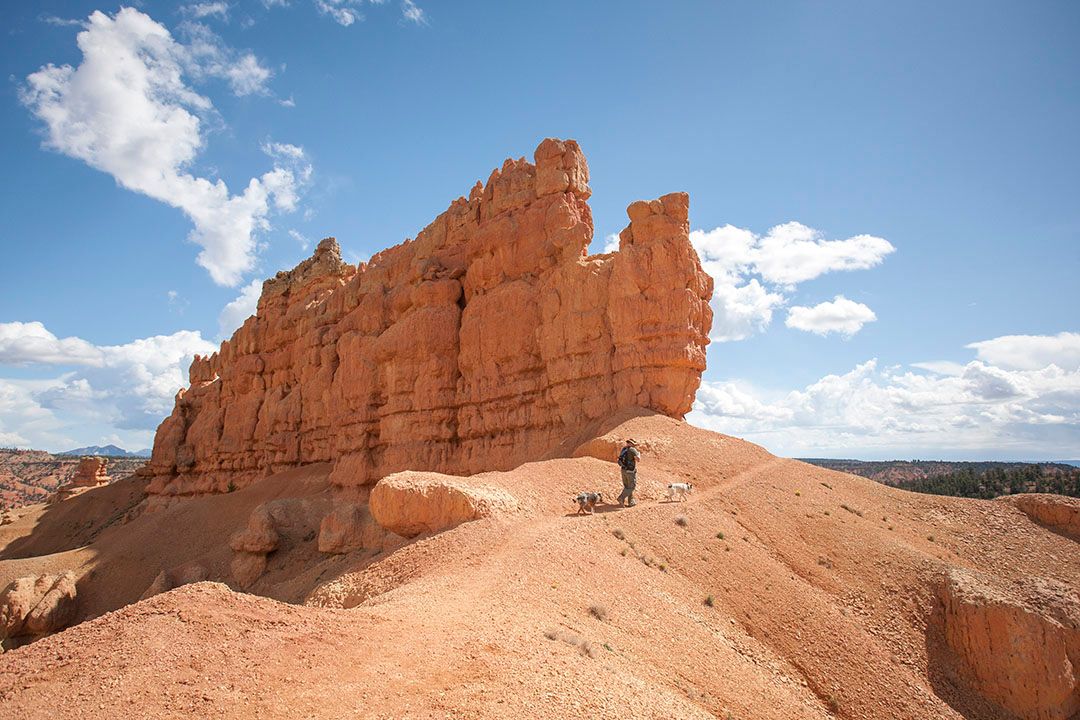 We love Bryce Canyon National Park. Unfortunately for our four-legged friends, they only allow dogs on the paved trail between Sunset Point and Sunrise Point, and on the paved Shared Use Path between the park entrance and Inspiration Point. Sunset to Sunrise is 1.2 miles roundtrip. It's good for some photo opps of the hoodoos, but it's not a dog destination.
But not to worry! There is so much to do with your dog at the nearby Red Canyon. If you drove to Bryce from the west you drove through Red Canyon. Most folks stop briefly along Highway 12 and take photos of the tunnels, but this canyon is a destination not to be missed! Especially if you have a dog that enjoys hiking. All of the trails in the Red Canyon area are within the Dixie National Forest, making them dog-friendly. Hooray!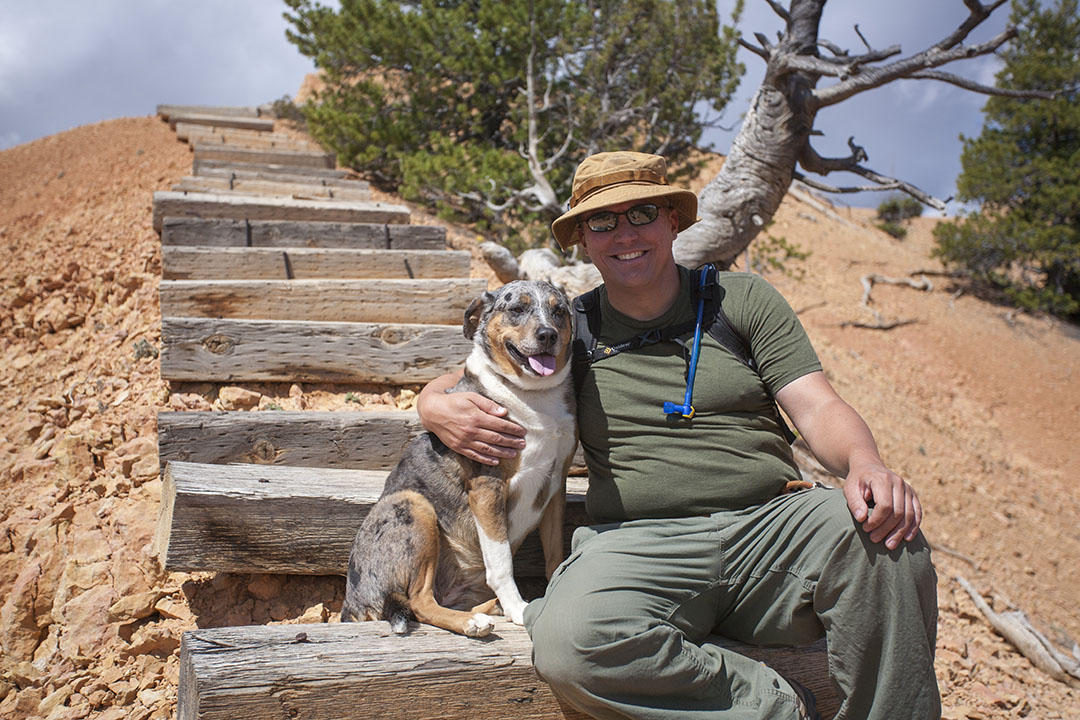 Tommi and his loyal adventuredog, Lily Goodgirl.
There are many great hikes to choose from, but we're going to take you along on one of our favorites, Golden Wall Trail > Castle Bridge Trail > Buckhorn Trail. In total, roughly a 4-5 mile loop which leads you through a variety of stunning scenery.
We parked at the Red Canyon Visitor Center. This is a good central location if you're going to be hiking the full loop. Go inside and ask for a Red Canyon Trail map. This isn't completely necessary, but nice to have in your pocket. They are open 9am-5pm. Worth noting, I learned the hard way that their bathrooms are locked overnight. I think the visitor center employee saw me doing the "I gotta go" dance at 8:45 and opened the bathrooms a little early.
From the visitor center, walk on the trail heading west that runs parallel to the road. Less than ¼ mile down, you'll see a clearing in the trees to your left. Across the street, you'll see a small parking area for the trailhead. This is a good spot to cross the road. Look for the sign that says Golden Wall Trail / Castle Bridge Trail, cross the large wash, and begin!
What's great about this trail loop is that it's marked as "foot trail only". Meaning unlike some of the other trails in the Red Canyon area, you will not encounter mountain bikers or equestrians. We prefer this when hiking with our dogs. Lily has a horse phobia and it's just nicer not to have to worry about mountain bikers coming up fast behind you.
The trail starts through a wooded area of tall ponderosa pines, with a gradual incline.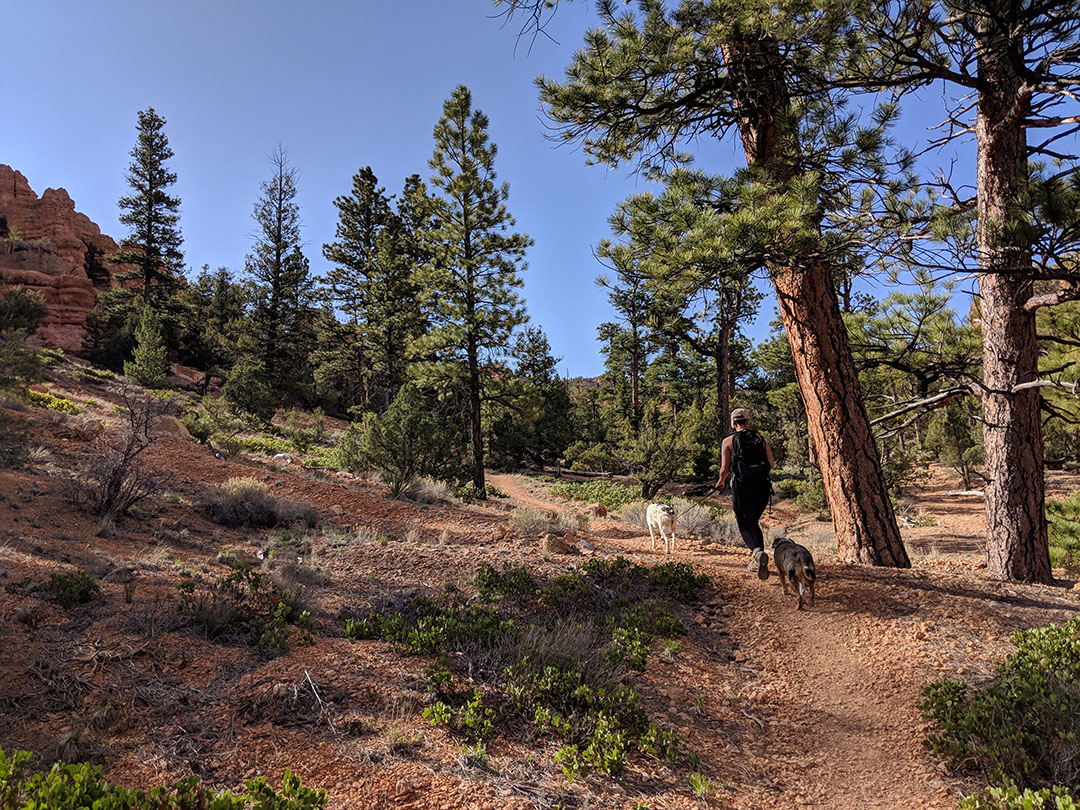 You may be thinking, "Okay, this is just a normal trail … nothing special". Just wait! At .5 miles in, you'll come to a fork in the trail. Left takes you up the steep Castle Bridge Trail and staying straight keeps you on the easier Golden Wall Trail that stays in the valley. Lily highly suggests you go left! The trails meet later, so either way is good.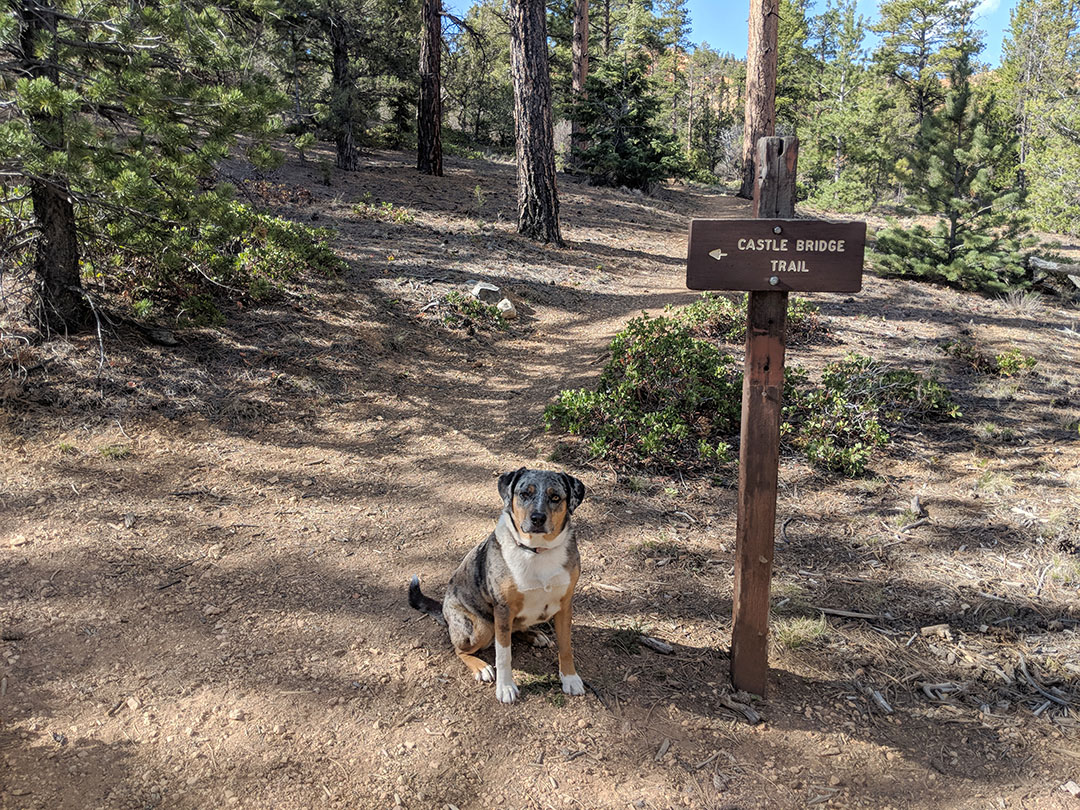 Catch your breath, and get ready for some switchbacks. Trust us, it's worth it for scenery like this!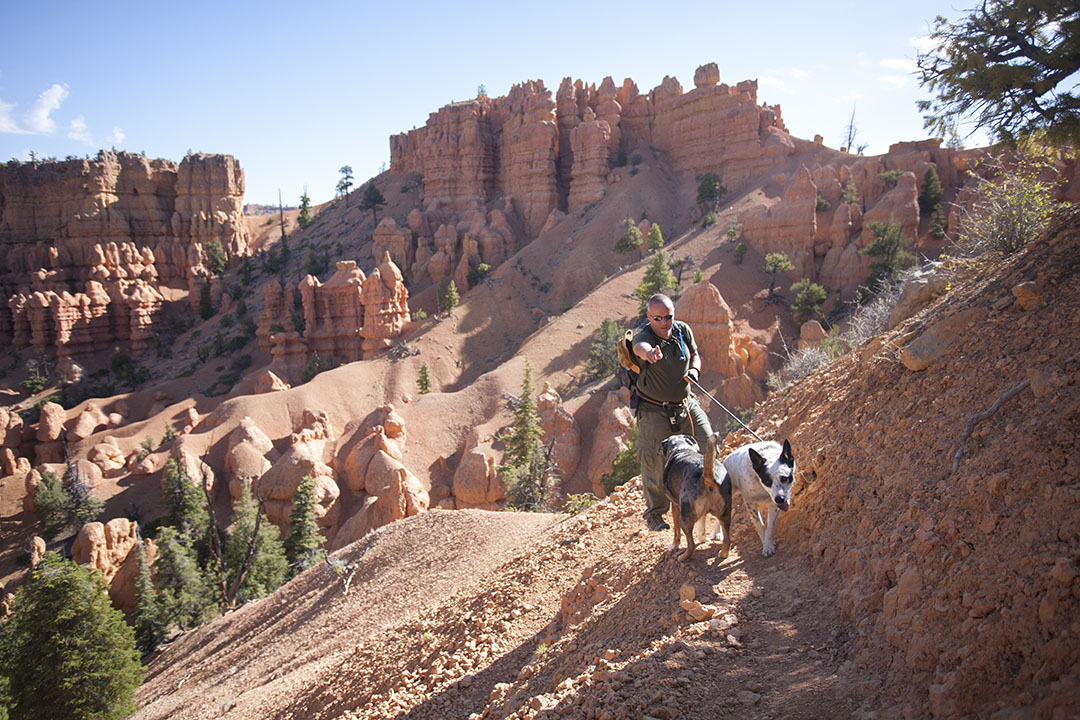 Lily going the wrong way on a narrow trail!
When you reach the top, you'll have a 360 view and it's a great spot to take a break. There are some bushes there that offer a bit of shade.


The view from the top of Castle Bridge Trail.
Continuing on, you'll notice that you intersect back up with the Golden Wall Trail that you began on. If you or your dog are feeling tired at this point, we highly suggest you take a right and head back to the Visitor Center. This should put you at just under 3 miles round trip.
However if you're feeling good, your next goal is to get to those telephone poles you see high on the hill. Yeah, I know, not the most scenic thing, but you'll feel at the top of the world when you finally get there! This is another good spot to catch your breath, although there is no shade here.
After hiking up that hill, the gradual downhill section was very welcome. And look at that view!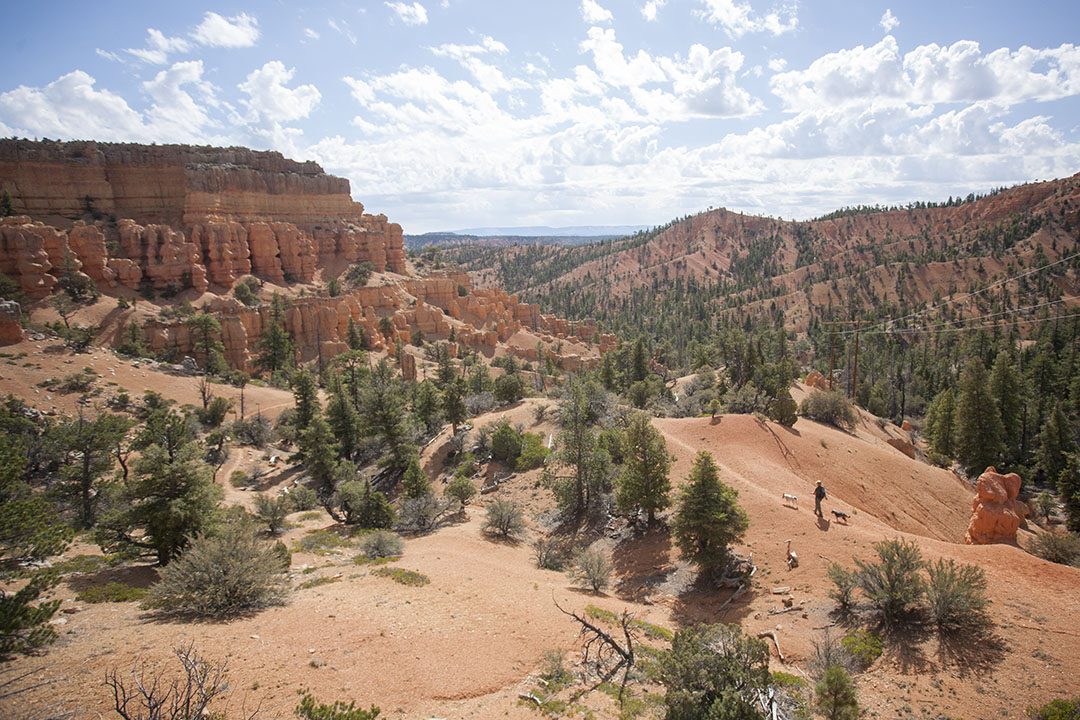 Back into the pines you'll go, but keep your eyes peeled. Do you see what I see? A proud, broad-chested wiener dog? No? Just me? Haha...
My favorite part of this hike is arriving to the huge Golden Wall.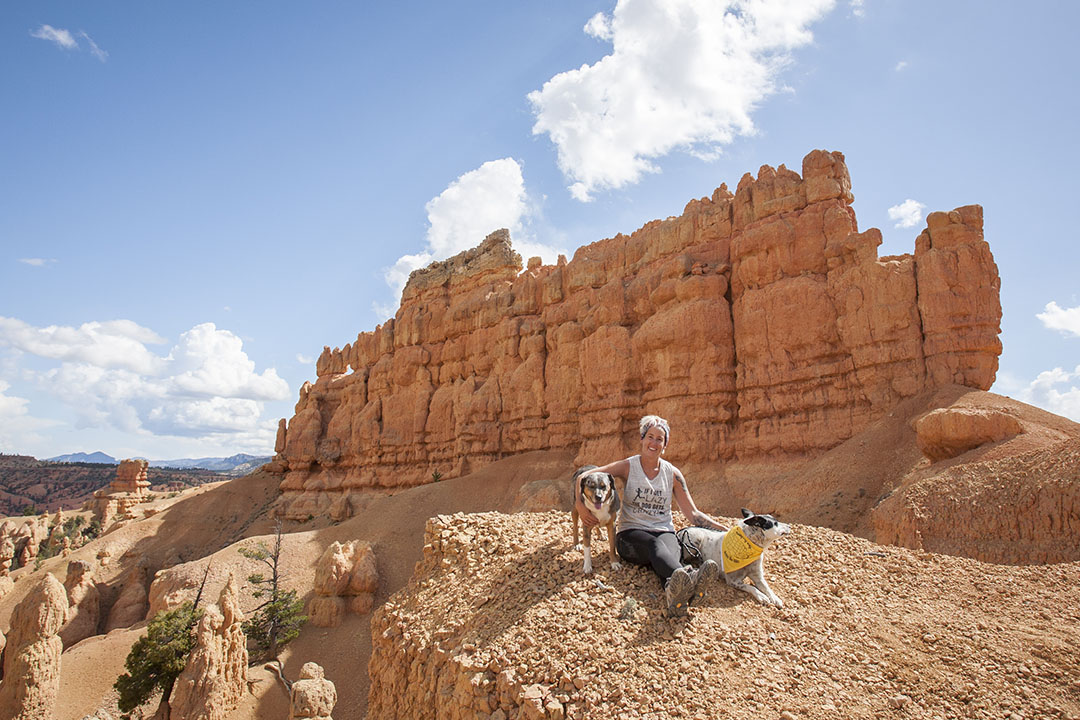 Not only is the wall an astonishing formation, so tall and narrow, but below it lies a valley of hoodoos! Not as stunning as the amphitheater in Bryce, but it's still a neat sight. Even Lily couldn't take her eyes off of it.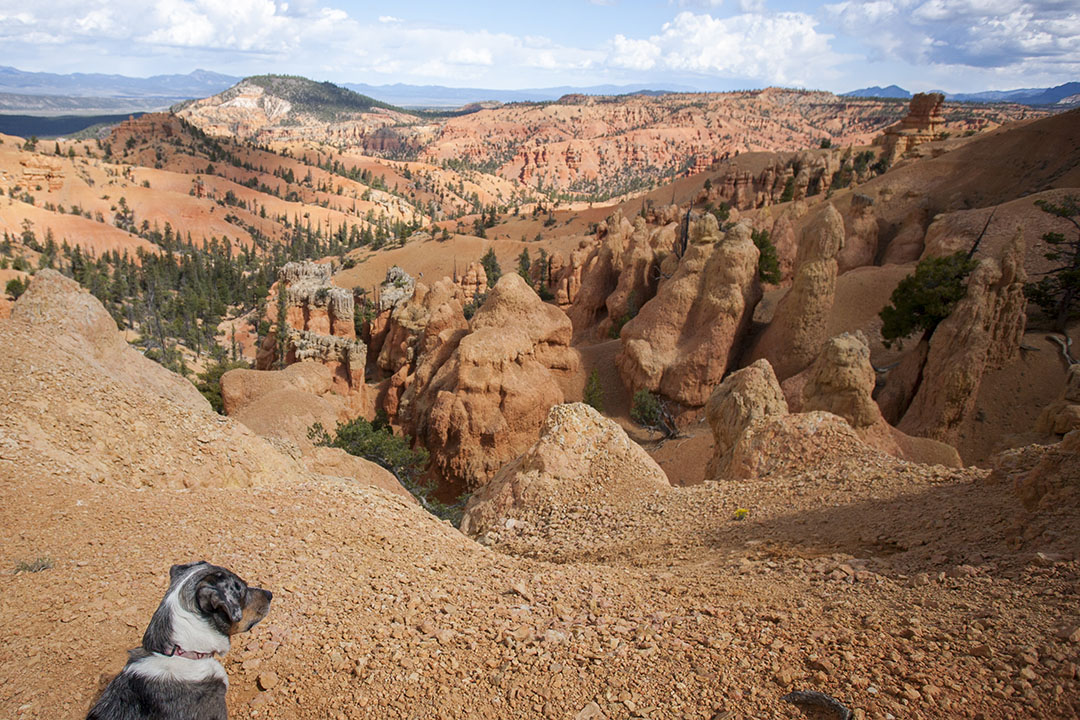 Enjoy your time at the Golden Wall, then follow the trail to the steps. This was a fun obstacle for our adventuredogs.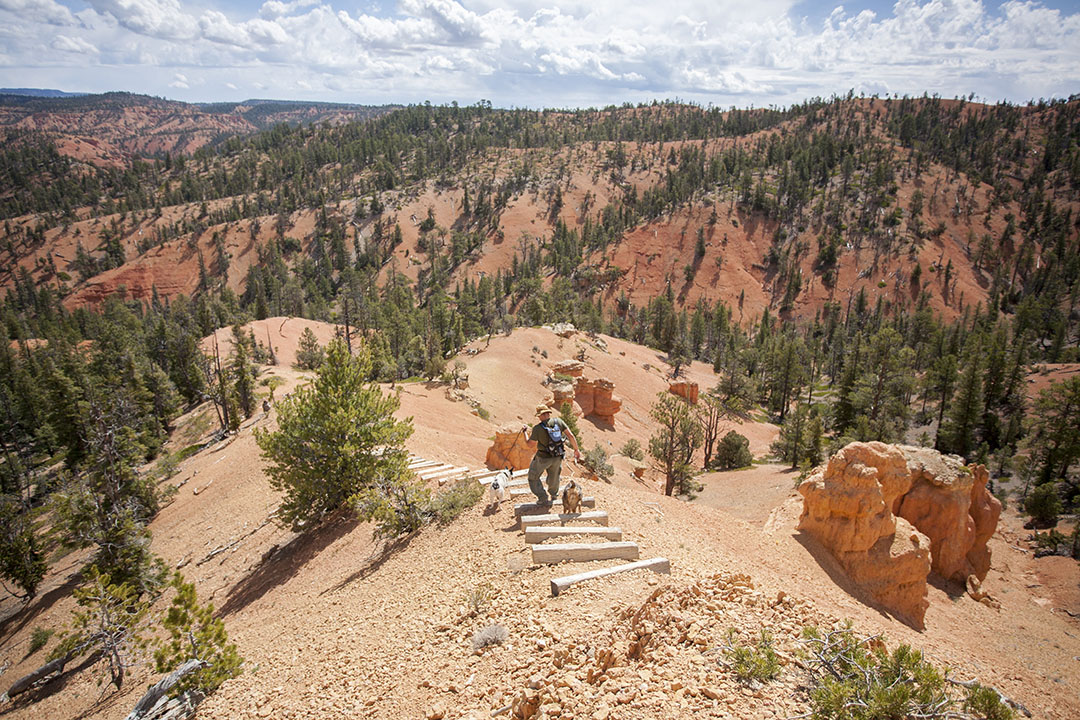 Seemingly out of nowhere, an ominous cloud appeared behind us, along with some claps of thunder! Good thing we were just about to start our descent. (Afternoon thunderstorms are common here in the summer, something to definitely be aware of).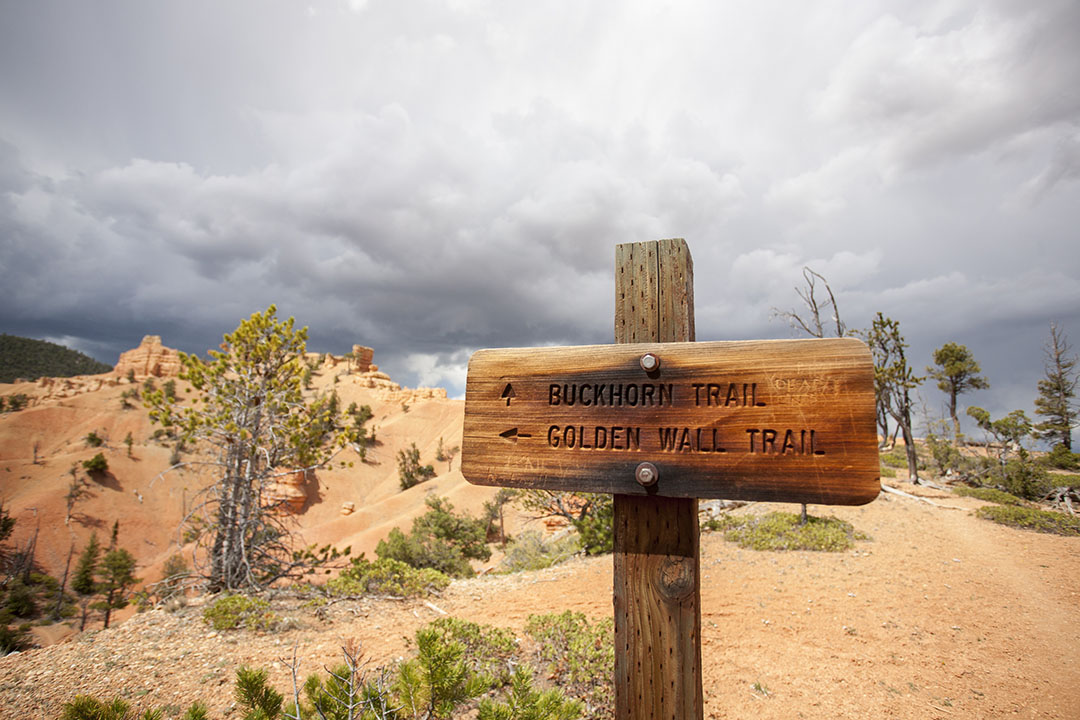 After a while, the Golden Wall Trail becomes the Buckhorn Trail. On your left is a dead end to a viewpoint where Buckhorn Trail ends; check it out if you want, but come back to this sign and go right.
Ready for more switchbacks? I thought so! Luckily these are all downhill as you take the Buckhorn Trail into the Red Canyon Campground.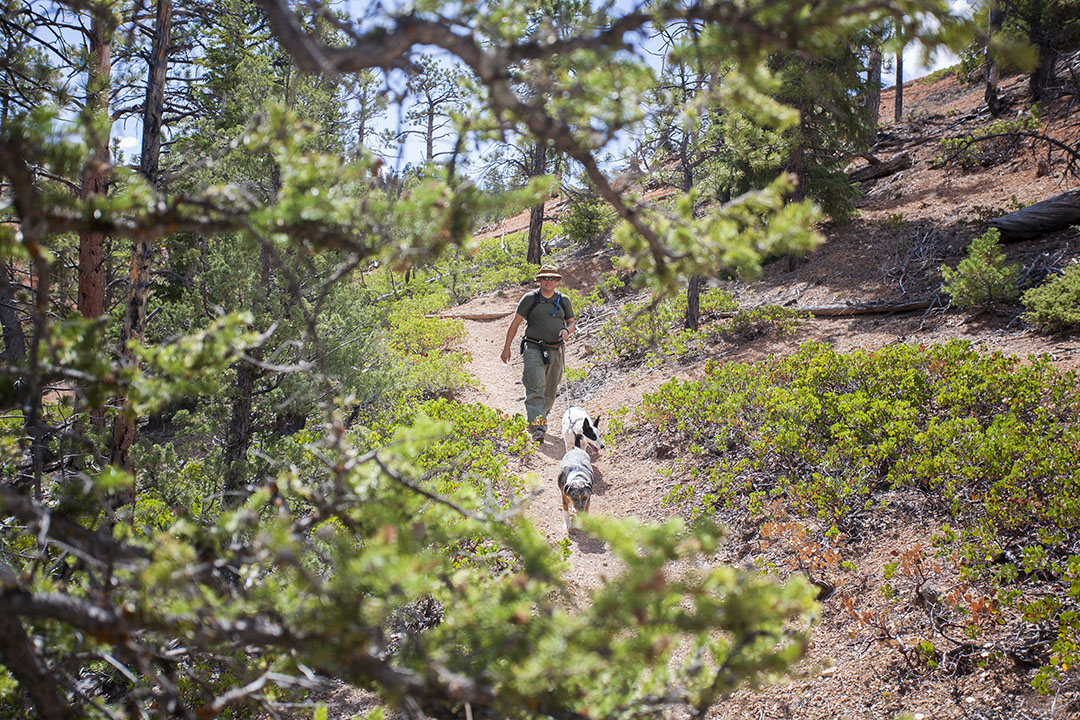 The trail will spit you out between sites number 24 & 26. To get back to your car, you'll want to exit the campground to Highway 12 and take the bike path west for half a mile.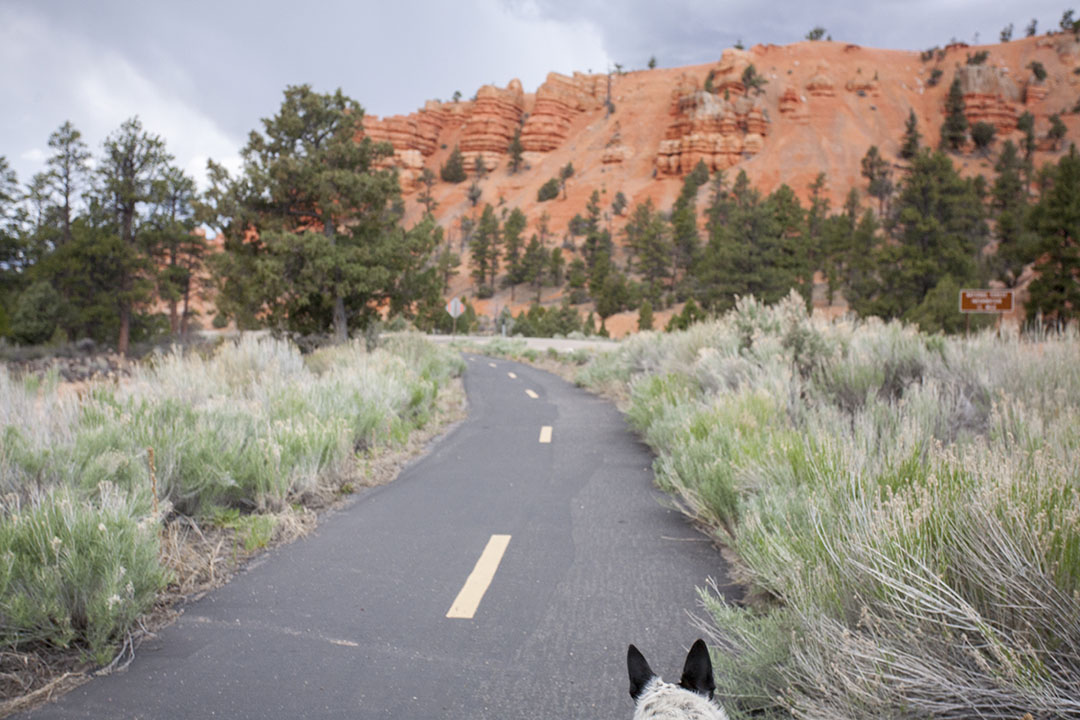 When we did this hike last year, the sun was stronger and the bike path was exceptionally hot to the touch! Feel it with your palm and if it's too hot for dog paws, you may need to send someone in your group to go get the car and pick you and the dogs up at the campground. Lucky for us, today was overcast so we walked back to the visitor center.
Before getting back in your car, stop and take a photo with Smokey to commemorate the day!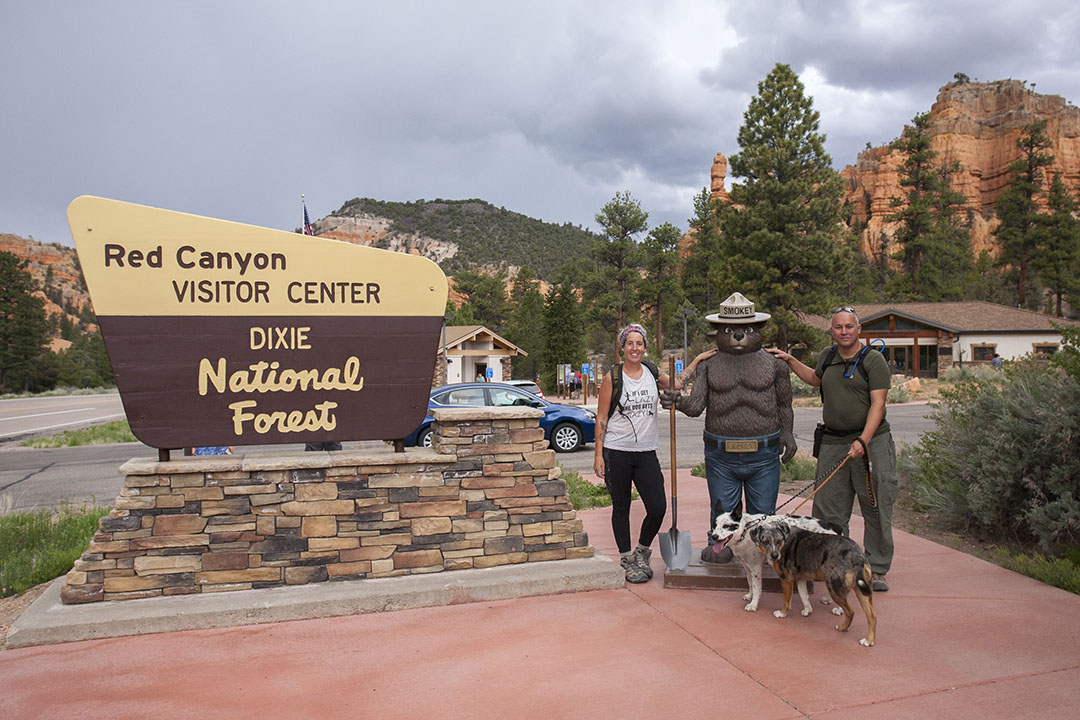 Overall, these trails are in very good condition. We would describe this loop as a moderate-to-strenuous hike, and would not suggest doing it in hot sun. We did this in late May, on a partly cloudy day, with highs in the low 70s and we were still sweating and out of breath. The hike takes you to almost 7,800 ft elevation, so we're going to blame it on that.
Lily Protip: Pack snacks, and snack often!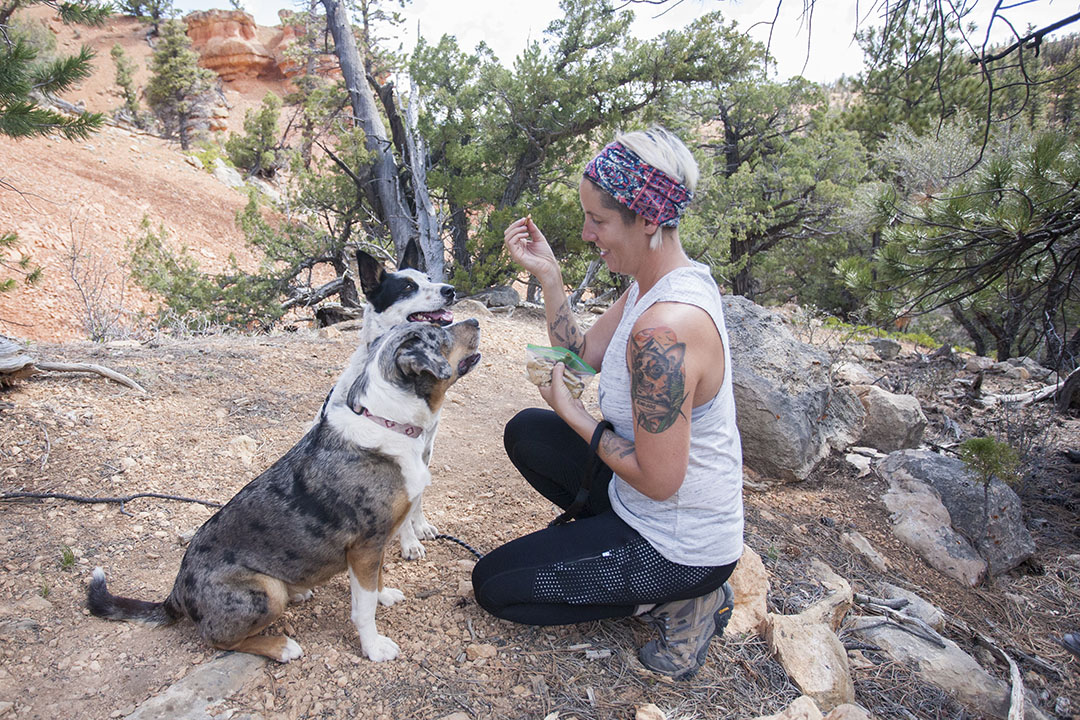 Mushy Protip: Take frequent breaks in shade and elevate your feet. Wait- what, Mushy? You're weird.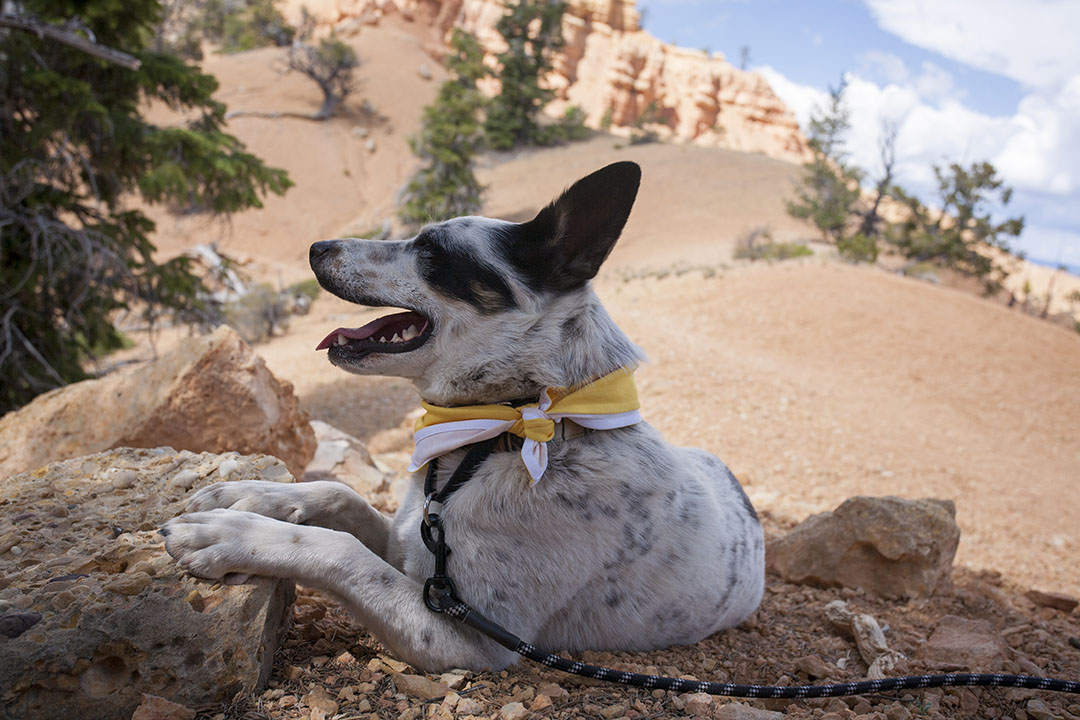 Ane Protip: Keep your eyes peeled and you may see windows, arches and some small caves. Our dogs kept running into this tiny cave and sliding down because they couldn't keep their footing.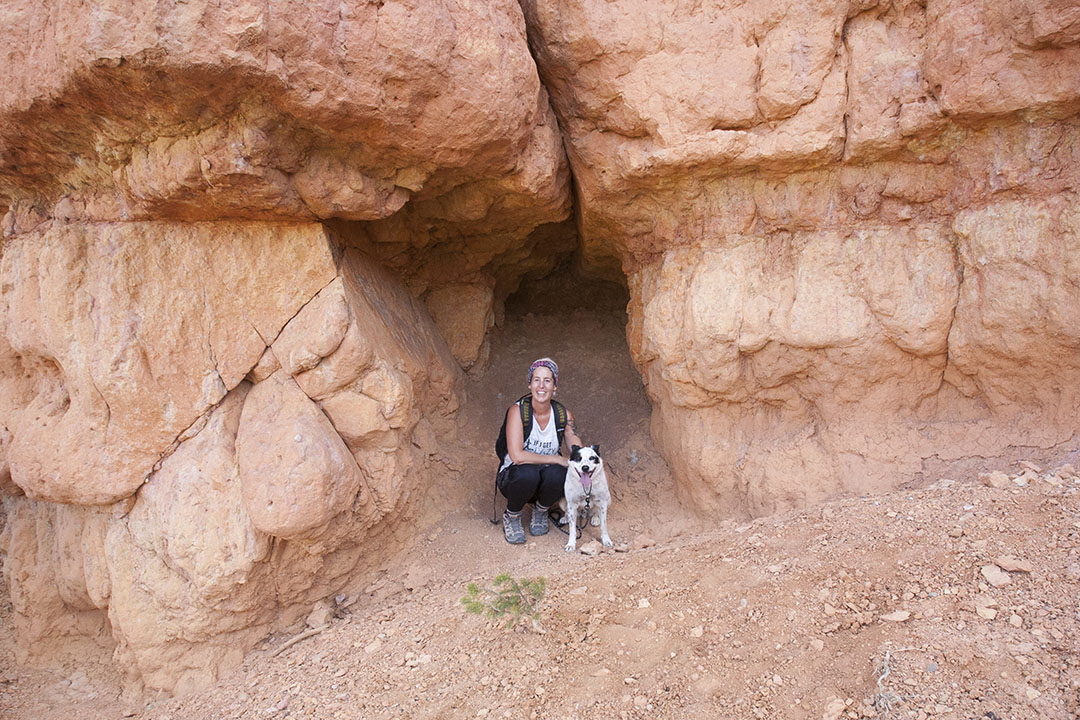 Our Stats
Total time: 3 hours (9am-12pm)
Total length: 4.2-5 miles, depending on which GPS you ask
Elevation Gain: 840 feet
Length of post-hike dog naps: 5 hours! It was such a peaceful five hours...
Things To Bring
Phone with local map cached for offline use (do not rely on cellular connectivity). Or, a paper map from the visitor center.
Lots of water, for you and your dog. There are no services along this trail, nor any natural water sources, so better to have more water than you think you'll need. The visitor center has drinking fountains to refill your bottles.
Sturdy shoes (although I once hiked this trail in Nike's and didn't die).
Hat
Sunscreen
Layers of clothing
Snacks (for you and your dog)
Bear Spray (optional). The employee at the Visitor Center said it was unnecessary on these trails, even though other parts of Dixie National Forest have warning signs. We figure, better safe than sorry. Also, Tommi just likes to have more stuff to carry. ;)
Dog booties (optional). Our dogs didn't use their booties for this hike.
Walking sticks (optional). They may be helpful if you have free hands, but not necessary.
This post originally appeared on https://fmcadventure.com/2018/06/21/redcanyonutahwithdogs/