The Kibble Conundrum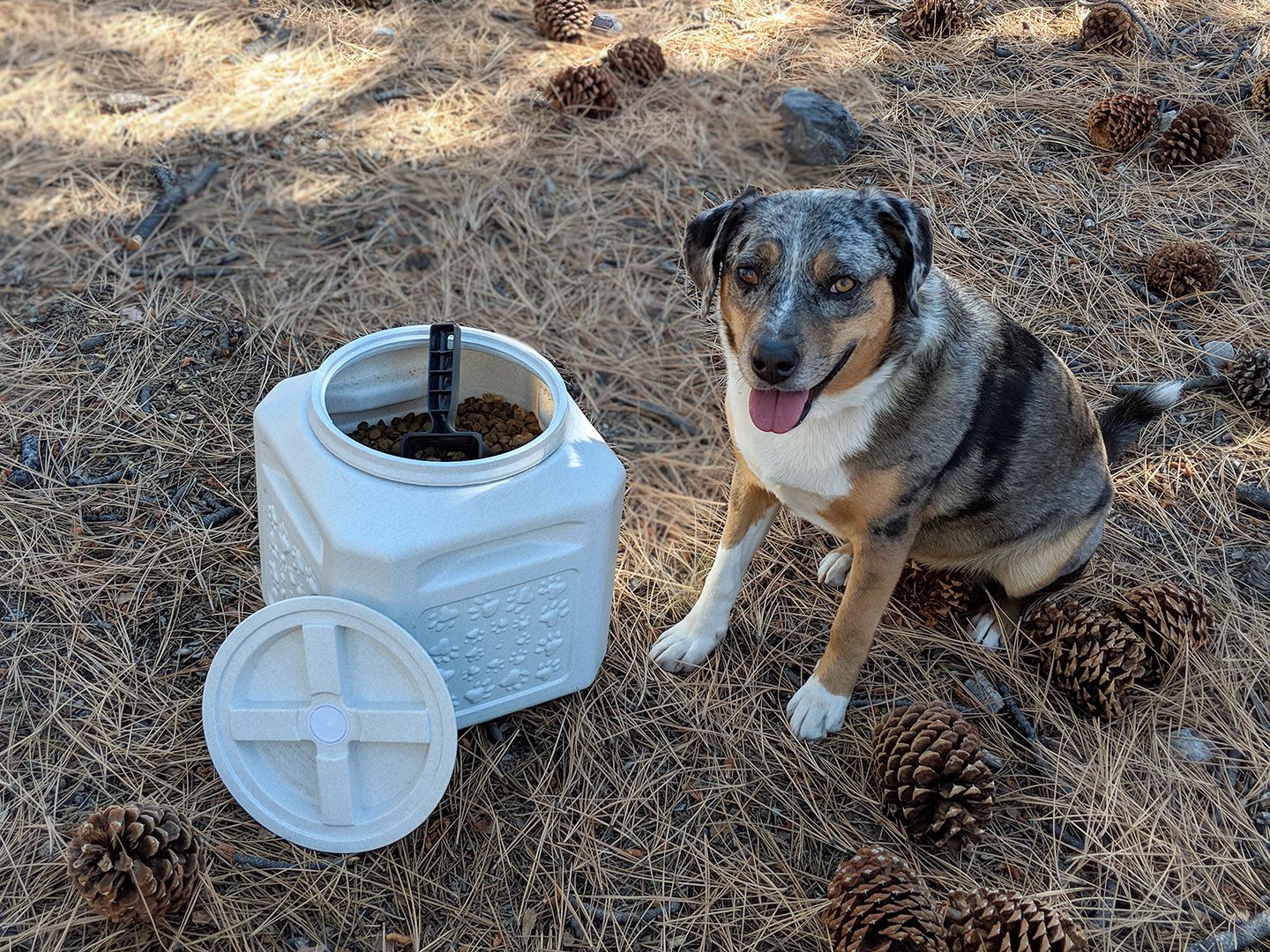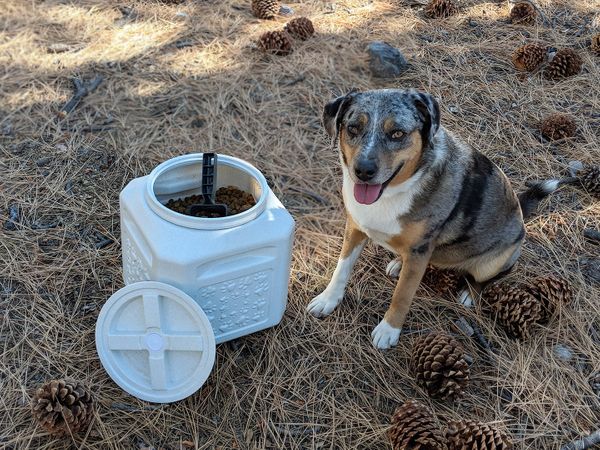 When you have medium to large dogs, keeping your RV stocked with enough — but not too much — pet food can be harder than you think. Not enough, and you're running out to a local store only to find they don't carry your pet's "normal" food. Too much, and the inside of your living space becomes a mobile Petsmart, with kibble bags and canned food stacked in the corner. We've been on both ends of the spectrum! But after a year and a half on the road, we think we have a pretty good handle on how to keep just the right amount of food, and we want to share our learnings with you.
At this point you may ask, why not just buy whatever is convenient? Well, sticking to a single, known-good diet helps any dog's digestion, and it especially helps when your dog is prone to allergies and rashes. Once you find a good food brand, stick to it! Sometimes we also find ourselves so remote that there just isn't any quality dog food to purchase within a two-hour drive.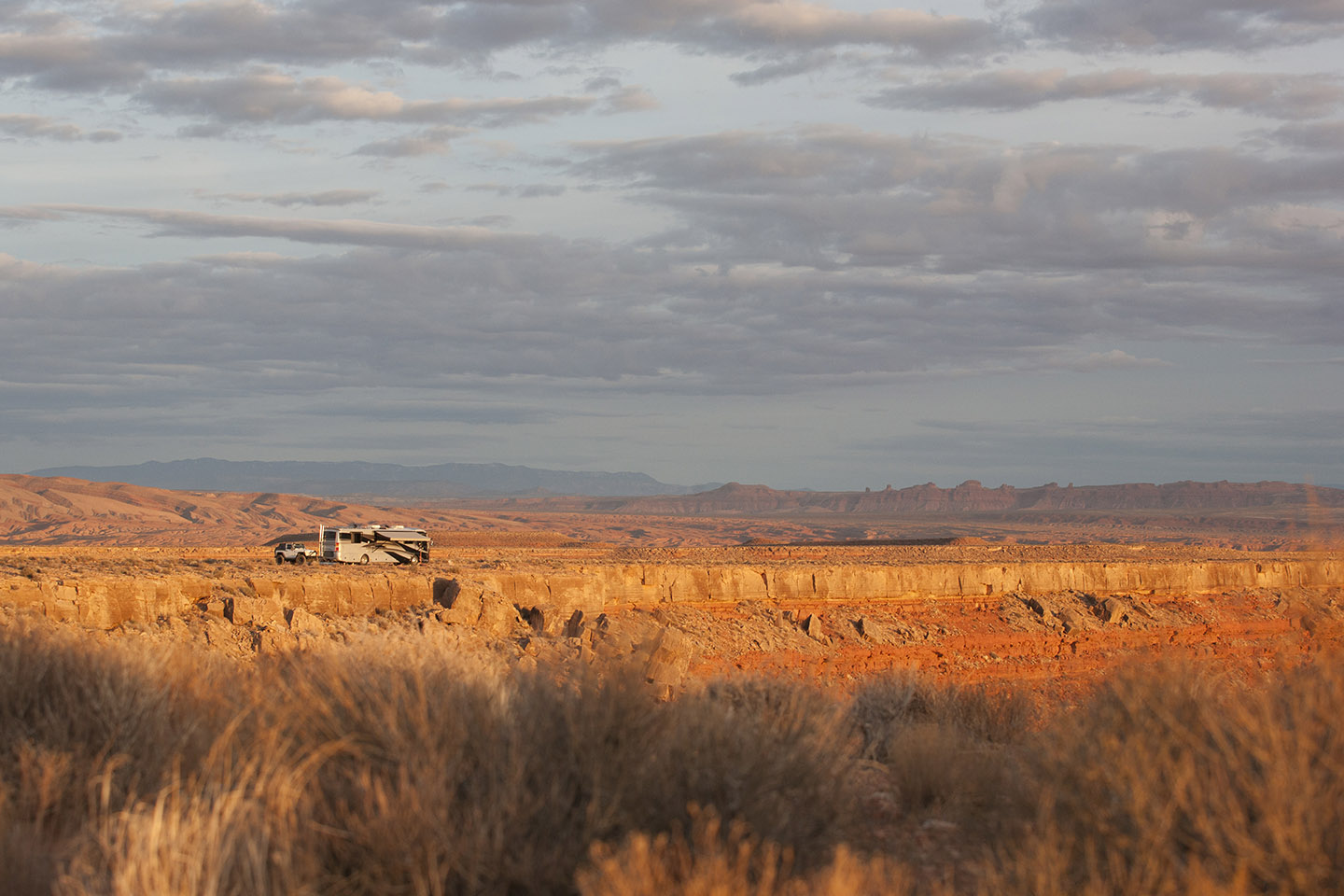 At Goosenecks State Park in Utah, we were 2+ hours away from a national chain pet supply store.
The main products we buy are 25-pound bags of kibble and canned wet food, but our tips should work for just about any animal food.
Pick a national brand
Ideally, before you start RVing, do some research and see if the food your pet is currently eating is available nationwide in common pet food chains like Petsmart or Petco. These chains are usually in most decent sized cities, so they are a good option. We didn't do this before we hit the road, and we realized pretty quickly that Lily's fancy San Francisco, Bay Area-purchased kibble was hard to come by outside of California.
Note: If and when you make a change in your dog's food, make it slowly. Gradually mix in the new food day by day, to let their stomachs adjust.
Pick up in-store
At retail stores, sometimes you can get a discount by placing your order online and picking up in-store. Petsmart often gives 5% off for doing just that! Check promotions and coupon codes before placing your order. I've found the in-store pickup at Petsmart to be a breeze. The pickup is usually available within an hour of placing the order, and I just show my ID at the register and my items are already in a cart.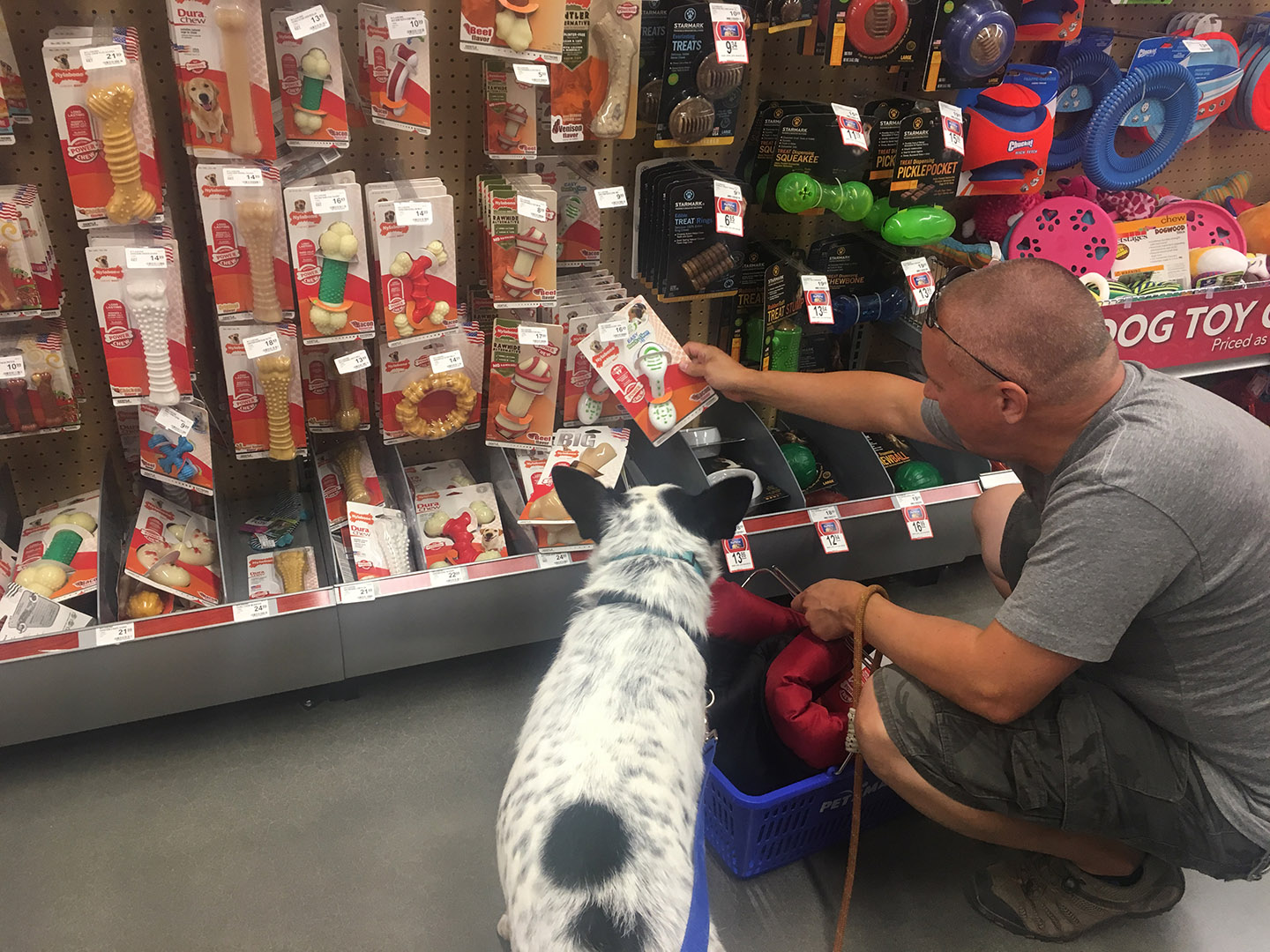 A bonus to in-store pickup is that you can also browse for the non-necessities!
Order online
Chewy.com tends to have great prices, and ships fast. So far, they've always offered free 1-2 day shipping for orders over $49. We checked with their support and they ship exclusively with FedEx. If we know we have an upcoming RV park reservation, we will call ahead to the park, and see if we can have FedEx deliver a package to us during our stay. This works best if you're staying at least a week, so there is some buffer if a package is delayed.
If we're boondocking, there's no good place to deliver the package to. I would gamble that most full-time RVers have had mail and packages sent to general delivery at least once, so you probably know what I'm talking about. If you don't, general delivery is a service provided typically by the main post office of every town, where you can pick up mail just by showing your ID, for free. For us, this experience has been significantly more pleasant in small towns.
However, UPS and FedEx cannot deliver to general delivery. So, when we're boondocking, we order dog food from Amazon, and trick Amazon into shipping with USPS by using an address like:
the name on your ID
po box GENERAL DELIVERY
town, state zip
General delivery isn't a PO box, but USPS seems to accept that, and Amazon recognizes that packages to PO boxes need to ship with USPS. The capitalization is just something Tommi does to help the postal workers sort it right.
We've found that the USPS website often does not have the correct info for which post offices accept general delivery, so it is very important to call the post office location ahead of time, and check that you can have general delivery mail sent there. Confirm the address, ask if you have to have your name on a list, and find out how long they will hold packages for you (some make you pick them up within 2 weeks, while some hold 30 days).
A mix of online + pickup: Amazon Lockers
These are often found in bigger cities, at places like gas stations and grocery stores. Amazon ships your package to a self-serve locker of your choosing, you get a code and go pick up your item. You usually have 3 days to pick it up, or it's returned to sender. There are rules about what size and weight packages can be delivered to Amazon Lockers, which you can view here. If you're not sure if your order can ship to a locker, don't worry. Amazon will let you know if it's ineligible during checkout, before you actually click "submit order."
Now that you have the food, how do you store it?
Hopefully through some method above, you have ended up with some dog food! We usually buy two 25-pound bags of kibble and 12 cans of wet food (aka topping for kibble) at once.
Rodents are the main concern you're going to have with storing dog food in the "basement", so we bought a hard plastic container called Gamma2 Vittles Vault. If you've ever seen a Hollywood movie featuring an apocalypse bunker with shelves full of supplies, you've seen these kinds of containers. In our experience, it has been impervious to rodents — but we also keep it in a standalone bay, hardest for them to reach. It fits one big bag of kibble nicely.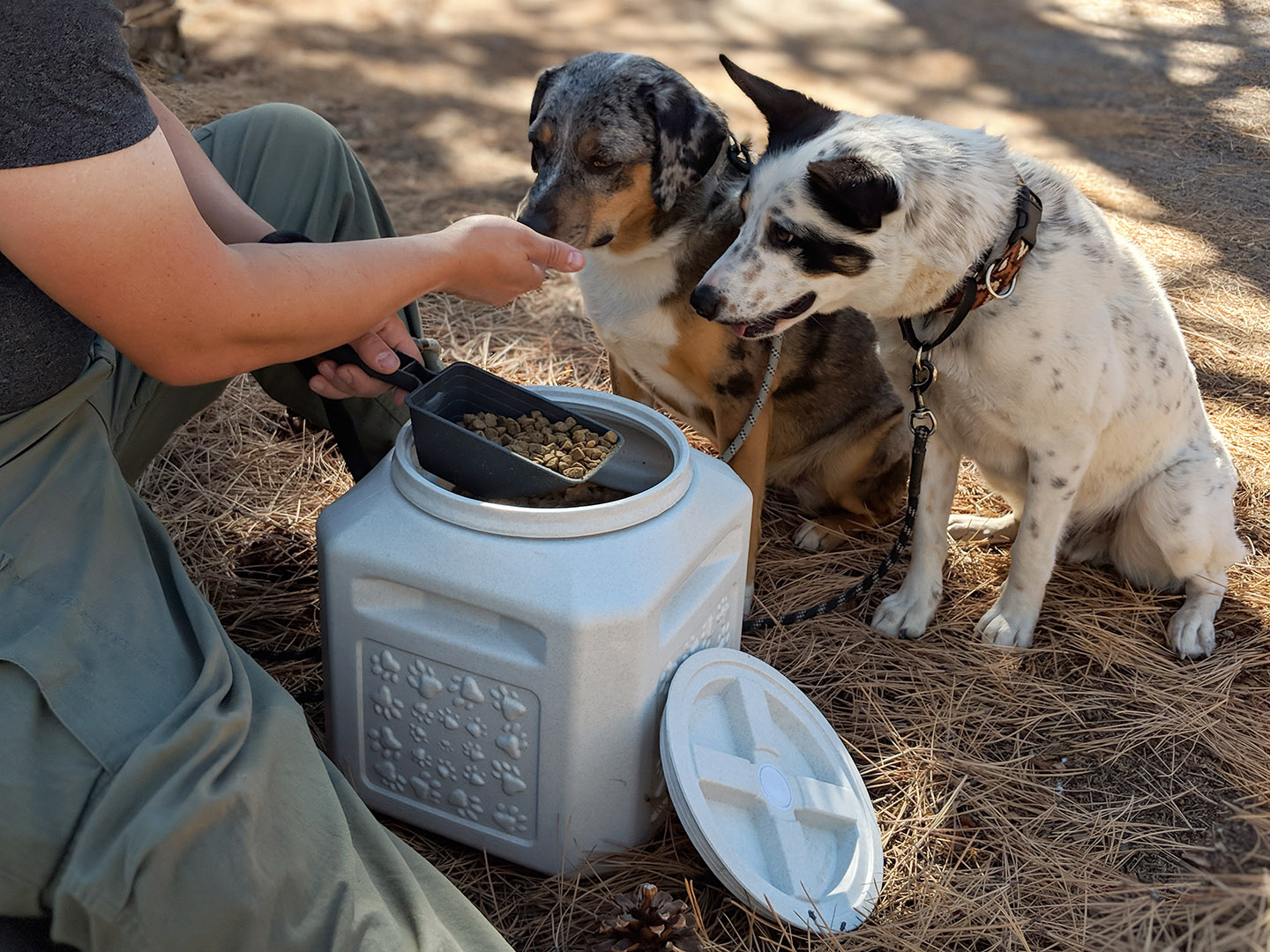 We also have a smaller plastic container that we fill from the big container, about once a week. That allows us to have a week's worth of kibble on hand in the kitchen.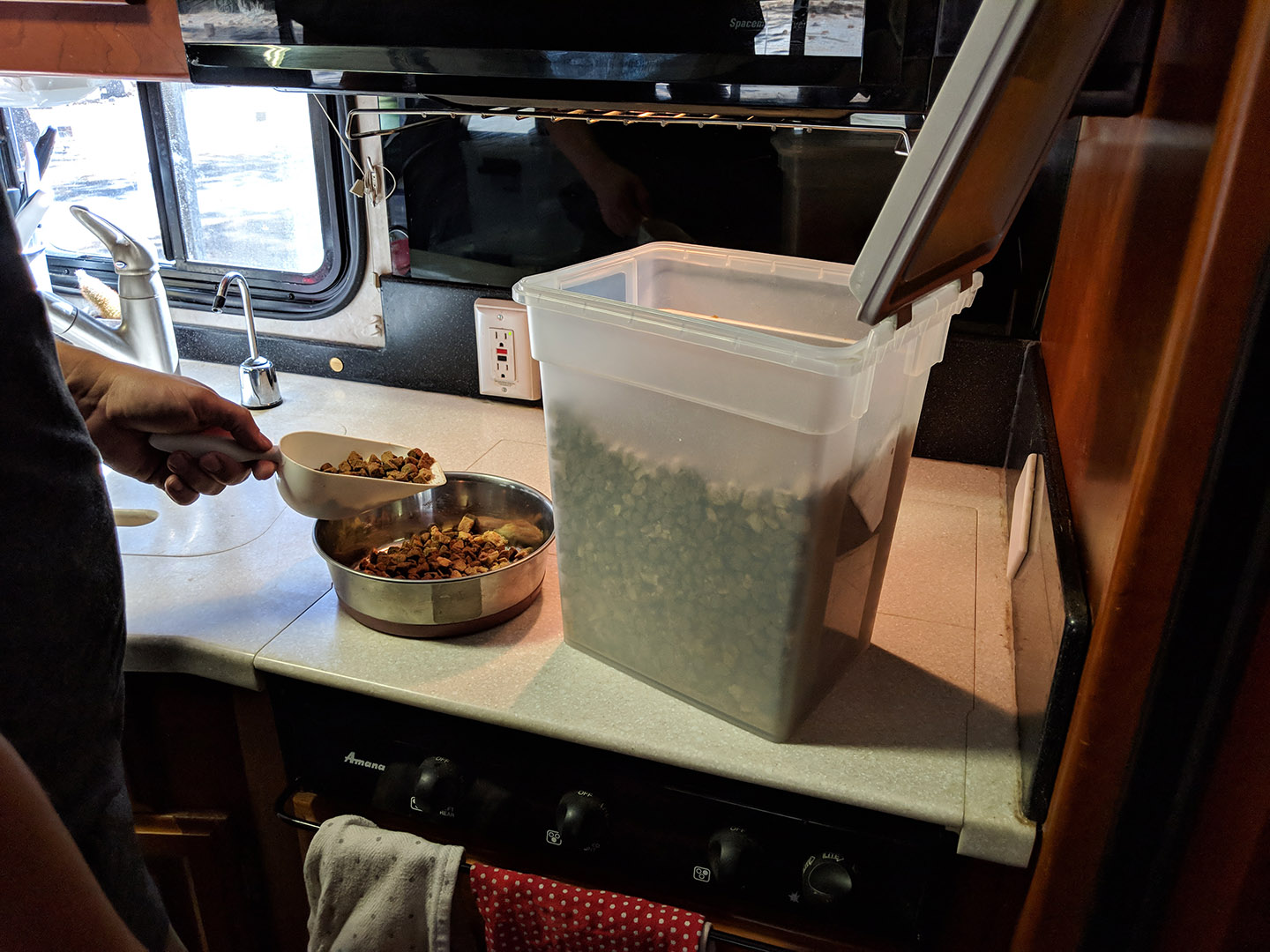 So far, we've had luck keeping the other 25-pound bag in our living room area, tucked away behind the passenger seat. Our dogs are not chewers, so opening the bag is not tempting to them. We also have not had rodents in our living space (knock on wood here with me please!), so we don't have to worry about that (our "basement" is another story). However if it ever becomes a problem, we could just buy another one of the hard plastic storage containers.
This post originally appeared on https://fmcadventure.com/2018/10/29/rvpetfood/
Shopping links are affiliate links and help us pay for this site. Our opinions are our own, and not paid for.