Our Dog-Friendly Visit to the Grand Canyon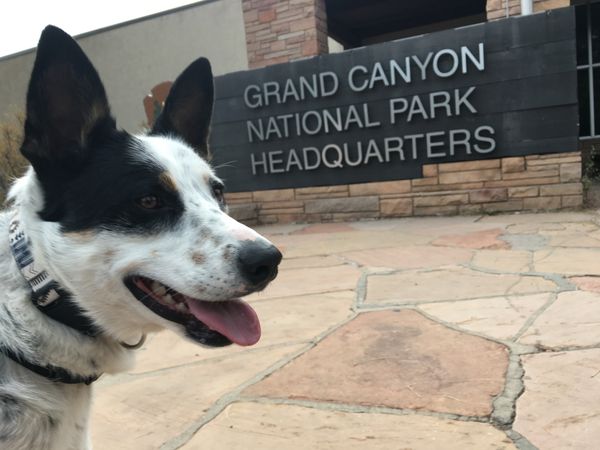 We visited the South Rim of the Grand Canyon in October 2017 with our class A motorhome and 2 dogs.  We realized we never wrote a blog about it, and since it's such a bucket-list item for people, we figured it was high time we shared our dog-friendly experience with others!
But I've heard it's not dog-friendly?
As with many National Parks, Grand Canyon isn't the most dog-friendly destination, but overall we were very pleasantly surprised by how much we could do with Lily & Mushy!  The general NPS rule is that dogs are allowed only in campgrounds and on paved surfaces, and never in buildings.  At Grand Canyon, that leaves you plenty of places to go — much more than at a typical National Park.  Here's a recap of our favorite dog-friendly things within the park:
Walk the rim!
All 13 miles of it are dog-friendly, so you have plenty to do and see!  And since so many people visit without pets, our dogs felt like celebrities here!  So many people wanted to come up and pet them and said things like, "Oh! It's so nice to pet a dog. Mine is at home and I miss them so much!"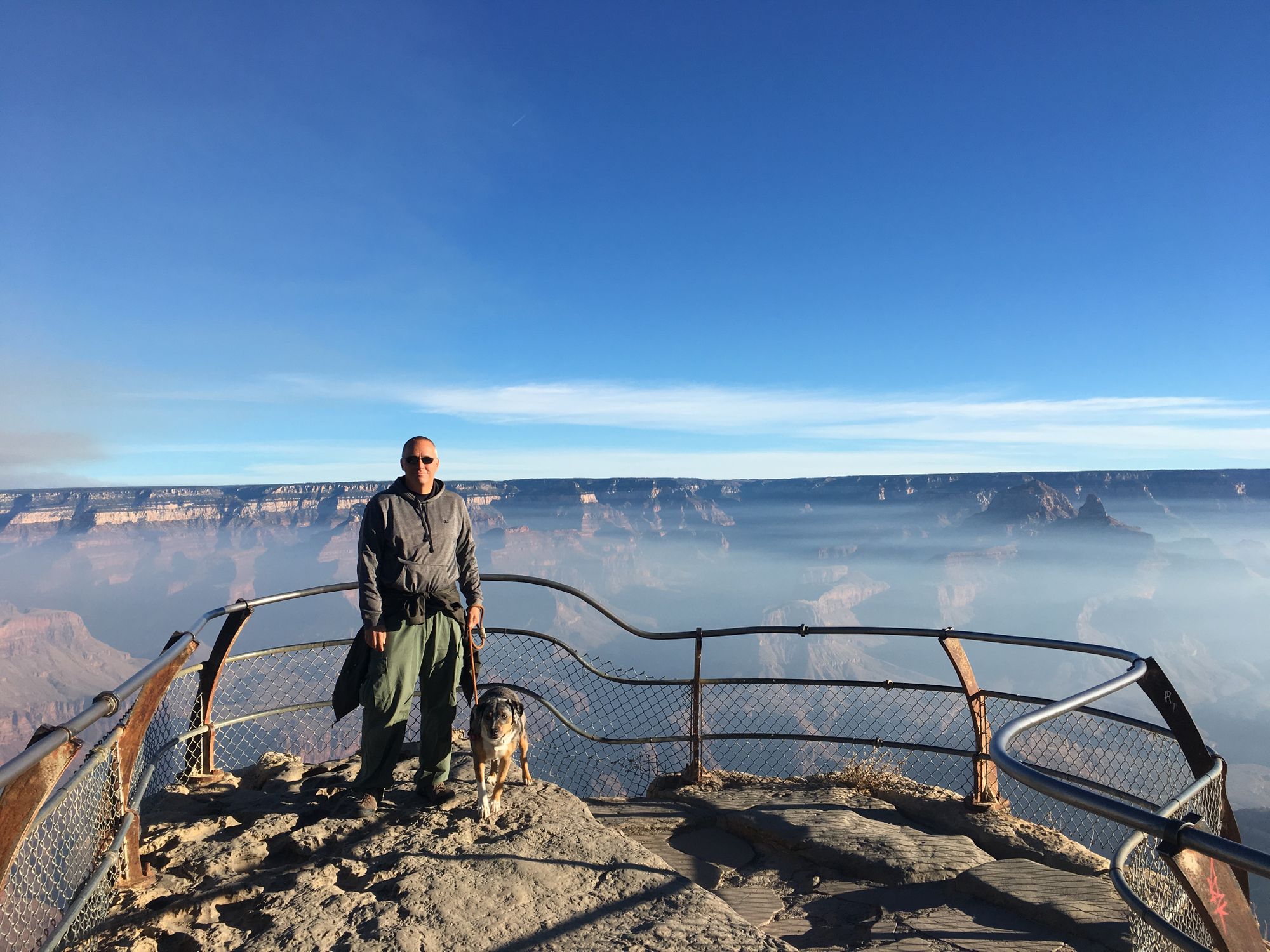 Experience the Greenway!
Do you love walking, jogging, biking or skating with your dog?  You'll love the Greenway!  It's a paved walk/bike trail network with multiple routes inside the park, and it goes all the way to Tusayan.  We were there in October and had it mostly to ourselves!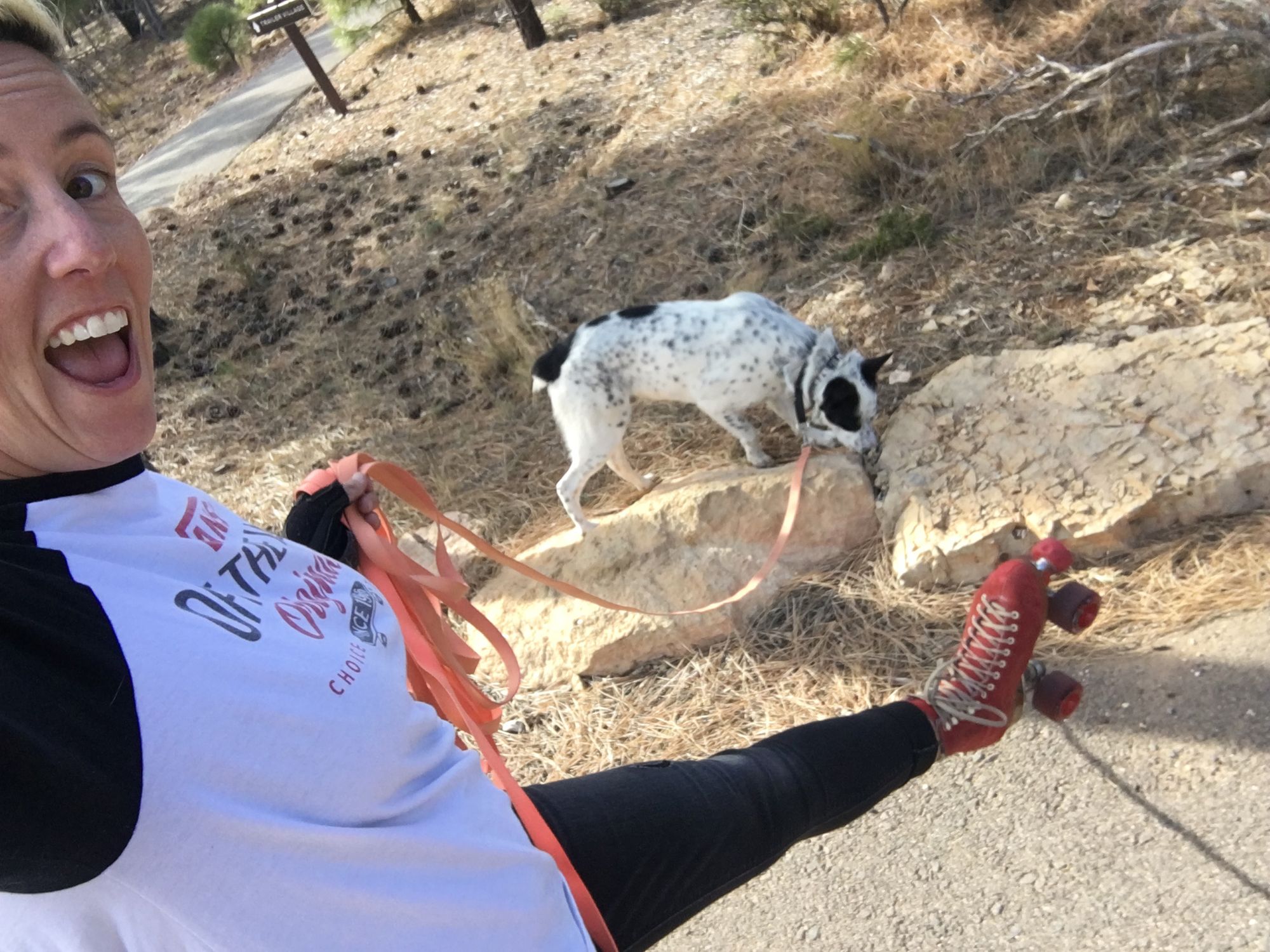 Visit the Desert View Watchtower
Most visitors who don't have a lot of time just stick with the popular Grand Canyon Village, but if you have more time make sure to check out the Desert View Watchtower, just 25 miles east.  Dogs aren't allowed in the watchtower, but you'll still get a great view of the Colorado river below!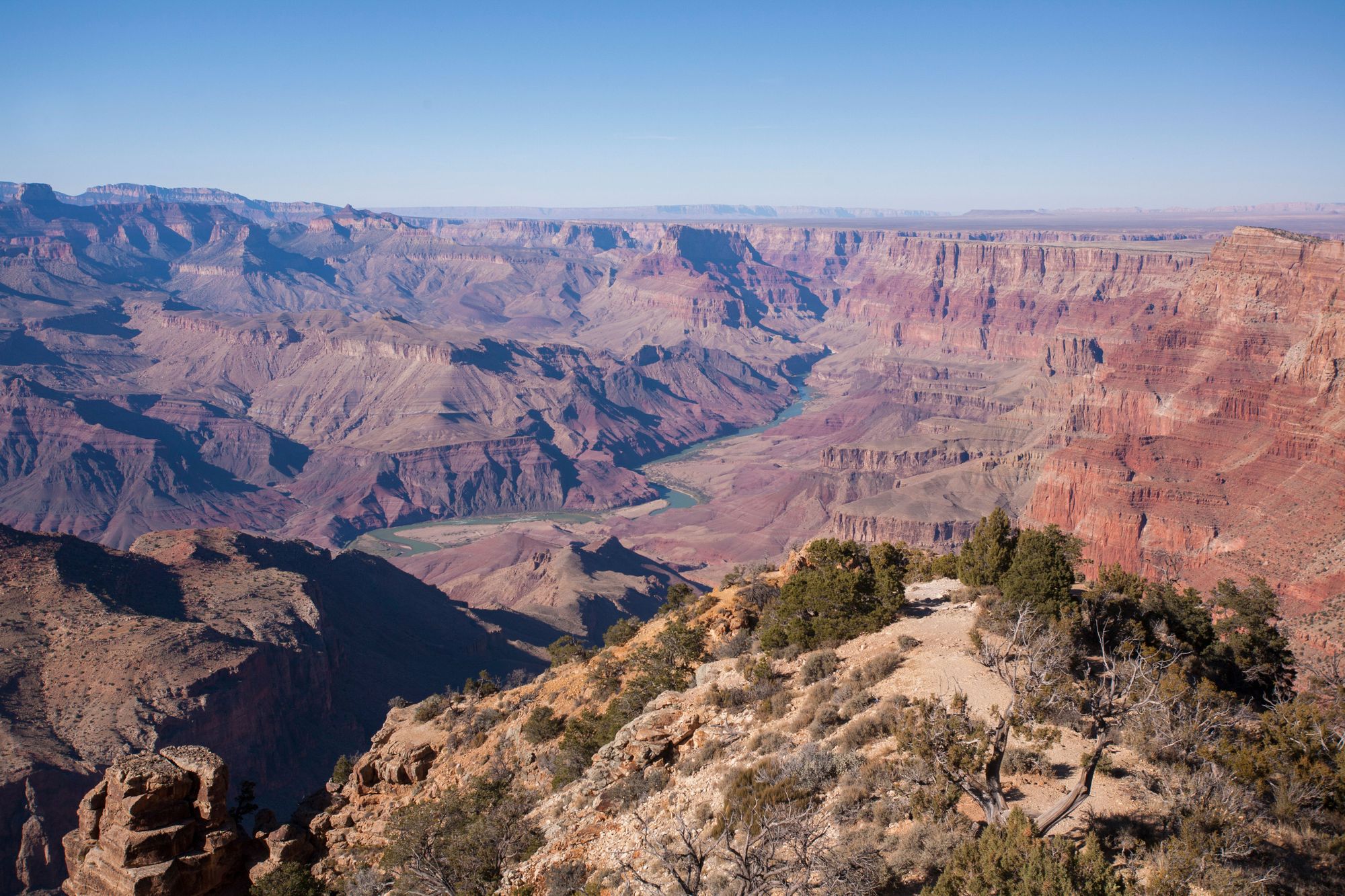 Many of the National Parks have BARK ranger programs, which encourages pet owners to have a safe and fun visit.  Plus, you can often get a super cool keepsake for your dog.  Stop by the Visitor Center for more info. Below is a photo of Lily & Mushy's BARK ranger "credentials" from Olympic National Park in Washington.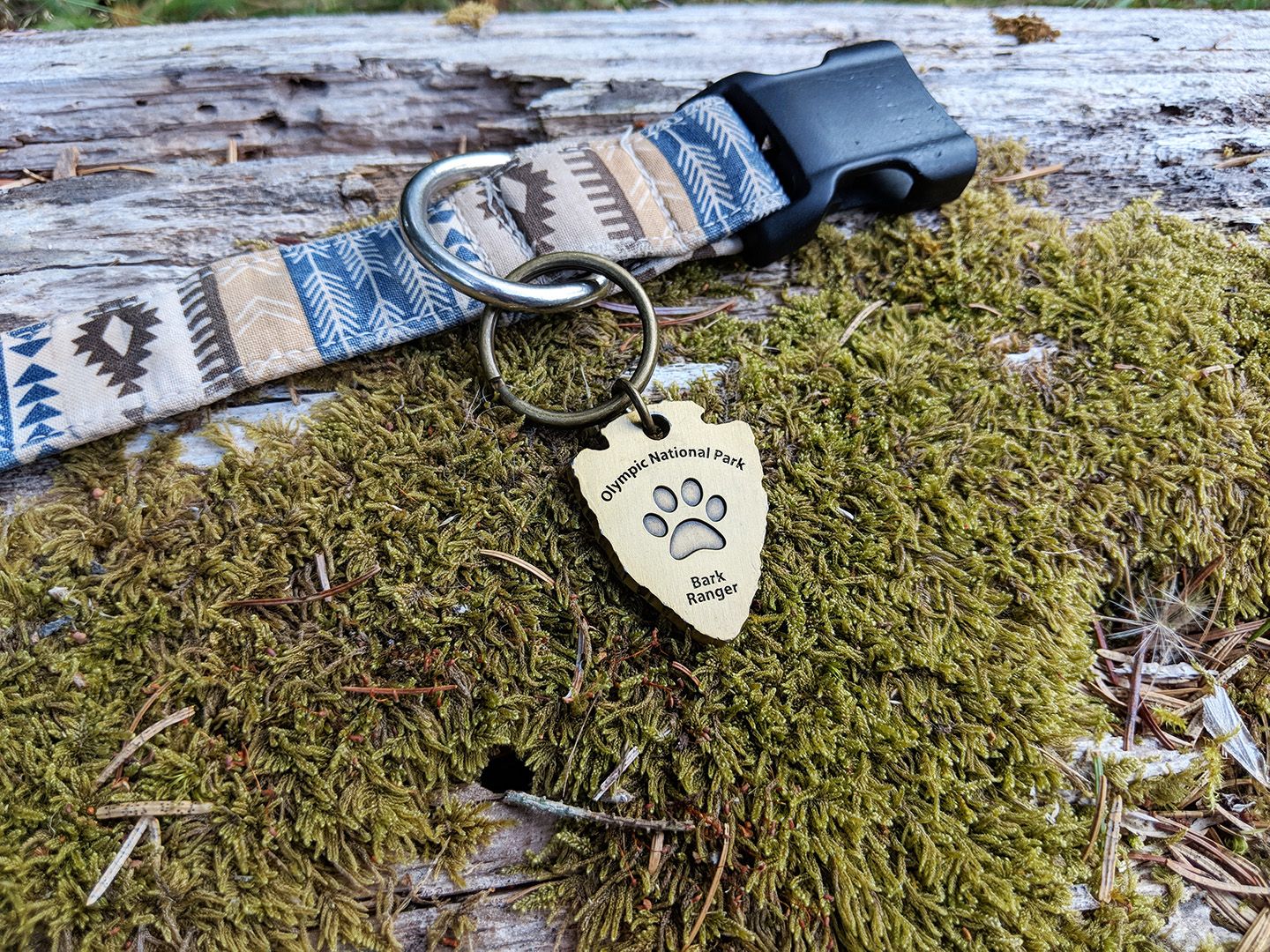 Other top tips
Do some hiking below the rim
Most visitors to the Grand Canyon just admire it from the rim.  Trust us, it's worth it to hike into the canyon!  The visitor centers have some great outdoor kiosks that show hike options by time lengths. Even a short hike is worth it.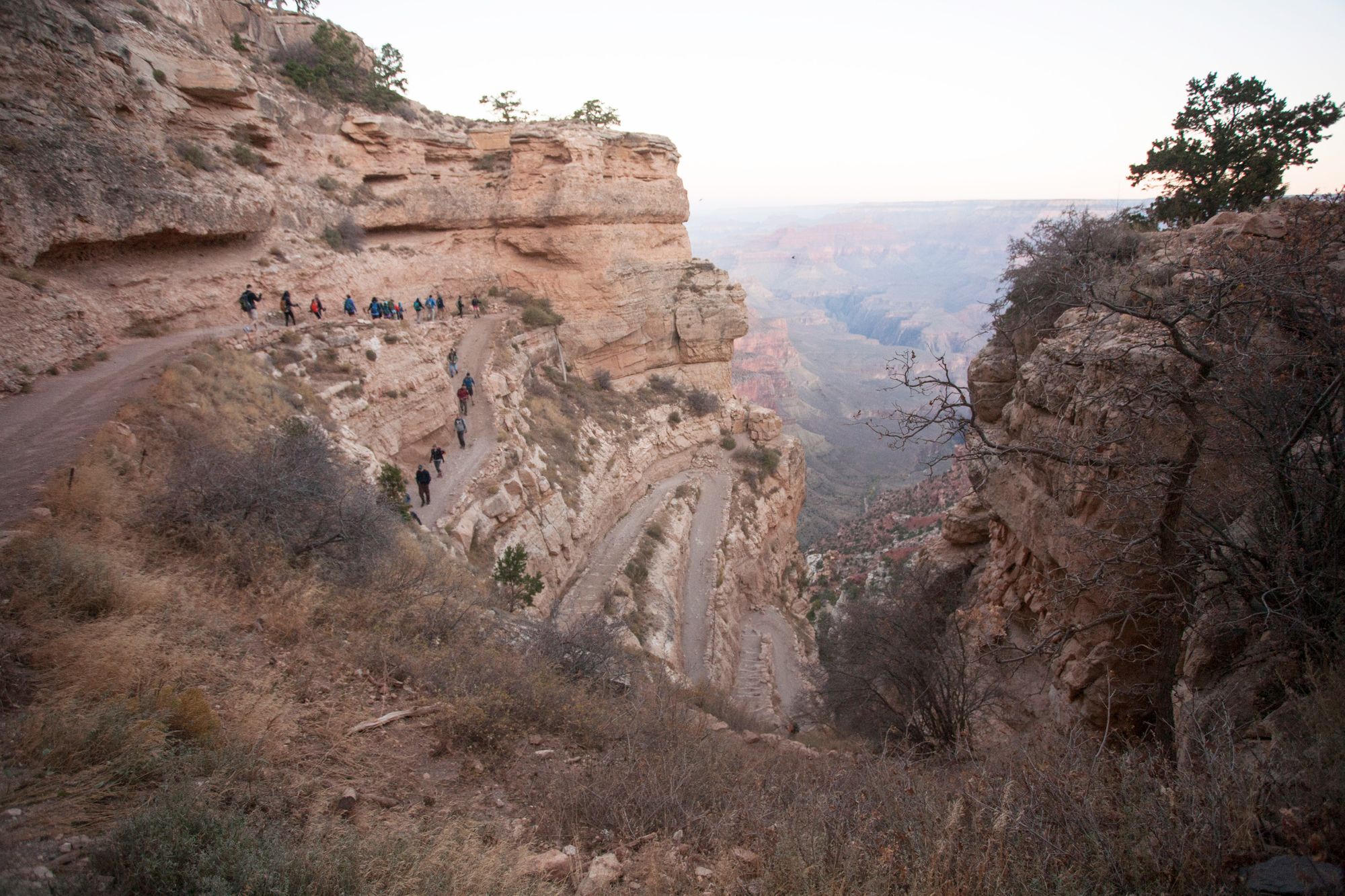 Since dogs aren't allowed below the rim, we had to leave Lily & Mushy at the RV when we wanted to do some hiking.  Luckily, with 50 amp hookups at Trailer Village, we were able to leave the dogs at the RV for a few hours to hike to Oh Ah Point.  There are kennels at the park for longer hikes, but our dogs have never been apart from us so we didn't use those services.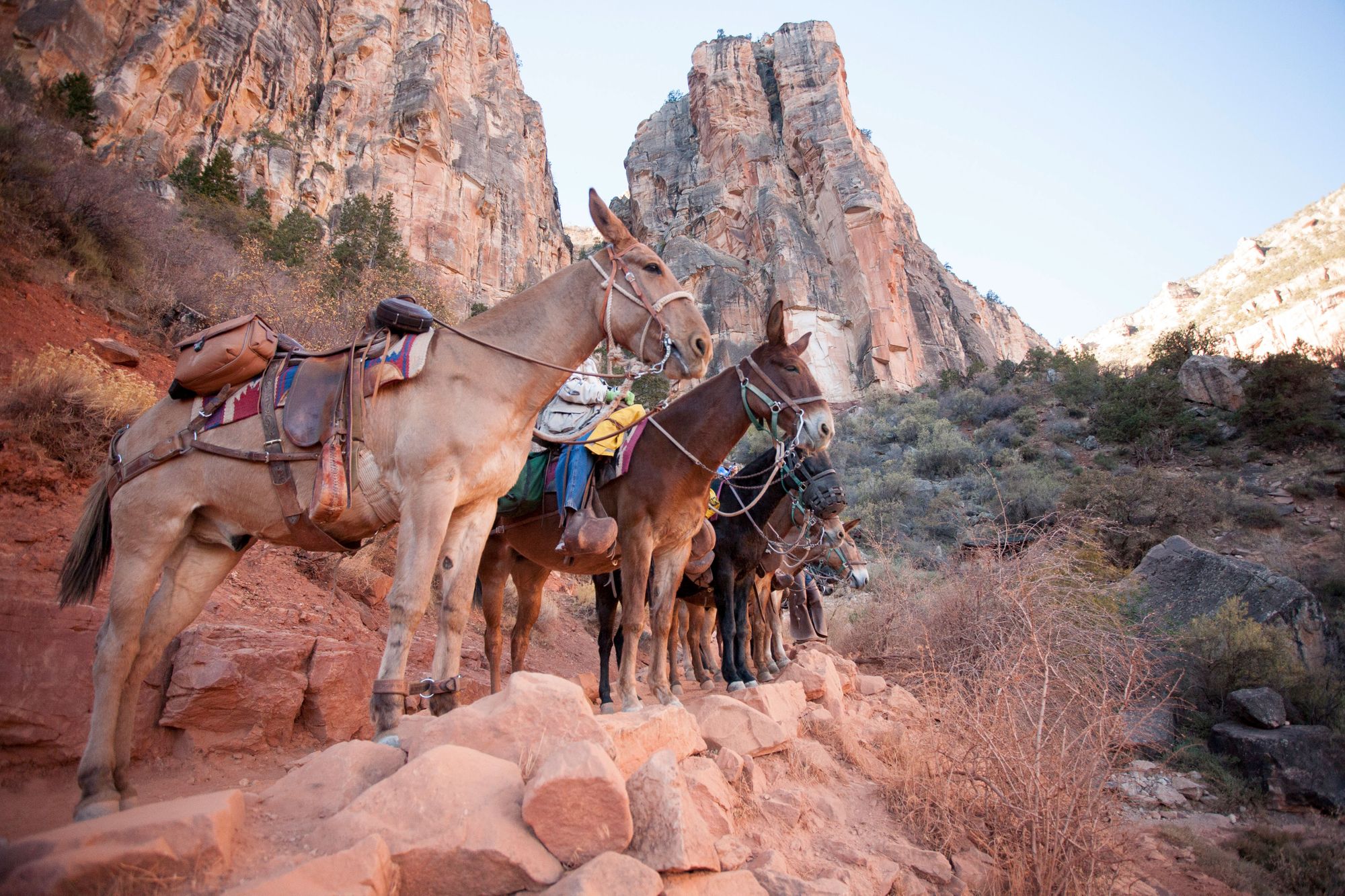 Accommodations
Had it just been us (Tommi and I, and the dogs) we likely would have boondocked just outside the park.  But this was a special trip!  Tommi's parents were coming all the way from Finland to visit us.  Because of that, we decided to stay within the park to be walking distance to their motel room at Yavapai Lodge. The park also has a dry camping campground with a dump station, but the length of our rig and the duration of stay made us choose full hookups at Grand Canyon Trailer Village.  At a cost of about $50/night, it was more than we'd usually ever pay, but given the location — walking distance to the rim and the lodge — it was a great deal. If you have non-RVing friends or family you want to vacation with at the Canyon, we highly recommend this combo.  There's also a shuttle bus stop so if walking's not your thing, you're still good! (Note: pets are not allowed on the shuttle.)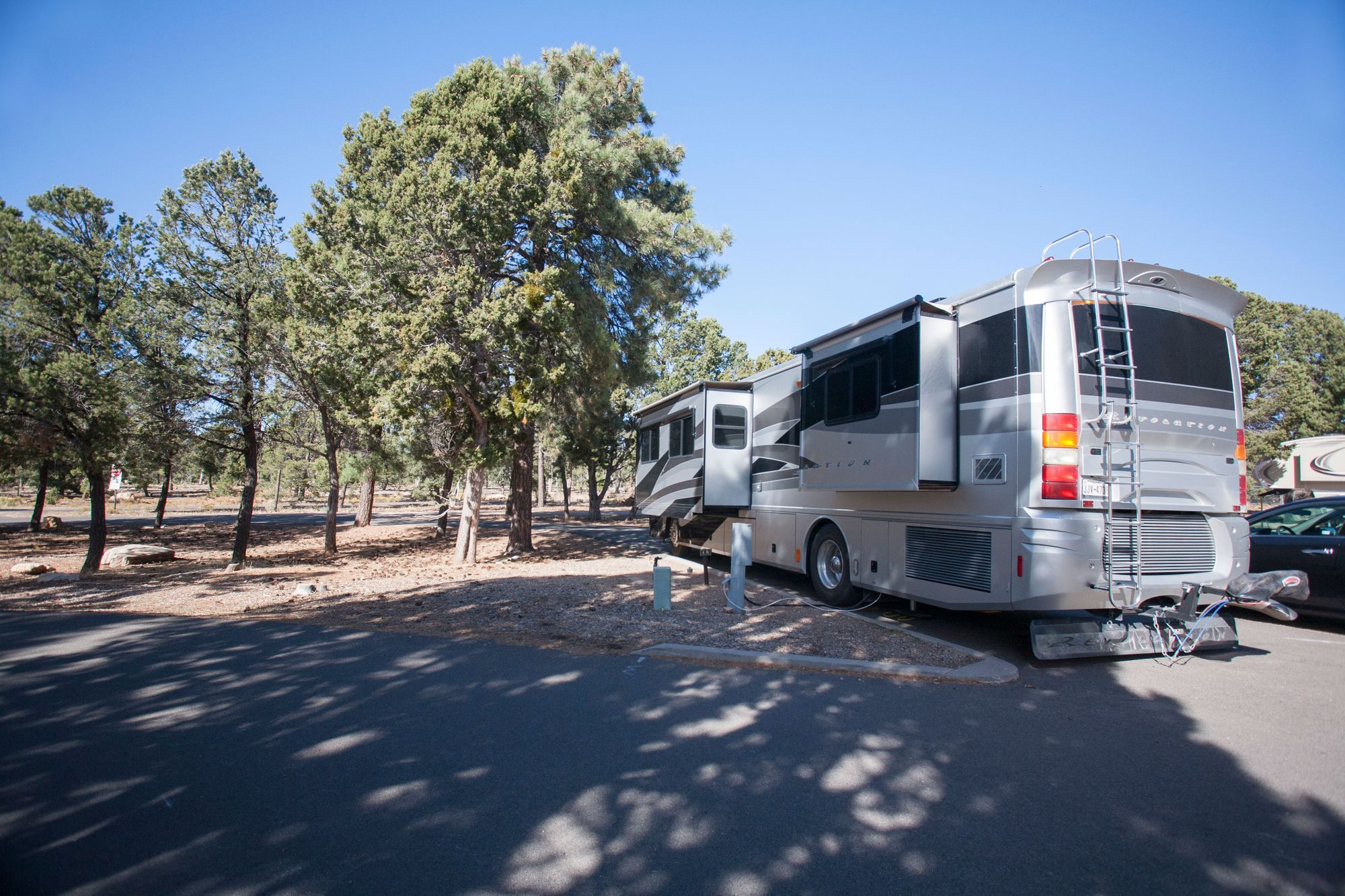 Shoulder seasons are your best bet
Summers can be very hot at the Grand Canyon and when everyone is running their air conditioners RV park electric grids can fail.  Even if you were to have interior temperature monitoring, the poor cell signal would stop an alert from reaching your phone.  We felt very safe leaving our dogs in our RV for a few hours in October, but would not have felt comfortable doing that during the summer months.
The cooler weather also makes activities more enjoyable. Summertime sun will make the pavement hot enough to burn dog paws, and there are very few places to walk your dog that aren't covered with dark pavement.  If you are worried about hot pavement, these are the booties we use for Lily & Mushy.
Another bonus for shoulder seasons is that the park isn't as busy!
Connectivity, or lack thereof
We knew that staying at the Grand Canyon while also needing to work as freelancers would be risky.  As with many national parks, Grand Canyon has poor cell signal and practically nonexistent data.  The Trailer Village website has a good recap of what to expect.  I had to check in on work during our visit which meant I had to walk to the Yavapai Lodge to get a WiFi signal (and then hunt for a place to sit, among all the other people trying to check their email or get some work done!)  Even then, it was poor at best.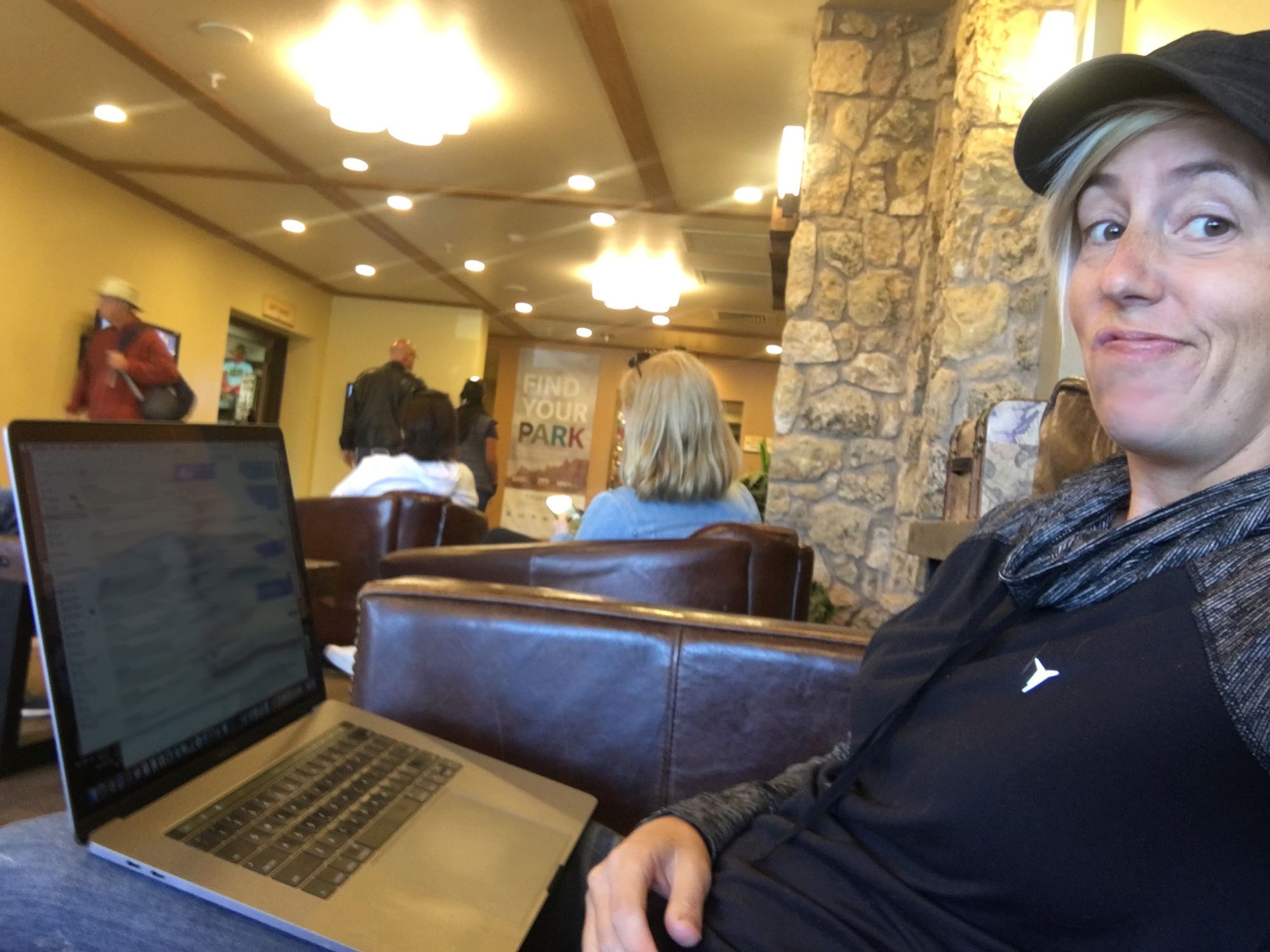 Food at the Grand Canyon
If you're looking to dine with your dog at the Grand Canyon, you won't have many options.  As of our visit in Oct., 2017, the best option was a few "grab and go" type kiosks.  You're better off packing a lunch at the RV and taking it with you for a nice picnic near the rim.
There is a grocery store within the park, but you'll pay for the convenience and the selection isn't great.  Make sure to stock up in a city like Flagstaff before you arrive and don't forget to get enough dog food!  If you're looking for a nice evening out without dogs, the El Tovar hotel is the fanciest option and was a nice treat.
Wildlife at the Grand Canyon
The park has managed to stay surprisingly wild, relative to the number of tourists there.  You will regularly see mule deer, big enough to be mistaken for horses at a distance.  Your dog will regularly smell/hear/see mule deer too.  They are definitely large enough to kick any dog that approaches them, and in no rush to make room for you and your pet; keep your eyes open and a good grip on the leash, and be ready to either wait or use an alternate route.  It wouldn't be unheard of to have a bear walk through the park either.
National parks intentionally have very few street lights, so the park gets properly dark after dusk.  In the darkness, you can hear all kinds of noises from the woods.  Tommi was giving Mushy his last pee break of the night in complete darkness, when Mushy suddenly shouted what can only be described as a heavy metal vocalist scream; all tense, hackles raised, and staring at the woods. We had never heard him bark like that before.  They both made a very quick return to the safety of the RV!
Daytime, you'll get smaller visitors, mostly squirrels, chipmunks, and birds. Bees gather near every dripping faucet, sometimes accompanied by whitetail deer. Bighorn sheep hang out below the rim. The RV park office warned us that the local birds have a habit of pecking holes in sewer hoses left in the open, and recommended stowing the hose after every dump.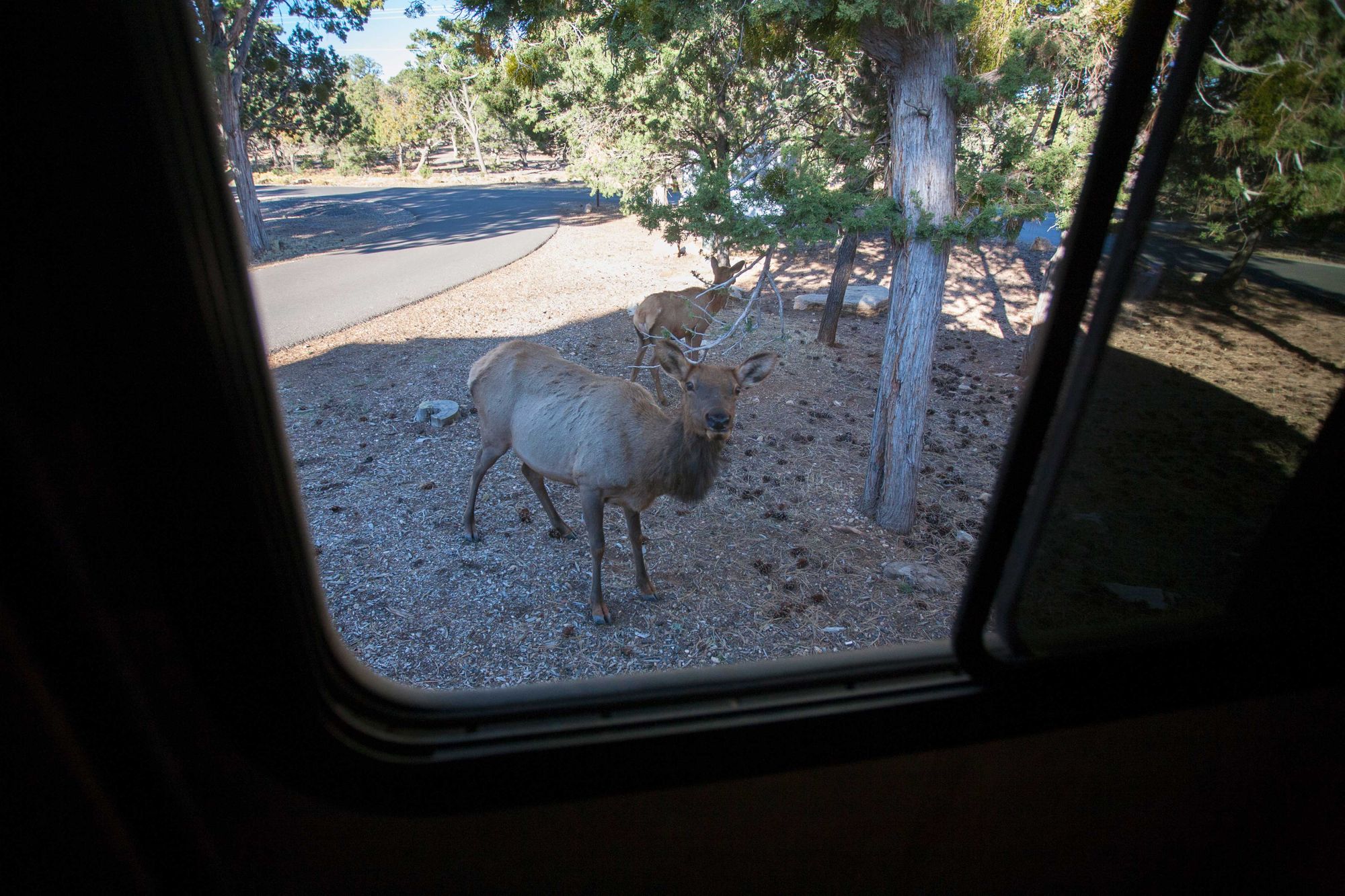 Williams, AZ is worth a stop!
If you're going to the south rim of the Grand Canyon, you'll pass through Williams, AZ on your approach.  We spent a week here after our stay at the Canyon to have access to a much better cell signal and catch up on work.  Check out our tips below on where to stay and fun dog-friendly activities to do!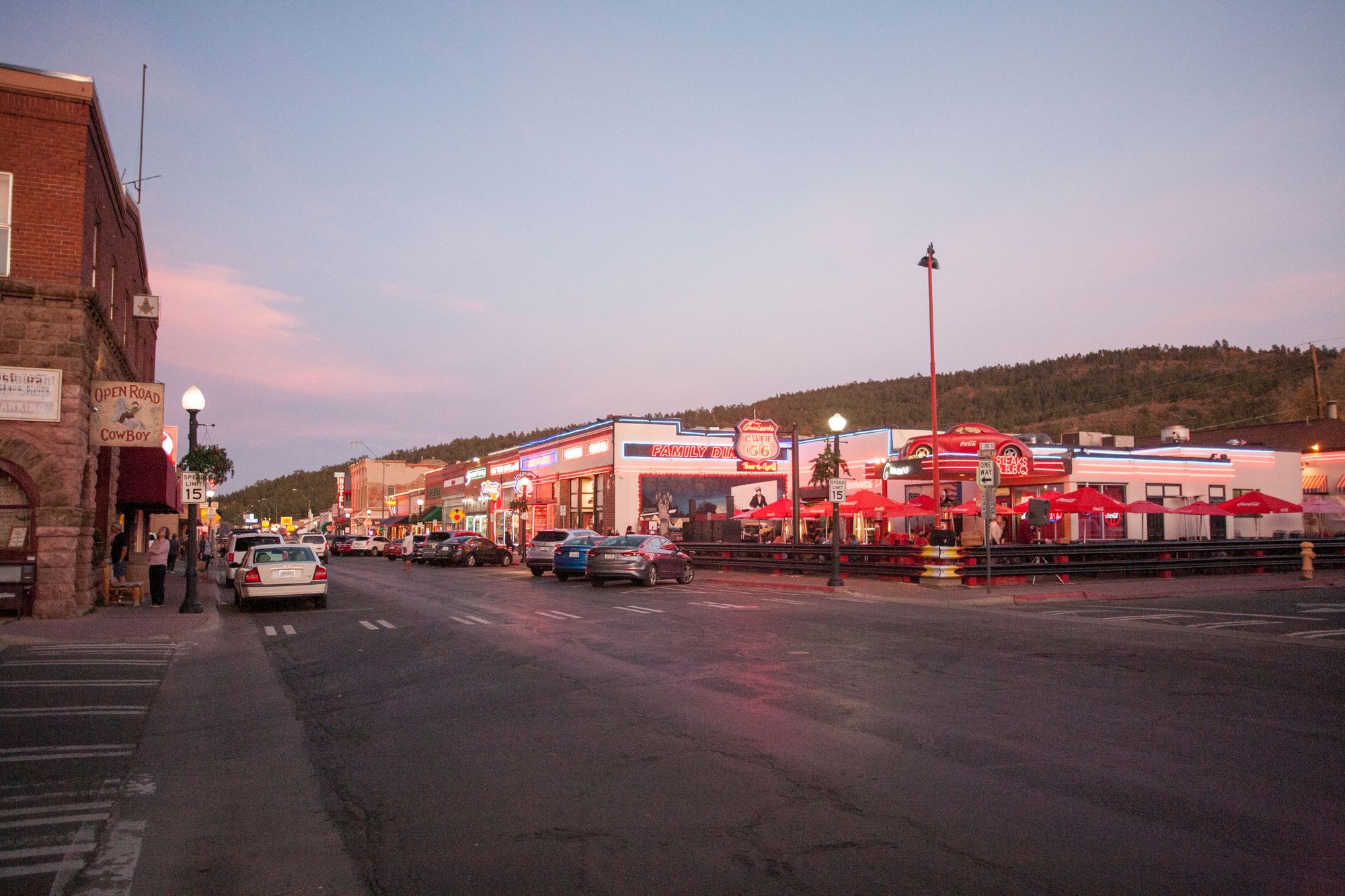 Grand Canyon Railway RV Park
We spent a week at the Grand Canyon Railway RV Park in Williams, AZ after our two weeks at Grand Canyon.  We loved a lot about this park.  The walkability to the cute main street of Williams, the walking trail around the park (perfect for morning dog walks), the use of the adjacent hotel facilities, and that you can take the train from your RV to the Grand Canyon!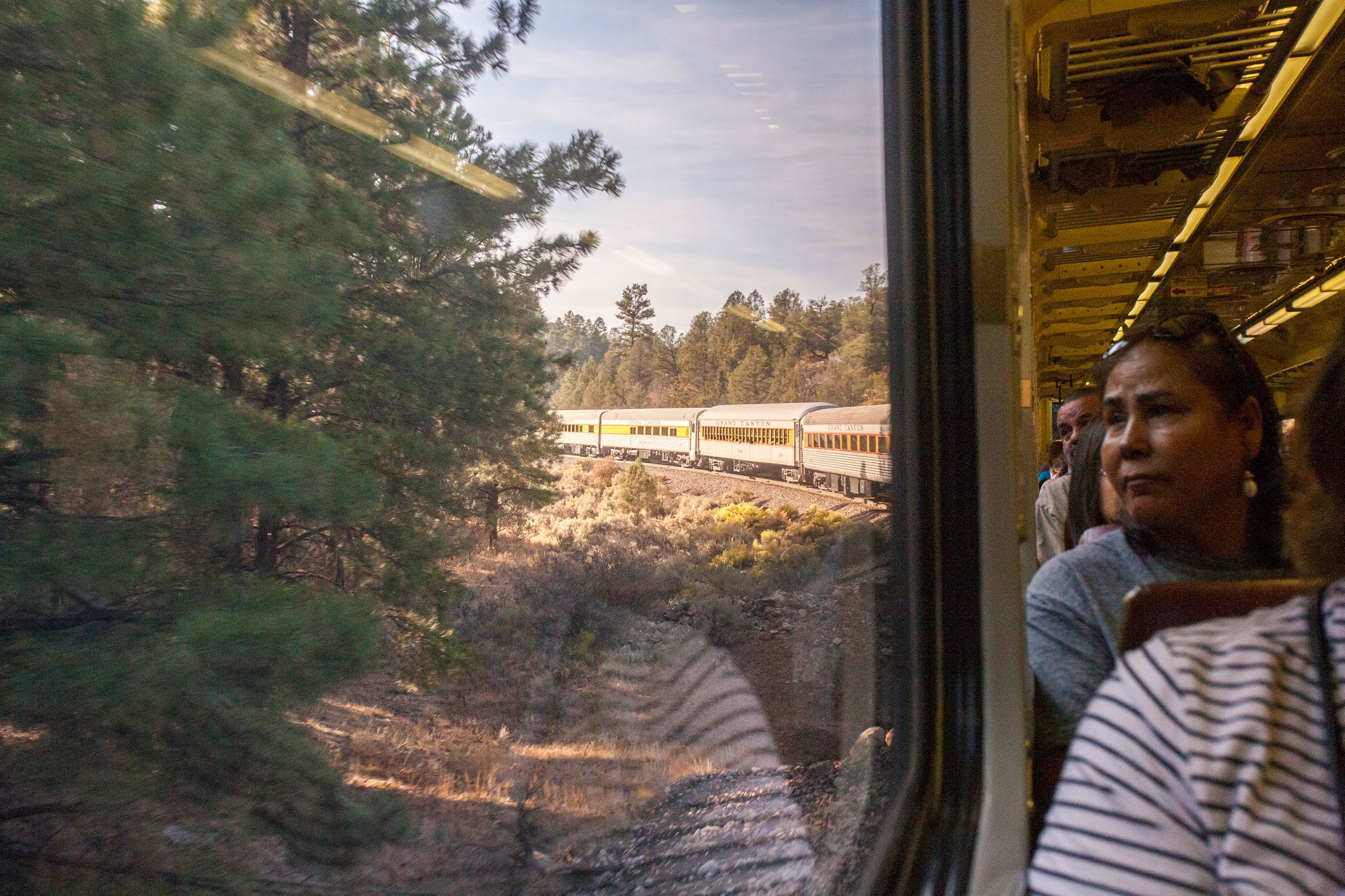 We didn't use it, but they also have a Pet Resort so you can visit the Canyon without your pets if needed.   We paid $172/week for a back-in site with our Passport America discount.  Don't get fooled with the name though, this park is a good 60-mile drive to Grand Canyon National Park.
Dining
We ate at the Station 66 Italian Bistro a few times during our stay in Williams. Great food, and a lovely outdoor patio that is dog-friendly.
We love ethnic food, with Thai food being a favorite.  Imagine our surprise when we found a great little Thai place an hour away from the Grand Canyon!  Dara Thai was so good we were sad to leave Williams.  They don't have outdoor seating, but we called in a take-out order and walked the dogs there and back to pick it up.
Hiking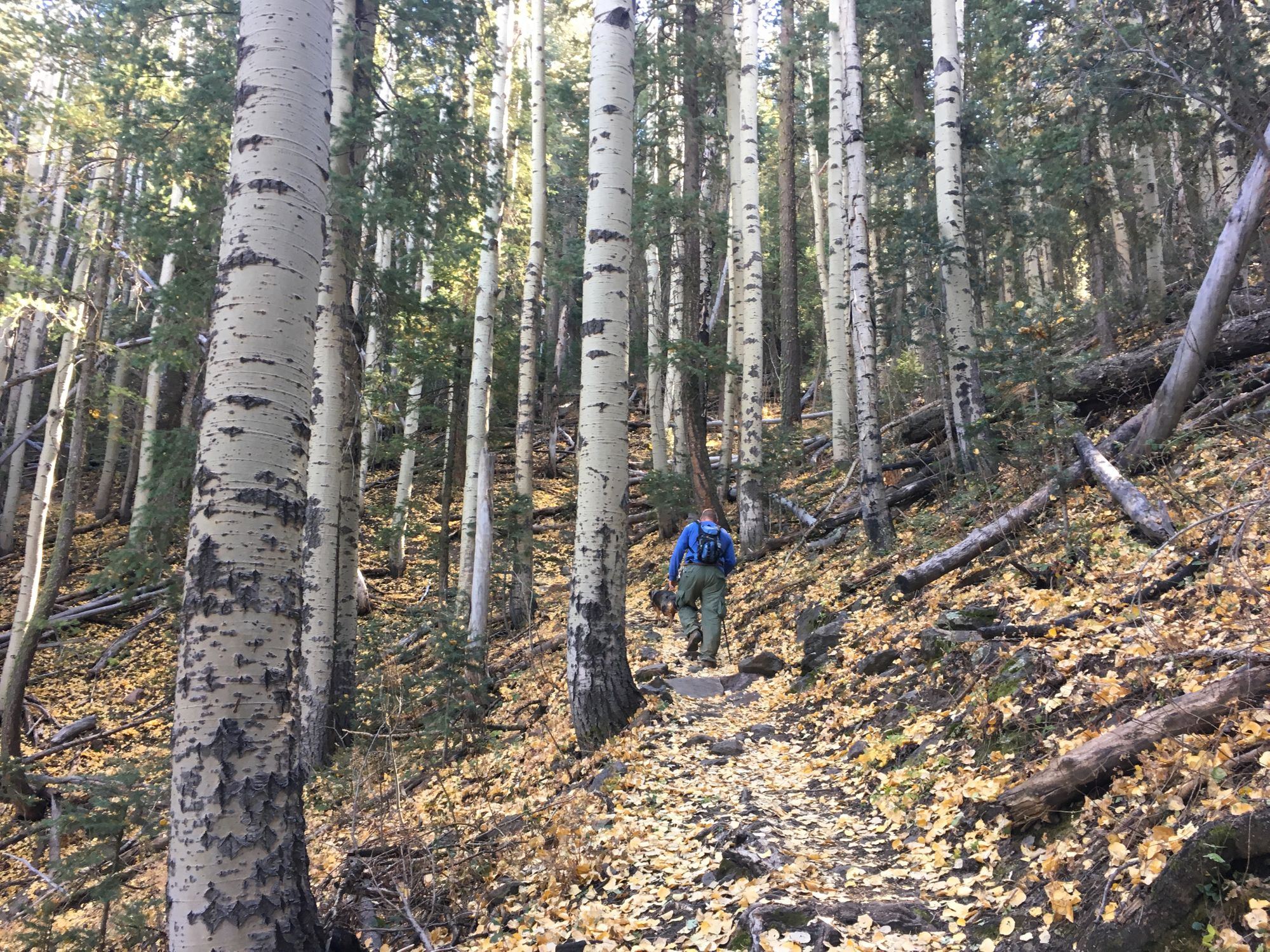 Looking for a strenuous hike with the dogs?  Don't say we didn't warn you!  Bill Williams Mountain Trail will make you wish you never see another switchback in your life, but you'll be rewarded to some great views from the lookout tower.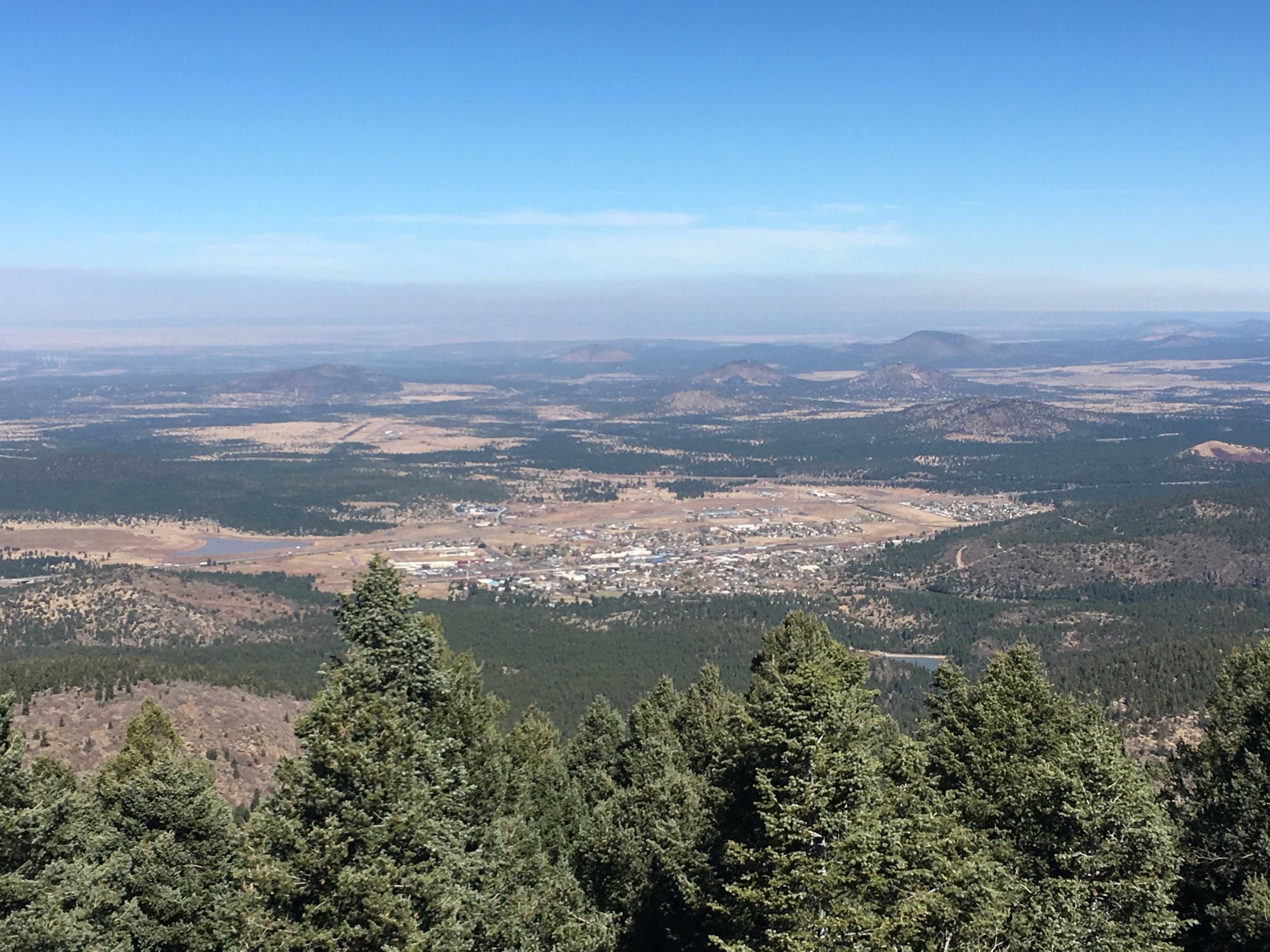 Bearizona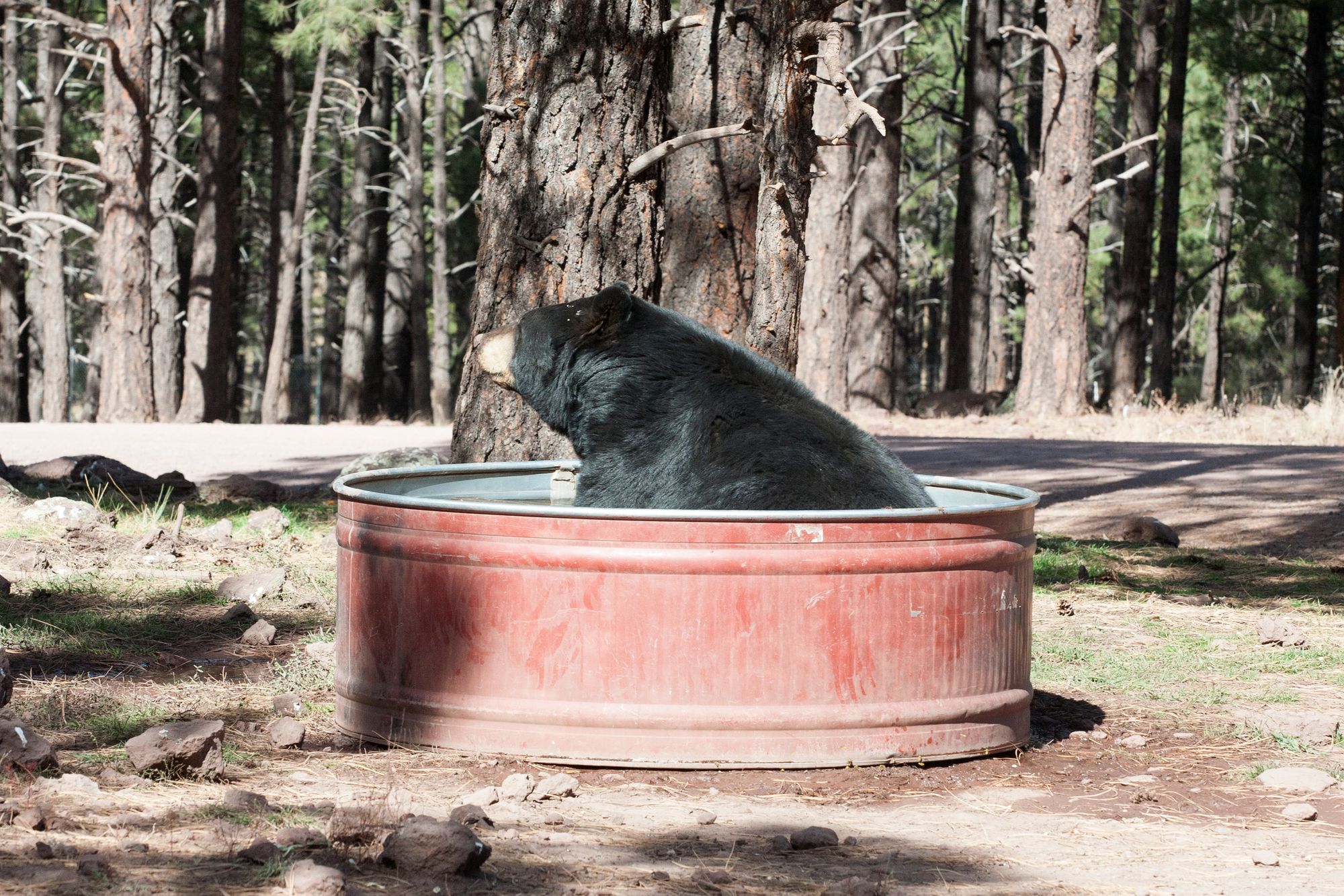 I am not super fond of zoos but Bearizona was pretty neat.  It's a drive-through wildlife park (and YES — you can drive your RV through it!)  Since we had a rental car for Tommi's folks, we decided to leave the RV in their large parking lot and take the rental car, but a Class A was in front of us as we drove the loop, so it's doable!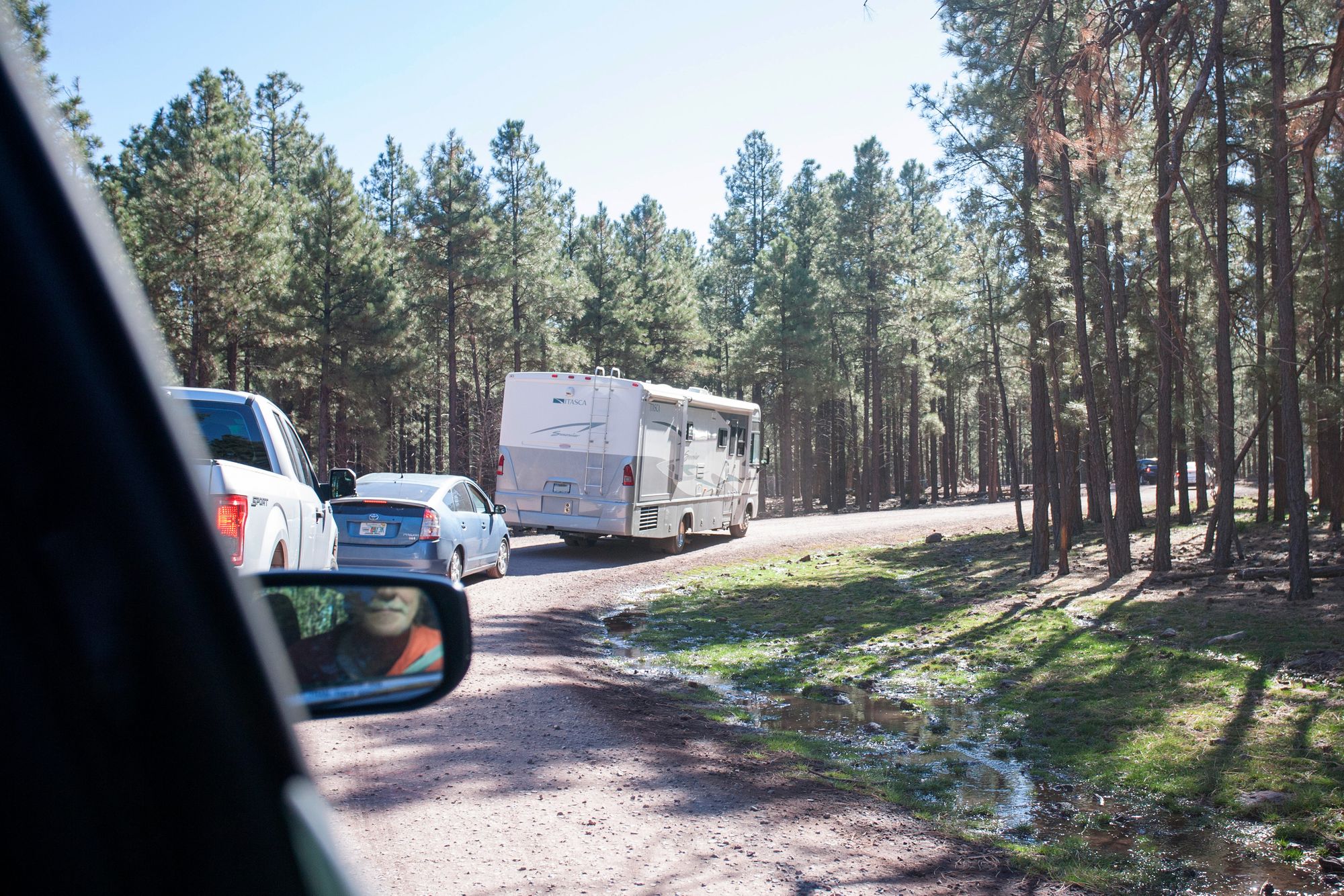 Plus the driving loop is pet-friendly!   "Visitors can travel through the park with domestic pets enclosed in their vehicle with the windows up."  Don't forget to look up!  We saw a bear napping high up in a tree!
Roadside Attractions
I am a roadside attraction junkie.  From Williams, heading north to the Grand Canyon, be on the lookout for the defunct Flintstones park.  It was still open in Oct 2017 but has since closed and I've heard it's being demolished.  Hopefully there's still a few photo ops left by the time you visit, like this one in the parking lot!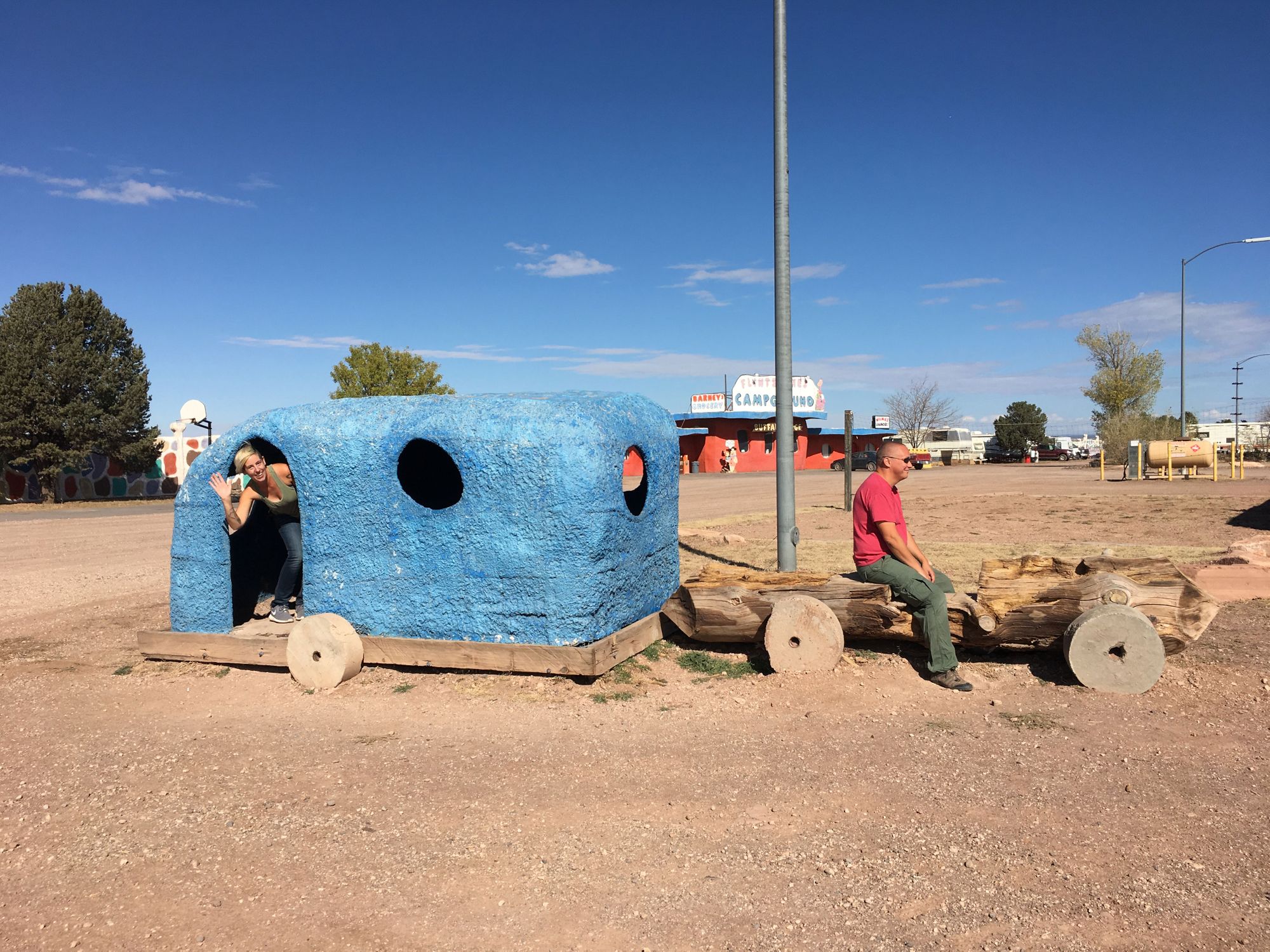 10/10, Mushy Recommends
Mushy says Grand Canyon South Rim was definitely worth a visit. He enjoyed putting his front paws on stone walls and looking out over the canyon (but not too close, because he's afraid of heights). Along the walking paths were also many other stone walls he enjoyed demonstrating his circus skills on. He says the Greenway was great to run on, especially when you get to pull your hoomin on skates and really pick up speed. He also said the rich nature and wildlife there stinks (in a good way)!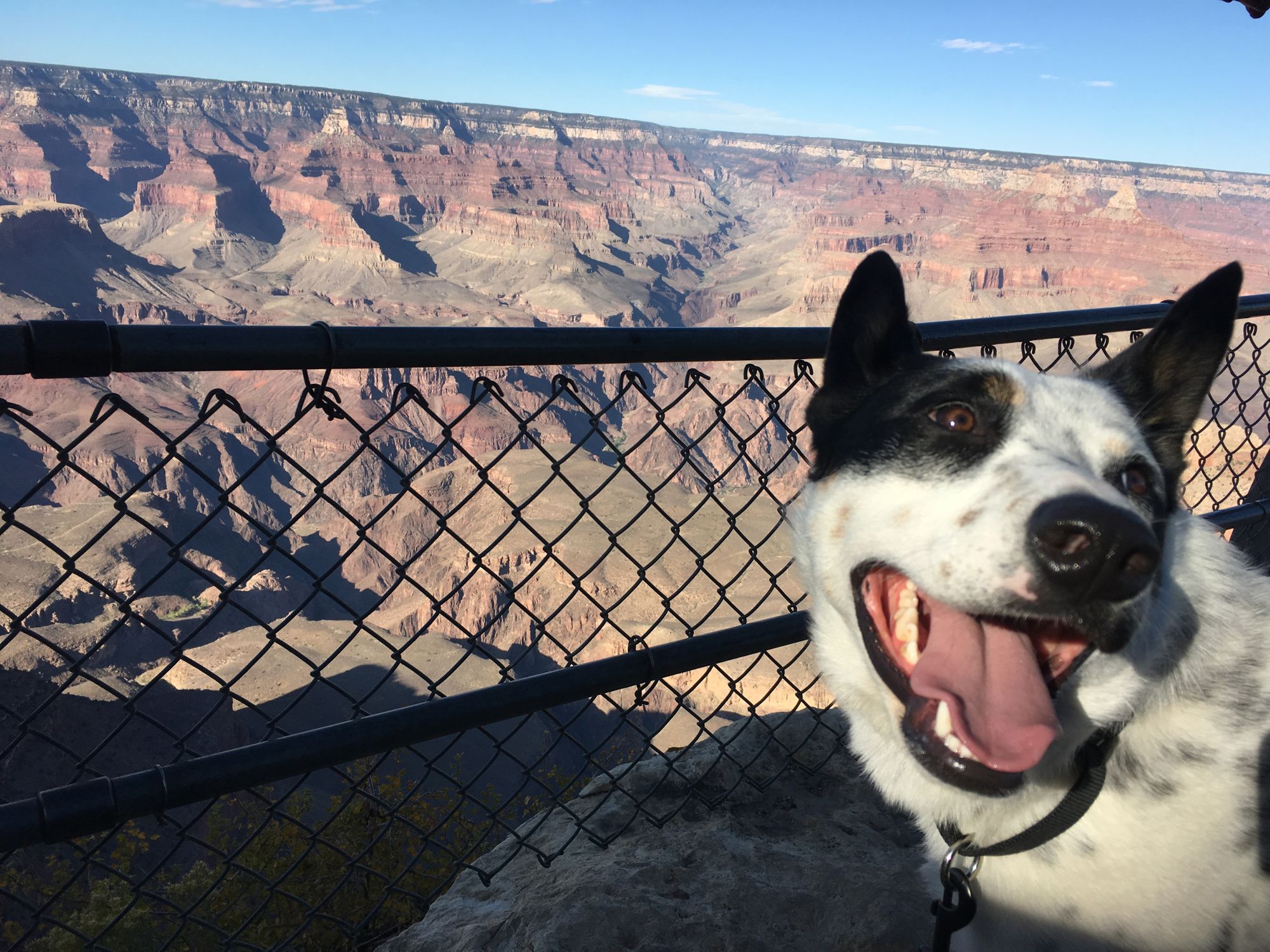 This post originally appeared on https://fmcadventure.com/2020/03/23/our-dog-friendly-visit-to-the-grand-canyon/