Visiting El Malpais National Monument with Dogs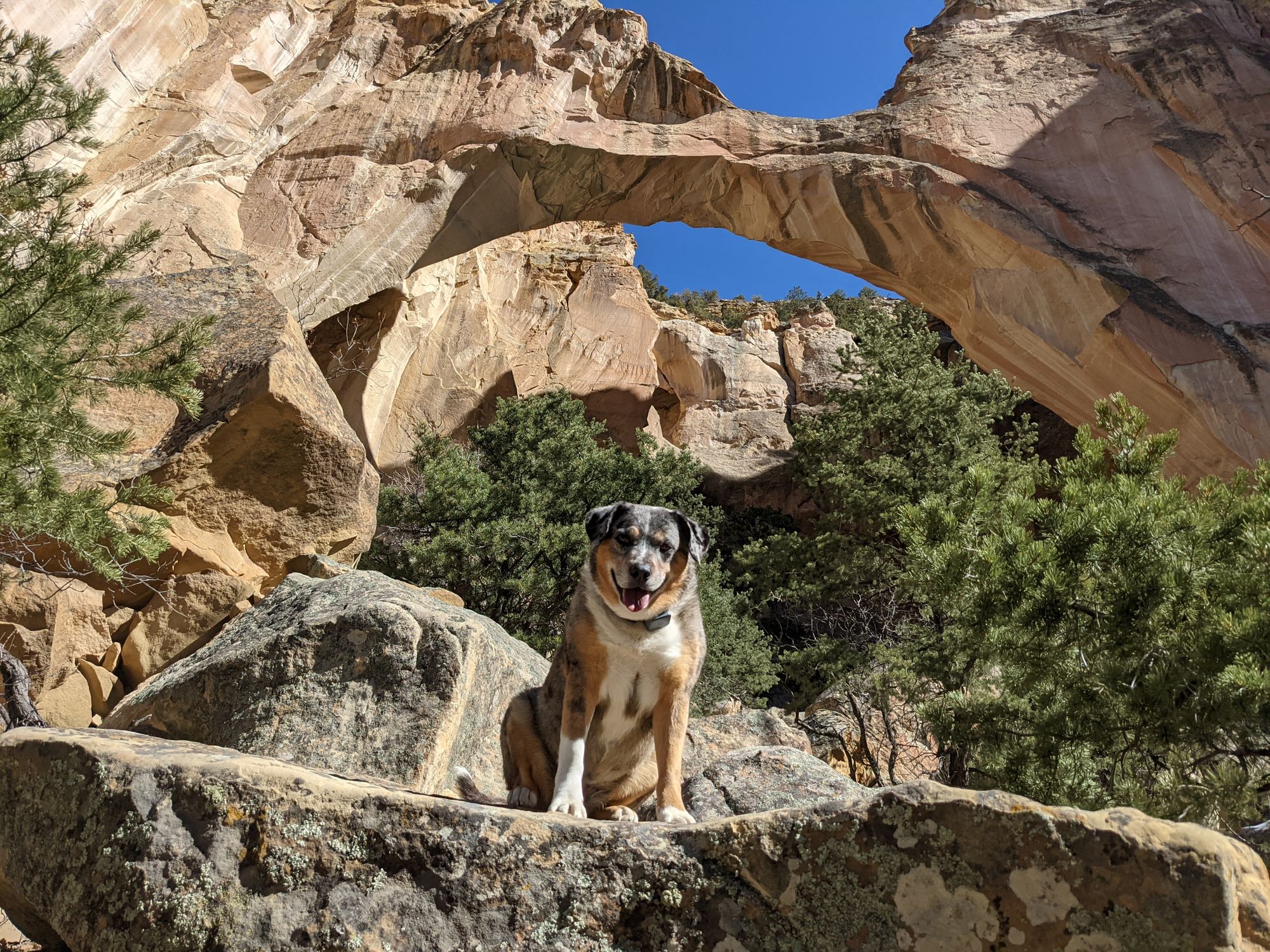 Looking for a dog-friendly adventure not far off I-40 in New Mexico? El Malpais National Monument and Conservation area near Grants, New Mexico is worth the stop. Hiking, great food, and a fun roadside attraction.  This spot has it all.
This was our first trip of the year and Lily was ready to hit the road.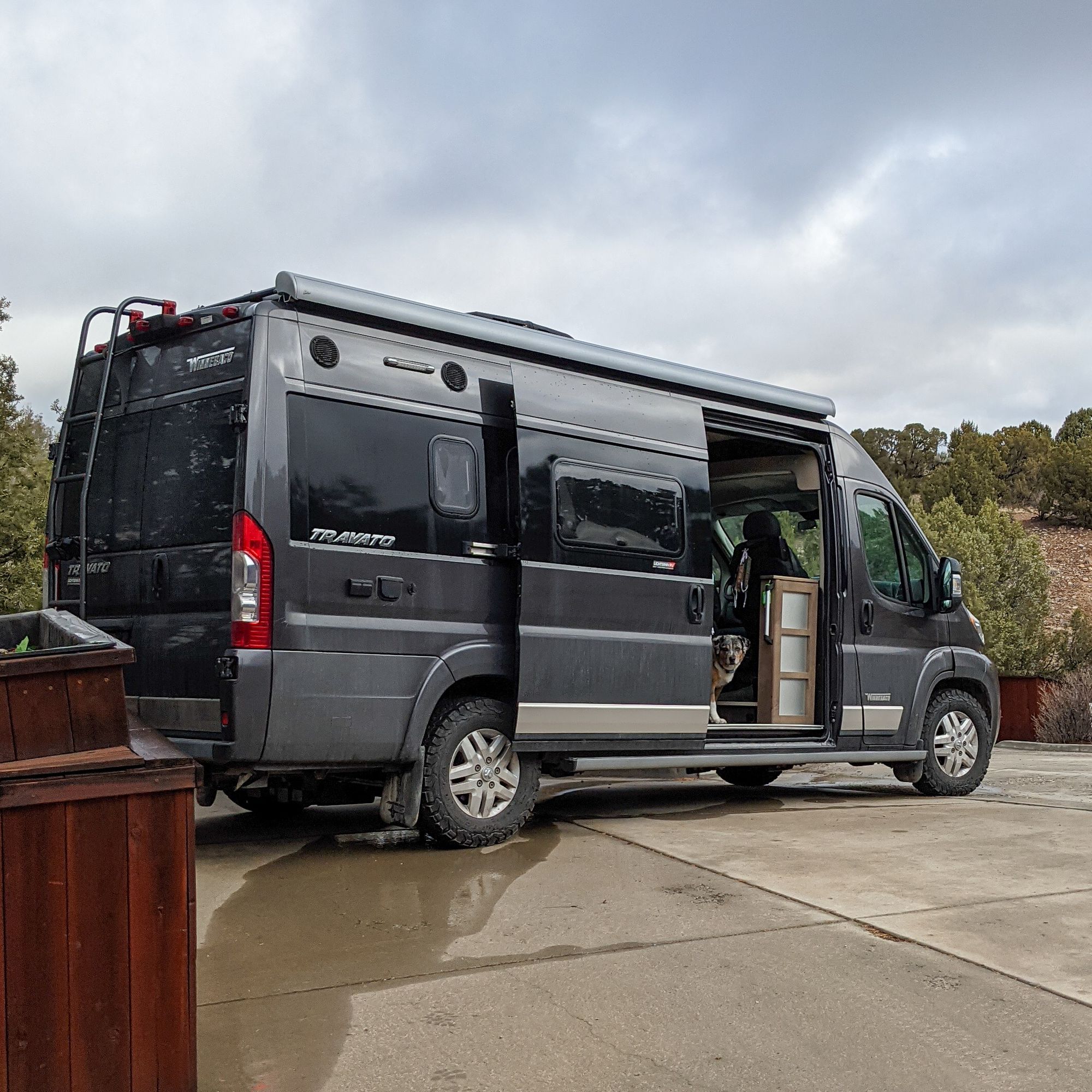 We visited in late March when there was still some snow on the ground.  Because of how strong the sun is in this region, shoulder seasons are your best bet for exploring this area with your dog.  
Camping — Joe Skeen Campground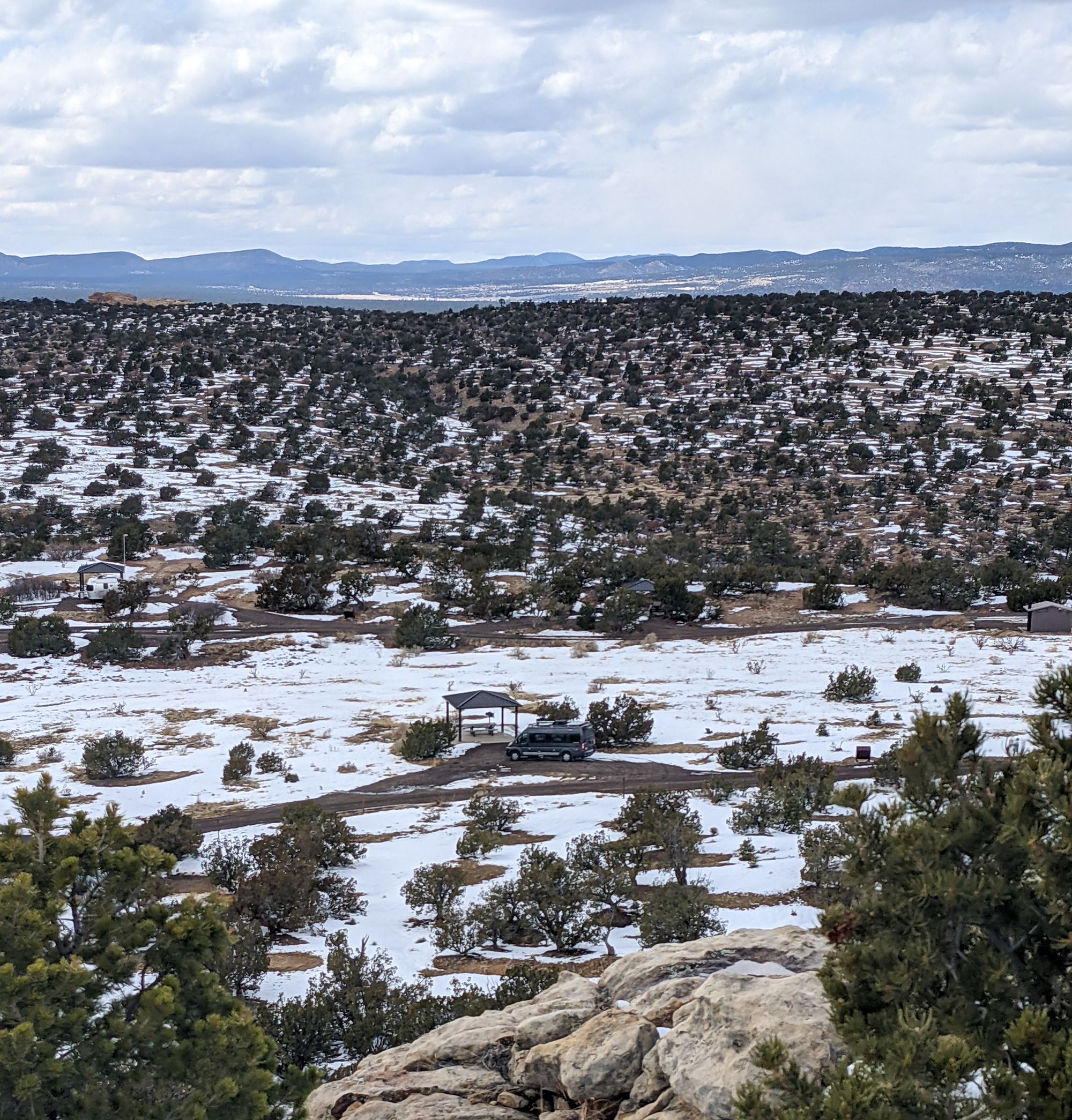 This first-come, first-serve, free BLM campground has only 10 sites, and we were unsure how busy it would be.  We arrived on a Friday around noon and were relieved to find a few empty sites.  In general, the sites aren't very large so they are best for cars and smaller rigs, and they are not very level either. We had to orient our van carefully to not be tilted sideways.  Our phones and hotspots got a little bit of coverage here, but neither Verizon nor AT&T signal was good enough for work. If we come back in we'll set up our WeBoost booster and see if that helps.
There are no designated hiking trails right at the campground, but we ventured off to make our own with the goal of getting on top of the ridge above.  Is this doable? Yes.   Was it advisable in snow?  Maybe not, but we lived and I got the birds-eye photo I wanted!
Hiking — Narrows Rim Trail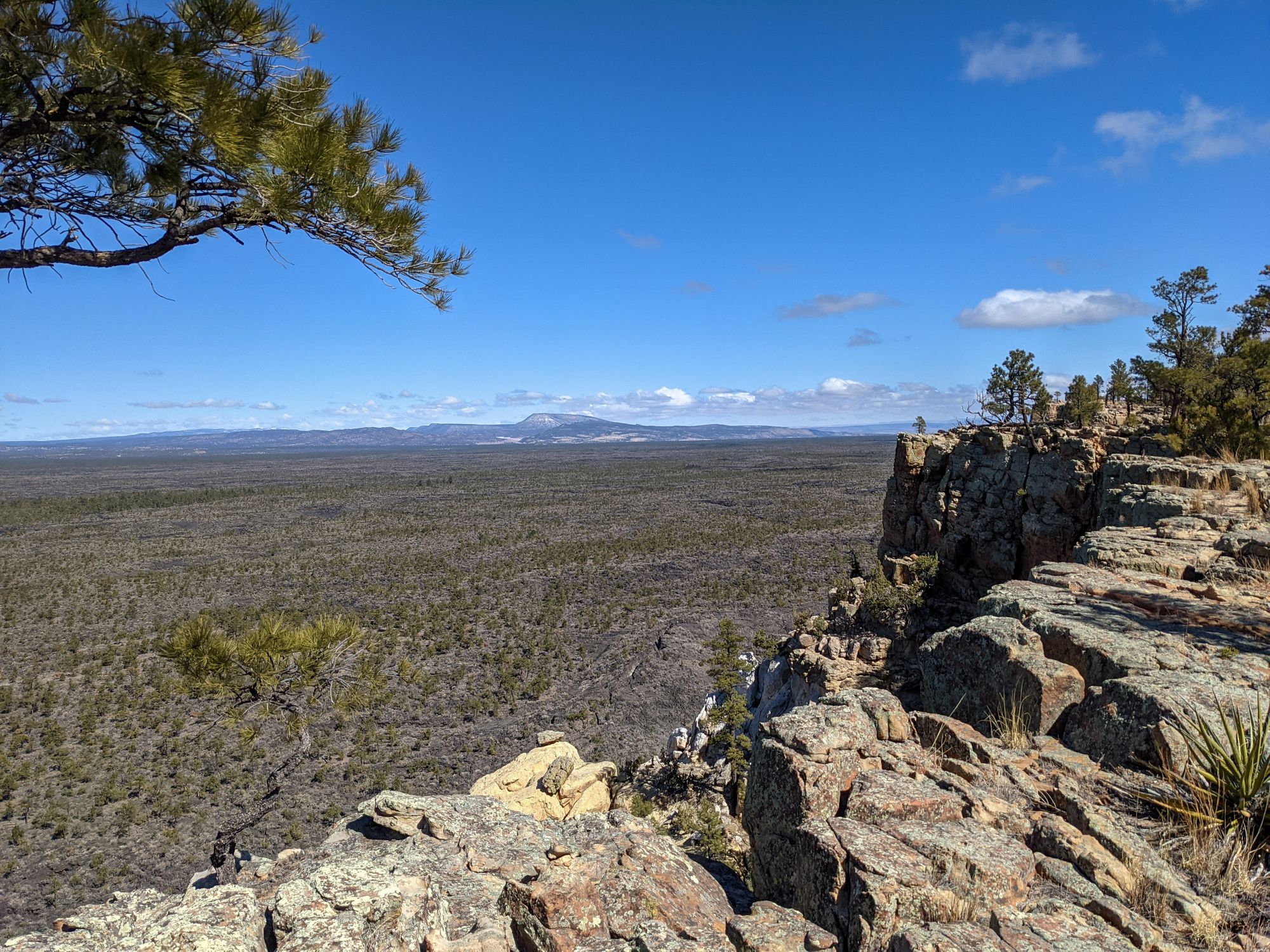 This was the big hike we had planned for this trip.  It's an 8-mile out-and-back hike along a sheer cliff edge overlooking the lava fields up to 500 feet below. This hike took us 4 hours and by the end, although the temperature was only about 55 degrees, the sun was so strong that our dogs were feeling it and getting a bit worn out. There's little shade and it's known to be windy, so come prepared.  Areas of this hike are very rocky, so I would not have wanted to do it in the snow, for fear of not seeing my footing. Also, doing it in the heat of summer would likely be dangerous for a dog so plan accordingly.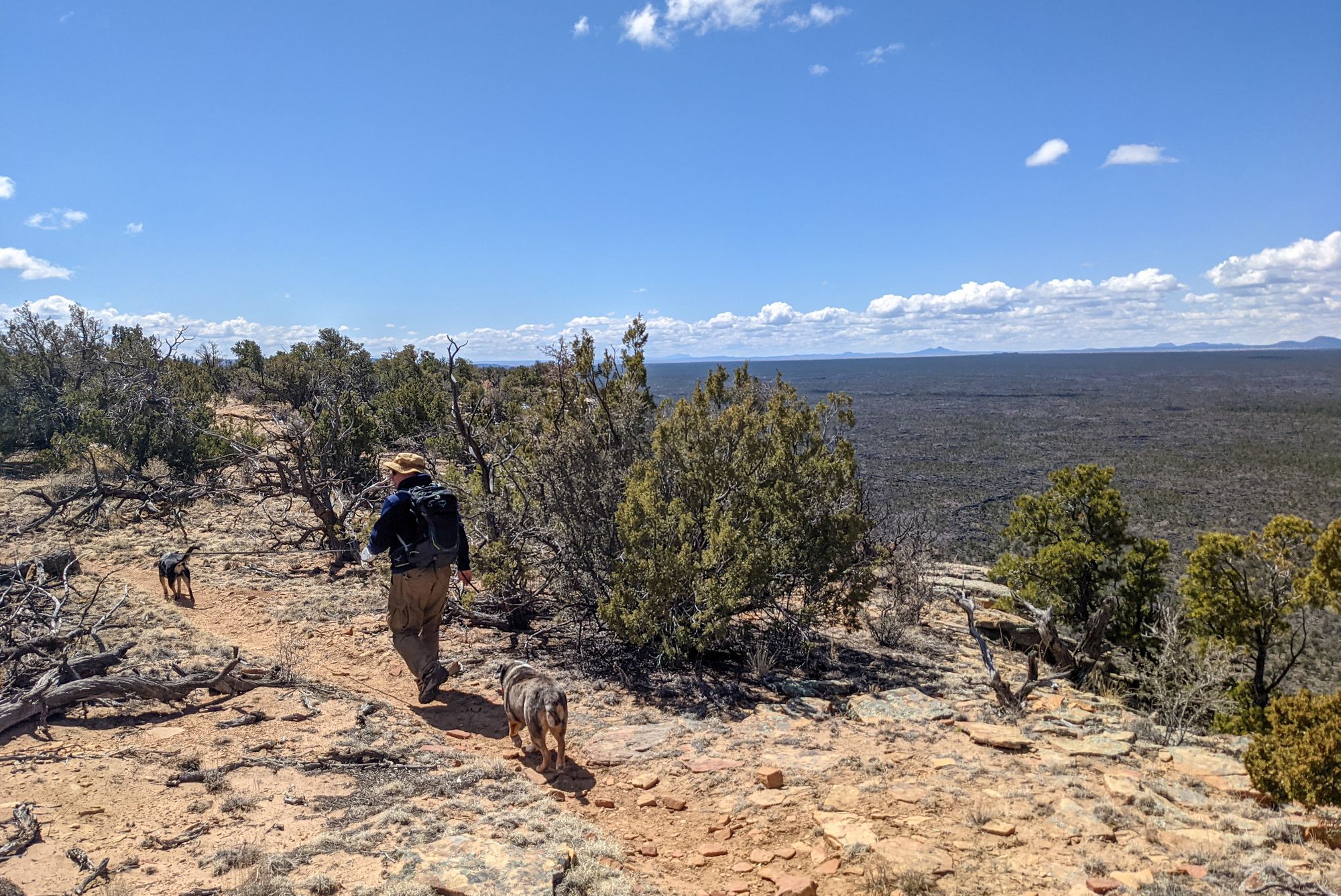 The turnaround point of this hike takes you to an overlook of the La Ventana Arch in the distance.  This arch is one of the largest natural arches in the state of New Mexico.  It's hard to tell the scale from so far away, but read on to see how you can see it up close!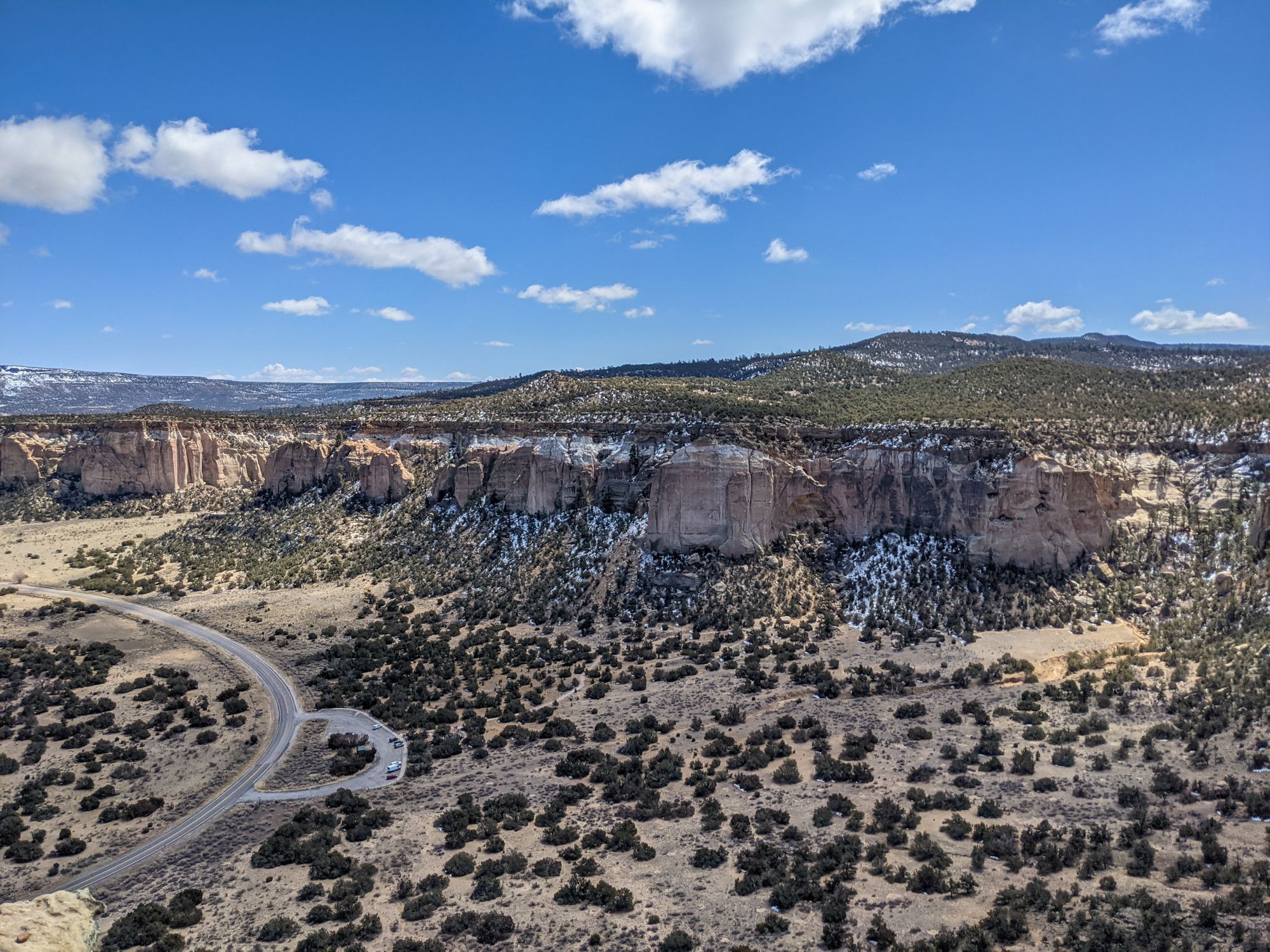 I'm glad we opted to do the hike first, before stopping at the parking area for a close-up look.  Seeing it from above was a cool preview, and gave us an idea of scale for when we saw it from below.
Scenic Spot — La Ventana Natural Arch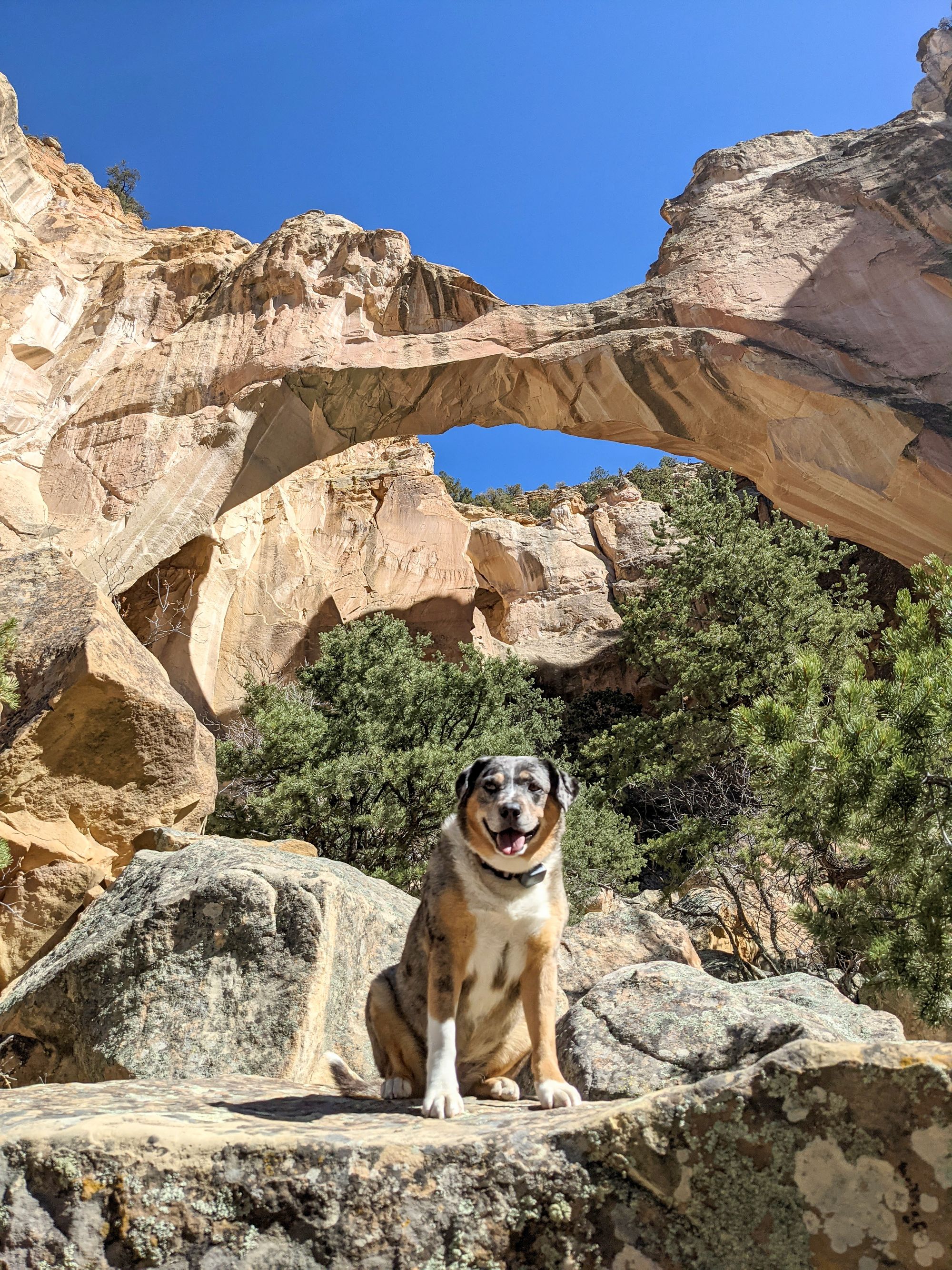 If an 8-mile hike doesn't sound like fun, you can easily view the arch from below. The La Ventana Natural Arch parking area has some covered picnic tables and a graded trail with a slight incline that takes you below the arch.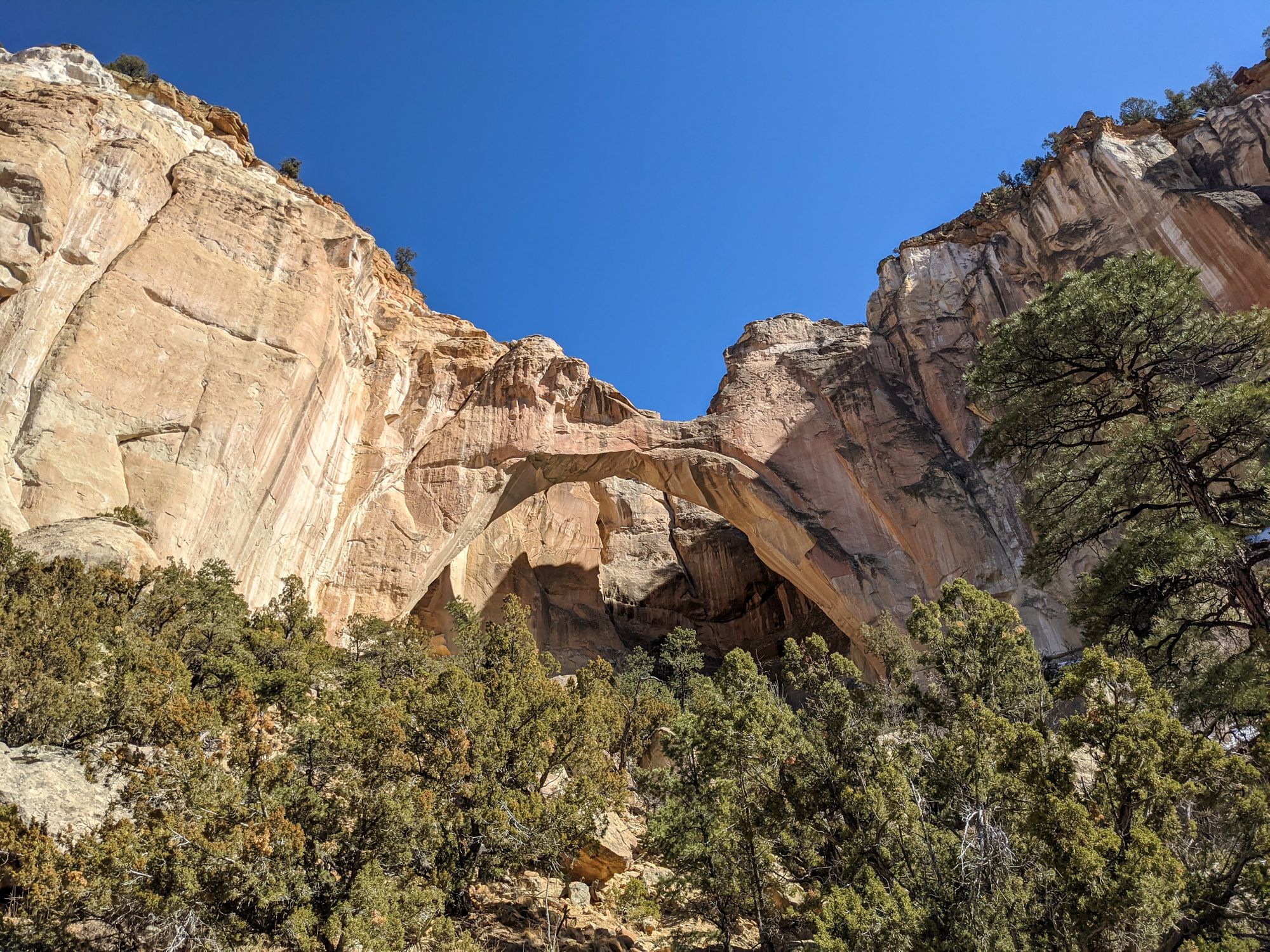 If you want an even closer look, you can scramble up the hillside which will take you fully underneath the arch, so you can see daylight behind it — but beware, it'll have you out of breath!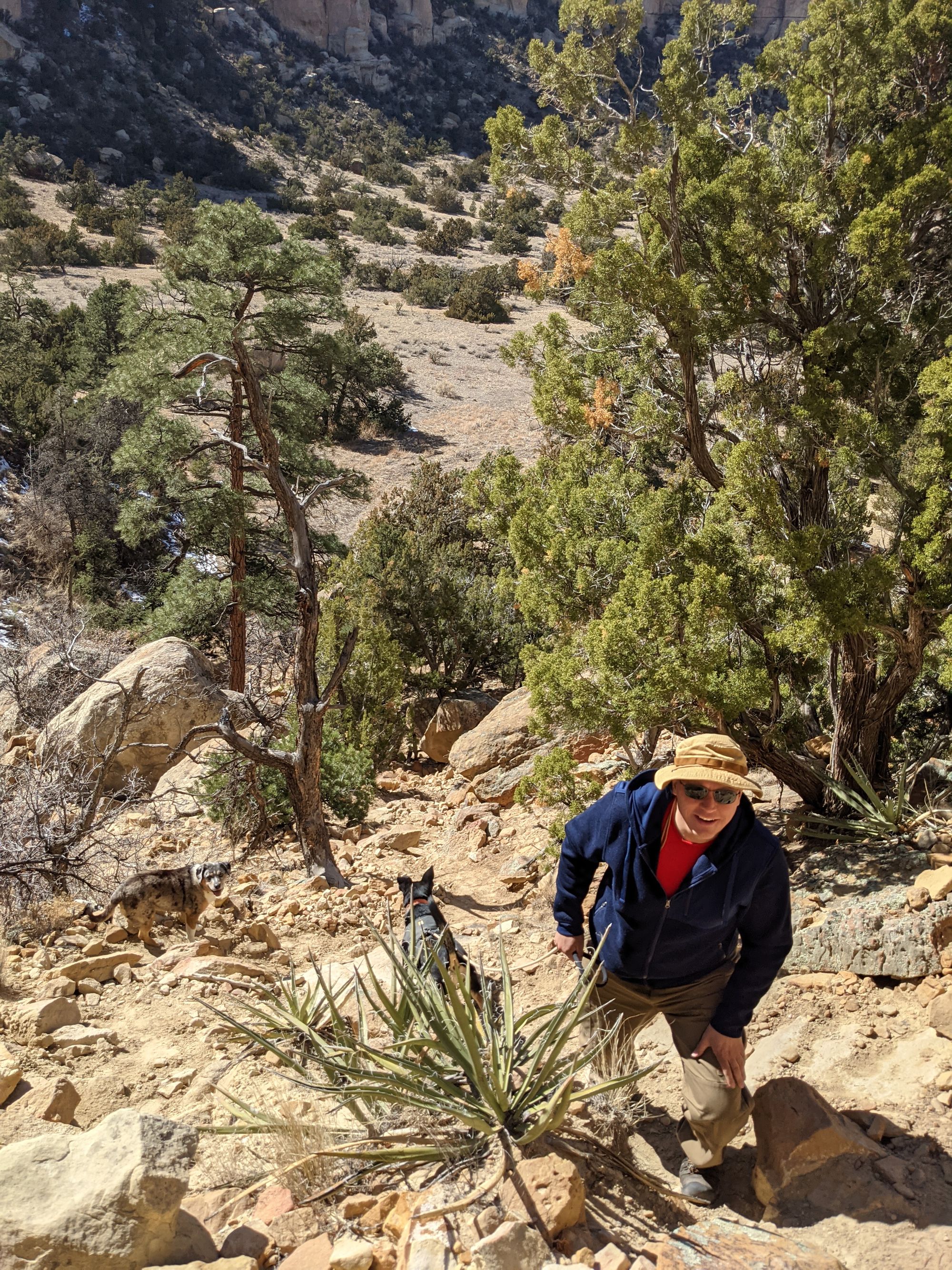 Plus, going down is trickier than going up, especially when you have dogs pulling you, so keep that in mind.
Note: When we visited, there was no fence or signs prohibiting you from seeing the arch up close.  If there is when you visit, please abide by the rules.
Hiking — El Calderon Trail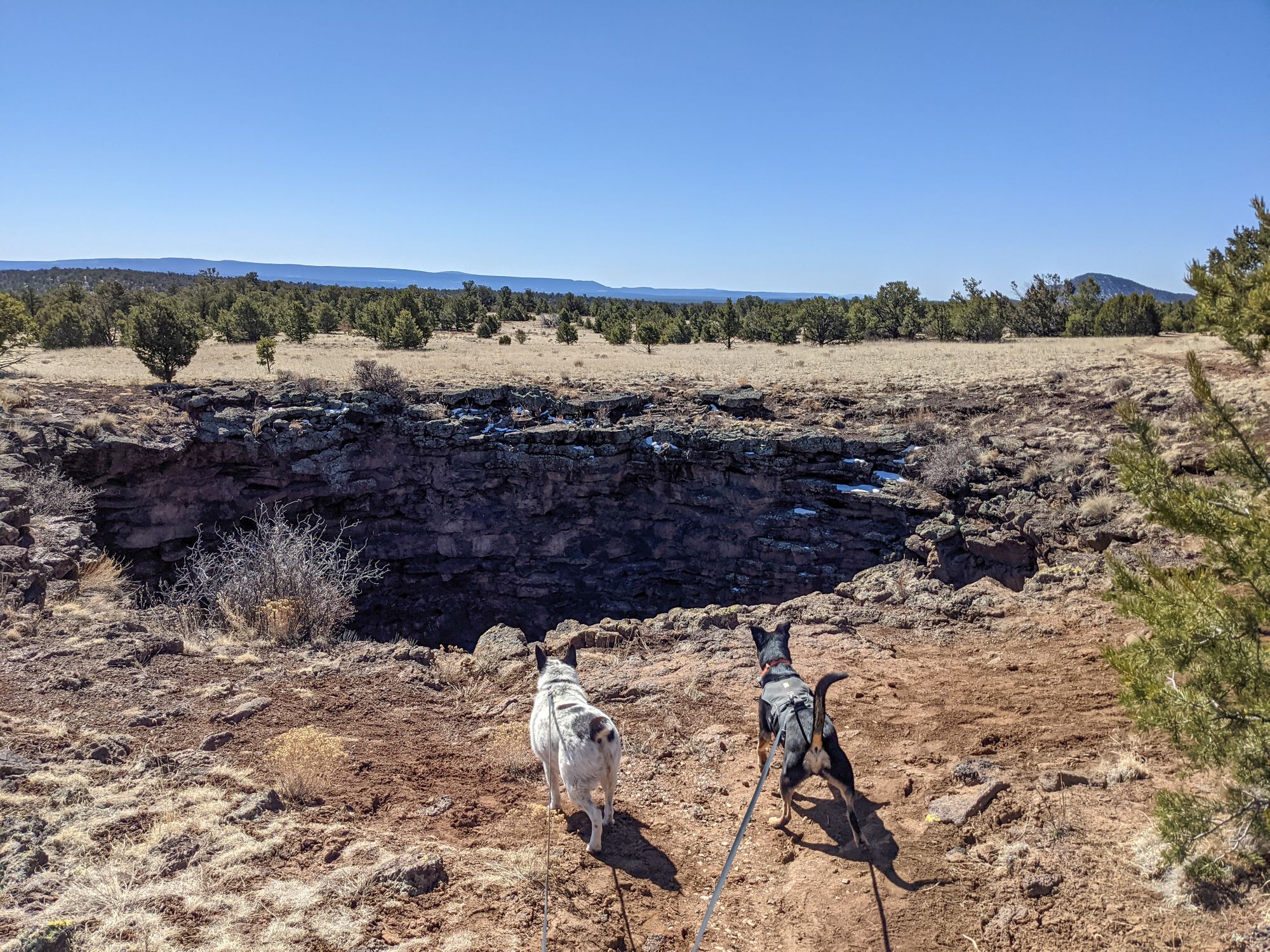 If you only have time for a short visit to the area, prioritize La Ventana Arch.  If you have more time, check out the 3-5 mile dog-friendly El Calderon Loop Trail, about 20 miles south of I-40.  The road into the trailhead has some low-hanging branches, so if you have a tall RV this might not be a wise stop.
This trail takes you over ancient lava flows, past lava caves, and around the rim of a cinder cone crater.  The caves are probably a great experience but dogs are not allowed, and the caves are closed during COVID-19 anyway, so we wouldn't know about that. The cinder cone is neat but not quite as awe-inspiring as the arch.  It was a great hike to tire out the dogs for our 3-hour drive home.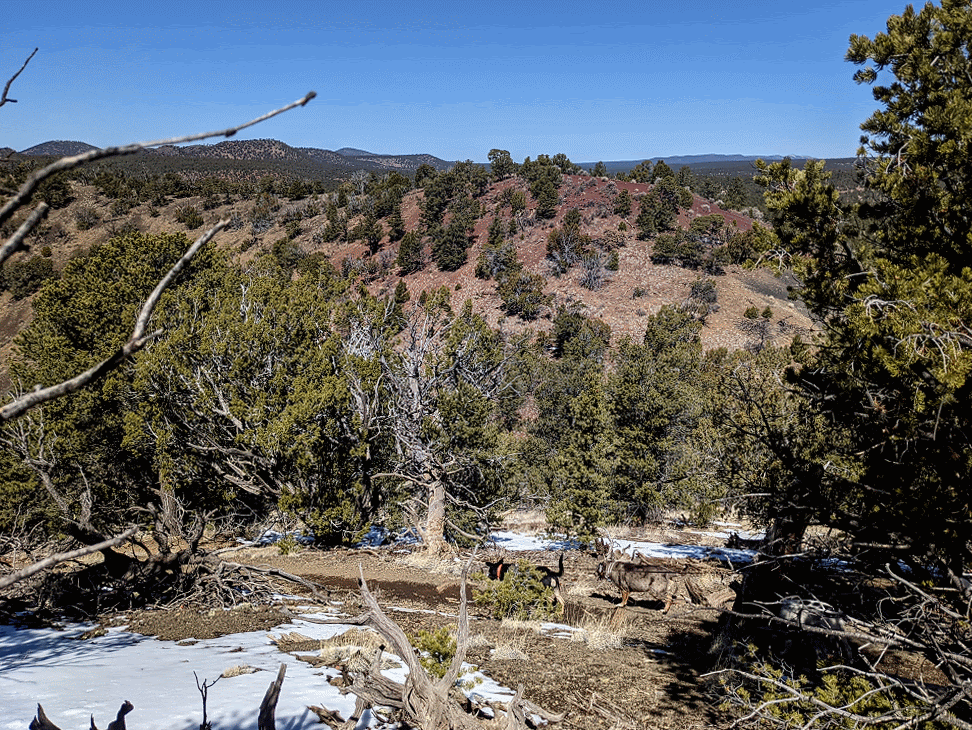 Protip: Not sure what to do or where to stay?  The rangers at the El Malpais visitor center are super helpful and confirmed that the hikes we had planned were, in fact, the best ones for dogs. Most of the others have jagged lava rocks that are not paw-friendly, even when wearing dog booties.
Food — Spicy Bite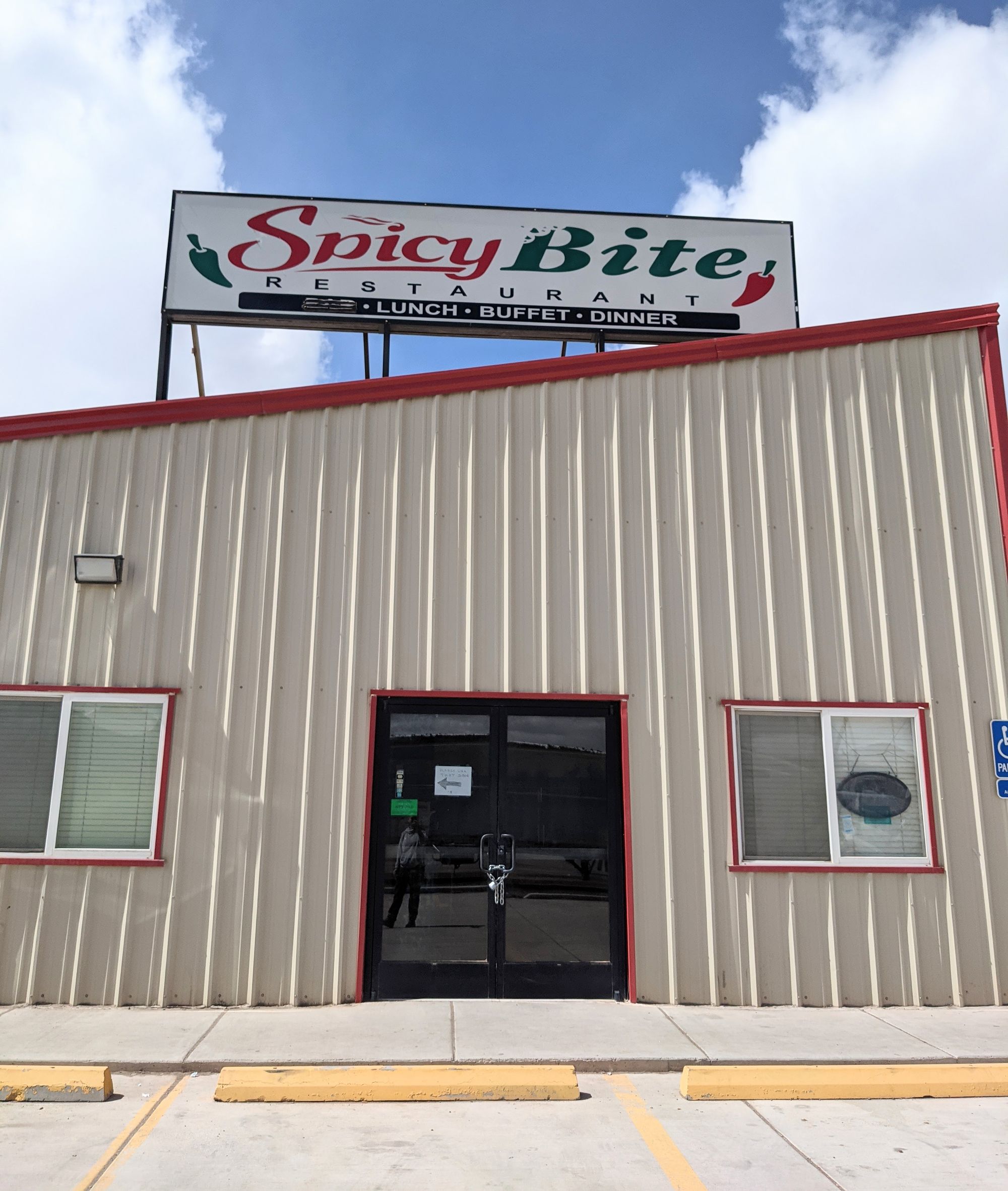 Since transitioning from a large class A to a Class B, we've noticed we do a lot more food tourism because driving a van takes less planning than driving a big rig.  Recently, every trip we go on seems to involve at least one restaurant we're really excited about.  Truckstop Indian food might not be your idea of a good meal, but it was ours!  (We visited twice on a 3-day trip!)  Spicy Bite in Milan, New Mexico is a popular spot with truckers, so much so that we were the only non-semi in the lot, both times we stopped. Due to COVID, their indoor dining was closed at the time of writing, but luckily our Class B makes the perfect table for two.  We highly recommend their Navratan Korma and they have generous servings of garlic naan.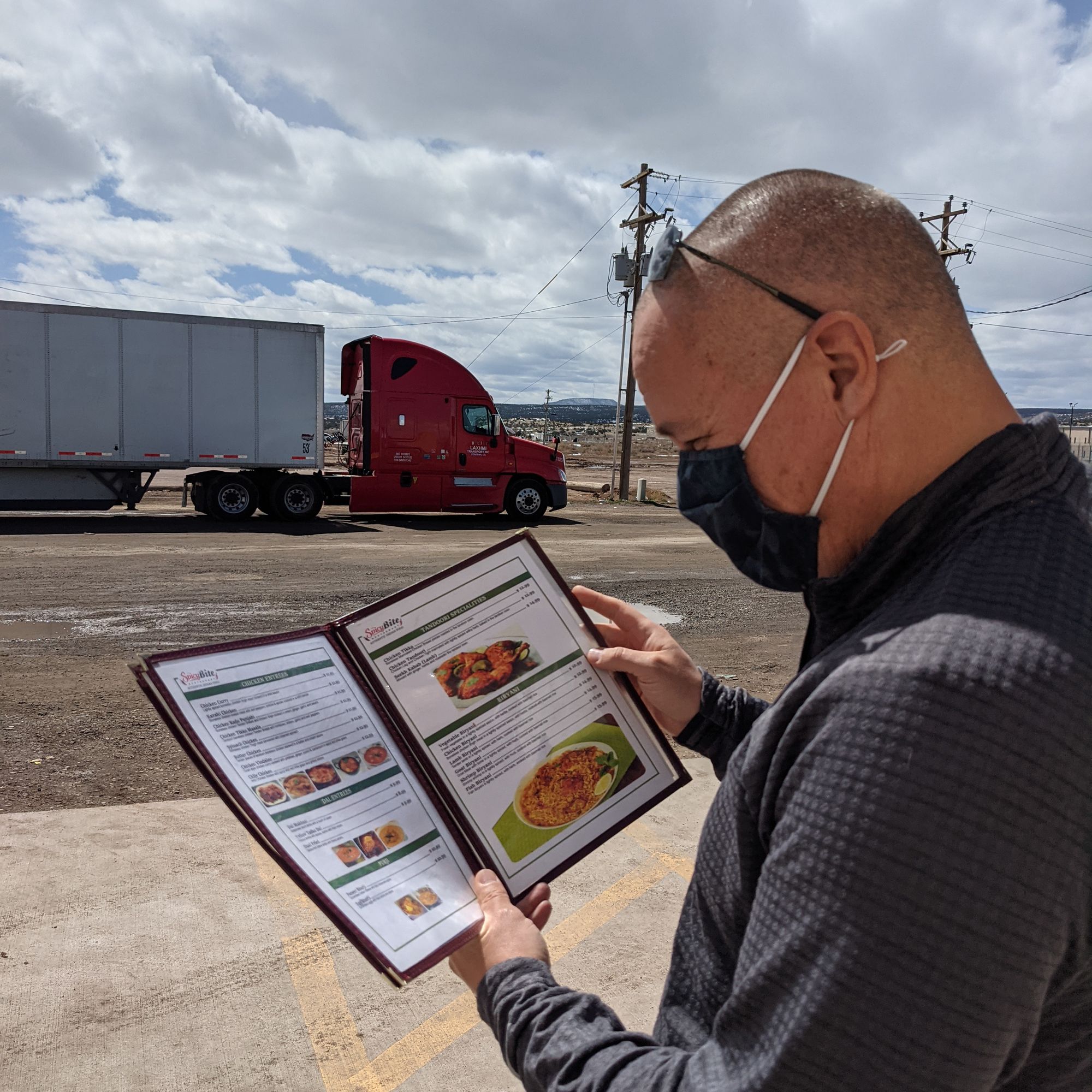 Roadside Attraction — Route 66 Neon Drive Thru Sign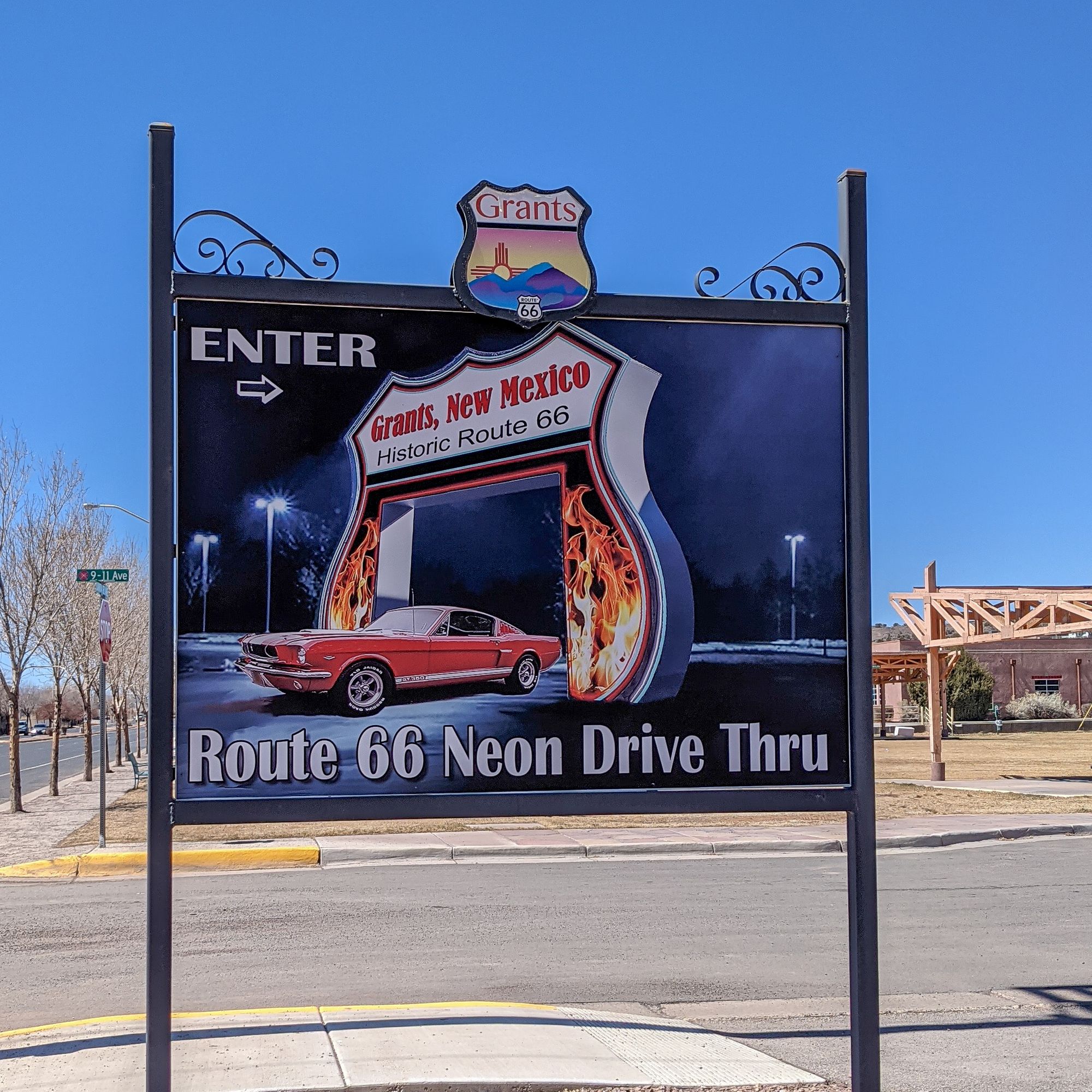 We drove through Grants, NM during the day, so we didn't see the sign in all of its neon glory, but it was still everything I had hoped it would be.  This is a super quick stop off the Interstate, and worth the photo op if you have a vehicle that can fit under the 10' tall sign.  There is a warning PVC bar you'll need to go under first, which was nice to see, as it was hard to tell from photos just how big the sign's opening was.
We stayed about 10 minutes and never had anyone pull in behind us.  There's a park directly to the side of the sign, which was a great quick stop for the dogs.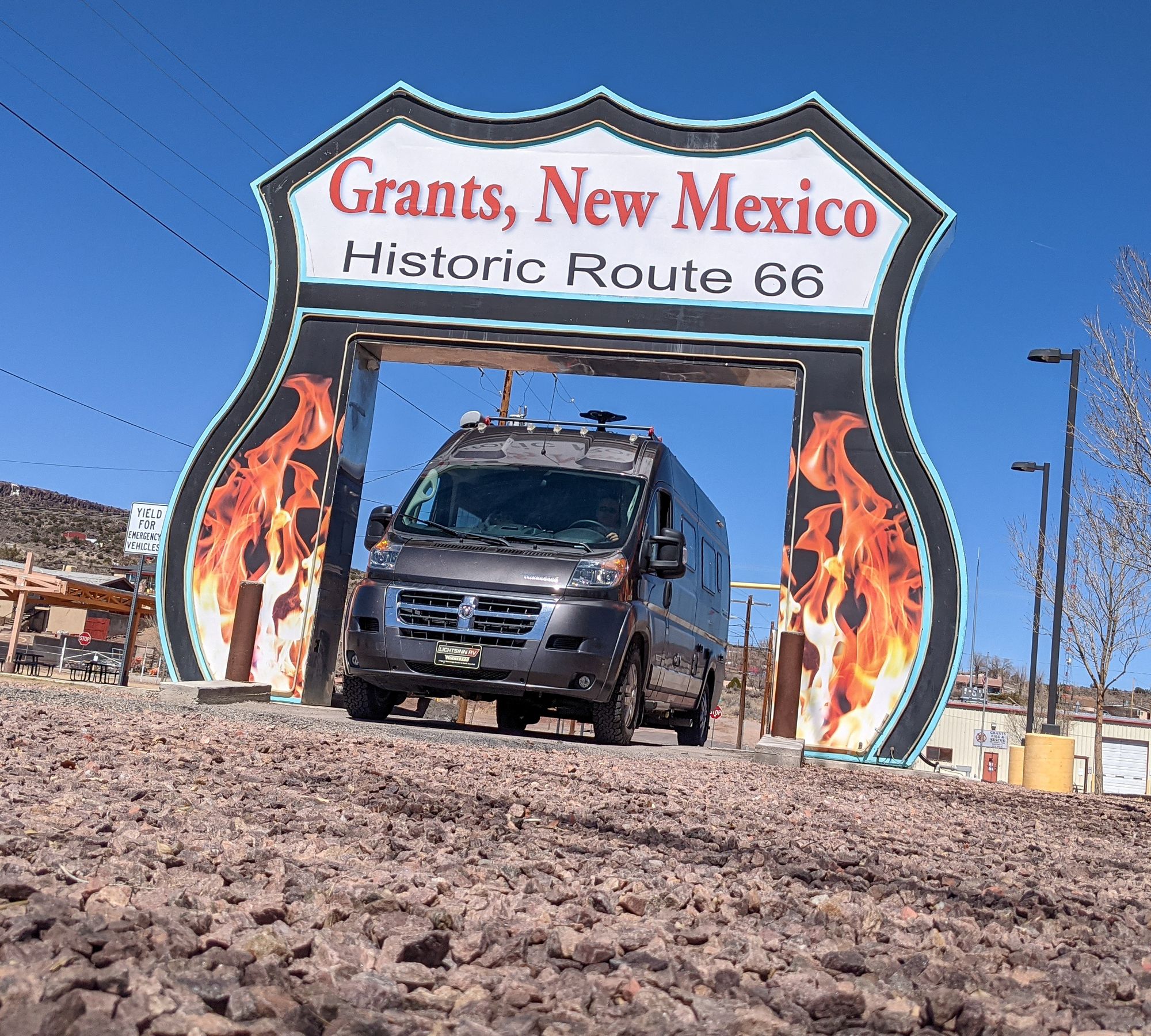 There's a lot to explore in this area that we didn't get to on this trip.  We'll be going back soon to check out Bluewater Lake state park, and also have the El Morro National Monument on the list!
This post originally appeared on https://fmcadventure.com/2021/06/21/visiting-el-malpais-national-monument-with-dogs/