Christmas Cookie Taste Test - for Dogs!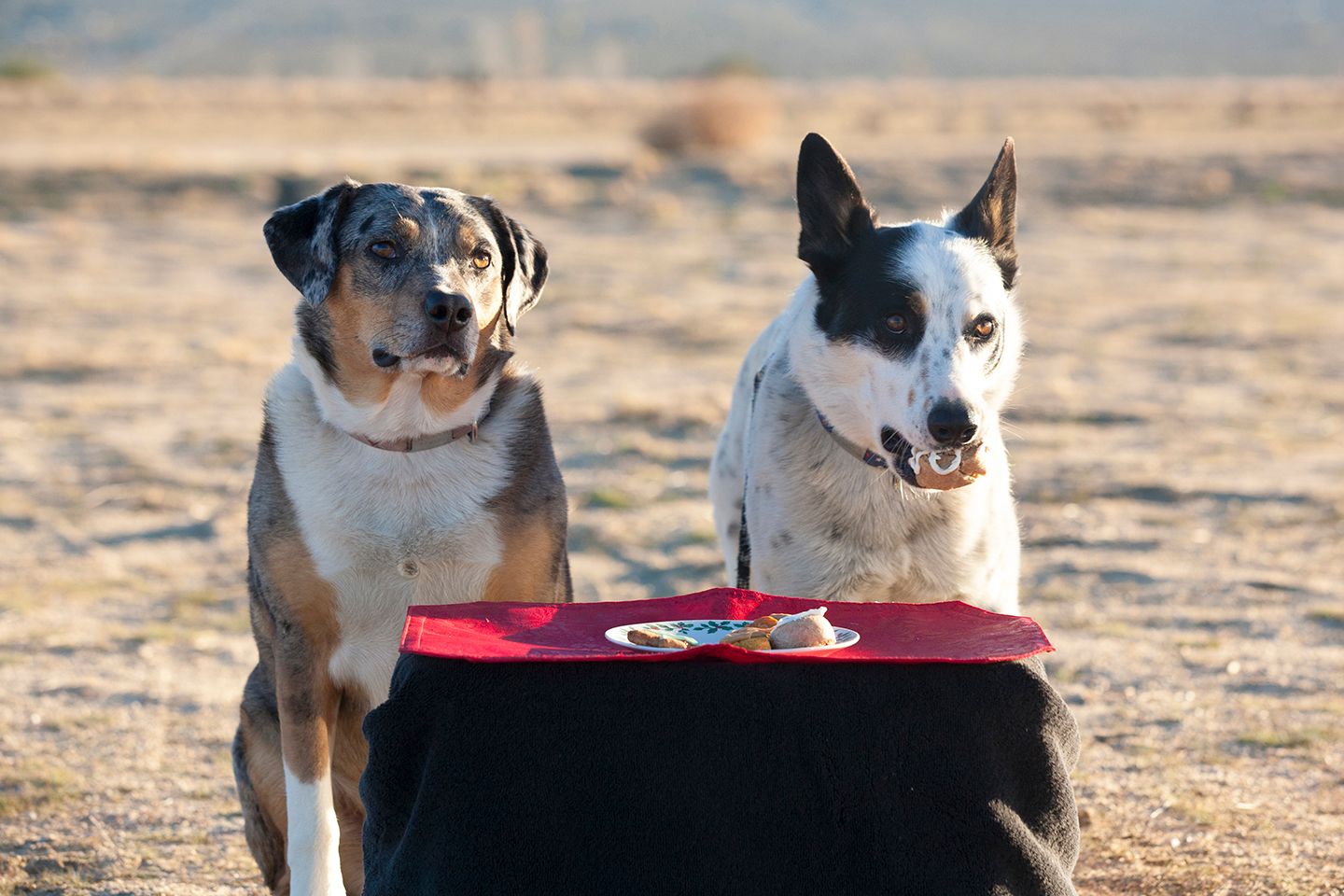 Lily Goodgirl & Mushy Fastpants have been wonderful full-time RV pups this year, so I thought I'd bake up some homemade holiday dog treats, do a taste test, and share the results!
And what does my husband love more than anything when we're boondocking and trying to conserve energy? Ah yes, me running the oven non-stop to make dog treats. (And let's not forget the mountain of dirty dishes!) Sorry Tommi! You're outnumbered on this one.
But first, a disclaimer: Before giving your pet any of these treats, you should consult your veterinarian about the list of ingredients and make sure they are safe for your pet. Every dog is different and what works for Lily & Mushy may not be a good choice for your pup.
Ok, let's introduce the judges...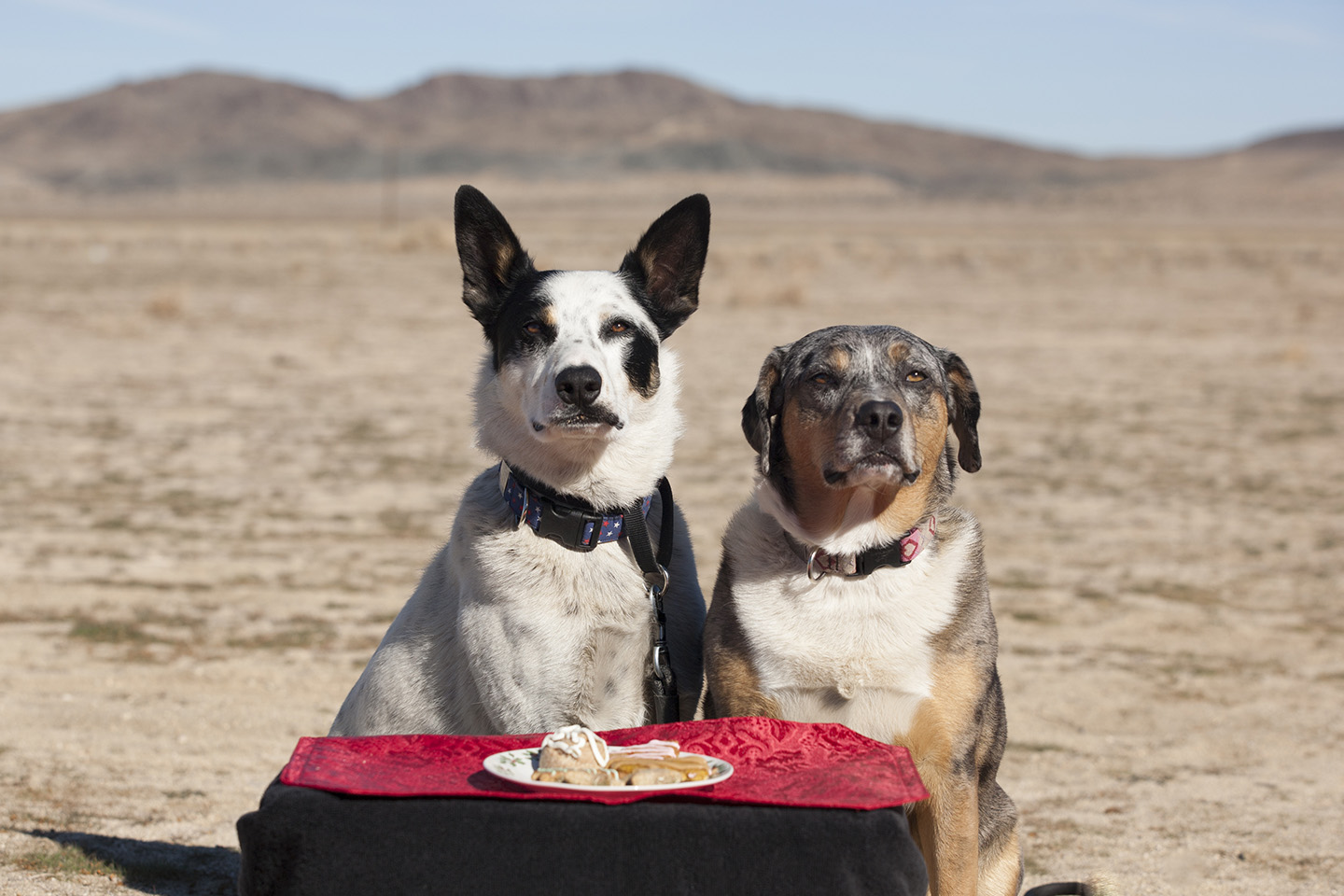 Meet Mushy Fastpants & Lily Goodgirl. Boy, they look tough. I was worried that all my hard work might end up in the trash! Would they like the cookies? Would they spit them out? They definitely didn't look impressed at the start, and Mushy was preoccupied with trying to catch a fly.
Before we get to the results, let's take a look at the selected recipes: 4 cookies and 1 holiday beverage.
Ane protip: If you're like me and got rid of your rolling pin when downsizing, cover your dough in parchment paper and roll a water bottle on top to flatten the dough!
Cheesy Christmas Apple Trees!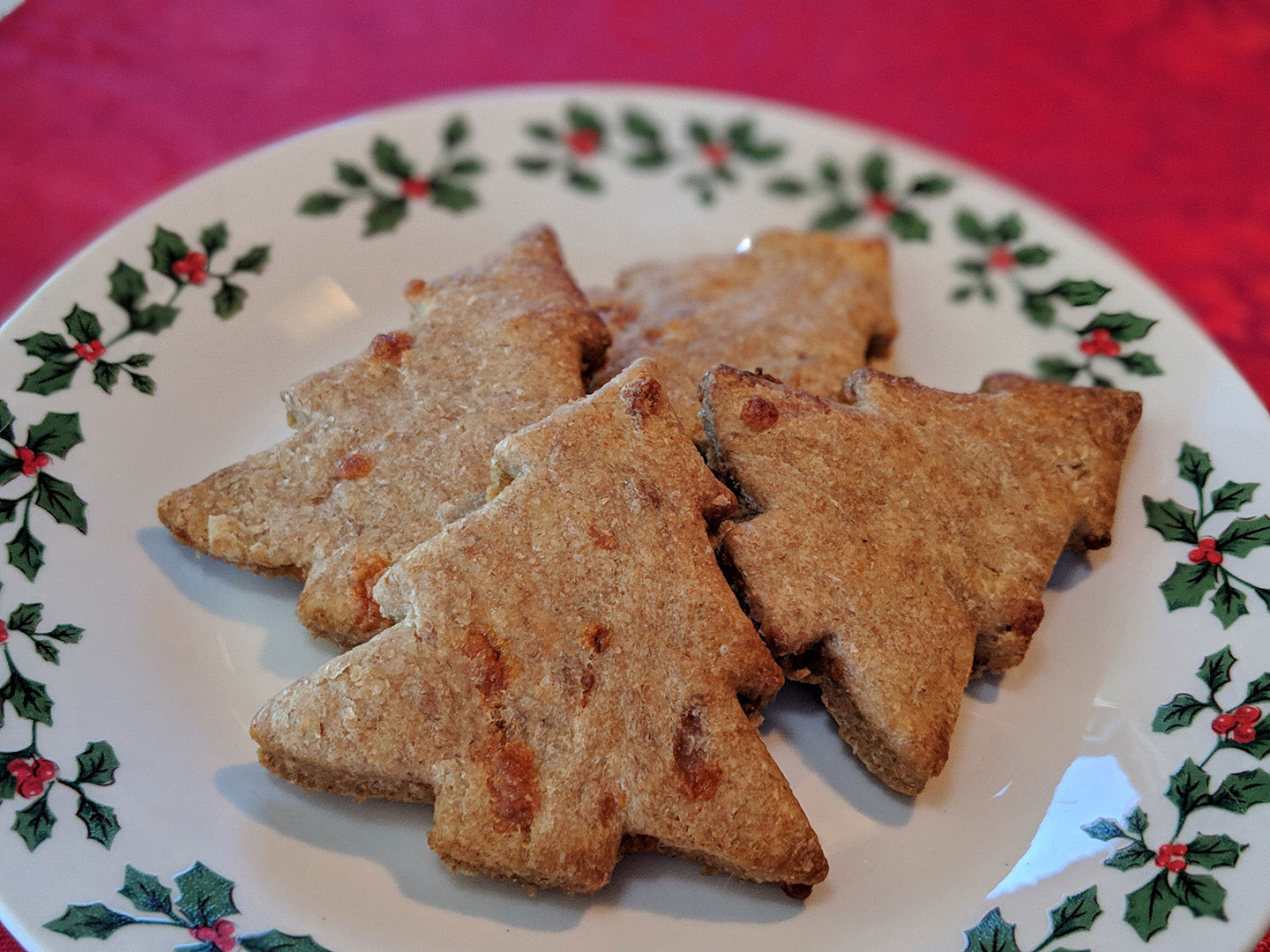 The original name of this recipe is "Homemade Tempting Training Treats" but I'm giving everything a more festive name. 'Tis the season, right?
No link to this one, but it came suggested by Lily & Mushy's Grandma (and grandmas are great cooks, so I was hoping this would be a winner).
Ingredients:
2⅓ cups flour (I used whole wheat flour)
¼ cup olive oil
¼ cup applesauce
½ cup grated cheese (I used cheddar)
1 large egg
¼ cup powdered milk (non-fat)
Optional Yogurt Drizzle:
Place a few spoonfuls of plain greek yogurt in a ziploc bag, add food coloring and mix.
Cut a very tiny hole in the corner of the bag and use as a frosting piping bag!
Instructions:
Combine all ingredients in a large bowl.
Roll out dough on a lightly greased cookie sheet (I used parchment paper) to about ¼" thick.
Cut in pieces (or use a fun holiday cookie cutter)!
Optional: Sprinkle a bit more cheese on the top.
Bake at 350 °F for 15 minutes (or until golden brown).
If you turn the oven off and let them cool inside for a few hours, they will keep hardening.
Store tightly covered, or in a freezer.
I took a bite of one and they're pretty cheesy! I think Grandma might win this one.
Lily Protip: If your human rolls the dough into little balls, instead of using a cookie cutter, they become "Cheesy Reindeer Droppings!"
Mistletoe Mints
Or as they are originally known, "Mint & Parsley Dog Treats."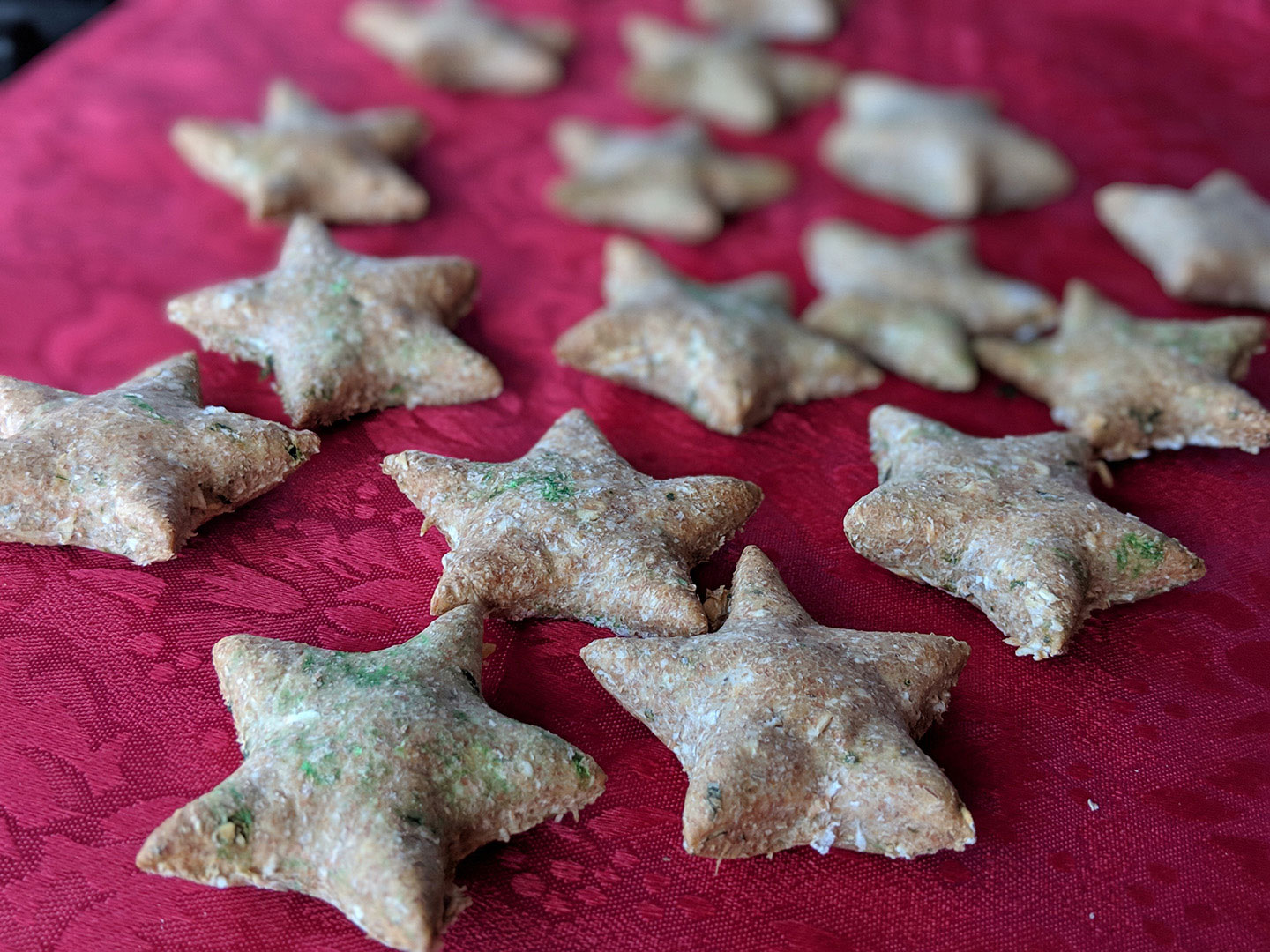 Ingredients:
2½ cups whole wheat flour
1 cup water
1 tablespoon vegetable oil
½ cup quick oats
2 tablespoons fresh mint, chopped
⅓ cup fresh parsley, chopped
10-12 drops green food coloring (optional)
Instructions:
In a bowl, combine the flour, oats, oil, water, and herbs.
Mix well and add food coloring (if you want) until evenly dispersed.
Roll out the dough on parchment paper, to about ¼" thick.
Use a cookie cutter or cut in pieces.
Bake at 350 °F for 35 minutes.
Yes, I sampled these too. They are crunchy and minty!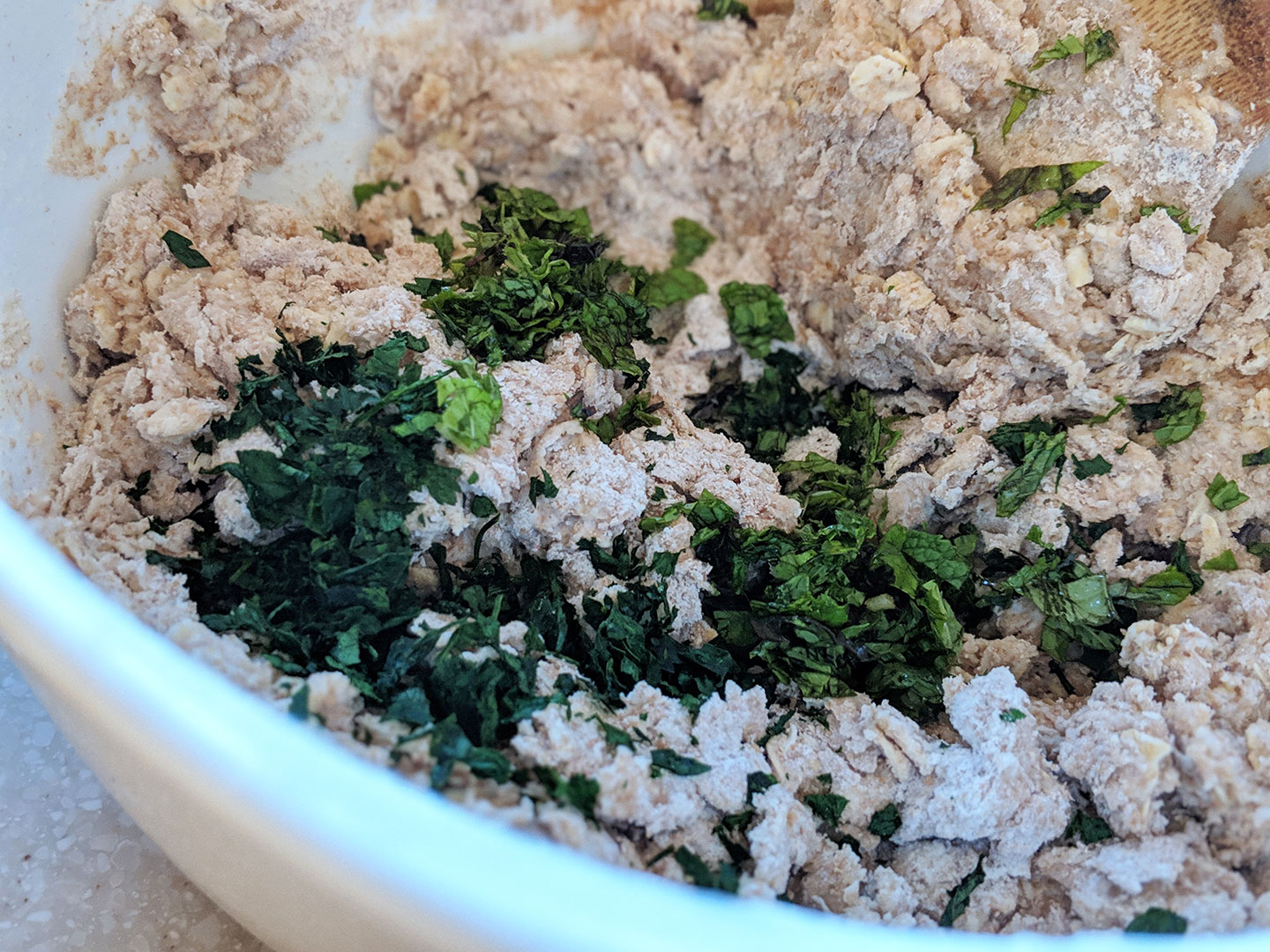 This dough smelled delicious and fresh! I think Tommi was hopeful I was making something other than dog treats. No such luck!
Santa Swirls!
Or the treat formerly known as, "Cinnamon Bun Dog Biscuits."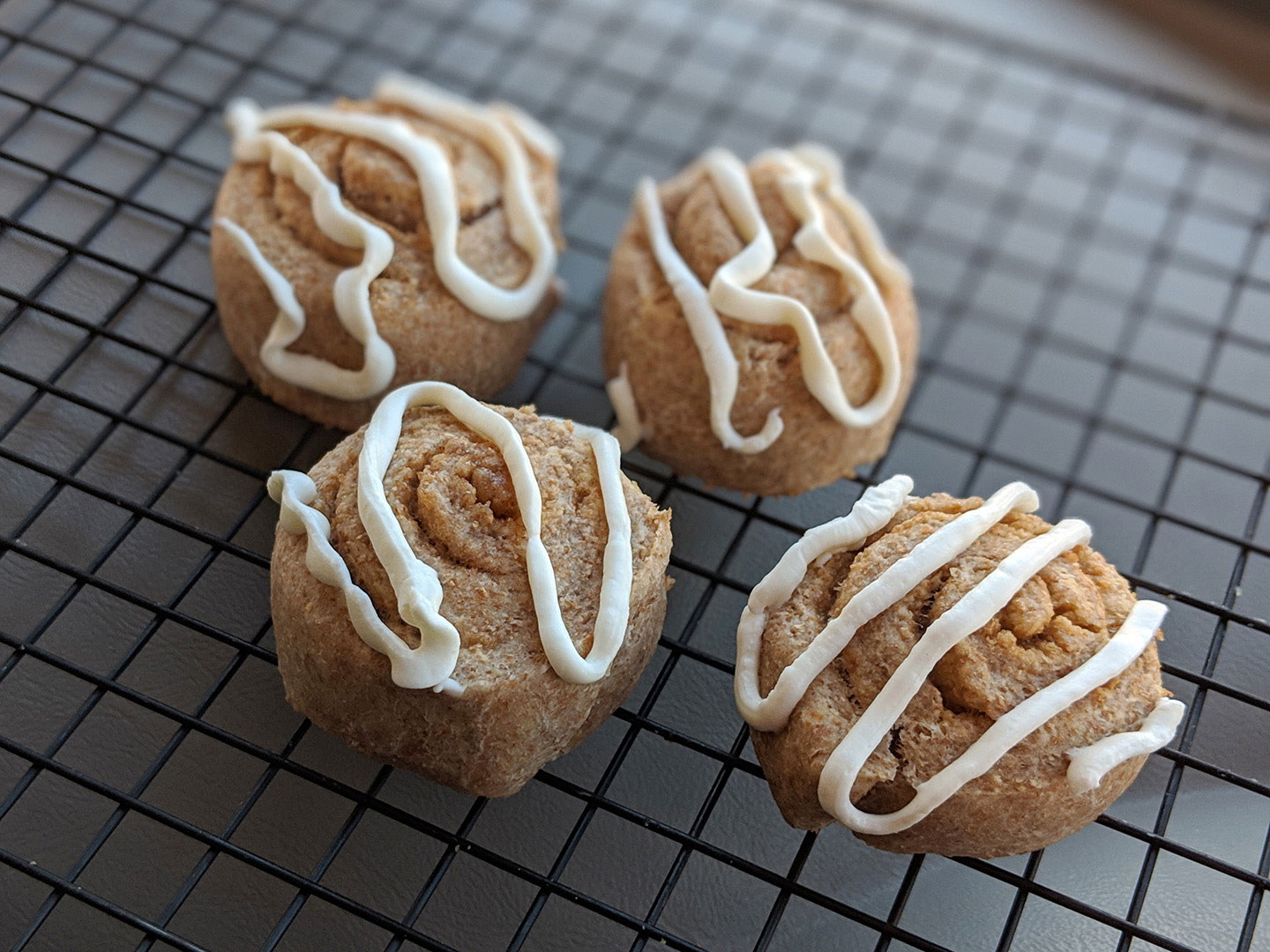 I mean, come on. These are adorable, I had to make them.
Ingredients:
2 cups whole wheat flour
1 teaspoon baking powder
¼ teaspoon salt
½ cup water or milk
¼ cup canola oil
1 large egg
2 tablespoons honey
1 teaspoon cinnamon
Cream cheese drizzle:
¼ cup light cream cheese
1-2 tablespoons milk or water (I used milk)
Instructions:
I'm giving you the cliff notes version, but click here for the original post. (Caution on the original post - it calls for nuts that dogs should NOT eat. I left those out, obviously and want to make sure you do too.)
In a large bowl combine flour, baking powder, and salt.
In a small bowl combine water, oil and egg, then add to the dry ingredient bowl and stir until the dough is soft.
Roll out dough on a lightly greased cookie sheet (I used parchment paper) to about ¼" thick.
Drizzle dough with cinnamon and honey.
Roll the dough into a log & pinch the edge to seal.
Cut into slices and lay slices flat on lightly greased cookie sheet.
Bake at 350 °F for 15 minutes or until springy to the touch.
Once cooled, drizzle the cream cheese mixture on top!
Cut the roll with a serrated knife.
I took a bite of these and you could taste the honey, but otherwise they were pretty non-descript.
PB & P Stocking Stuffers
A.k.a.: Soft Baked Peanut Butter Pumpkin Homemade Dog Treats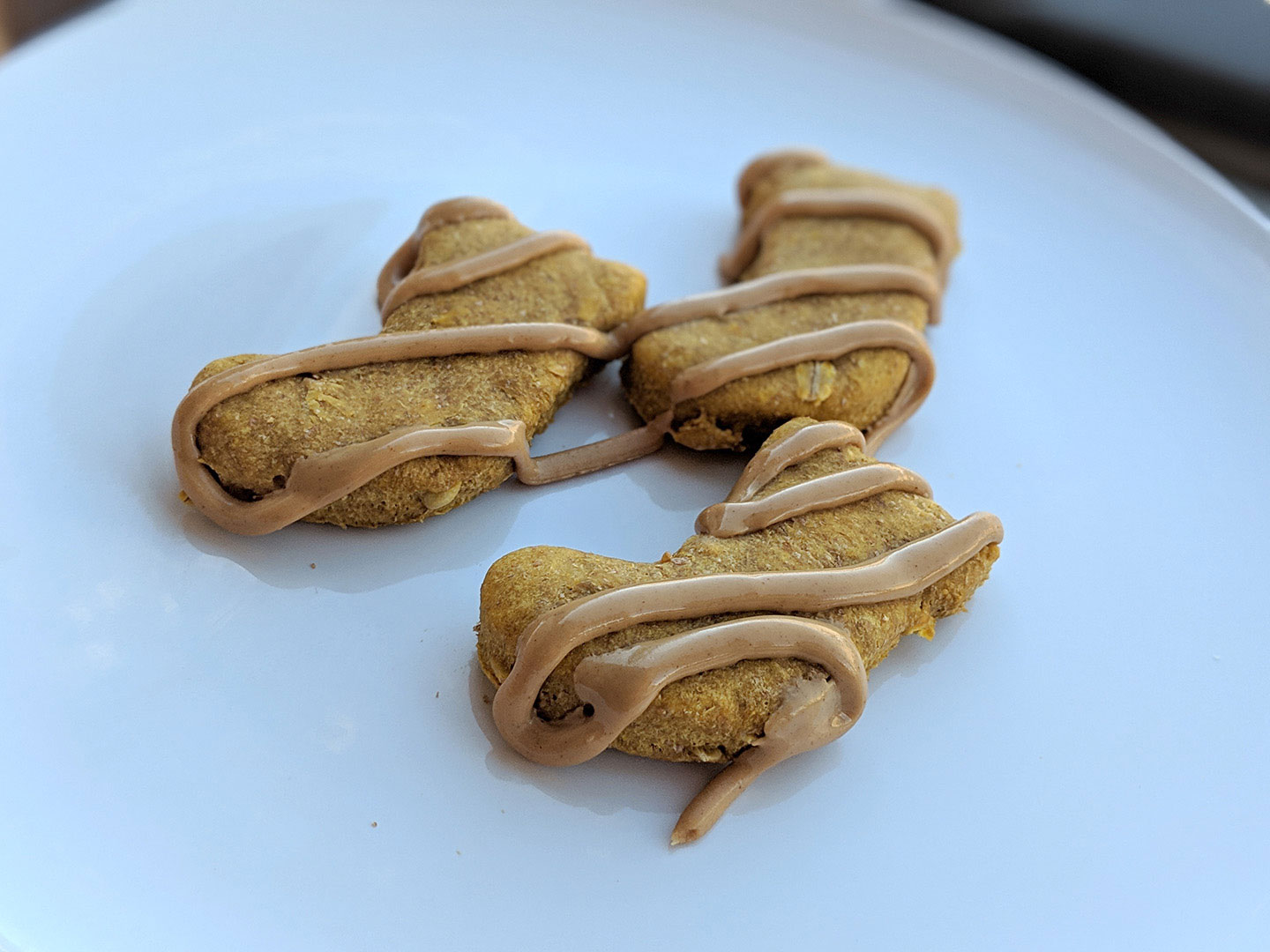 Peanut butter is one of Lily & Mushy's favorite treats, so I thought I couldn't go wrong with this recipe. They haven't been exposed to much pumpkin though, so that was the wild card.
Ingredients:
¾ cup pumpkin puree
½ cup natural peanut butter plus more for drizzling
¼ cup chicken broth or skim milk (I used whole milk)
1 large egg
2½ cups whole wheat flour
½ tablespoon baking powder
½ cup rolled or quick-cooking oats
Instructions:
In a large bowl, combine pumpkin, pb, broth/milk, and egg. Mix well.
Add 2 cups of flour and baking soda. Mix until combined then stir in oats.
Continue to add ¼ cup flour at a time until the dough is no longer sticky, then roll out dough to ¼" thick and cut as desired.
Bake 8-12 minutes at 325 °F, flip cookies and bake another 7-13 minutes. (I did the low end of both of those numbers and got nice soft cookies).
Drizzle with warmed peanut butter.
Lily was right next to me as I was making this dough! "Ane what are you doing with my peanut butter!!!?"
Dog Nog
Or, "Doggy Egg Nog."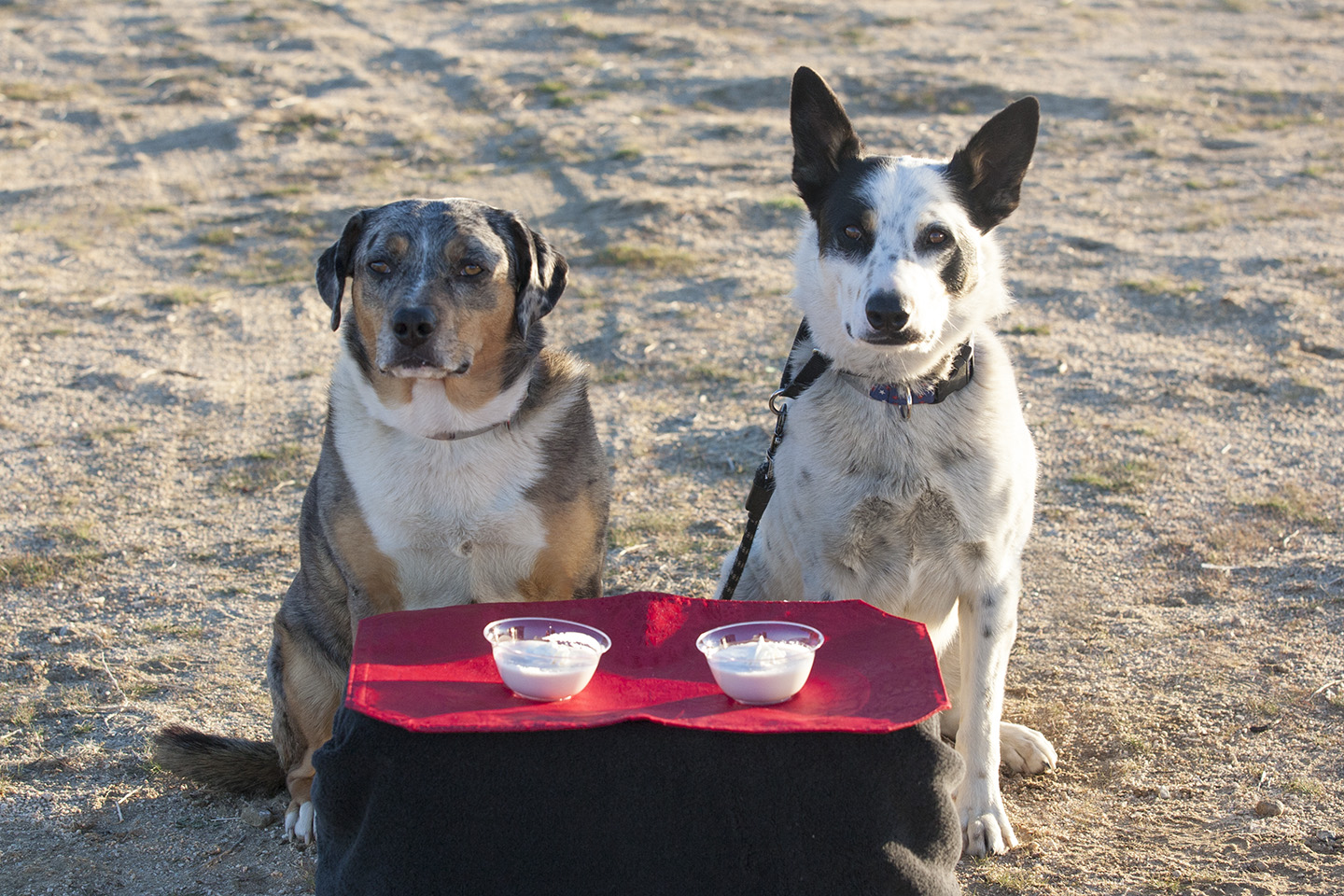 We have video of this moment and Mushy kept smacking his lips together. I think if we waited much longer he would have drooled. It was adorable.
Ingredients:
1 (7 oz) container plain Greek yogurt
1 (2.5 oz) jar of baby food (I used Gerber's Chicken & Gravy)
¼ cup water
The original recipe calls for a raw egg, but I left it out. Another recipe called for boiled chicken breast, but I had enough work to do baking all these cookies so I left that out too.
Instructions:
Combine all ingredients in a blender and blend until frothy.
Garnish with a biscuit. (We chose some whipped cream instead!)
Did I taste this one? NOPE! I'm vegetarian and the smell of this chicken baby food was disgusting and just cemented my feelings on vegetarianism... and babies. :)
The Results Are In!
We are using a scale of 1-5, 5 being the best. Dog scores are for taste, human scores are for overall ease/enjoyment of making.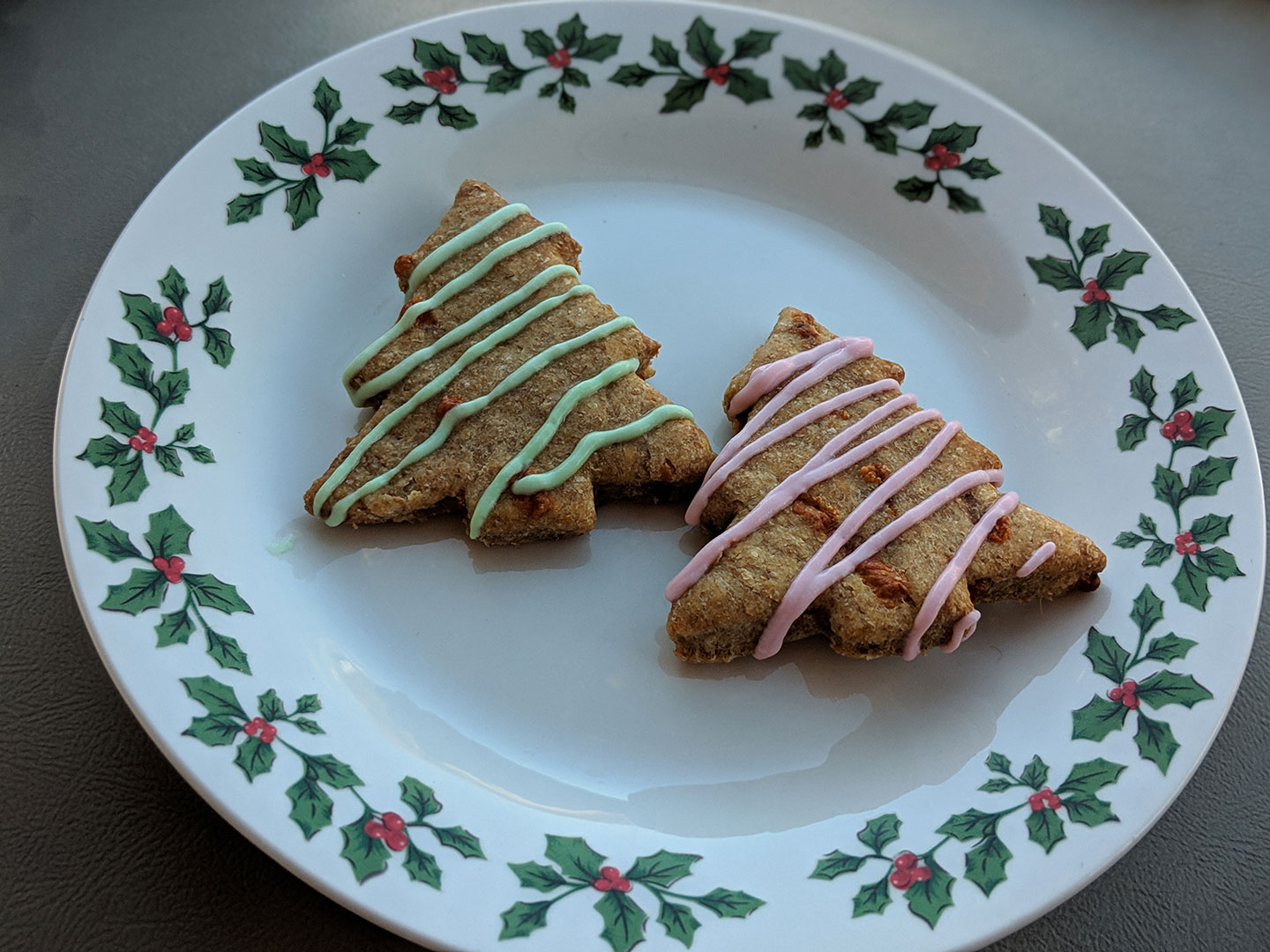 Cheesy Christmas Apple Trees
Mushy Score: 4
Lily Score: 4
Human Score: 4
Recap: The dogs gulped these trees down every time, so I know they enjoyed them, but when they were on a plate with other cookies, they weren't the first choice. They were very easy to make, and the ingredients were simple to find.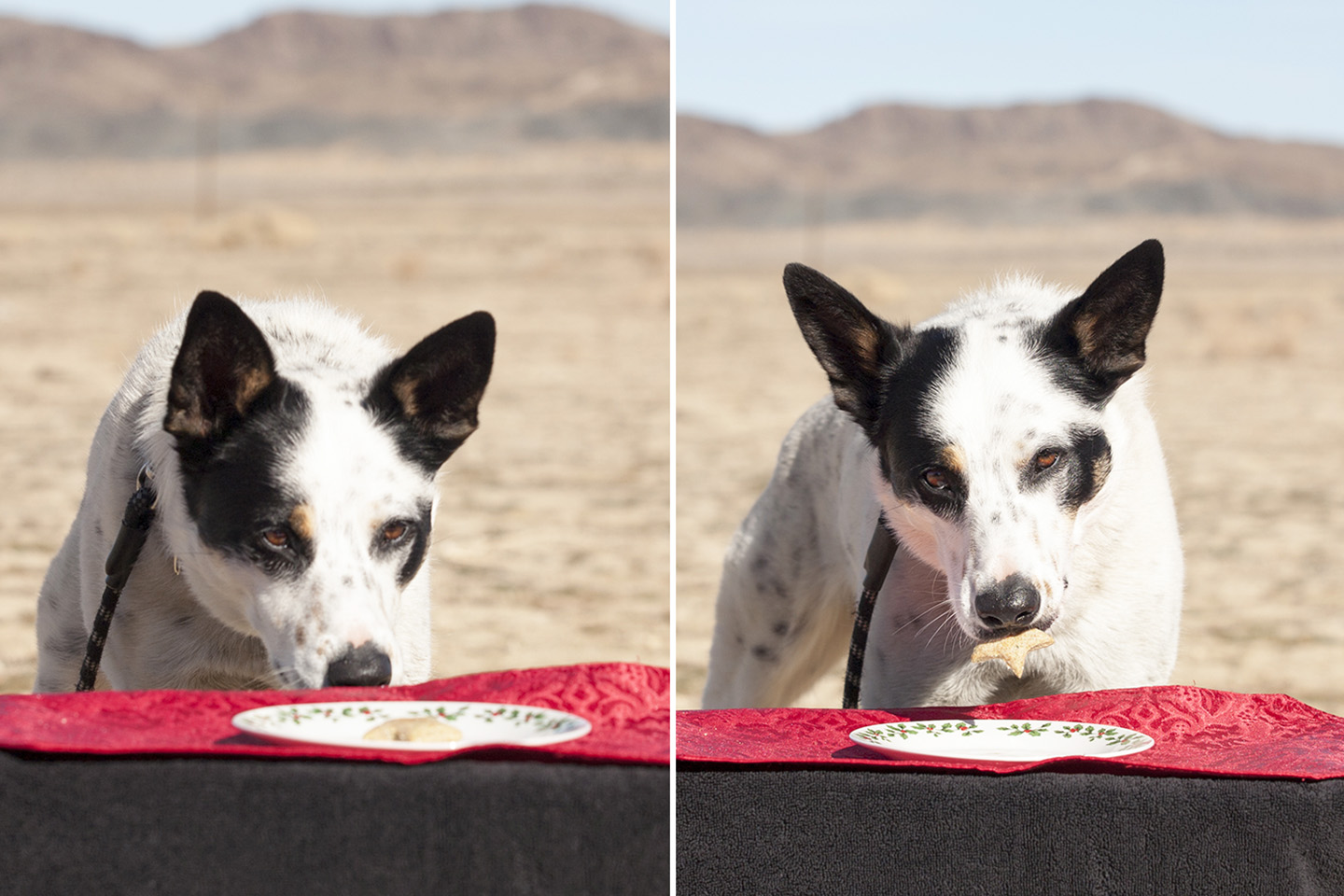 Mistletoe Mints
Mushy Score: 4
Lily Score: 4
Human Score: 4
These were the only cookie that didn't have a topping. I thought for sure that would put them at a disadvantage. Mushy was cautious... but upon further investigation they were delicious. Both dogs rate a solid 4/5. These were easy to make, and I like that they will help freshen breath!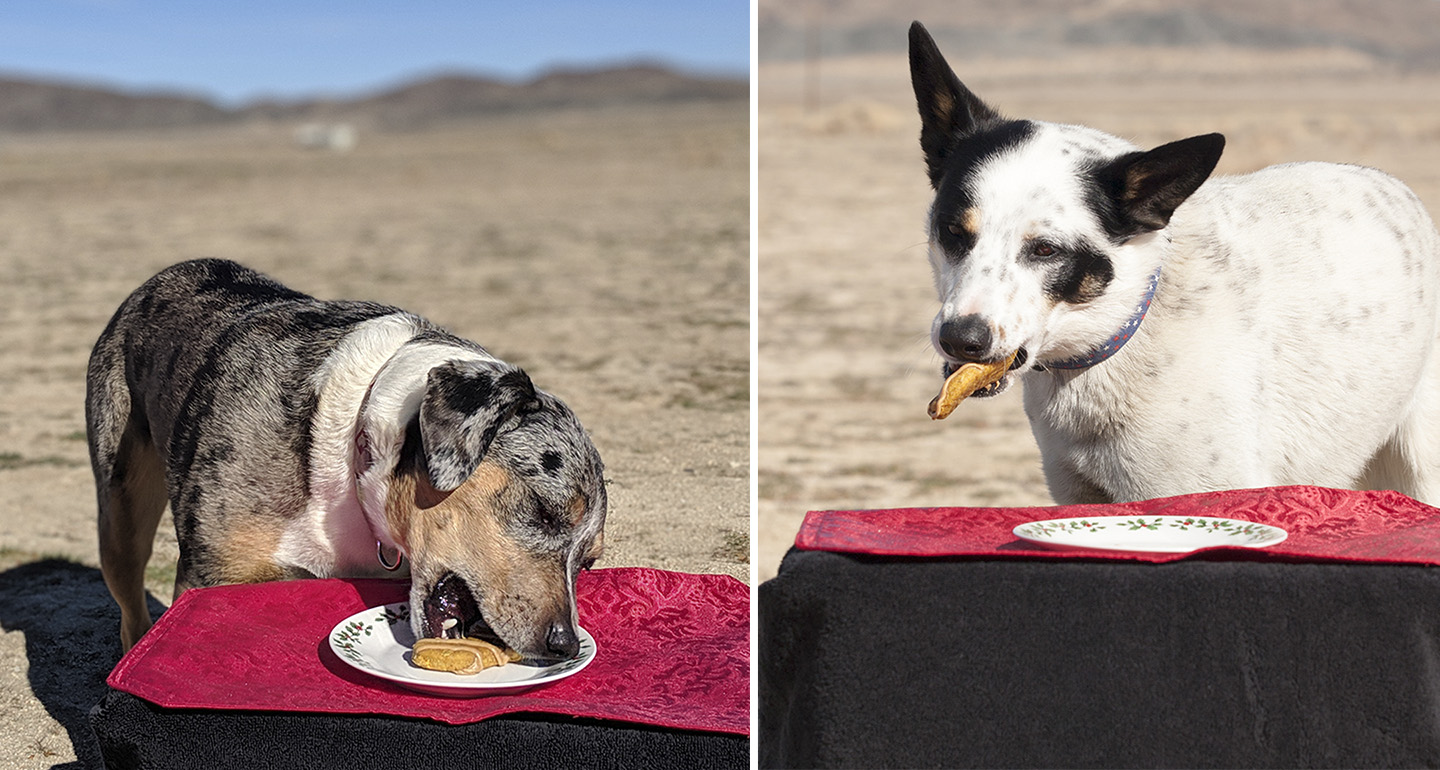 PB & P Stocking Stuffers
Mushy Score: 4
Lily Score: 4
Human Score: 5
The dogs thought these were great. I mean, they're peanut butter cookies, drizzled with peanut butter... and the dogs love peanut butter, so yeah. Solid 4/5. This was also the only softer cookie option, so I think it was a nice change from the crispier biscuits. From the baking perspective, this was the easiest dough to work with, for some reason.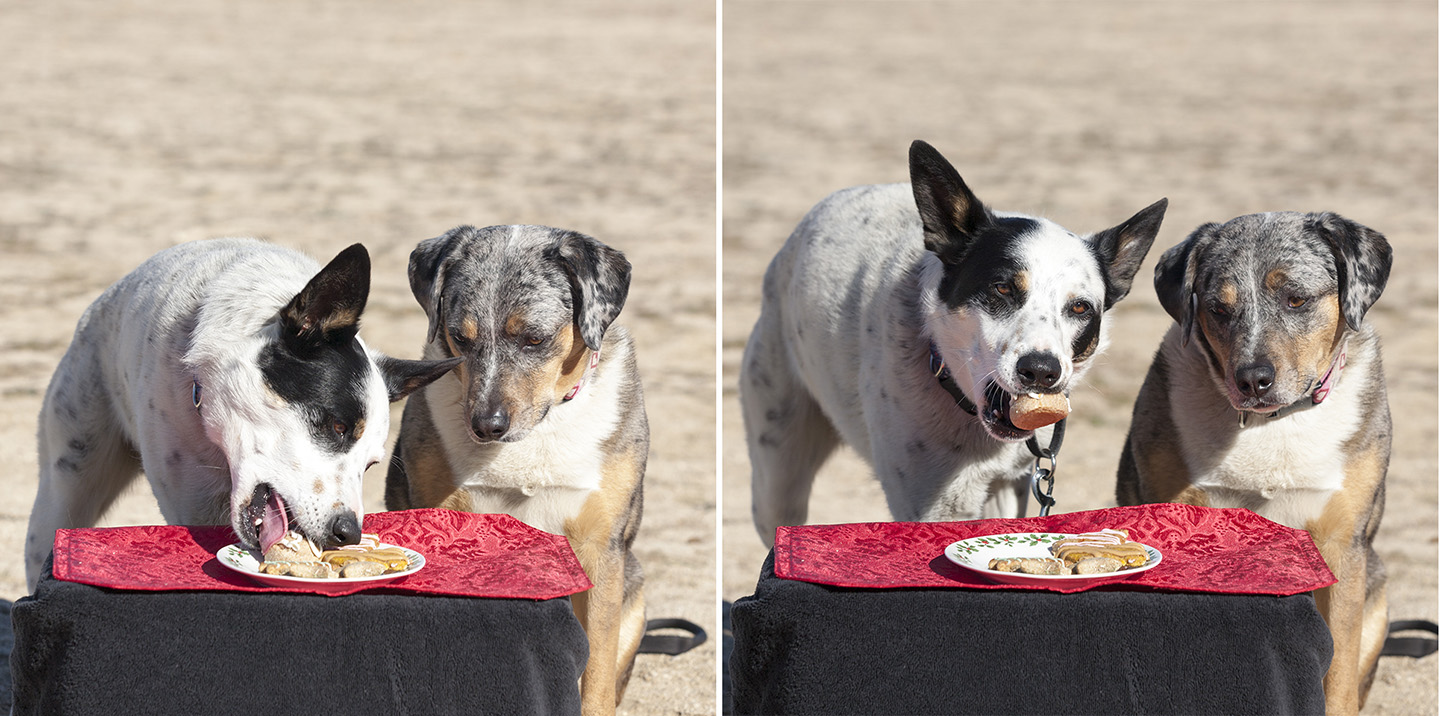 Santa Swirls
Mushy was always a few beats ahead of Lily when we said, "Get it!" so Lily missed out on this Santa Swirl, but rest assured I think she ate about 3 of them during this photo shoot.
Mushy Score: 5
Lily Score: 5
Human Score: 5
In the biscuit category, we have a winner! These were the clear favorite of Mushy & Lily. They were always chosen first, and these were the most fun for me to make! Now, I tasted them and they were nothing special, so I'm not sure if the dogs were going for these because they were the largest option, or because they had a cream cheese milk drizzle, but time after time, these were first to go.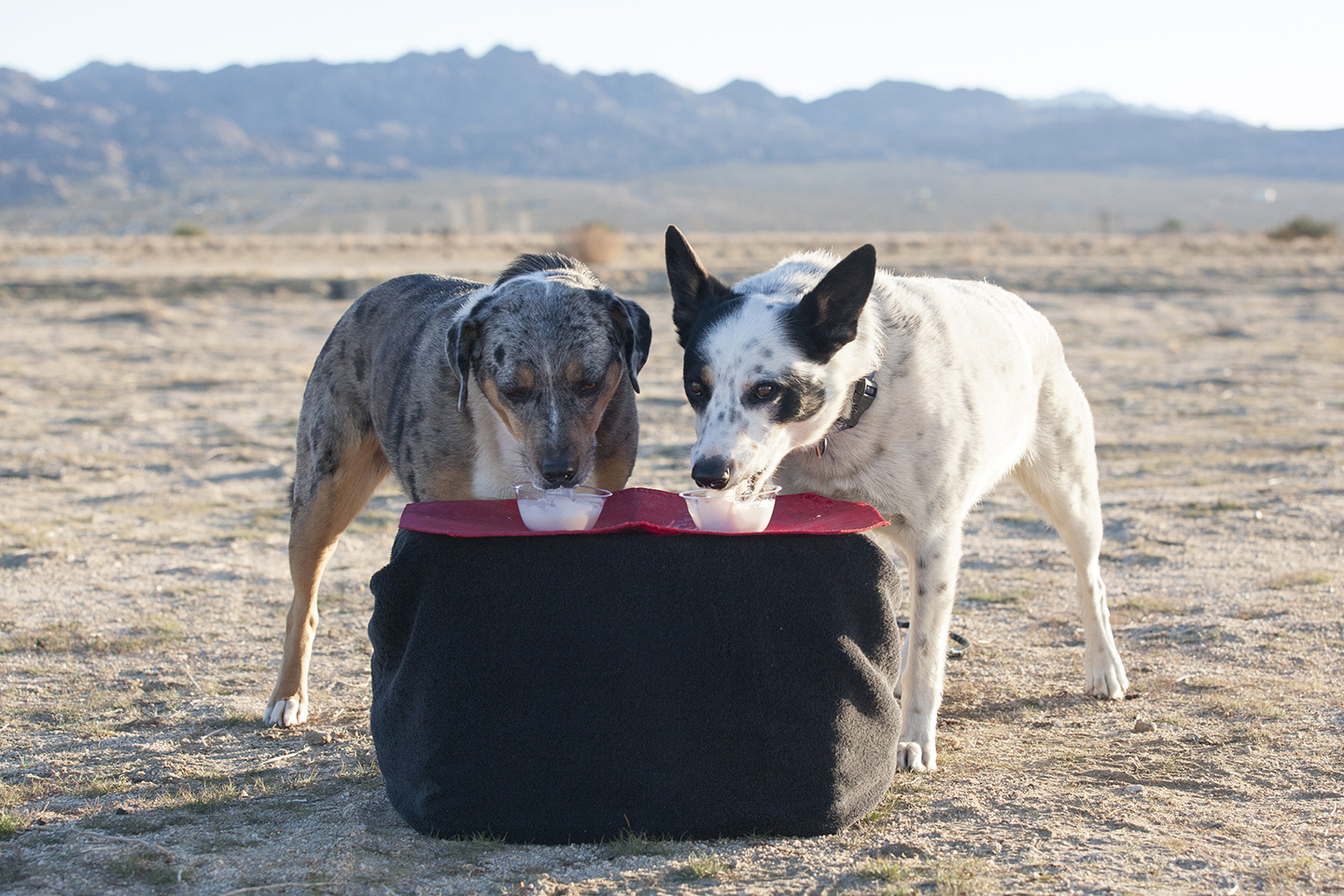 Dog Nog
Mushy Score: 5
Lily Score: 5
Human Score: 4
Recap: The dogs LOVED this. They didn't come up for air once. They had nog mustaches and were licking the cups clean at the end. There are minimal ingredients so this was very easy to make, but you need a blender. You could probably use a whisk if you had to. Knocking off a point for the smell.
Recap
If you have to choose just one cookie to make your pups for the holidays, Lily and Mushy highly suggest pairing the Santa Swirls with some Dog Nog. Can't go wrong.
We hope you enjoyed the taste test! Do you have a favorite dog cookie recipe? Post it in the comments!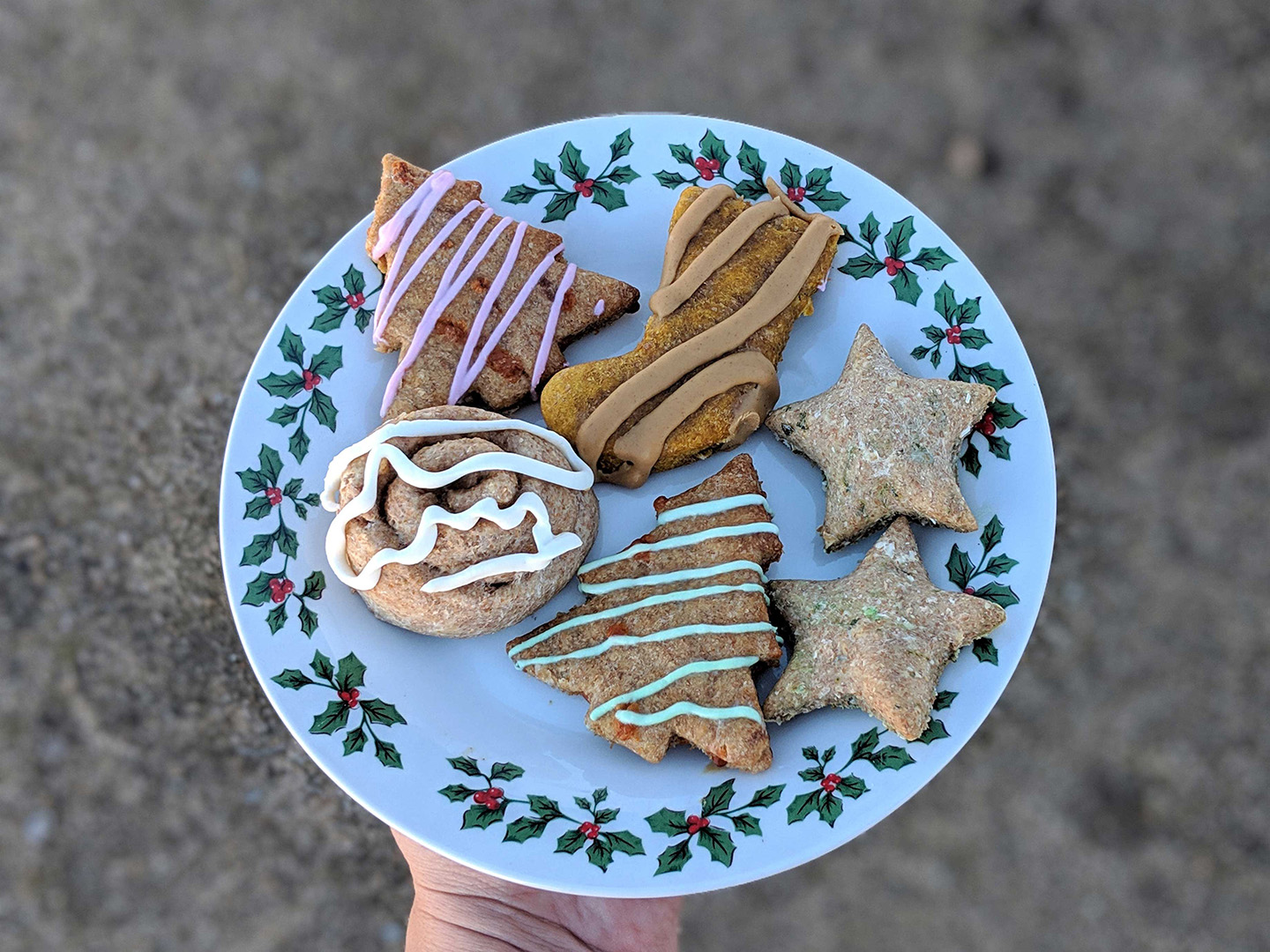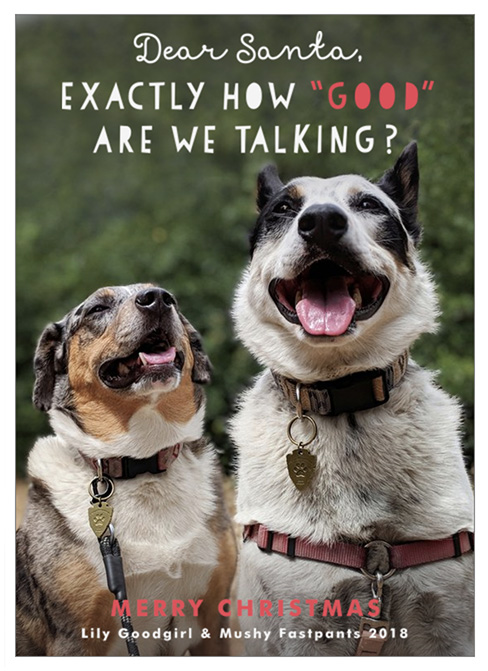 From our family to yours, we hope you have a wonderful holiday!
Oh, and Lily and Mushy have one request. If anyone knows "the big man", please tell him Lily would like a new pink hedgie and Mushy wants any toy with eyes he can rip out.
This post originally appeared on https://fmcadventure.com/2018/12/13/rv-dogs-try-homemade-holiday-dog-treats/