Exploring Dog-Friendly Silverton & Ouray, CO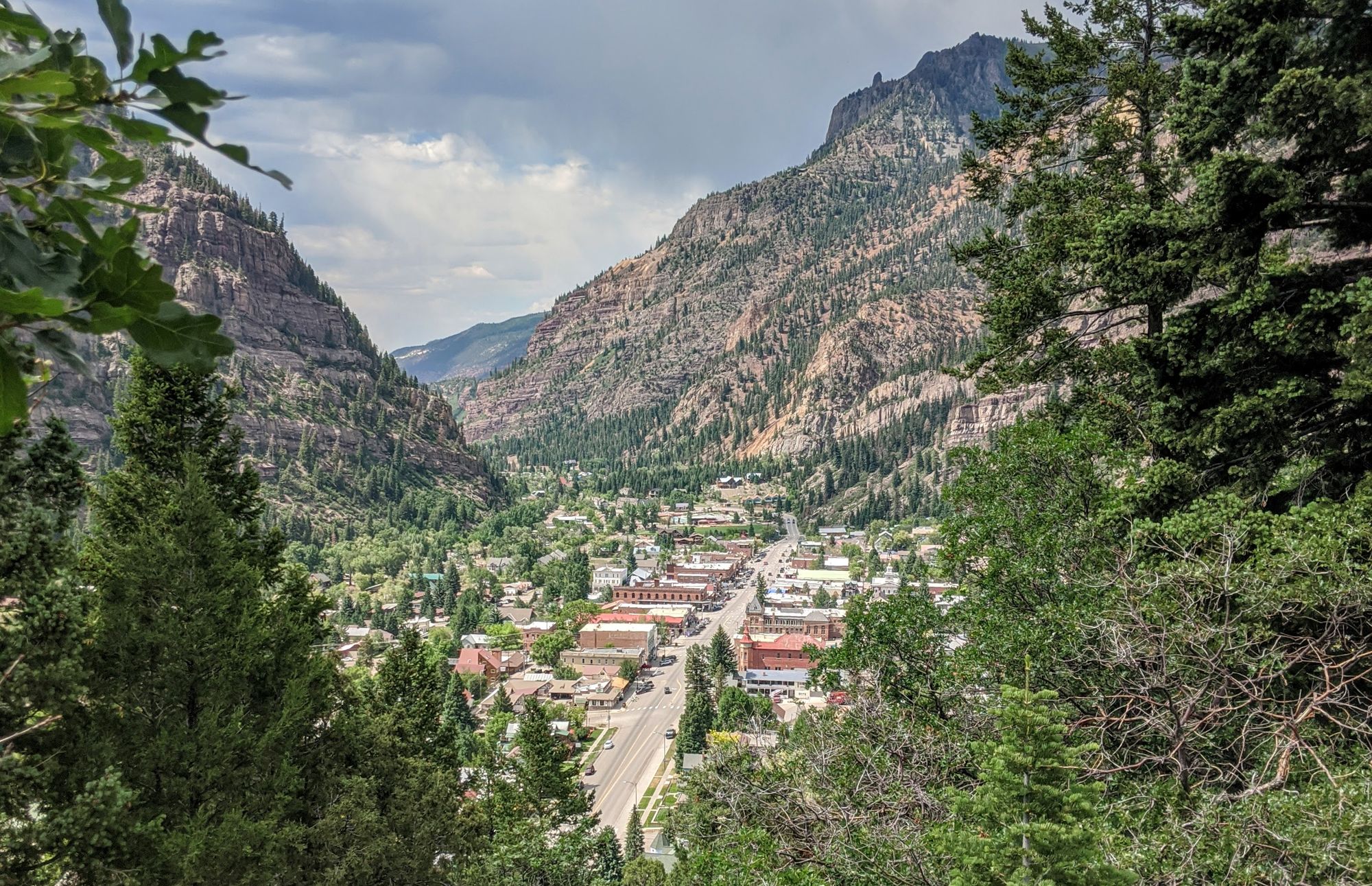 Colorado is famous for its mountain ranges and forests. The peaks reach well over 14,000 feet, and many small towns are above 7,000 feet. We are lucky to live close to many of these towns, just on the other side of the state border in New Mexico. We took our "van full o' dogs" exploring Ouray and Silverton and found beautiful nature and cool mountain air.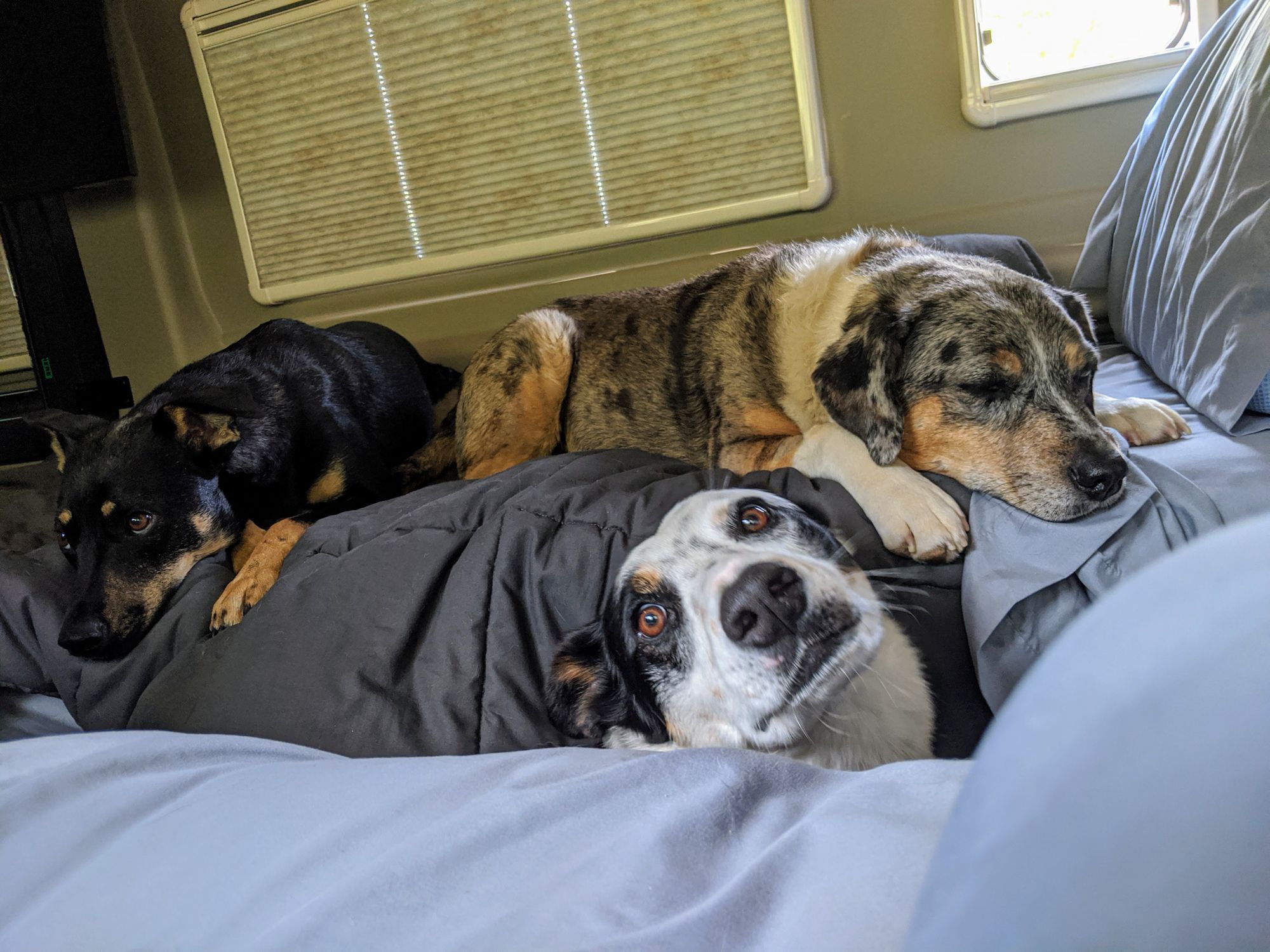 This was an interesting trip for us. Our home base is at 6,000 feet so we're no strangers to altitude, but we are in a semi-arid climate, while the Colorado mountains get a lot more rain and snow — it can often be dry at our house and we can see the clouds and rain to our north in Colorado.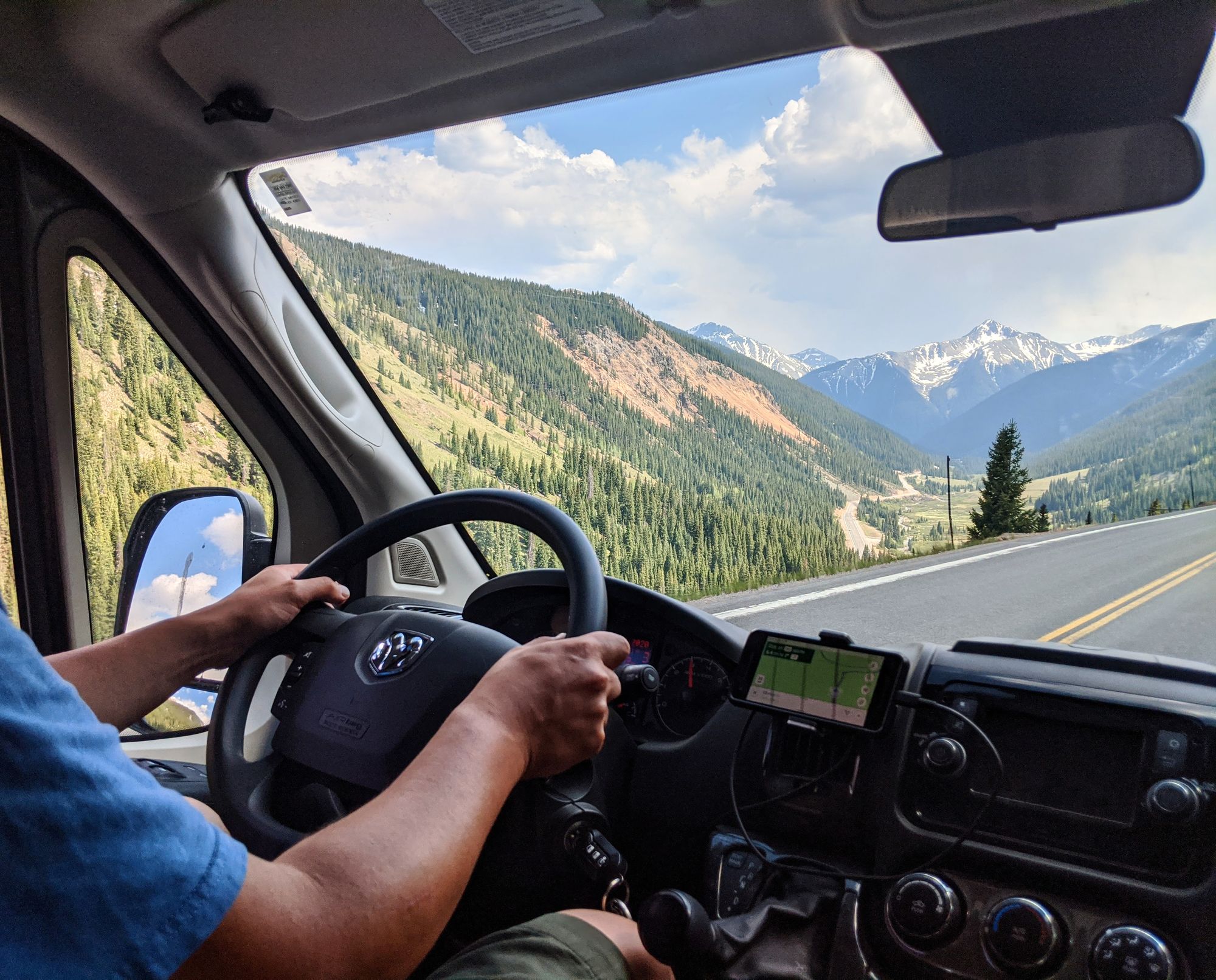 On this trip, we went from high desert to a mountainous pine forest in a short afternoon drive.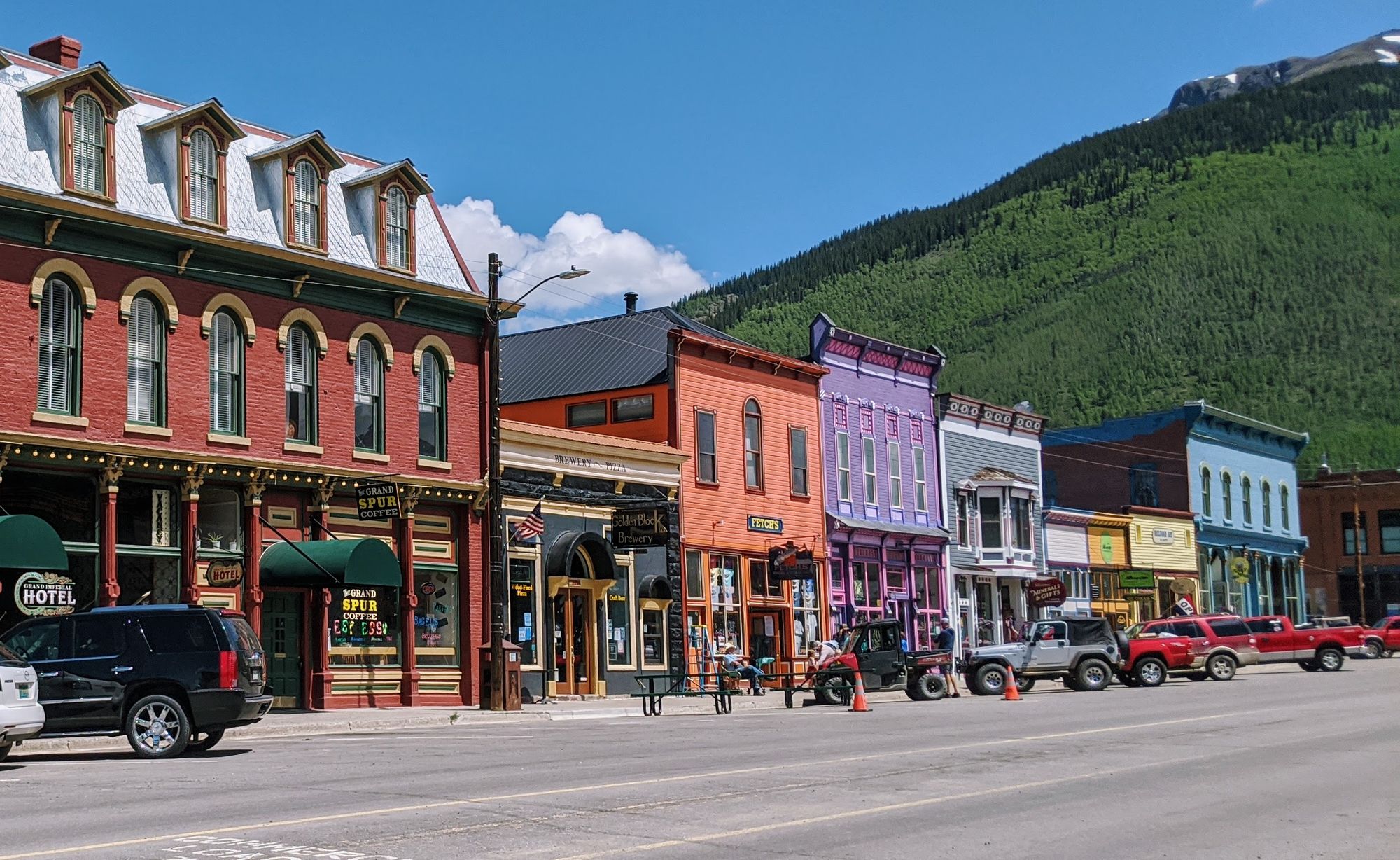 Our first stop was Silverton, a colorful small town of less than 700 people at 9,318 feet elevation with many historic buildings preserved from the mining era. There are several bars and restaurants for the tourists, but not necessarily enough tourists to keep them always open (especially during COVID times), so watch out for business hours if you plan on eating here.
Silverton's main attraction is probably the Durango-Silverton Narrow Gauge Railroad. This historic steam railroad has been in continuous operation since 1881. For better or worse, our family motto tends to be "If I can't bring my dogs I'm not going" — so we can't say we've experienced the railroad, but we hear it's awesome! Something to definitely consider if you're without pets, or want to board them at a doggy daycare for the day.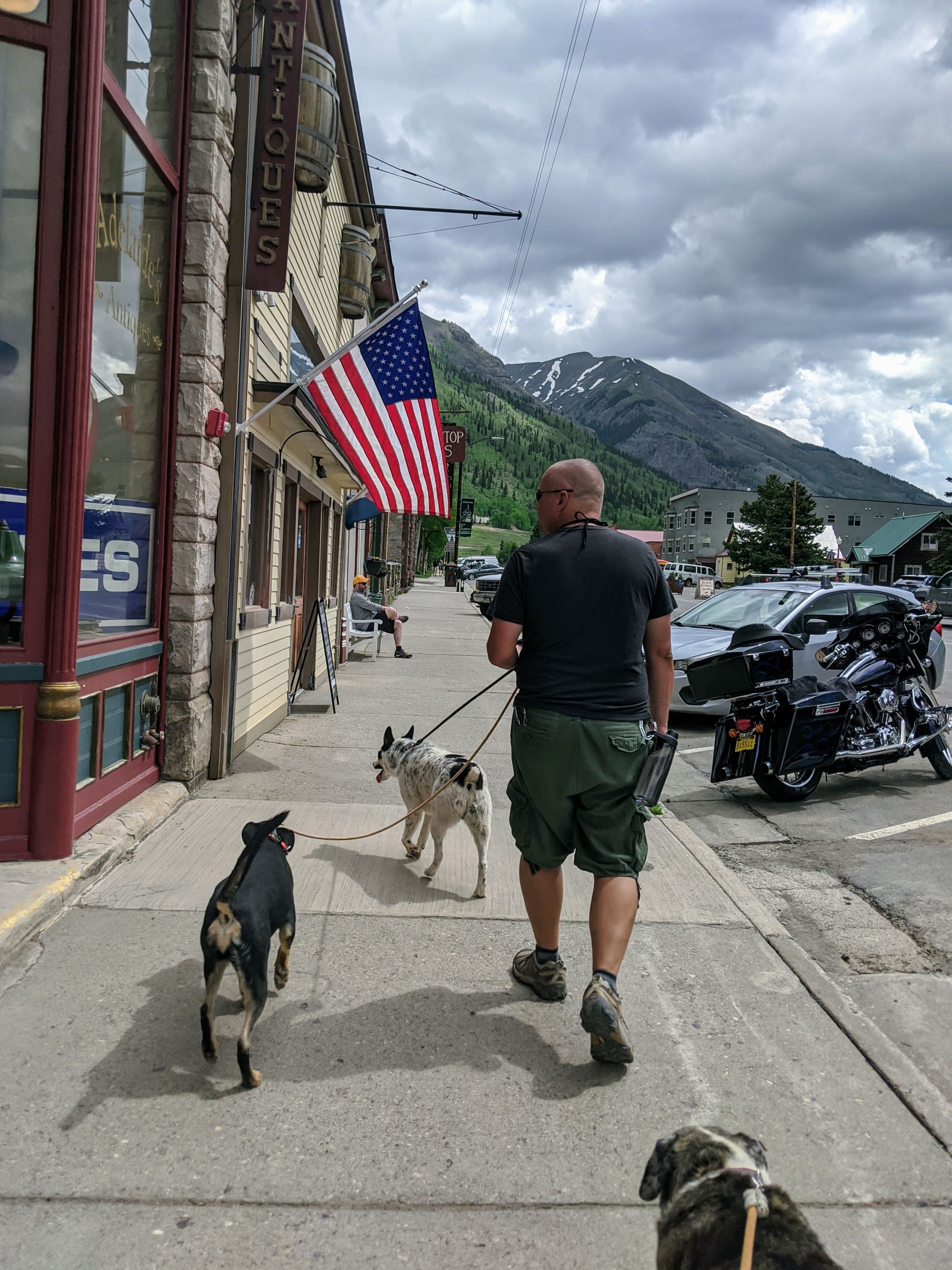 Beyond the train, the local businesses are mostly hotels, inns, gift shops, and one gas station. Make sure to check out the Silverton City Park (aka Harmony Park) halfway through town, with the musical instruments (which somehow we didn't get a photo of — I think we were too busy playing!)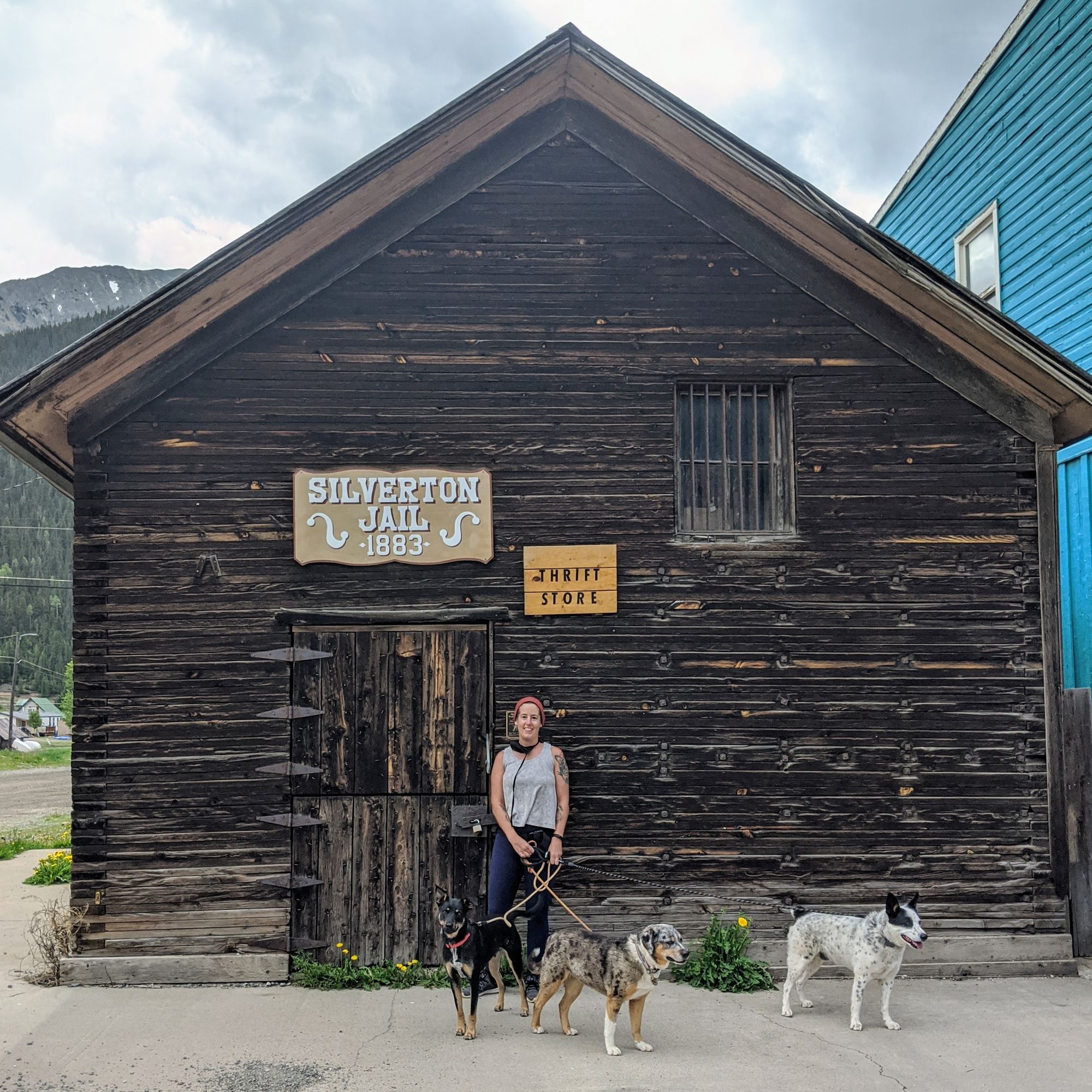 After walking around town, we found a campsite a few miles outside Silverton along a creek, in a designated dispersed camping area.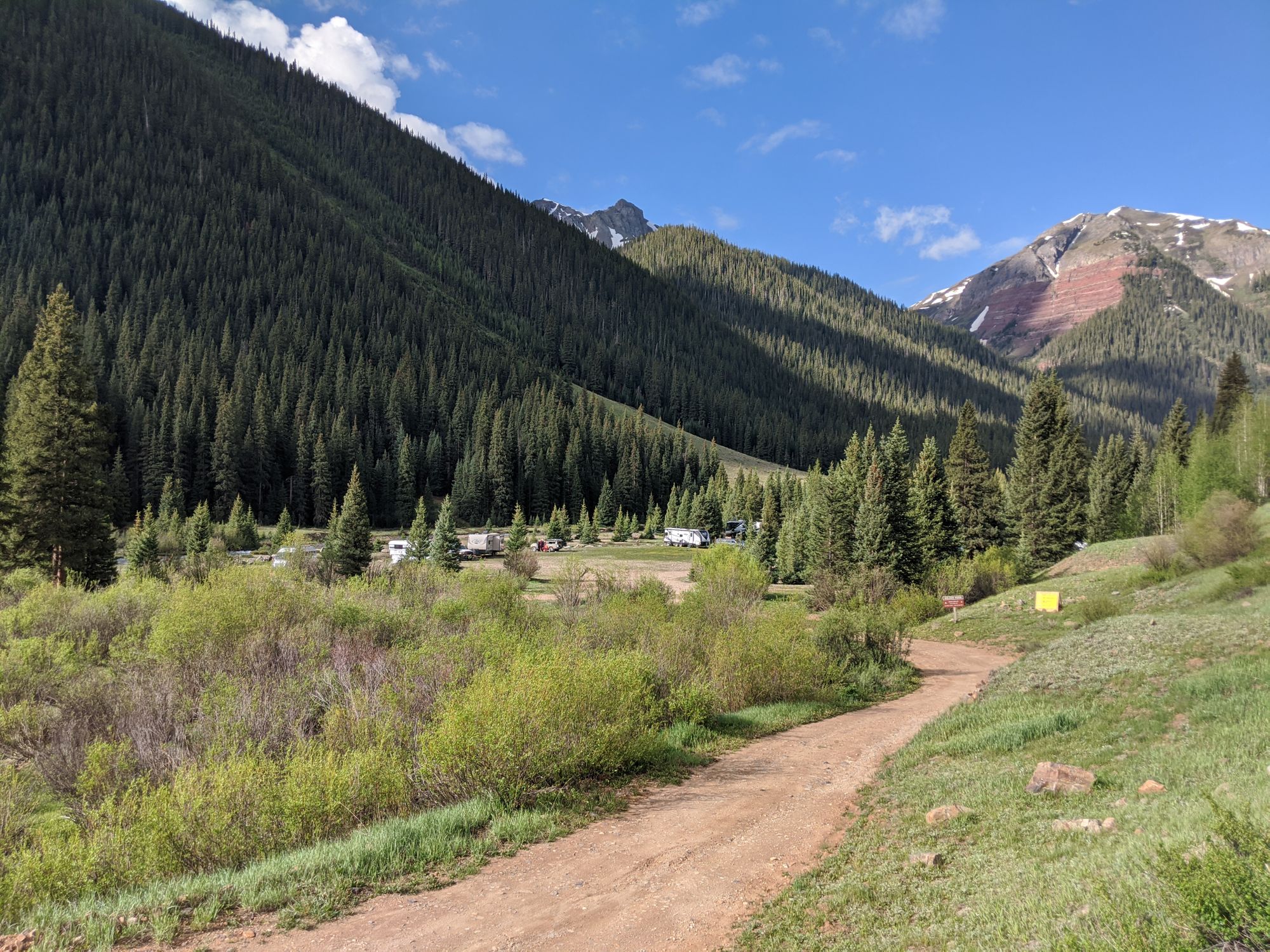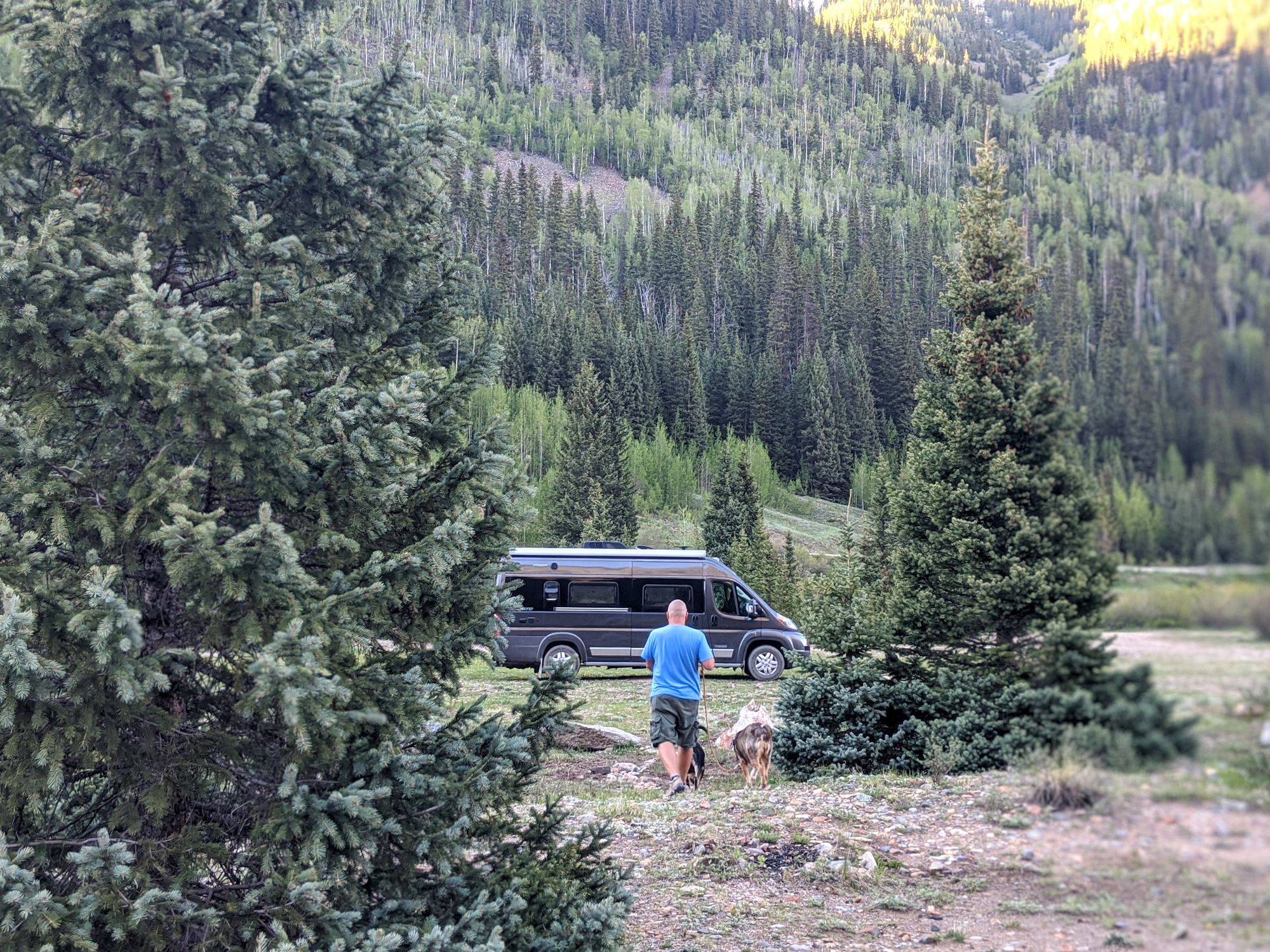 Outside of the handful of designated areas, the mountain roads are not great for RVs; if you have a pickup with a camper shell or a short 4x4 van with good ground clearance, you can probably find amazing spots deeper in on the forest roads, but most others are destined to have neighbors, and based on counting fire rings these areas get incredibly busy seasonally. Even if you have an off-road capable vehicle, make sure you know where you're going and ideally travel with two vehicles: some of these mountain passes are the gnarliest jeep roads in the US, and may not have the width for a longer vehicle to turn around safely.
On these mountains, cell signal quality seems to depend mostly on luck, whether your campsite happens to have a line of sight to a cell tower or not. Obviously you're more likely to find good signal no more than a mile or two off the highway. On the average we were surprised how well we managed to find a good signal, managed to work remotely from nice camp sites, and mostly suffered on weekend evenings when the cell towers were overloaded.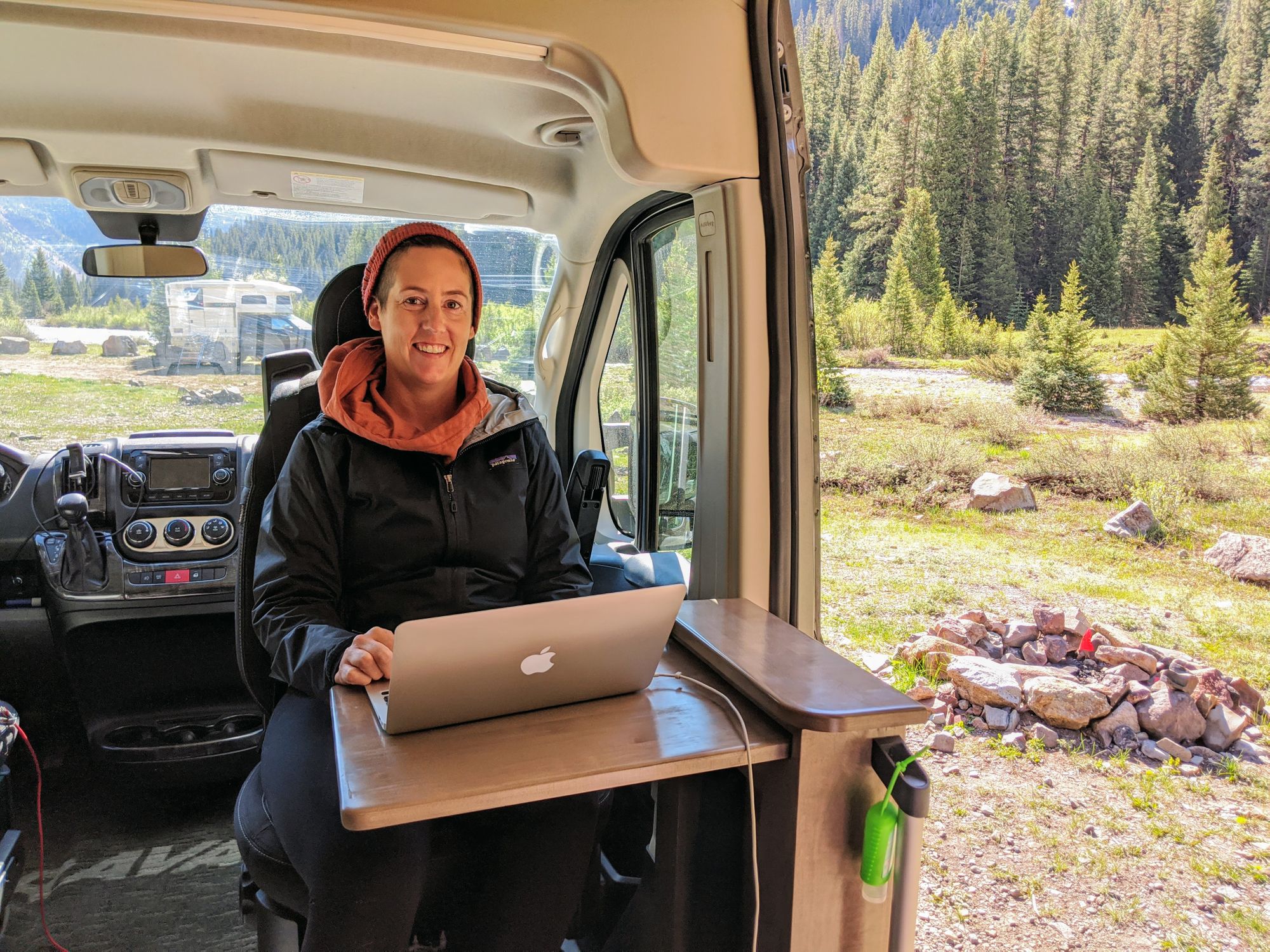 Going north from Silverton toward Ouray, you'll drive on the Million Dollar Highway. Parts of it are carved straight out of a mountain wall, and because of the heavy snowfall there are very few guardrails. That means near-vertical drops, thousand feet down, sometimes immediately outside the white line on the road. In the spring, before they've had time to fix the road, you might find chunks of the road have fallen out due to water erosion. There is no room for error here.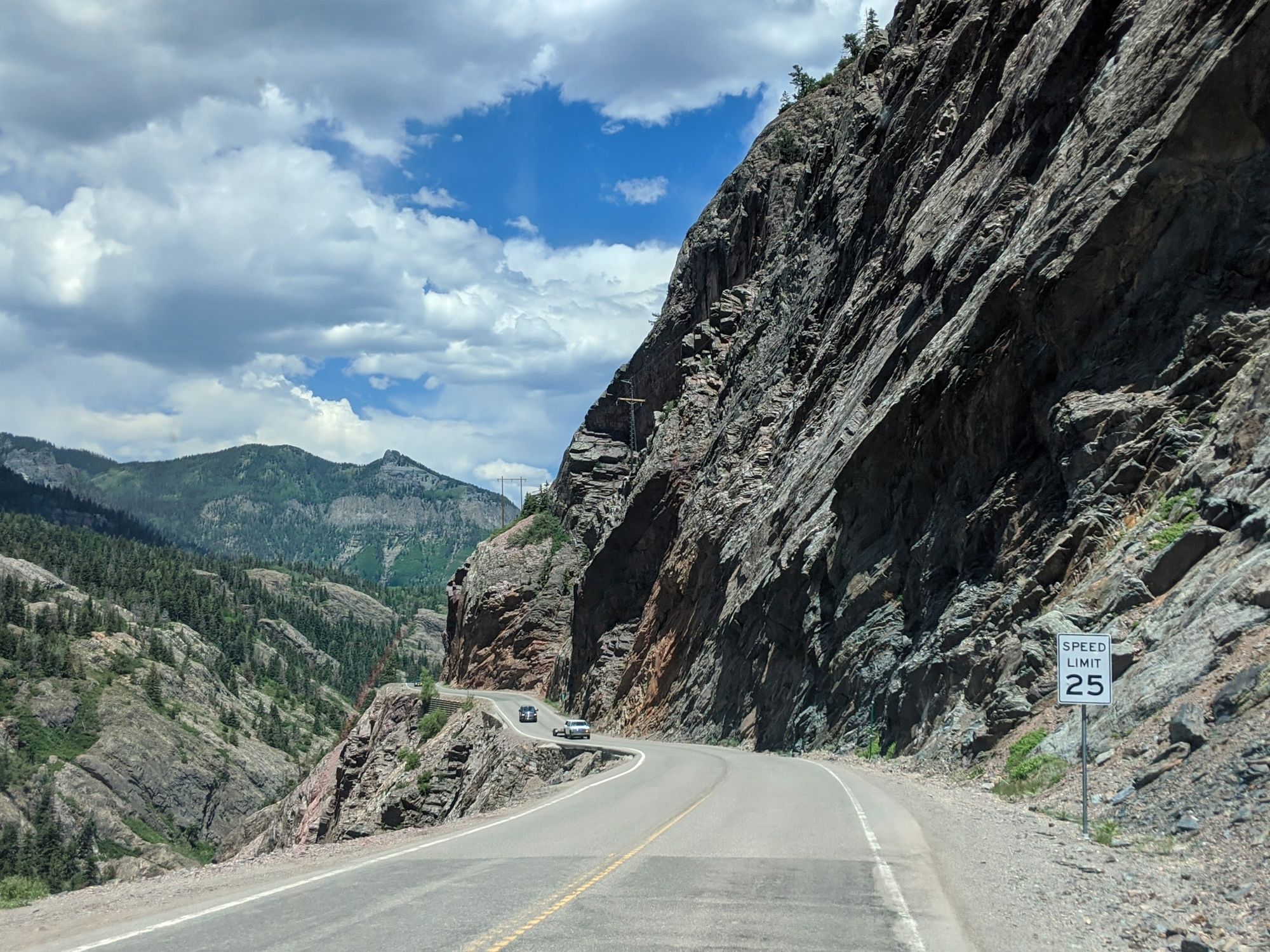 Trucks do use this route to service the mountain communities, but I personally would not want to bring a class A or a large trailer on this route. It's doable, but not fun. Pay attention to the 25 mph recommended speeds on bends, and practice your engine braking skills elsewhere — you do not want to be using the brake pedal all the time on these long downhills.
Also, pay attention to the fickle mountain weather and be ready to postpone your drive in case of rain. In even medium rain, there are literally waterfalls hitting the road surface, and sometimes the water brings down rocks with it. For a van, staying below the recommended speeds for the bends in good weather, it's a beautiful drive, and very much worth it for the scenery alone, just pay attention and let the passenger do the sightseeing. And leave that trailer or larger motorhome at camp.
At the north end of the Million Dollar Highway is the slightly larger town of Ouray, a mining town nicknamed "The Switzerland of America". Ouray is a cute little town, surrounded by a hiking trail loop with easy access to waterfalls and beautiful mountain nature. It's much more touristy, but not in a "lots of gift shops" way, and has a nice variety of restaurants (we loved Thai Chili). Ouray sits at an elevation of 7,792 feet — lower than much of its surroundings — and was much warmer than we expected.
Because of the heat, we wanted to find some water to cool off in. The dogs loved the "baby bathtubs" hike - perfect wading pools to cool off toasty paws.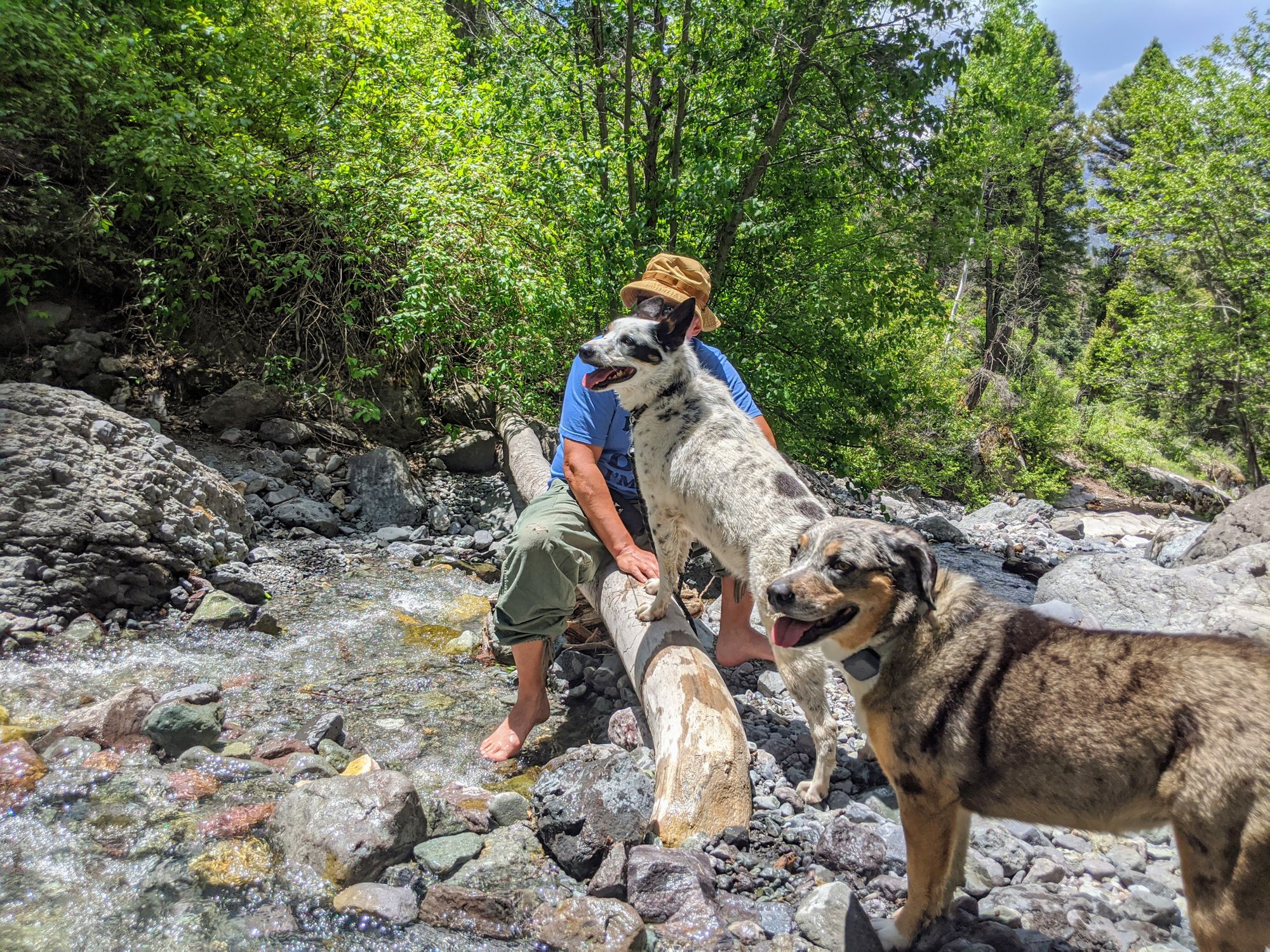 After that, we hit up Cascade Falls which is right in town. It's a very short walk to the falls and the coolest thing is that you can actually hike up some switchbacks and stand behind the falls!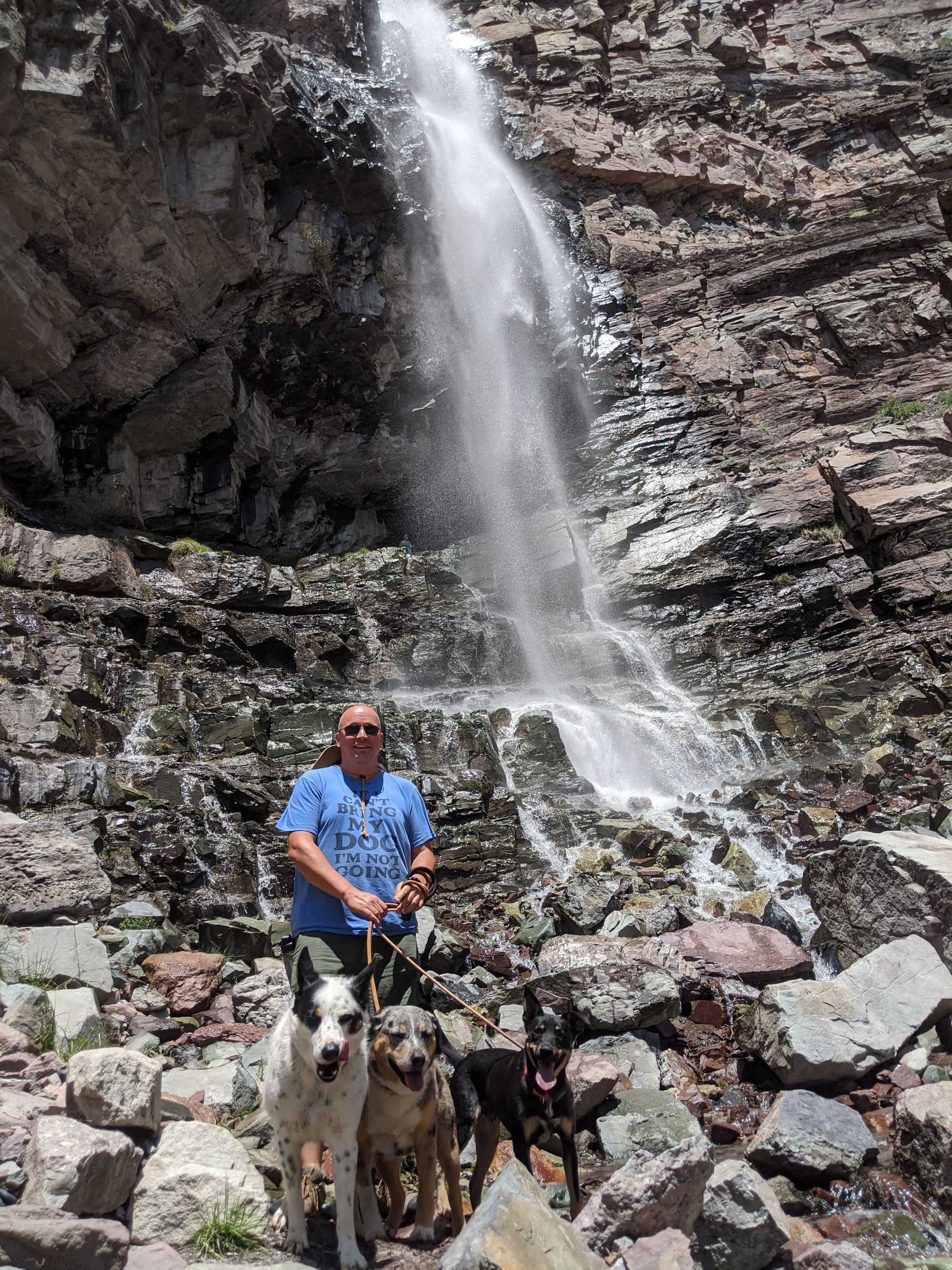 One day we'd love to come back to the Silverton and Ouray area and do some longer hikes. At the time of this visit, our dog Lily was about a month into her recovery from a rattlesnake bite which had drained her energy levels, so we kept our walks short. If you and your dog are up for a longer hike, we hear the Ice Lake Basin Trail outside of Silverton is phenomenal - and it's definitely on our list for another time. Some other Ouray adventures you may want to look into if you're without pets are the hot springs and Box Canyon Falls.
We did not have much luck in finding boondocking closer to Ouray, so after a day trip with two hikes, we headed back south to camp near Silverton.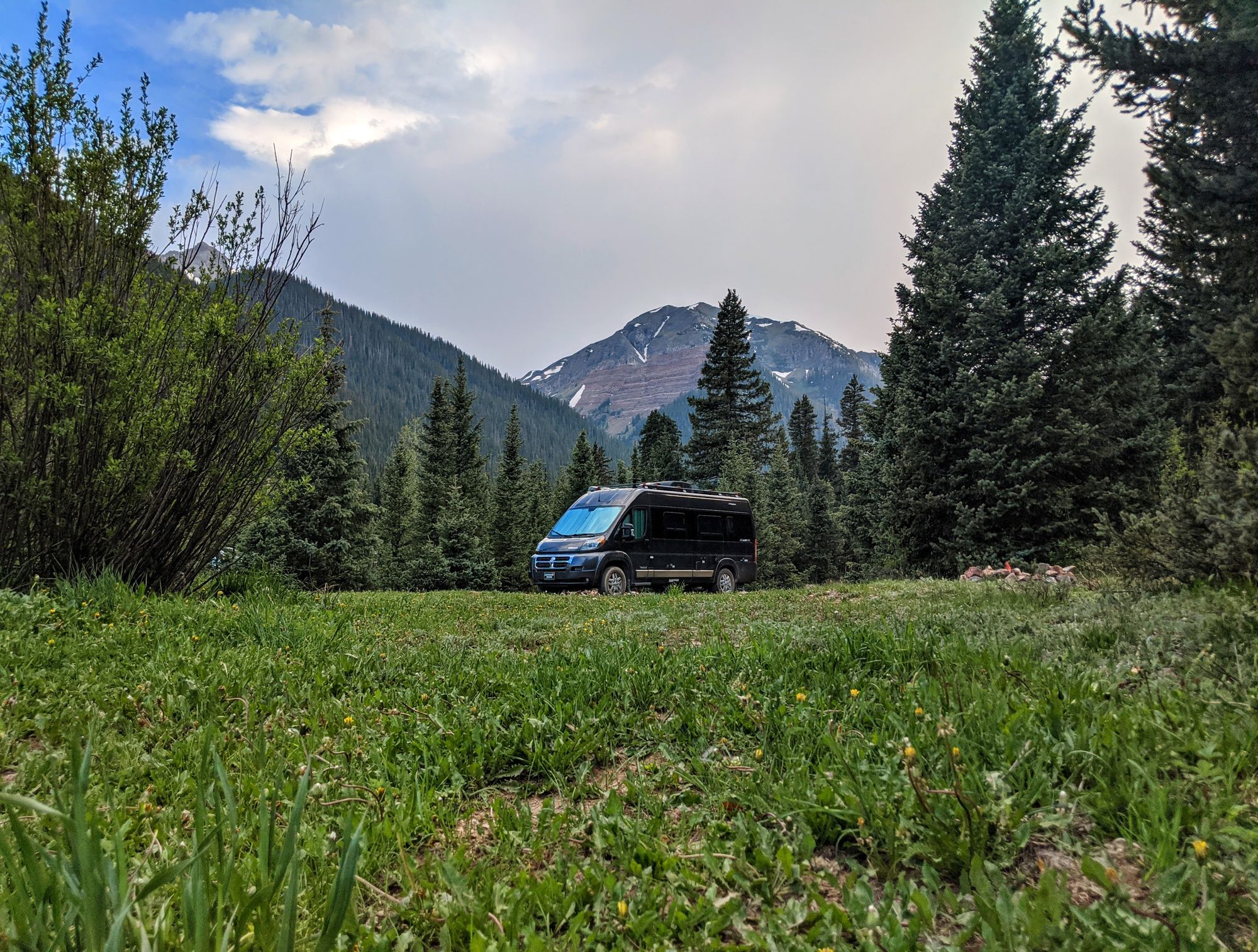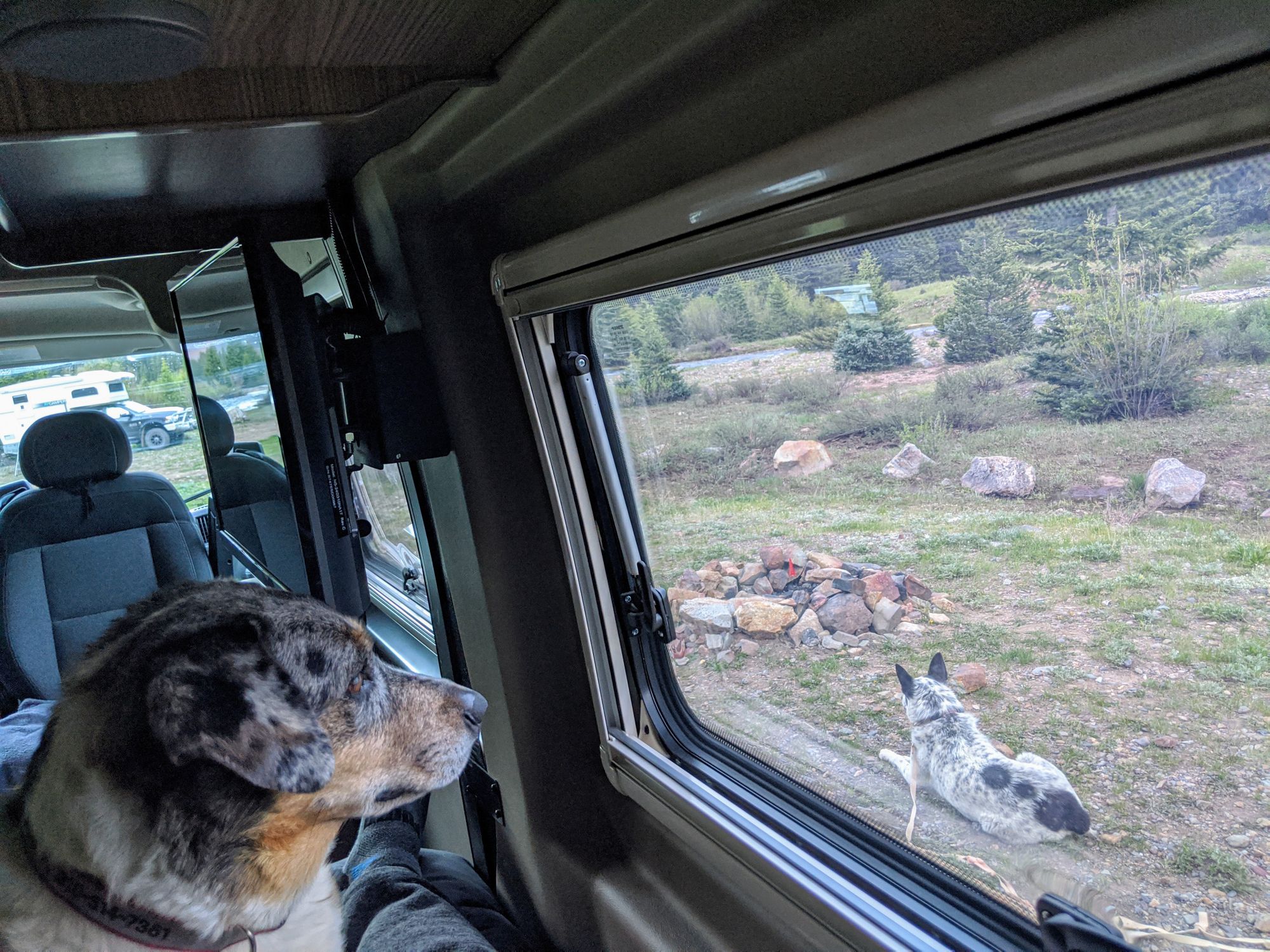 For us, driving above the clouds past 12,000 feet has never been a big deal, even when we lived at sea level. Neither one of us is prone to altitude sickness. We also haven't seen the dogs be affected, but it's something to know the warning signs of! But make no mistake, these are serious mountains and even the "low" areas are at 6,000 feet. If you're driving to this area of Colorado from closer to sea level, make sure you know the symptoms of altitude sickness, and be prepared to drive back down to a level where you're comfortable. If you have the time, maybe camp somewhere halfway up the mountains for a week or two to acclimate.
If you have more time, you can go north around Mt. Sneffels and check out a third mountain town, Telluride, as well. It's the biggest and perhaps the most touristy of the three, as it has a popular ski resort. Next time we're out this way, we'll be heading that way ourselves, stay tuned for our adventures in that area. Until then, it's time for a nap!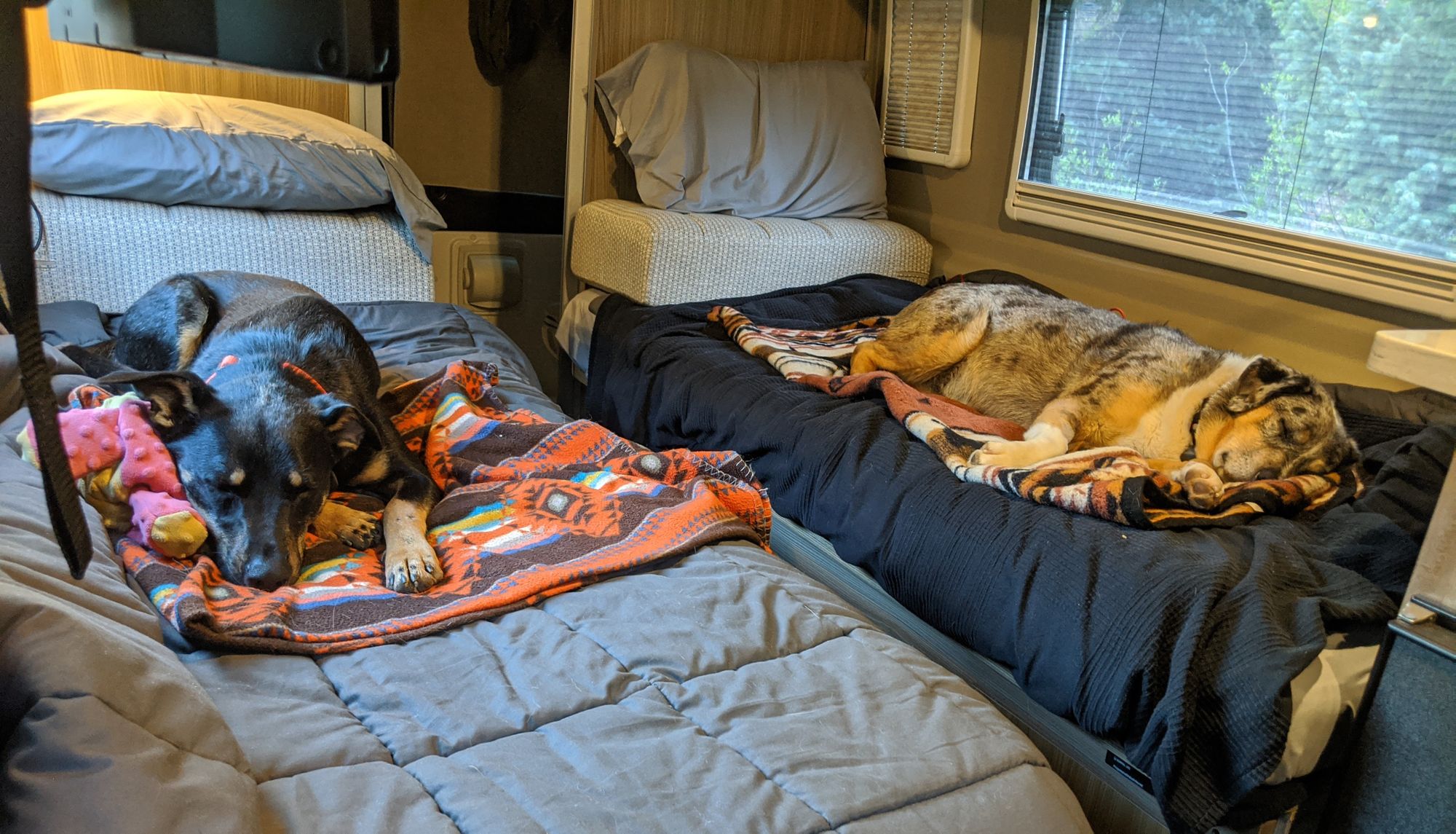 This post originally appeared on https://fmcadventure.com/2020/08/03/dog-friendly-silverton-ouray-co/